Recliner sofas blend the best of both worlds for your living room: a big comfy couch and that ability to lean back and put your feet up after a long day. Reclining sofas offer a number of popular amenities including your choice of upholstery, cup holders, and power reclining options.
Reclining sofas also come in a number of size options to suit your space and accommodate other home furnishings. Recliner sofas can often be found in loveseat options, three-seater, and sectional sofas.
In this article, we'll break down our five favorite reclining sofas and organize them based on the most comfortable, the best leather option, the most pet friendly, the most tech-friendly, and most affordable options.
How We Chose the Best Reclining Sofas
At Home of Cozy, when we evaluate a recliner couch, we use a number of criteria. These include the upholstery options, ergonomics, comfortability, and the reclining mechanism. Another factor we consider when evaluating high-quality options are other amenities included such as a sleeper sofa option, tech-friendly options, and durability.
The Best Overall Sofas of 2021
Our team evaluated price, quality, comfort and additional features to bring you the best new sofas available now.
After rating all potential options, we categorize our choices as superlatives so we can help our customers to not only narrow down their choices, but to also determine which features are most important to them.
Best Reclining Sofas of 2021
1. Zimmerman Power Loveseat with Cup Holders Dark Brown
Price: $808
Category: Most Comfortable Reclining Sofa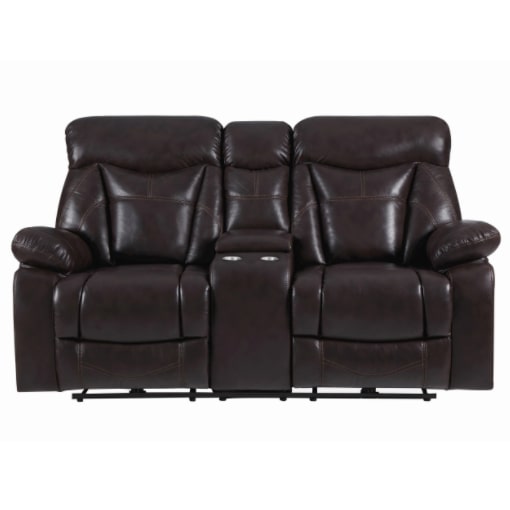 Class, comfort, and convenience come together to make the Zimmerman sofa extremely comfortable. a power glider reclining loveseat keeps you cool and comfortable with soft, breathable, brown leatherette upholstery, and perforated back cushions on each of it's reclining seats for more airflow.
This reclining sofa has a built-in console with two cup holders and multiple reclining positions so you can relax without having to shift around to reach your drink. Class, comfort, and convenience combine to bring relaxation to the next level.
Best Reclining Sofa: Coaster
2. Long Knight Collection Power Reclining Sofa by Ashley Furniture
Price: $804
Category: Best Leather Reclining Sofa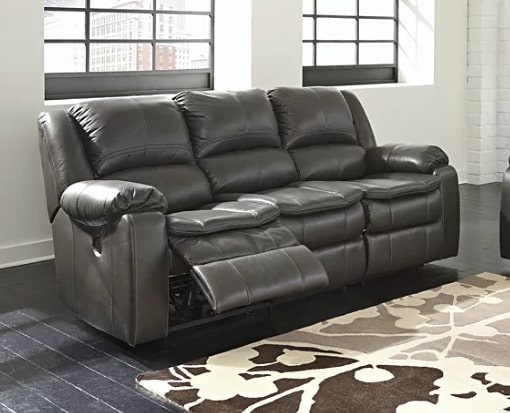 This genuine leather power reclining leather sofa has clean lines, soft curves, and exquisite stitching. This reclining sofa comes with thickly cushioned high-resiliency foam cushions, and top grain leather, your sofa will be the topic of conversation at your next get-together.
Additionally, the frame construction has been rigorously tested to simulate the home and transportation environments for improved durability so you can rest assured you're making a solid investment with this piece.
3. Cyrus Reclining Sofa by Allmodern
Price: $1024
Category: Most Pet-Friendly Reclining Sofa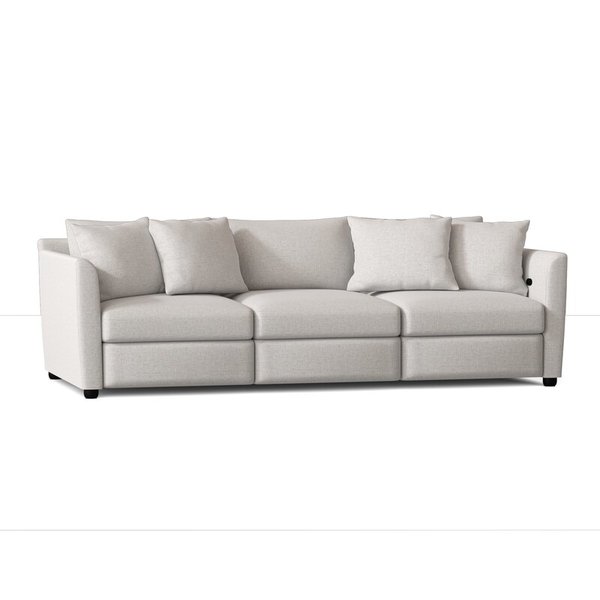 This signature design by AllModern has clean lines and shark fin arms to make it as stylish as it is pet-friendly. With its solid hardwood frame and microfiber, linen fabric performance upholstery blend makes it a smart choice for those who plan to lounge with their furry friends.
Power controls allow the seats to recline at just the touch of a button, while conveniently integrated USB ports can charge any of your devices so there's no need to plug your phone in on the other side of the room while you watch Turner and Hooch with your favorite pooch.
4. Edie Three Piece Power Reclining Sectional Sofa by La-z-Boy
Price: Starts at $3267
Category: Best Tech-Friendly Reclining Sofa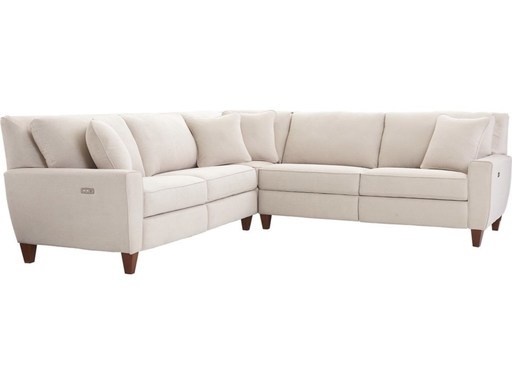 The Edie power sofa, reclining sectional comes with a built-in USB ports to keep cell phones and other devices charged. It's multi-layer ComfortCore premium cushion infused with cooling gel and power-tilt headrests provide exceptional comfort whether you're taking a long sit or a short break.
Beyond the style, is some seriously cool reclining power. The ability to recline and raise the leg rests is just a button click away with the side-mounted 2-button control panels to recline and raise the leg rests.
5. Center Hill Bonded Leather Double Reclining Sofa
Price: $775
Category: Most Affordable High-Quality Reclining Sofa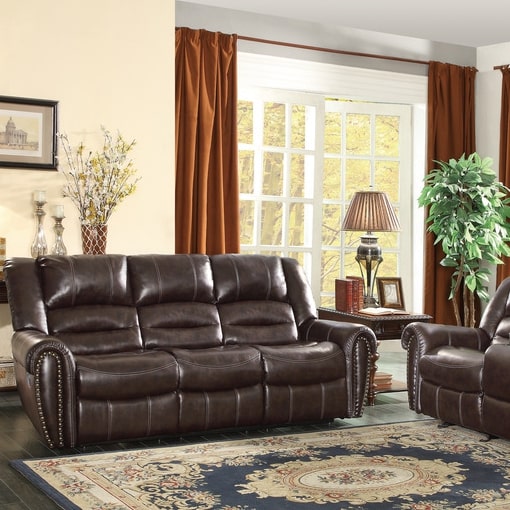 The Homelegance Center Hill comes with ultra plush cushioning made with resiliency foam in both the headrest, armrests, and footrests. Offered in bonded leather match, the covering comes in either dark brown or black.
With a traditional nailhead accent lending an elegant statement to each piece and the easy recline mechanisms adding to the comfort, the Center Hill is the ultimate in affordable luxury for you and your friends or family.
Where to Find Your New Reclining Sofa
As you can see, there are so many great sofa recliner options out there for you, whether you have a large living space and are looking for a sectional sofa or a smaller place that requires a reclining loveseat.
We have many options to suit a variety of budgets and needs whether it's comfort, pet-friendliness, or tech-friendly options that matter most.
Not sure where to find your next sofa? We know the best places to buy a couch that will be a wonderful addition to your living space.