Reclining sofas give your living room the best of both worlds: a big, comfortable couch that lets you lounge for hours on end and a built-in recliner that lets you put your feet up after a long day. But how do you choose one? There are tons of furniture brands out there offering everything from dozens of upholstery options to unique features such as cup holders and power reclining mechanisms.
Whether you're interested in a high-quality reclining loveseat, a classic three-seater, or a big sectional sofa to compliment your home theater, I've put together the best options for you to choose from.
How We Chose the Best Reclining Sofas
Like our other 'best of' lists, I judged the best reclining sofa brands according to a set of criteria: customization options, comfort, ergonomics, and the durability of their reclining mechanisms.
Along with hundreds of real customer reviews, I analyzed:
1. Quality – The best furniture is built to last. I analyzed customer reviews for any potential red flags related to material or frame quality as well as how easily a sofa's materials hold up to daily wear and tear.
2. Budget – While sofas are generally big-ticket purchases, at Home of Cozy we always want you to get the best deal possible.
3. Comfort – This is probably the factor you care about most when it comes to recliners.
4. Design – The best recliner sofas work effortlessly with minimal movement or friction.
5. Sustainability – Because there's so much cheap furniture constantly being thrown out, we're focused on highlighting brands and products known for their sustainability.
The Best Overall Sofas of 2023
To help you find the best deep seat sofa, I tested individual models from over 23 different brands. These are the best new sofas with extra deep seats that balance the best in design, price, sustainability, and durability.
Best Reclining Sofas of 2023
1. Romilly Reclining Sofa by Raymour & Flanigan
Price: $920.95
Category: Most Comfortable Reclining Sofa
Dimensions: 91″ width x 40″ depth x 42″ height
Armrest Height: 26″
Wall Clearance Needed to Recline: 3″
Frame Materials: solid wood, steel frame
Upholstery Options: woven polyester blend fabric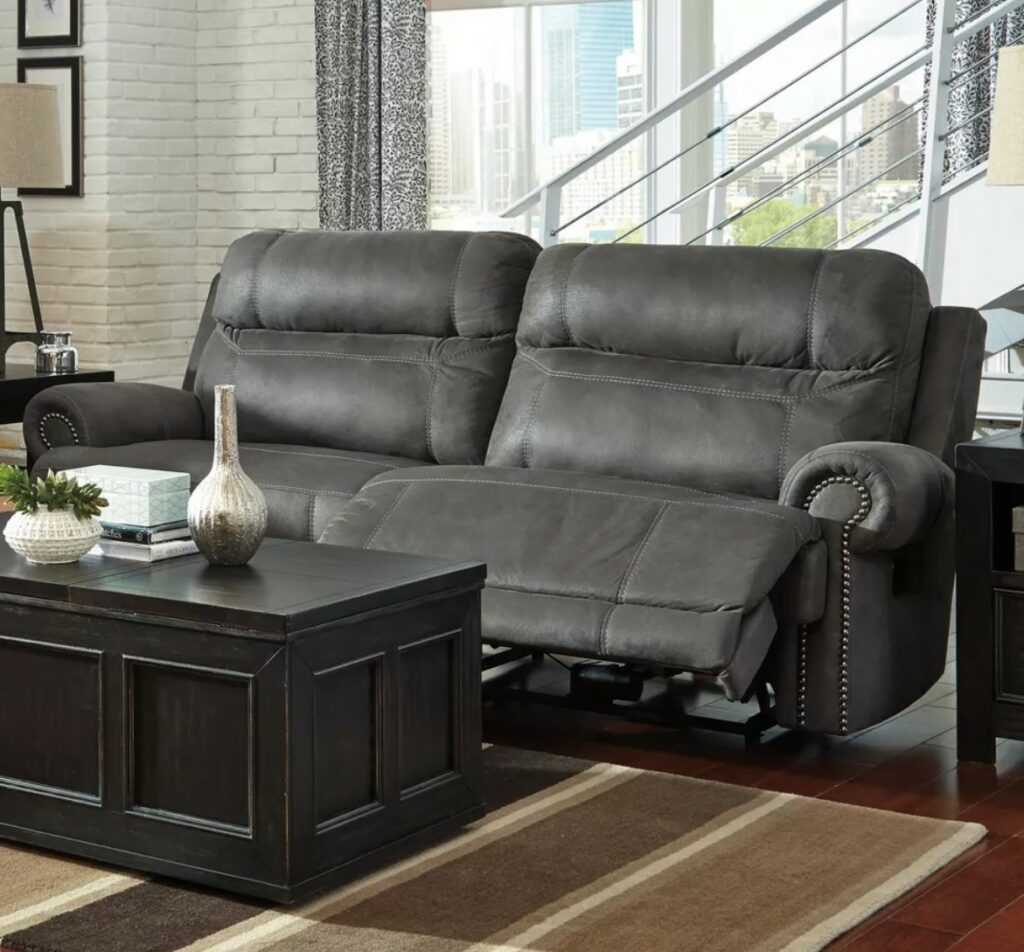 What I Loved
What I love about Raymour & Flanigan is their commitment to simply crafting the most durable sofas and reclining loveseats and sofas you could possibly buy (which is why two of their models ended up on this list.)
For the most comfortable reclining sofa out there, I was drawn to the Romilly Reclining Sofa, which features over 400 customer reviews.
Ordering from Raymour & Flanigan was easy enough. This recliner sofa was delivered within 15 business days, well within the 2 to 4 week delivery time quoted on the company's site. As with other Raymour & Flanigan deliveries, this sofa came pre-assembled and was easy to set up.
The reclining mechanism is activated with just a push of a button on either side of the sofa, and with that, I totally believe the hype. While it doesn't power recline, this sofa provides just the right amount of lumbar support and comfort due to its high-density foam core cushions.
For a reclining sofa, it's economical when it comes to small spaces. On top of that, the woven poly blend upholstery doesn't feel like any polyester you've likely felt before, and feels much more high-end than what you'd expect from a synthetic fabric.
What I Didn't Love
I personally love a firmer sofa, but a few reviewers on the Raymour & Flanigan site complained that the high-density foam cushions were too stiff.
Best Reclining Sofa: Romilly
2. Titan Ice Leather Power Reclining Sofa by Bob's Discount Furniture
Price: $1,899
Category: Best Leather Reclining Sofa
Dimensions: 113″ Width x 40″ Depth x 40″ Height
Armrest Height: 24″
Wall Clearance Needed to Recline: 3.5″
Frame Materials: steel
Upholstery Options: 2 leather options
What I Loved
Leave it to Bob's Discount Furniture to create one of the most comfortable and most luxurious reclining sofas. This spacious three-seater was practically engineered to help you unwind, with an extra wide profile and easy-to-operate power recliner functionality.
With an average rating of 4.9 stars across 39 verified customer reviews, this one was a hit with customers seeking a double recliner and soft genuine leather upholstery.
There were just two upholstery options (brown top grain leather or a cream/off-white option.) Both looked impeccable, but to test out durability and wear, I selected the cream upholstery. The upholstery itself felt like a much more premium top grain leather than the bonded leather it actually was. Also, delivery took a bit longer than Raymour & Flanigan, and the sofa came with some assembly instructions.
After assembly, it's clear why this one was a customer favorite. It's sturdy, incredibly comfortable, and pretty easy to lose yourself in. I mean this with as little hyperbole as possible. I lost track of time it was that comfortable.
In terms of warranties and coverage, I was definitely impressed by Bob's "My Goof Protection Plan," which covers most accidental spills for up to five years after purchase. This is especially helpful if you plan on buying an off-white leather sofa.
What I Didn't Love
I wasn't crazy about the prospect of assembling a power recliner. However, the instructions made it an easy experience that wasn't more difficult than your average IKEA, Wayfair or Amazon sofa.
3. Talin Grey 85″ Power Reclining Sofa by Living Spaces
Price: $1,095
Category: Most Pet-Friendly Reclining Sofa
Dimensions: 85″ width x 42″ depth x 30″ height
Armrest Height: 24.5″
Wall Clearance Needed to Recline: 3.5″
Frame Materials: Kiln Dried Solid Hardwood and Engineered Wood Mixed
Upholstery Options: performance polyester acrylic blend fabric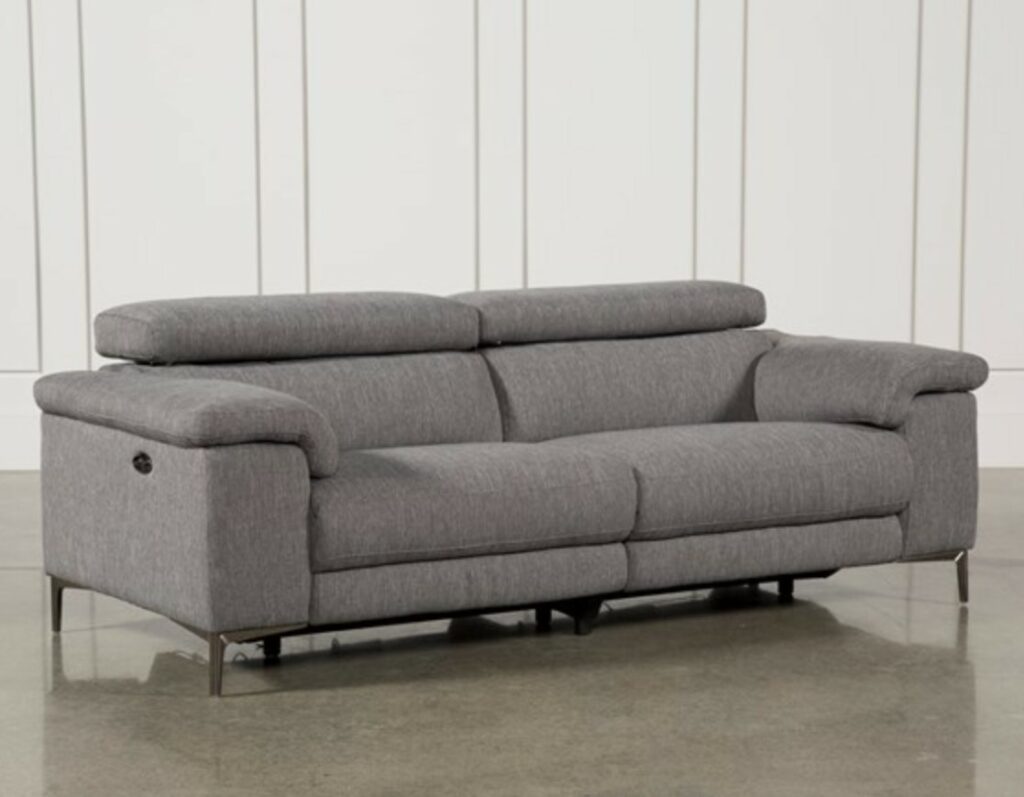 What I Loved
With over 389 overwhelmingly positive reviews, I was pretty impressed by this power reclining sofa. I have to admit, I didn't know much about Living Spaces as a furniture company before this and with such a great experience, I'm sure they'll make it onto more Home of Cozy 'best of' round-ups.
The Talin may also be one of the most stylish double reclining sofas on this list in addition to being pet-friendly. I was drawn to the relatively low profile and clean lines. While there weren't any customizable options, the features really blew me away: easy-to-use power recliner on both sides of the sofa, a USB port for charging devices, and an adjustable headrest.
Unlike Bob's Titan leather recliner sofa, this one came pre-assembled. And at 85″, it's among the smaller sofas in this list. However, it's definitely worth it when it comes to comfort and maintenance. As I don't have any pets, I reached out to some friends who did in order to test this one out. One pre-planned "accident" and an impromptu nap, I was delighted to see just how easy the poly/acrylic upholstery was to clean. It's definitely one of the easier "pet-friendly" sofas that actually lived up to the hype.
What I Didn't Love
The seat cushions on this one were a little too stiff for what I was expecting. So, if you're looking for a softer sofa or even one with medium-firm cushions, this may not be for you. That said, this is an impeccable piece of furniture.
4. Edie Three Piece Power Reclining Sectional Sofa by La-z-Boy
Price: Starts at $3267
Category: Best Tech-Friendly Reclining Sofa
Dimensions: 81.5″ width x 42″ depth 39″ height
Armrest Height: 25″
Wall Clearance Needed to Recline: 3.5″
Frame Materials: hardwood frame
Upholstery Options: 460+ options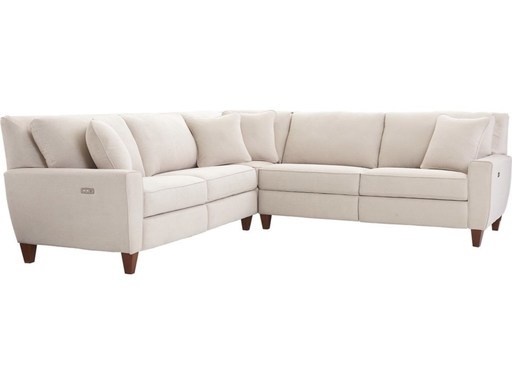 What I Loved
No list of the best reclining sofas on the market would be complete without La-Z-Boy. After all, this is the furniture company that literally invented the recliner.
With lofty expectations on its signature product type, I'm pleased to note that the brand more than exceeded all expectations. La-Z-Boy masters the art of reclining sofas, but get ready to pay a lot upfront. Starting at over $3,000 for a sectional, this is definitely an investment piece, but one your entire family will definitely enjoy for years to come.
And yes, you did read that upholstery options bullet correctly up above. This particular model is available in over 465 different options and you can even shop by specific fabric types like performance, microfiber, patented iClean stain-resistant upholstery, leather, and more. But if you're having a hard time deciding (and honestly I don't blame you) La-Z-Boy can send a free swatch book, which is what I did when testing this one out.
Overall, the recliner did not disappoint, and everything seemed to be well-designed and considered: soft back cushions, headrest, footrest, and backrest cushioning that practically cradle you, and tech-focused elements like a USB port. While the Talin by Living Spaces also had one, I found that the materials La-Z-Boy used were of higher-quality and the ports themselves were easier to access. Additionally, the Edie can be plugged in or run on a battery pack.
What I Didn't Love
There wasn't a lot to dislike about La-Z-Boy's Edie Sectional. However, the price definitely puts it out of range for anyone shopping on a budget.
5. Southgate Reclining Sofa by Raymour & Flanigan
Price: $629.95
Category: Most Affordable High-Quality Reclining Sofa
Dimensions: 87″ Width x 40″ Depth x 40″ Height
Armrest Height: 26″
Wall Clearance Needed to Recline: 3.5
Frame Materials: hardwood, steel frame
Upholstery Options: performance fabric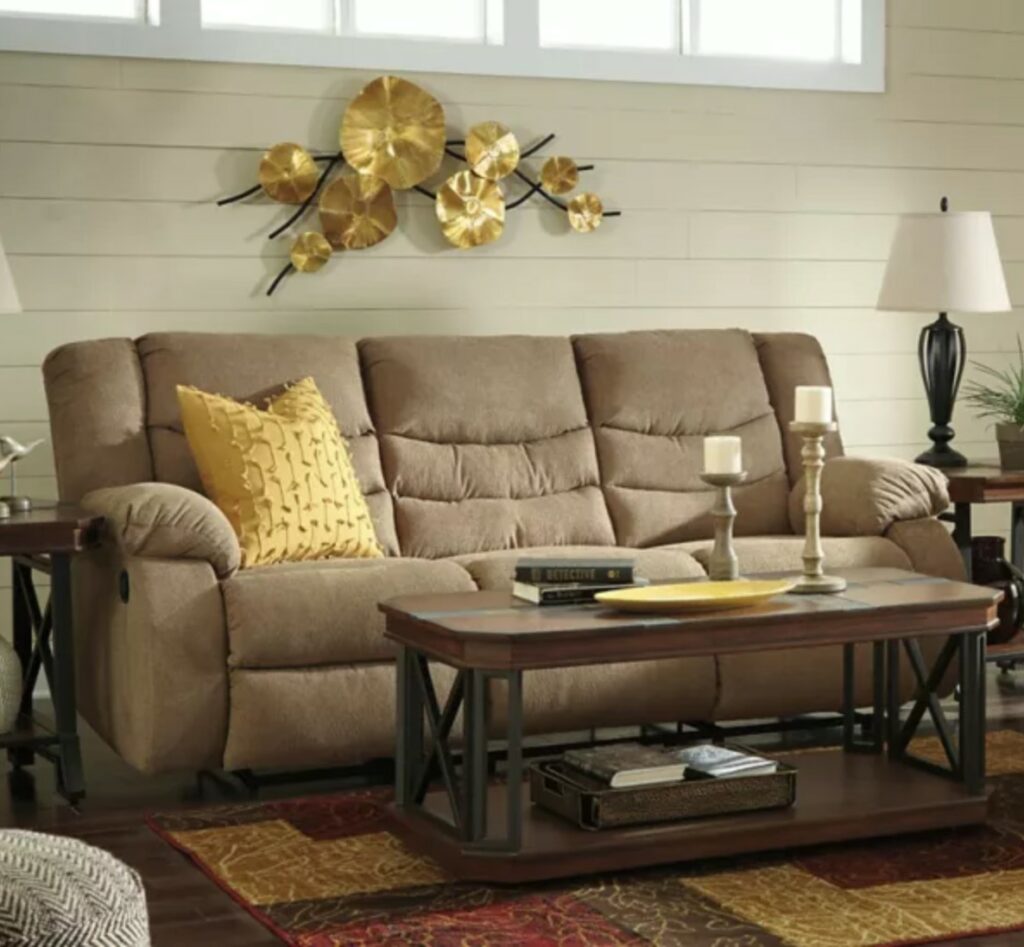 What I Loved
As far as reclining sofas go, $629.95 is practically a steal, especially for one that comes from a reputable furniture company like Raymour & Flanigan.
Like the Romilly Reclining Sofa, this one also came pre-assembled and ready to set up. And while it's a manual recliner, I still thought it was incredibly easy to use and comfortable enough for all-day lounging, movie marathons, and more. To top it off, the pillow top arms made for an even more comfortable experience.
What I Didn't Love
While this was definitely the best deal on a reclining sofa I could find, I felt that the upholstery could have been a bit more plush to the touch. Additionally, there was just one upholstery option for this model.
Additionally, a few reviewers complained about shipping errors (e.g. being shipped just one product when they ordered a living room set.)
Where to Find Your a Reclining Sofa and More New Home Furnishings
These are just a few brands that offer high-quality reclining sofas. You can get great recliners from retailers like Homelegance, Wayfair, Ashley Furniture, and Amazon.
Still looking for new furniture for your living space? Explore my picks for the best sectional sofas you can find and research the best places to buy a couch no matter what you're looking for.