Sectional sofas are great for those with big families, entertainers and anyone who just likes to spread out and get comfy. Unlike traditional couches, they can seat more people and offer a variety of directions for you to veg out. Naturally, this is an important investment and you want to make sure you choose one of the best sectional couches available.
Home of Cozy reviewed the best quality sectional sofas and from all the brands and retailers that make them. We'll feature options from Allmodern, Lovesac, IKEA, Joybird, and Article. You'll have your pick of the best sectionals for 2020 and the hottest design trends including modular builds, customizable fabrics and covers, reversible chaises, and more.
If you're looking for a sofa, check out our roundup of best sofas for 2020 or best online sofa brands.
Home of Cozy Sectional Superlatives
Best Overall Sectional Sofa: Custom Sectional by Allform
Best Reversible Sectional: The Heidi by Allmodern
Best Flexible Sectional: The Sactional by Lovesac
Best Value Sectional: The LANDSKRONA by IKEA
Best High-End Sectional: The Bryant by Joybird
Best Minimalist Sectional: The Nova by Article
The 6 Best Sectional Sofas in 2020
1. Custom Sectionals by Allform
Price: Starting at $2245
Where to Buy the Allform Sectional: Allform's website
What real customers loved about the Allform sectional
The thing that people love most about Allform is how comfortable it is. A close second is the fit. Allform makes modular sectionals, and you can customize them any way you want, up to 8 seats.
Allform has placed a huge value on quality, with performance fabrics, protected top-grain leathers, hardwood frame and high-grade foam cushions. The sofas are made in the USA and are sustainably produced. Also, if you get one, you'll have 100 days to figure out whether you like it. Otherwise it can be returned and you'll be refunded. We're betting almost everyone keeps theirs.
Allform's Drawbacks or Flaws
Allform doesn't currently have any showrooms, so you won't be able to see this thing in-person. For shoppers who like to do that, you can roll the dice and see how it feels through the trial, or try another brand.
2. Heidi Reversible Sectional from Allmodern
Price: $1199
Where to Buy the Heidi Reversible Sectional: Allmodern's website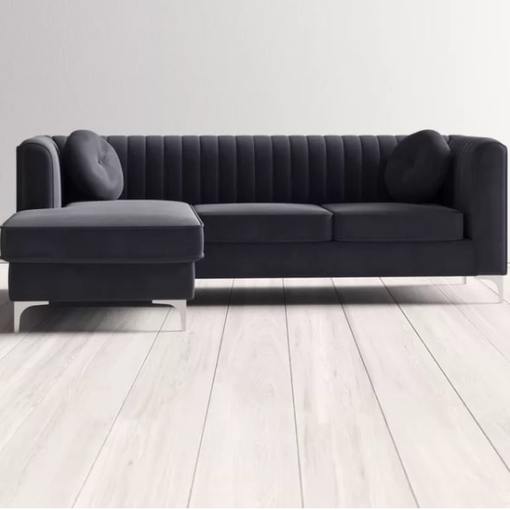 What real customers loved about the Heidi Reversible Sectional.
The Heidi is the ultimate relaxation station for your living room or den. Whether it's a movie marathon, a good book, or an afternoon nap, the Heidi is happy to oblige. The Heidi is sure to maintain its durability over time, crafted with a solid wood frame and plush velvet upholstery that works with your current decor. Its high arms and deep back give it a modern design, and additional pillows add extra comfort.
Buyers love how elegant and comfortable the Heidi is and comment that the fabric is soft and lush.
The Heidi's Drawbacks or Flaws
Some customers have claimed that the sofa's cushions are just a bit too firm and that it begins to squeak a bit over time.
3. The Sactional by Lovesac
Price: $2788
Where to Buy the Sactional: Lovesac's website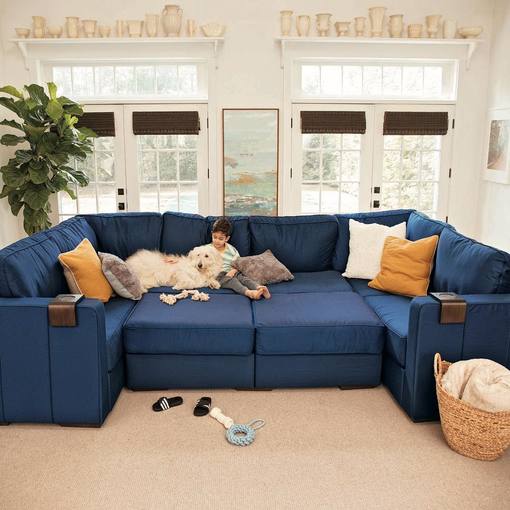 What real customers loved about the Sactional.
The Sactional is the perfect example of the modern modular couch. Beginning with just two pieces, a Seat and a Side, you can keep adding pieces until you have the perfect piece for your home. Built with sinuous springs and Italian webbing, the Sactional provides premium comfort for you and your loved ones. The best part? It comes with removable covers available in hundreds of fabrics, hand sewn so they are perfectly fitted for your couch.
Buyers love that the sofa is can be reconfigured again and again. They also love that covers can be washed and replaced if a redesign is in order!
The Sactional's Drawbacks or Flaws
Buyers have commented that the price for the Sactional is too high and that the covers don't last long enough.
4. LANDSKRONA Sectional BY IKEA
Price: $1,399
Where to Buy the LANDSKRONA Sectional: IKEA's website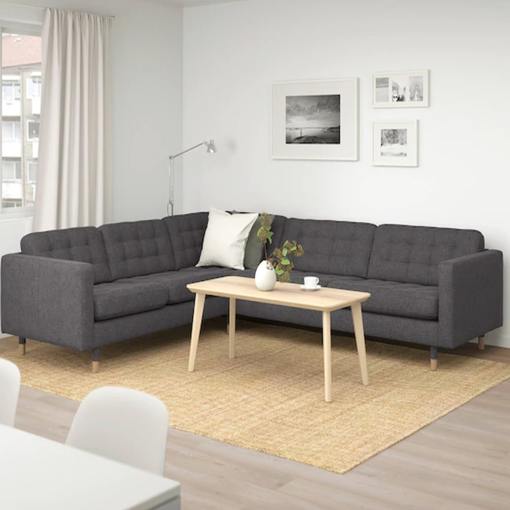 What real customers loved about the LANDSKRONA Sectional.
The LANDSKRONA by IKEA is the perfect addition to your home. Particularly if you plan to entertain guests or veg out for movie night. The cushions are filled with high resilience foam and polyester fiber wadding for support. This is a neat, stylish, cozy sectional at an affordable price. Of course, as with any IKEA product, you'll have to assemble yourself.
Buyers say that the LANDSKRONA sectional is supportive and firm, but not very plush. Definitely consider this if you're looking for a firmer sectional.
The LANDSKRONA Sectional's Drawbacks or Flaws
Customers have complained that the cushions can be a bit firm if you're looking to sink into the couch. Customers also prefer the fabric model over the leather.
5. The Bryant "L" Sectional by Joybird
Price: $4564
Where to Buy the Bryant "L" Sectional: Joybird's website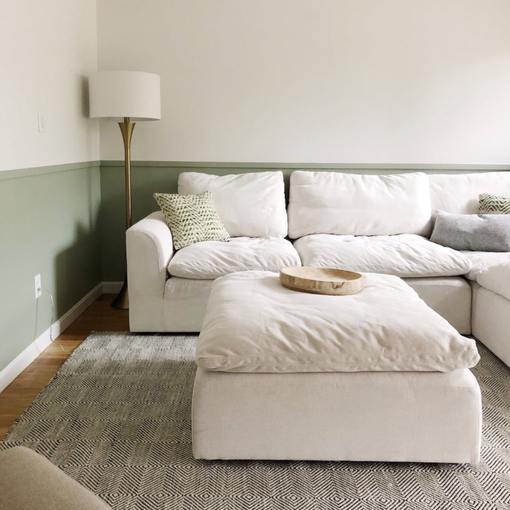 What real customers loved about the Bryant "L" sectional.
The Bryant "L" sectional is the perfect combination of design and function. It's got a modern design, broken down into modular pieces that can be easily adjusted to fit any space and grow with you. Its high-resiliency foam provides exceptional comfort from top to bottom. The best part? You can order this sectional in a wide variety of colors and fabrics.
Buyers love the Bryant "L" sectional is customizable so you can change its arrangement anytime. They also love how many options you have for colors and how comfortable the sofa is.
The Bryant's Drawbacks or Flaws
Some buyers have said it's difficult to figure out how to get the pieces connected securely and that the sofa sits a bit lower than others.
6. The Nova Sectional by Article
Price: $1899
Where to Buy the Nova Sectional: Article's website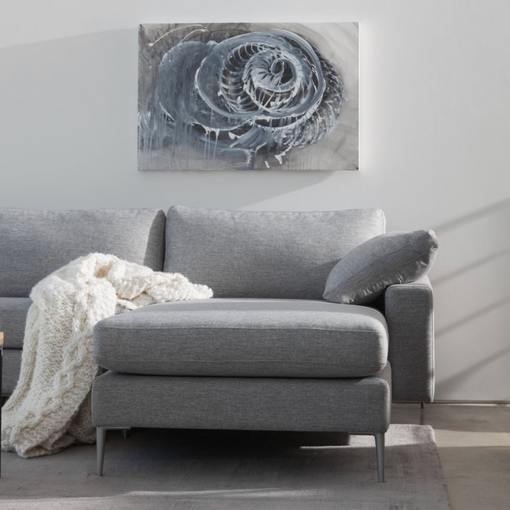 What real customers loved about the Nova sectional.
The Nova sectional was crafted with Danish inspiration, encompassing minimalist elegance through sleek lines and functional design. The Nova's seat cushions are made with resilient foam and polyester for a durable seat that doesn't go flat. Its back cushions are filled with a fiber down blend for ultimate relaxation and relief. For added convenience, the Nova comes with loose, reversible cushions and removable covers for easy maintenance.
Buyers love the Nova blends both soft and dense cushions for support and comfort. They also love how easy it is to assemble.
The Nova's Drawbacks or Flaws
Buyers have said that the cushions tend to go flat and need to be fluffed from time to time to retain their shape.