Sectional sofas are perfect for lounging with the family, entertaining, or just spreading out and getting comfy. Unlike standard three-seaters or loveseats, sectional sofas offer a wider range of lounging and sitting options. However, sectionals as a whole tend to be big investments. So, it pays in the long run to buy a sectional that'll hold up to the rigours of daily life from pets to kids, along with long-term wear and tear..
To put this review together, I reviewed 10 different sectionals from some of the leading furniture brands and retailers. I analyzed buying experiences across several furniture websites from direct-to-consumer brands to retailers including Inside Weather, Allform, Pottery Barn and more. I also read through countless real reviews from customers to see what they loved about shopping for and lounging on their new sectionals, as well as some areas they thought brands could improve service or production.
If you're looking for a sofa, check out our other lists highlighting the best sofas for 2021 or best online sofa brands.
How We Choose the Best Sectional Sofas
At Home of Cozy, we don't just look at manufacturer specs and details, we actually test sofas ourselves while reading hundreds of real customer reviews to get a sense of which brands create the best sectionals you can buy.
I analyzed dozens of leading sofa brands to find the best sectionals and rated them by five key points:
Quality – Sofas should be built to last, which is why we always start by judging the durability of materials used in each sofa, comparing them to industry standards, and analyzing key factors like longevity of those materials, how fabric holds up to wear and tear, and more.
Budget – Whether you're picking out your first sectional or investing in a higher-quality replacement, we always want to make sure you're getting the best deal possible.
Comfort – At Home of Cozy, "comfort" is practically in our name. It's one of the most important categories we use to judge sofas, which is why we always test brands' products and compare them against real consumer reviews and comments.
Design – We're always on the lookout for innovative brands. From affordable out-of-the-box sofa brands to bespoke brands offering custom sofas you can design in just a few clicks.
Sustainability – We want you to buy less, but better. And that starts with focusing on brands committed to sustainable and ethical production methods.
The 5 Best Sectional Sofas in 2021
Brand
Current Offers
Best For
1

Editor's Choice

20% off with code COZY20OFF

Quality, Functionality
Shop Now
2
Small Spaces
Shop Now
3
Large Spaces
Shop Now
4
Durability
Shop Now
5
Quality, Attention to Detail
Shop Now
1
Editor's Choice
Best For:
Quality, Functionality
Current Offer:
20% off with code COZY20OFF
2
3
4
5
Best For:
Quality, Attention to Detail
1. Best Overall Sectional Sofa: Sectionals by ALLFORM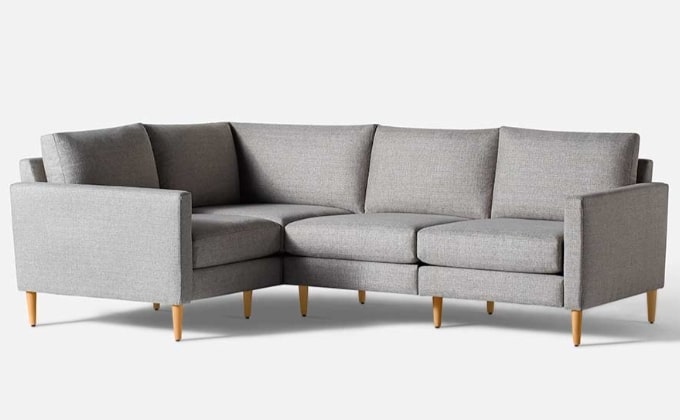 For the 4-Seat Corner Sectional:
price: starts at $2245
Dimensions: 97" width x 70" depth x 34" height
Arm Height: 25" height
Leg Height: 6" height
Frame Materials: Maple and Poplar Kiln-Dried Laminated Hardwood Frame
Upholstery & Fabric: 7 Performance Fabric options, 2 Top-Grain Protected Leather options
Allform was founded by the same creative minds behind Helix, one of the most successful mattresses-in-a-box brands. So, it's safe to say that my expectations were pretty high for a company with such a solid reputation for comfort. The Allform sectional more than exceeded my expectations, and overall, the brand thought of everything, from streamlining the consideration process with an easy online design experience, super fast shipping and easy assembly. Because it was the only brand that accomplished all of this in one shopping and delivery experience, it's clear that Allform is the frontrunner for best sectional.
What I Loved About this Allform Sectional
The 4-Seat Corner Sectional starts at $2,245, which isn't the cheapest sofa out there. However, I have to agree with close to 300 customers on the site who've reviewed Allform's sofas in that it's well-worth the investment.
Allform focuses on versatility, with a site that lets you easily build modular sectionals inspired by mid-century design classics. I started by browsing the site's different seating arrangements from two piece loveseats to three-seater sofas. Sectionals have a few different options depending on how many seats you want to start with (anywhere between three seats and a chaise to eight seats for a u-shape configuration.)
For all my IKEA veterans out there, you'll be happy to know that Allform's assembly couldn't be simpler. I've put together everything from sofas to credenzas and king-size beds, and this was definitely one of the easiest times I've had putting together furniture. Putting the frame together and adding seat cushions took about 45 minutes on my own, but would likely go by quicker if you have someone helping you out.
All in all, it's really hard to believe this is a sectional sofa that's just come out of a box. Like other reviewers, I really appreciated the medium-firm cushions that didn't really give way in terms of shape, even after a few days of continually sitting on them. And the sturdy kiln-dried laminated maple and poplar frame didn't so much as budge once.
In terms of customer service, I thought it was incredibly generous that Allform backs their kiln-dried maple and poplar frames by a lifetime warranty and a 100-day at-home trial, which means that if their furniture isn't for you, for almost any reason, you can have it shipped back and refunded. But, trust me, if you're ordering from Allform, this'll be a piece of furniture you'll love having in your home for years to come.
What I Didn't Love
While I personally don't mind putting furniture together, a few customers were definitely frustrated by that prospect alone. However, as I mentioned, the assembly process is much more seamless and intuitive than other brands that require self-assembly.
2. Best Small Space & Apartment Sectional: Issa Sofette Sectional by Inside Weather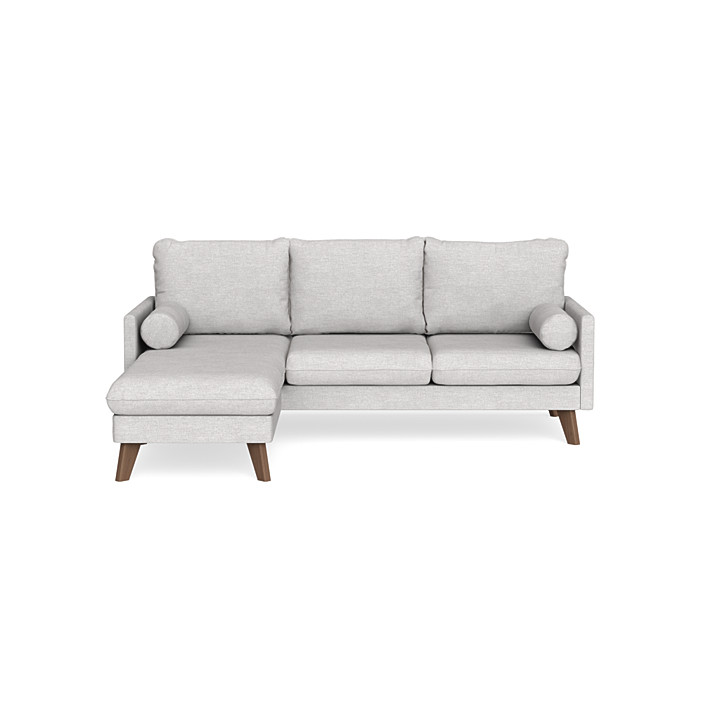 price: starts at $1,699
Dimensions: 56" width x 53" chaise depth and 22″ seat depth x 34" height
Arm Height: 24" height
Leg Height: 7" height
Frame Materials: Solid kiln dried ash wood
Upholstery & Fabric: 40+ performance fabric options, pet friendly, and commercial grade options
Inside Weather specializes in space-saving designs for those well-versed in the art of somehow getting large a piece of furniture into a cramped city apartment. The brand features pieces for living rooms, bedrooms, and offices, along with decor and accent pieces. But where Inside Weather really shines is its range of highly customizable sofas.
What I Loved About this Inside Weather Sectional
At $1,699, it's by far one of the cheapest apartment sectionals I've seen so far while shopping online, and you'd be hard-pressed to find such as well-designed, versatile sectional that would work in a whole host of studios, one-bedrooms, or home offices. The specific model I reviewed features two seats (one regular-depth at 22″ and a comfy 53″ chaise). Overall, it's a chic, little mid-century sectional that would work almost anywhere.
Like Allform, Inside Weather is a newer brand that's clearly prioritized their online shopping experience. However, I have to admit that my eyes started to glaze over a bit when confronted with so many upholstery options. That said, swatch books are available and it was nice to see that Inside Weather had almost any color I could imagine, a whole range of seasonal designs, along with specific fabrics like micro-fiber, pet-friendly, and even commercial-grade options.
Moving onto customization, I went with untufted foam cushions (tufting is also available), selected the armrest style I wanted, and mid-century dowel legs in a dark brown "espresso" veneer.
Shipping and delivery were fairly unproblematic as Inside Weather just shipped the sectional in boxes. Assembly took about an hour and compared to Allform, was a little more difficult despite the sectional being much smaller and having fewer components.
I was really impressed by the upholstery and how accurately the customization options looked in real life compared to online design experience. While it's definitely not the roomiest sectional in my review, it's definitely one that'd be perfect for a small city apartment or an office and kind of left me wondering where options like this were when I was slumming it with a $150 futon back in college.
What I Didn't Love
Like I mentioned, the customization options on the site were a bit of a slog to get through. There are eight different customization fields from armrests to cushion style. If you hate the prospect of shopping for furniture much less making a handful of decisions, this may not be the sectional for you.
Also, I was pretty lucky when it came to the overall execution and accuracy of that design since more than one Inside Weather customer noted that they got inaccurate designs (i.e. a customer ordered a tufted seat back but the cushion they got was plain and untufted.)
3. Best U-Shaped Sectional Sofa: Big Sur Square Arm Chaise Sectional by Pottery Barn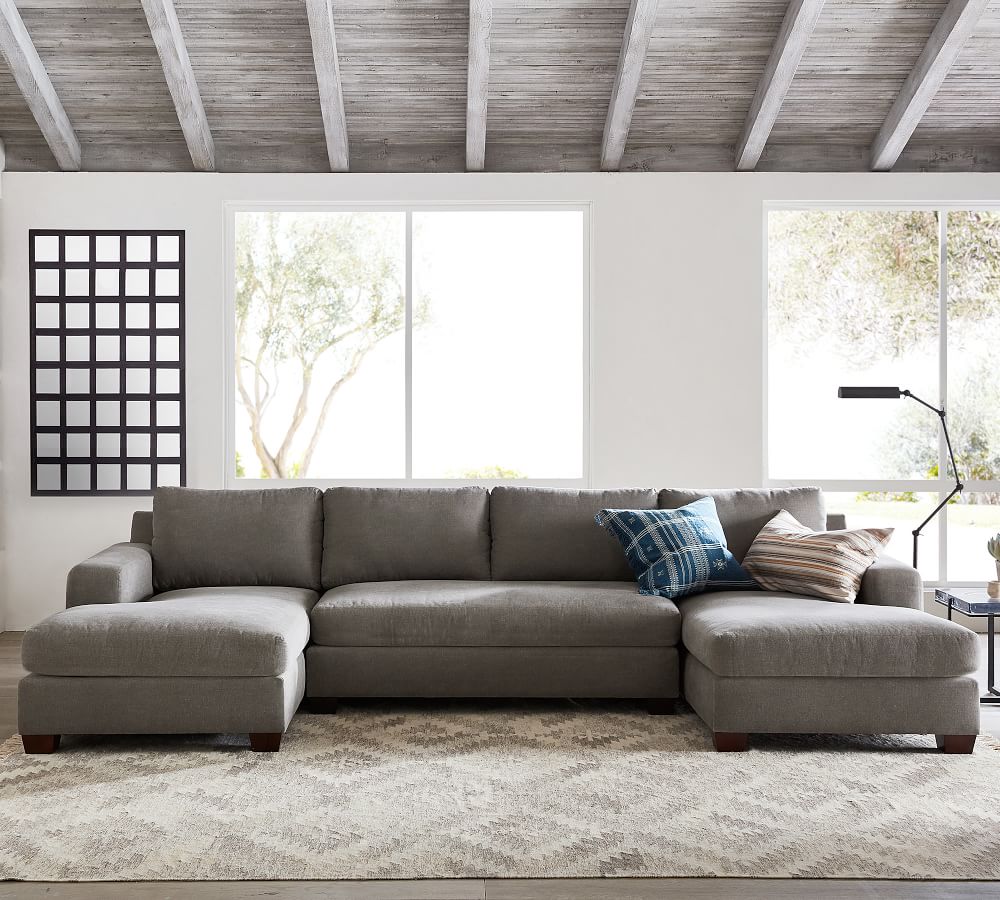 price: starts at $4,497
Dimensions: 146-178" width x 68" chaise depth and 50″ seat depth x 37" height
Arm Height: 21″
Leg Height: 2.5″
Frame Materials: steel sinous springs, steel connectors, mortise-and-tenon joinery in a solid wood frame
Upholstery & Fabric: 30+ options
While Inside Weather's sofette sectional and Allform's 4-seater were perfect for my one-bedroom city apartment, Pottery Barn's Big Sur Chaise sectional is definitely one I'll bookmark for a dreamhome with an large, sprawling living room.
What I Loved About this Pottery Barn Sectional
First, the Big Sur is the ultimate splurge in my review. It starts at $4,497 and with a full-width version plus all the customizations and add-ons, it can easily top out at $9,000 or more.
I found Pottery Barn's customization options to be a bit more intuitive than Inside Weather's experience. If you're landing on the Big Sur product page, simply pick a width (146″, 154″ and 178″), select a cushion type (multi-seat or bench), and pick an upholstery option. Just three steps compared to Inside Weather's eight-stage design process.
The sectional arrived (no assembly required) and I can only describe it as "stately." Again, this is a sectional sofa that'll look beautiful as a centerpiece in a large family home. But I highly recommend you measure your door frames to make sure it can fit through as this made delivery a bit stressful.
After the anxiety of wondering whether or not this behemoth would fit through a fairly generous highrise lobby door, I have to agree with the customers who commented that it "feels like lounging on a cloud."
What I Didn't Love
While this sectional's 45% feather-down cushioning felt like being enveloped in a warm cocoon of pure comfort, getting up from this sofa was actually kind of difficult, which was troubling because I'm 31 and to my knowledge my knees are perfectly fine. However, I did measure and compared to the Inside Weather sofette and Allform's sectional, the Big Sur is about four inches closer to the ground.
If you have a huge living room, a family that loves all-day lounging or movie nights, and has super-human knee strength, then this is the sectional for you.
4. Best Sectional With a Recliner: Artemis 5-Piece Sectional by Raymour & Flanigan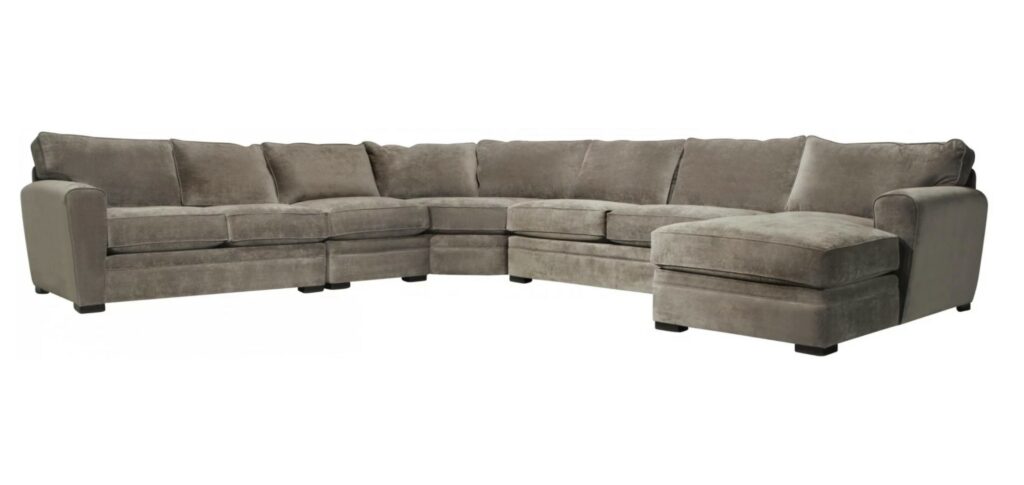 price: $3,869.77
Dimensions: 150″ width x 138″ seat depth x 35″ height
Arm Height: 18.5″ height
Leg Height: n/a, removable feet
Frame Materials: Sinuous Coil Spring System, kiln dried solid wood frame
Upholstery & Fabric: 48 options
What I Loved About this Raymour & Flanigan Sectional
Raymour & Flanigan may not have the luxe cache of Pottery Barn or the trendy direct-to-consumer innovation of Allform or Inside Weather, but its a brand that simply produces durable, long-lasting furniture. And when it comes to sectionals with recliners, I definitely recommend going for a brand that focuses on rock-solid design instead of trends or aesthetics.
At almost $4,000, the Artemis L-Shape Reclining Sectional is comparably priced to Pottery Barn's Big Sur. And having learned from my Pottery Barn delivery experience, I made sure to measure all door ways and check them against box specs well in advance.
As far as shopping and browsing goes, Raymour & Flanigan isn't winning any web design awards any time soon. But, they really don't need to, considering how easy it was to shop, learn about the sectional, customize a few options, and check out.
Overall, I have to agree with a lot of the 4 and 5-star reviews. The Artemis came in three separate boxes which alleviated my anxiety about door frames, and the delivery guys were able to piece it together within 20 minutes. Compared to Pottery Barn's Big Sur, this is definitely the more utilitarian option without sacrificing comfort, and it. even features re-fillable down back cushions.
In terms of construction, I noticed that the sectional pieces were tightly-hinged and no awkward gaps formed, a little quirk I noticed with Pottery Barn and even Inside Weather's sofette after a few times getting up and sitting back down.
The reclining element worked flawlessly, and it's clear that Raymour & Flanigan have spent decades perfecting the art of the perfect recliner. Overall, the Artemis isn't the trendiest sectional out there, but with plush seating and near-perfect construction, it doesn't have anything to prove.
What I Didn't Like
While I personally didn't deal with a long or frustrating delivery process, more than a few customers commented that they had fairly long shipping windows (up to 4-6 weeks compared to just 18-20 days for direct-to-consumer brands like Inside Weather and Allform.)
5. Best Leather Sectional: Adams Chaise Sectional by Castlery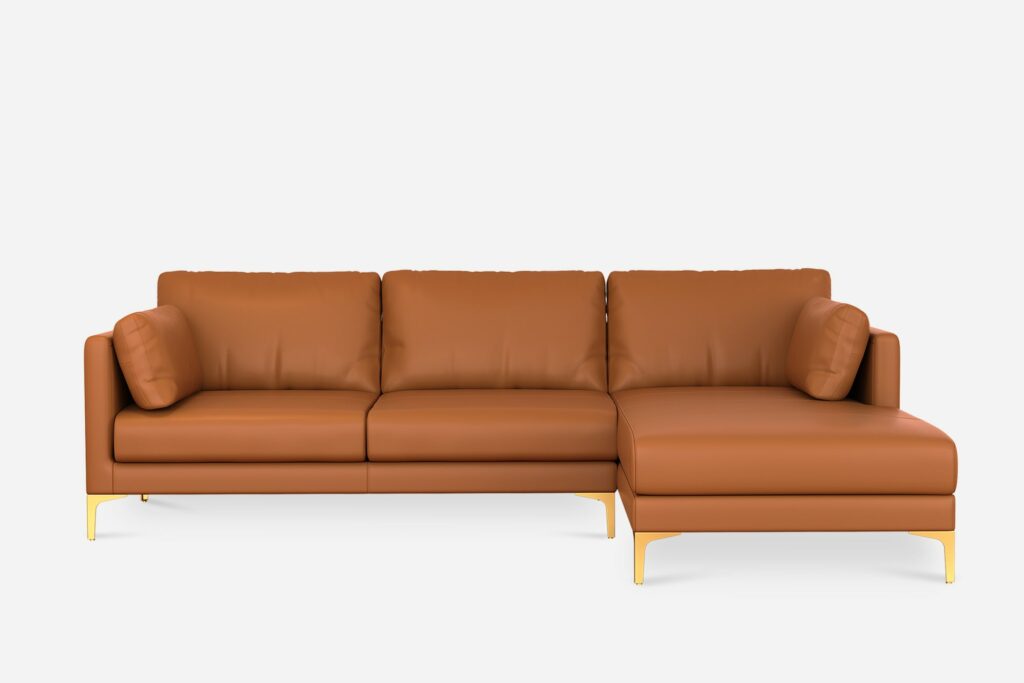 price: starts at $2,249
Dimensions: 102.4″ width x 65″ chaise depth and 35″ seat depth x 33″ height
Arm Height: 17″
Leg Height: 6″
Frame Materials: Solid wood with plywood
Upholstery & Fabric: top grain leather
Castlery is a direct-to-consumer brand that prides itself on its ability to "design and produce furniture with great aesthetics at a competitive price point, without compromising on quality."
What I Loved About this Castlery Sectional
As a writer who focuses on design, I've been to my fair share of high-end furniture showrooms, the type of places where everything is Italian and cost more than my car. And while this modern sectional from Castlery is pretty pricey, it honestly looks and feels like a designer sofa that would be made to order and shipped three to four months after purchase.
It's no surprise that quality and an attention to form are two details that make Castlery a hit with the design-focused crowd. The brand partners with established furniture design partners in Italy, Spain, and Australia, and it's clear that this high-end DNA is expressed throughout the brand's product line-up of leather sofas.
Browsing and shopping online was pretty simple, and I appreciated the delivery estimate even before checkout.
When it arrived assembled, I was honestly floored by how soft and supple the leather was just out of the box. That said, I tested this sofa out over a few days and the cushions maintain their shape perfectly. To put my perspective in terms of one stand-out customer review, "It's deceptively comfortable."
What I Didn't Love
I'll chalk it up to Castlery being a smaller brand, but in reviewing sectionals this is one of the few times that order fulfillment was an issue for me. The actual delivery went past the quoted window by about two days, which was a hassle. However, Castlery's customer service team, as noted in many reviews, couldn't have been nicer in handling my call.
Sectional Sofa FAQs: What to Consider When You're Shopping
What Should You Look for in A Sectional Sofa Brand?
The short answer? It depends on how you prioritize quality, aesthetics, and space. For instance, I'd recommend investing in a sectional that lasts close to a decade or more. Ideally, higher-end pieces like that should be heirlooms you can pass down, especially if you're spending thousands upon thousands of dollars on them.
However, it's perfectly natural to just go with your gut. Many customers from the reviews I went through mentioned that they spent very little time doing research and were perfectly happy with the sofas they bought. That said, you should always choose from a quality sofa brand that specializes in durability and go from there.
In terms of style, go for a brand that offers a range of customizations for you to choose from, whether you love the sleek look of an armless modern sofa or you're obsessed with sturdy, traditional tufted Chesterfields. If you're shopping around from a brand that offers lots of customizations, you may even find unique sectional features like cup holders and ergonomic headrests perfect for lounging all day long.
What Other Sectional Brands Should I Consider?
While I mainly focused on just a few brands, there are a whole host of retailers and stores you can explore. If you love trying sofas and sectionals in a showroom that emulates real living spaces, explore Pottery Barn, Crate & Barrel, or West Elm. However, if you want to skip the crowds, Joybird, Wayfair and Amazon's Rivet home decor brand always have amazing deals on sofas ready to ship.
How Long Should My Sectional Last?
Generally, a new sectional sofa should last anywhere between 7 to 15 years. A sectional sofa's longevity depends on a few factors including the durability of its frame as well as its upholstery.