During the height of the pandemic, I was diagnosed with sleep apnea. The doctor ordered a CPAP (continuous positive airway pressure) machine, the go-to treatment for this condition.
But due to supply chain shortages and a crippling recall of faulty machines, I was on a waitlist. A waitlist that lasted more than a year.
When I finally got the machine, it was a bust.
I couldn't tolerate the mask, which was filled with condensation, giving me a scary sense of being drowned. My frequent tossing and turning meant the hose would twist and tear out strands of my shoulder-length hair every night.
While I was grateful for a diagnosis—I've suffered with nasal issues since childhood and insomnia for two decades—the CPAP machine clearly wasn't going to be a long-term fix.
So I started searching for alternatives. To my surprise, a mattress could contribute to better sleep for people like me who suffer from sleep apnea.
Before I reveal the best mattresses for sleep apnea, let's learn more about sleep apnea.
Editors Note: The following information is intended for informational purposes only, not medical advice. Please consult a qualified healthcare professional for specific concerns or questions.
Best Mattresses for Sleep Apnea
Brand
Best For
1

Editor's Choice

Overall
Shop Now
2

Cooling
Shop Now
3

Hybrid
Shop Now
4

Organic
Shop Now
5

Pressure Relief
Shop Now
6

Couples
Shop Now
7

Back Sleepers
Shop Now
8

Plus Size
Shop Now
9

Extra Firm
Shop Now
10

Budget
Shop Now
1
Editor's Choice
2
3
4
5
Best For:
Pressure Relief
6
7
8
9
10
What is Sleep Apnea?
Sleep apnea is a very common sleep disorder. Sleep apnea occurs when you stop breathing during sleep and wake up. This happens because the muscles at the back of the throat muscles relax, narrowing or collapsing your airway. That causes you to wake up in order to start breathing again.
When you are frequently waking up, this prevents you from getting a good night's sleep and creates a host of problems the next day (more on that below). Sleep apnea affects people of all ages, genders and races. But certain factors like obesity can increase your risk of developing sleep apnea. According to the American Medical Association, 30 million people in the U.S. suffer with sleep apnea. But only 6 million people have been diagnosed with sleep apnea.
I was in the undiagnosed group. I didn't have a sleep partner who could tell me I was exhibiting signs of sleep apnea, such as suddenly waking up during the night gasping or choking, or snoring. I just knew I felt tired all the time, even if the clock said I got seven hours of sleep.
Other symptoms of sleep apnea include daytime sleepiness, loud snoring, dry mouth or sore throat, morning headaches, irritability and difficulty concentrating during the day.
Sleep apnea is potentially serious. Untreated sleep apnea can also increase your chances of heart disease, hypertension and Alzheimer's. That's why it's important to do all you can to minimize sleep apnea's effect on your health.
How Sleeping Position Affects Sleep Apnea
Sleep specialists recommend that people who suffer with sleep apnea sleep on their side to reduce nightly episodes of sleep apnea. When you're side sleeping, your weight is concentrated on your shoulders and hips. That builds up pressure which can become painful. So it's essential to sleep on a pressure-relieving mattress.
As a combination sleeper, I always fall asleep on my side, though I always awake on my back. I can attest to the importance of a high-quality mattress to relieve pressure points. I don't like a super firm or soft mattress. I like a medium-firm mattress with contouring properties—memory foam suits me best.
Back sleeping worsens sleep apnea. That's because this position allows the tongue and throat muscles to block the airways. And while stomach sleeping can reduce snoring and sleep apnea incidents, it can strain your back and neck. That can result in aches and pains when you wake up.
Selecting the Best Mattress for Sleep Apnea
Sleep apnea, which disrupts a person's breathing at night, is a potential cause of lower quality sleep. Mattresses can't cure sleep apnea. But since few of us get the recommended sleep every night, the right mattress with proper support for your sleeping body may help open your airways and ease the incidences of sleep apnea.
While there's no definitive best mattress for people with sleep apnea, certain types of mattresses can adjust and maintain your ideal sleeping position, side sleeping.
Memory foam mattresses are not specifically designed for sleep apnea relief. However, their ability to assist with spinal alignment has certainly helped me. That's why memory foam mattresses are among the best mattresses for those with sleep apnea.
An adjustable bed (like those in hospitals) can also help those with sleep apnea, by allowing your head to remain elevated during the night.
Medical professionals often recommend that patients with sleep apnea elevate their upper body while sleeping to prevent their tongue from falling into the throat and blocking their airway. I can personally attest to the value of an adjustable bed to help lessen sleep apnea.
Our Top Picks for the Best Mattresses for Sleep Apnea
Now let's get into our top picks for every type of mattress shopper who struggles with sleep apnea.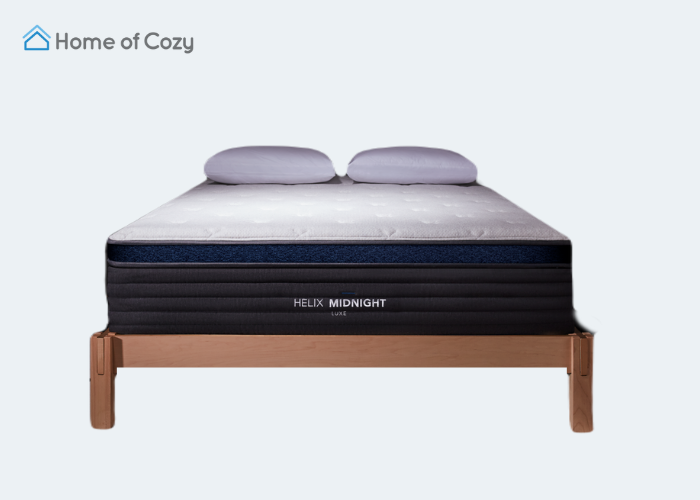 Best For: Side or back sleepers, light sleepers, couples with mattress preference differences, hot sleepers
Price: $1,373.80-2,873.80
Mattress Type: Hybrid mattress, bed-in-a-box
Firmness Level: 6.5/10 on firmness scale
Trial Length: 100-Night, Risk-Free Sleep Trial
Warranty: 15-Year Limited Warranty
What I Loved
The Helix Midnight Luxe is a step up from the company's best-selling Helix Midnight. It features six layers and high-density foams to provide durability, comfort and support. These layers include a springy gel layer that offers extra pressure relief, a dynamic foam transition layer and a high-grade polyfoam support layer. The Helix Midnight Luxe has superior motion transfer for uninterrupted sleep, and enhanced pressure-relieving comfort layers for targeted ergonomic support. The advanced Zoned Lumbar Support system features 1,500 individually wrapped pocketed coils that cradle your shoulders with a softer feel, while the coils beneath your hips have a firmer feel to align your spine. The Helix Midnight Luxe also offers outstanding 4-sided perimeter edge support. If you're a hot sleeper, you can choose between two premium, hypoallergenic cover options: the TENCEL™cover or the best-in-class GlacioTex™ Cooling Cover. TheGlacioTex™ technology wicks heat away from your body as you sleep, just like a high-performance running shirt does.
What I Didn't Love
This high-quality mattress is an investment, so if your budget is tight, you might need to look elsewhere—or watch for online sales to bring it in line with your budget. It's also not the best bet for stomach sleeping.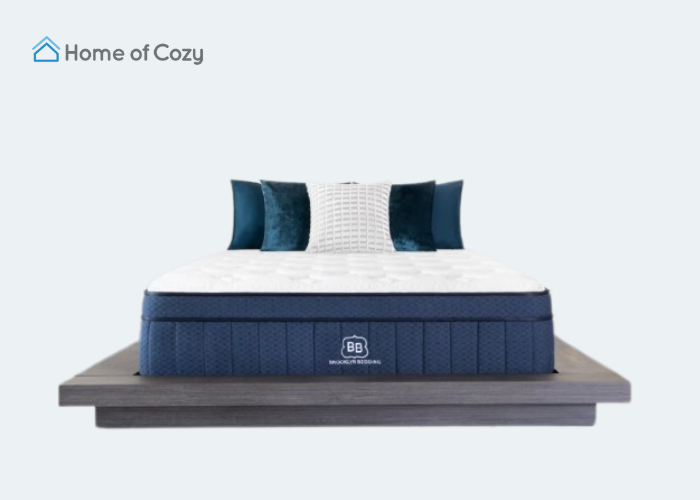 Best For: Hot sleepers, side sleepers, couples, sleepers who need pressure relief
Price Range: $1,199-2,665
Mattress Type: Luxury hybrid mattress, bed-in-a-box
Firmness: Customizable firmness levels from 3-7/10 on firmness scale
Trial Length: 120-Night, Risk-Free Sleep Trial
Warranty: 10-Year Warranty
What I Loved
A whole lot of technology is engineered into the high-end, hybrid Aurora Luxe mattress. The Aurora Luxe features individually pocketed coils that provide excellent support and minimize motion transfer for uninterrupted sleep. A phase-change memory foam comfort layer reduces heat buildup for a cooler sleep experience and provides exceptional pressure relief. The most advanced cooling fabric on the market, GlacioTex™, delivers advanced cooling, maintaining body temperature at an ideal-for-sleep 88 degrees. And if you're a bit of a Goldilocks, the company offers the Aurora Luxe in three different firmness levels for a perfect match no matter what type of sleeper you are.
What I Didn't Love
The Aurora Luxe mattress cover can't be removed, so it's not machine washable—something to keep in mind if spills or stains in bed might be an issue.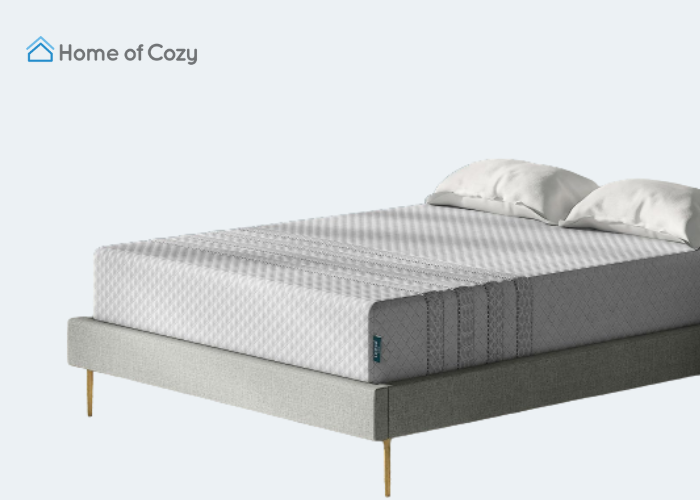 Best For: Shoppers seeking a budget-friendly hybrid mattress
Price: $1,349- 2,299
Mattress Type: Hybrid mattress, bed-in-a-box
Firmness: 5-7/10 on firmness scale
Trial Length: 100-Night, Risk-Free Sleep Trial
Warranty: 10-Year Warranty
What I Loved
The high-performance Leesa Sapira Hybrid is wallet-friendly option for budget shoppers. This hybrid mattress provides sleepers with balance of bounce and pressure relief in a medium-firm feel that suits most sleepers. Premium memory foam offers cooling and contouring, while 1,000 pocketed springs actively respond to your individual movement and sleep style. The breathable cover of ultra-fine viscose and plant-based rayon fibers help hot sleepers stay cool. The Leesa Sapira Hybrid carries the CertiPUR-US® safety certification through independent accredited testing labs that ensure materials are low VOC and made without ozone depleters, phthalates, BPDE, formaldehyde or heavy metals. If you want to support a company with a dedication to social causes as part of its corporate mission, the Leesa Sapira Hybrid might tip the balance. If you also suffer from back pain, the Leesa Sapira Hybrid is an excellent choice to do double duty.
What I Didn't Love
If you prefer a plusher, cushier mattress, the Leesa Sapira Hybrid isn't a good match. If you are a partnered sleeper, you may be prone to feeling your mate's movements during sleep.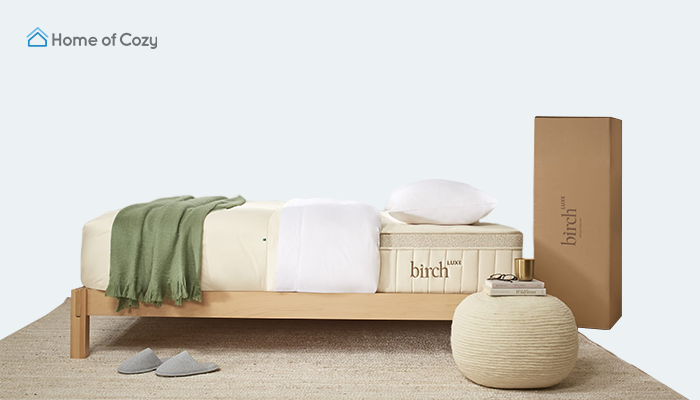 Best For: Comfortable for all sleep positions including back and stomach sleepers, heavy sleepers (it can support up to 1,000 pounds), sleepers wanting a sustainable, responsibly sourced mattress, luxury shoppers
Price: $1,998-3,748.80
Mattress Type: Hybrid latex mattress, bed-in-a-box
Firmness Level: 6-7/10 on firmness scale
Trial Length: 100-Night, Risk-Free Sleep Trial
Warranty: Lifetime Warranty
What I Loved
Made in Arizona, the Birch Luxe Natural is a hybrid latex mattress that you can feel good about purchasing. It's the company's most popular natural mattress, an upgrade from the Birch Natural that boasts organic cashmere and latex, and naturally breathable non-toxic, hypoallergenic materials. The Birch Luxe Natural is one of the best latex mattresses for those with disrupted sleep, like sleep apnea sufferers. The targeted, zoned lumbar support comes courtesy of pocketed coils, which provide enhanced contouring and complete edge support for a secure sleep experience that reduces stress on your lower back.
The Birch Luxe Natural cradles your body with just-right pressure relief so you wake up refreshed. The quilted Euro top cover adds another posh touch to this luxury mattress. This careful attention to green detail has earned the Birch Luxe Natural numerous eco-friendly and safety certifications.
What I Didn't Love
The exceptional materials and construction of the Birch Luxe Natural come with a hefty price tag. Side sleepers and those who like the slow-sinking feel of memory foam may not enjoy this somewhat bouncy mattress.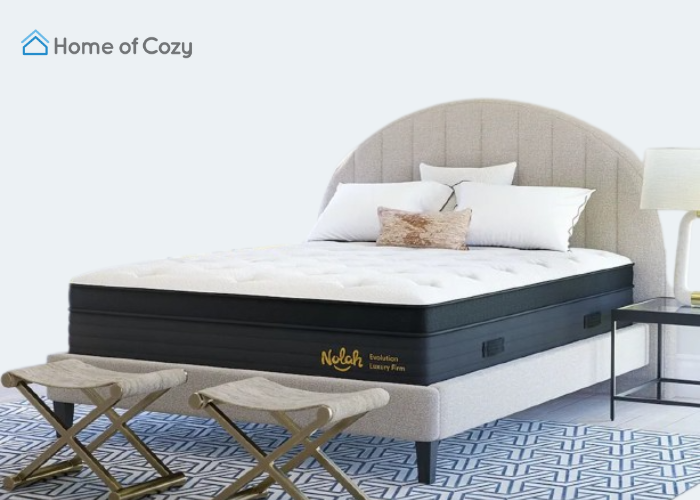 Best For: Side sleepers, sleepers with hip, back, or shoulder pain, combination sleepers, hot sleepers
Price: $1,499-3,148
Mattress Type: Hybrid mattress, bed-in-a-box
Firmness: Available in plush, luxury firm and firm options, 4-8/10 on firmness scale
Trial Length: 120-Night, Risk-Free Sleep Trial
Warranty: Lifetime Warranty
What I Loved
If you need enhanced spinal alignment—say you suffer from sleep apnea, scoliosis or chronic lower back pain—the Nolah Evolution 15" may be just what the sleep doctor ordered. This high-tech, hybrid mattress—the company's most advanced—has been singled out by the Sleep Foundation for its excellent features. Its targeted back support and responsive pressure relief come courtesy of the HDMax™ Tri-Zone™ coils, while the breathable cover, heat-dissipating Euro topper and graphite-infused AirFoamICE™ (the company's next-level memory foam) combine for luxurious cushioning and best-in-class cooling. The Nolah Evolution 12" compares very favorably to a Tempur-Pedic.
What I Didn't Love
The Nolah Evolution 15" may be a bit too cushy for those who prefer a firmer mattress. The Winkbed is a mattress you may want to consider if chronic back pain is an issue for you.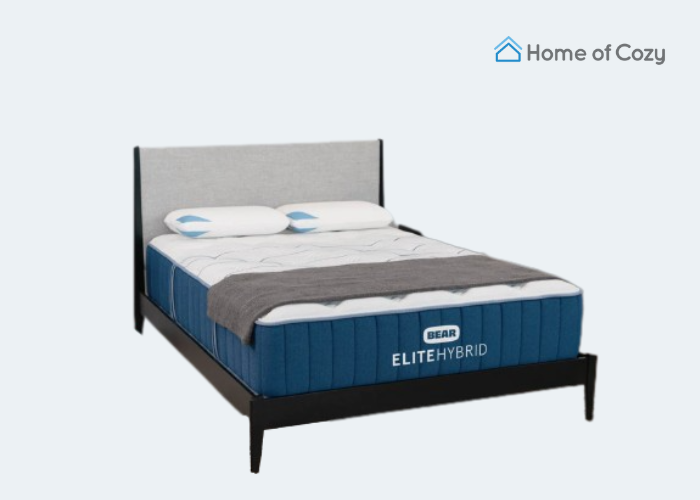 Best For: Partnered sleepers, hot sleepers, couples, combination sleepers
Price Range: $1,721-3,565
Mattress Type: Hybrid, bed-in-a-box
Firmness Scale: Three firmness levels, ranging from 5/10-7/10 on firmness scale
Sleep Trial: 120-Night, Risk-Free Sleep Trial
Warranty: Lifetime Warranty
What I Loved
The Elite Hybrid is Bear's newest and most sophisticated mattress. Individually-wrapped coils provide superior motion distribution compared to traditional innerspring designs, while memory foam and zoned support create a perfect mix of firmness and contouring. The Bear Elite Hybrid features five ergonomic zones offering varying pressure relief levels to support the spine and joints. This system employs higher-gauged coils in the mattress's middle section for lumbar support, while the end zones are more gently cushioned. The Elite Hybrid also performs well in several areas where other mattresses struggle. Its edge support and motion distribution are incredible, letting one partner toss and turn without disturbing the other. Temperature regulation is another strength, thanks to copper-infused cooling gel that draws away and disperses body heat.
What I Didn't Love
This is a premium mattress, so of course it carries a higher price tag. Also, our reviewers felt that the each of the firmness models tended to run a bit softer than ratings suggest.
Best For: Back sleepers and stomach sleepers
Price range: $1,373.80-2,873.80
Mattress Type: Hybrid mattress, bed-in-a-box
Firmness Level: 7.5-9.5/10 on firmness scale
Trial Length: 120-Night, Risk-Free Sleep Trial
Warranty: 10-15 Year Warranty
What I Loved
The Helix Dawn Luxe builds on the company's Dawn mattress. This upgraded model features a firmer than average construction and design that supports the spine, hips and head. The comfort layer is made from Dynamic Foam, Helix's proprietary polyfoam material that works like a blend of latex and memory foam. The transition layer is made from high-density poly foam. The mattress's construction is designed to provide a bit of responsive bounciness and plenty of supportive firmness. The Helix Dawn Luxe's zoned coil core delivers extra lumbar support for enhanced contouring. And the reinforced edges minimize perimeter sinkage. The Luxe model includes a premium quilted pillow top with the choice of an ultra-breathable TENCEL™ Cover or GlacioTex™ Cooling Cover, a plus for hot sleepers. If you're active and suffer from muscular pain or sore spots, the Helix Dawn Luxe can provide significant pressure relief
What I Didn't Love
Because it's a firm mattress, the Helix Dawn Luxe can't provide superior motion transfer. Firm beds do a little less sinking and a little more bouncing, which means that they don't completely isolate the effects of motion from one side of the bed to the other. Fans of cushier mattresses, won't appreciate the Helix Dawn Luxe.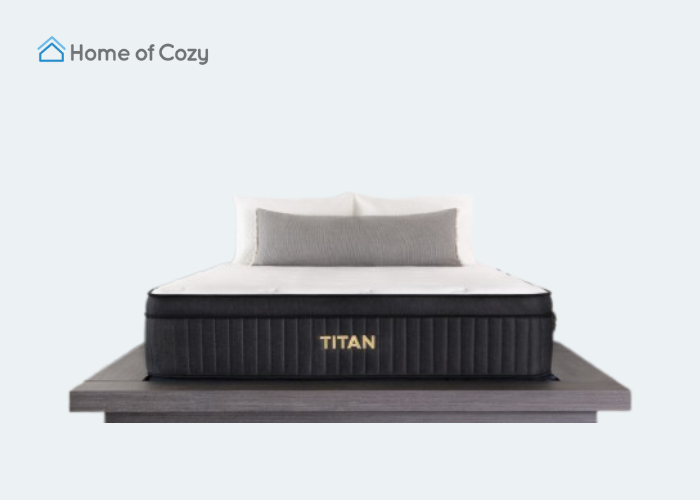 Best For: Heavier sleepers, partnered sleepers
Price Range: $899-1,799
Mattress Type: Hybrid mattress, bed-in-a-box
Firmness Level: Options from 5-7/10 on firmness scale
Trial Length: 120-Night, Risk-Free Sleep Trial
Warranty: 10-Year Warranty
What I Loved
The Titan Plus Luxe is specifically designed with substantial support for heavier sleepers in a more traditional medium firmness. The Titan Plus Luxe builds on the original Titan Plus, bumping up the contouring comfort and durability for plus size sleepers weighing 230 pounds or more. The gel-infused memory foam quilted cover and latex-like, high-density polyfoam layer results in excellent stability. The company's optional GlacioTex™ Cooling Cover can be sewn into the surface of the mattress to deliver ultimate cooling on contact—a terrific upgrade for hot sleepers. An 8" core of up to 1,032 individually encased TitanCaliber™ coils delivers ample support all the way across and to the edge of the Titan Plus Luxe, along with superior motion isolation.
What I Didn't Love
Side sleepers weighing 130 or less pounds may find the Titan Plus Luxe too firm. The responsive feel of a hybrid foam and pocket coils may be uncomfortable for restless sleepers.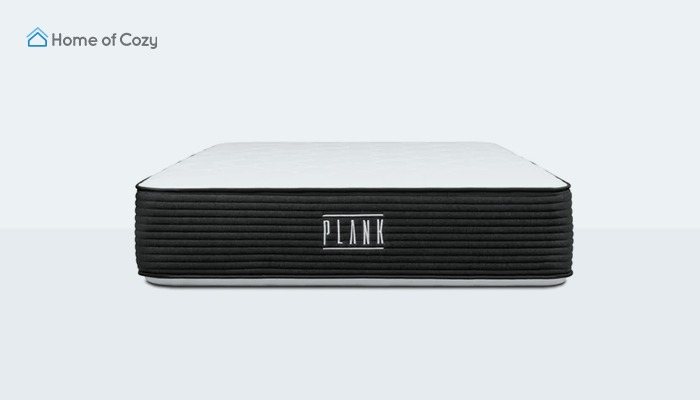 Best For: Sleepers that enjoy an extra-firm sleep experience, heavy sleepers, hot sleepers (with cooling upgrade)
Price Range: $924-1,732
Mattress Type: Hybrid mattress, bed-in-box
Firmness Level: 7-9/10
Trial Length: 120-Night, Risk-Free Sleep Trial
Warranty: 10-Year Warranty
What I Loved
The makers of the Plank Firm Luxe, Brooklyn Bedding, state that it delivers "a firm, flat and healthy sleep in a hybrid design." And it meets this objective very well. The flippable Plank Firm Luxe was inspired by the minimalist approach to sleep in parts of Asia, which creates a neutral spine position that's better for your back and posture overall. That's ideal for those with sleep apnea. The dual comfort design with a coil core comes in two variations: the top side of the mattress feels like a traditional firm; the bottom side of the mattress is ultra-firm, allowing for a highly customizable sleep. Both sides can be upgraded with GlacioTex™ Cooling Covers for hot sleepers. The Plank Firm Luxe is endorsed by the American Chiropractic Association who found in a three-month study that this design improves spinal support and reduces back pain.
What I Didn't Love
If you like the plush feel of a pillow top mattress or the more adaptive contouring of a memory foam mattress, the Plank Firm won't be the right choice for you.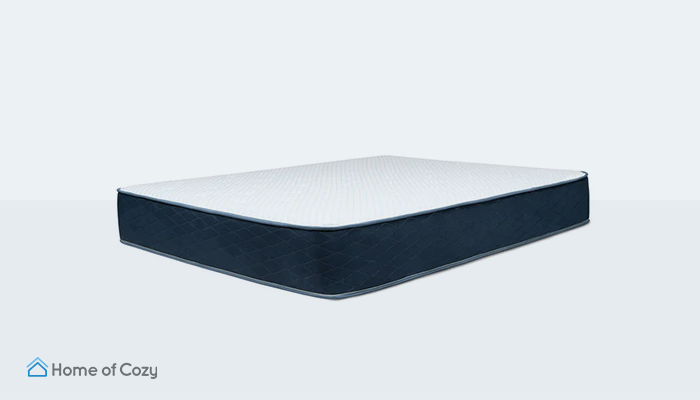 Best For: Back sleepers, lightweight or average weight sleepers, shoppers on a tight budget
Price range: $532-$999
Mattress Type: Hybrid mattress, bed-in-a-box
Firmness Level: 6.5/10 on firmness scale
Trial Length: 120-Night, Risk-Free Sleep Trial
Warranty: 10-Year Warranty
What I Loved
If you're looking for a super affordable memory foam mattress with some cooling properties, the Dreamfoam Hybrid by Brooklyn Bedding is one of the best on the market. This mattress is pegged right at the industry average of medium-firmness, so it provides a good balance of comfort and support, making it a solid choice for many different sleeping positions. The Dreamfoam Hybrid has a responsive feel thanks to its hybrid innerspring and gel memory foam construction. With a layer of 2.5" of cooling gel memory foam, it should help hotter sleepers stay cool by dissipating body heat buildup.
What I Didn't Love
If you're a stomach sleeper or a heavier weight side sleeper, the Dreamfoam Hybrid isn't the best mattress for you as it lacks the necessary support. The motion transfer isn't the greatest, either, especially if you have a sleep partner.
What The Best Mattresses For Sleep Apnea Have in Common
A supportive mattress may help you adopt and maintain a better sleeping position to ease your sleep apnea events.
Shopping for the best mattress when you have sleep apnea is similar to shopping for any high-quality mattress. You'll want to keep in mind the following criteria:
Firmness and Support. A mattress that's well-constructed with high-quality materials provides the proper support for body alignment—particularly important for sleep apnea sufferers. A medium-firm to firm mattress offers the best all-around sleep experience for the vast majority of sleepers.
Pressure Relief. Look for excellent pressure relief around shoulders, hips and lower back to reduce potential airway obstruction.
Motion Isolation. Opt for a mattress with good motion isolation to minimize disturbances from a partner's movements.
Breathability and Temperature Regulation. Consider a mattress with good airflow and heat dissipation to curb sleep disruptions. Look for mattresses made with cooling materials like gel-infused foam or breathable fabrics like cotton or latex.
Allergen Resistance. Choose a hypoallergenic mattress to resist allergens, dust mites and household irritants like pet dander. I like having a hypoallergic mattress that doesn't exacerbate my seasonal allergies to pollen and year-round chemical sensitivities.
Noise Reduction. Select a mattress that minimizes noise from movement to promote a quieter sleep environment, which is very helpful for someone with sleep apnea.
As always, factor in any personal preferences or requirements, such as mattress size and thickness, as you're reading expert mattress reviews and reader reviews.
You can also consult your medical professional who understands the unique challenges posed by sleep apnea. Your healthcare provider or sleep specialist may be able to offer personalized recommendations as you begin looking for a mattress to ease sleep apnea.
Sleep Apnea Doesn't Have to Prevent You From Getting A Good Night's Sleep
As someone with sleep apnea, I take a multi-pronged approach to getting a good night's sleep.
That includes diligently using my CPAP machine, limiting nighttime alcohol intake, curtailing spicy food consumption before bedtime, using a humidifier and altering my sleep position back to side sleeping when I do wake up.
In addition, I use a supportive lumbar pillow (there are even CPAP pillow you can buy) that cradles my neck. And while I don't always power down my devices and briefly meditate before I turn in, when I do, that seems to help.
When asked my doctor what I could do to minimize my sleep apnea, she suggested that a couple of sprays of nasal decongestant before bedtime could help (and I think it has). Some people find using a mouthguard is also helpful to holding the tongue and jaw in a better position for breathing.
I've also found it aids me to have an adjustable base under my memory foam mattress, so I can sleep with my head slightly elevated. You might also want to look into adjustable firmness mattresses.
Finally, excess weight in or around the neck can impair breathing. So if you're carrying some extra pounds, shedding them could lead to an improvement in your sleep apnea.
As always, check with your healthcare professional for tips for how you can better manage your sleep apnea.
If you don't specifically need a mattress designed to help with sleep apnea mattress but you're still in the market for a new mattress, our comprehensive roundup of the 10 Best Mattresses for 2023 is a good place to start.