Interior design is all about making a room appear to be spacious and adding functionality and style. Today we're sharing fifteen DIY decorating ideas for your living room, family room- whatever living space you choose to spruce up.
We're going to cover concepts such as creating consistency in your color palette, adding texture where needed, using area rugs, purchasing furniture, and so much more.
How To Create Your Comfy Living Room
1. Find consistency in your color palette
An important consideration for your living room design is your color scheme. It's important to choose colors that are complementary, pair well, and to use them consistently throughout your space. It's probably best to choose the general color scheme, then move on to choosing a sofa color and other items.
2. Add texture where the space feels empty
Adding throws, pillows, or even furniture that is upholstered in fabric with lush texture can add volume to an area that feels sparse. Pick velvet, fur, or similar textures to create an inviting, "snuggly" vibe in your space.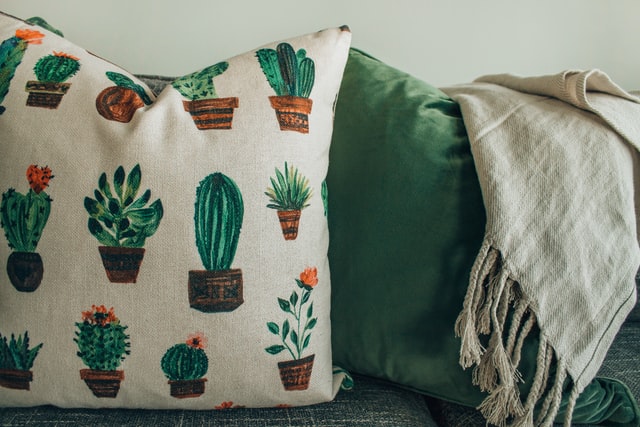 3. Give deeper thought to your area rugs
Your area rug will be what pulls the whole room together- so choose wisely and plan your other elements based on the rug. Choosing a rug with good texture and a pattern that compliments your color scheme is best.
4. Consider the accent wall
One of our easiest decor ideas is adding an accent wall within your room that is a strikingly different color. This adds a pop of color and glam and can add personality to a room that appears drab. A good example is all white walls with a bright blue accent wall.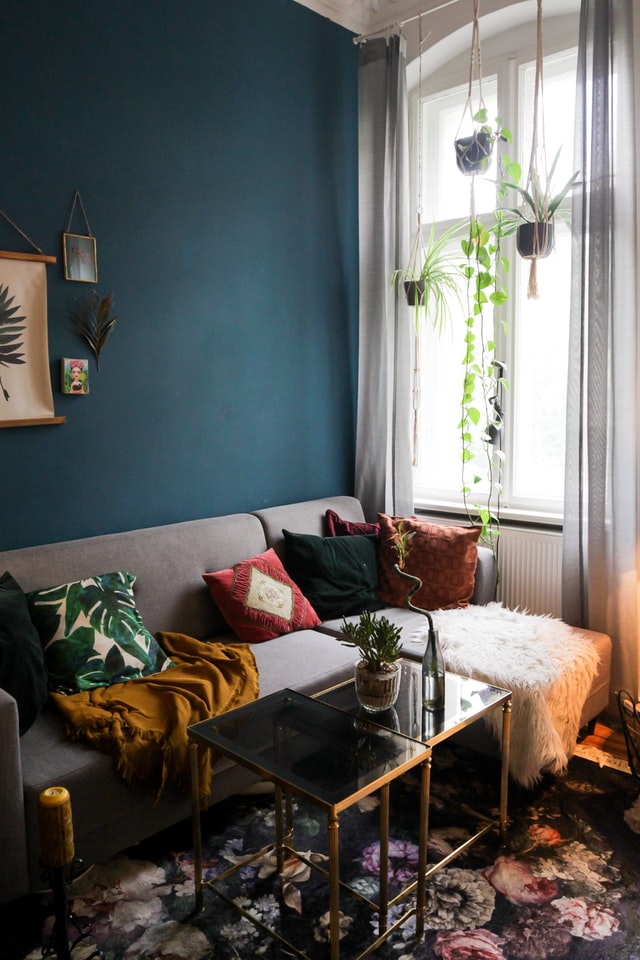 5. Buy furniture for your space
Whether you are working with a small space or a large home, it's important to choose furniture that is size appropriate and include accent pieces to pull the look together. For example, in a small apartment, you might choose a loveseat or small space sectional and compliment with a coffee table. In a larger space, you may choose an oversized sectional with side tables and floor lamps to make good use of the space.
We also did a did a guide on styling around sectional sofas, if you're interested in digging a little deeper there.
6. Think about greenery and plants
Another way to bring life to your space is to introduce a few houseplants to your home decor. The extra oxygen flow and greenery can really add personality to your room. There are specific plants that can still thrive indoors such as the Jade Plant, Asparagus Fern, Guiana Chestnut, and Chinese Evergreen.
7. Personalize your space
Your space won't truly feel homey to you until you add elements of your own life, such as family photos, to your space. Even modern living rooms featured in Home & Garden magazine contain portraits and other items that have personal meaning to the owner.
8. Get throw blankets and throw pillows
After all your decorating is complete, if you still feel like your area needs a bit more, a great and easy option is to add throw blankets and pillows. Choose a complimentary upholstery with warm colors to add a soothing and inviting vibe to complete your look.
9. Create space for your hobbies
Part of creating a functional living room interior is to add space for your hobbies. For instance, if you're an avid reader, you might add a reading nook near a window. Or if you're a gamer, you might include space for gaming chairs that can be brought out during a video game session.
10. Emphasize existing features
If you're working with limited space, you can always emphasize existing features as opposed to trying to squeeze a lot of new furniture and decor into the space. A good way to do this is to add drapes to a built-in window sill.
11. Start some DIY projects
If you want to take your interior design to the next level and make your living space more personal to you, start some DIY projects. You can create a custom coffee table, sculpt a clay vase, or hand sew your own throw pillows.
12. Get some art
Add some personality and set the mood for your space with some artwork. Whether you prefer a van Gogh replica or you prefer to invest in a local artist, add a nice painting or sculpture to the space.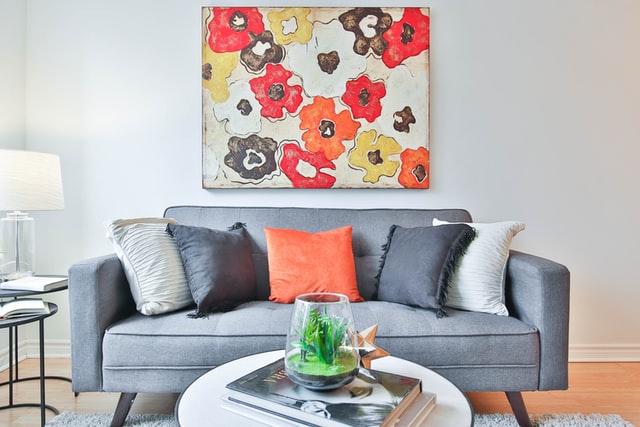 13. Shop for both comfort and style
Everyone wants a stylish living room that stands out and gets people talking, but it's also important to make sure your space is comfortable and relaxing. Invest in furniture that is both elegant and plush. Add decor but don't overcrowd the space so that it feels stuffy.
14. Use functional furniture
To make great use of your space, aim for furniture that is both comfortable and functional. This is particularly important for a small living room feel that doesn't offer a lot of available space.
For example, when you don't have a guest bedroom, a sleeper sofa will turn your living room into a cozy spot for guests to stay the night. Or, if you don't have room for a working space you can invest in a rising coffee table that converts to a desk so you can work from your sofa when needed.
15. Don't buy cheap
It can be tempting to purchase a significantly cheaper version of living room decor pieces you love, but odds are if it's cheaper, it's made with lower quality components. Your living space should be an investment that you can be proud of and use for years to come. If you're hoping to save money, instead opt for better times during the year to buy furniture or wait for your favorite items to go on sale.