Leather upholstery is one of the most luxurious elements of a well-designed living space. Furniture crafted with full-grain and top-grain leather age beautifully over time, becoming exquisite heirloom pieces anyone would be lucky to have in their home.
While leather furniture is definitely worth the investment, you'll need to do some research before landing on your next purchase. That's why I tested sofas from over 20 different leather sofa brands to see who got it right when it comes to long-lasting quality and timeless design.
We have our separate review to find a specific individual leather sofa, but read on the see which brands offer the best in terms of quality, style, value, durability, and customer service.
The Best Overall Sofas of 2022
To help you find the best deep seat sofa, I tested individual models from over 23 different brands. These are the best new sofas with extra deep seats that balance the best in design, price, sustainability, and durability.
5 Best Leather Furniture Brands Consumers Loved This Year
Brand
Current Offers
Best For
1

Editor's Choice

20% off with code COZY20OFF

Quality, Functionality
Shop Now
2
Design
Shop Now
3
High-Quality Leather
Shop Now
4
Durability
Shop Now
5
High-End
Shop Now
1
Editor's Choice
Best For:
Quality, Functionality
Current Offer:
20% off with code COZY20OFF
2
3
Best For:
High-Quality Leather
4
5
1. Allform Leather Sofas
Price Range: $1,695 to $6,495
Seating Configurations: Armchairs to 8-seat sectionals
Leather Upholstery Options: Top grain leather
What I Love About Allform's Leather Sofas
While it's pretty new to the furniture scene, I'm already a big fan of what I'm seeing from this direct-to-consumer brand. Allform creates sleek, mid-century modern seating featuring high-quality upholstery, high-density seat cushions and focuses on modularity and long-lasting durability. I love how you can start out with two modules for a loveseat and easily scale up to three-seaters, and even sectional sofas with chaise lounges and ottomans with seating for 8 people.
And after reading through hundreds of 4.5 to 5-star customer reviews and pictures, I was pleased to see how many other people were impressed by Allform's leather sofas.
For these reasons and the ones described below, I have to put it at the top of our 2022 list. 
While Allform has just one physical showroom in Manhattan, the company makes it incredibly easy to browse, customize, and shop for furniture online. Navigating the website and customization options couldn't be easier. What differentiates Allform from traditional retailers is their transparency. They're up-front about where they produce (all hand crafted in the USA,) and the materials used. Frames are solid kiln-dried maple and poplar wood.
As far as leather sofas go, Allform uses only the best topgrain leather upholstery, which, if you read our individual review of leather sofas, feels soft and much more expensive than it is for the price, something several customers also commented on.
While a lot of companies talk about the sturdiness of their frames, the craftsmanship was literally something I could feel. I could definitely see this sofa being something I could work from home on in addition to lounging and napping comfortably. And I also have to agree
And in terms of customer service, I was also impressed that Allform backs up their high-quality furniture with lifetime frame warranties and a full 100 day at-home trial period. That means you can try a leather sofa at home, live with it for 100 days and if you decide you don't want to keep it, have it shipped back. But having tested out an Allform leather couch for a week, I honestly don't think many people are going to take them up on that.
What I Don't Love
I honestly didn't see any quality issues during the week that I was testing out this leather sofa. Although, while I had a pretty easy time putting it together, the prospect of assembling furniture at home was something that a few customers complained about. However, it's much easier to put together than any IKEA sofa I've assembled in the past.
Popular Allform Leather Sofas
The 3-Seat Sofa with Chaise and the 5-Seat Corner Sectional were the two most popular seating configurations based on reviews.
Best Leather Sofa Brand: Allform
2. West Elm Leather Sofas
Price Range: $1,799 to $6,897
Seating Configurations: sofettes, chaises, three-person sofas, and 6-person sectionals
Leather Upholstery Options: Aniline leather, top grain leather, vegan leather on certain models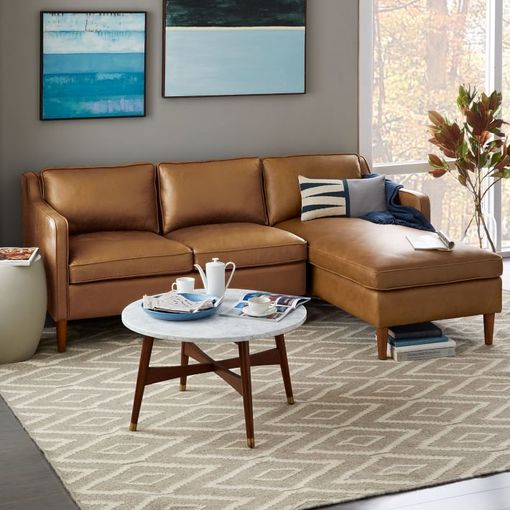 What I Love About West Elm Leather Sofas
West Elm may have a mixed reputation, especially in light of quality concerns for a specific discontinued model, but I always have a soft spot for this retailer. Like many millennials, my first post-IKEA "real adult" sofa came from West Elm and it still has a home in my office. And while I don't own one of their leather sofas, I've tested quite a few of them.
The high points? Similar to IKEA, I love the integrated ability to browse furniture online and see it if it's in-stock at my local store. And anecdotally, I haven't seen any major durability issues. Since 2017, the brand's made significant strides in quality control.
Today, their leather sofas are a hit, and judging from real customer testimonials, many other customers out there agree with me. West Elm excels when it comes to re-creating attainably priced replicas of high-end designer pieces, something that their leather sofas do perfectly. And while I haven't tested any yet, numerous customers have loved the inclusion of vegan leather options for certain models.
What I Didn't Love
I love a good trip to my local West Elm. But when it comes to the online to in-store integrated experience, there are a few things I think they can improve on. For instance, when I went to the nearby store to see a sofa that was said to be on display, it wasn't there. And having combed through negative reviews, this is something several customers also commented on in addition to significant delivery delays or wrong products being shipped.
Popular West Elm Leather Sofas
While there are certainly a lot of models in West Elm's leather sofa collection, The Hamilton, Zander, and Haven stood out as clear customer favorites. I also highlighted the Hamilton as a stand-out in my round-up of best couches.
3. Pottery Barn Leather Sofas
Price Range: $549 to $5,149
Seating Configurations: loveseats, settees, three-seat sofas, sectionals, sleeper sofas
Leather Upholstery Options: Top grain leather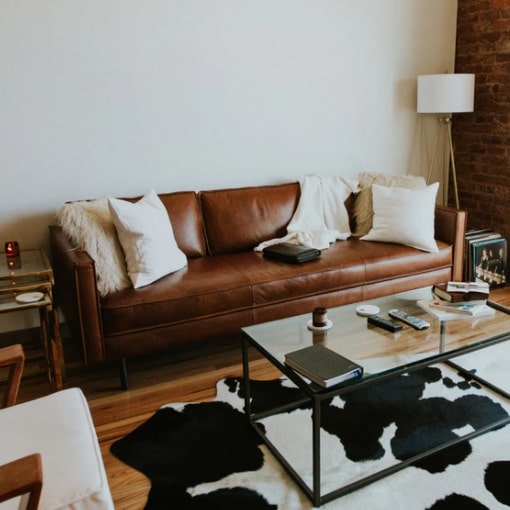 What I Love About Pottery Barn Leather Sofas
Another popular retailer, Pottery Barn is known for its plush, high-end sofas made from some of the highest-quality leather on the market.
While I personally can't afford the vast majority of Pottery Barn's leather sofas, I'm always impressed by their superior attention to design and materials, and the way they offer such a wide range of styles from classic tufted Chesterfield to sleek square-arm designs. I also love the rich topgrain leather they source for their upholstery. All in all, I think their price range tends to justify the investment in a rich, authentic American leather sofa.
What I Don't Love
Like I highlighted in my round-up of best sectional sofas, Pottery Barn designs impeccable sofas that epitomize comfort and style. That said, I've noticed on more than one model that they're kind of hard to get out of since they're lower to the ground compared to sofas from other brands and retailers.
And while I haven't experienced these while testing their furniture, several customers have complained about staggeringly long shipping times, sometimes extending to 4 weeks after their quoted delivery windows.
Popular Potter Barn Leather Sofas
Having analyzed reviews, I found that Pottery Barn's most popular and best-selling leather sofas include the classic Turner Roll Arm and Square Arm models, as well as the brand's signature Chesterfield sofa.
4. Crate & Barrel Leather Sofas
Price Range: $2,249.99 to $5,799.00
Seating Configurations: sofettes, loveseats, settees, 3-seat sofas, sectionals, sleeper sofas
Leather Upholstery Options: Top grain leather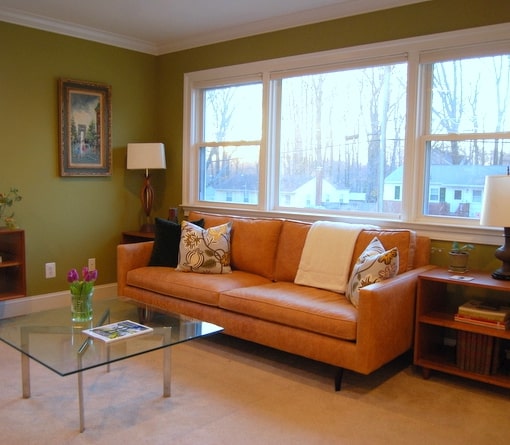 What I Love About Crate & Barrel's Leather Sofas
Crate & Barrel is another retailer I'm partial to when it comes to accent chairs and smaller pieces. While I haven't bought a sofa from them, they're definitely a strong contender for me. I've previously tested the Rollins Leather Sofa specifically, and based on that, I can see why many customers nationwide rely on Crate & Barrel.
While this modern take on a chesterfield looked like it was going to be stiff and incredibly uncomfortable, I'm pleased to say it was the complete opposite. I lounged, read, watched TV, and even dozed off for a bit. The tufted back was an impeccable touch, and I felt completely supported even though the back cushions sat fairly low.
Another thing I loved about ordering from Crate & Barrel: one flat fee of $149 no matter the piece. While that still may sound like a lot, keep in mind that shipping costs can sometimes run north of $200, especially for big, high-priced furniture like leather sofas and sectionals.
When it came to reviews I combed through, I saw that many customers rated Crate & Barrel 4 to 5 stars for the brand's attention to quality and long-term durability, especially compared to other retailers like West Elm and Pottery Barn as a few reviewers specified.
Last, I loved the brand's range of customization features, specifically for apartment or small space sofas
What I Don't Love
I didn't see any quality issues. But, like other big retailers, I found that customers were experiencing significant delays and customer service issues related to damaged products being shipped.
Popular Crate & Barrel Leather Sofas
Crate & Barrel customers loved these leather couches the most: the Rollins Leather Sofa, the Lounge II Petite Leather 3-Seat 105″ Grande Sofa, and the Axis II Leather 2-Piece Sectional Sofa.
5. Flexsteel Leather Sofas
Price Range: $1,969 to $5,342
Seating Configurations: loveseats, three-seat sofas, sleeper sofas, sectionals
Leather Upholstery Options: Aniline leather, top grain leather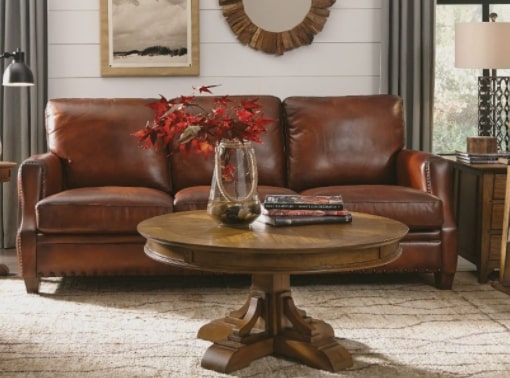 What I Love About Flexsteel Leather Sofas
I have to admit. Before testing furniture professionally, I honestly hadn't heard of Flexsteel before. It's not a brand that has name recognition on par with huge retailers like Pottery Barn or West Elm, but I can see why the company prides itself on superior craftsmanship, high-quality materials and a reputation for durability.
Generally, I see the highest-quality leather sofas coming from companies that don't have anything to prove. Flexsteel simply creates exceptional sofas and they don't really need the fanfare or branding.
And after reading third-party and verified customer reviews, many other people agree. The highlights? Flexsteel has higher than average price tags on many of its pieces, but they're definitely worth their value. After testing the Fenwick Power Reclining Sofa in aniline leather upholstery, I'm a convert. While I'm admittedly a design snob, I strongly considered just outright buying this one for myself. The recliner was just that good. A lot of positive reviews also highlighted how sofas felt "plush" and "extremely durable."
What I Don't Love
I didn't experience any quality issues, but my shipment was delayed by five days longer than anticipated.
Popular Flexsteel Leather Sofas
I think Flexsteel's stand-outs are their power recliners, specifically the Sienna Power Reclining Loveseat and the Fenwick Power Sofa with Headrest.
The 5 Common Leather Grades
Just because it's leather, that doesn't automatically mean you're getting a premium, impeccably-crafted piece of furniture that'll last a lifetime. Brands and retailers tend to throw around a lot of buzzwords like classic leather, faux leather, Italian leather, or "high-quality leather" to lead you to believe you're getting a premium product.
1. Full-Grain Leather
Full-grain leather is among the highest-quality leather you'll find. It isn't split and includes the entire hide. Full-grain retains its full, rich texture and natural markings. However, this type of leather is generally unprocessed, whichmeans it'll absorb moisture or oils it comes in contact with. This will eventually give it a rich "patina" as it ages, something that certain furniture collectors appreciate.
2. Top-Grain Leather
Top-grain leather, otherwise known as aniline leather, refers to leather sourced from the top portion of the animal hide that's left after the splitting process. After being separated, it's sanded down, buffed, and put through a tanning process that clsoes the pores. This will prevent marks of aging and the development of a patina as the leather will no longer be able to absorb moisture or oil. However, it does give the leather a more even look and feel.
3. Split-Grain Leather
This is the bottom portion of the hide made during the splitting process. It's generally used to make other types of leather including suede upholstery.
4. Genuine Leather
Despite its name, it's among the lowest grades of leather you can buy. It consists of the lower layers of an animal hide and may be bound together with glue and repainted to give it a more uniform look.
5. Bonded Leather
This isn't technically leather, but is a mix of leather scraps, dust as well as synthetic materials like vinyl and plastic that are all glue-bonded and sealed with a protective coating. Despite its low price tag, bonded leather generally isn't durable when used in furniture.
Tips for Buying a Leather Sofa
Leave Room in Your Budget For Your Other Home Decor
Leather furniture is definitely an investment, but high-quality leather sofa that's built to last is definitely worth the splurge. So, it pays to be smart and consider quality and materials when you're investing in a piece of furniture that'll be in your living room for many years to come.
Don't Be Fooled by the Term "Genuine Leather"
While the term may make any low-priced sofa sound like a steal, you should know that "genuine leather" is technically the lowest grade you could probably buy. That's why the highest quality leather upholstery out there will usually be full grain or top grain leather. For these, you'll rarely find models under $1,200.
Research Other Brands as Well
At Home of Cozy, we've done the work in narrowing down this list of brands for the best ones out there, but that doesn't mean these are the only ones you should be considering. Shop around at other retailers such as Ashley or Bradington-Young. Or, if you want to skip the showroom, Amazon's Rivet brand has some great, well-priced leather sofas ready to ship.