Leather sofas upholstery is one of the most luxurious elements of a well-designed living space. Furniture crafted with full-grain and top-grain leather age beautifully over time, becoming exquisite heirloom pieces anyone would be lucky to have in their home.
While leather furniture is definitely worth the investment, you'll need to do some research before landing on your next purchase. That's why I tested sofas from over 20 different leather sofa brands to see who got it right when it comes to long-lasting quality and timeless design.
We have our separate review to find a specific individual leather sofa, but read on the see which brands offer the best in terms of quality, style, value, durability, and customer service.
Our Favorite Leather Sofa Brands
Here's a handy guide to the best leather sofa brands and stores out there. If you want to continue your search, check out more Home of Cozy guides on the best online sofa retailers and best places to buy a couch.
Price range: $1,695 – $6,495
Allform is a relatively new furniture brand, but it's one that's backed by the best furniture designers. Their approach to intuitive, modern designs results in some of the most versatile modular loveseats, sofas, and sectionals constructed from the best materials by artisans, right here in the USA.
Price range: $1,799 – $6,897
West Elm has made a name for itself with trendy, mid-century inspired and contemporary furniture that features clean lines, brilliant color palettes, and accessible price points. Their online and in-store experiences are both great, and they offer fairly affordable white-glove furniture delivery.
Price range: $549 – $5,149
Pottery Barn creates some of the most luxurious and aspirational furniture and home decor you could possibly buy. While their sofas tend to be on the pricier end, they do offer home decor that's relatively affordable.
Price range: $314 – $20,699
Wayfair is an eCommerce giant that has anything and everything for your entire home.In fact, they proudly carry over 14 million individual products. And you'll also get a great deal on delivery fees since they offer free shipping on any order over $49.
Price range: $200 – $15,400
Amazon may not be the first name that pops into your head when buying furniture, but their Rivet line is fast becoming a popular source for anyone decorating small spaces, living rooms, home offices, or even entire homes.
How We Chose Our Top Leather Sofas
I tested out dozens of different leather sofas in a range of configurations and leather grades. We considered traditional three-seater sofas, loveseats, leather sectional sofas and chaise loungers, as well as sleeper sofas and reclining sofas.
I tried to analyze a range of styles and designs from classic chesterfield sofas to modular leather sofas, and even some small space solutions. Ultimately, I wanted to highlight the brands and retailers who balanced good materials and great customer care and delivery.
The Best Overall Sofas of 2023
To help you find the best deep seat sofa, I tested individual models from over 23 different brands. These are the best new sofas with extra deep seats that balance the best in design, price, sustainability, and durability.
Our Picks for the 10 Best Leather Sofas of 2023
Brand
Best For
1

Editor's Choice

Versatility
Shop Now
2

Long-term use
Shop Now
3

Delivery
Shop Now
4

Customization
Shop Now
5

Upholstery Options
Shop Now
6

Sectional
Shop Now
7

Style Longevity
Shop Now
8

Mid-century modern style
Shop Now
9

Affordability
Shop Now
10

Sofa bed
Shop Now
1
Editor's Choice
2
3
4
5
Best For:
Upholstery Options
6
7
Best For:
Style Longevity
8
Best For:
Mid-century modern style
9
10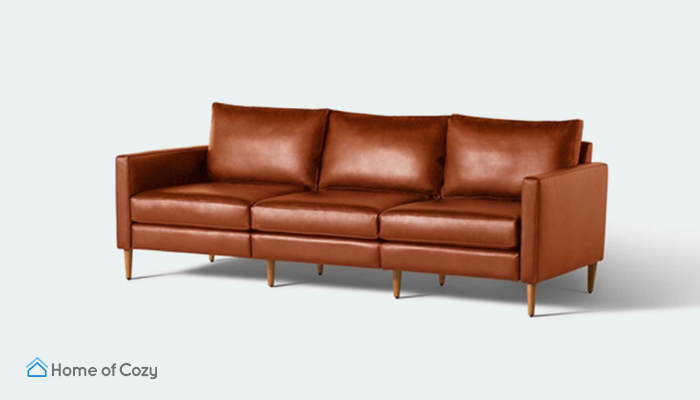 Price: $2,245
Dimensions: 90" width x 38" depth x 34" height
Frame Materials: Maple and Poplar Kiln-Dried Laminated Hardwood
Leather Upholstery Options: 2 top-grain leather options
Home of Cozy Exclusive Offer: 20% off sitewide with promo code COZY20OFF
What I Loved
Endless versatility is by far the thing I love most about Allform's take on the classic three-seater sofa. Allform creates fully modular seating, meaning you can start with a mere armchair or loveseat and continually add on seating and chaise modules to create a sectional sofa or living room set that grows with you.
Having tested dozens of Allform sofas before, the leather three-seater was one of my personal favorites. Allform has just physical showroom in New York City, so most sales are done through the site. They're actually a sister brand of Helix, one of the premier mattress-in-a-box companies. So, their eCommerce chops really come through when it comes to an easy online shopping experience that values customization and visualization.
It's easy to see the Allform sofa fitting into any living space. And to be frank, it looks and feels amazing in person. The sofa does require some assembly, but the high-density foam seat cushions, wood legs, armrests, and back cushions are much easier to fit together than comparable models from other retailers.
Plus, I'm always a fan of Allform's incredibly generous care and warranty coverage: their already solid-as-a-rock frame is covered by a lifetime warranty and you can try their furniture at home for 100 days free before committing long-term.
What I Didn't Love
There wasn't really much to dislike, to be honest. If you're not a fan of mid-century designs, this one might not be for you.
Home of Cozy Exclusive Offer: 20% off sitewide with promo code COZY20OFF
2. Best Leather Sofa For The Long-Term: Burrow Nomad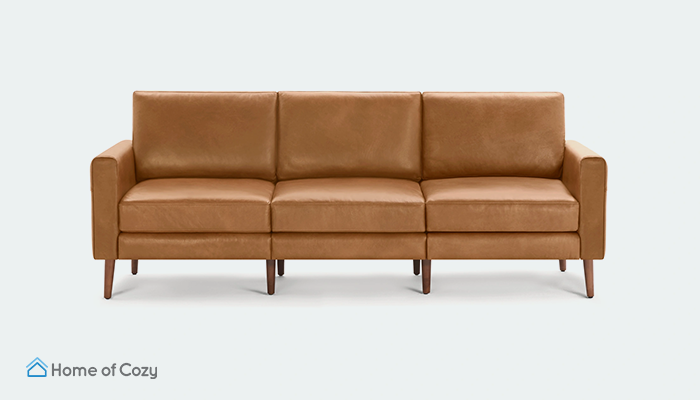 Price: $2,295+
Dimensions: 85″ L x 35″ D x 33″ H
Frame Materials: Solid wood (Baltic Birch)
Leather Upholstery Options: Top-grain Italian Leather
What I Loved
Like AllForm, I've tested countless Burrow sofas and sectionals, and I am such a massive fan. All of Burrow's designs are easily configurable to the size and shape you need, they're easy to put together, and they're comfortable immediately, no breaking in required.
Burrow Nomad leather sofas are among my favorites in their collection. The leather is beautiful – thick and strong but still soft and buttery. The leather is also extraordinarily durable against cats and dogs, and customers say that there is no evidence of scratching or tearing even after years of everyday use by pets.
Even though the sofa's profile is quite slim, it still feels like there's a lot of room for lounging. Especially if you opt for the chaise or ottoman, this sofa offers the perfect amount of room.
What I Didn't Love
For the leather, I wish there were a couple more colors to choose from. The camel, chestnut, and slate certainly cover the basics, but some different tones of brown would go a long way.
You should also note that Burrow sofas take a relatively long time to arrive– about 8 weeks from the time of ordering.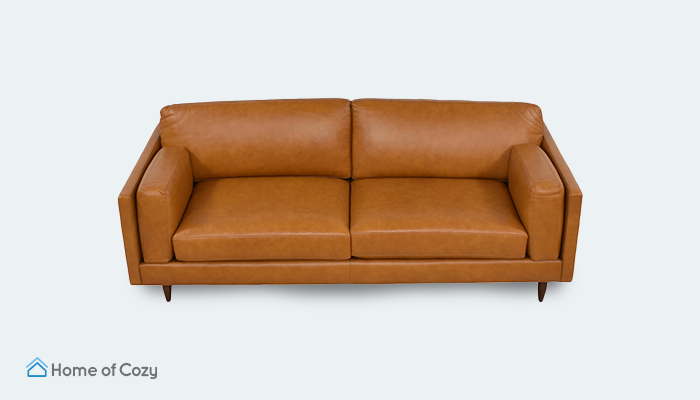 Price: $6,778+
Dimensions: Customizable
Frame Materials: Solid wood frame
Leather Upholstery Options: Ponti and marfa leather
What I Loved
If you're looking for a luxury leather sofa customizable to your exact specifications, BenchMade's Skinny Fat is among the best on the market. Everything about the Skinny Fat is customizable, from the length and seat depth to the cushioning, fabric, leg material, and layout.
The Marfa leather is gorgeous- buttery soft and luxurious, with small, natural marks that add to the uniqueness of the couch. It feels durable, and customer reviews indicate the leather stays looking relatively new for years.
As far as the rest of the couch, I opted for the extra deep seats and trillium/foam couch filling, making for the perfect, low maintenance sofa.
It took about 7 weeks for the couch to arrive. I opted for white glove service so the sofa was unloaded, unwrapped, and set up by professionals, making for one of the easiest couch deliveries of my life. They even took the packaging with them.
What I Didn't Love
This sofa is certainly expensive, and while it may feel hard to justify this price, the quality of the leather and construction coupled with its lifetime warranty make this sofa worth it.
4. The Rivet Aiden Tufted Mid-Century Loveseat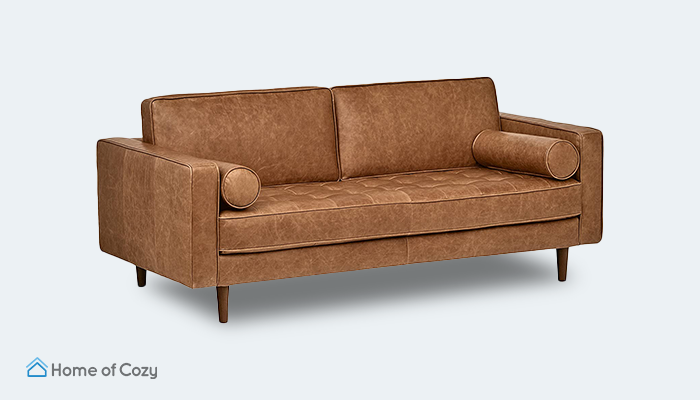 Price: $925
Dimensions: 74" width x 36.2″ depth x 30.3″ height
Frame Materials: solid wood frame
Leather Upholster Options: 2 top-grain leather options
What I Loved
Amazon's Rivet line creates some great furniture backed by the retail giant's signature attention to convenience, comprehensive product details, and reviews. Speaking of which, the Aiden Tufted Mid-Century Loveseat boasts a 4.5 out of over 1,000 customer reviews.
All in all, I have to agree with the best reviews out there. The Rivet is a well-priced, high quality piece of furniture available for $925, a far cry from the exhorbitant price tags you'd see for similar styles from designer brands and furniture companies.
The top-grain leather felt comparable to Allform and Pottery Barn sofas on this list, and the overall visual appeal definitely lived up to the great product photography. In terms of coverage and care, I'm always a fan of Amazon's 3 and 5-year Accident Protection Plans.
What I Didn't Love
While the overwhelming number of reviews were glowing, there were a few negative reviews that highlighted some hit-or-miss durability issues (e.g. missing pieces, frame components that didn't align completely, fraying fabric, etc.)
5. The West Elm Leather Dekalb Sectional with Chaise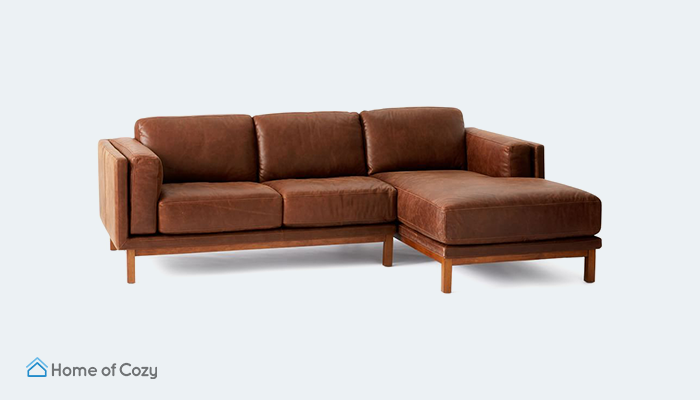 Price: $4,800 to $5,400
Dimensions: 102″ width x 66″seat depth x 33″ height
Frame Materials: hardwood frame
Leather Upholstery Options: 1 top-grain leather option in-stock and ready to ship, 2 leather ready to ship within 3-5 weeks, 1 option available within 10 weeks
What I Loved
The Dekalb is among one of West Elm's most popular leather sofas. Featuring a deep, wide chaise lounger, this sectional sofa was actually available at my local store. So, I decided to take a look. In-person, I can see why it's worth the relatively high starting price. The top-grain leather upholstery was one of the most soft and supple I've experienced from sofas on this list. Plus, the upholstery options each have such a rich tone and texture to them that it's hard to pick just one.
The chaise lounger was a great detail, and I could totally see myself lounging away a Saturday afternoon Netflix binge. All in all, it's an amazing leather sofa if you can stomach the price and potential 10-week lead time for the "Molasses" brown leather upholstery option.
What I Didn't Love
Like I mentioned, there are options that require added 3 to 10-week delivery times. Made-to-order versions are crafted in the USA while stock options are made in China.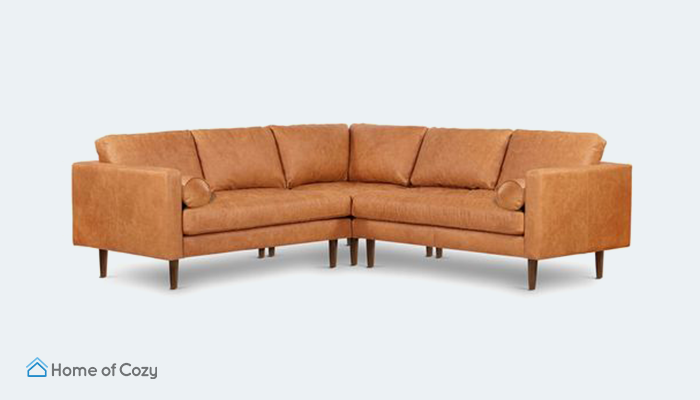 Price: $3,795
Dimensions: 98″W x 98″D x 34″H
Frame Materials: Kiln-dried wood
Leather Upholstery Options: full-grain aniline Italian leather
What I Loved
This couch is beautiful, and fantastic quality too. The leather is soft and natural, with unique patterns on every hide. I agree with customer reviews that say this couch is super comfortable, as it rivals some of the fluffiest, loungiest couches on the market.
As far as sofa deliveries go, this is among the easiest experiences I've ever had. Super easy to schedule, unpack and assemble, and the delivery guys were incredible. If possible though, have an extra pair of hands on deck to help you carry in the boxes, as they are large and kind of awkward to handle on your own.
What I Didn't Love
Unlike leather sofas from AllForm and Burrow, this couch scratches pretty easily, and some customers recommend leather oil to help protect it.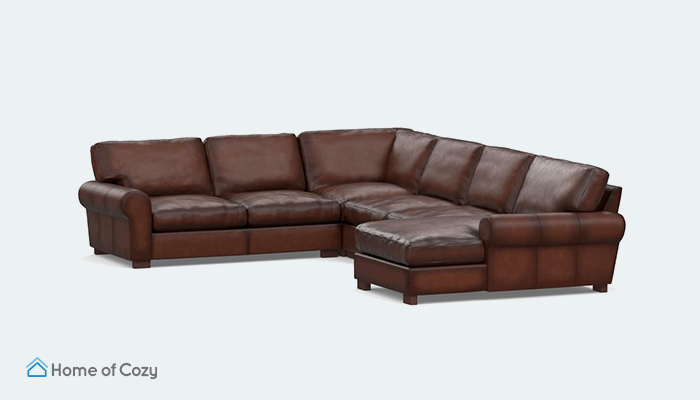 Price: $8,296-$9,096
Dimensions: 144″ width x 113.5″ chaise depth x 68.5″ seat depth x 35″ height
Frame Materials: solid hardwood frame
Leather Upholster Options: 32 top-grain leather options
What I Loved
Pottery Barn is one of the premier furniture retailers out there with sofas and sectionals finding their way into some of the most beautiful living rooms in the world. Their large furniture may cost as much as a small car, but in my opinion, it's worth it when it comes to heirloom quality furniture you can buy online or from the convenience of your local showroom.
For the four-piece Turner sectional, I loved the ability to customize the orientation of the chaise: either righthand facing or lefthand facing. And in terms of styling, the roll armrest was a classic touch that, coupled with the rich cognac-tone Italian leather lended this sectional an incredibly elegant look and feel.
What I Didn't Love
I loved everything about this sofa except for the price. Starting at $8,296, it's definitely the most expensive sofa on this list. Also, you can choose from over 30 different top-grain leathers. Just keep in mind they all come with a 10-week lead time since this sofa is made to order.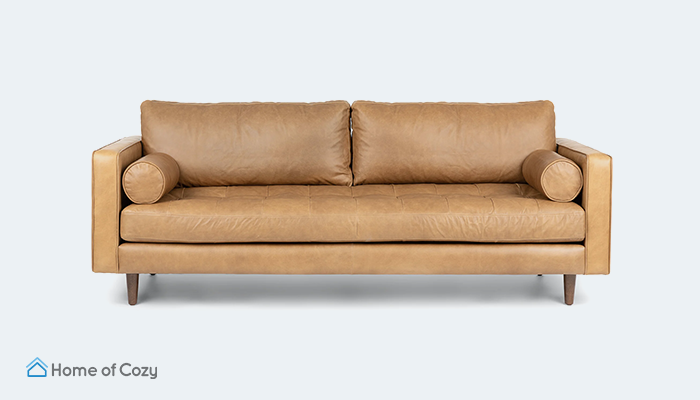 Price: $2,099
Dimensions: 34″H x 88″W x 38″D
Frame Materials: Solid wood frame
Leather Upholstery Options: Full- aniline leather in 4 color options
What I Loved
This couch is just as soft and comfortable in person as it looks online. The leather is soft and buttery– though certainly a bit more delicate than leather on AllForm and Burrow couches. The look and style of the Sven is timeless, and I personally think it is one of the most beautiful couches on this list.
The couch cushions are foam and polyester filling, which gives enough support while still feeling plush and cozy. For the time I had this couch in my possession, the Sven stayed comfortable, with minimal sagging and virtually no fluffing required.
Delivery and assembly were incredibly easy, though there are options for white glove delivery and assembly if you'd like it.
What I Didn't Love
Some customers call this couch 'high maintenance,' especially after a year or more of everyday use. Most say that the cushions need fluffing every couple of weeks to stay looking nice, and a few even say that the seat cushions begin to sag– though those reviews are certainly the minority.
There is also a hard-to-clean gap between the bench seat and the back of the couch perfect for sucking up food crumbs, loose change, and other everyday oddities.
Also, like I mentioned above, this leather is not as durable as that from AllForm and Burrow and will stain, crack, and darken over time.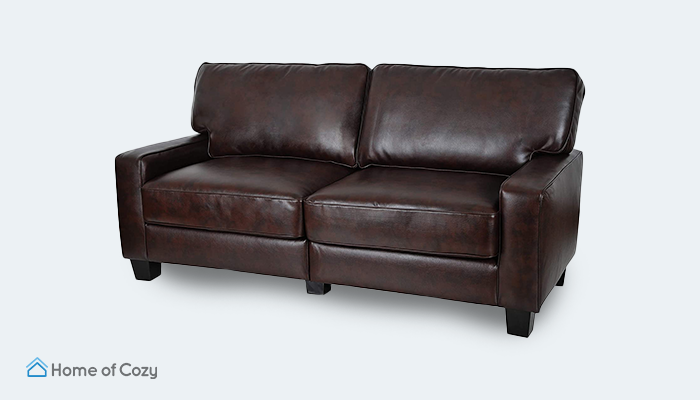 Price: $400
Dimensions: 78″ width x 32.5″ depth x 35″ height
Frame Materials: steel and hardwood frame
Leather Upholster Options: 3 leather options, 2 faux-leather options
What I Loved
At $400, this may be one of the best deals on a leather sofa you can find online. Serta is a company synonymous with comfortable mattresses, so my expectations were pretty high for their sofas. And I'm happy to report that they more than exceeded my expectations.
The best thing about this sofa? It comes in a vegan leather upholstery if you're not a fan of traditional, animal-sourced leather. Plus, it comes in three different widths depending on the size of your living space.
What I Didn't Love
Unfortunately, the faux-leather just isn't as comfortable as organic leather. However, at $400, it's practically a steal. Also, at 32.5″ deep, it had of the shallowest seat depth of any sofa on this list.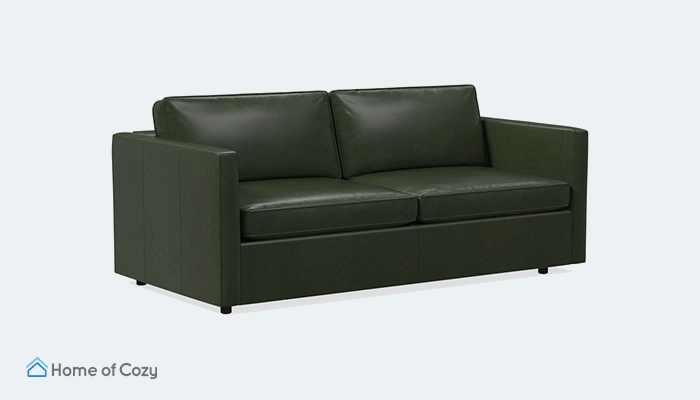 Price: $3,439 – $4,499
Dimensions: 78.5″w x 40″d x 34″h.
Frame Materials: Kiln-dried pine
Leather Upholstery Options: Premium leather in 15 color options
What I Loved
This Harris is a perfect little leather loveseat comfy either way you need it. The pull-out, queen-size mattress is made out of a layer of regular memory foam and a layer of gel-infused memory foam for an added cooling and cushioning.
Another plus – the Harris is available in vegan leather too.
What I Didn't Love
Delivery with West Elm seems to be a hit or miss amongst customers. Though my experience went smoothly, others complain of delays and unhelpful customer support.
About Leather Grades
Like I mentioned in my review of the best leather sofa brands, it helps to understand the terminology that brands and retailers use to describe leather sofa upholstery. Here's a quick guide on different leather grades from highest to lowest quality:
Full-Grain Leather: This leather isn't split and includes the entire animal hide. As such, it has a rich, full texture and natural markings. Many designer brands and high-end furniture companies generally source leather that isn't chemically processed, which means the upholstery will absorb moisture and oils it may come in contact with. It'll eventually develop a "patina" and pigmentation in certain patches but it's also some of the softest leather you'll ever feel.
Top-Grain Leather: Also known as "aniline leather," a top-grain leather sofa comes from the top portion of animal hide. It's sanded, buffed down, and tanned in order to close the hide's pores. This results in a more consistent color and tone over time.
Split-Grain Leather: This comes from the bottom portion of the animal hide. Many mid-range furniture companies and brands use this in their leather furniture. Also, split-grain leather is sometimes used to create suede.
Genuine Leather: Despite its appealing name, "genuine leather" is among the cheapest quality leather you can buy. It's sourced from the lower layers of animal hide and may be bound with glue before being dyed to give it a more uniform look and texture.
Bonded Leather: Bonded leather barely qualifies as real leather. Like genuine leather, it's usually pieced together, but from leather scraps and synthetic filler materials like plastic. It's also not very durable and generally degrades much faster than full or top-grain leather.
Tips for Buying a Leather Sofa
Leave Room in Your Budget For Your Other Home Decor
Leather furniture is definitely an investment, but high-quality leather sofa that's built to last is definitely worth the splurge. So, it pays to be smart and consider quality and materials when you're investing in a piece of furniture that'll be in your living room for many years to come.
Don't Be Fooled by the Term "Genuine Leather"
While the term may make any low-priced sofa sound like a steal, you should know that "genuine leather" is technically the lowest grade you could probably buy. That's why the highest quality leather upholstery out there will usually be full grain or top grain leather. For these, you'll rarely find models under $1,200.
Research Other Brands as Well
At Home of Cozy, we've done the work in narrowing down this list of brands for the best ones out there, but that doesn't mean these are the only ones you should be considering. Shop around at other retailers such as Ashley or Bradington-Young. Or, if you want to skip the showroom, Amazon's Rivet brand has some great, well-priced leather sofas ready to ship.
More Tips for Getting a New Couch
Now that you have a sense of some of the best leather sofas and brands out there, I'd like to leave you with a few more tips.
Leather upholstery ages beautifully, but only if you take care of it. For that, check out more guides on repairing a leather couch and cleaning your sofa.
And when it's time for you to let go of some much-loved furniture and decor, explore some key tips on how to get rid of your couch ethically and sustainably.