Leather sectionals are a timeless marriage between modern elegance and classic rusticity. They provide an eye-catching focal point in any living room, elevating the space with their charming silhouettes and spacious configurations. At the same time, the best leather sectionals are as rugged as rhinos and so easy to care for. They also age like fine wine, gradually developing a patina as rich and vibrant as your home.
The team at Home of Cozy reviewed over three dozen leather sectional couches in preparation for today's guide, whittling our way down to the 12 best models for overall comfort and aesthetics. If you're seeking a cozy piece of furniture for your living space, the following sectionals have you (and your entire family) covered.
How We Chose Our Top Leather Sectional Sofas of 2023
Our team scoured the web for popular L-shaped, U-shaped, chaise, and modular leather sectionals. Then, we put the highest-rated models under a magnifying glass, using the following criteria as a touchstone for our evaluation:
1. Quality – We began our evaluation of each sectional by thoroughly inspecting its leather stitchwork, frame durability, and attention to minute detail.
2. Comfort – The best leather sofas ought to feature smooth and cool-to-the-touch upholstery wrapped around dense cushions that envelop your body for a cozy, supportive sitting experience.
3. Aesthetics – Our team sought out leather sectionals with rich palettes and modular silhouettes, ensuring an option for every home.
4. Delivery & assembly – Ordering a sofa should feel like a housewarming party, not a chore. We looked for furniture companies with stellar customer service, speedy delivery, and hassle-free assembly instructions.
5. Sustainability – Responsibly-sourced materials are always important — but even moreso when it comes to animal-derived leather. Rest assured, we hold ourselves (and our recommendations) to the highest ethical standards.
With these criteria in mind, you can be sure that the following options represent the best, most luxurious leather sectionals your hard-earned money can buy.
Our 12 Favorite Leather Couch Sectionals Of 2023
Brand
Best For
1

Editor's Choice

Overall
Shop Now
2

Chaise
Shop Now
3

Modular
Shop Now
4

Reclining
Shop Now
5

Budget
Shop Now
6

Small Spaces
Shop Now
7

U-Shaped
Shop Now
8

Sleeper
Shop Now
9

Luxury
Shop Now
10

Mid-Century Modern
Shop Now
11

Unique
Shop Now
12

Faux Leather
Shop Now
1
Editor's Choice
2
3
4
5
6
7
8
9
10
Best For:
Mid-Century Modern
11
12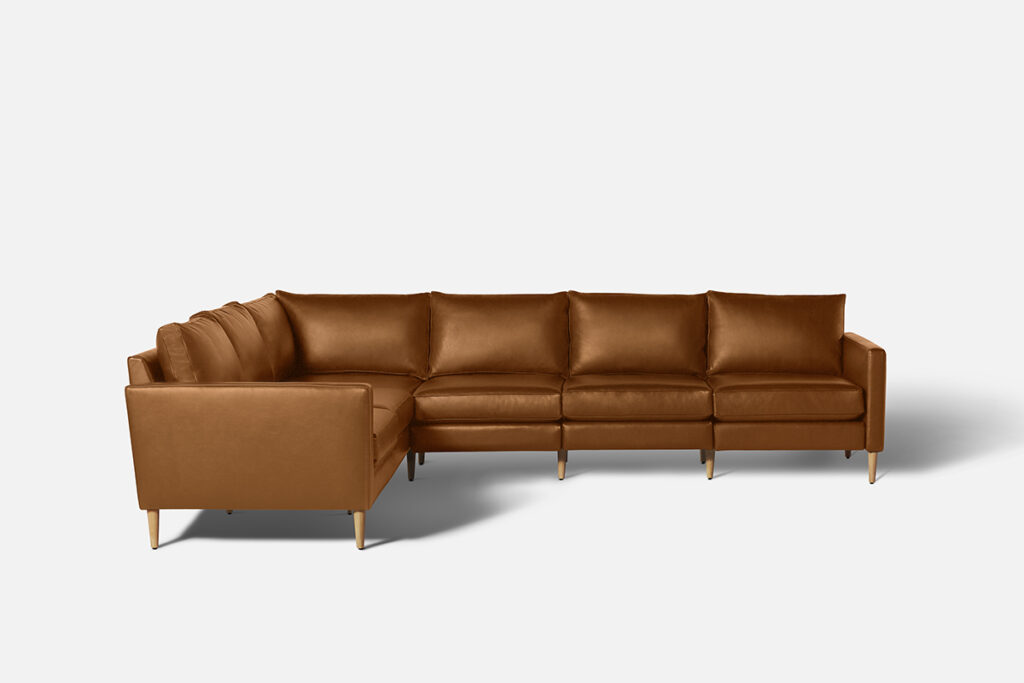 Best For: Overall
Price: $5,945+
Dimensions: W151″ x D70″ x H34″
Frame Materials: Maple and poplar kiln-dried laminated hardwood
Upholstery Options: 2 top-grain leather options
Home of Cozy Exclusive Offer: 20% off sitewide with promo code COZY20OFF
What I Love About This Allform Sofa
Allform is my go-to for leather sofas and sectionals. The company's modular seat blocks can transform into sofas of any shape and size, from cozy three-seaters to ginormous wraparound sectionals. The customization doesn't stop there, either. Allform lets you choose between multiple finishes, including Smoke and Whiskey top-grain leathers. I personally prefer the Whiskey brown leather for its rich golden aura and royal aesthetic. Of course, it doesn't matter which option you pick — Allform's seat sections are always comfortable, made from a delightful blend of polyfoam and fiber.
Concerning the shopping experience, I love browsing Allform. The company's website is as lovely and intuitive as its sofas, and the customer support is impeccable, always offering pleasant and timely responses to my questions. The support team even sent me free fabric swatches, so I could experience the leather's premium look and feel before committing. Shipping and assembly feature the same level of care and attention to detail, with the sofa arriving in a handful of boxes and assembling in under an hour.
What I Didn't Love
Allform isn't expensive, but nor are they a low-budget brand. The six-seater corner sectional costs almost $6,000, and that's with this coupon applied. While it's worth every penny, I do wish the sofa came with throw pillows or a matching ottoman (you'll have to buy those separately). Luckily, Allform teams up with Klarna and Katapult for hassle-free payments.

Home of Cozy Exclusive Offer: 20% off sitewide with promo code COZY20OFF
Best For: Chaise sectional
Price: $3,649+
Dimensions: W101.2″ x D66.9″ x H34.3″
Frame Materials: Laminated veneer lumber w/ plywood
Upholstery Options: 1 top-grain leather option
What I Love About This Castlery Sofa
The Madison Leather Sectional is among my favorite sofas for lounging, bar none. That's because, instead of a standard rectangular design, the Madison comes with a reversible right-facing or left-facing chaise lounge and matching ottoman that you can situate anywhere. On top of that, it features some of my favorite bolster pillows on the planet. These extraordinarily soft, leather-clad pillows don't just provide soothing back support; they effectively transform the Madison's 100″ frame into a bonafide daybed. It's the perfect partner for a mid-afternoon nap or late-night cuddle fest.
Concerning the upholstery, I adore the Madison's Caramel leather, which is durable and ever-so-smooth to the touch. I'm also a sucker for those dimpled seat cushions that look and feel as sweet as a smile. Overall, it's the best leather sectional with chaise I've reviewed.
What I Didn't Love
I generally enjoy shopping at Castlery. The website feels intuitive, customer support answers my questions cheerfully and thoroughly, and shipping is hassle-free. Unfortunately, Castlery also incorporates a few anti-consumer policies. First, Castlery's 14-day return policy is among the shortest in the industry. I believe a one-month trial should be the bare minimum, considering you're purchasing the sofa sight-unseen. Two, shipping costs extra, setting you back an additional $100 or more. It's the little things that set modern furniture companies apart, and I wish Castlery would strive for greatness instead of adequacy.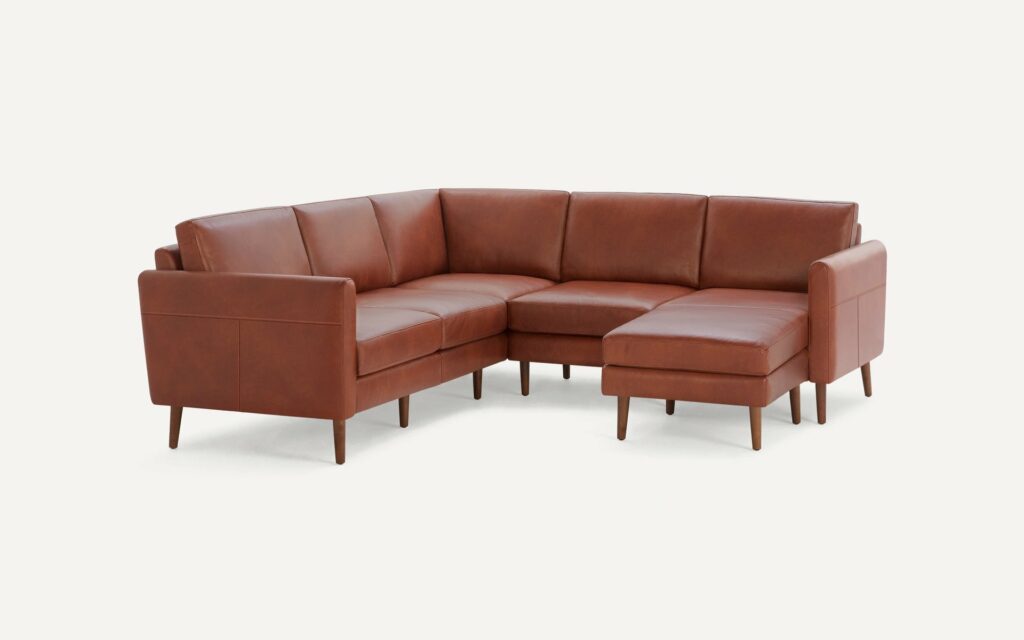 Best For: Modular sectionals
Price: $5190+
Dimensions: W88″ x D88″ x H33″
Frame Materials: Baltic birch
Upholstery Options: 3 top-grain leather options
What I Love About This Burrow Sofa
No other sectional nears the level of adaptability offered by Burrow's Nomad sofa. It's customizable to the core, comprising various modular pieces you can conjoin into the perfect shape and size for your home. The 5-piece sectional features five of these components stitched together in an L-shape — perfect for small-to-medium living spaces like mine. If you're looking to upgrade your own living room, the process for choosing a Burrow Nomad is easy.
To begin, you select from three types of leather, including Chestnut, Slate, and (my favorite) Camel. Then, you choose between wood or metal legs and pick the style of armrest that best matches your space. Concerning the ladder, I love and recommend the Slope armrests. They're set at a cozy, relaxed height and break up the rectangular design with an arc that offers visual intrigue.
The Nomad tucks away in the corner of your living room, ready when you are. But just because it tucks away in the corner of your living room doesn't mean it isn't a magnificent statement piece. The mid-century modern design and top-grain Italian leather exude elegance and charm. If you don't like it in the corner, you can also move it relatively easily. In fact, everything about the Burrow is easy! It ships in a handful of convenient boxes and pieces together via a simple latch system
What I Didn't Love
As I mentioned, assembly is easy — but there is a caveat. Attaching the corner section may take some extra brute force, depending on your configurations. With that in mind, it may be better to have a partner on hand for the final few minutes of installation.
Unlike the option I'm about to show you, the Burrow's built-in USB phone charger feels gimmicky. It's just another thing to break, and I wish Burrow would stick to furniture, leaving electronics to Silicon Valley.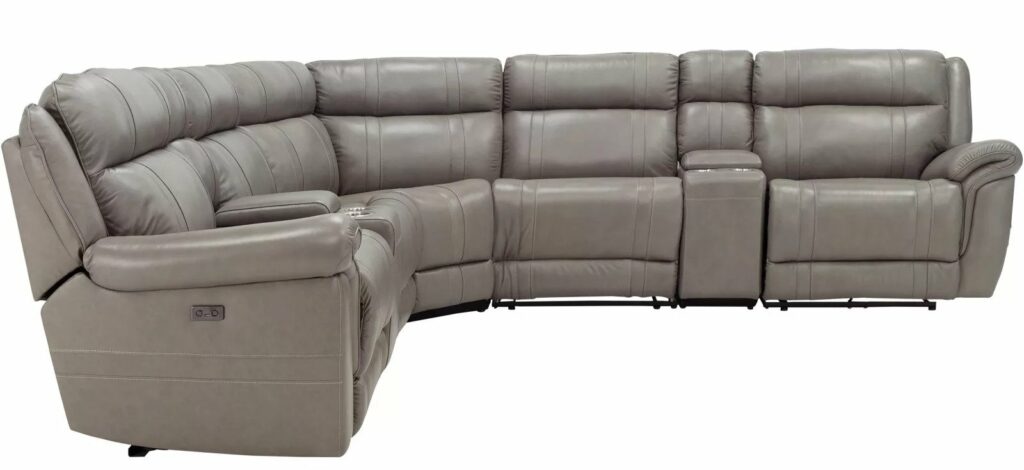 Best For: Reclining sectional
Price: $4,319.95+
Dimensions: W128″ x D128″ x H39.5″
Frame Materials: Hardwood, kiln-dried wood, and plywood
Upholstery Options: 1 top-grain leather option
What I Love About This Raymour and Flanigan Sofa
I'll come right out and say it — the Ridgewood Sofa is the most comfortable sectional on the market. It features four reclining seats and one stationary seat, each stuffed full of Dacron® Wrapped Foam and covered in soft top-grain leather that develops a lovely patina over time. Unlike traditional reclining sofas, I love how this one glides into place at the push of a button, with no jerking movements or clunkiness. It's as smooth as butter.
I understand that the Ridgewood isn't suitable for everyone, with its high-tech and chunky aesthetic. But I honestly appreciate the unique design. This multi-piece sectional fits nicely in casual living rooms and is far and away the best choice for theater rooms. It's also the one instance where I love a couch with a built-in USB port. You get a charger on one side and a cupholder on the other, offering easy access to your phone and a tasty beverage.
What I Didn't Love
I always prefer genuine leather over bonded or faux. Unfortunately, the Ridgewood features a vinyl match across its back and sides. In other words, it's more fake than real! Despite Raymour and Flanigan's insistence that it's a seamless match, I can absolutely see the difference between the genuine leather seats and their vinyl counterparts. The good news is that the discrepancies are negligible and require a discerning eye.
My other complaint is the singular gray color option. The color works well for a power reclining sectional like this one, but I wish more vibrant options were available.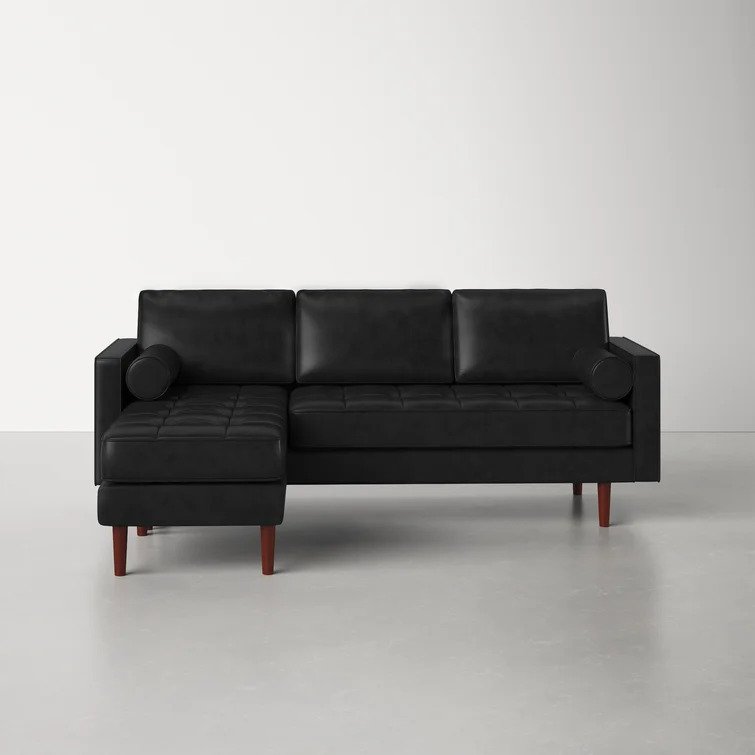 Best For: Budget buy
Price: $1,500+
Dimensions: W84″ x D63″ x H34″
Frame Materials: Solid walnut
Upholstery Options: 2 genuine leather options
What I Love About This Wayfair Sofa
The mid-century modern aesthetic is one of my very favorites. Unfortunately, these sectionals usually cost several thousand dollars, sometimes much more. That's why I was so pleased to find the Hailee Modular Sofa on Wayfair. It offers the best of the mid-century modern aesthetic, alongside unique details like plaid tufted seats and an integrated chaise, for just $1,500! I honestly don't know how the company pulled it off, considering the high cost of solid walnut frames and genuine leather upholstery.
Another design detail I love is the contrasting yet complementary square armrests and circular bolster pillows. These design details play so well with one another, softening the silhouette while providing extra support. Speaking of support, the Hailee's firm cushioning and chaise lounge help you make the most of every sitting position.
What I Didn't Love
The Hailee Leather Sofa can feel a little stiff at first. This feeling extends to the foam and leather, which require a break-in period of several weeks. Fortunately, they can and will soften over time.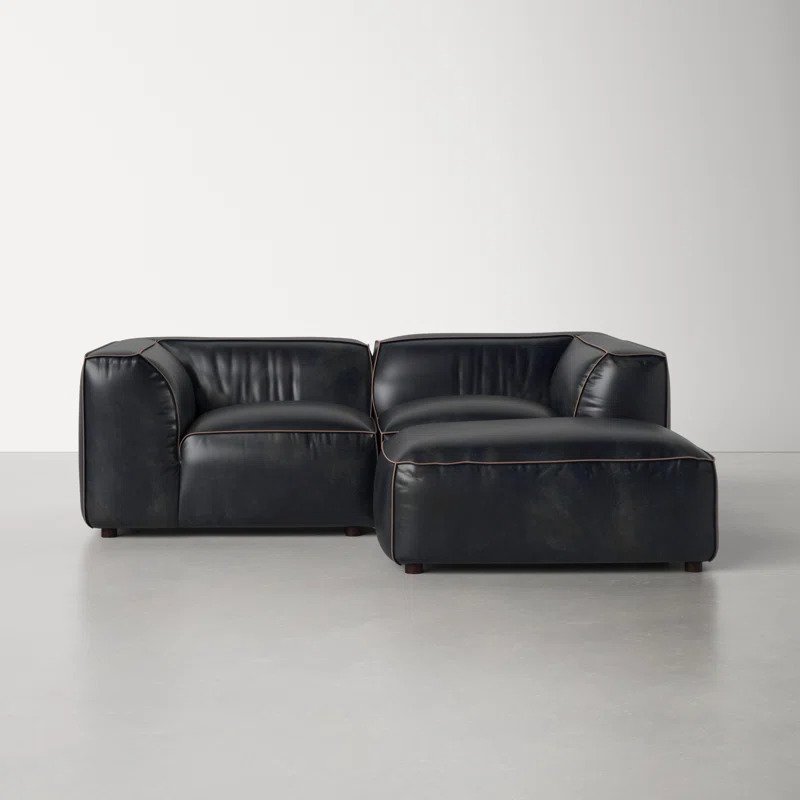 Best For: Small spaces
Price: $4,900+
Dimensions: W82″ x D71″ x 26″
Frame Materials: Solid and manufactured wood
Upholstery Options: 2 top-grain leather options
What I Love About This AllModern Sofa
The Ritchie Leather Chair Sectional is a reminder that big things come in small packages. Although relatively small — the Ritchie features an 82″ width and 71″ depth — its capacious design will envelop the space if you're not careful. That's also what I enjoy about it. The sofa basks in its boldness, unafraid to sacrifice some level of refinement in the name of unparalleled comfort.
To be sure, this AllModern sofa is among the comfiest leather sectionals on the market. It comes with overstuffed cushions, nearly bursting at the seams with a down feather blend resting atop buoyant pocket springs. The top-grain leather is exceptionally smooth and offers a cool-to-the-touch feel that's ever-so-alluring.
I usually recommend AllModern's white glove assembly, but that's not necessary with the Ritchie. I'm happy to report that there's no assembly required! All you have to do is remove the sofa's modular leather couch sections from their box, place them together in whichever order fits your space, and voila!
What I Didn't Love
I appreciate the AllModern Ritchie's design, but I also understand that it's not well-suited for every space. What's more, the sofa lacks firmness. You'll fall into the cushions and melt like butter, which feels lovely in many instances. But it doesn't provide enough support for more formal gatherings.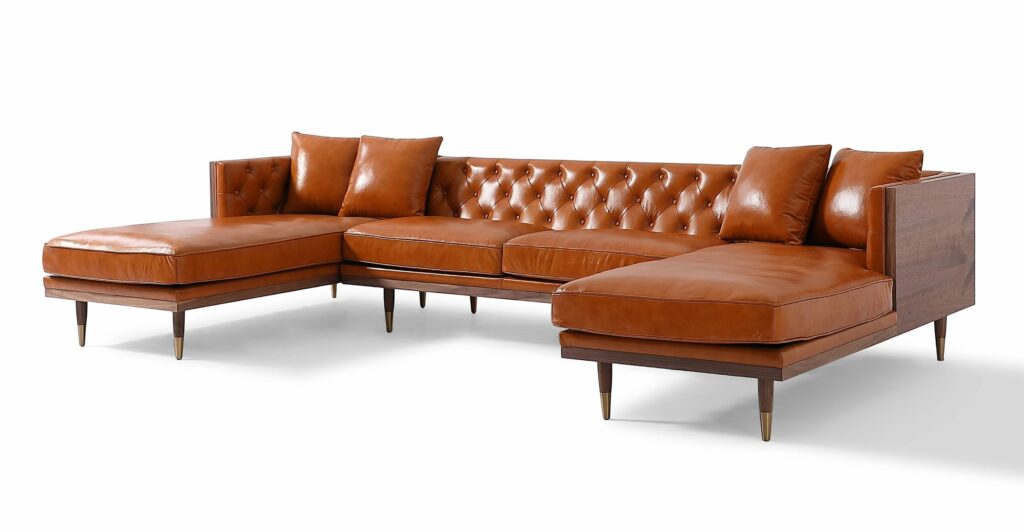 Best For: U-shaped sectional
Price: $7,697+
Dimensions: W126″ x D67″ x H27.5″
Frame Materials: Kiln-dried hardwood
Upholstery Options: 3 Aniline leather options
What I Love About This Kardiel Sofa
The Woodrow Neo looks and feels like a piece of art straight from the queen's palace. It's royally upscale and elegant in every way, from the tufted Aniline leather up top to the gold-tipped stiletto legs on bottom.
Honestly, it's difficult for me to describe the sitting experience, as the sofa offers such a unique blend of comfort and functionality. For instance, the foam cushions melt like butter but still provide exceptional support. The chaise lounge encourages a relaxed posture while managing to keep you upright and engaged. The silky smooth leather is lush and expensive yet durable enough to last a lifetime. Suffice it to say, the Woodrow Neo is a piece of furniture you have to experience to understand.
Lastly, I want to touch on Kardiel. If you've seen me around Home of Cozy, you'll know I love shopping with this company. They always offer the royal treatment, responding to inquiries promptly and with kind, thorough replies. Meanwhile, the company provides a 365-day in-home trial and lifetime warranty on all its furniture — including the Woodrow Neo.
What I Didn't Love
The Woodrow Neo incorporates Aniline leather, one of the most expensive upholsteries on the planet. It also features an artisan touch performed with care by skilled artisans. When factoring in shipping costs — and without any upgrades — it cost well over $8,000 to deliver to my door. For Kardiel to set it up, it's an additional several hundred dollars. It's a lot of money, yes. But the way I look at it is, a premium price for a premium leather sectional.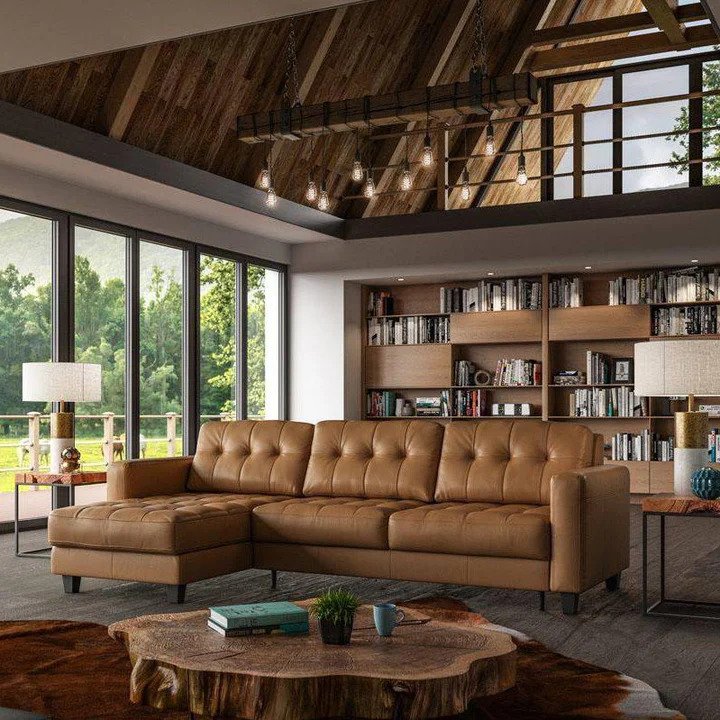 Best For: Sleeper sectional
Price: $4,399+
Dimensions: W104″ x D40″ x H34″
Frame Materials: Birch
Upholstery Options: 2 genuine leather options
What I Love About This Urban Natural Sofa
I find the standard sleeper sofa kind of tacky. It's a mess of a process — you must remove the cushions, pull out a giant metal mattress frame, and then fancy it up before you can even think about enjoying a restful night's sleep. The Noah Sleeper Sectional flips the script, removing the clunky setup and streamlining the process. To swap from gorgeous leather sectional to full-size sofa bed, you simply pull up and away on the legs under the sofa cushions, and, in one fluid motion, it transforms into a soft, leather-clad mattress.
There are several other things I love about the Noah by Urban Natural. First, it's extraordinarily eco-friendly. For every birch tree Urban Natural uses to produce the Noah's solid wood frame, it plants another. The sofa also ships quickly, with a six-week lead time I don't see at other made-to-order retailers. Lastly, there's the white glove delivery. I've assembled many sofas in my day, and I'm no slouch. But I love when companies offer to do it for me, and that's precisely what Urban Natural does with its Noah Sectional. Best of all, the service is free with purchase.
What I Didn't Love
Even though the Noah does a lot to streamline the traditional sofa bed experience, it toes the line between convenience-oriented and gimmicky. Transforming it into a sofa bed isn't the problem; it's the height-adjustable backrest, which operates like a sliding puzzle that you push and pull into place. A great reminder that sometimes, simplicity is better.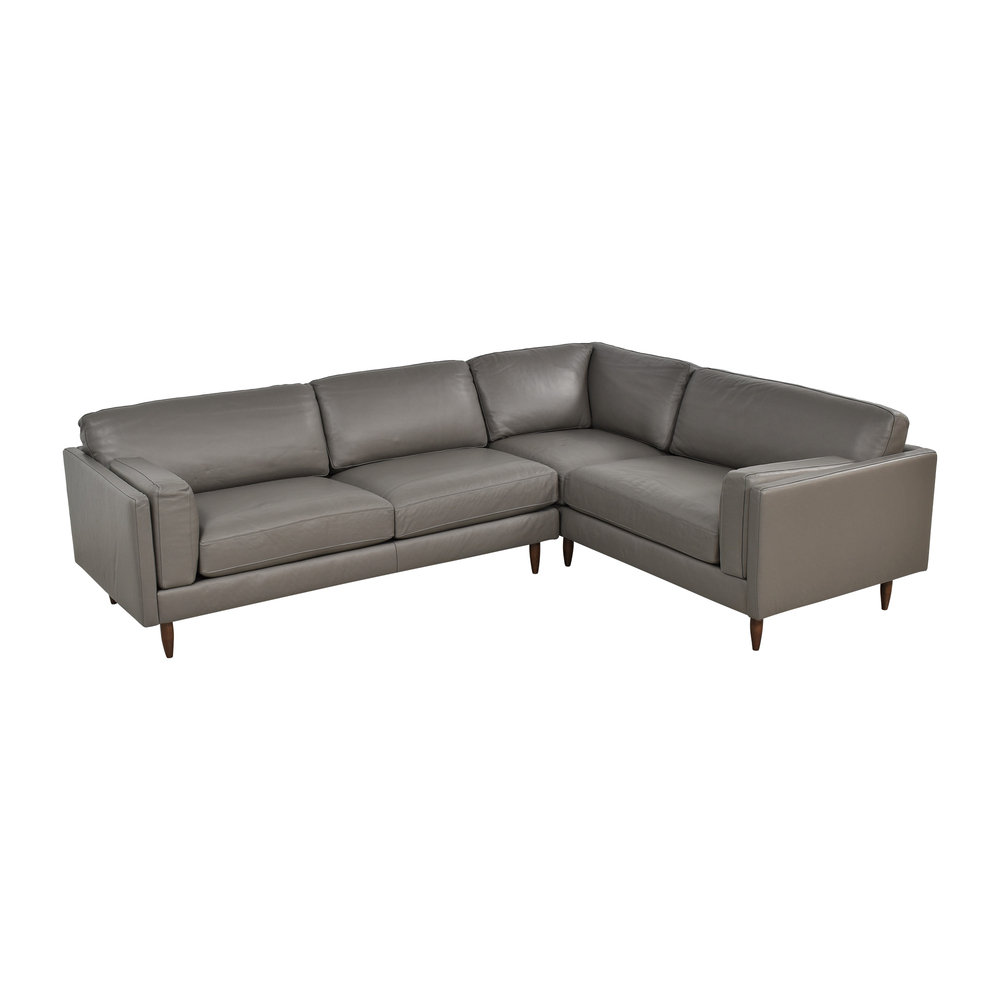 Best For: Luxury leather sectionals
Price: $7,102+
Dimensions: Starting at W90″ x D80″ x H27″
Frame Materials: Engineered 7-ply wood frame
Upholstery Options: 17 leather options
What I Love About This BenchMade Modern Sofa
The Skinny Fat is one of my favorite leather sectionals. I'd imagine anyone who's tried it feels the same way. It's a sofa that works in any space, not only due to its timeless silhouette but also its extraordinary customizability. You can personalize every aspect of the Skinny Fat, including the depth and width, adjustable within 4″ and 5″ increments, respectively. BenchMade Modern also offers the Skinny Fat in 17 different leather variants, more than any other leather sectional couch I've reviewed.
The other element to set this high-quality sofa apart is its craftsmanship. I like to plop down on my couch after a long day at work, and I'm not always thinking about the impact this may have on its frame. Fortunately, the BenchMade Modern takes wear and tear like a champion, never creaking or budging an inch. The stiletto legs may look dainty and delicate, but they stand with the confidence of a woman on a mission. The Skinny Fat is a masterclass in luxury sofas and furniture design, and I highly recommend it to those seeking a generational heirloom-quality piece.
What I Didn't Love
The Skinny Fat Sectional comes with one of two cushion fillings: foam and fiber or foam and trillium. Both require a fair amount of maintenance, with regular weekly or bi-weekly fluffing to keep them looking and feeling soft and comfortable. It reminds me of the upkeep needed for down-filled sofas, maybe even a little more cumbersome. I wish BenchMade Modern was more forthcoming about the time sink involved in keeping its sofa in tip-top shape.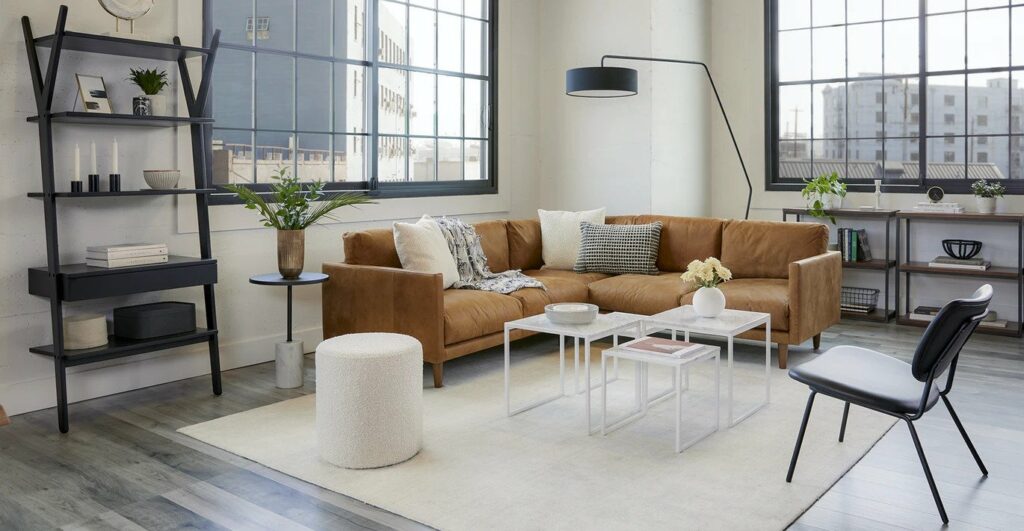 Best For: Mid-century modern leather sofa
Price: $3899+
Dimensions: W88″ x D88″ x H32″
Frame Materials: Kiln-dried solid wood
Upholstery Options: 1 genuine leather option
What I Love About This Article Sofa
I love how the team at Article wasn't afraid to tinker and try new things. Yes, the Nirvana Sectional features a classic, oft-seen mid-century modern silhouette. But its Aniline Dakota Leather exterior is left untreated, giving it a rustic vibe that takes things back another half-century or so. Together, these design elements provide a boho-chic vibe in a category all its own.
Concerning the feel, I was initially concerned about the Nirvana's untreated leather. It looks dry and rough, like it may feel scratchy or coarse. But it's surprisingly soft, combining with the fiber down cushions to deliver a sitting experience that'll leave you in a state of pure and utter bliss. Speaking of bliss, that's what you get when purchasing straight from Article. Shipping is fast and free, and assembly takes about an hour from start to finish. With the Nirvana, your living room will never look or feel better.
What I Didn't Love
The seat cushions are a little too soft and lack long-term spring and buoyancy. You can pay for new inserts, but those cost an extra $100 — a fairly hefty fee atop the $4,000 starting price tag.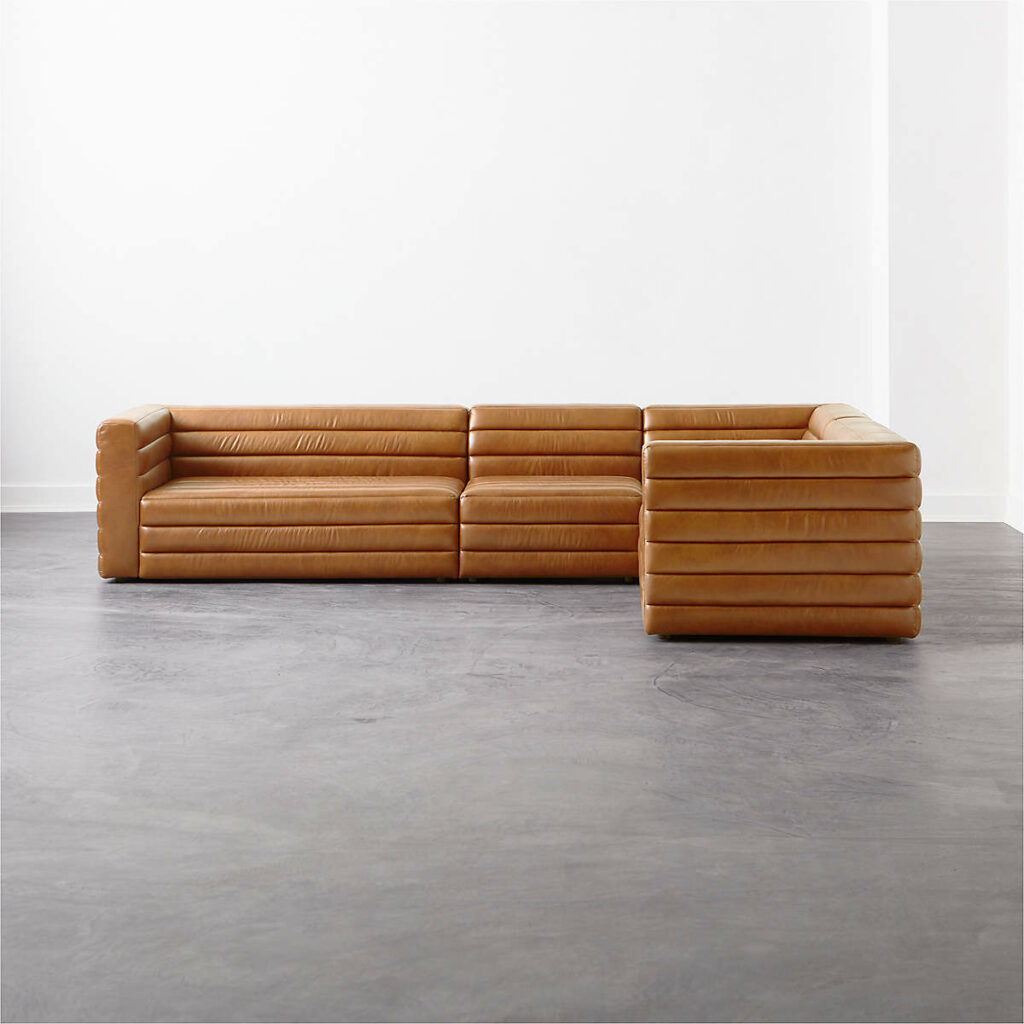 Best For: Unique leather sectional
Price: $8,896+
Dimensions: W125″ x D98″ x H27.5″
Frame Materials: Kiln-dried hardwood
Upholstery Options: 1 genuine leather option
What I Love About This CB2 Sofa
Leather sectionals make quite the statement, even standard three-seaters with traditional silhouettes. Add in something like the CB2 Strato's unique horizontal tufted channels running across its generous 125″ width, and it becomes a focal point worthy of any upscale living space. To be sure, the Strato is unlike anything I've ever seen. It draws the eye immediately — a true spectacle — yet it doesn't feel gaudy or unapproachable. On the contrary, the Strato adds warmth to the living space. The traditional leather makes me feel at home, while the golden tan palette helps soften things up.
Another thing I love is how much seating the CB2 Strato provides. Its wraparound L-shaped design easily accommodates six people, making it perfect for families that like to entertain. CB2 also offers matching sectional pieces that you can add when your space changes or grows. Attaching new pieces is as easy as initial assembly, thanks to the simple clip-on attachment system.
What I Didn't Love
The CB2 gave me a fair amount of sticker shock. The final product comes in at well over $9,000 — and that's in a state with no sales tax! Depending on your location, you may reach the $10,000 mark, which is as crazy as this sofa is unique. I still believe the Strato is worth it if you have the funds to spare. In all my years reviewing sofas, I've never encountered one as unique as this.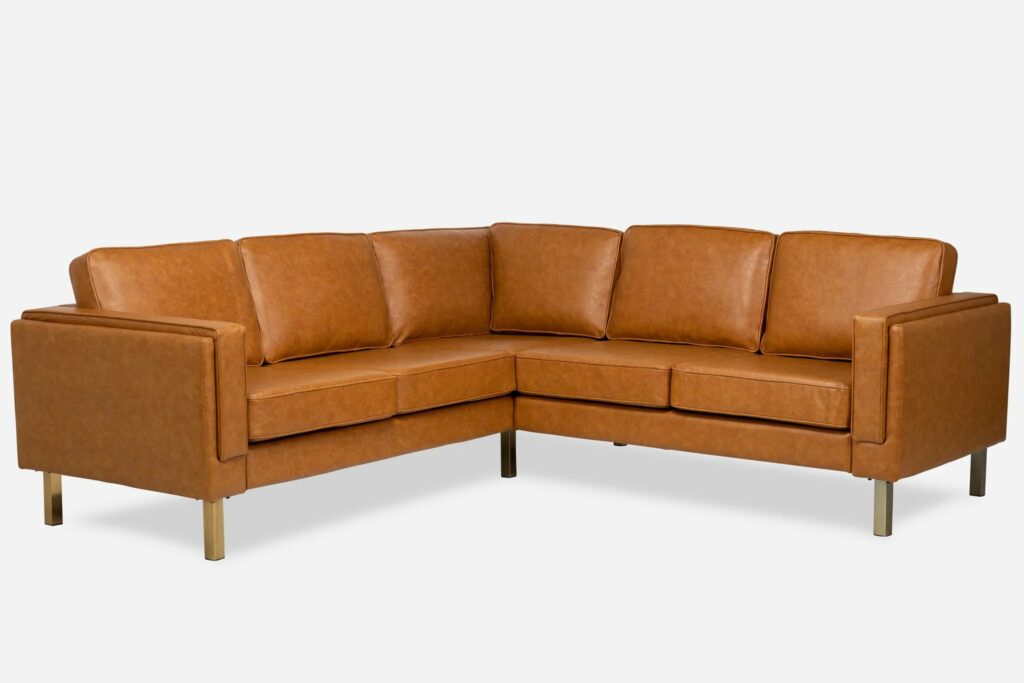 Best For: Faux leather
Price: $1895+
Dimensions: W90″ x D90″ x H32″
Frame Materials: Kiln-dried hardwood
Upholstery Options: 1 faux leather option
What I Love About This Albany Park Sofa
Even though I'm a fan of the leather aesthetic, I also understand the ethical implications. Try as I might to avoid the uncomfortable truth, the simple fact remains — leather is cowhide. Albany Park offers an excellent solution for vegans and animal rights proponents, providing a vegan alternative that's just as gorgeous as the real deal. The faux leather is smooth to the touch, and its pigmentation resembles the natural imperfections of genuine top-grain leather. It also combines with the memory foam cushions and spring suspension to provide plush and cozy support that's unbelievably durable. Of course, the Albany Park is also extraordinarily easy to clean. In my experience with this type of upholstery, most spills clear right up with a water-damp cloth.
Then, there's accessibility. I appreciate the great lengths Albany Park went through to make assembly as hassle-free as possible. Setting up your Albany Park sofa shouldn't take more than an hour, thanks to the clear written and video instructions.
What I Didn't Love
Albany Park only offers one vegan leather option, and it features a standard tan tone. Given this sectional's unique selling point as a vegan alternative, I wish that Albany Park offered more color options. Another minor complaint I have is the shipping window. Shipping can be hit-or-miss with Albany Park, so keep that in mind while preparing for delivery.
Leather Sectional FAQs
Now that we've seen the best leather sectionals, let's answer some questions about choosing and maintaining your new home furnishing.
What is a reasonable price for a leather sectional?
You can expect to pay between $1,000 and $5,000 for a quality top-grain or genuine leather sofa. Exact pricing varies depending on the sofa's shape, size, and materials. Naturally, faux or bonded leather sofas won't cost as much as the real deal. On the flip side, a chunky sofa from a luxury designer may set you back much more.
If you want to learn more, check out our guide on the best leather sofa brands.
What is the life expectancy of a leather sectional?
The life expectancy of a leather couch is 15 to 20 years. Note that this is an estimate, not a guarantee. If you choose a reputable manufacturer and treat your leather sofa well, it can last generations — or longer. Conversely, treat your leather sofa poorly, and it may only last a few years.
Follow our maintenance guide to enjoy your leather sofa for years to come.
What type of leather sectional is most durable?
Among genuine, bonded, and faux leather, genuine leather sofas provide the most durability and last the longest.
Faux leather (made from vinyl or polyurethane) is a reasonably durable synthetic material, but it does begin to crease, crack, and deteriorate with regular use. Bonded leather comes from genuine leather scraps and is notoriously prone to peeling within the first few years. Natural leather is the only one that holds up for decades. It's a high-quality material that's ideal for family living room furniture. And, unlike its counterparts, genuine leather develops a lovely patina that improves with time.