Modular sofas are the next best thing for today's living room. They come in traditional two-, three- and four-seater arrangements to practically as many seats as you'd like. With their modular design, these sofas can be assembled in pieces, in any configuration, to fit any size room.
Whether it's a small space you're trying to accommodate or you want extra space for other furniture like coffee tables, the versatility of modular sofas is great for anyone who wants the freedom to design their own special lounging experience.
What Is A Modular Sofa?
At first glance, modular couches look much like traditional couches. However, instead of one or two large pieces, a modular sofa contains many modular pieces that can be arranged in a variety of configurations to suit your preference and space.
When broken down into individual seats, a modular sofa set can be arranged to create a U shape, L shape, or multiple smaller configurations depending on your interior design needs. This makes them great for both small spaces and over-sized rooms.
Best Modular Sofas & Modular Sectionals of 2021
1. The Allform Sofa
Price: Starting at $1,145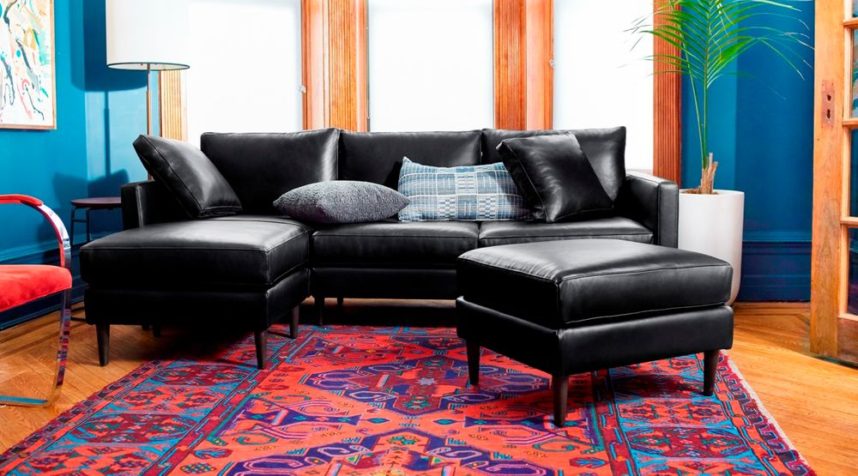 The Allform mid-century modern-style sofa comes in high-quality fabric or leather with 7 color options or 2 leather shade options. You can customize the number of seats of your Allform sofa or you can check out the brand's preset configurations.
Its cushions are filled with premium, plush foam and its frame is created with durable SFI-certified kiln-dried hardwood so you'll get many years of use from your purchase.
Allform tops our list of modular sofas not only for the quality materials used, but also for its modern style and large selection of designs and configurations.
2. Dekalb Modular Sectional by West Elm
Price: Starting at $2049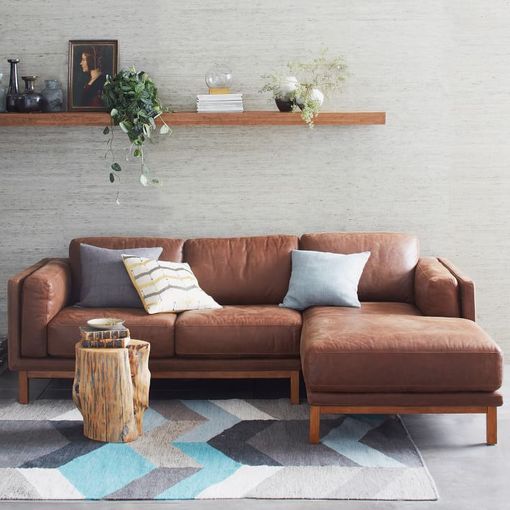 The Dekalb leather sofa is wrapped in high grade, top-grain Italian leather, oil-rubbed by hand to increase it's rich patina over time and comes in three shades. The wood used in the frame and legs is a sturdy, solid hardwood in a beautiful acorn finish.
For your convenience, this sofa can be ordered as a whole, or in pieces for greater customizability.
3. Wedport Modular Sofa by Macy's
Price: $2137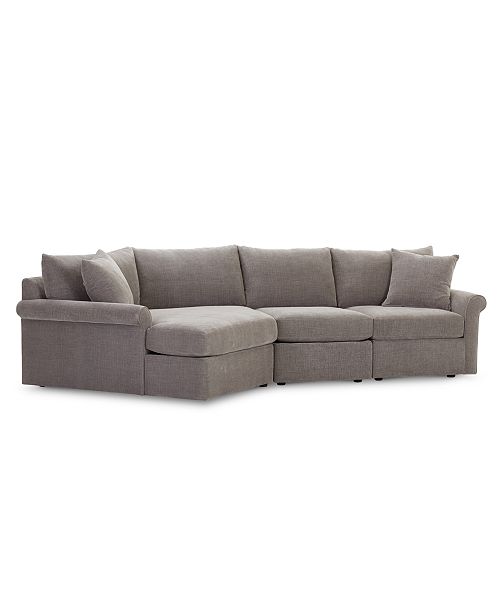 The Wedport modular sofa is wrapped in rich chenille fabric and filled with high-density, durable foam filling. The rolled arm sofa comes in three pieces with anti-glide legs, reversible, detachable cushions, and two throw pillows.
As an added bonus, Macy's delivers this sofa fully assembled and provides white glove delivery service so your sofa will be placed properly in your room and ready for use.
4. Tysse Modular Sectional by Scandinavian Designs
Price: $799 to $2247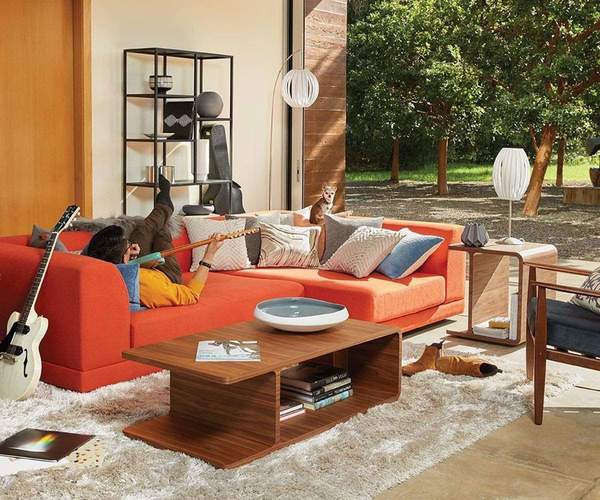 The Tysse modular sofa is a three-piece sectional with extra seat depth and an angled backrest that make for a supreme lounging experience on movie nights.
Its solid hardwood frame, and sinuous spring build ensure longevity and durability, while its stylish black wooden legs contrasted against its bright orange fabric give it a sleek, ultra-modern appeal that will add just the right pop of color to your room.
5. Harlyn Modular Sofa by AllModern
Price: $1900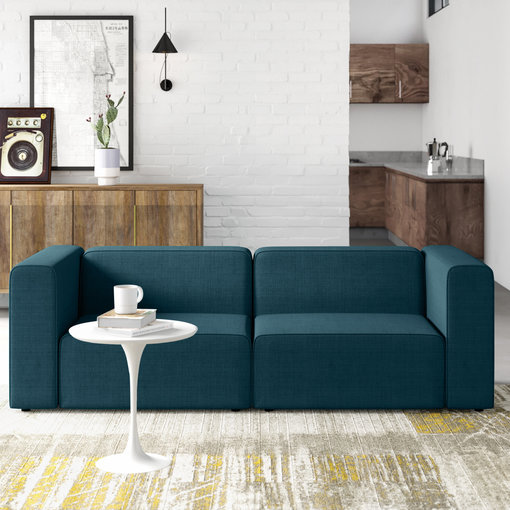 The Harlyn modular sofa by AllModern comes in an easy, two-piece design that can be arranged in multiple ways and is available in white, blue, gray, or teal. It features tuxedo arms and a minimalist silhouette that makes it a great fit with most decors.
Its cushions consist of high-density foam, tightly wrapped in durable, stain-resistant fabric for the best in comfort and longevity. The best part of all? The Tysee requires no assembly. Simply arrange your seats and skip straight to relaxation.
6. Node Modular Sofa by Coddle
Price: $1900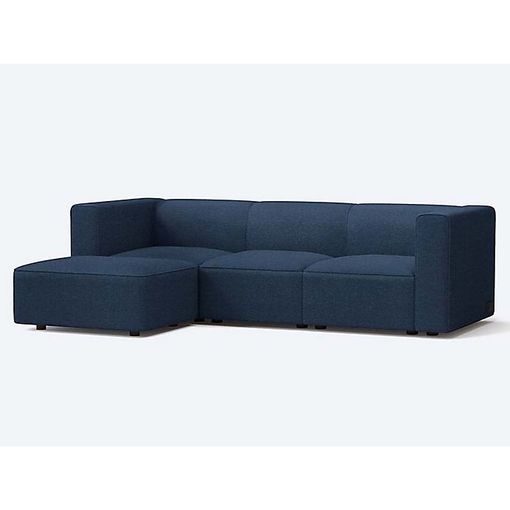 The Node sectional features a modern design that can be compacted or expanded to meet your needs. It's wrapped in a kid and pet-friendly performance fabric, built with a solid hardwood frame and spring coils, and features USB outlets so you can charge your devices while lounging in front of the TV.
This convenient sofa comes in one box and is very easy to assemble so that in just a matter of clicks, you'll be ready to prop your feet up and let the relaxation begin.
7. Trevor Modular Sofa by AllModern
Price: $2350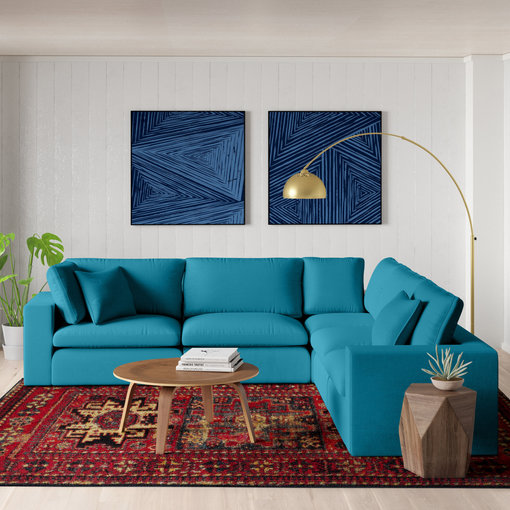 The Trevor sofa is constructed with a durable hardwood frame and wrapped in a soft, yet durable, stain-resistant upholstery that comes in teal, azure, beige, gray, or white. Its square track arms, freestanding ottoman, and changeable chaise provide all the best parts of a modular and modern sofa.
Plus its cotton and down-filled cushions and extra throw pillows provide a plush spot for you to watch your favorite show or take a nice nap.
Common Questions About Modular Sofas
What Makes Modular Sofas Different Than Sectional Sofas?
While modular sofas and traditional sectional sofas look the same, it's the breakdown of their components that makes the modular sofa unique. A modular sofa is multifunctional, usually comprised of multiple seats that can be arranged and rearranged to suit your needs and tastes.
Modular sofas can be made compact or broken apart to accommodate a tight space or a small apartment, or you can add additional seats to take advantage of a large room or open space.
What Are The Most Common Components of Modular Sofas?
As stated previously, modular sofas come broken down into individual pieces that can be easily connected, typically via metal hooks or connectors. While many may come in two to three pieces, there are manufacturers that create their sofas seat by seat. This way, you can order as many pieces as needed to create the desired seating arrangement.
Individual pieces can be a loveseat and a chaise lounger, or it can be armless pieces (a backrest and seat only), corner pieces, and end pieces with armrests.
Why Are Modular Sofas So Expensive?
Yes, modular sofas do tend to be on the pricier side. There are many reasons for this. Many brands upcharge for the convenience and versatility of a modular sofa. On the other hand, for some, the added versatility also means added pieces and labor in the manufacturing process.
In other cases, additional features and higher grade materials are included in the design. Perhaps USB outlets, a reclining seat, a sofa bed. Or other features like higher quality foam, deeper seats, or specially treated performance fabric can increase the price tag.
However, through thoughtful research like the kind we've done here, we've been able to narrow down the selection to brands, like Allform, who've chosen to supply quality furniture at a reasonable price.
Other Resources To Help Your Sofa Shopping
Want to do some more research before you make your decision? Try these helpful resources below to help you make your decision.