Modular sofas are the perfect pieces to anchor any living room. They give you the versatility to evolve your living space based on the seating configuration and arrangement that actually fits your lifestyle, whether you're looking for a space-saving chaise loveseat or a u-shaped sectional that can fit up to 14 people.
Whether you're furnishing a small space, a home office, an apartment, or your next home, I've put together a list of modular sofas for you to consider, from space-saving solutions with room for coffee tables and ottomans to those ultimate splurges and investment pieces that make for the perfect lounging experience.
Read on to discover pieces from the best brands and furniture retailers out there.
What Is A Modular Sofa?
If you're just looking at them, modular sofas don't look very different from traditional couches. However, instead of just one or two components, they're made up of modular pieces, often seating components that fit just one person, but when combined with multiple pieces they can be arranged for almost any configuration.
Modular sofas can be reconfigured for a large sectional that's U-shaped or L-shaped, and can even be broken down into multiple smaller configurations based on your interior design vision and lifestyle.
Best Modular Sofas & Modular Sectionals of 2023
Price: Starting at $1,145
Seating Configurations: armchairs, chaise lounges,loveseats, 3-seater sofas, sectionals that seat up to 8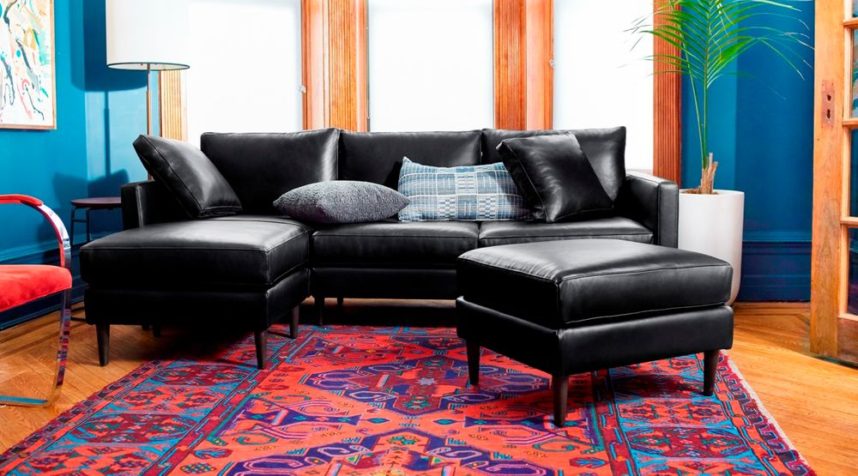 What I Love
Allform is a fairly new eCommerce furniture company, but modular furniture is what they excel in. The company focuses on modular seating room that's a blend of functionality and style. Allform a sister brand to Helix Sleep, the company that perfected the mattress-in-a-box. Similarly, Allform creates armchairs, loveseats, three-seaters, and modular sectional sofas designed for any home and built to last a lifetime.
Because of their singular attention to perfecting modular design, I'm putting them at the top of our 2022 list.
In addition to testing out both a loveseat and a three-seater, I also read through over 300 reviews. Overall, I think Allform definitely lives up the hype.
While you can only order furniture online (and from a showroom in NYC,) Allform makes online shopping incredibly easy. Just browse the configurations to start with a base that fits your needs. Then, customize based on upholstery and add on options like matching ottomans or even a weighted blanket.
Delivery was much faster than other eCommerce brands and established retailers alike. And most positive comments attested to this, with many impressed by how fast and attentive Allform was during the sales and ordering process.
Setting up an Allform couch depends on how many individual seating modules you ordered, but both the loveseat and three-seater took just 30 minutes to put together. A lot of it has to do with how easy the modules interlock with one another, a mechanism that Allform seems to have perfected.
As far as long-term service and warranties go, Allform backs all of its designs with a 100-day at-home free trial, which means you can send it back if you're not completely in love with what you ordered. Plus, their kiln-dried hardwood frames are backed by lifetime warranties, which is definitely more generous than many other limited warranties offered by competing brands and retailers.
What I Didn't Love
While I personally didn't mind assembling a sofa, it is something that a few negative reviews complained about. That said, assembling an Allform sofa is a lot easier compared to lower-priced IKEA or Wayfair options.
Price: Starting at $2,049
Seating Configurations: loveseat, chaise, three-seater sofa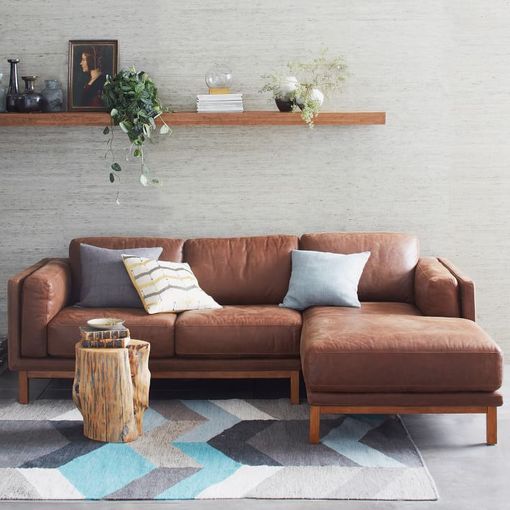 What I Loved
West Elm is always a great go-to for trendy home decor and furniture. Their sofas have definitely improved in the past few years as certain quality issues were raised over some now-defunct models. However, when it comes to their higher-end designs, West Elm seriously delivers.
The Dekalb is the clearest example of this improvement. What stood out to me is its incredible versatility. You can order a wide range of customizable configurations separately or bundled in one order, giving you the perfect corner sectional or chaise sectional without having to think too hard about what you want.
In-person, the Dekalb is one of the most impressive leather sofas I've seen. It's handcrafted, and features top-grain Italian leather upholstery (available in three different colors) and it's incredibly soft to the touch. Plus, it's been oil-rubbed by hand to encourage a rich patina over time. Similar to Allform's modular sofa, the Dekalb has a sturdy, hardwood frame.
The Dekalb came assembled per West Elm's white glove delivery service, and I inspected under the seats to see that the modules are held together by sturdy, interlocking alligator clips.
What I Didn't Love
There wasn't much to dislike about the Dekalb. It truly is one fo the softest leather sofas I've tried. The only downside is that you can't create an L or U-shape configuration if you were looking for a large modular sectional sofa that would seat more than four people.
Price: $2,277
Seating Configurations: three-seat with a chaise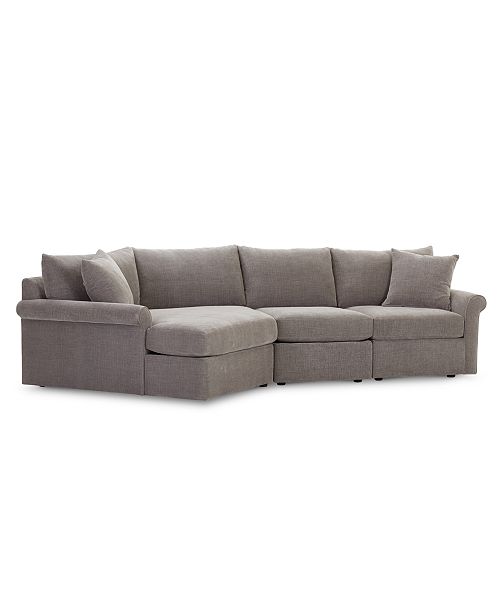 What I Loved
Macy's may not be the trendiest retailer out there, especially when it comes to home furnishings, but they do still create some durable modular sofas worth the investment.
The Wedport is a modular sofa that's actually part of a broader collection of the same name, featuring corner sofas and loveseats you can buy to complete a living room furniture set. I tested the modular sofa which came with a chaise. While my local store didn't have it on display, the one that arrived was definitely worth the wait.
In-person, it's amazing to sit and lounge on, and the poly-chenille upholstery looks and feels expensive, comparable to a higher-end sectional but at a fraction of the cost. Like West Elm, Macy's offers white glove delivery service to ensure your sofa arrives in one piece, fully-assembled and ready to lounge on.
What I Didn't Love
While I agreed with many customers who loved the reversible, detachable cushions, I was definitely concerned with how many reviewers complained about their fabric not holding up after just a few cycles in a washing machine. Additionally, the brackets/connectors come separately, which is inconvenient if you're looking to buy multiple modules.
Price: $799 to $2,247
Seating Configurations: two seats, three seats, chaises, corner sofas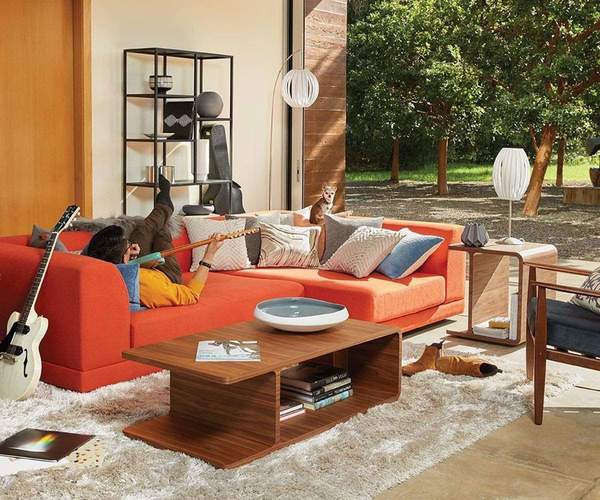 What I Loved
I hadn't heard of Scandinavian Designs before, but after trying out the Tysse sectional, I'm definitely a convert. Like the name says, the retailer specializes in recreations of iconic Scandinavian mid-century classics. Think: minimalist Alvar Aalto or Arne Jacobson pieces but without the five-figure price tags you'd get at auctions or licensed replica companies.
The Tysse sectional harkens back to sleek yet sumptuous 1970's designs. Stylistically, it's one of my personal favorites on this list, with its clean lines and thick, upwardly curved armrests and expansive, extra-deep seat cushions perfectly made for lounging in.
The two-seater sectional I tried features an extra-deep seat plus a chaise lounge. Other configurations in the Tysse collection have chaises on the right side, as well as a long two-piece sofa that seats up to four people and a corner sectional that seats up to five.
What I Didn't Love
There aren't a ton of customization options. In fact, the entire Tysse collection is only available in a vibrant orange upholstery. That said, Scandinavian Designs simply creates a luxurious, functional piece of furniture that, as one reviewer sums up, is "a sofa the whole family can nap on."
Price: $1,900
Seating Configurations: three-piece chaise sectional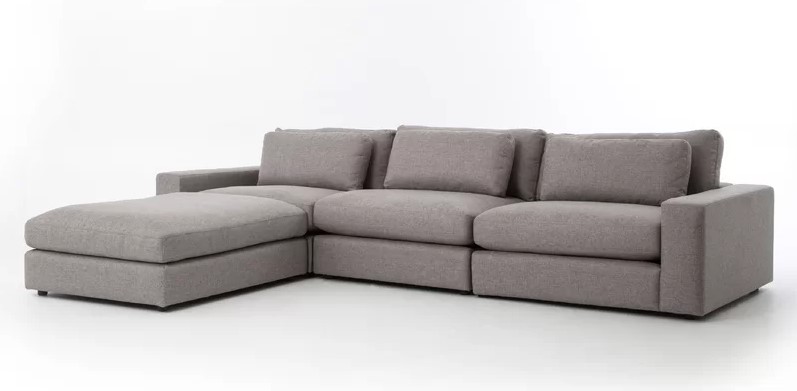 What I Loved
Like Scandinavian Designs, AllModern is another retailer specializing in sleek pieces inspired by higher-end ateliers and design studios. While they produce everything from outdoor furniture to dining room sets, AllModern creates some of the best sofas you can invest in for your home.
I tried out the Elissa, a three-piece sectional with a chaise on the righthand side. In terms of size and functionality, it was actually pretty similar to the Tysse sectional by Scandinavian Designs, but in a more sober beige upholstery that's arguably the safer design choice if you're having trouble finding decor and accent pieces that'll work with bright orange. Like the Tysse, the Elisha features super deep seats in addition to the long chaise lounge on the right end.
What I Didn't Love
While I've tried other AllModern sofas with stain-resistant upholstery, I was disappointed to see that this one didn't hold up quite as well. And like AllForm, this sofa required a little bit of assembly. Unfortunately, I didn't find the interlocking mechanism as easy to finesse as AllForm's pieces, which practically clicked together like Lego pieces.
Price: $1,900
Seating Configurations: four-seater modular sofa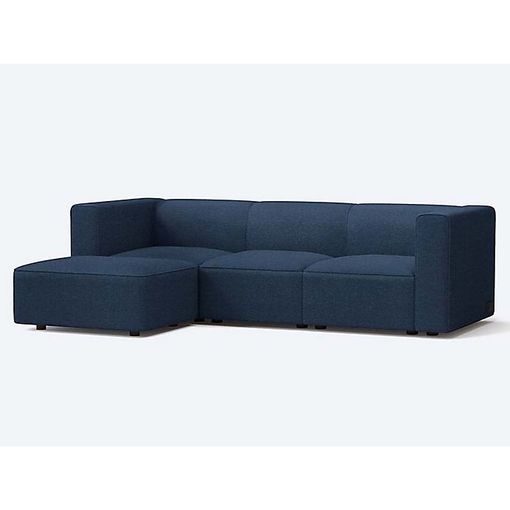 What I Loved
This was definitely a unique one. The Node by Coddle may not have a chaise, but it is a rarity; a four-seater sectional that works well in a large living room. Unlike the last few options on this last, the Node comes in two upholstery options: Alto (white) and Saratoga (a deep blue). I chose Saratoga and it was definitely impressive in person. The upholstery is a little more rich and deeper than it looks on the website, and I could see myself living with this one for a while.
The Node is also incredibly function-oriented, with two USB charging ports on either side and next to AllForm, the most durable upholstery that holds up to stains. (Yes, I did try the red wine test and I'm happy to say this and AllForm passed.)
What I Didn't Love
Like AllForm and AllModern, the Node required assembly. Unfortunately, despite the instructions, I had significantly more trouble with this one compared to the other two that required self-assembly.
Price: $2350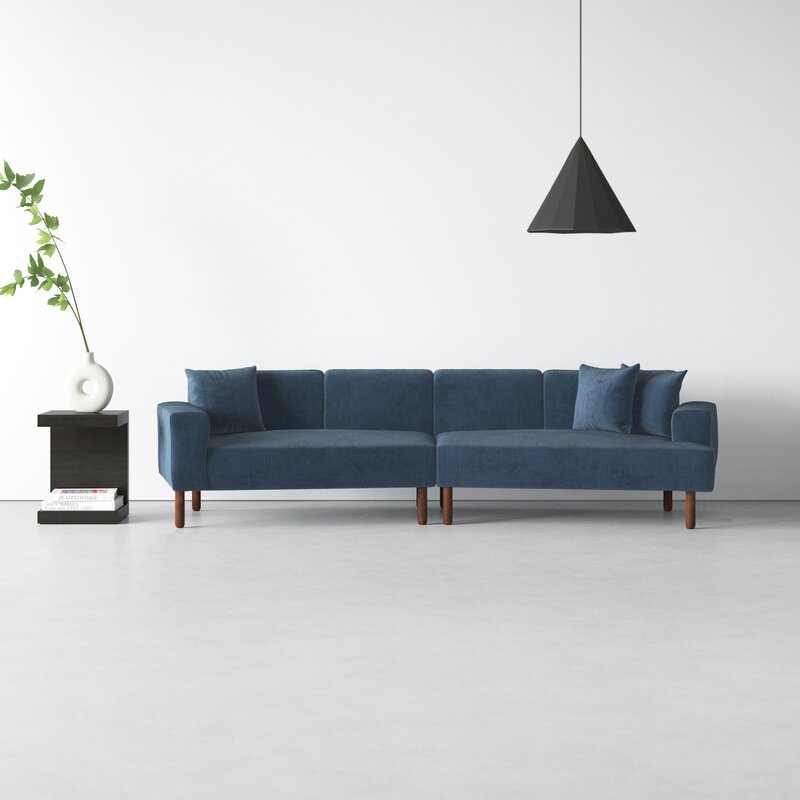 What I Loved
Another AllModern favorite, the Cody is a classic three-seater, but with a twist. Instead of a full-on chaise lounge, the Cody features a slightly turned righthand piece intended to foster conversation between whoever's on the couch without having to awkwardly turn your entire neck and body. To be honest, this is a design I haven't really seen in a lot of contemporary furniture, which makes it something of a novelty as far as modular sofas go.
Like AllForm, the Cody features a kiln-dried laminated wood frame for long-term durability. And in-person, I loved how the Cody looked and felt. It's certainly stain-resistant, but not to the same extent as The Node Sectional.
And unlike a few others on this list, the Cody comes pre-assembled.
What I Didn't Love
This is definitely an inventive take on a modern sofa, but the configuration isn't for everyone. Additionally, I felt that the arms could be a little softer.
FAQs About Modular Sofas
What Makes Modular Sofas Different Than Sectional Sofas?
Modular sofas and sectional sofas may look the same, but they differ when it comes to semantics. True "modular" sofas feature interlocking and interchangeable seating components while a sectional sofa doesn't necessarily have those and may come in one non-customizable seating configuration. In short, some sectional sofas can be modular sofas because they're comprised of individual seating or chaise modules.
What Are The Most Common Components of Modular Sofas?
Modular sofas tend to come in two to three pieces as loveseats to three-seaters are the most common pieces that people shop for when they're furnishing a living room. For larger families, chaise loungers are popular add-ons. Depending on configurations and personal tastes, you can even find armless modular sofas or classic designs featuring both armrests and backrests.
Why Are Modular Sofas So Expensive?
Modular sofas do tend to be pricier, but they also offer much more convenience and versatility than your standard piece of furniture. Like I said, modular sofas are intended to evolve with you, which is especially helpful if you're looking for something that'll come with you as you move from home to home.
Also, you can expect to pay premiums on features such as USB outlets, power recliners, sleeper sofas, and sofa beds.
More Guides To Help Your Sofa Shopping Journey
Need some more help? Explore some other resources and round-ups of the best furniture out there to help you out: