Good things come in small packages. Take the best leather loveseats, for example. These two-seater sofas are remarkably compact and cozy, yet they come clad in luxurious upholstery that makes a big statement in your living space. At the same time, a loveseat's small footprint makes it one of the most versatile pieces of furniture available (surpassed only by modular sofas). Throw one in your foyer, living room, or home office for an immediate upgrade.
For today's guide on leather loveseats, I reviewed over two dozen models from various manufacturers. The following list represents the coziest models I could find — loveseats that make you want to grab a loved one and snuggle up for an evening of rest and relaxation. Take a seat and join me as we check out these quality leather sofas designed for small spaces.
How We Evaluated Our Favorite Leather Loveseats of 2023
As with all Home of Cozy furniture roundups, our leather loveseat evaluation took several factors into consideration. First, we researched various types of loveseats, including modular, reclining, chaise lounges, and more. Then, we put the best of our findings through the wringer (with in-person testing, whenever possible), using the following criteria as guidelines:
1. Quality – Since quality and craftsmanship are the cornerstones of home furniture, we began by inspecting each loveseat for genuine top-grain leather, attentive stitching, and smooth, durable finishes.
2. Comfort – The best leather loveseats should incorporate dense cushions wrapped in soft cowhide and perched atop springy, buoyant suspension.
3. Aesthetics – We sought out the best loveseats in various shapes, sizes, and silhouettes to accommodate every interior design scheme.
4. Delivery & assembly – Buying a loveseat online, sight-unseen, can be a daunting experience. To remedy that, loveseat manufacturers should provide speedy delivery service and clear assembly instructions that are easy to implement.
5. Sustainability – Home of Cozy prioritizes eco-friendly sofas made with ethically-sourced materials.
Eventually, we narrowed our initial 24 loveseats down to just ten. With such a thorough evaluation process in mind, you can be sure that the following models represent the best leather loveseats you can find — compact and cozy options for every home.
Our 10 Favorite Leather Loveseats Of 2023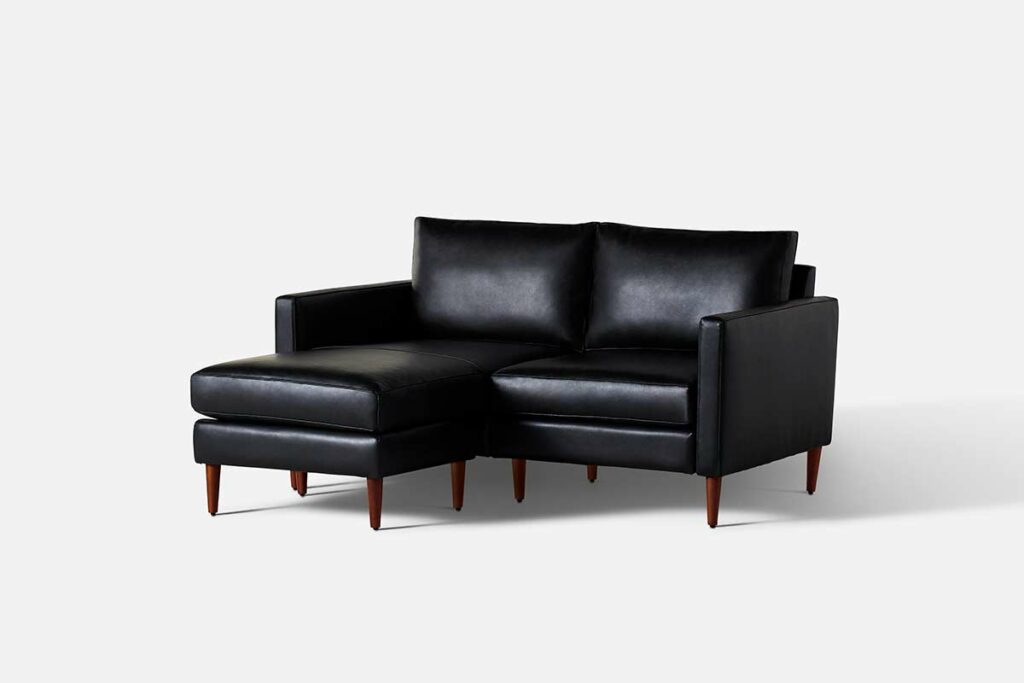 Best For: Overall
Price: $2,845+
Dimensions: W63′′ x D61′′ x H34′′
Frame Materials: Maple and poplar kiln-dried laminated hardwood
Upholstery Options: 2 top-grain leather options
What I Love About This Allform Loveseat
Allform puts the love in loveseat. The company's 2-seater sofa is compact and extraordinarily comfortable, with premium top-grain leather upholstery wrapped around deliciously soft filling. At 63′′ wide, it's the perfect size for you and a partner to snuggle up and enjoy a romantic evening together. Meanwhile, the sofa's add-on chaise (configurable to either side) expands the depth to 61′′, ensuring plenty of wiggle room to stretch out and get cozy.
Concerning quality, Allform uses the finest eco-friendly materials available. When testing Allform's sofa, the maple and poplar wood frame was as sturdy as a towering sequoia, capable of handling our small team of writers, no problem. Meanwhile, the company's Semi-Aniline brown leather felt supremely soft, with intricate stitchwork rivaling fine Italian artisanry. Allform's craftsmanship is on a different level, all thanks to the skilled craftspeople who hand make each model in North Carolina, USA — the furniture capital of the world.
Finally, I want to touch on assembly. The Home of Cozy team assembled our model in under 30 minutes. Let's just say, I was immensely impressed by Allform's patent-pending latching system. It pieces together like clockwork, all in record time.
What I Didn't Love
As much as I love the Allform Loveseat, I do have a few complaints. First, the sofa is relatively expensive, coming in around $3,000. The price is acceptable, considering the genuine brown or black leather and overall craftsmanship, but it may be unattainable for some families.
Second, I wish the chaise section was attached to the sofa. As it sits, the chaise acts more like an ottoman that you can move from one side to the other. Although the current configuration provides enhanced versatility, it also slides around and feels less like a permanent fixture than it does an afterthought.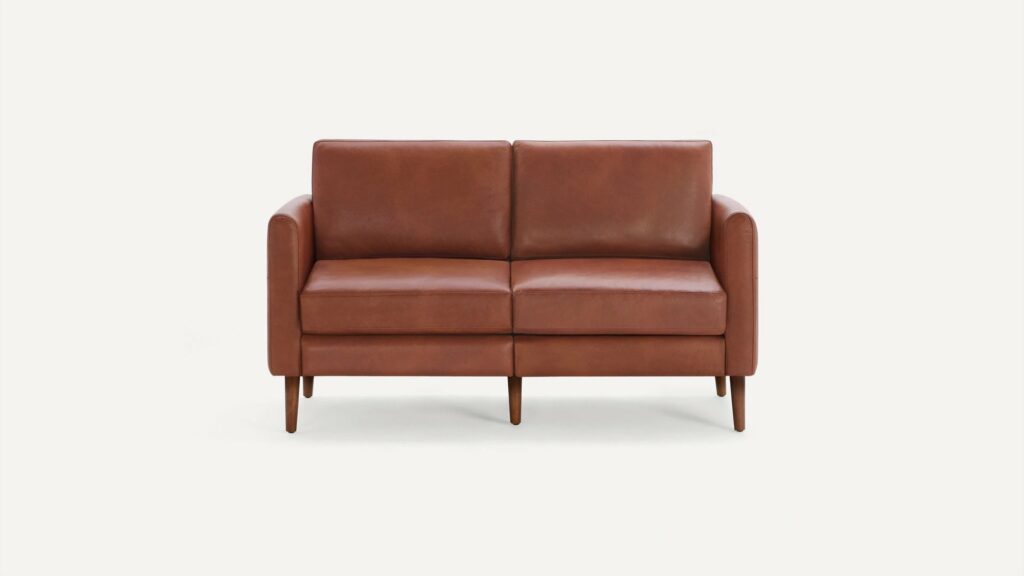 Best For: Pets and families
Price: $1895
Dimensions: W60′′ x D35′′ x H33′′
Frame Materials: Baltic birch
Upholstery Options: 3 top-grain leather options
What I Love About This Burrow Loveseat
One seat for you, and one for your furry friend. If my research is any indicator, your pawed pal will love the Block Nomad Leather Loveseat as much as you!
There are countless reasons why I prefer this loveseat for homes with pets. For one, its baltic birch frame is extraordinarily durable and impact-resistant. It sits sturdily atop Burrow's solid wood or metal legs, carrying up to 600 pounds with ease. What's more, every piece connects with steel fasteners, ensuring the loveseat's components remain together — even when Fido gets the zoomies.
Concerning upholstery, the Burrow Nomad comes in Chestnut, Slate, or Camel top-grain leather. While the Chestnut's dark brown palette is my favorite, each leather finish is equally vibrant and strong as a bull. The sofa becomes even better as it's exposed to wear and tear, softening and developing a gorgeous patina indicative of the memories made atop its cushions.
What I Didn't Love
The biggest problem I've seen with the Burrow Nomad is that the back pillows don't anchor. It's not a big deal when you live with other humans. But your furry friends won't be as careful when hopping on and off the sofa.
If you've read my past work at Home of Cozy, you'll also know that I'm not a fan of built-in USB ports. Although convenient, they're unsightly and prone to breaking, leaving you with a useless electronic inside your otherwise perfect loveseat.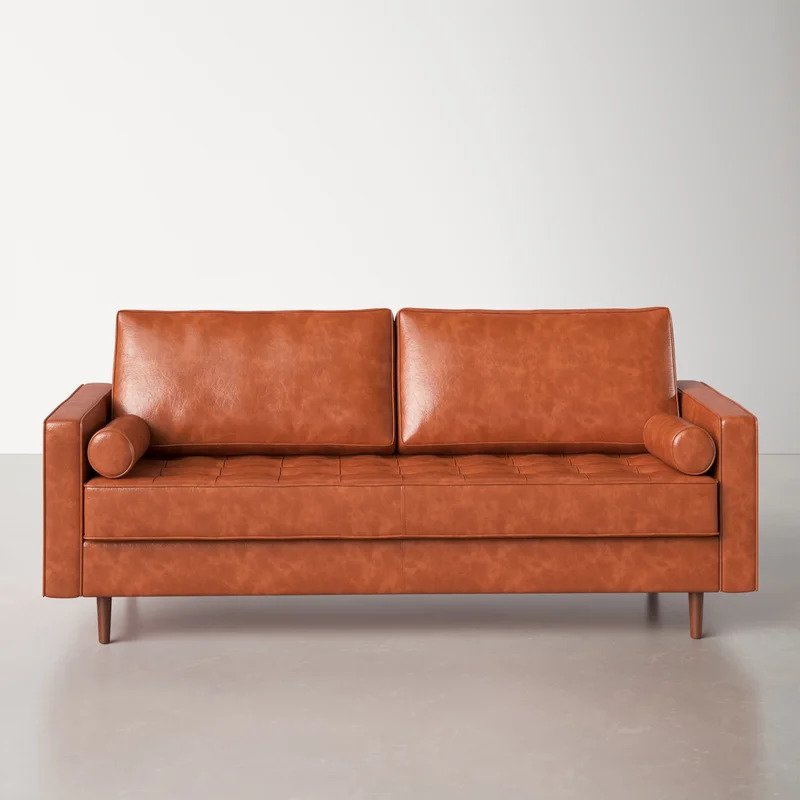 Best For: Budget
Price: $1,300+
Dimensions: W84′′ x D37′′ x H34′′
Frame Materials: Solid walnut
Upholstery Options: 2 genuine leather options
What I Love About This AllModern Loveseat
The Hailee Sofa may be a budget model, but its genuine leather upholstery is absolutely stunning. Seriously — it features one of the most beautiful leather patinas I've ever encountered, with alternating light and dark tones resembling clouds in the night sky. It's also as comfy as a cloud, with a soft, smooth finish. Although I was initially concerned with how the leather-wrapped tufted cushions might impact my sitting experience, it turned out to be a non-issue. The tufting may appear striking, but the gentle peaks compress into valleys as soon as you take a seat.
Every purchase of the Hailee comes with Allmodern's legendary customer support, including free design advice and optional white glove delivery. The latter may be nice to have, but it's hardly necessary. I was pleased to learn that all the pieces — including the base frame and track arms — come preassembled. Simply screw on the legs, flip right-side up, and enjoy your new loveseat!
What I Didn't Love
The Hailee's leather upholstery may be gorgeous, but my research reveals that it's not durable. On the contrary, the leather is thin and prone to blemishing with minimal roughhousing. Of course, that's par for the course with a $1,300 genuine leather loveseat that includes free shipping. But it's something to keep in mind when choosing a permanent home fixture.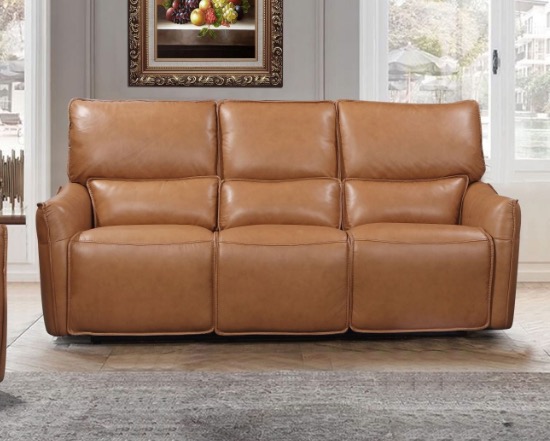 Best For: Reclining leather loveseat
Price: $2639+
Dimensions: W60′′ x D39.5′′ x H40′′
Frame Materials: Metal
Upholstery Options: 1 top-grain leather option
What I Love About This Coleman Furniture Loveseat
Imagine a small leather loveseat that's so adaptable, you can press a button and sink back into a state of pure, unadulterated bliss for hours on end. I recently discovered that it's not just a fantasy. It's genuinely possible with the power reclining loveseat from Coleman Furniture.
With a single press, the Shae Power Recliner whirrs and buzzes to life, sending you from upright and engaged to laid-back and carefree. The soft yet supportive adjustable headrest and dense leather seats maintain buoyancy throughout this several-second transition, rubbing your back like a professional masseuse.
Regarding size, the Shae Power Reclining Sofa's 60′′ width and 40′′ depth is ideal for small- to medium-sized living spaces like mine. It may be compact, but it can single handedly transform your living room into a bonafide theater — complete with center console armrest and cup holder for popcorn and drinks.
What I Didn't Love
I have to be honest — I don't love the Shae Power Recliner's beige color scheme. The fabric has a grayish hue, almost reminding me of an elephant hide (and not the cute, cuddly kind). What's worse, it encompasses the entire sofa ⁠— it's on the power headrest, on the seats, even wrapped about the backside. I'm hoping that Coleman Furniture will provide more leather variants in the future.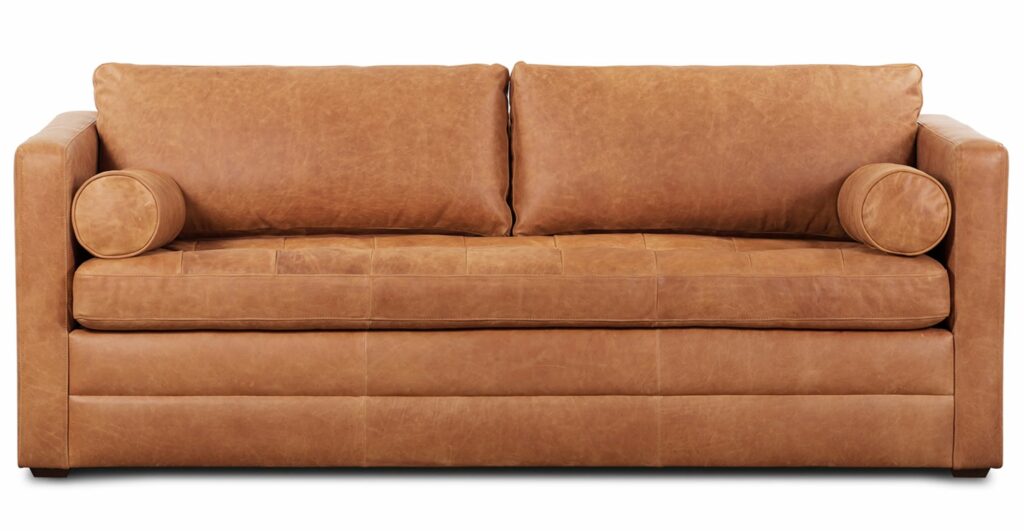 Best For: Sleeper loveseat
Price: $2,969+
Dimensions: W82′′ x D39.25′′ x H32.5′′
Frame Materials: Kiln-dried solid wood
Upholstery Options: 1 Aniline leather option
What I Love About This Poly & Bark Loveseat
I don't usually associate functional furniture like futon sofa sleepers with high-end, luxury finishes. But that's exactly what you get from Poly & Bark. The company spared no expense with this square arm loveseat, incorporating cognac Aniline leather that's ever-so rustic yet surprisingly soft to the touch. Underneath the top-grain leather lies Poly & Bark's dense polyester cushions, which feature a duck feather topper that melts away stress like butter in a sizzling pan. It sends you to seventh heaven every time you sit down.
Its main selling point, the pull-out mattress, is similarly impressive. The mattress is only five inches thick, but it's a multi-layered blend of polyurethane foam, memory foam, and supremely soft fiber fill. I love how these materials work together to provide full-body support unlike any other sleeper on the market. Honestly, Poly & Bark's sleeper may be more comfortable than my primary mattress! It's an incredible night's sleep that any overnight guest would be thrilled to experience.
What I Didn't Love
Unfortunately, I don't care for the look or feel of the extending metal mattress frame. The mattress itself may be thick and dense, but the frame is thin and flimsy (it may be the only thing stopping me from sleeping on the Napa every night). This apparent inattention to detail is even more disappointing considering the incredible quality found in every other aspect of the Poly & Bark loveseat.
Best For: Extra deep seats
Price: $2,999+
Dimensions: W72′′ x D35.5′′ x H31′′
Frame Materials: Engineered hardwood & laminate veneer
Upholstery Options: 6 genuine leather options
What I Love About This Crate and Barrel Loveseat
The Apartment Sofa's frame is so deep, it's like getting lost in the ocean every time you take a seat. Okay, maybe not that deep. But I've never encountered a sofa so wonderfully compact yet spacious before. There's so much room to stretch out and relax, letting you enjoy the loveseat upright, lying down, or snuggled up with a loved one. It doesn't sacrifice support, either. The Crate & Barrel comes with a plethora of accent pillows that you can grab and place behind you for extra bracing.
Another thing I appreciate about the Wells is its slim metal legs. These match the thickness of the sofa's leather frame, giving everything a unified appearance. They're also made entirely from iron, adding to the sofa's masculine-leaning charm. Over time, the leather and iron both take on a distressed appearance, giving the couch a slightly industrial feel that I sincerely enjoy.
What I Didn't Love
I'm of average height, with a 5′9′′ frame, and the Apartment Sofa suits my body like a custom-fit tuxedo. However, for people like my partner (who's several inches shorter than me), this Crate & Barrel loveseat is a little too deep for long-term support.
The other issue I have with the Apartment Sofa is its oil-based finish. The loveseat's seat cushions tend to slide around, making it difficult to position them where you want them.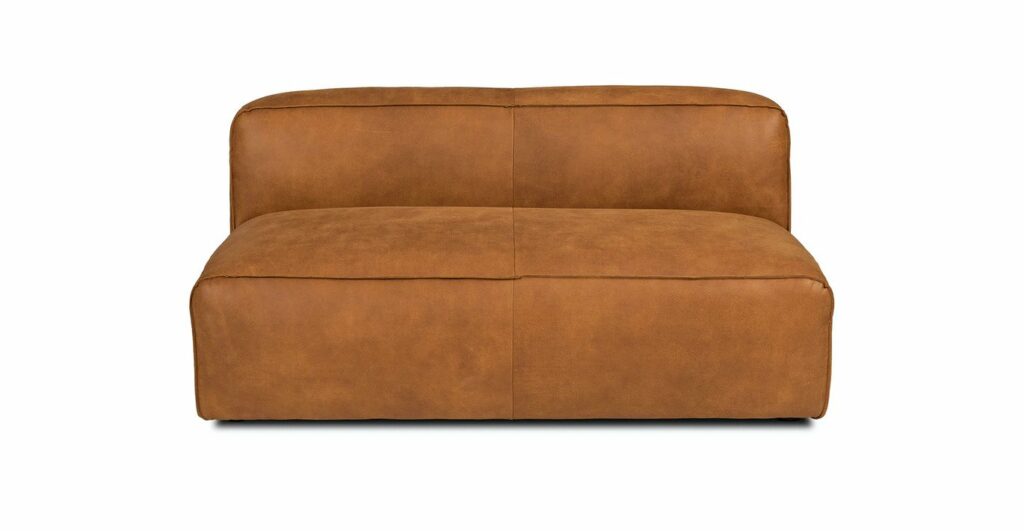 Best For: Uniqueness
Price: $1999+
Dimensions: W56′′ x D38′′ x H26′′
Frame Materials: Kiln-dried solid wood
Upholstery Options: 2 genuine leather options
What I Love About This Article Loveseat
The Cigar Leather Loveseat is a minimalist's dream, with no armrests, legs, or other superfluous components in sight. It's a modern loveseat stripped down to its core elements and covered in a natural rawhide that's unapologetically rugged and unrefined.
Of course, this raw aesthetic can be disconcerting. When I first encountered the Cigar, I expected it to feel firm and rough, offering minimal comfort and support. However, to my great delight, it's the exact opposite! The Cigar comes stuffed full of foam and duck feathers, providing one of the softest, cushiest sitting experiences imaginable. Meanwhile, the low-sitting frame is perfect for lounging, and the sofa's uniquely open design lets you sit (or lay) comfortably in any position.
Perhaps my favorite aspect of the Cigar is the assembly process. Or, the lack of one. This loveseat comes ready for use right out of the box! What's more, Article offers free shipping. All you have to do is order it online, and it arrives straight at your door, ready to enjoy.
What I Didn't Love
Although I appreciate the Article's rustic characteristics, I understand it doesn't fit in every space. For that reason, I recommend approaching with caution.
Another word of advice: the rawhide upholstery can be wild and unpredictable. Colors may vary, and purchasing separate units doesn't guarantee a matching set.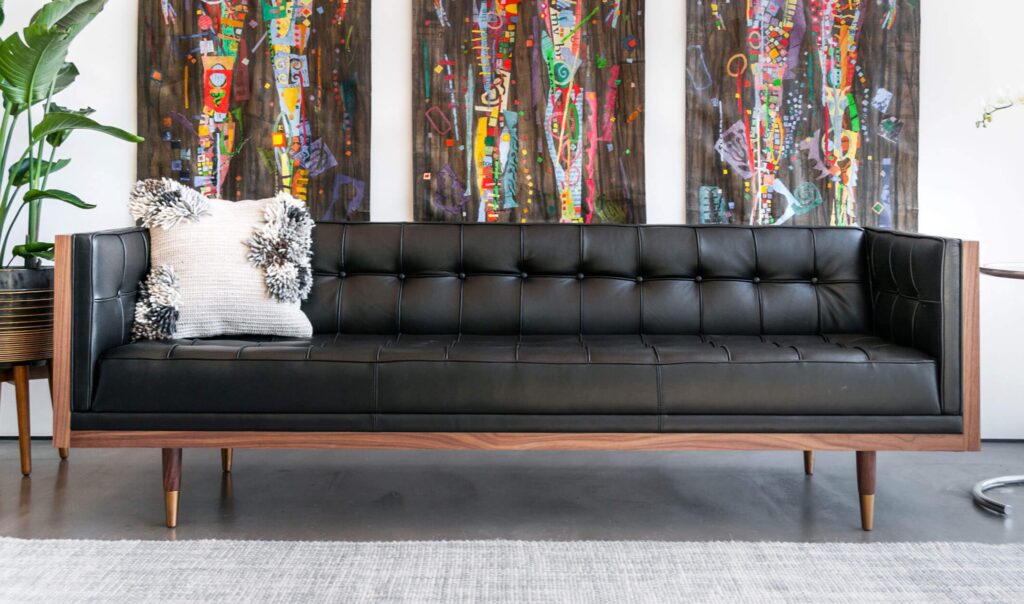 Best For: Mid-Century Modern
Price: $2,697+
Dimensions: W71′′ x D31.5′′ x H27.5′′
Frame Materials: Hardwood
Upholstery Options: 5 Aniline leather options
What I Love About This Kardiel Loveseat
This Kardiel sofa includes one of my favorite stylistic pairings: rustic Aniline leather upholstery with an angular box-shaped frame that's oh-so retro in all the right ways. It's such a beautiful yet unexpected combination of design philosophies, one that feels like it should be jarring. Instead, the 90-degree angles are expertly tempered by the sofa's circular tufting pattern and tapering brass-tipped stiletto legs that ground the piece and pull it all together. I think it's fair to say that the Woodrow Box is a work of art disguised as a supremely comfy loveseat.
The Woodrow Box is grand enough on its own merit. However, it's made even better by Kardiel's legendary purchasing experience. Checkout is quick, shipping is free, and customer support is always there to lend a hand. Kardiel is one of my favorite online furniture shops, and its Woodrow Box is among the coziest loveseats on the market.
What I Didn't Love
Believe it or not, this Kardiel loveseat may be too soft. While some people enjoy this feeling, I do not. I have a background in ergonomics and understand the importance of proper support across your torso and lower body. I wish Kardiel would offer multiple foam options, the way some companies do.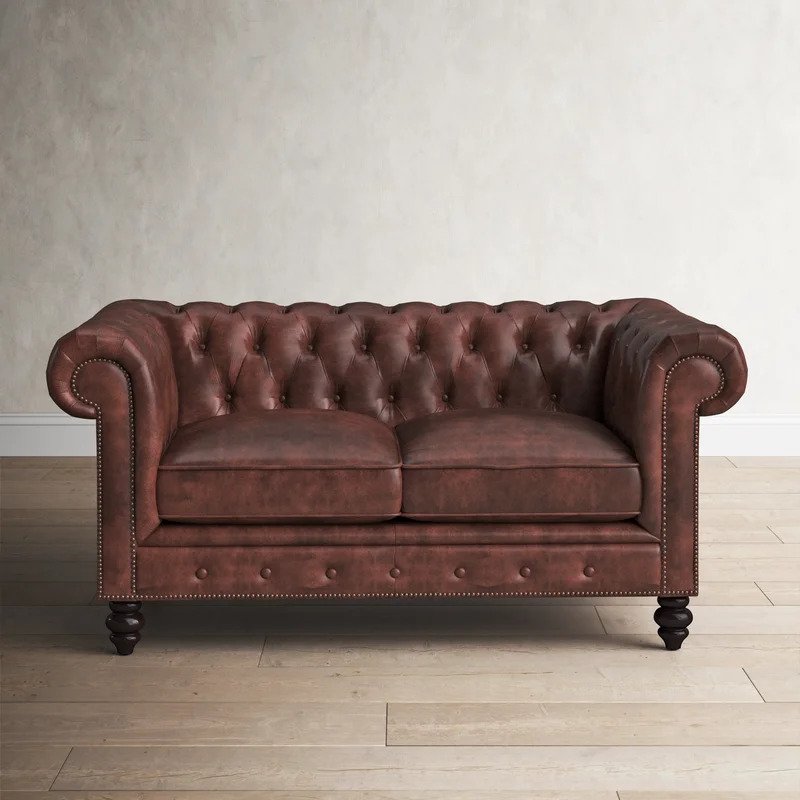 Best For: Tufted back
Price: $2,073+
Dimensions: W66′′ x D37′′ x H30′′
Frame Materials: Solid wood
Upholstery Options: 1 top-grain leather option
What I Love About This Birch Lane Loveseat
Birch Lane packs all the elegance and charm of a genuine Chesterfield sofa into a bite-sized model that fits anywhere. I just adore the tufted-leather design featuring tiny buttons reminiscent of the late-1800s Victorian era. These intricate details pair beautifully with the cherry chocolate patina and silver nailheads adorning the edges where upholstery meets frame.
The Eufaula isn't all looks and no substance, either. I've found the Eufaula to be extraordinarily comfy, with dense seats perfect for cozying up with a loved one or relaxing after a long day at work. The rolled arms also provide fantastic support while adding depth to the sofa's stylistic charm.
Although originally concerned about how difficult the Eufaula might be to piece together — what with its oddly-shaped elements and intricate details — it's pretty much ready to go out of the box. All you have to do is install the five legs, which feature a simple twist and screw mechanism.
What I Didn't Love
As much as I love the look and feel of the Eufaula, it isn't the sturdiest sofa around. It only comes with a 500-pound weight rating, meaning you'll need to be careful about how many people you pile atop the 66′′ frame.
Another nitpick I have is that the cushions don't detach from the base. It wouldn't be a massive issue, except they hang over the front edge of the frame, and there's no way to push them back. Fortunately, this minor quirk doesn't interfere with comfort, but it does look a little wonky when viewed from the side.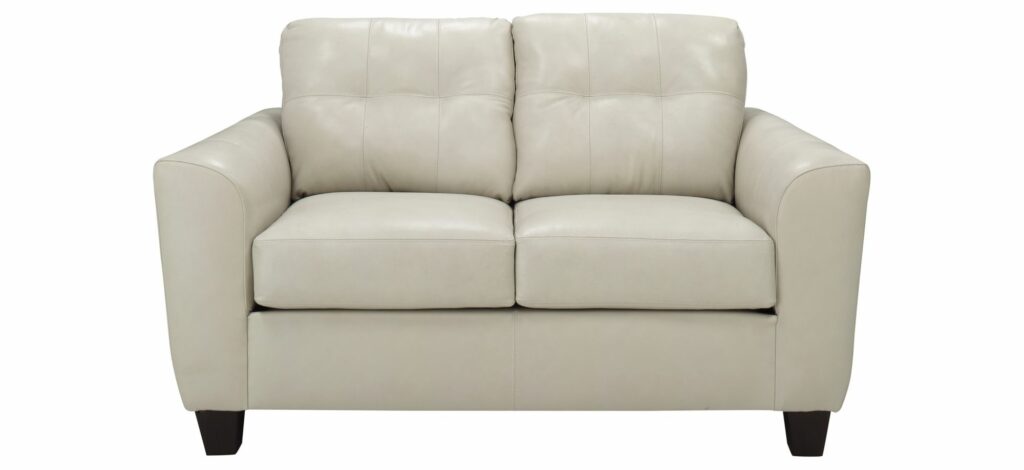 Best For: Faux leather
Price: $897.95+
Dimensions: W64′′ x D37′′ x H37′′
Frame Materials: Hardwood
Upholstery Options: 5 top-grain leather & vinyl color options
What I Love About This Raymour & Flanigan Loveseat
I love the Dominic's chunky components and playful angles. It reminds me of the furniture I used to see on Sunday morning cartoons! I've found it so much fun to design around, as it adds a dash of charm and whimsy to every living space.
When it comes to materials, the designers at Raymour & Flanigan showed a little more restraint. Dominic boasts a common combination of materials, including top-grain leather seat cushions and vinyl match on the sides and back. This pairing works well for two reasons. First, the sofa's natural leather retains the material's natural durability and develops a lovely patina over time. Second, the leather match keeps the cost down without detracting from the overall aesthetic.
Speaking of costs, the Dominic retails for under $900 — unheard of for a genuine leather love seat of this caliber. It even features genuine Dacron® Wrapped Foam cushions, providing an exceedingly plush sitting experience that feels so good for hours at a time. Choose from five different leather dyes ⁠— including ivory and my personal fave, espresso ⁠— and the Dominic makes the perfect focal point for your modern living room.
What I Didn't Love
The major drawback to the Dominic is its abysmal weight capacity, which sits at just 275 pounds. In other words, this Raymour & Flanigan sofa can only accommodate two small people or a single large adult — which defeats the purpose of a loveseat in the first place. Fortunately, the sofa features a solid hardwood frame, meaning you should be able to stretch those weight limits (at least a little).
Leather Loveseat FAQs
Now that we've seen today's best leather loveseats, let's answer some questions about how they look, feel, and perform in the home.
How much should you pay for a leather loveseat?
You can expect to pay anywhere from $1,000 to $5,000 for a quality leather loveseat. Of course, there are always outliers, but these usually feature lower quality or deluxe craftsmanship. Exact pricing depends on the type of leather used (e.g., top-grain vs. bonded vs. faux), the shape and size of the sofa, and overall attention to detail.
What is better: leather, vinyl, or fabric?
There's no best choice between leather, vinyl, and fabric. It all depends on personal preference and how you regard each one's pros and cons.
Take leather, for example. It's an elegant material with rich tones that develop a gorgeous patina over time. At the same time, leather is expensive and unsuitable for vegans. Vinyl is a reasonable (and affordable) alternative, with a similar look and feel to leather. But it's not as robust, and it ages far less gracefully. Lastly, there's fabric. There are countless varieties of fabric (e.g., polyester, cotton, and microfiber), and many are arguably cozier and more comfortable than leather or vinyl. But fabric requires more maintenance and doesn't offer the same upscale aesthetic.
Do leather loveseats last?
Leather couches can last a long time as living room furniture, up to 15 years and beyond. If you're gentle and maintain them properly, quality leather sofas can last even longer (possibly for generations). Of course, the opposite is equally true. If you don't take care of your leather loveseat, it becomes more of a transitional piece that wears down within a few years.