Joybird is a one-stop furniture shop known for delivering high-end pieces straight to your doorstep. The company boasts an extensive catalog with nearly everything you need to furnish your nest, including dining chairs, coffee tables, side tables, dressers, outdoor furniture, and (of course) its acclaimed Scandinavian sofa collection.
However — no company is perfect. Even with such an impressive selection, Joybird can't always match your tastes or timeline (with furniture built to order, Joybird can be slower than a carrier pigeon). That's where the best Joybird alternatives come in.
These brands maintain a similar commitment to minimalist design and high-quality craftsmanship, often with even lower price tags and faster turnarounds.
If you're looking for a suitable Joybird alternative, here's a birds-eye view of our favorite furniture retailers.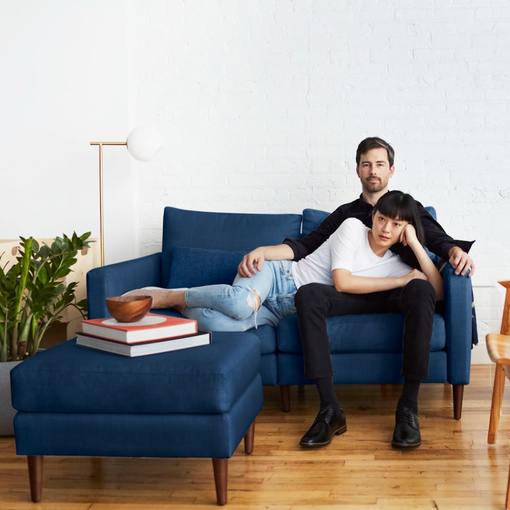 Best For: Quality
Pricing: Mid-range
Furniture Selection: Seating
Warranty: Lifetime on all furniture
Allform is an online sofa retailer run by the same furniture experts behind Helix Sleep (the cozy mattress brand) and Birch Living (known for its premium bedding). Like its sister companies, Allform is committed to helping you make the most of your at-home downtime.
You'll find an unwavering dedication to comfort woven throughout the Allform experience, from the physical feel of its plush sofas to the streamlined checkout and breezy assembly process. If you're looking for quality seating, Allform has you covered.
What I Love About Allform
Allform crafts some of my favorite modular sofas, with a level of comfort and durability unmatched by competitors. Every one of its luxurious pieces begins life as a single block — a hand-crafted hardwood seating block that's infinitely expandable.
Buy one block to create an armchair, or piece several together to make a rectangular, L-shaped, or even U-shaped sectional fit for a grand hall. You can even add to the sofa's depth, extending its functionality with a chaise lounge and additional seat cushions. The team at Allform figures you know your space best, and it gives you the power to design your sofa as you see fit.
Of course, that's only a taste of Allform's customizability. The company also provides nine delightful fabric options, including performance polyester or (my fave) genuine top-grain leather.
Even though Allform sofas are handmade to order in the USA, they usually arrive within a couple of weeks (ours came within ten days). With a 100-day Relaxin' Trial and a best-in-class lifetime warranty, Allform is the best Joybird alternative for lounging in pure, blissful comfort.
What I Didn't Like
Allform's revolutionary attach-and-latch assembly system lets you create any size or shape sofa you want. Unfortunately, the company (thus far) has refused to extend this technology to other segments of the market. It's a shame, because I could see the same system working well for shelving, credenzas, desktops, and more. I think Allform's lineup is way smaller than it should be, and it's a missed opportunity for the company and us consumers.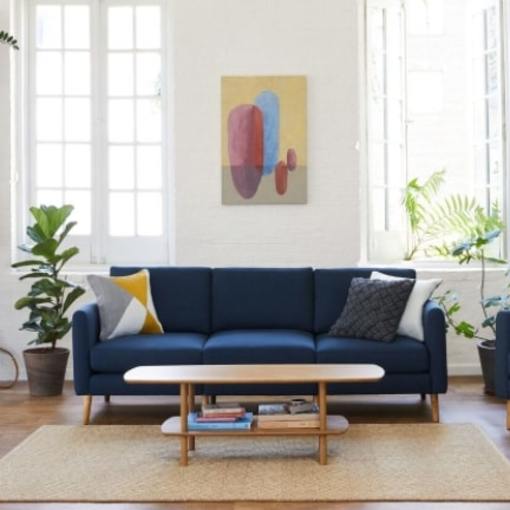 Best For: Adaptability
Pricing: Mid-range
Furniture Selection: Seating, tables, storage, beds, and decor
Warranty: 1 year on all furniture
The folks at Burrow were tired of the same-old furniture. In an age-old industry that rarely sees changes or growth, they wanted something new, something exciting. So, they developed Burrow, a company that's innovating the online furniture industry and providing high-quality, versatile pieces at exceptional prices. Shop the retailer's variety of modern furniture, and transform your home into a cozy burrow.
What I Love About Burrow
Like Allform, Burrow is a direct-to-consumer modular furniture company that's shaking up the industry. But unlike Allform, Burrow does extend its modular expertise beyond simple sofas. It also sells customizable storage, shelving units, and more!
While I appreciate most of Burrow's extensive catalog, the Nomad Loveseat is probably my favorite. It's a genuine work of art, a piece of furniture that elevates the space with clean lines and a touch of modern minimalism. Burrow also makes assembly so easy — more akin to a children's puzzle than an intricate furniture installation.
Follow it all up with fast 'n free delivery, and Burrow's is undoubtedly one of my favorite places to shop for furniture online.
What I Didn't Like
I have a lot of faith in Burrow's products. I just wish Burrow felt the same way. The company offers a short one-year warranty, which isn't long enough to inspire confidence when dealing with items that see such consistent wear and tear. I don't expect a lifetime warranty (although that'd be nice), but three years is a much more reasonable starting point.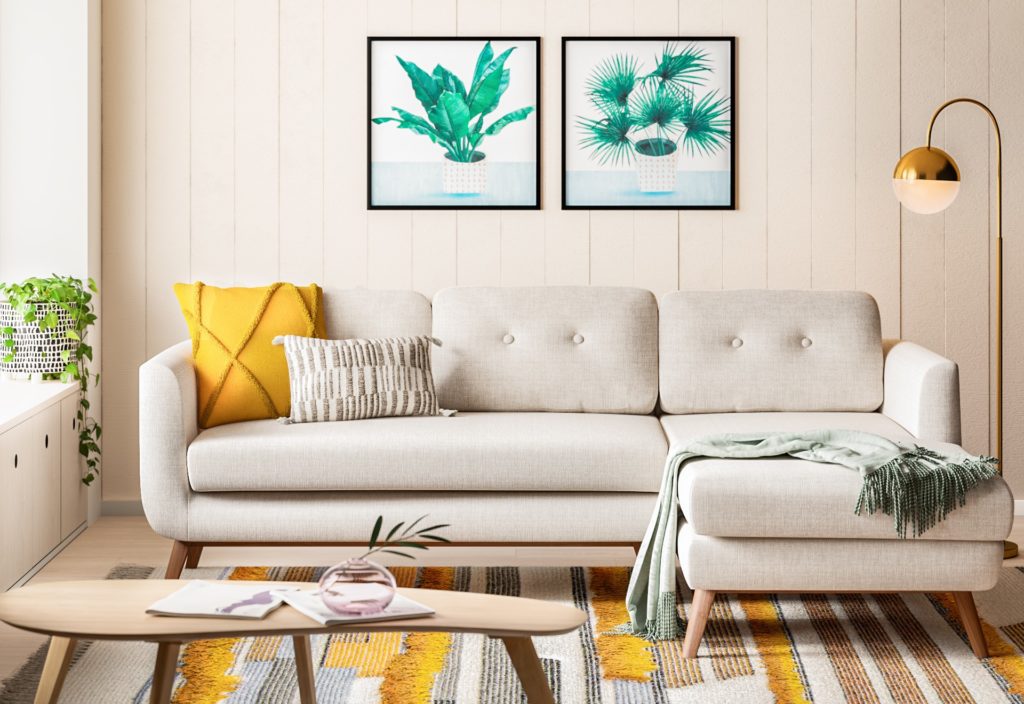 Best For: Modern design
Pricing: Mid-range
Furniture Selection: Seating, tables, storage, beds, and decor
Warranty: 1 year on all furniture
Allmodern is part of the Wayfair family of furniture retailers, alongside Joss & Main and Birch Lane. It is, as you might expect, the sleekest of the pack, with a dapper lineup of mid-century modern furniture. Although it comes with ever-so-slightly higher prices than you'll find on Wayfair, AllModern's higher-quality goods are well-worth the tradeoff.
What I Love About AllModern
Allmodern offers a stunning selection of modern furniture designed for big and small spaces throughout your home. Although I adore so many of AllModern's chairs, tables, and decor, I must admit that I have a special affinity for its sofas. In particular, the Hailee 84″ Sofa. This piece features a gorgeous leather-wrapped silhouette, with silky-soft cushions that melt away stress like butter. It's a delightful piece of furniture, one that accurately showcases the quality and attention to detail you'll find across the company's catalog of goods.
Another thing I love about Allmodern is its support team. I've spent a fair amount of time asking questions and getting help with orders, and I've been pleasantly surprised by the team's promptness and courteousness. AllModern also offers complimentary design services, where they connect you with professional interior decorators to help you find the perfect items for your home. While this is also a way for them to upsell additional goods, it's also a genuinely helpful service indicative of AllModern's commitment to providing an exceptional experience.
What I Didn't Like
I dislike how many restrictions AllModern places on its returns. For instance, you can't return furniture that you've already assembled. Since you can't test the furniture in person (unless you travel to AllModern's Massachusetts showroom) and you can't test it out at home until after it's assembled, there's no recourse if you dislike a product.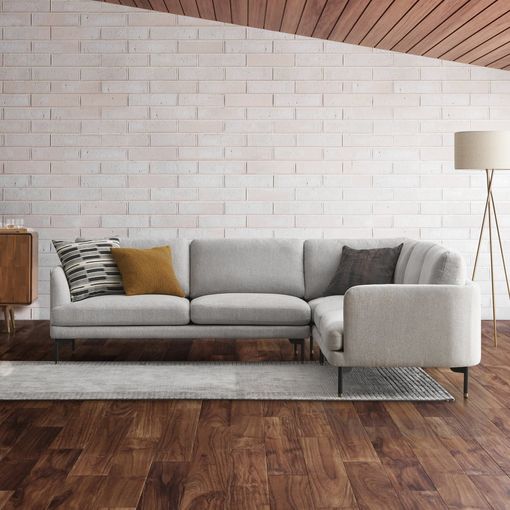 Best For: Unique pieces
Pricing: Mid-range
Furniture Selection: Seating, tables, storage, beds, and decor
Warranty: 1+ years on all furniture
Castlery comes from humble beginnings. It all started when a small team of furniture enthusiasts grouped up, determined to reimagine how people buy their home furnishings. Armed with nothing but a handful of computers and a 500-square-foot basement, Castlery conquered the industry and became the sprawling empire you see today. Browse the site, and you'll find an eclectic assortment of furniture suitable for every room — durable, stylish pieces that'll turn your personal kingdom into a cozy oasis.
What I Love About Castlery
There's nowhere I like shopping more than Castlery. The company offers a simple, easy-to-browse website with detailed statistics and imagery for all its pieces. What's more, Castlery boasts a giant selection, with everything you need to furnish big and small spaces alike — from the bedroom, to the living room, to the outdoor patio! Quality is airtight, and Castlery provides a minimum one-year warranty on all products.
Concerning post-delivery, most of Castlery's pieces come pre-assembled in giant boxes sent straight to your door. Those too big for the standard post come in flat packs, with easily manageable (and often tool-free) assemblies that you can piece together in under an hour. I appreciate how much thought Castlery puts into streamlining your furniture shopping experience and love recommending this Joybird dupe to those seeking a comfortable, modern addition to their home.
What I Didn't Like
As much as I enjoy buying from Castlery, the love affair ends after assembly. Castlery boasts one of the shortest refund periods in the industry, at just 14 days from arrival. There's also a 20% restocking fee on all orders and a $50 fee if you've discarded the original packaging. Fortunately, there is a one-year warranty (or longer) on all products, and Castlery does honor this commitment.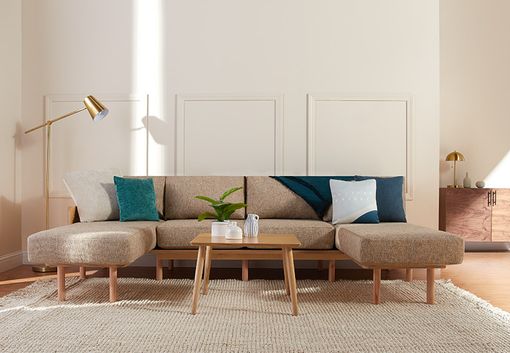 Best For: Home office furniture
Pricing: Mid-range
Furniture Selection: Seating, tables, storage, beds, and decor
Warranty: 1 year on all furniture
If shopping local, eco-friendly, and functional pieces is your jam, Inside Weather is the place to be. The company's team of skilled artisans handmake every item to order in their California workshop, using responsibly-sourced hardwood and recycled materials every step of the way. The result? An heirloom-quality piece you'll be proud to display in your home.
What I Love About Inside Weather
First and foremost, I love Inside Weather's commitment to our planet. The company is one of the most environmentally friendly on the market, sourcing FSC® Certified wood for every piece of furniture. The company also teams up with the National Forest Foundation to plant a tree alongside every order, no matter how small. I don't see many companies taking this kind of initiative for the environment, and I commend Inside Weather for stepping up in such a big way.
Of course, there's much more to Inside Weather than its eco-friendly craftsmanship. The company offers dozens of pieces designed to handle the wear and tear of the modern home, including sofas, tables, desks, and more. Among them, the company's office collection is the one that stands out. Inside Weather creates solid wood desks perfect for the writing den (I should know), as well as storage and wall art that looks so professional as a Zoom backdrop. As the WFH era continues, Inside Weather is my go-to place Joybird alternative for office furniture.
What I Didn't Like
Most of Inside Weather's products are handmade to order. While I love how this contributes to overall quality and uniqueness, I don't appreciate the waiting period (patience has never been my thing). Expect extended lead times and the possibility of delays, depending on the intricacy of your order.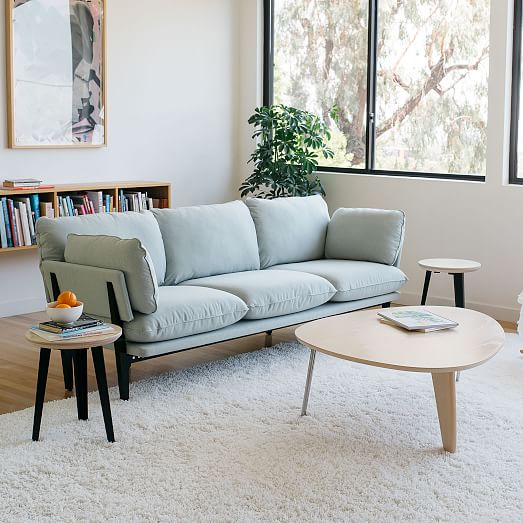 Best For: Moving with you
Pricing: Mid-range
Furniture Selection: Seating, tables, storage, beds, and decor
Warranty: 1 year on all furniture
Floyd began life as a Kickstarter way back in the summer of 2013. In the beginning, it offered a single product: the Floyd Leg, an adaptable set of metal supports that easily attach and reattach to any surface. This innovative design sold $250,000 within a few short months, setting the stage for a full-fledged furniture company focused on modularity. Today, the company sells dozens of similarly-convenient products, all while maintaining its commitment to high-class design.
What I Love About Floyd
I love Floyd's furniture. The pieces are minimal, elegant, and have just enough customization potential to satisfy my inner designer. Although I enjoy the brand's entire range of products, I have the most experience with Floyd's mid-century modern sofa sectional. The thing is stupendously comfortable — chunky, thick, and perfectly plush. You can also add and remove seat blocks to your liking; in other words, it fits just as well in the tiny home office as it does in the spacious living room.
The Sectional isn't the only place you'll find this type of modularity. Most of Floyd's furniture boasts a similar design philosophy, including its range of adaptable sofas, tables, and storage solutions. I can't stress enough how wonderful this is when you need to swap furniture from room to room, or (heaven forbid) to a new house. Everything is so easy to piece together, and they travel exceptionally well — no expensive movers required.
What I Didn't Like
While I love Floyd's furniture, I don't enjoy shopping on the company's website. The navigation feels clunky, with strange naming conventions for different parts of the site. I would prefer if the designers prioritized the user experience rather than trying to be clever.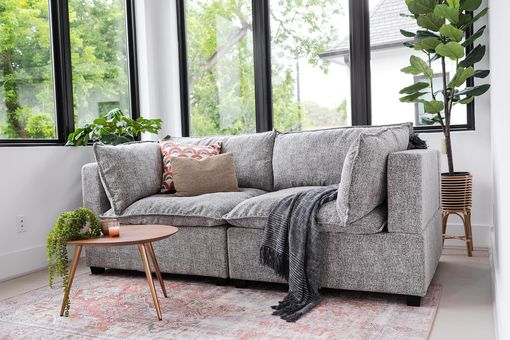 Best For: Simple Shopping
Pricing: Budget
Furniture Selection: Seating
Warranty: Lifetime on all furniture
Albany Park is a small husband-and-wife operation with big dreams to take on the industry's established giants. It all started after a frustrating ordeal back in 2017, when the dynamic duo was forced to navigate a maze of showrooms in search of the perfect sofa for their new space. Although their dream sofa never materialized, the experience left them determined to create a better, more streamlined process. And so, they did. Albany Park brings you a gorgeous, curated selection of comfy seating, all at a price that can't be beat.
What I Love About Albany Park
Albany Park is a boutique furniture shop with big-box prices. The selection is small — limited to just a handful of sofas — but perfectly curated to offer something for everyone. What's more, all Albany Park sofas come with the perfect amount of customizability. Choose your favorite upholstery and legs, then wait two weeks for your sofa to arrive at your doorstep. It's that simple.
My favorite part of Albany Park is probably how easy the furniture is to assemble. After you've gone through the breezy checkout process, the sofas arrive in a handful of boxes. In my experience, securing the frame and attaching the pillows takes well under 30 minutes (and that's doing it all by yourself). Such ease and affordability don't impact quality, either. Albany Park's sofas come with durable kiln-dried hardwood frames backed by a lifetime guarantee against damage and defects. I've never seen another company offer such a generous warranty, and I appreciate the lengths Albany Park goes through to provide for its customers.
What I Didn't Like
All Albany Park products come from overseas, primarily from China and Vietnam. My concern isn't so much poor craftsmanship as it is the environmental impact. Most of Albany Park's competitors manufacture and deliver their products in North America, with many focusing on sustainable materials and responsible stewardship. I wish Albany Park would follow the lead and focus more on doing right by the planet.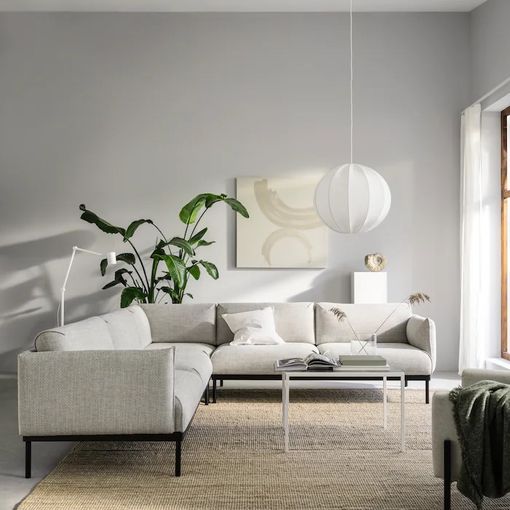 Best For: Affordability
Pricing: Budget
Furniture Selection: Seating, tables, storage, beds, and decor
Warranty: 1+ years on all furniture
Ikea is the iconic furniture superstore, known fits its bright blue and yellow supercenters scattered around the world. What many people don't know is that Ikea has a growing online presence where you can browse the brand's range of affordable furniture and have it delivered straight to your doorstep. With over 75 years in business and thousands of products in its catalog, you can trust Ikea to have your back.
What I Love About Ikea
Ikea has a somewhat misplaced reputation as a low-quality brand. I suppose it's due to the budget pricing and do-it-yourself assembly. But the truth is, I've found Ikea to be just as good (and oftentimes better) than other furniture companies. What's more, the Swedish-based design team pours billions into developing new designs and has the most generous return policy in the industry (one year, in most cases).
Concerning the furniture itself, you'll find a range of products for various parts of the home, including the bedroom, home office, and even the kitchen and bathroom. With that said, Ikea is probably best known for its living room furniture and Scandinavian-inspired couches like Joybird. There are dozens of sofas within Ikea's comprehensive catalog, all affectionately named after culturally relevant Swedish phrases and locations. If you're looking for a quality option, I recommend the Morabo. It's supremely comfy, with a gorgeous silhouette that looks stunning as your living room centerpiece.
What I Didn't Like
Unlike newer and more convenience-oriented furniture companies like Joybird, Ikea operates by the old playbook. The thinking goes: if you want to save money, you have to put in the effort. I've put together many Ikea products in my day, and assembly ranges from mildly frustrating to the stuff of nightmares. Understand what you're signing up for when buying a DIY Ikea model, or be prepared to hire a Taskrabbit for help.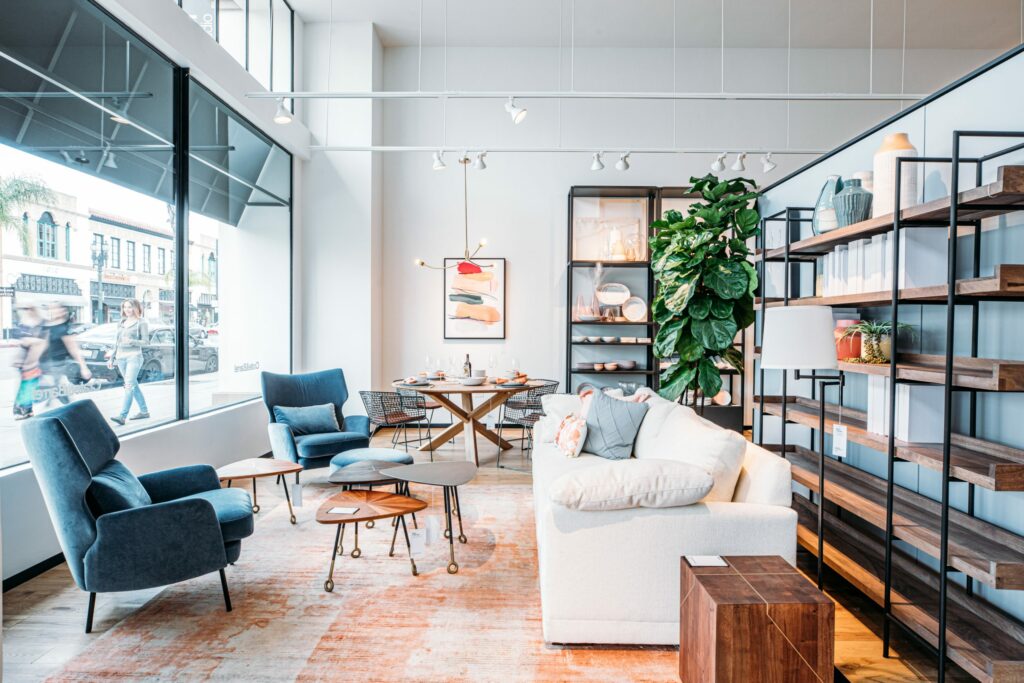 Best For: Timeless design
Pricing: Mid-range
Furniture Selection: Seating, tables, storage, beds, and decor
Warranty: N/A
Crate and Barrel is a cornerstone of the modern furniture industry. Founded in 1962, the company slowly grew from a single 1,700 square-foot location to over 100 stores with 7500 employees. Today, the company has locations across several continents and operates a direct-to-consumer website that ships your favorite pieces to your doorstep.
What I Love About Crate and Barrel
Crate and Barrel boasts one of the most extensive selections of home furniture on the planet, with thousands of chairs, tables, shelves, sofas, and more available in-store and online.
Although Crate and Barrel lacks the personal touch of smaller Joybird competitors, it makes up for that in convenience and unparalleled logistics. I love that I can go into a physical showroom near me to browse and test furniture in person, then head to the website for customization and checkout. Once it's ready (some of the furniture is made to order), Crate and Barrel ships to the store or directly to you, making the process easy and hassle-free.
Just because Crate and Barrel prides itself in a modern selection of furniture doesn't mean that all its designs are new and trendy. On the contrary, the company features a variety of aesthetics, ranging from rustic to mid-century to futuristic and downright funky. I love how the company makes a concerted effort to accommodate every interior design, and I always recommend browsing Crate and Barrel's unique catalog when searching for that perfect piece.
What I Didn't Like
Last year, Crate and Barrel made over a billion dollars in global revenue. While there's nothing wrong with a business growing and doing well for itself, I prefer to support smaller businesses. Yes, Crate and Barrel's products are usually high-quality. But they lack the charm and sophistication of local, handmade home furnishings imbued with love and sent to your doorstep with a smile.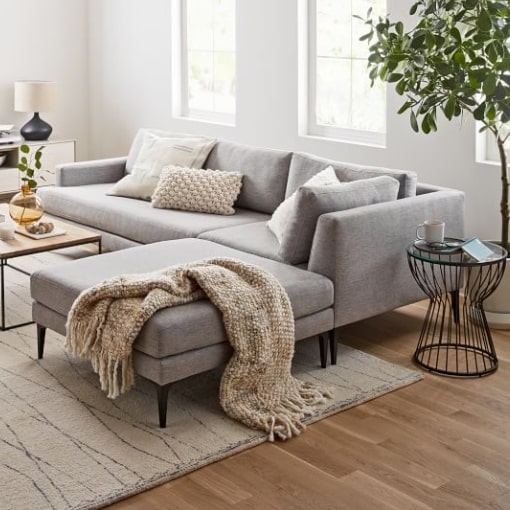 Best For: Variety
Pricing: High-end
Furniture Selection: Seating, tables, storage, beds, and decor
Warranty: N/A
West Elm is a subsidiary of the upscale home decor company, Williams-Sonoma. It started in 2002 as a spin-off furniture store catering to upper-middle class New Yorkers, and it's remained true to that original mission ever since. What has changed is the size and scope of the business. As of 2022, West Elm sells hundreds of different products, both online and within its vast array of physical stores, making it easier than ever to find a luxury statement piece for your home.
What I Love About West Elm
Like Joybird, West Elm is a one-stop shop, with everything you need to furnish your home under one roof. West Elm boasts over 100 showrooms around the USA and across the world, making it easy to slip down to the local mall and try out the sofas, side tables, and bespoke bed frames. Once you've found the perfect products, you can order in-store or come back home to customize and purchase your favorite models on the company's easy-to-navigate website.
My family has purchased and owned many West Elm pieces in my lifetime. We like to shop there for the vast selection of quality products and unmatched durability of its components. Some of our furniture (and one of our sofas, in particular) is still around after nearly 15 years of heavy use. This incredible lifespan is indicative of the company's quality, which I haven't encountered in another furniture brand.
What I Didn't Like
Like Crate and Barrel, West Elm has become such an entrenched part of the industry that its executives no longer cater to the customer's post-purchasing experience. For instance, the company has no warranty in place. While, in my experience, West Elm is usually happy to help make your order right, they don't commit anything in writing. With a brand this big, you lose the personal one-on-one care and interaction you get at places like Allform and Floyd. Sometimes I feel like such a massive selection isn't worth the tradeoff.
Other Great Furniture Brands To Check Out
At this point, we've seen a fantastic selection of companies with furniture like joybird — companies that share and operate with a similar philosophy towards craftsmanship and convenience. However, these brands only represent a small fraction of today's best furniture retailers. With that in mind, I'd like to take a moment and highlight a few honorable mentions. The following physical and digital storefronts offer a fantastic selection of furniture at more than reasonable price points:
No matter where you choose to shop, Home of Cozy has you covered. For more in-depth brand reviews on companies like Joybird, check out our dedicated reviews section. If you want to skip straight to the very best furniture your money can buy, here's a look at our expert team's top recommended sofas of the year.