Bigger isn't always better. Just look at the best low-profile sofas, with their cozy, compact silhouettes. These trendy couches may be short in stature, but they elevate the space with a unique sense of style and sophistication. They also play a valuable role in your interior design, freeing up living space while creating a grander sense of scale.
The Home of Cozy team understands first-hand how much charm low-profile sofas add to their surrounding space. We researched and reviewed over 24 models during our quest for low-profile perfection, going hands-on at every opportunity. In this guide, I'll show you what we discovered and help you uncover the ideal new addition to your living room.
What Is A Low-Profile Sofa?
A low-profile sofa looks and functions much like a traditional couch, except it comes with a lower seat height and a shorter backrest. Although these differences are relatively minor, they profoundly affect your sitting experience. Most notably, they encourage a relaxed and laid-back posture, perfect for leisure, lounging, and conversing with guests.
Concerning aesthetics, low-profile sofas feature clean lines and simple shapes that marry sophistication and hominess. Many designers use their smaller silhouettes and minimalist elements to free up physical and energetic space in small homes and apartments. When placed in a smaller room with low ceilings, these sofas create an optical illusion, making the living space look and feel bigger than it actually is.
Lastly, a low-profile sofa's smaller footprint requires fewer materials to manufacture. In an effort to increase sales, companies pass these savings onto the consumer, leading to a more affordable price point compared to today's best sofas.
How We Chose Our Top Low-Profile Sofas
Low-profile sofas may trend smaller than traditional options, but they still come in various shapes, sizes, and styles. For this guide, the Home of Cozy team reviewed dozens of low-profile sofas, including loveseats and sectionals, straight and curved-back models, and ones with all different kinds of upholstery. Here are the criteria we used to identify today's top options for your home:
1. Quality – Craftsmanship is always the first quality we inspect when reviewing furniture. For these low-profile sofas, we paid particular attention to structural integrity (the legs and bottom sections, in particular) and cushion resilience.
2. Comfort – Low-profile sofas are all about lounging, which is why we sought out designs with ample padding and luxuriously soft upholstery.
3. Aesthetics – The best low-profile sofas sit low to the ground and provide a simple, sophisticated look with clean lines and (occasionally) a touch of whimsy.
4. Customer Support – We tested the promptness, politeness, and accuracy of each brand's customer service teams by asking questions about their low-profile sofas; we also looked closely at how each company handles checkout, delivery, and post-sales support.
5. Sustainability – The team at Home of Cozy always recommends companies with a commitment to sustainability, including those that use eco-friendly materials and ethically-sourced labor.
After putting over two dozen pieces through our comprehensive research and review process, we narrowed our final list down to a top ten. The following low-profile sofas represent the highest-quality models your hard-earned money can buy.
Brand
Best For
1

Editor's Choice

Overall
Shop Now
2

Sectional
Shop Now
3

Budget
Shop Now
4

Small Spaces
Shop Now
5

Leather
Shop Now
6

Sleeper
Shop Now
7

Velvet
Shop Now
8

Deep seats
Shop Now
9

Curved
Shop Now
10

Classic
Shop Now
1
Editor's Choice
2
3
4
5
6
7
8
9
10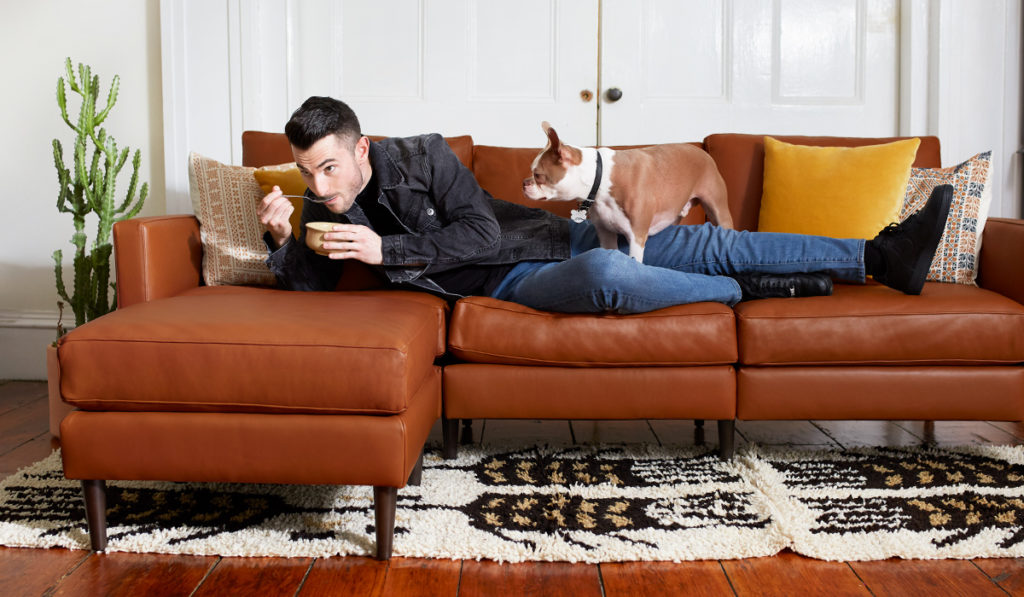 Best For: Overall
Price: $2,245+
Dimensions: W90″ x H34″ x D61″
Frame material: Maple and poplar kiln-dried laminated hardwood
Upholstery options: Polyester and leather
What I Love About This Allform Sofa
The Allform 3-Seater embodies everything I love about low-profile sofas. First and foremost, it rises just 34″ off the ground, providing an understated accent piece that feels right at home in most small-to-medium living spaces.
It also features a beautiful minimalist aesthetic, comprising just three modular seating blocks across its entire 90″ span. These blocks join together at evenly-spaced intervals — every 30″ or so — creating a network of clean lines running across every axis. It's a geometric work of art.
Although simple, the Allform is never boring. Instead, it feels harmonious, like the design team placed every element with care and intention. To better understand what I mean, look at the sofa's left- or right-side chaise.
It adds the perfect dose of visual intrigue, a single section that disrupts the rectangular shape with a small pop of whimsy. It also extends the sofa's depth, offering a cozy place to lay back and relax atop Allform's thick polyfoam cushions.
Another thing I love about this modular sofa is how you can make so many adjustments and configurations. Keep things relaxed with one of seven polyester fabrics, ranging from Charcoal to Teal to Amber. Or, dress it up with a full-grain leather suit. The company's skilled artisans handmake every sofa to order, from the solid wood frame to the lush upholstery, right here in the USA.
What I Didn't Like
It's hard to picture how a sofa will look in your space without seeing it in person. Unfortunately, Allform only has one showroom, and it's deep in the heart of New York City. Yes, the company does offer a 100-day Relaxin Trial (AKA, an extended return period) and a lifetime warranty. But take it from someone who's assembled more than his fair share of couches — it's a hassle to go through the process only to discover a sofa isn't for you.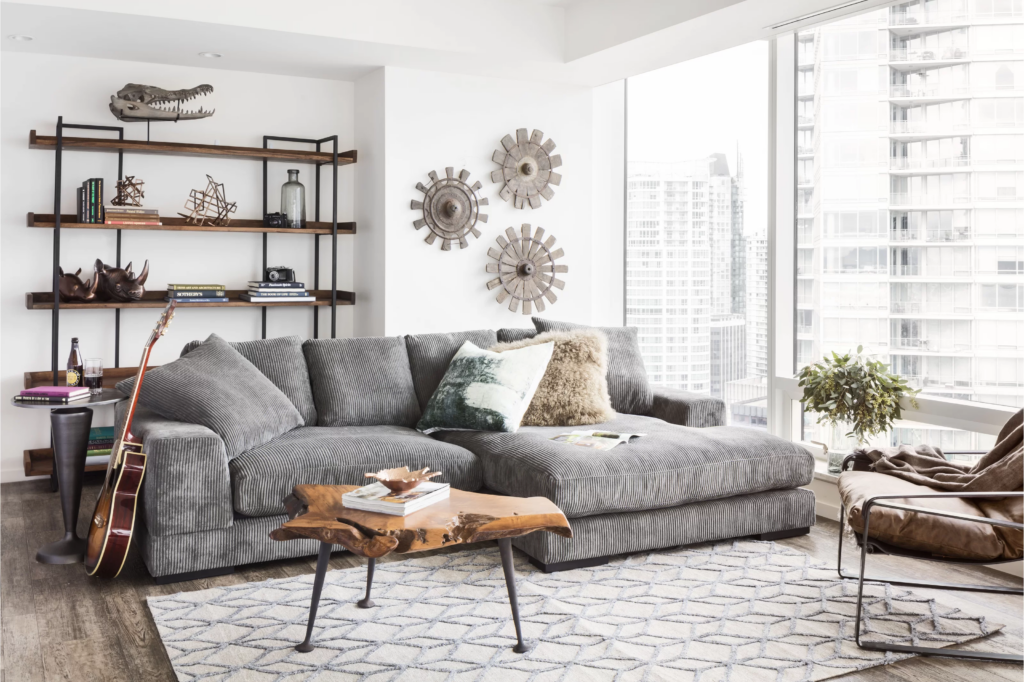 Price: $3,400+
Dimensions: W65″ x D70″ x H34″
Frame material: Solid and manufactured wood
Upholstery options: Polyester
What I Love About This AllModern Sofa
Few sofas can match the comfort offered by AllModern's Lonsdale. It's one of the plushest low-profile models on the market, practically bursting at the seams with layers of deliciously soft foam. Meanwhile, I've found its corduroy-inspired pinstripe fabric among the softest available; it's made from a custom-woven polyester that rivals silk in its delightfully smooth composition. Paired with the slanting backrest and generous armrests — which feel more like a recliner than a sofa — I can't get enough time on this exceptional piece of furniture.
The sofa comes in three pieces (not counting the pillows), and they join together through a series of simple steel latches. I was so pleased to discover how easy the process is, letting you go from unboxing to relaxing in 15 minutes flat.
What I Didn't Like
The thick, comfy pillows are probably my favorite things about this minimalistic low sectional couch. However, they're not without issues. These pillows move around a lot, and they require frequent fluffing. In fact, you can't go a single day without needing to perform some quick maintenance, whether that's replacing the cushions atop the sofa's wood frame or whacking them to return their fluffy shape.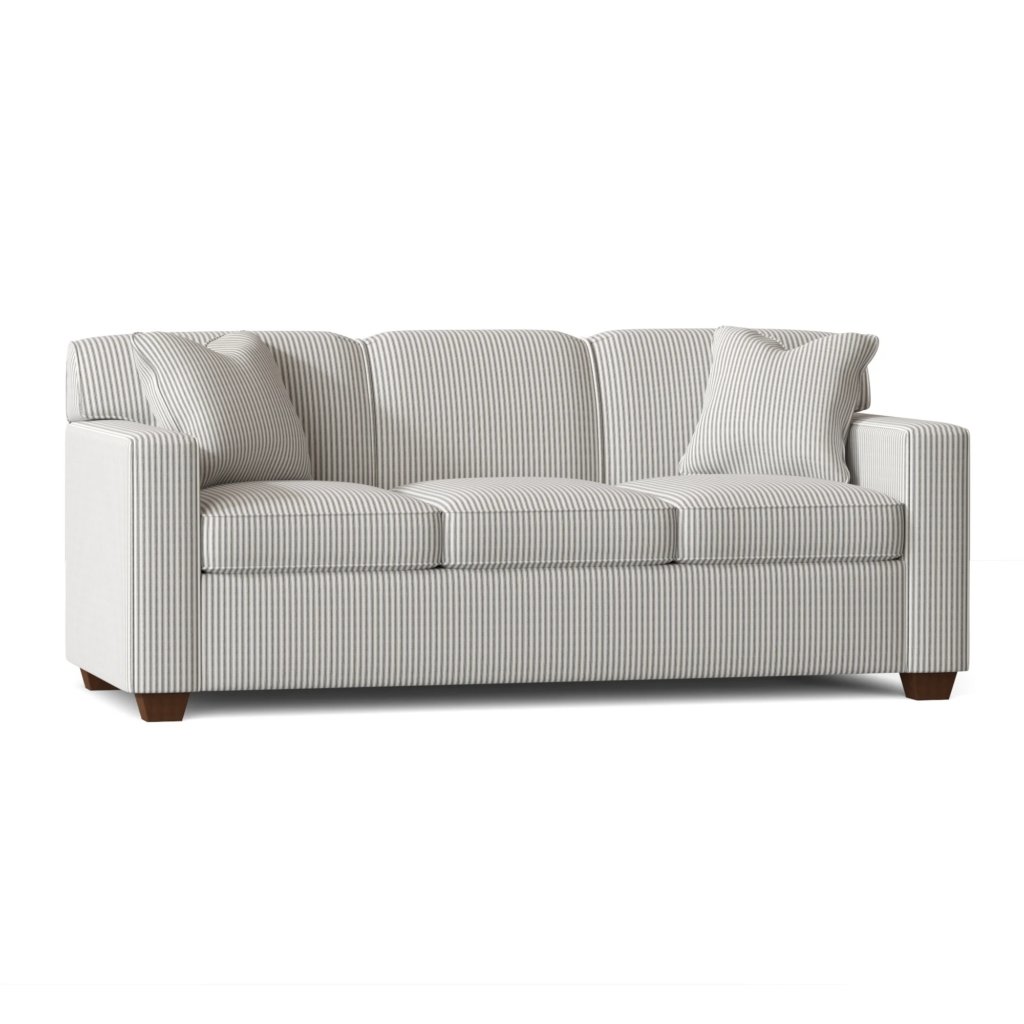 Price: $910+
Dimensions: W79″ x D35″ x H34″
Frame material: Solid and manufactured wood
Upholstery options: Polyester, cotton, acrylic
What I Love About This Birch Lane Sofa
Low-profile sofas are typically more affordable than traditional models. But the Nash Upholstered Sofa takes things to new heights (or rather, new lows). It costs under $1,000 shipped to your door and features all the bells and whistles you'd expect from a luxury sofa.
What impresses me most about this Birch Lane is its customizability. There's no upcharge for choosing your own polyester, cotton, or acrylic fabric. Select from over 50 muted colors as you navigate the streamlined checkout, and then wait a few weeks as the team creates a bespoke model just for you! The sofa is made in the USA by local tradespeople, and you can expect top-notch craftsmanship, quick shipping, and a 15-minute assembly once it's finished.
Although the Nash's seat is 20″ high (a little taller than others on this list), it doesn't look or feel out of place. Instead, the simple, clean lines and tapered block legs ensure an understated sense of scale that feels right at home in small spaces.
What I Didn't Like
The Nash Upholstered Sofa by Birch Lane is a little firm for my liking — especially in the back cushions. Fortunately, the foam does loosen up a bit over time. However, you'll need to be patient, as it takes several months of regular use before you'll notice a meaningful difference.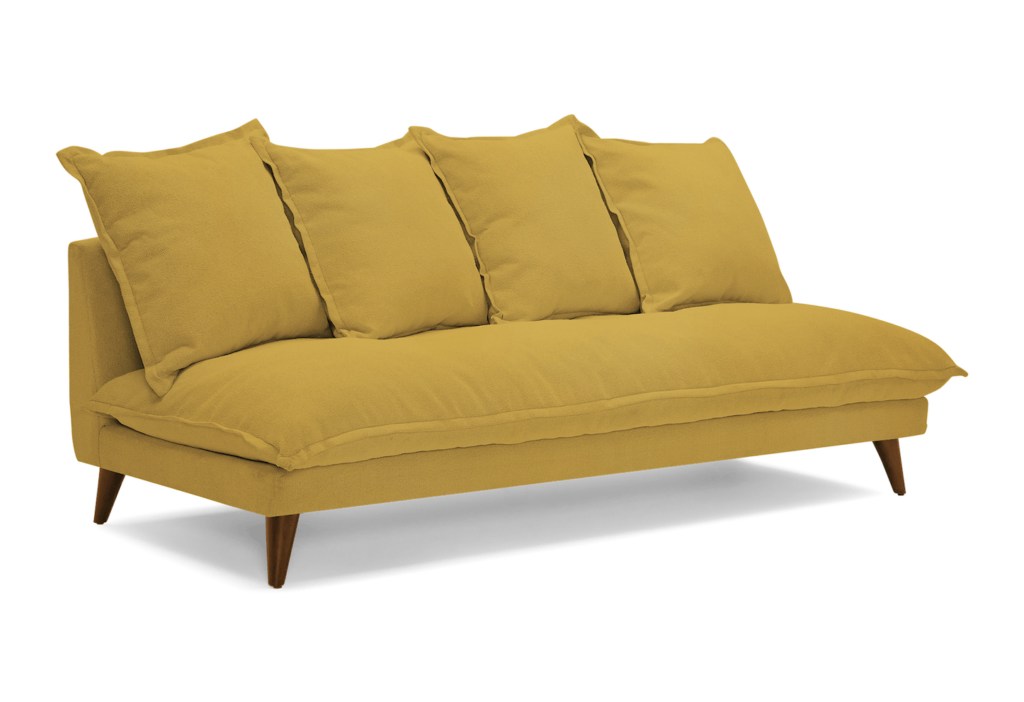 Price: $2,156+
Dimensions: W79.5″ x D37″ x H36″
Frame material: Engineered wood
Upholstery options: Polyester
What I Love About This Joybird Sofa
Whereas most low-profile loveseats lock you in with armrests on either side, the Joybird Denna's armless design is as free as a bird. I love how you can sit down anywhere atop the sofa's singular seat cushion, maintaining a similar level of coziness in any position. You can even lay down across the Joybird! Since it measures 80″ wide, there's no fear of bumping your head against the sofa's edge. It's an unassuming yet functional piece, one that provides a uniquely lackadaisical experience you must try to understand.
Then, there's the fabric. Joybrid offers over a dozen modern and retro colors, like Marin Sunflower and Royale Blush, as well as various textures to suit every taste (try the velvet — it feels amazingly soft)! Shopping at Joybird is similarly lovely. The company offers a limited lifetime warranty, no-fee returns, and in-home white glove delivery! Of course, the latter is hardly necessary. To assemble the Denna, simply screw on all five legs, and it's ready to enjoy.
What I Didn't Like
Although the mid-century modern Denna is wonderfully cozy in most settings, it lacks the upright postural support necessary for formal situations. I recommend it for smaller family spaces or areas with frequent but fast traffic (e.g., the foyer). That's where the Joybird takes flight, providing the best experience for you and your guests.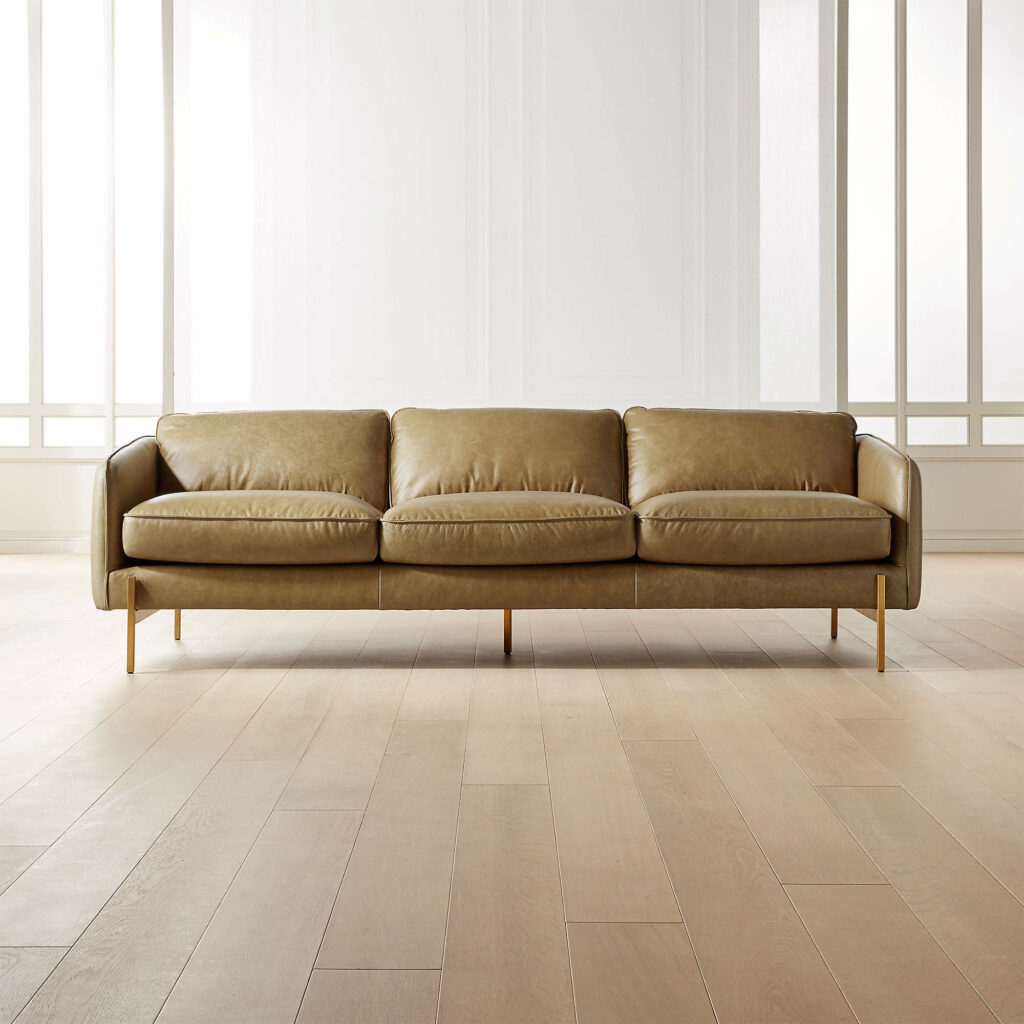 Price: $2,999+
Dimensions: W96.75″ x D37.5″ x H30″
Frame material: Hardwood
Upholstery options: Saddle leather
What I Love About This CB2 Sofa
Leather is something of an enigma. It's simultaneously classy and refined yet rustic and rugged. This unique dichotomy makes it an excellent choice for low-profile sofas, which are known for blending luxe sophistication with all the comforts of home. Although I looked at several leather models, the CB2 Hoxton was my favorite, pairing genuine buffalo leather with brass accents for one-of-a-kind aesthetics.
To be sure, I absolutely love CB2's low-profile design. It almost seems like this sofa defies the laws of gravity, with a short, stout frame that hovers on legs less than an inch in diameter. Strange as it may be, however, the Hoxton is quite sturdy. The reinforced undercarriage and extra center leg work alongside the hardwood frame for a robust sitting experience that can easily handle small families. The Hoxton is also oh so comfortable, with layers of dense foam stuffed under the thick leather exterior.
What I Didn't Like
Unlike most low-to-the-ground couches on our list, the Hoxton is made overseas in Vietnam. When you factor in the carbon costs of shipping a 100-pound piece all the way to North America, it's a little disconcerting. CB2 has the means to hire and build locally, and I wish they'd spend some of their extraordinary profits doing so.
Price: $3,748+
Dimensions: W93″ x D39″ x H27″
Frame material: Solid wood
Upholstery options: Polyester or polyester blend
What I Love About This Apt2B Sofa
Most sleeper sofas are comically large, forced to carry bulky mattresses underneath their cushions. That's why I was so surprised to find the Melrose from Apt2B. It's a bonafide low-profile sofa — sitting just 27″ high — complete with a compact, spa-quality mattress that tucks away without a trace.
In sofa mode, the Melrose looks like a traditional low-profile loveseat, with an elongated silhouette, clean lines, and blocky feet on all four corners. Its high-density foam cushions offer excellent support, and I've found that they comfortably accommodate three people over several hours of conversation.
With that said, the real party begins once it's time for bed. To transform from sofa to sleeper, simply remove the reversible seat cushions, grab the unfolding mechanism, and then pull up and away. This five-second process reveals a memory foam mattress that's so soft and comfy, it melts away aches and pains like a professional masseuse. Of all the low-profile sofas I reviewed, the Melrose is the perfect option for families that like to host.
What I Didn't Like
There are two issues I encountered with the Melrose sleeper futon. First, the unfolding mechanism is a little temperamental. It boasts a traditional pull-up operation, with springs that feel tight the first few times you use them. With that said, things do loosen up over time.
My other complaint comes down to customization. Although Apt2B offers over 50 different color variations, all its fabrics are polyester-based. Don't get me wrong; there's nothing wrong with the brand's polyester (in fact, it's extraordinarily soft and durable). But I wish it would provide other finishes, like cotton or leather.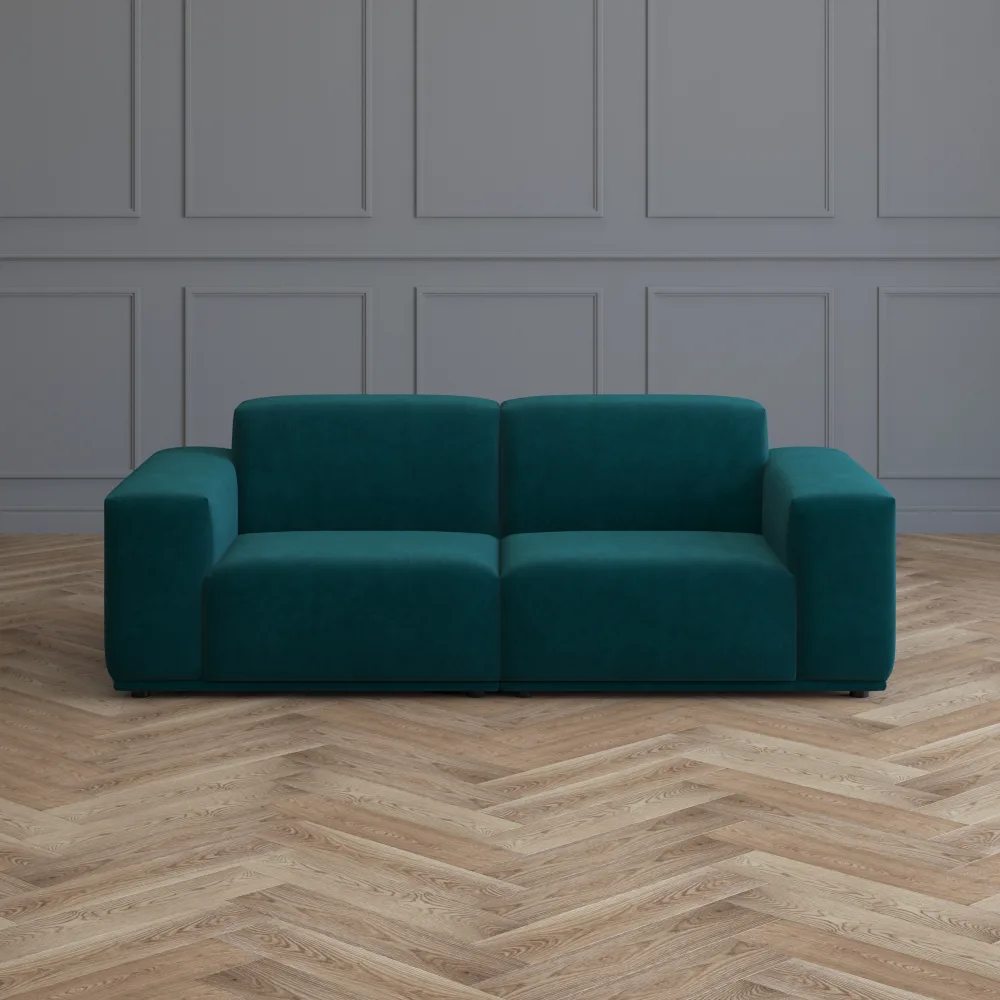 Price: $1,629
Dimensions: W78.8″ x D35.8″ x H26.7″
Frame material: Solid wood
Upholstery options: Polyester
What I Love About This Castlery Sofa
It may be a way down our list, but the Castlery Todd is one of my favorite low-profile sofas. It's so simple, a collection of six foam-filled rectangles that combine to create one of the comfiest low-profile loveseats around.
The Todd Sofa comes in two variants: a classic weave in gray and a velvet model in teal. While I like the classic weave well enough, Castlery's glam velvet upholstery is on a different level. It's supremely soft to the touch, almost like rubbing your hand over a sheet of silk. Meanwhile, the deep teal palette feels quite understated, if not a little moody, with a vibrant hue that only shines through when you stroke its fibers at just the right angle.
Concerning assembly, I couldn't be happier with the Todd. It comes in two giant boxes, each containing one-half of the square arm sofa frame. Just place the two ends together, and voila! It's the easiest setup imaginable.
What I Didn't Like
To get the most relaxation out of the Todd Sofa's ultra-low-profile, you'll need to pair it with the matching ottoman. Unfortunately, this will set you back an extra $300.
The Todd Sofa is also quite firm. This is necessary to provide enough support alongside the short 14.2″ seat height and shallow depth. However, not everyone will enjoy so much bolstering.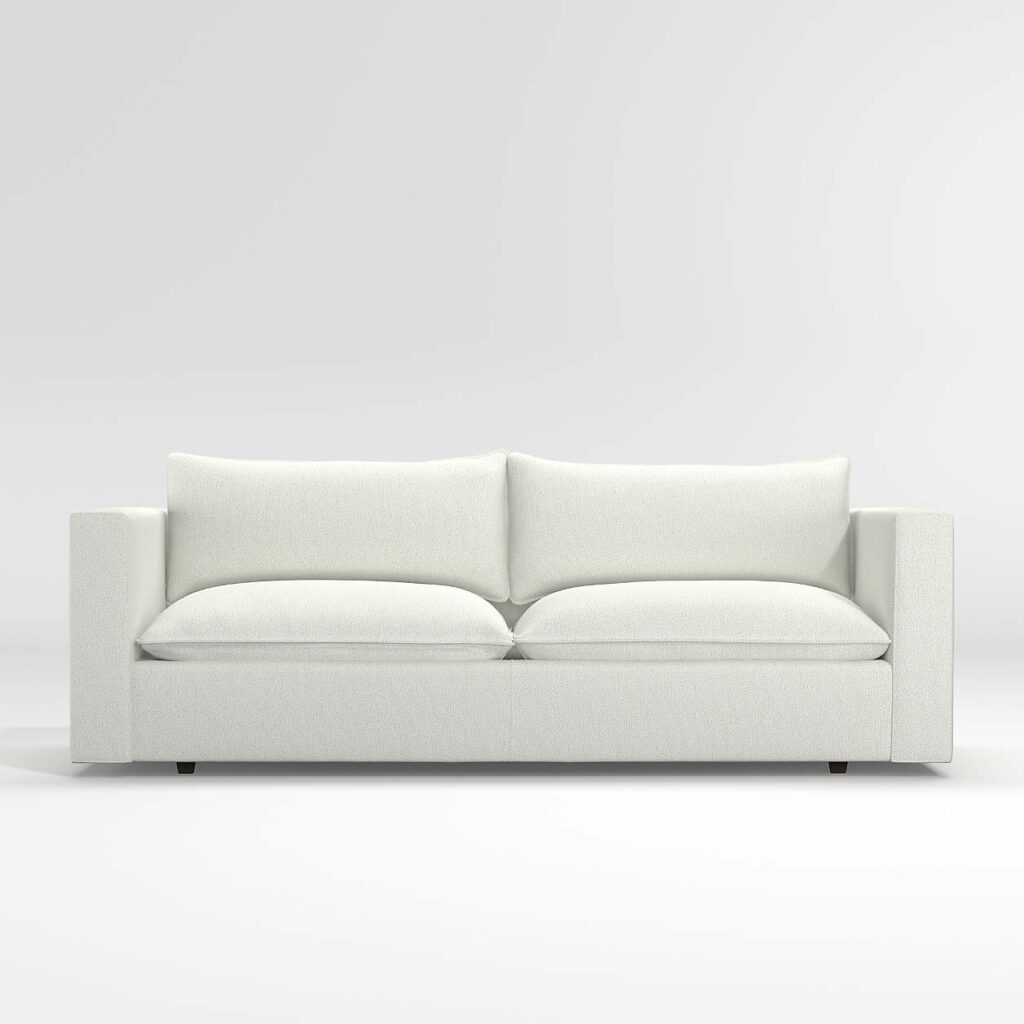 Price: $2,299+
Dimensions: W91″ x D39.5″ x H28″
Frame material: Kiln-dried engineered hardwood
Upholstery options: Dozens
What I Love About This Crate & Barrel Sofa
Unlike the Todd Sofa from Castlery, the Lotus has short and deep seats — providing a more embracive sitting experience well-suited for all-day relaxation. Although its cushions are on the slimmer side, they're extraordinarily plush, made from a polyfoam and down blend that provides all the support you need to relax for hours on end. Trust me, you won't ever want to get up.
The Lotus is made to order by Crate & Barrel's experienced team of artisans, and you can customize it any way you like. Nordic Frost Polyester is the top designer-recommended upholstery option, and I think it fits the sofa's clean lines and minimal elements to a tee. But if you'd like, you can choose from nearly 200 other fabrics, including velvet, boucle, and canvas. You can also add extra seating modules (up to four total) if you're the type who enjoys hosting large get-togethers.
What I Didn't Like
Crate & Barrel handmakes the Lotus to order. Unfortunately, the company's lead times are abysmal, often reaching (and sometimes exceeding) six months out. Once it arrives and starts seeing use, you'll also need to perform regular maintenance. Castlery's backrests and throw pillows are prone to compressing, and I recommend daily fluffing to keep everything in tip-top shape.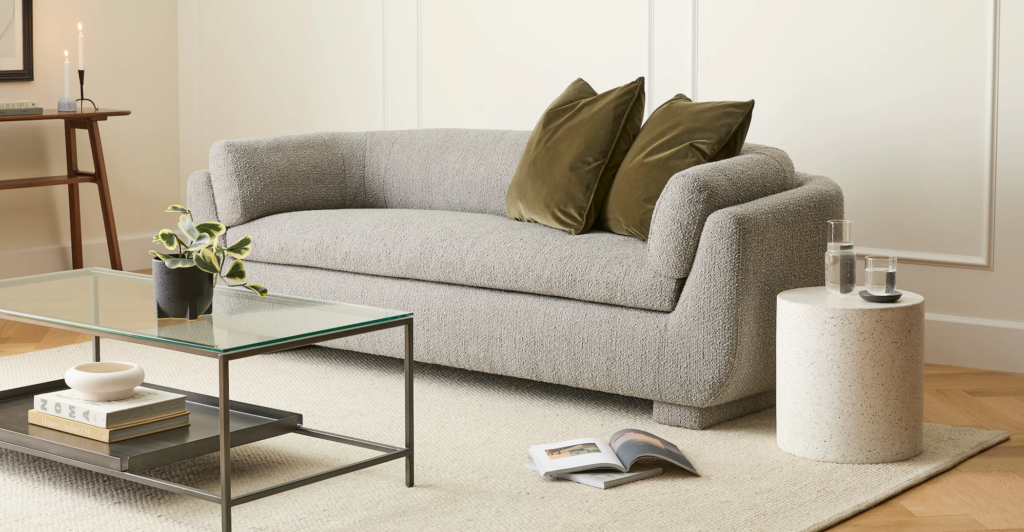 Price: $1699+
Dimensions: W88″ x D35″ x H29″
Frame material: Solid wood
Upholstery options: Polyester
What I Love About This Article Sofa
While I love the clean-line, rectangular shape of most low-profile sofas, it does get a little boring. The Article Moro offers something different, incorporating a short, curving backrest that wraps around the seat cushion like it's giving you a hug.
Although different from the other sofas I reviewed, I adore this take on the low-profile design. It's pushing boundaries in all the right ways, forgoing straight lines for more visual intrigue ⁠— but without abandoning the low-profile's minimalist philosophy and modern look. I've also found that the curvature combines well with the sofa's white or gray boucle fabric, softening the feel of the room and adding to its coziness. Oh, and don't even get me started on comfort. The Moro's down-filled cushions and generous backrest padding are legendary, providing all the mid- to lower-body support necessary for all-day lounging.
Of course, the Moro comes with Article's excellent customer service and complimentary design services. This fabric sofa ships to your home in a matter of weeks (for free, I might add) and comes ready to go out of the box.
What I Didn't Like
Article doesn't have the best post-delivery support. Unlike brands like Allform, there's no lifetime warranty. Instead, it only lasts one year and isn't nearly as comprehensive. Then, there are all the return fees. Article doesn't have a showroom to visit, so the only way to experience the Moro is to order online and have it delivered to your home. If you don't like it, you're out of luck. Return fees start at $49 and quickly go up from there.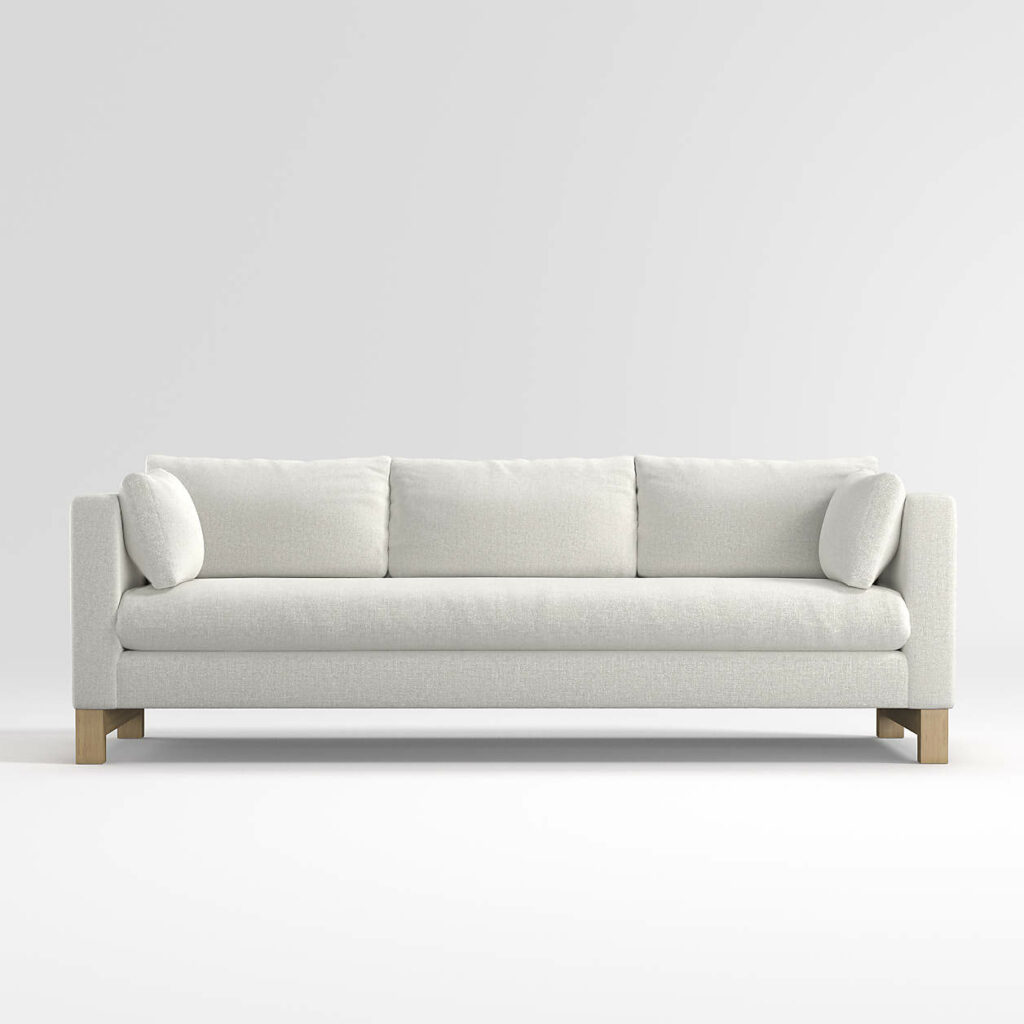 Price: $1,999
Dimensions: W103″ x D36″ x H26.5″
Frame material: Kiln-dried solid and engineered hardwood
Upholstery options: Dozens
What I Love About This Crate & Barrel Sofa
The Pacific Bench offers the best of both worlds. It sits right in-between the low-profile and modern sofa aesthetics, combining the coziest elements from each. Concerning the former, the Pacific 3-Seater offers an exceptionally short 26.5″ backrest, with an elongated frame that rests atop blocky wood legs. At the same time, the sofa features a classic mid-century silhouette with track arms and a single bottom cushion running its entire length.
In my experience, the Pacific 3-Seater is a welcome addition to small rooms with low ceilings, making them appear much larger than they actually are. But it also looks gorgeous in a larger living room, providing a timeless and clean-line centerpiece for your family to enjoy!
Fortunately, it doesn't matter where you choose to place your new sofa. Crate & Barrel lets you match the piece to your space, providing over 200 upholstery options to fit every home.
What I Didn't Like
The Pacific Bench is quite firm, more like a wooden bench than a sink-in sofa. Even I — someone who generally prefers firm sofas — find it a little too dense for comfort. Fortunately, it does loosen up reasonably quickly, transforming into a softer, cozier sofa with every use.
Low Profile Sofas FAQs
Now that we've seen today's best low-profile sofas, let's answer some common questions about how they look and feel in the modern home.
Are low sofas comfortable?
Low-profile sofas are among the most comfortable couches you can buy! They feature shorter backrests and sit lower to the ground, encouraging a relaxed, laid-back posture ideal for lounging. Many low-profile sofa designers also match the shorter height with a slightly deeper frame, providing a spacious basin for you to move around and find your comfort zone.
How do you style a low couch?
There's no right or wrong way to style a low couch; it's about what feels the most comfortable to you. With that said, many interior design experts use low-profile couches to make the space appear bigger than it is. If this is your goal, consider darker upholstery with matching throw pillows and blankets. If you want your seating area to stand out, try adding contrasting decor with bold colors and aggressive patterns.
Can a sofa be too low?
A sofa can sit too low (where your legs don't bend at a 45- to 90-degree angle), but this issue primarily affects custom-made sofas — not those you'll find available on the mass market. That's because manufacturers aim to sell as many models as possible, prioritizing ease and accessibility over all else. Rest assured, most modern low-profile sofas will fit you and your living room without issue.