Microfiber — long used to make cleaning cloths, sheets, and clothing — has finally come to furniture. It's a natural progression for this versatile textile, which is softer than silk and more durable than a rhino's hide. When used as sofa upholstery, microfiber provides a cozy and low-maintenance foundation perfect for grand parties, intimate snuggle fests, and everything in between. It also blends beautifully with mid-century modern design, all while providing a delightful infusion of novelty and charm.
The team at Home of Cozy spent the past few months researching and testing over 20 of today's best microfiber couches. The following options represent the most comfortable pieces of living room furniture available, all guaranteed to elevate your space and provide reliable seating for years to come.
What Is Microfiber Upholstery?
Microfiber upholstery is a collection of tiny polyester fibers, woven together and bound into a tight-knit fabric.
What makes microfiber unique is — surprise — its microscopic size. Single strands of microfiber measure under one denier wide, or five times smaller than a strand of hair. When threaded together, they create a seamless surface with virtually zero gaps, providing a resilience and smoothness unmatched by any other type of upholstery.
Benefits of Microfiber Sofas
There are many benefits to choosing a microfiber fabric couch. Here are a few of the most common reasons consumers opt for microfiber over other upholstery:
Soft – Microfiber is finer than silk, providing an alluring softness that feels rich and luxurious.
Durable – The upholstery's densely-packed fibers are difficult to penetrate, so water and debris collect on the surface rather than sink in and cause damage.
Versatile – Depending on the composition and stitchwork, microfiber sofas can appear velvety or suede-like. They also come in a near-infinite variety of colors.
Easy to clean – Microfiber couches are easier to clean than their looser-knit counterparts, repelling moisture and wiping clean with a single pass. Occasional vacuuming is all it takes to keep your microfiber sofa in tip-top shape.
The best microfiber couches are also exceptionally stylish and surprisingly affordable. They're the perfect addition to any modern-day home.
How We Chose Our Favorite Microfiber Couches
Microfiber couches are still a novel concept, with relatively few models available compared to sofas with traditional upholstery. That's why we approached this review like a treasure hunt, seeking out every suitable loveseat, sectional, and modern sofa bed we could get our hands on. From there, we spent dozens of hours inspecting the options, testing them against the following criteria:
1. Quality – We sought out couches with the finest craftsmanship, including resilient microfiber, sturdy hardwood frames, and meticulous attention to detail in the stitchwork and joinery.
2. Comfort – Microfiber couches should be silky-smooth to the touch, with a thick layer of upholstery covering luscious, cloud-like cushions.
3. Style – Although a couch made of microfiber can come in all colors, shapes, and sizes, we prioritized those with softer tones and classic silhouettes that blend with modern home decor (that means no recliners with cup holders or crazy variations of the sort)
4. Customer service – We evaluated each company's pre-purchasing and post-sales support process (including delivery), ensuring a reliable partner at every step of your journey.
5. Sustainability – The Home of Cozy teams always recommends companies that prioritize responsible manufacturing and eco-friendly recycling practices.
The following options aren't just high-quality, comfortable, and stylish. They're genuine works of art, functional focal points as unique as your family's home.
Our Picks For The 8 Best Microfiber Sofas Of 2023
Brand
Best For
1

Editor's Choice

Alternative To Microfiber
Shop Now
2

Overall
Shop Now
3

Budget
Shop Now
4

Clean Lines
Shop Now
5

Deep Seater
Shop Now
6

Sectional
Shop Now
7

Loveseat
Shop Now
1
Editor's Choice
Best For:
Alternative To Microfiber
2
3
4
5
6
7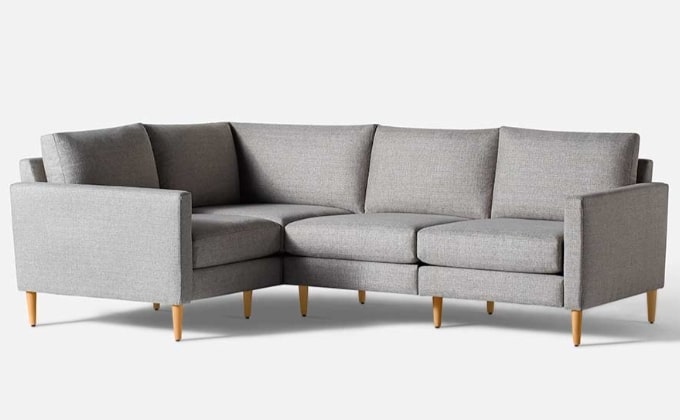 Best for: An alternative to microfiber
Price: $2,245+
Dimensions: W90" x D61" x H34"
Frame material: Kiln-Dried maple & poplar hardwood
Upholstery options: 9 fabric options
What I Love About This AllForm Sofa
Okay, okay. The Allform 3-Seater Sofa isn't technically a microfiber couch. But it does share many of the same qualities as microfiber, including exceptional softness and durability. Plus, it's my favorite couch, and this is my list.
Although there's so much to love about Allform, I want to focus on its Performance Fabric. This polyester-based upholstery features a lovely Panama Weave that's seamlessly smooth, save for the slightest hint of texture providing a skosh of depth. Rubbing my hands back and forth across the fabric honestly reminds me of petting a kitten — ever-so-soft and slightly fuzzy. The fabric is rated to a 55,000 double rub count, meaning it takes tens of thousands of strokes to even wear at the material. The company's craftspeople also treat the high-density foam cushions with an eco-friendly, stain-resistant coating that repels moisture just as well (if not better) than microfiber.
And that's only the fabric! The Allform comes with many other designer elements, including a modular mid-century modern silhouette that you can customize to suit your needs. Even though you can add as many seating modules and ottomans as you like, I always recommend starting with one of the company's best sellers. In particular, the 3-Seater with chaise. This configuration provides ample room for you and your guests, and it doesn't break the bank. You can set the sofa up in under 30 minutes and rest easy knowing it comes with a generous lifetime warranty.
What I Didn't Love
My primary complaint about Allform has little to do with the polyester fabric sofa itself and more with the company's size. Although it's growing leaps and bounds, Allform is still a relatively small business with a single showroom. And, that showroom is all the way across the country from me, in the heart of New York City!
The good news is that, even if it's impractical to visit the showroom in person, Allform ships free swatches to all who ask. There's also a 100 Relaxin' Day Trial where you can try the sofa in your home, risk-free.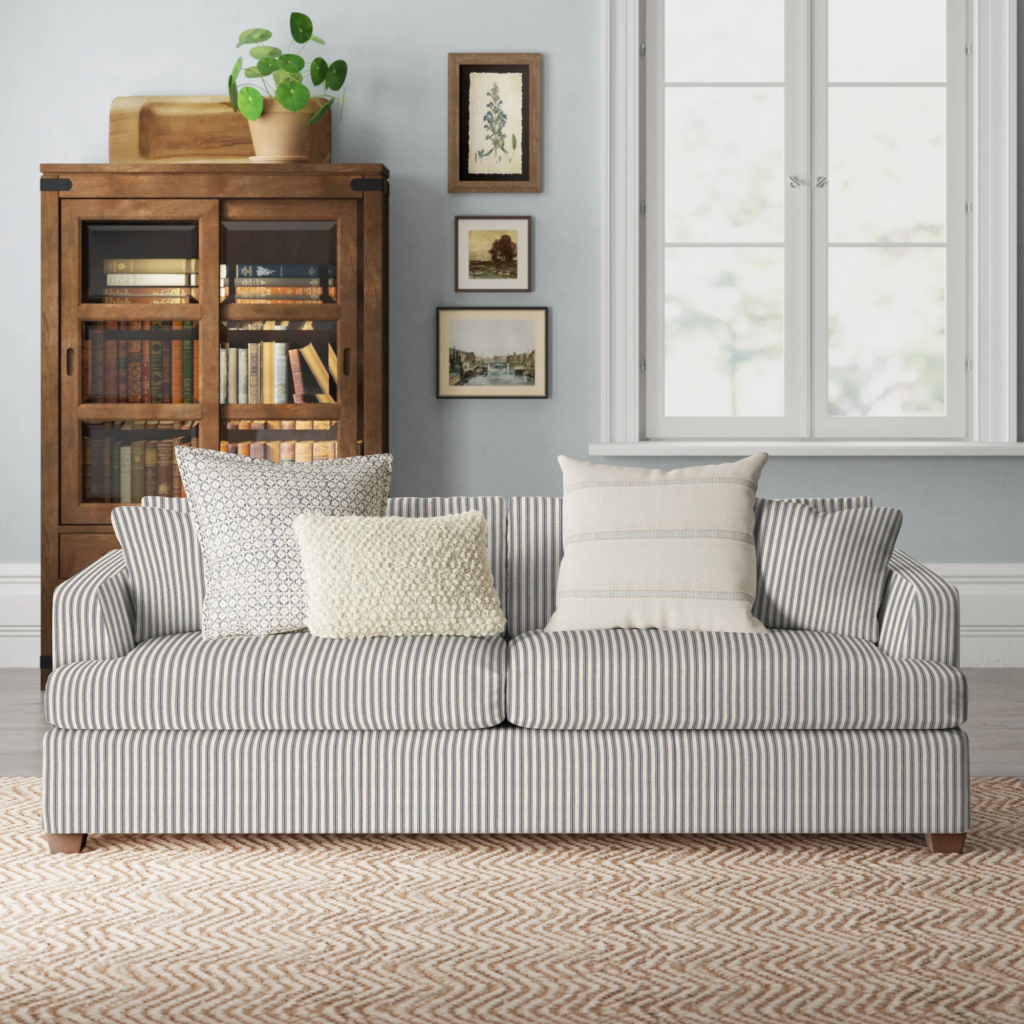 Best for: Overall comfort
Price: $1,369
Dimensions: W85" x D41" x H30"
Frame material: Engineered wood
Upholstery options: 55 fabric options
What I Love About This Birch Lane Sofa
I'm not exactly sure how to describe it, but there's something exceedingly homey and comforting about the Jamya Sofa from Birch Lane. It could be the lovely microfiber upholstery, which is as soft as velvet and even more luxurious. Or maybe it's the thoughtful craftsmanship, with cushions that include two distinct types of filling: supportive foam for the backrest and relaxing down for the seat. Perhaps it's the low-profile silhouette that fits beautifully in any living space. Whatever the case may be, I do know one thing for sure — this is, without a doubt, the coziest microfiber couch on the market.
If I'm being honest, I wasn't particularly surprised by how much I loved this sofa. The Jamya is a Birch Lane exclusive, after all, and the company is known for going the extra mile with its furniture. Something I've always found so telling is that every one of its sofas is handmade to order in the United States. Even though outsourcing is a viable option for a business as big as Birch Lane, it puts forth the effort to employ local, skilled artisans. This isn't only an indicator of quality; it saves on shipping emissions and is much better for the planet.
I also appreciate Birch Lane's white glove delivery. Once your furniture is done, the company delivers it straight to your home, entirely free of charge. What's even better is that the Jamya arrives ready to go, with no assembly required. All you have to do is sit down, relax, and sink into blissful comfort atop those microfiber pillow backs and plush seat cushions.
What I Didn't Love
The biggest issue I encountered (and a somewhat surprising oversight) was the lack of padding on the Jamya's armrests. They may be situated at an ideal height, roughly 5" above the seat cushion, but they don't offer the same level of support you'll find elsewhere on the sofa. I know that Birch Lane has already received feedback about this, and I'm hopeful the designers will go back and inject some much-needed love into these areas.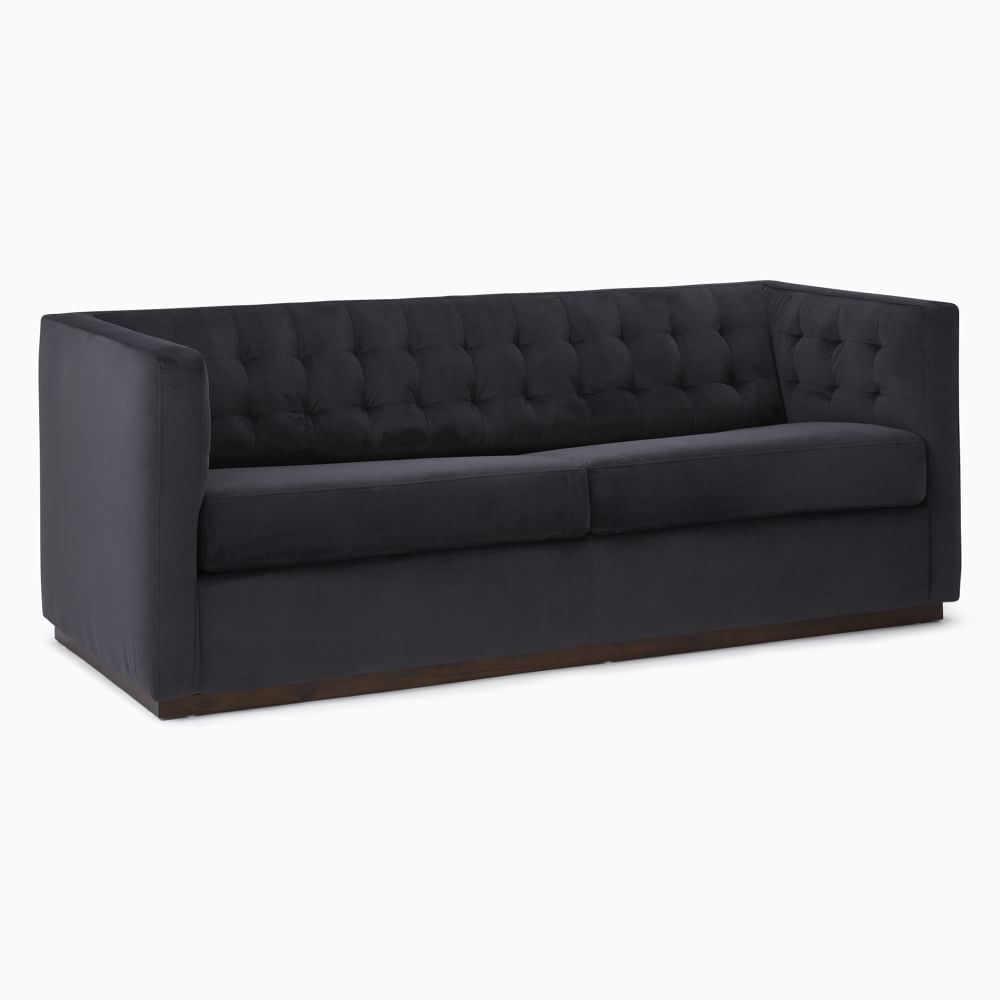 Best for: Sitting and sleeping
Price: $3,899+
Dimensions: W72" x D34" x H30.5"
Frame material: Acacia wood
Upholstery options: 18 fabric options
What I Love About This West Elm Sofa
The Rochester Queen Sleeper is a basin of comfort. I love how all sides of the sofa rise up around you like canyon walls, providing a sense of cradle-like calm and coziness. Meanwhile, the tufted microfiber accents break up any sense of monotony with a playful dose of art deco charm. It's quintessential West Elm design — clean and classy without the pretentiousness.
While I could ramble on about how much I enjoy the Rochester's Chesterfield-inspired design, that's only half its functionality. After the party's over and it's time to unwind, you can swap from sitting to sleeping in seconds. Simply remove the seat cushions to reveal a pull-out queen-size sofa bed! The futon mattress is perfectly firm and always leaves guests feeling revitalized and refreshed.
What I Didn't Love
While the traditional pull-out mattress is wonderfully supportive, I wish that West Elm had opted for memory foam filling for that extra bit of coziness. That's the kind of premium craftsmanship I typically expect from West Elm, especially when I spend upwards of $4,000. The sofa should also come with a genuine warranty, not just a peace-of-mind webpage saying that West Elm will make things right should anything go wrong. If West Elm believes in its products, it should commit to that in writing.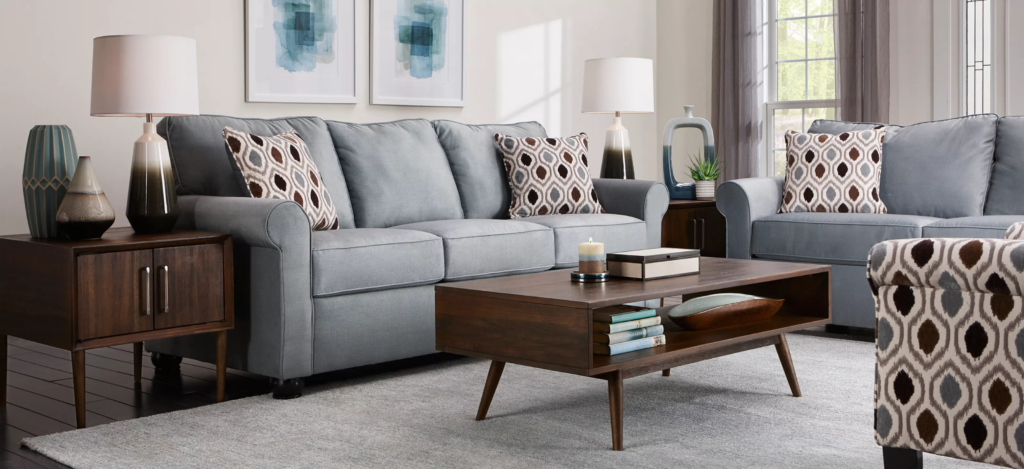 Best for: Smaller budgets
Price: $659.95+
Dimensions: W83.5" x D36.5" x H37"
Frame material: Solid wood
Upholstery options: 2 fabric options
What I Love About This Raymour & Flanigan Sofa
Not everyone can afford a $1,000+ couch (trust me, I've been there). That's what makes the Marino Sofa so enticing. It's a quality three-seater with a similar level of comfort and craftsmanship to models twice the price!
First, let me touch on the sitting experience. The sofa's microfiber is super soft to the touch, perfect for snuggling up against over a cocktail with friends or while enjoying the latest Netflix drama. Meanwhile, the cushions are a balanced blend of firm support and plush relaxation, keeping you comfortable in any position. Even better, they won't ever sink or lose shape — courtesy of the Dacron filling, which is made by the same minds behind ultra-durable materials like Teflon and Mylar.
The sofa comes in two colors: Chocolate and Spa. With that said, I much prefer the latter. It looks as pure as the ocean, with an aqua-blue aesthetic that's muted enough to blend with most living spaces yet vibrant enough to pop like a dolphin skipping above the water. If you live in the northeast United States, you can see the upholstery for yourself and schedule a store pickup at one of Raymour & Flanigan's 100+ retail locations. Or, you can shop the company's convenient website and have an entire microfiber sofa set delivered to your doorstep within weeks.
What I Didn't Love
The Marino Sofa isn't the sturdiest microfiber couch around. The official weight capacity is 250 pounds per seat, so it's unsuitable for big and tall adults. After careful inspection, I think the problem lies in the plastic feet. Although they're made from an industrial-grade polymer… they're still plastic. I wish Raymour & Flanigan would have put a little more effort into ensuring a sturdy foundation.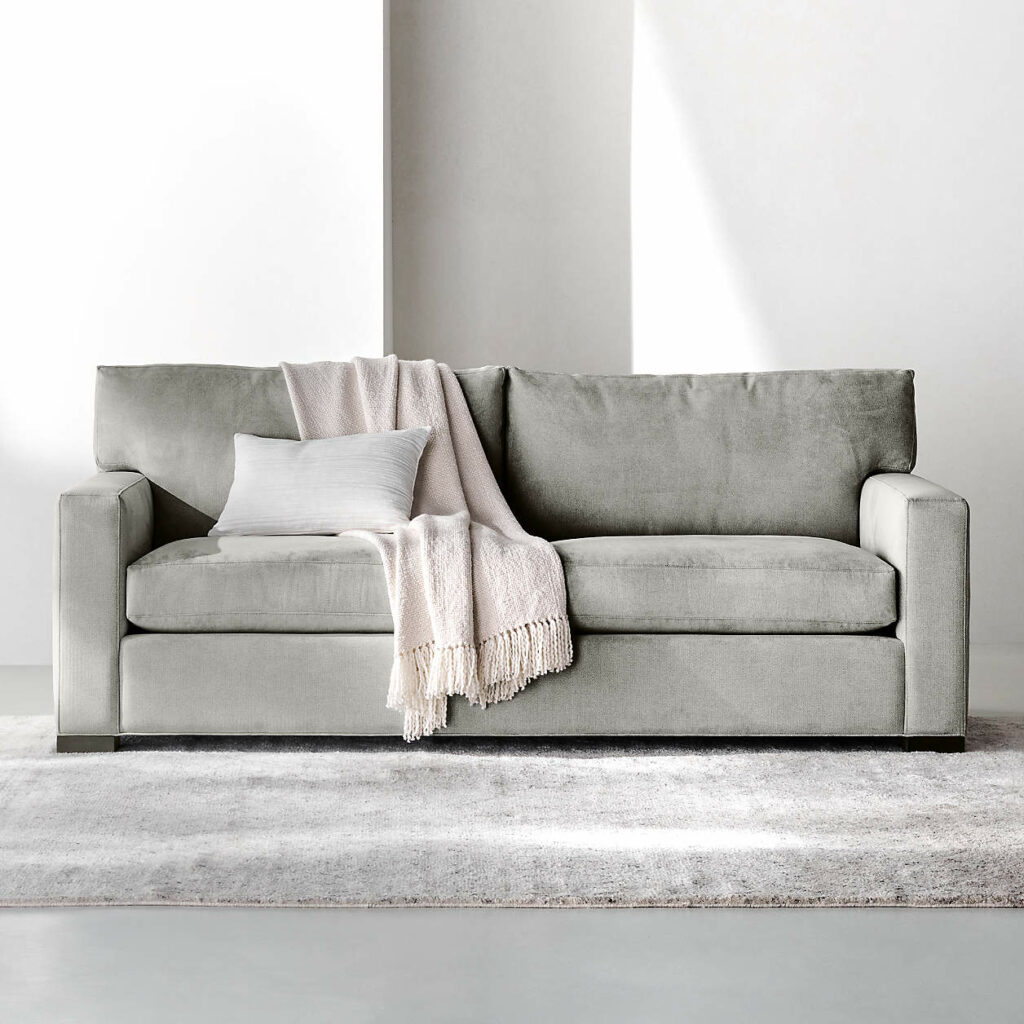 Best for: Clean, modern lines
Price: $1,999+
Dimensions: W88" x D43" x H32"
Frame material: Kiln-dried hardwood
Upholstery options: 225 fabric options
What I Love About This Crate & Barrel Sofa
The Axis is a perfectly symmetrical loveseat, a grid of clean lines and shapes that combine to create a gorgeous, modern silhouette. It almost reminds me of a Da Vinci drawing, with such refined proportions and masterful attention to detail. Suffice it to say, the sofa looks incredible in any space, blending seamlessly with modern decor and revitalizing outdated designs.
Even though the price sits at a reasonable $2,000, I haven't seen Crate & Barrel cut corners with this trending sofa. The seat and back cushions are a delightful foam-meets-down material, providing a firm sitting experience that loosens up and becomes more comfortable over time. It also boasts a sturdy hardwood frame that's kiln-dried to perfection.
The Axis is a staple of Crate & Barrel's catalog, and it's available to try in every one of the company's showrooms that I've visited. With that said, I recommend purchasing directly from the website. There you can browse the 225 fabric options (including a delightful polyester microfiber) and personalize everything to perfection.
What I Didn't Love
The Axis's cushions soften and loosen up over time. Although this adds to the comfort, it also adds to the required maintenance. You'll need to perform regular fluffing several times a week to keep your sofa in proper shape. It's not the biggest deal, but it's something to be aware of going into the purchase.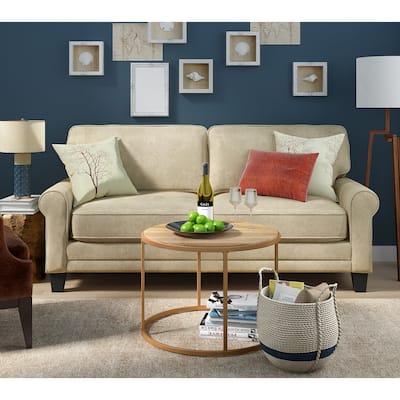 Best for: Deep seating, small spaces
Price: $479.62+
Dimensions: W73" x D33" x H19"
Frame material: Wood & metal
Upholstery options: 1 fabric option
What I Love About This Overstock Sofa
Serta is synonymous with comfort, and its Copenhagen Sofa is no exception. This sofa features velvety microfiber sprawled atop layers of delicious Serta foam, with a consistency softer than cotton candy. Sink in and relax, enjoying the loveseat's spacious 73" width and generous 33" deep cushions.
I love how there's so much room to stretch out and enjoy yourself. You can cuddle up alone or snag your partner and relax as a duo. The sofa can even hold a third if you're willing to squish between the armrests. Although I'd generally caution against squeezing too many people onto a two-seater, the Copenhagen's wood-meets-metal frame is extraordinarily sturdy.
And then there's the price of this rounded-arm sofa. The Serta Copenhagen costs under $500 and ships straight to your door in under two weeks! From there, it pieces together in under an hour, courtesy of a breezy tool-free assembly. You can even set it up by yourself, though I recommend having a buddy on hand for a few trickier moments.
What I Didn't Love
While I love the Serta's low price, it does come with a costly tradeoff. That is, the sofa is made overseas in China and shipped to the United States. This makes it much less carbon-friendly than microfiber sofas sourced from North America.
My other issue is Overstock's customer service team. I asked several questions during my review and was always met with canned responses and an unwillingness to dig deeper into specifics. This experience is fairly typical for a company of Overstock's size, but I also expect better than average from the companies I recommend. In the end, the Serta Copenhagen was a good enough value to make this list based on its own merit.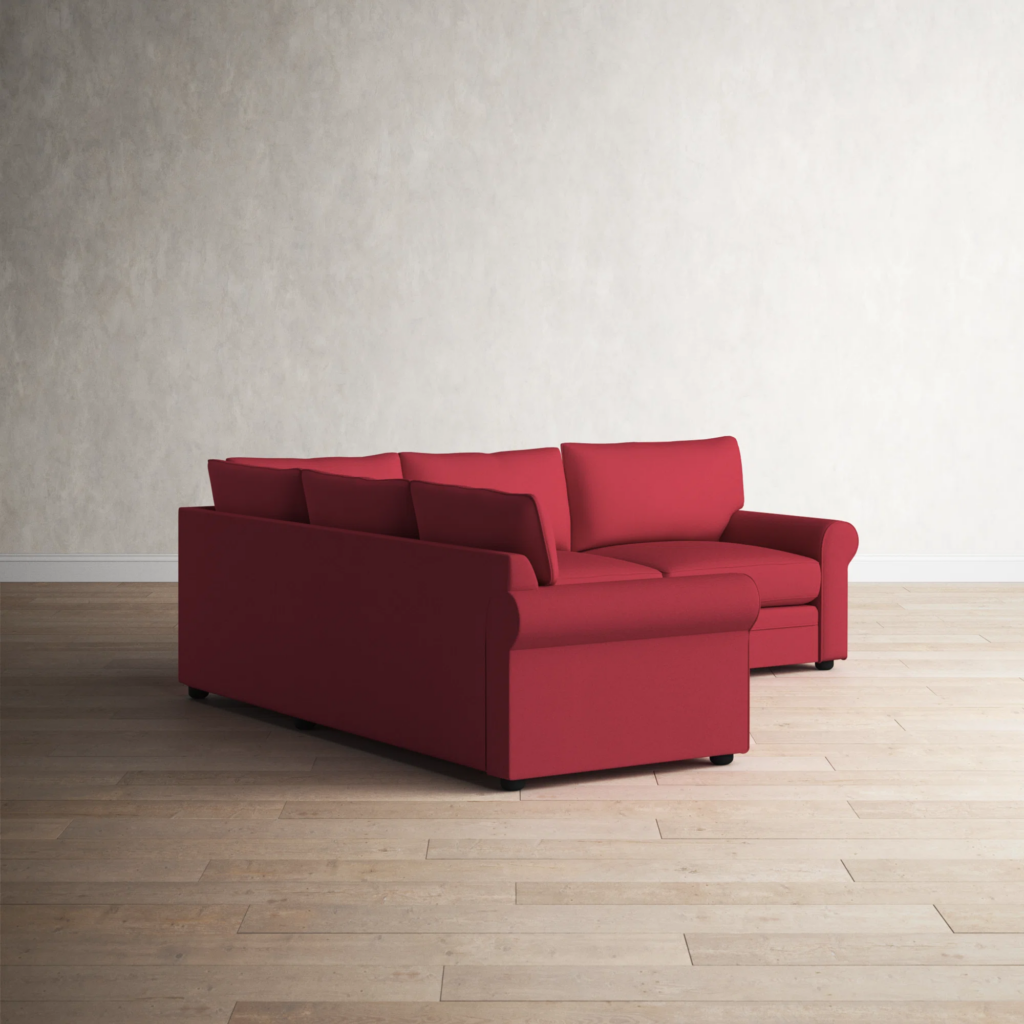 Best for: Large spaces
Price: $2,046+
Dimensions: W113" x D99" x H31"
Frame material: Solid and engineered wood
Upholstery options: 47 fabric options
What I Love About This Birch Lane Sofa
The Haring Sectional by Birch Lane is the best microfiber couch for larger spaces. I love how incredibly roomy it is, with five seats arranged in a convenient L-shaped pattern. It's the ideal model for families and frequent hosters, providing plenty of space for everyone to sit and converse in lavish comfort.
The Haring Sectional is also quite sturdy. Its solid and engineered wood frame feels substantial and safe, even when filled to capacity. Birch Lane recommends a 750-pound weight limit, but I can envision the sofa handling much more. The microsuede finish is similarly durable — though you wouldn't know it based on the silky-soft finish. It looks and feels like a delicate flower, but it packs the oomph of a giant redwood.
Birch Lane is part of the Wayfair family, and it's backed by the same commitment to quality service. True to this mission, the company offers perks like free shipping and free design advice. The latter connects you with a professional interior designer who can help you identify the appropriate color, configuration, and placement of your new sectional sofa. It's this kind of attention to detail that makes me wholeheartedly recommend Birch Lane.
What I Didn't Love
Birch Lane is notorious for its inaccurate fabric representations. You can order a sofa thinking it's one color, and it'll show up a full shade or two lighter (or darker)! I recommend taking advantage of the company's free swatch kit. Choose your favorite colors from the brand's vast array of options, and inspect them in person to be sure you know what you're getting into.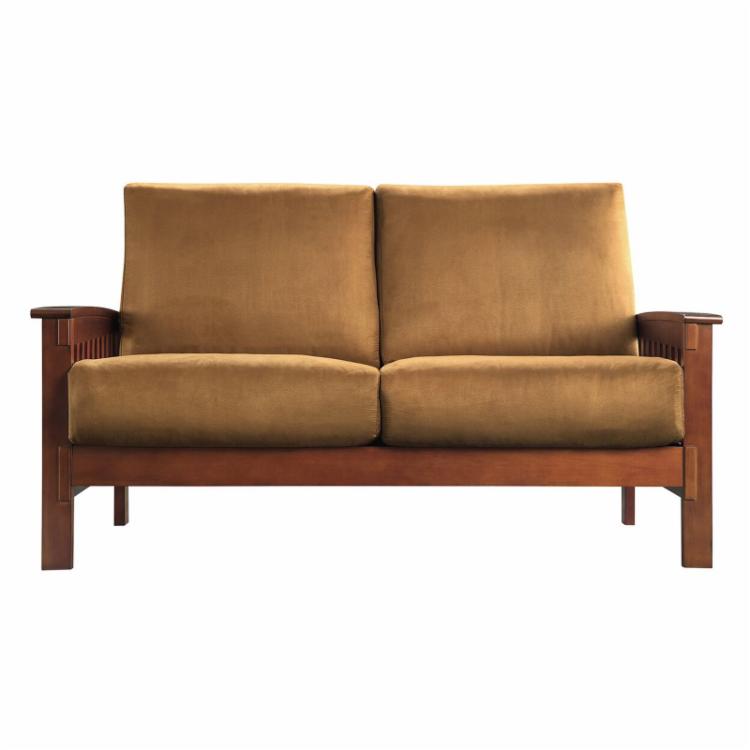 Best for: Two people
Price: $730.50+
Dimensions: W60" x D30" x H32"
Frame material: Poplar wood
Upholstery options: 1 fabric option
What I Love About This Hayneedle Sofa
Sometimes, less is more. That's what I've encountered with the Monterey Loveseat, anyway. It's a classy two-seater with a charming silhouette that fits just about anywhere. Place it in the living room for a bit of extra seating, the home office for mid-day catnaps, or the corner of your bedroom for a romantic hideaway. The sofa's natural poplar wood and rust-color fabric are intoxicating, drawing you in for a seat the moment you enter their vicinity.
Of course, the thing that most draws me to the Monterey is its microfiber upholstery. It's among the softest I've encountered — silky smooth and so lovely to touch. You'll find it spread liberally across the sofa's plush foam cushions, ensuring exceptional comfort all the way through.
Buying your Monterey at Hayneedle is a no-brainer, in my opinion. The company offers free five-day shipping right to your doorstep. It also offers a generous 30-day return policy where you can send the sofa back for a full refund, no matter the reason.
What I Didn't Love
Assembling the Monterey Loveseat isn't difficult, per se. But I did find it time-consuming for such a small piece. My biggest gripe is the instructions (or the lack thereof). They're sparse and difficult to understand, meaning you'll have to rely somewhat on intuition to get it together. I recommend spreading out the pieces and getting a clear picture of the finished product in your mind before starting. If done correctly, the process shouldn't take more than an hour.
Microfiber Sofa FAQs
If you'd like to know more about microfiber furniture, this section is the place to be. Let's go over some FAQs about this up-and-coming fabric and fully answer the question: what is a microfiber sofa?
Is microfiber more durable than leather?
Microfiber and leather are equals when it comes to durability. Both materials feature tiny, tightly-knit fibers that are extraordinarily resistant to wear. That said, there are a few distinctions between how the two textiles provide such robustness.
Microfiber features an artificial, synthetic polymer base. Both the individual strands and the finished weave were carefully designed for heavy use, providing layers of durability that start at the molecular level.
Genuine leather (not bonded or faux leather) is a natural material that's evolved over millions of years to provide a tough exterior. Although leather sofa upholstery does wear over time, it doesn't deteriorate the way traditional fabric does. Instead, it loosens up, developing a softer feel and patina that improves with age.
Do microfiber couches scratch easily?
Quality microfiber couches do not scratch easily. If you choose the right sofa (e.g., one from our list), it will take a great deal of physical effort to leave a noticeable scratch. In other words, it's very unlikely to happen by accident.
A low-quality microfiber sofa is a different beast. If you choose black or brown microfiber (or any other color, for that matter) that's too stiff and inelastic, it will scratch as easily as every other living room sofa.
Is microfiber actually a good material for sofas?
Microfiber is an excellent material for sofas. It's luxuriously soft, providing more comfort than most other types of upholstery. At the same time, it's robust and stain-resistant, able to withstand the wear and tear of modern life.
Another pro is that microfiber comes in a kaleidoscope of colors, allowing you to match your home's decor with ease. You can also find it in various finishes, with some microfiber feeling more velvety and others more like suede.
No matter where or how you like to live your life, microfiber and the best microfiber couches make for exceptional home furniture.