West Elm may sell stylish and high-quality furniture, but it's far from the only company to do so. In fact, there are many stores like West Elm out there. They may not be as popular or have as many physical showrooms as West Elm, but they all share a similar commitment to craftsmanship and customer-centric service. No matter what you're seeking — sofas, storage, or home decor — the following furniture stores have something to make your living space cozier and your heart happier.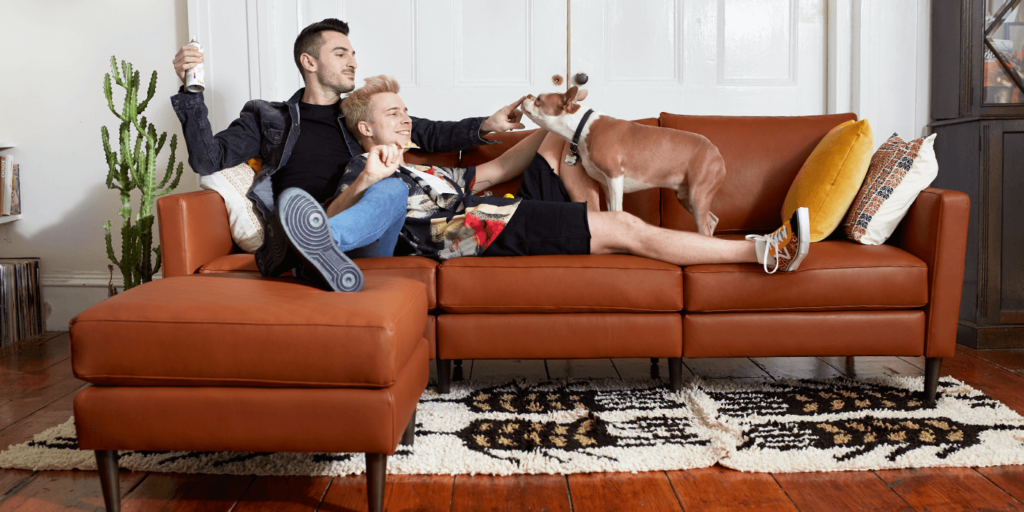 Best For: Sofas & couches
Pricing: Mid-range
Furniture Selection: Seating
Warranty: Lifetime on all furniture
Allform is a direct-to-consumer furniture manufacturer that deals exclusively in customizable sofas. Start with a single seating module, and add extra units to transform your piece into a loveseat, a three-seater couch, or a grand sectional. Each piece of Allform furniture is infinitely expandable to meet the look and feel of your home. You can also customize the upholstery and finishes to taste, with several fabrics and wood stains available. Once you've decided on the perfect configuration, Allform's team of skilled craftspeople handmake your order right here in the USA and ship it straight to your door, easy as can be.
Although I'd prefer if Allform had more modern furniture for sale (the company deals exclusively in seating), shopping here has a massive upside. Namely, the company pours all of its time and energy into crafting the best seating imaginable. You can see this care and attention to detail in every aspect of Allform's high-quality sofas, from the luxuriously soft upholstery to the unmatched sustainability of their kiln-dried hardwood frames.
Unlike West Elm, with its notoriously poor post-sales support, Allform doesn't just talk the talk. The company guarantees each sofa it ships out, providing a lifetime warranty and incredible customer service that's an absolute delight to deal with.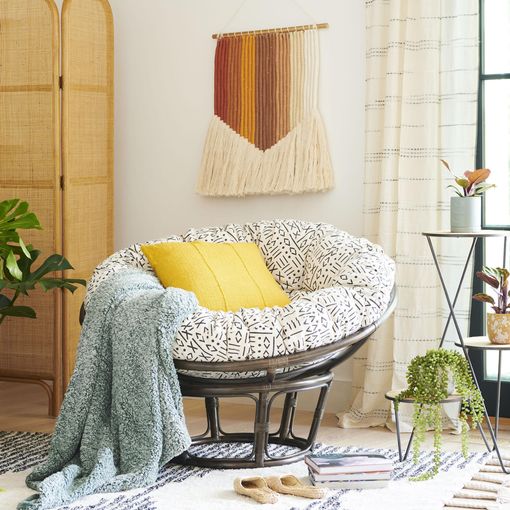 Best For: Overall value
Pricing: Budget
Furniture Selection: Seating, tables, storage, beds, and decor
Warranty: N/A
World Market is a boutique-style brick & mortar retailer with over 250 stores across the US. Although headquartered in North America, the company imports goods from across the globe. A quick flip through the catalog reveals an eclectic collection of items, from everyday living room furniture to exotic home decor.
I love going to my local World Market. Entering those doors is like stepping inside a melting pot of culture ⁠— a beautiful representation of humankind's tremendous creativity. The quality is always excellent, with pieces handmade by artists from every corner of Earth. Meanwhile, the pricing is unbelievably accessible. One of my favorite items, the Leanna Sofa, features a high-end velvet finish and sturdy hardwood frame yet retails for under $1,000!
My biggest complaint about World Market is the same one I have about West Elm: the lack of a warranty. World Market does offer a 60-day return window (more generous than West Elm's 30-day policy), but it still feels like a bit of a dupe.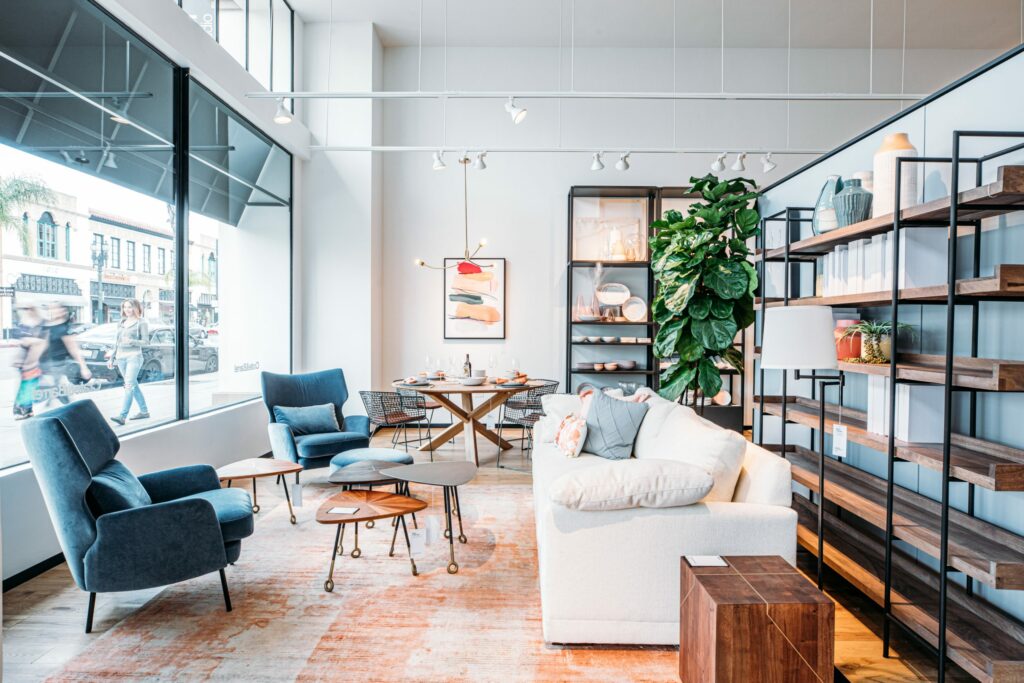 Best For: Contemporary furniture
Pricing: Mid-range
Furniture Selection: Seating, tables, storage, beds, and decor
Warranty: N/A
Like West Elm, Crate & Barrel is an industry titan ⁠— a massive presence in the furniture market. The company operates by the traditional brick-and-mortar playbook, offering a high-quality selection of modern furniture from its network of over 100 physical storefronts. Peruse the assortment of furniture in-store and bring it home with you on the same day. Or, browse the store like a showroom and customize your furniture pieces online. Crate & Barrel provides a seamless shopping experience that caters to every buyer's journey.
Concerning the furniture itself, Crate & Barrel emphasizes timeless, everyday designs. Although some might see this as bland, I appreciate how Crate & Barrel has remained true to its original mission: providing gorgeous, minimal furniture that adds sophistication to every space. I also appreciate the company's free design services. If you need help choosing suitable high-end pieces, Crate & Barrel will match you with a local interior designer. It's an incredible value, and I wholeheartedly recommend it to those looking to revitalize their living space.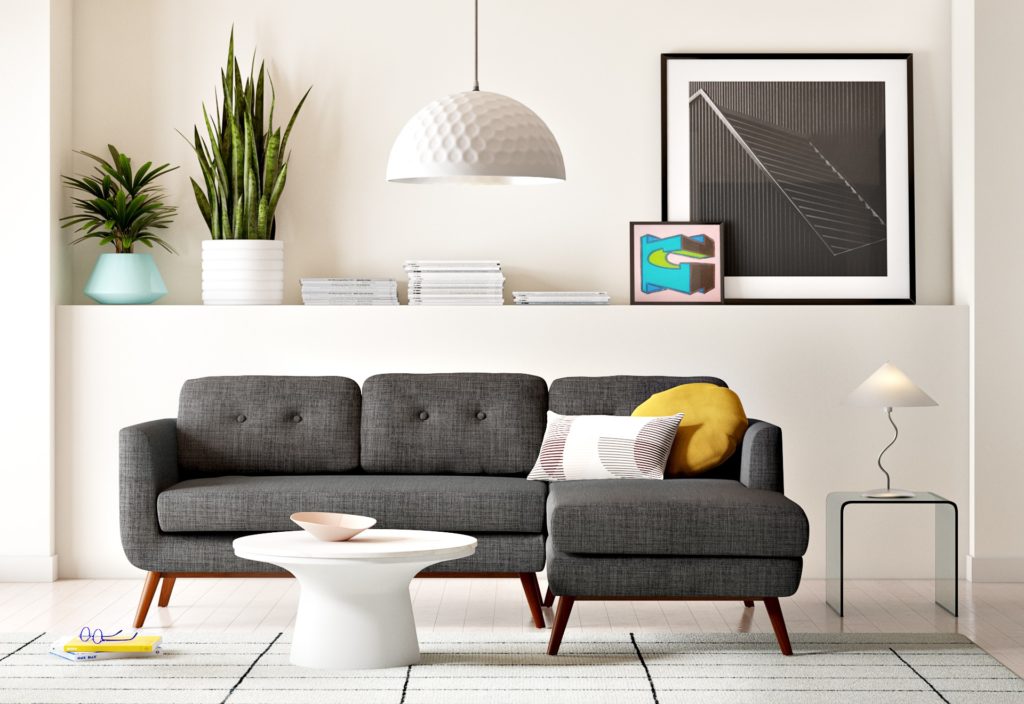 Best For: Variety of furniture
Pricing: Mid-range
Furniture Selection: Seating, tables, storage, beds, and decor
Warranty: 1 year on all furniture
Allmodern is the Amazon of the furniture world, providing a variety of pieces for every room in the house. You'll find everything you need to decorate, including essentials like sofas and beds, coffee tables and dining room hutches, even lighting and bathroom fixtures! As the sister company to Wayfair, AllModern has all the connections to deliver affordable, high-quality home decor straight to your doorstep.
I often go to AllModern whenever I'm starting the search for a new piece of furniture. I don't always settle on one of its pieces, but the company's easy-to-navigate website is so fun to peruse and full of inspiration.
If I had to choose a favorite item from AllModern's catalog, it would have to be the Hailee Sofa: a gorgeous mid-century modern couch with a lovely leather-wrapped silhouette. Like most AllModern pieces, the Hailee features a breezy setup ⁠— an important element considering the company's $120 white glove delivery fee. Even with some of its distasteful fees and policies, I'm still impressed with AllModern's customer service. I've gone back and forth with its representatives, and I'm always impressed by their promptness and professionalism.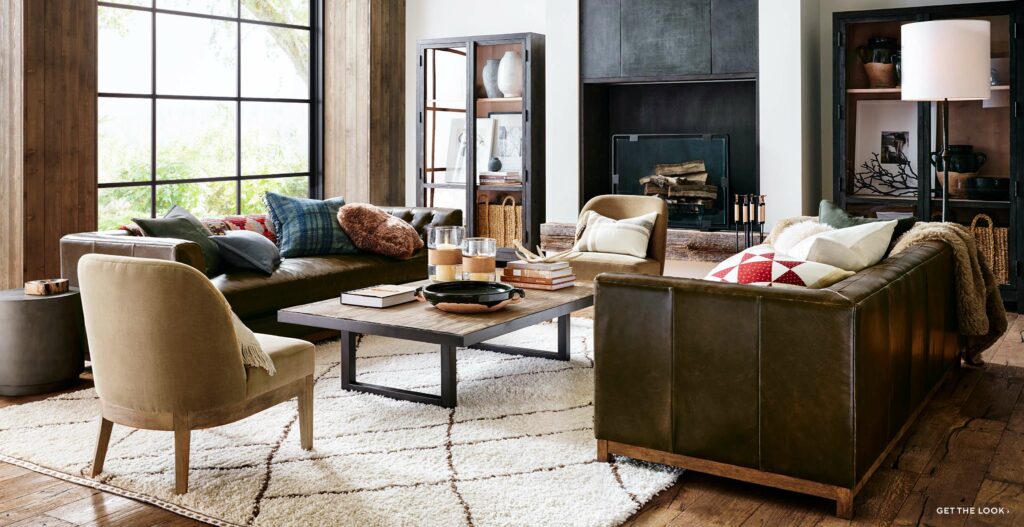 Best For: Unique pieces
Pricing: High-end
Furniture Selection: Seating, tables, storage, beds, and decor
Warranty: N/A
It's easy to recommend Pottery Barn as one of the top brands like like West Elm. After all, the two retailers are owned and operated by the same organization! But aside from the parent company, the two businesses are entirely distinct. Pottery Barn has its own storefronts (over 175 worldwide) and product lines, including home furniture and essentials like bedding and accessories. Many of these modern pieces are entirely customizable, with bespoke sizing, upholstery, and finishes to match your home.
My family has shopped at Pottery Barn since I was a child, so I have decades of experience with the brand and its products. Let me just say, I've been very impressed by the overall quality. Even though Pottery Barn lacks a warranty, I've seen pieces last over 15 years and can personally attest to the craftsmanship.
Regarding the shopping experience, Pottery Barn's retail stores feel cozy and comforting, with a warmly lit ambiance and an employee base that's knowledgeable and courteous. Although you can take care of everything online, I recommend going to a local outlet and experiencing the furniture for yourself ⁠— you won't be disappointed by what you find.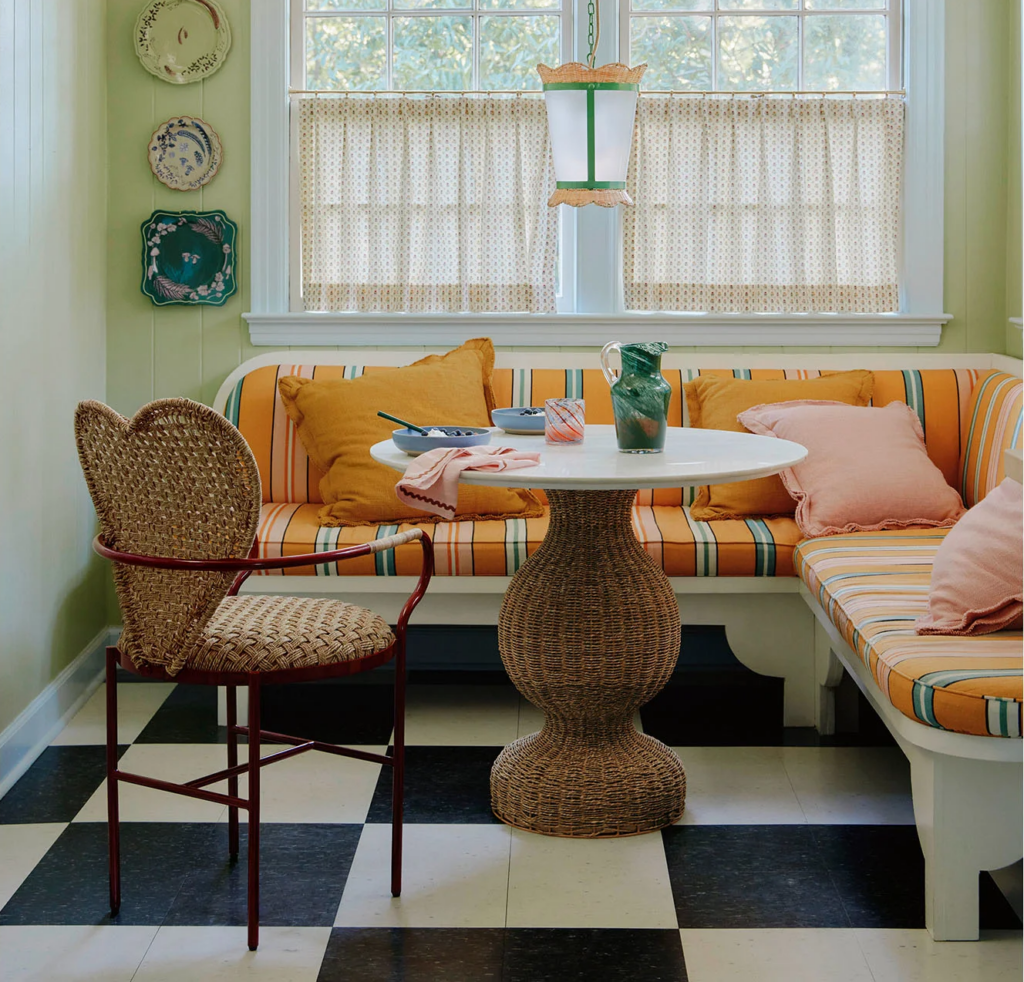 Best For: Interesting designs
Pricing: High-end
Furniture Selection: Seating, tables, storage, beds, and decor
Warranty: 1 year on all furniture
Anthropologie isn't just a luxury clothing and gift store; the company sells a variety of furniture and decor, both online and within some of its 200+ physical locations. The furniture selection is surprisingly large for a variety store, with hundreds of different pieces available for purchase. Many of them are even customizable, and Anthropologie provides free upholstery swatches and design guidance to all who make the request.
While I love that Anthropologie has entered the furniture business, I don't like what that means for customer service. Go to a location near you, and you'll understand what I mean: the representatives are much more knowledgeable about clothing and less so about home goods. Fortunately, that doesn't extend to the online storefront, where you can ask questions directly to experts.
With all that in mind, I do have to say that I love the company's modern designs. Anthropologie has partnered with world-class designers to create unique pieces that elevate your living room as much as Anthro clothing elevates your fashion.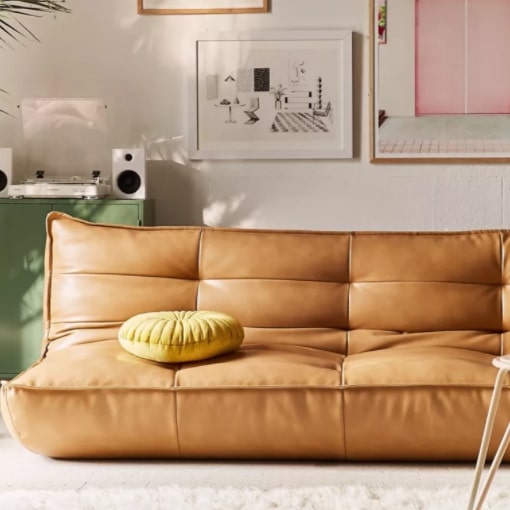 Best For: Boho furniture
Pricing: Budget
Furniture Selection: Seating, tables, storage, beds, and decor
Warranty: N/A
You may know Urban Outfitters as a clothing store. But it's actually an all-in-one lifestyle brand with an impressive selection of furniture. The company sells everything from minimalist sofas to funky side tables, each incorporating a unique set of shapes, patterns, and textures. Like Urban Outfitters's outfits, the furniture is quite reasonably priced, targeting a younger demographic living in small spaces.
Although I'm no spring chicken, I also find the company's furniture quite appealing. I adore the bedroom pieces, in particular. The rattan Marte collection is stunning, giving a glam dose of boho chic to any living space.
The main problem I have with Urban Outfitters furniture is that the furniture department operates more like an offshoot of the main brand. The pieces don't fall under the same policy or free shipping umbrella as the company's clothing, and customer service is handled by a separate team that you can only reach by phone.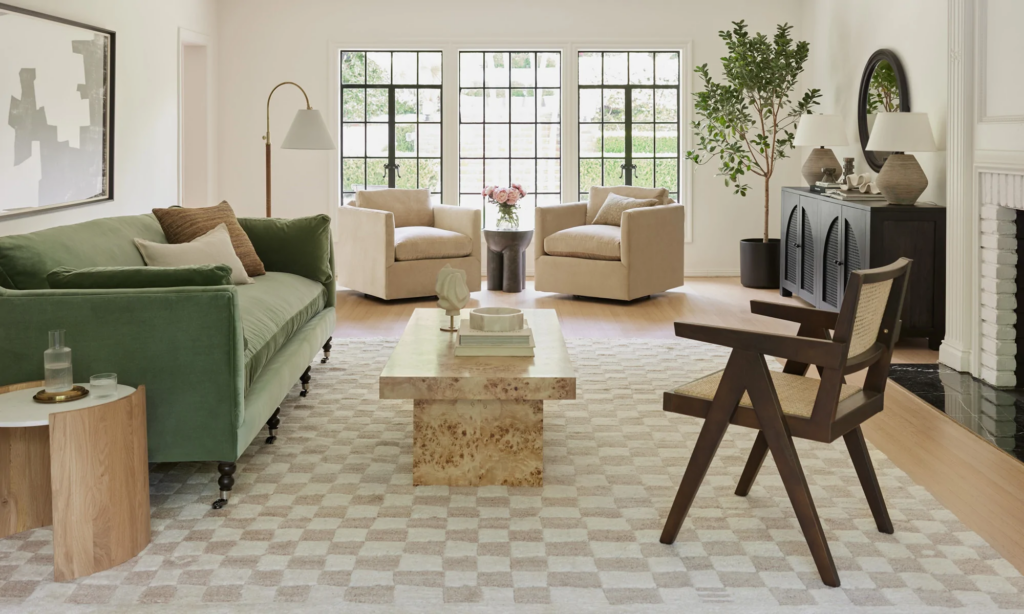 Best For: Artisan furniture
Pricing: Mid-range
Furniture Selection: Seating, tables, storage, beds, and decor
Warranty: N/A
Los Angeles is known for glamorous showrooms filled with furniture as bold as the region's Hollywood blockbusters. Lulu & Georgia, with its central LA headquarters, captures the best furniture from these showrooms and offers it directly to customers worldwide. Browse the company's intuitive website, and you'll find a range of stunning pieces, including sofas, tables, rugs, and more. No matter what you're seeking, Lulu & Georgia adds the perfect pinch of artisanal charm to any room in your home.
What impresses me most about Lulu & Georgia is the variety. You won't just find one piece that suits your needs; you'll find a bunch of great alternatives, each with unique attributes and its own distinct aesthetic. I'm also impressed by the furniture's craftsmanship and attention to detail. Lulu & Georgia's materials are high-end and elegant, and they feature a durability that feels like it will last decades. Of course, this finer craftsmanship does come with a more expensive price point. Lulu & Georgia is on the higher end of the mid-range, and you may need to make payments on some of its costlier pieces.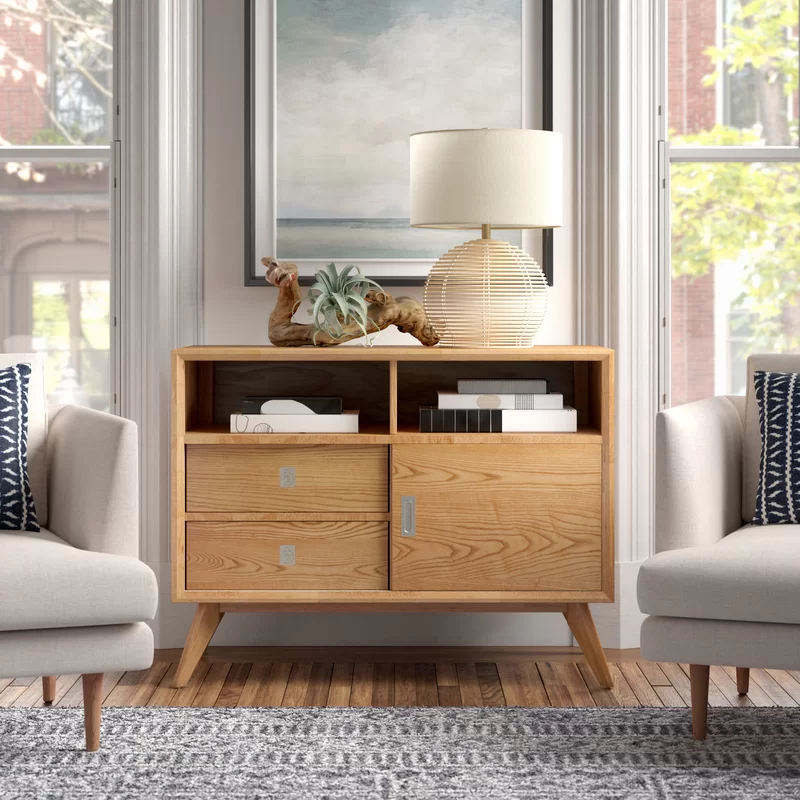 Best For: Trendy furniture & modern styles
Pricing: Mid-range
Furniture Selection: Seating, tables, storage, beds, and decor
Warranty: 1 year on all furniture
Joss & Main is a member of the Wayfair family alongside AllModern and Birch Lane. What separates it apart from the pack is its focus on higher-end and trendier furniture. The brand offers a series of collections for every season and every mood, ensuring a perfect fit for any modern living space.
It's difficult to describe how much I enjoy shopping at Wayfair and its family of brands. They all provide well-priced goods, stellar, on-demand customer service, and a reasonable one-year warranty. Shipping is free, and the whole experience is so streamlined with regular updates and post-sales support.
In a twist of irony, that's also one of the things I dislike about Joss & Main. Although there is a slight emphasis on mid-century modern and trending furniture, most of the pieces look and feel so similar to what you'll find on its sister sites.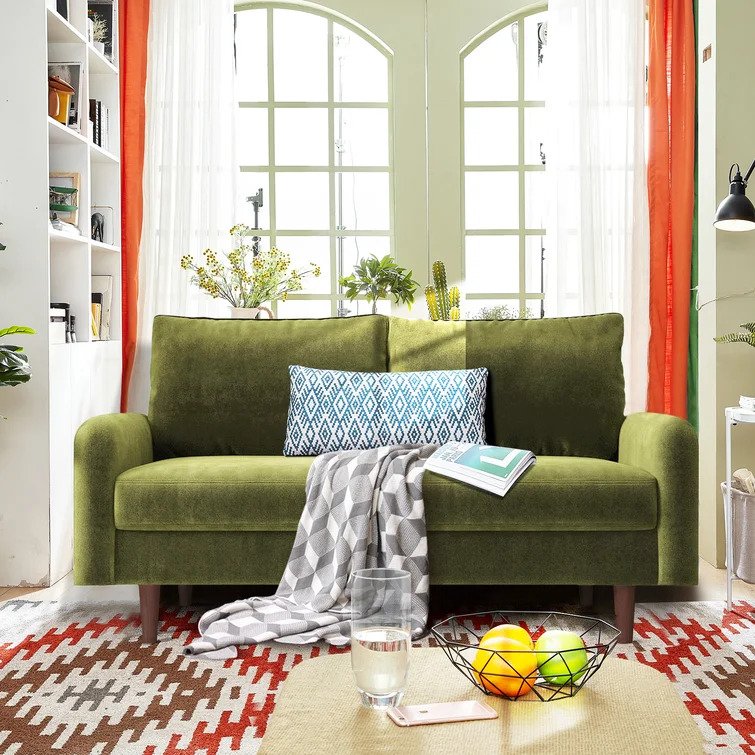 Best For: Simple shopping
Pricing: Budget
Furniture Selection: Seating, tables, storage, beds, and decor
Warranty: 1 year on all furniture
Wayfair has online furniture sales down to a science. It's one of the biggest names in the space, with over 10 billion in yearly sales. You'll find everything you need for your home at Wayfair, including living room sofas, bedroom sets, even kitchen and bath accessories. The secret to the company's success lies in its sourcing model. Wayfair doesn't make every piece it sells; instead, it gathers the very best from manufacturers around the world and showcases it from one easy-to-browse platform.
Anyone who's been on this site knows that I'm a big fan of Wayfair. The selection is unmatched, with millions of pieces in its portfolio. Since the furniture isn't all made by Wayfair, it can be hit or miss, with some pieces fairing better than others during my durability and craftsmanship tests. But I've still found the quality quite respectable, especially considering the low cost and free shipping.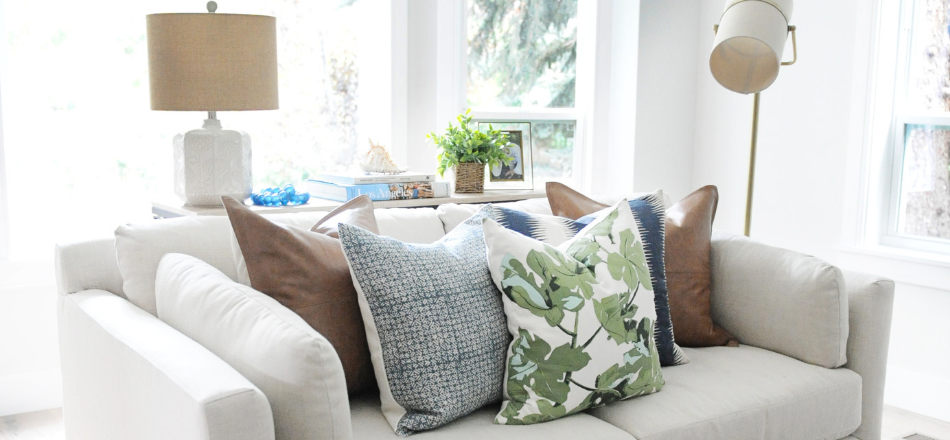 Best For: Decor variety
Pricing: Budget
Furniture Selection: Seating, tables, storage, beds, and decor
Warranty: N/A
HomeGoods is the TJ Maxx of home decor ⁠— quite literally. The same parent company owns and operates HomeGoods's nearly 1,000 stores and runs them using the same business model. Like TJ Maxx, the company engages in opportunistic buying, seeking out and sourcing new decor and furniture deals nearly every week of the year. There's always something fresh at HomeGoods, and most of its decor is available at a significant discount compared to buying directly from the manufacturer.
I always look forward to shopping at HomeGoods. It reminds me of a treasure hunt, with new and exciting items every time I go. While I don't enjoy shopping for bigger pieces like sofas and beds (the selection is relatively limited), I do enjoy sourcing home furnishings like throw pillows, blankets, lighting, and accessories. The pieces come from artists around the world, ensuring an excellent range of styles to suit every interior design. Head to your local decor store to see what's currently in stock, or check out the HomeGoods website. The latter is easy to navigate and offers a generous 40-day return policy for extra peace of mind.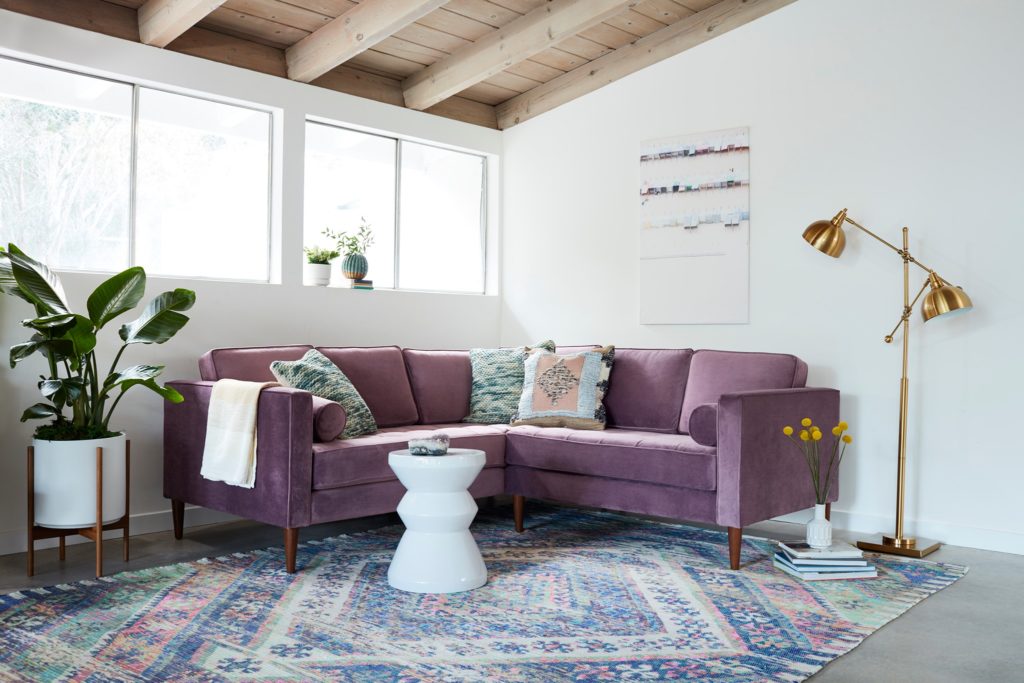 Best For: Mid-market furniture
Pricing: Mid-range
Furniture Selection: Seating, tables, storage, beds, and decor
Warranty: Lifetime on Apt2B furniture
Apt2B markets itself as the middleman of furniture retailers, with pricing somewhere in-between budget superstores like IKEA and high-end designer showrooms. The company has no physical outlet (aside from its Los Angeles office) and operates entirely online. Head to the website, and you'll discover sofas, mattresses, dining sets, and decor to suit every taste. With that said, Apt2B specializes in mid-century modern and Scandinavian design that's minimal, classy, and always on trend.
After reviewing so many stores similar to West Elm, I feel confident saying that Apt2B is one of the most consumer-friendly furniture brands on the market. It offers a 100-day money-back guarantee on all its furniture and a lifetime warranty on pieces made in the USA (those are the ones I like most, anyway). The company also offers fast, free shipping on every order, from the smallest side tables to the grandest sectionals. Delivery windows can be hit or miss, but that's a small price tag considering the service doesn't cost a dime.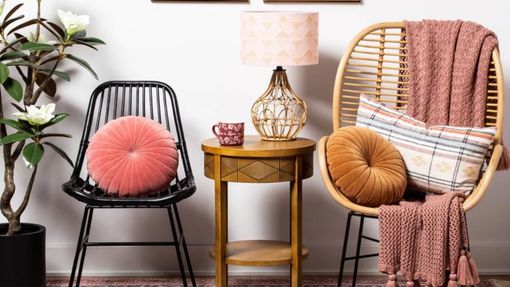 Best For: Accessibility
Pricing: Budget
Furniture Selection: Seating, tables, storage, beds, and decor
Warranty: N/A
Target is the big-box retailer with an ever-so-slightly upscale twist. There are nearly 2,000 targets across the US, making its products exceptionally accessible to most Americans (there's probably one within a few miles of you). Although the company has always sold home decor, its recent pivot to the online space coincided with the release of several furniture collections. It's an exciting new chapter for Target and a fantastic opportunity to decorate your entire home with furniture from your favorite retailer.
I've been shopping at Target for decades because I love the brand's boutique-style goods at excellent pricing. Although the company stocks an overwhelming number of items, including various kitschy ones, there are many gems within its extensive catalog. Concerning the furniture lineup, Target offers modern pieces for every room in the home. There are minimalist sofas, office chairs, and even pieces for your babies and school-age children!
Although many of these furnishings are online exclusives, you can easily have them shipped to your local Target for in-person pickup (don't forget to scope out the company's range of modern decor and other furniture like West Elm while you're there).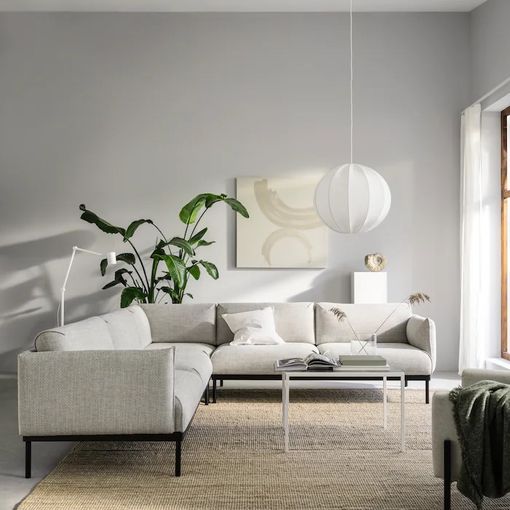 Best For: Affordability
Pricing: Budget
Furniture Selection: Seating, tables, storage, beds, and decor
Warranty: 1+ years on all furniture
Everyone knows IKEA. It's the Swedish furniture superstore, with warehouses spread around the world. Visit one of the company's showroom locations, and you'll find thousands of pieces designed and manufactured with charming Scandinvatinan undertones. From kitchen cabinets and dining tables to sofas and bedroom sets, IKEA has everything you need to furnish your entire home on a budget.
Walking through IKEA reminds me of navigating a fun house. I always get lost in those winding corridors, losing track of time as I enjoy each furniture-filled room like it's a theme park attraction. With the way IKEA sets up and displays furniture, you get to see what each piece looks like in its natural environment. Although you can shop for furniture on IKEA's website, the showroom experience is my favorite way to pick out new pieces for my home.
Sadly, all the fun ends once you make it home with your furniture. IKEA products come in flatpacks that you have to piece together yourself. If you don't have hours to spend, you can hire an IKEA Task Rabbit to help speed up the process.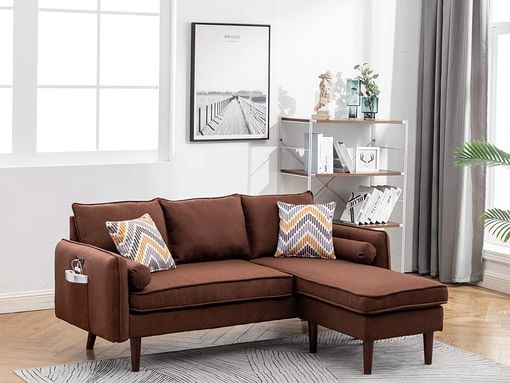 Best For: Easy delivery
Pricing: Budget
Furniture Selection: Seating, tables, storage, beds, and decor
Warranty: N/A
Amazon is a company that needs no introduction. It's far and away the largest online retailer in North America, with sales exceeding $400 billion per year. Although the company started as a humble bookseller, it now sells everything from A to Z ⁠— including furniture. The company does manufacture some of its own furniture under brands like Amazon Basics and Stone & Beam, but most of its products come from third-party sellers. In other words, you can find many of your favorite designers on the platform, often selling their products for even less than you'll find on their official website.
Everyone likes shopping at Amazon, and I'm no exception. It's so easy, you can literally check out in a single click. Many of Amazon's items also qualify for two-day shipping. Get your furniture delivered right to your doorstep, entirely free of charge. The only issue I have with this process is that most furniture on the website comes as a flatpack. Assembly time and difficulty vary by manufacturer, and I've had to endure brutal multi-hour installations. Keep this in mind as you eye those affordable prices; it may come with a costly tradeoff.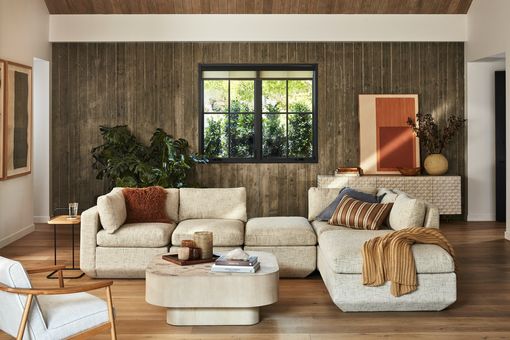 Best For: Mid-century modern furniture
Pricing: Mid-range
Furniture Selection: Seating, tables, storage, beds, and decor
Warranty: Lifetime on Joybird furniture
Joybird is one of the best West Elm competitors for mid-century modern furniture, offering a wide selection of charming pieces designed for the living room, bedroom, even the home office. Many of its original pieces are entirely customizable, made to order in the USA, and backed by a lifetime warranty. The quality is tangible, with exceptional craftsmanship performed by skilled artisans who care about the quality of their work.
I love every aspect of shopping at Joybird. Browsing the website feels incredibly intuitive, and I appreciate how you can add to or adjust any piece to your liking. Joybird offers hundreds of different fabrics and finishes, letting you personalize your sofa, shelves, and other home decor with precision. While I find Joybird's prices reasonable for the quality, there are a few hidden fees I don't like. For one, Joybird's shipping is costlier than most of its competitors. For two, returns and exchanges come with expensive restocking charges. Joybird only has a handful of showrooms available, so returning online purchases should be free and easy.
Other West Elm Alternatives To Try Out
We've seen 16 excellent West Elm alternatives, but even these aren't all-encompassing. If you're looking for other stores like West Elm but cheaper or more specialized, you need to check out these honorable mentions:
Our last recommendation is your local furniture store or showroom! These businesses usually offer personalized service and a knowledgeable staff ready to help transform your house into the home of your dreams.
Check Out Some of Our Other Furniture Guides
If you can't get enough Home of Cozy or want to dig deeper into specific types of furniture, you'll love the following guides: