If you've spent any time on TikTok or Instagram lately, you've probably seen the Restoration Hardware Cloud Couch trending near the top of your feed. This luxe home furnishing is the quintessential statement piece, with a spacious frame and pillowy cushions that cradle you in a state of heavenly bliss. The all-white Cloud Couch also looks like a cloud, giving it a sense of airiness and whimsy that can't help but impress.
Unfortunately, the Cloud Couch's high-end design comes with a massive price tag. Depending on its configuration, the sofa can run upwards of $10,000!
That's why the team at Home of Cozy has put together this list of Cloud Couch dupes. These sofas offer a similar level of style and comfort, all for a fraction of the price. Depending on your needs, you may even find that some work better than the original. With that in mind, let's see how you can attain the iconic Cloud Couch aesthetic with a budget that's closer to Earth.
What's the Deal With the Cloud Couch?
The Cloud Couch is the epitome of luxury, featuring the finest craftsmanship and an elegant silhouette that accents any living space. It's so lavish, many furniture enthusiasts regard the upscale Cloud Couch as one of the coziest sofas ever made! The fabric is oh-so velvety rich, and its feather-filled cushions feel as light, fluffy, and deliciously soft as cotton candy.
Why Is The Cloud Couch So Expensive?
The Cloud Couch comes from Restoration Hardware, an upscale furniture retailer based in California. The company is well-known for emphasizing quality over affordability, incorporating premium materials and craftsmanship into each piece. The Cloud Couch is no different. It's handmade to order by skilled artisans in the USA, and includes top-of-the-line materials like a kiln-dried hardwood frame with reinforced joinery, goose feather filling, and specialty fabrics that are silky smooth and luxurious.
Another reason for the exorbitant price tag is its modular design. Each Cloud Couch consists of multiple seat blocks stitched together in a row. Each block starts at $2,000, and you need at least two for a functioning sofa. If you opt for a larger sectional, you can expect to spend over $10,000 to complete your unit.
How Did the Cloud Couch Become So Popular?
In the online world of Instagram and TikTok, image is everything. So it's no surprise to see the opulent RH Cloud Sofa making waves on these platforms. A quick search of #cloudcouch on TikTok shows over 800 million views — and counting!
It helps that the sofa has been featured in celebrity homes ranging from Kylie Jenner to Naomi Watts. The sofa blends in seamlessly with nearly any home decor, and its attractive silhouette is a must-have for anybody hoping to elevate their interior design.
Cloud Couch Alternatives That Offer Better Value
The Cloud Couch can be prohibitively expensive. The good news is that you can achieve a similar look and feel without the sky-high price tag. The following Cloud Sofa dupes offer a similar vibe at a much lower price.
Brand
Best For
1

Editor's Choice

Customizing
Shop Now
2

Small Spaces
Shop Now
3

Stain Resistant
Shop Now
4

Overall Value
Shop Now
5

Cloudlike Comfort
Shop Now
6

Minimalist
Shop Now
7

Square Armrests
Shop Now
8

Quick Delivery
Shop Now
9

No Assembly Required
Shop Now
1
Editor's Choice
2
3
Best For:
Stain Resistant
4
5
Best For:
Cloudlike Comfort
6
7
Best For:
Square Armrests
8
9
Best For:
No Assembly Required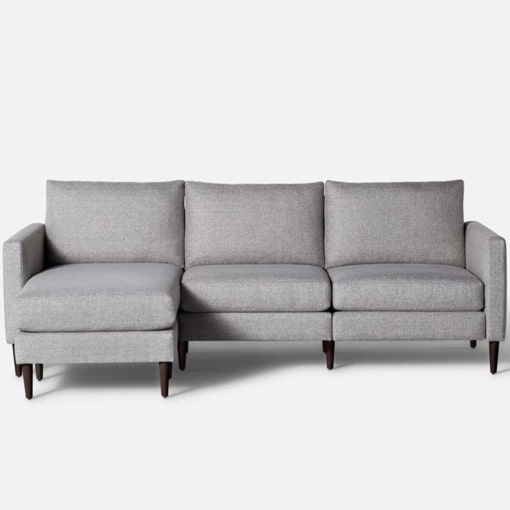 Best for: Customization
Price: $2,245+
Dimensions: W90″ x D61″ x H34″
Frame material: Kiln-dried maple & poplar hardwood
Upholstery options: 9 polyester & leather options
What I Love About This AllForm Sofa
The Allform Sofa follows a formula similar to the Cloud Couch, featuring a modular design you can customize to your liking. Start with a single seat block, and add additional pieces until it's the size and shape you want! The main difference between the two sofas is cost. Believe it or not, the 3-Seater from Allform costs one-third the price of a comparable model from Restoration Hardware.
Just because the 3-piece sectional from Allform costs less than the Cloud Couch doesn't mean it sacrifices quality. On the contrary, the Allform 3-Seater comes with some of the highest-quality polyester or leather upholstery I've come across. Both feature the finest craftsmanship, with a finish that's soft, durable, and incredibly stylish. The Allform is also one of the most comfortable sofas I've had the pleasure to try, with a specialized blend of polyfoam and fiber that melts like butter as soon as you sink into the chaise sectional's oversized cushions.
Then, there's my favorite part: the Allform Sofa is made to order right here in the USA. As soon as you check out, the company's team of North Carolina artisans get to work handcrafting the sofa of your dreams. From there, it ships free of charge right to your doorstep and assembles in under 30 minutes — all backed by a lifetime warranty.
What I Didn't Love
The Allform 3-Seater is far and away my favorite Cloud Couch alternative. Unfortunately, it doesn't come in the same creamy color. The closest match is Allform's Sand polyester, which is more like off-white linen than true cloud-white.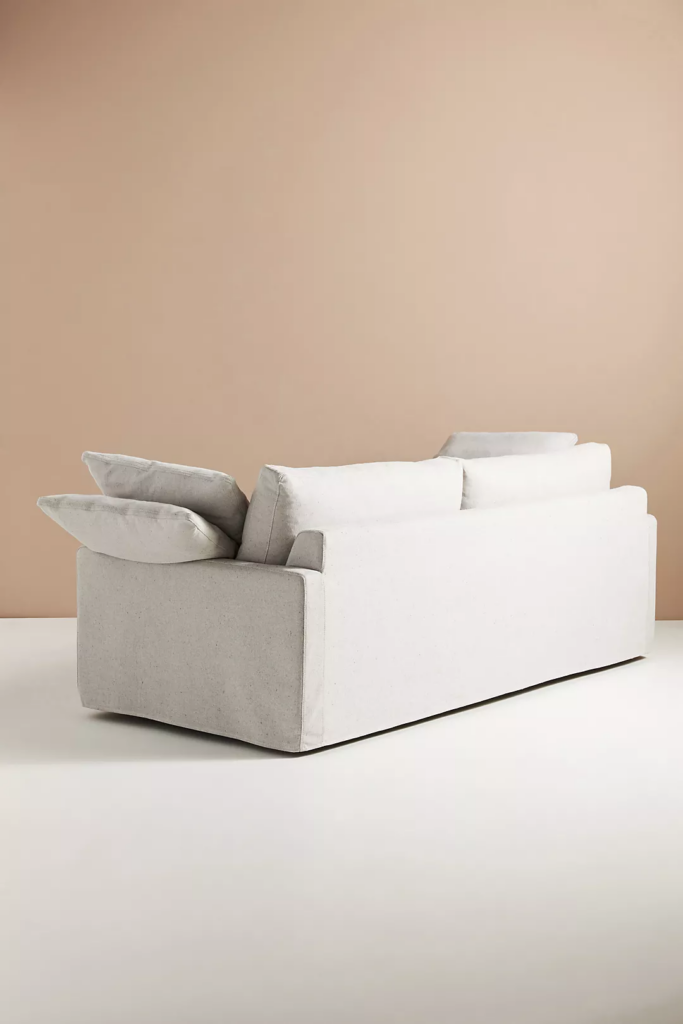 Best for: Small spaces
Price: $1,998+
Dimensions: Starting at W75″ x D39″ x H34″
Frame material: Hardwood
Upholstery options: 1 cotton-polyester option
What I Love About This Anthropologie Sofa
The Upcycled Wells Sofa comes in two widths: there's a 75″ and a 90″ model. Both sizes fit nicely into small living spaces, though I've found the 75″ can slot in just about anywhere. What impresses me most is that even with its shorter width, the Wells still feels quite roomy. Its generous 39″ depth provides plenty of room to lay back, while the slim armrests maximize the usable space. Pile your entire family onto the sofa's sturdy hardwood frame or stretch out and enjoy it all to yourself.
The thing I love most about the Anthropologie sofa is its eco-friendly craftsmanship. The cotton-polyester blend is a denim-like material sourced entirely from post-industrial textile scraps. It's extraordinarily durable, but it maintains a generally soft feel overall. Like the Cloud Couch, it also features a spring undercarriage with plush cushions that are as soft as… well, clouds.
Anthropologie ships the Wells Sofa for just $149 straight to your living room, with no assembly required. It's the ideal low-cost Cloud Sofa alternative for those in smaller spaces.
What I Didn't Love
While I enjoy the Wells Sofa's denim upholstery, not everyone will enjoy its more texturized nature. It's certainly not as silky-smooth as the genuine Cloud Couch, though it is more eco-friendly and will probably hold up better.
Another important note is that Anthropologie's furniture collection is maintained and sold by a distinct department within the organization. You can't find the sofa in Anthropologie stores, and the staff can't help you with inquiries or orders. Unfortunately, my questions to the service department have always been met by long response times (around a week) and sparse details.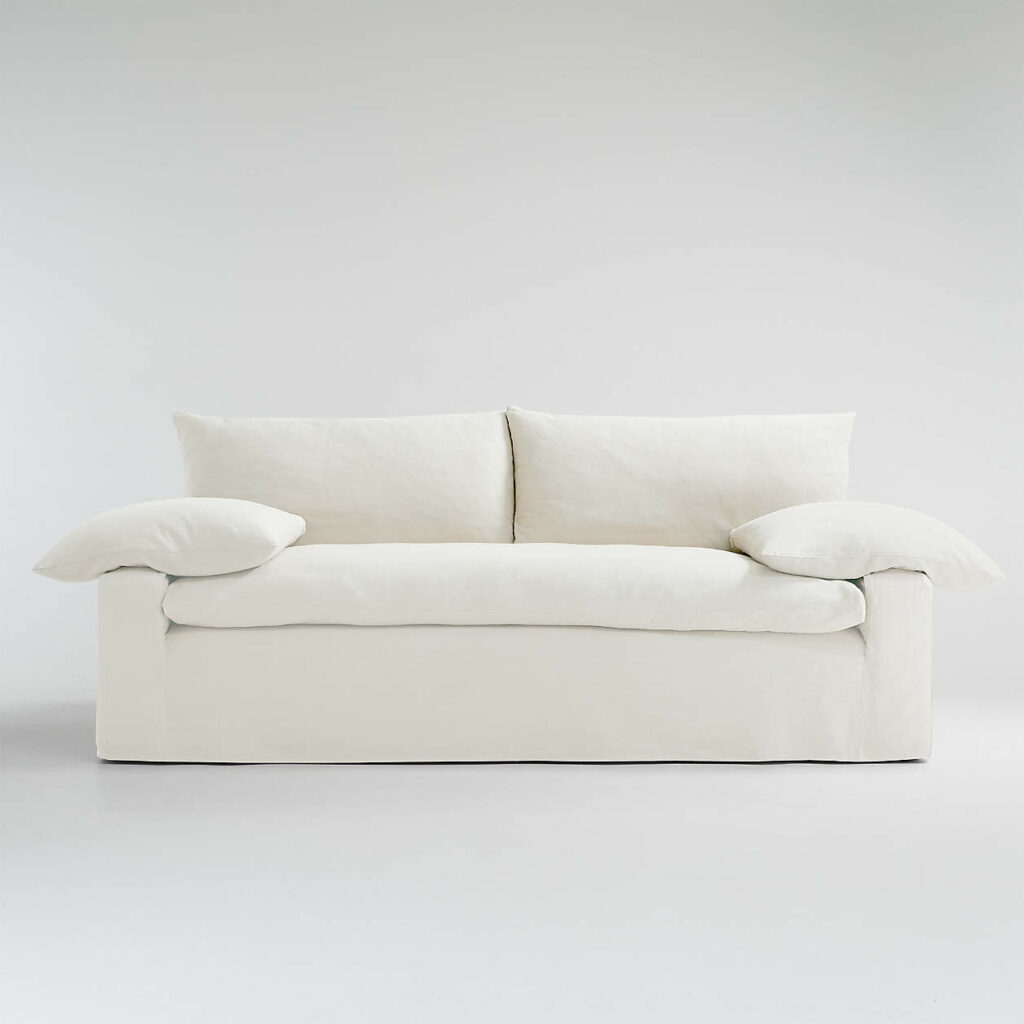 Best for: Stain resistance
Price: $2,199+
Dimensions: Starting at W77″ x D42″ x H32″
Frame material: Kiln-dried engineered hardwood
Upholstery options: 4 cotton options
What I Love About This Crate & Barrel Sofa
If your home operates anything like mine, it's not about if spills will happen — it's about when. That's why I love the Ever Slipcovered Sofa by Crate & Barrel. It combines the suave, sophisticated aesthetic of the Cloud Couch with the durability of a tank. No joke — the FSC-certified hardwood frame can easily hold a family of four, and the cotton upholstery is unbelievably easy to clean. In most cases, a simple wipe is all it takes to remedy any mishap. For tougher stains or deep cleaning, you can also remove the machine-washable slipcover and throw it in the laundry! It's such a fantastic option for homes with children or pets.
Shopping at Crate & Barrel is a process I always enjoy. The company provides high-class service for a mid-range price, and I've always been impressed by its shipping process and customer service team. I also love how there are so many Crate & Barrel retail locations around the US (over 100, as of 2022). Find the store nearest you to try the sofa on for size, then customize and order when you return home. It's a seamless experience that you won't find anywhere else.
What I Didn't Love
The Ever Slipcovered Sofa sofa is a little on the firmer side, maybe a three out of five. Generally, that'd be no problem for me. However, a big part of the appeal of the Cloud Couch is its plush feather-filled cushions. While the Ever Sofa from Crate & Barrel features a similarly cush composition, the back cushions and bottom seat pillow are only a few inches thick.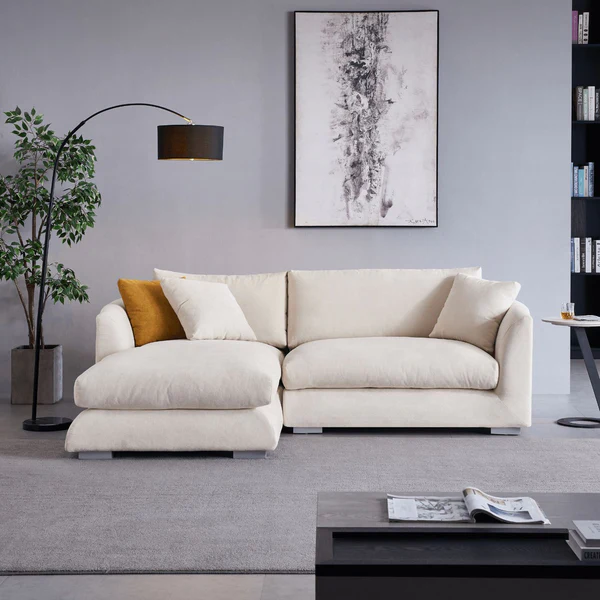 Best for: Overall value
Price: 1,499.95+
Dimensions: Starting at W88″ x D66.9″ x H28″
Frame material: Pine wood
Upholstery options: 2 linen/cotton/microfiber options
What I Love About This ValYou Sofa
Like the trending Cloud Couch, the Feather Sectional's name tells you a lot about how it feels. Its seat and back cushions are so soft and airy, you'll feel like you're floating in the sky rather than sitting at home on your couch. And that's not even the craziest part. Get this: the Feather Sectional isn't actually made of feathers. Instead, it features a unique blend of memory foam and fiber, carefully calibrated to bring you the sensation of feather alongside the durability of more traditional filling.
Of course, this more traditional filling also keeps the cost down. The Feather Sectional looks like it should cost thousands of dollars, but it starts under $1,500! And even though it lacks down filling, the sofa does feature high-quality materials. The frame is solid wood, and the durable cover is a soft linen and Egyptian cotton blend fit for a Pharaoh.
The sofa requires some assembly, but it's a simple matter of attaching the various sections together. Bring a friend, and you can transform it from wrapped-in-box to completely set up and ready to use in under 20 minutes.
What I Didn't Love
Although Valyou offers an estimated delivery window at checkout, it's notoriously inaccurate. Delays are common, so be prepared for a longer-than-expected wait time when ordering.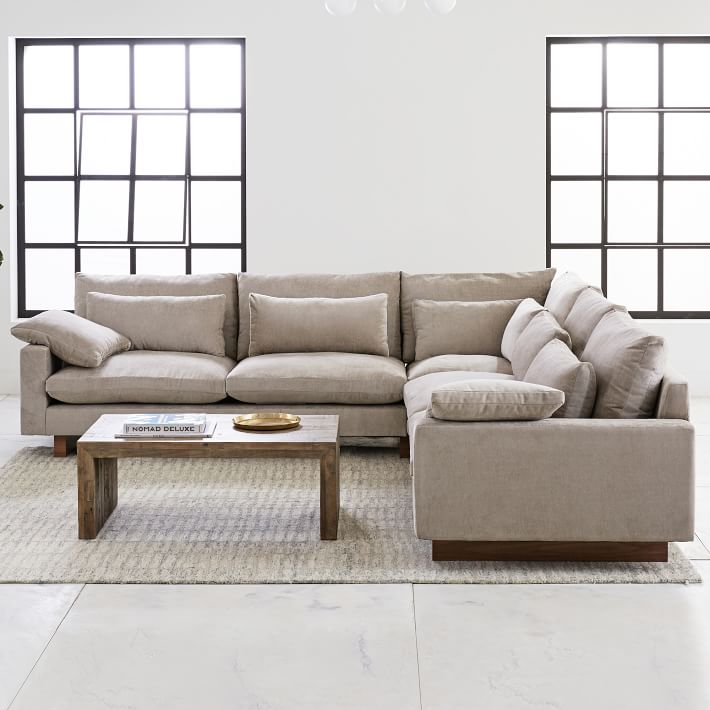 Best for: Cloudlike comfort
Price: $639.20+
Dimensions: Starting at W35″ x D34″ x H36″
Frame material: Kiln-dried engineered hardwood
Upholstery options: 89 fabric options
What I Love About This West Elm Sofa
The Harmony Modular Sectional is similar to the Cloud Couch in that you must buy and piece together individual pieces. However, the Harmony's modules start at just $600 each. What I find most impressive is that West Elm makes relatively few sacrifices to achieve this two-thirds price reduction. The Harmony rivals the Cloud's comfort in nearly every way, thanks to its polyester and duck filling covered in your choice of premium fabric.
I've also found the Harmony just as durable as the Cloud Couch, if not moreso! The kiln-dried hardwood frame feels exceptionally sturdy and robust, while the slot & tenon joinery ensures everything stays together over the sofa's decades-long lifespan.
After testing various configurations, I recommend ordering the Harmony as a two- or three-seater. I find this setup offers the ideal amount of seating space for a midsize family. If you're feeling extra spendy, opt for an add-on chaise to expand seat depth and tap into the full potential of this ultra-comfy sofa.
What I Didn't Love
As with all West Elm furniture, the Harmony Modular doesn't come with a warranty. There's the 30-day return period, and that's it. In my experience, West Elm will work to make you happy should things go wrong. But it should be written down as a guarantee, especially when you're spending several thousand dollars on a new piece of home furniture.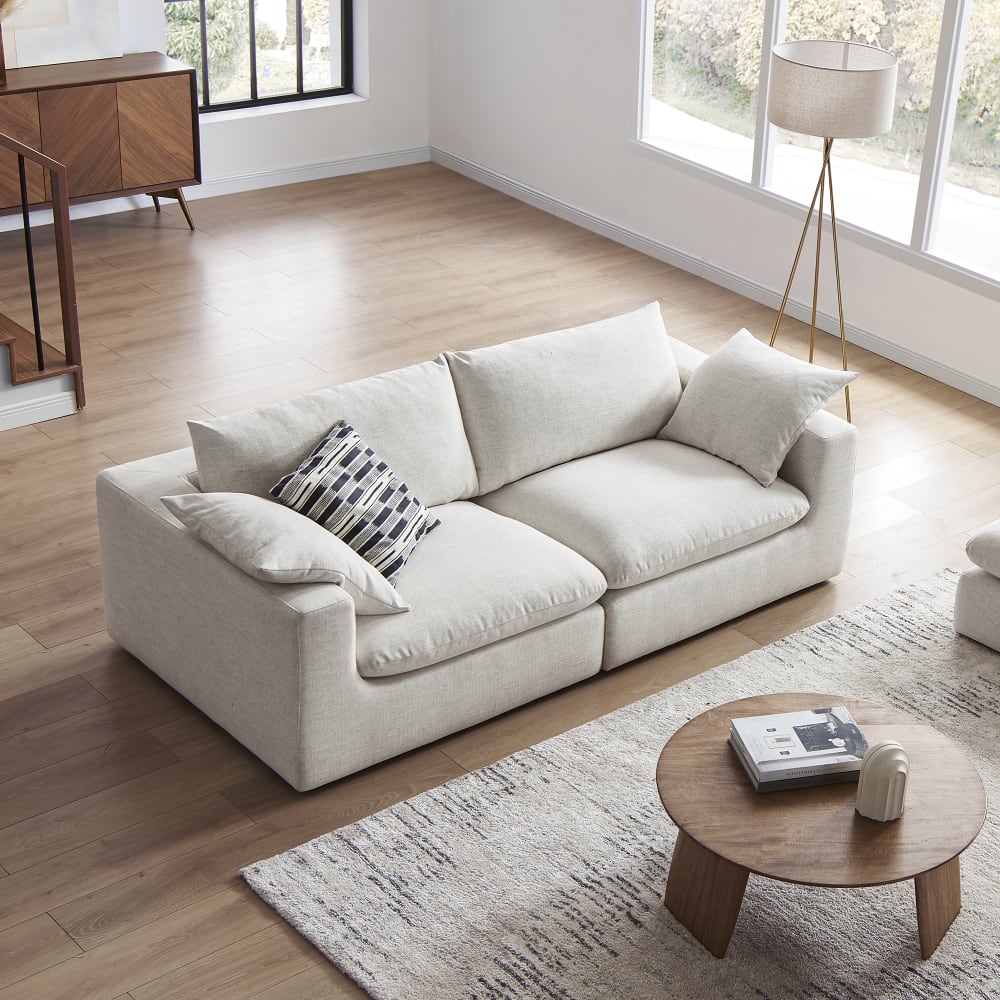 Best for: Minimalism
Price: $1,949
Dimensions: W89.8″ x D44.9″ x H31.9″
Frame material: Plywood
Upholstery options: 1 polyester option
What I Love About This Castlery Sofa
The Dawson Loveseat resembles the Cloud Couch more than any other sofa I've encountered. It features the same elegant silhouette, including a singular base frame, plush seat cushions, and poofy throw pillows. It also embodies the minimalist design philosophy, with an all-white aesthetic courtesy of a lovely polyester-meets-linen finish that's soft and smooth to the touch.
Castlery's Dawson is incredibly deep, at a whopping 44.9″ as measured from front of the seat to back of the backrest. It's an excellent sofa for cuddling up with friends and family, and the fiber-feather filling keeps you snug for hours at a time.
Like the sofa itself, shopping at Castlery is simple and enjoyable. Its website is among the most intuitive of any major furniture retailer, and the company's support staff has always responded to my inquiries with friendliness. Customizing and checking out is a breeze, and the company keeps you apprised during every step of your sofa's journey to you. It also arrives fully assembled, meaning there's no struggle trying to get it set up.
What I Didn't Love
Castlery's fabric is prone to pilling (clumping up into little balls), so it's not as durable as other Cloud Sofa alternatives. With that said, treat it well and follow our maintenance tips, and I don't foresee you having any issues.
My other complaint is Castlery's abysmal 14-day return policy. When ordering online, you should have at least 30 days to try out the product and see if it's right for you. The other thing I dislike is the fees that come with your return, including a 20% restocking fee on every order. Unfortunately, there's no way to minimize your risk, as Castlery is an online-only retailer with no showrooms to try before you buy.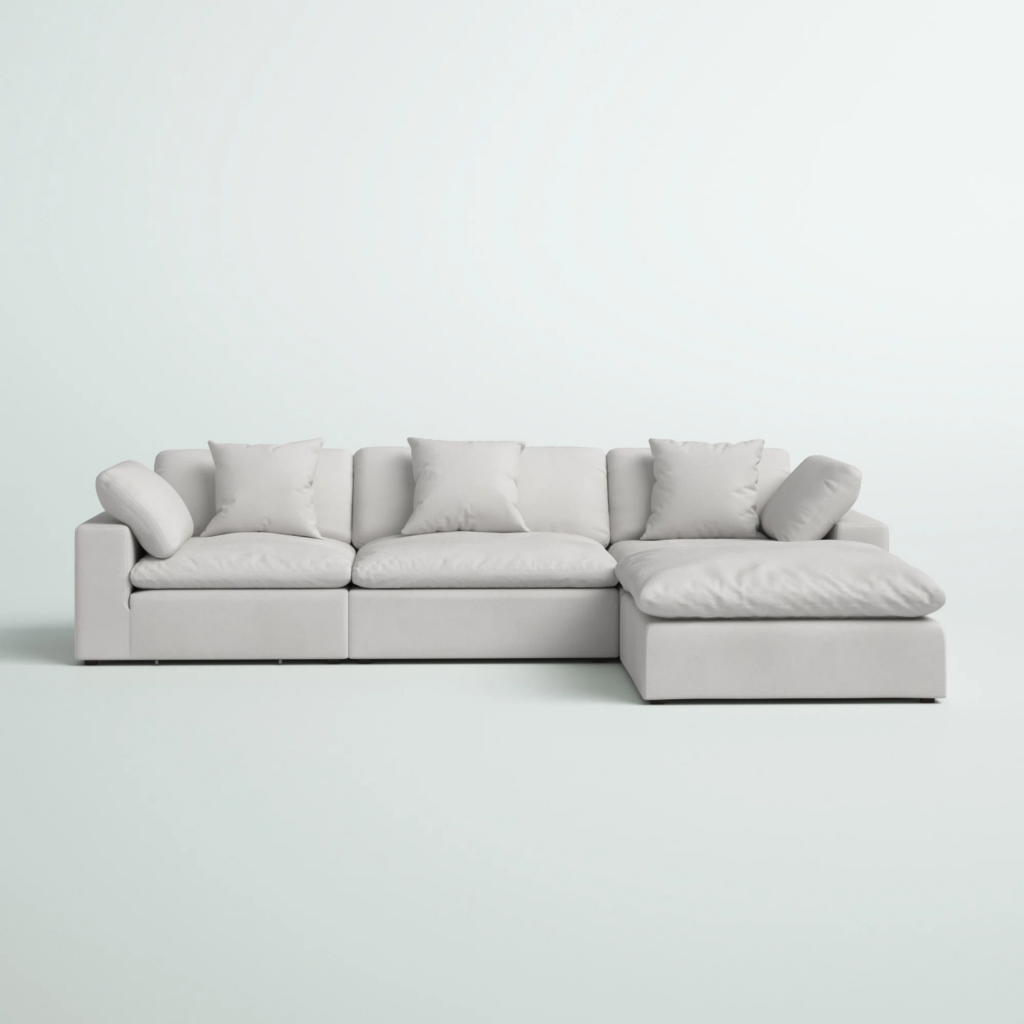 Best for: Square arms
Price: $3,100
Dimensions: W141″ x D47″ x H38″
Frame material: Solid & manufactured wood
Upholstery options: 1 LiveSmart® option
What I Love About This Wayfair Sofa
Greyleigh™ is a Wayfair-exclusive brand that manufactures trending sofa designs at a bargain price. The Janeen is Greyleigh's take on the Cloud Couch, and it's a near-perfect replica of the real deal. This Wayfair sofa includes the same extra-wide frame as the one from Restoration Hardware, with deep seat cushions and thick square armrests adorning both ends of the model. Even the pillows and reversible cushions look and feel the same, only they're a velvety consistency and come filled with a supple fiber rather than plush down.
Although alike in appearance, they couldn't be further apart in price. If you pieced the same unit together from Restoration Hardware, it would run you thousands of dollars. The Greyleigh costs less than one-third of the price and has several additional perks. First and foremost, there's Wayfair's award-winning customer service team. Wayfair hires US-based representatives who consistently impress me with their politeness and knowledgeability. The other notable perk is free shipping to anywhere in the country. Since the Greyleigh comes fully assembled, all you have to do is place your order on Wayfair's intuitive website and wait for your new statement piece to arrive!
What I Didn't Love
While I don't often encounter issues with Wayfair's shipping practices, that wasn't the case with the Greyleigh. It may be due to its size and cumbersome nature, but the sofa almost always arrives late and with minor stains. Luckily, the LiveSmart® fabric is easy to clean (just use water and a little elbow grease). And, once it's in your home, there's no more hassle.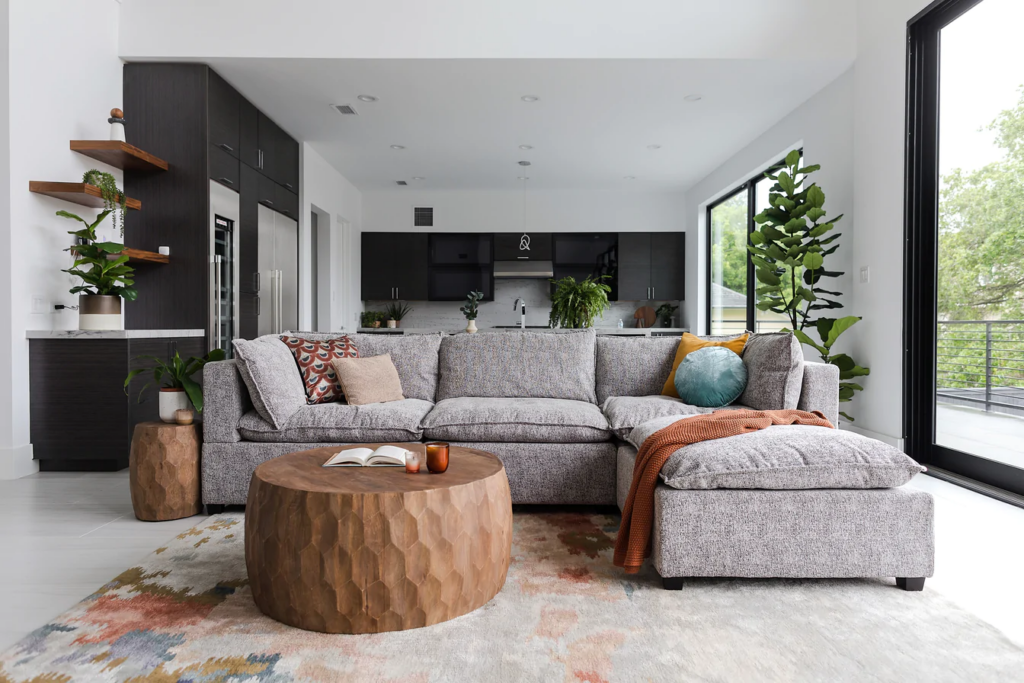 Best for: Quick delivery
Price: $2430
Dimensions: W121″ x D76" x H34″
Frame material: Kiln-dried hardwood
Upholstery options: 7 polyester options
What I Love About This Albany Park Sofa
Albany Park may be one of my favorite places to shop for furniture dupes. I've always been so impressed by my experiences with the company. The website is quick and easy to navigate, making checkout a breeze. Meanwhile, customer service is incredibly adept, with prompt responses to inquiries and frequent updates about your order. Plus, shipping is free and lightning fast. I don't know how they do it, but the company manages to ship most sofas (including the Kova) within a few days and have them at your doorstep in under two weeks.
As for the Kova itself, I couldn't give a more glowing review. It's like a miniature version of the Cloud Couch, with smaller modular sections (each deep seat module measures about 34″ wide) and a slightly taller profile. Even though you can get the Kova in beige to mimic the Cloud Couch, I actually prefer the rust velvet. It's much more boho-chic than minimalist, but I find it adds just the right amount of uniqueness to every living room. No matter which fabric you choose, the Kova comes filled with a sturdy hardwood frame and a delightful feather-fiber blend that rivals the softest sofas in coziness.
What I Didn't Love
Unlike many other sofas on this list, you must assemble the Albany Park yourself. It comes in a handful of boxes (one for each module) that you have to unpack and piece together. Fortunately, assembly is relatively easy. In my experience, the hardest part is lining up the different pieces when preparing to latch them together. Even so, it shouldn't take you more than 30 or 45 minutes from start to finish.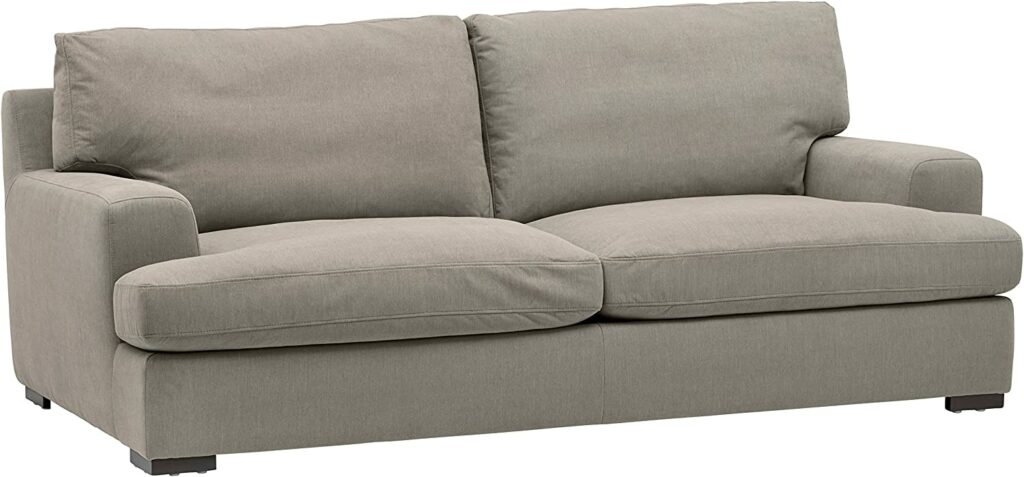 Best for: No assembly required
Price: $1,045+
Dimensions: Starting at W73.6" x D44.9" x H37.4"
Frame material: Solid hardwood
Upholstery options: 7 polyester & leather options
What I Love About This Amazon Sofa
I love everything about shopping at Amazon. The prices are great, shipping is free, and when it comes to the company's Stone & Beam sofa – it's all ready to go out of the box.
I also enjoy how it comes in two sizes: a 74″ version and a 90″ version. While the former is respectable, I've found the latter is ideal for most living spaces, providing plenty of room to stretch out and enjoy the spacious 45″ depth. No matter which model you choose, you'll enjoy a simple, sleek silhouette that fits as well in the grand living room as it does in the cozy den.
When it comes to durability, I've found the hardwood frame to be perfectly capable, seating up to four people without issue. It's also extraordinarily comfortable! I enjoy little else more than sitting on the Stone & Beam's down-filled, polyester-wrapped cushions and letting the stress of the day melt away.
What I Didn't Love
The Stone & Beam comes in various colors, which don't always match the colors on your screen. I've found that they trend a shade or two lighter than they appear on Amazon's website, so keep this in mind when making your selection.