Ikea is the global destination for high-quality furniture on a budget. The Swedish retailer boasts over 450 locations worldwide, each featuring a sprawling showroom floor overflowing with affordable decor for every room in your home.
Unfortunately, shopping at IKEA does have some drawbacks. The brand's minimalist home decor can seem bland and boring, with few specialty or high-end designs available. Ikea products are also notoriously difficult to assemble. Anyone who's tried to build one of those DIY flatpacks knows: it's absolutely brutal.
That's why the team at Home of Cozy has curated these Ikea alternatives. Each of the following outlets features a catalog full of stunning, budget-friendly home furnishings sure to elevate your space. What's more, most of their products come pre-assembled or piece together in under an hour, as easy as can be.
1. Best For Online Shopping: Allform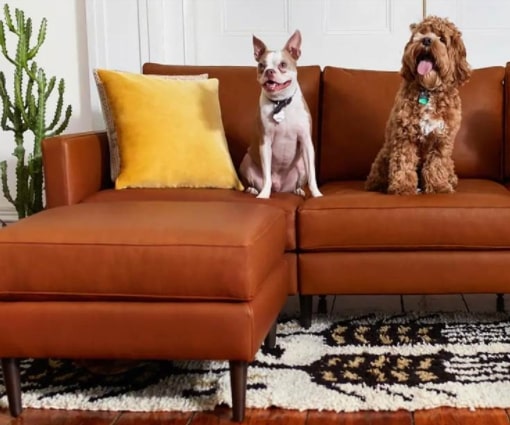 Pricing: Mid-range
Furniture Selection: Seating
Warranty: Lifetime on all furniture
Allform is an online retailer that sells all forms of seating. The company's modular sofas and sectionals piece together like building blocks, transforming into any size and shape you want. Allform may be newer to the market, but it operates under the banner as Helix Sleep and Birch Living. In other words, it's an established, reputable presence in the space, with a seasoned team of craftspeople who handmake every sofa to order right here in the USA.
What I Love About Allform
If you've spent much time on Home of Cozy, you already know how much I love Allform. The reason is quite simple: its sofas are the most comfortable I've ever tried, and the business operates by principles that speak to my heart.
Let me break it down, starting with the modular sofas. Each piece of Allform seating starts with a kiln-dried hardwood frame. From there, it's covered in plush foam and then wrapped with the highest-quality upholstery on the market. Allform lets you choose between two finishes — polyester or genuine leather. Both provide extreme durability and supreme softness, setting the perfect tone for any living room.
Then, there's Allform's business practices. The company uses eco-friendly, sustainable materials throughout its furniture. It also employs local, US-based artisans to craft each piece by hand. The difference in quality is palpable. When the team at Home of Cozy received our sofa, we were blown away by the attention to detail, with overstuffed cushions and stitchwork fit for the queen's palace. The company delivered the sofa within ten days (ahead of schedule), complete with a 100-day in-home trial and lifetime warranty. It's hands-down my favorite alternative to Ikea for those seeking quality furniture on a reasonable budget.
What I Didn't Like
Allform specializes in seating and seating accessories, focusing exclusively on products like armchairs, sofas, ottomans, and add-ons like throw pillows and blankets. In other words, it's not the same kind of one-stop shop as Ikea. However — it will cover all of your seating needs.
2. Best For Bargains: AllModern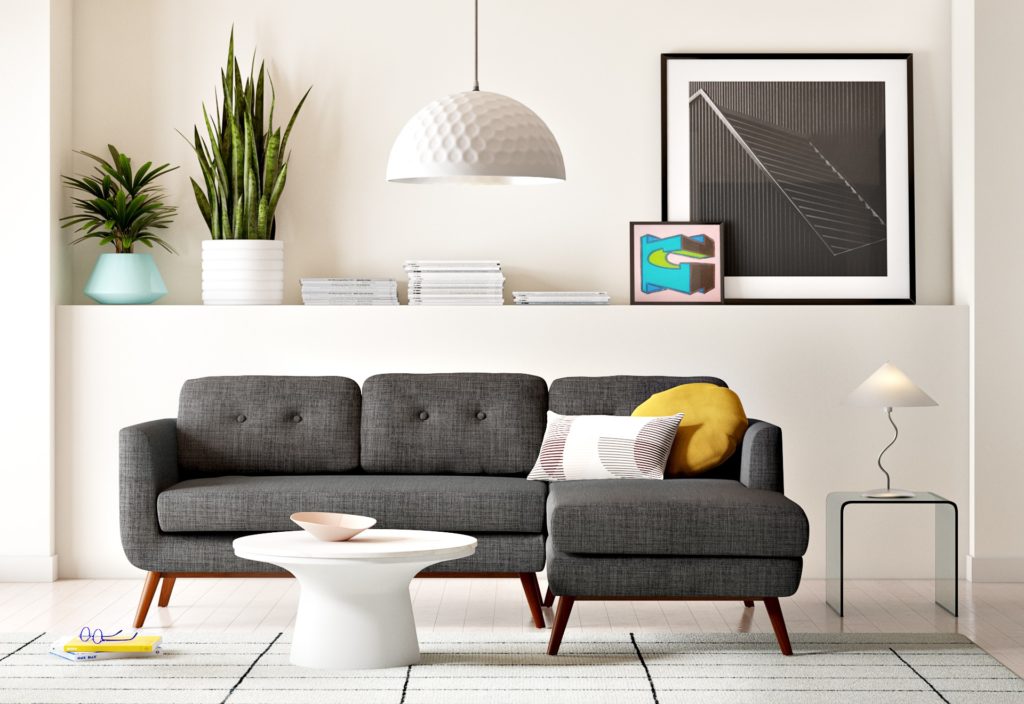 Pricing: Budget
Furniture Selection: Seating, tables, storage, beds, and decor
Warranty: 1 year on all furniture
Not to be confused with Allform mentioned above, AllModern is an all-in-one furniture retailer focused exclusively on trendy furniture. It's run by the same minds behind Wayfair and features a similar commitment to quality and customer service. Although it sells more upscale designs, AllModern is known for low prices comparable to Ikea.
What I Love About AllModern
Allform has some of my favorite furniture designs. I'm a sucker for the mid-century modern aesthetic, and the company has no shortage of exceptional options. I love its sofa collections, in particular. The Geo Sofa in Platinum Gray Velvet looks straight from a 1950s Hollywood set, with a sleek two-seat frame, dimpled cushions, and round bolster pillows adorning both ends. It feels far more sturdy and luxurious than the sub-$1,000 price tag would indicate, and it's a great example of everything I adore about this company.
Of course, that's only one among its thousands of products. If you need help choosing from such a vast selection, Allmodern's team of in-house designers will prepare the perfect collection for your home — entirely free of charge! I've always had excellent interactions with AllModern's customer service team, which is based in the USA and full of knowledgeable agents ready to offer support. Once you factor in free shipping and minimal (if any) assembly on most of its pieces, AllModern is one of the best online stores like Ikea for bargain hunters.
What I Didn't Like
AllModern is an excellent place to find designer aesthetics on a budget, yes. But there's a reason the company can offer such outstanding prices: it imports many of its products from overseas. While I haven't encountered any issues with quality, I do hate the impact this has on our planet. Shipping home furniture takes a hefty toll on the environment, and it's a tradeoff you'll need to keep in mind when shopping AllModern.
3. Best For Finishing Touches: Zara Home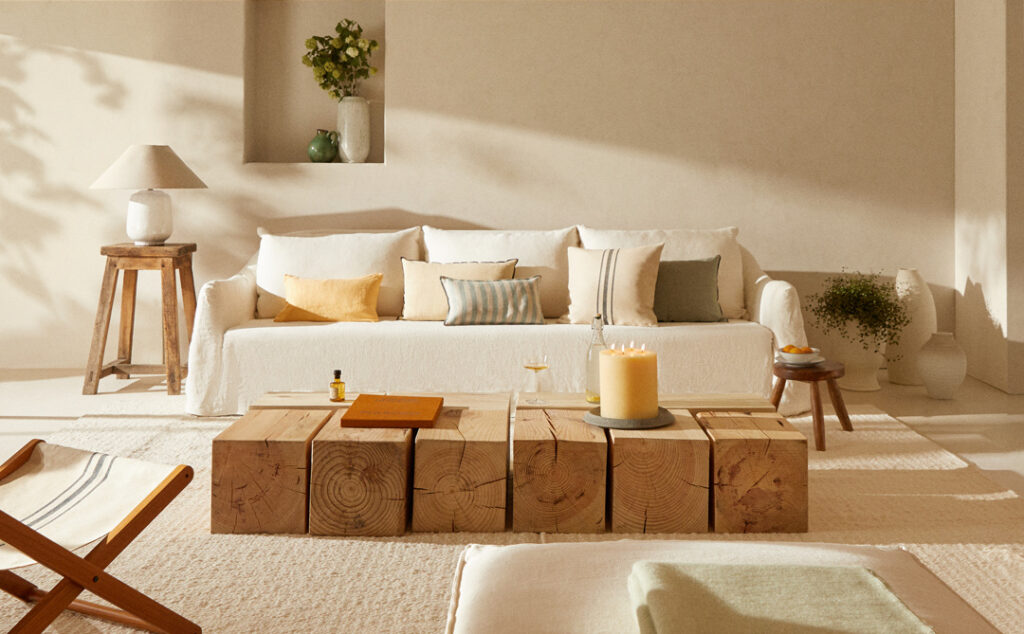 Pricing: Mid-range
Furniture Selection: Seating, tables, storage, beds, and decor
Warranty: N/A
While Ikea is primarily known for furniture, it also sells a range of home decor to help you put the finishing touch on your home. If that's your reason for seeking alternatives to Ikea, Zara Home is the perfect option. Zara Home is an offshoot of the popular Zara clothing retailer, focusing more on home textiles like linens, pillows, curtains, rugs, and accessories. Its products wear their Spanish heritage on their sleeves, providing a traditional aesthetic that adds a cozy feel to any living space.
What I Love About Zara Home
Zara Home fills a much-needed gap in the market. Whereas most of today's popular furniture retailers focus on sleek and modern, Zara Home keeps it old-school cool. I love the rustic feel of its products, which bring warm colors and textiles back into fashion. I also like the focus on home accessories first, furniture second. While the company does sell smaller pieces like chairs and end tables, those aren't Zara Home's sole focus.
The company's decor falls in the middle of the pricing spectrum, though some inevitably trend lower or higher. Shipping charges start at $4.99 and scale reasonably with the size of your order. While I generally prefer free shipping (who doesn't?), Zara Home's service is well worth the small upcharge. The entire shopping experience is seamless, from browsing the intuitive website to placing your order to unpacking and setting up your lovely purchases. Zara Home keeps you apprised every step of the journey and is there to help you with any issues.
What I Didn't Like
I dislike how there are no physical Zara Home outlets in the US (you have to go down to Mexico for that). While there are a handful of Zara clothing storefronts, they only carry a small selection of the Home lineup.
My other gripe is the lack of product reviews on the Zara Home website. That's a staple among e-commerce stores nowadays, and foregoing such an important aspect of social proof makes shopping more difficult for the consumer.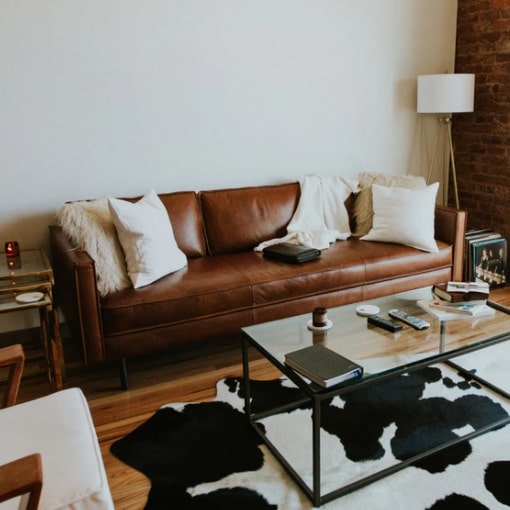 Pricing: High-end
Furniture Selection: Seating, tables, storage, beds, and decor
Warranty: N/A
Pottery Barn is a subsidiary of Williams-Sonoma, alongside other popular furniture shops like West Elm, Rejuvenation, and Mark & Graham. The company's upscale furniture is trendy and elegant, catering to the middle class in design and price. It's a cornerstone of the North American furniture industry and an excellent place to decorate your home with luxe pieces.
What I Love About Pottery Barn
Pottery Barn is everywhere. There are nearly 200 outlets sprinkled across the USA, with every important city containing at least one. Other IKEA alternatives like Wayfair are online-only, and you're always taking a risk buying before trying. With Pottery Barn, you can head to your local outlet and experience the sofas, storage, and accessories before committing.
Like several of its competitors, Pottery Barn also offers free design consultations to help you find the perfect selection for your home. The difference is that Pottery Barn provides in-person consultations. You can book an appointment online and talk to a local expert who'll guide you through the process. Take it from me: decorating your home is difficult. Pottery Barn's service is an incredible value, and I recommend it to any interior design newbie looking to make the process easy.
Finally, I want to touch on quality. Pottery Barn's furniture and decor items can last decades. My family still has a Pottery Barn bookshelf from my childhood, and it looks as good as the day we bought it. You may have to spend a little extra at Pottery Barn, but it's well worth the investment.
What I Didn't Like
Like other Williams-Sonoma brands, Pottery Barn lacks a warranty. Although I've never needed one, a written guarantee is still important when spending thousands of dollars on a single piece of furniture. I've talked to Pottery Barn's representatives about this issue, and they always promise they'll be in the event of broken or damaged goods. But, it's on a case-by-case basis, with no recourse should things go awry.
5. Best For Modern Design: Muji
Pricing: Budget
Furniture Selection: Seating, tables, storage, decor
Warranty: N/A
Muji isn't just an Ikea alternative. It's more like a blend between Ikea and Amazon, with a selection of goods spanning from home furniture to apparel to office supplies. The primary difference between all these companies is Mujo's Japanese heritage. Muji's products are minimalist at its finest, heavily influenced by the culture's tradition of Kenso (the art of simplicity). At Muji, you'll encounter clean, austere decor that fits beautifully in any modern home.
What I Love About Muji
Honestly, I enjoy everything about shopping on Muji's website. The selection is vast, the prices are exceptional, and the quality-to-cost ratio is unrivaled in the space. Even so, I do have my favorite pieces. First, there's the Bedding collection. This section of Muji's website features a handful of gorgeous sheets, blankets, and covers that elevate any space with simple yet cozy colors and textures. Then there's the Kitchen & Dining collection. Muji offers an array of tableware, glassware, and organizers guaranteed to spice up your home dining experience.
In the name of transparency, I need to mention that I've never been to one of Muji's physical outlets. But there are 15 such locations spread across the United States. These storefronts feature a selection of the best-selling items from the online catalog, making it possible to experience the brand's products in person before you commit. If you live close enough or buy a new home near one of its outlets, I recommend stopping by, as it will let you touch, feel, and experience all Muji has to offer (and save on shipping in the process).
What I Didn't Like
Muji's modern furniture selection is pretty sparse. There are a handful of tables, chairs, and storage containers, but that's about the extent of it. The website and physical stores are more of a home decor outlet with a few larger pieces mixed in.
6. Best For High-End Pieces: West Elm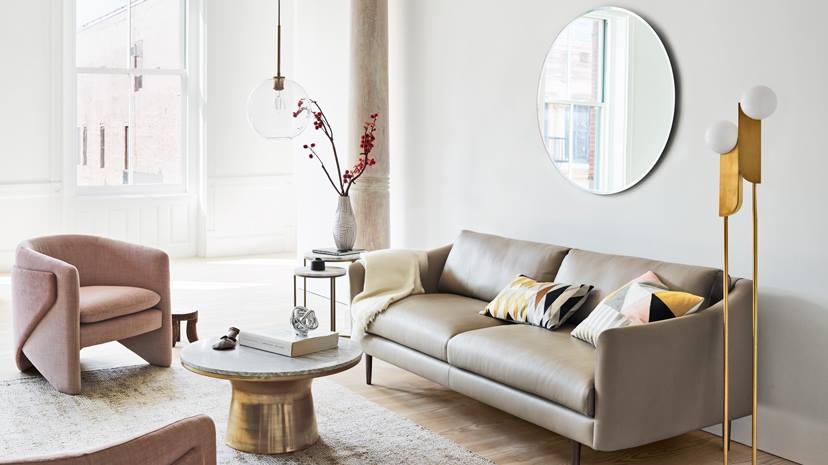 Pricing: High-end
Furniture Selection: Seating, tables, storage, beds, and decor
Warranty: N/A
As of this year, West Elm is officially 20 years old. In just two decades, the company has gone from a small New York boutique to a juggernaut within the luxury furniture market. The reason is simple: West Elm's products are as opulent as they come, featuring premium materials and craftsmanship inspired by centuries of tradition. The company sits alongside Pottery Barn as a crowning jewel among William-Sonoma's portfolio of furniture makers, providing heirloom-quality pieces that'll last your family a lifetime.
What I Love About West Elm
West Elm's furniture is in a class all its own. The brand pours millions into hiring the best designers for its furniture, and the results speak for themselves: timeless silhouettes featuring premium hardwoods, the softest and most luxurious fabrics, and attention to detail that puts Ikea to shame.
Compared to Ikea's budget pieces, West Elm's furniture sits at the higher end of the pricing spectrum. But you'd be surprised by how attainable certain West Elm pieces can be. For instance, the Callan Sofa — a gorgeous three-seat retro sofa — comes in around $1,000! This is an exception and not the rule, but it does show that it's possible to achieve West Elm's premium quality on most budgets.
Like Pottery Barn, West Elm offers a seamless physical/digital shopping experience. You can go to your local showroom to test furniture there (there are over 100 retail outlets in the USA alone) and customize it to your liking on the official website. There's also an option for White Glove delivery! For a small fee, West Elm's team will come and assemble your furniture in the room of your choice! It's by far the most convenient IKEA alternative I've come across.
What I Didn't Like
West Elm has an abysmal return window, starting at just seven days from the delivery date. When you factor in the missing warranty, I've found West Elm's post-purchase support abysmal. While I wouldn't typically recommend a company with such anti-consumer practices, the simple fact is, you probably won't need post-purchase support. All my West Elm furniture has held up remarkably well over the years.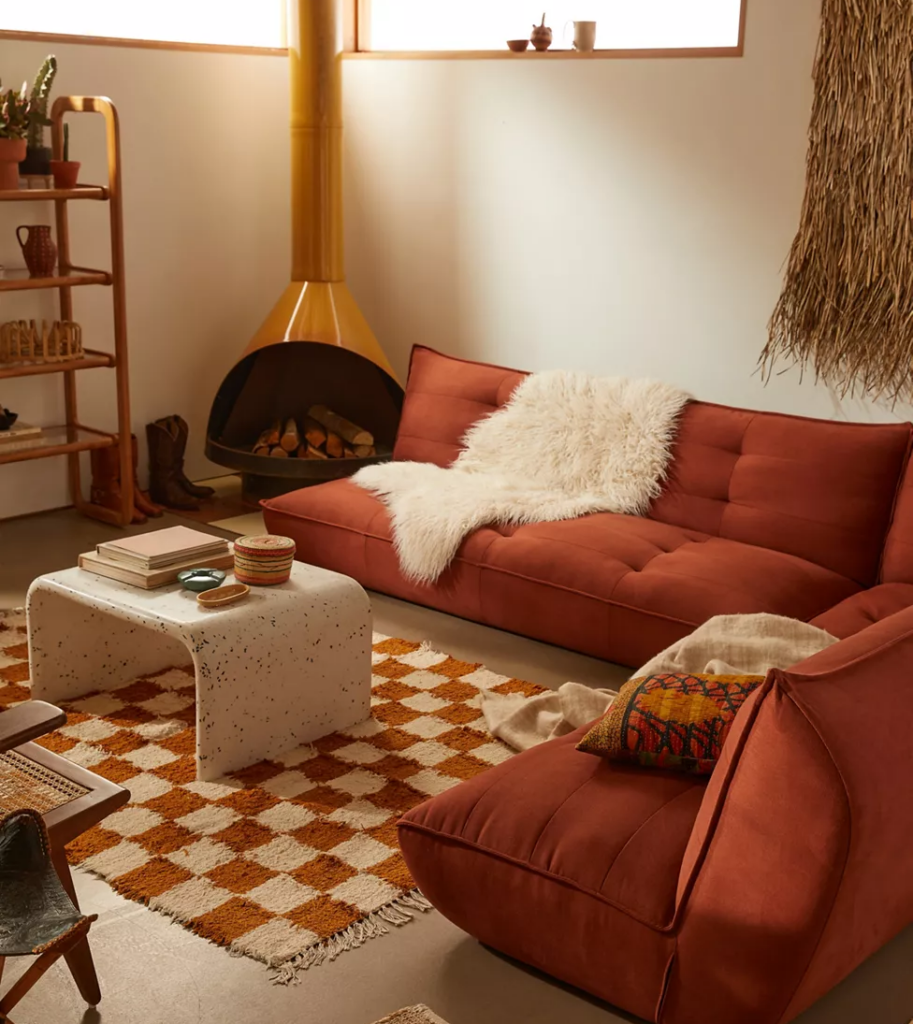 Pricing: Budget
Furniture Selection: Seating, tables, storage, beds, and decor
Warranty: N/A
You probably know Urban Outfitters as a mall outlet with trendy clothes and accessories. But in recent years, it's become so much more. The company now offers a home furniture lineup named Urban Outfitter Home. On this section of its website, you'll find sofas, tables, shelving, and more! The designs follow the same "hip and trendy" philosophy as the brand's iconic clothing, making it the perfect place for young buyers to outfit their apartments and home living rooms.
What I Love About Urban Outfitters
I may be a little biased, as my family has shopped at Urban Outfitters for years. But I've honestly been very impressed by the company's rollout of its Home lineup. I've discovered hundreds of exceptional items in the collection, ranging from sofas to dressers to accessories like storage and lighting. Much of the furniture is also customizable, allowing you to pick the fit and finish that best matches your vibe. The sleek selection is ideal for a younger audience (anywhere from 18 to 40), and recent drops have done an excellent job keeping up with the latest interior design trends.
Urban Outfitters runs regular sales atop the already-reasonable prices. What's more, shipping is fast, easy, and free on most furniture! While assembly requirements vary depending on your chosen piece, I've been delighted by the easy instructions and how quickly it all pieces together.
What I Didn't Like
Urban Outfitters Home is a distinct department within the company, and you'll have to deal with them directly for answers and support. The thing is, I've been thoroughly unimpressed by these agents. Support comes in the form of email, and responses to my simple inquiries have taken a week (or more) to arrive.
8. Best For Variety: Wayfair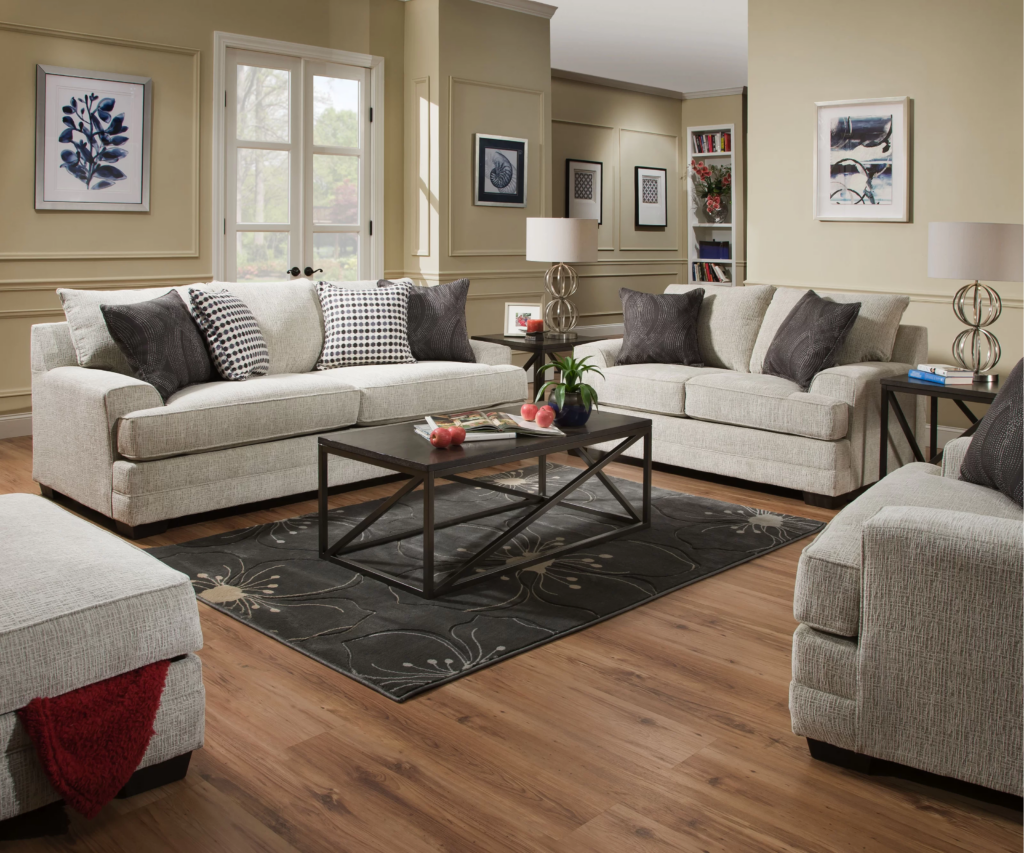 Pricing: Budget
Furniture Selection: Seating, tables, storage, beds, and decor
Warranty: 1 year on all furniture
Wayfair is a leader in the home furniture e-commerce space. It started with a single retailer back in 2002 and quickly grew to thousands of vendors serving households worldwide. Wayfair operates by the Amazon model and doesn't physically stock every item. Instead, it works with third parties to curate a vast assortment of sofas, bed frames, decor, and so much more.
What I Love About Wayfair
It's all there in the slogan: Wayfair has just what you need! That's not marketing hyperbole. Wayfair actually has millions of items for sale, including gorgeous Scandinavian furniture and charming accessories for every room in your home.
Wayfair has such a massive presence in the furniture space that it's usually the first place I go to search for a new piece of furniture. That often leads me down a rabbit hole to specific designers and smaller websites. It's like a furniture search engine in that regard, except it also works as your one-stop destination.
I'm always impressed by Wayfair's excellent prices and stellar customer service. Not to mention, the streamlined checkout process optimized over millions of transactions. Shipping is free over $35 (AKA, for all furniture), and Wayfair delivers right to your door. Plus, many of its pieces come fully assembled for your convenience!
What I Didn't Like
Although Wayfair performs a precursory overview of items for sale on its website, some subpar pieces inevitably slip through the cracks. I recommend you check user reviews on all the furniture that catches your eye. If you end up with a dud, Wayfair offers a reasonable 30-day return policy and a one-year warranty period where they'll work to make things right.
9. Best For Unique Pieces: CB2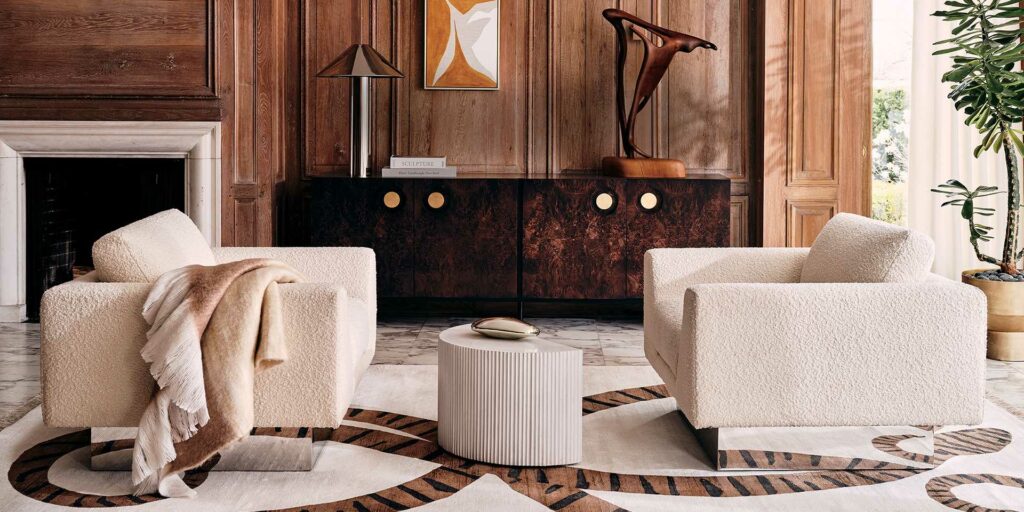 Pricing: Mid-range
Furniture Selection: Seating, tables, storage, beds, and decor
Warranty: N/A
CB2 is Crate & Barrel's little brother. It's the hipper, cooler version of the half-century-old furniture retailer, with a custom catalog of unique pieces tailored to younger audiences. Besides an updated catalog, CB2 takes a more modern approach to sales and marketing. It only operates a handful of physical outlets and provides direct-to-consumer shipments from a sprawling online marketplace.
What I Love About CB2
As a long-time Crate & Barrel customer, I was ecstatic to see CB2 launch with hipper pieces designed for a younger audience. CB2 is much more affordable than the original Crate & Barrel, making its eclectic furnishings and decor accessible to the latest generations of renters and homeowners. The upstart furniture maker doesn't cut any corners, either. I have a fair bit of experience with its furniture, and I've yet to see any noteworthy difference between the original Crate & Barrel and CB2.
When it comes to CB2's catalog, I love how the designers sprinkle in something for everyone. Its collections include everything from mid-century modern furnishings like boucle sofas to boho-inspired wood armchairs to patterned accessories that make any space sing with personality. All the while, CB2's shipping is quick and straightforward, often arriving ahead of schedule. It's also free for a large selection of items, making shopping the reasonably-priced furniture all the more enticing. If you're looking for places like Ikea that can help make a space authentically yours, CB2 is the place to go.
What I Didn't Like
CB2 has the worst return policy in the industry. For freight returns (AKA, most furniture), you have seven days to initiate a claim. It's a little better for store-bought pieces, but that's assuming you have a retail location near you. What's even worse is the lack of a warranty. CB2 advertises
"a real guarantee," stating that it stands behind its products. But it's all lip service, with no actual warranty in sight.
10. Best For Wide Selection: World Market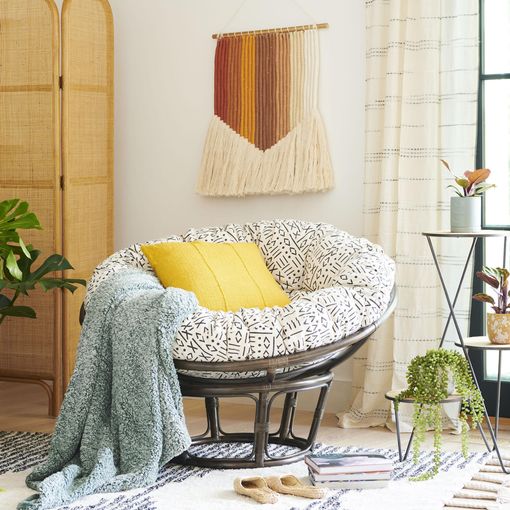 Pricing: Budget
Furniture Selection: Seating, tables, storage, beds, and decor
Warranty: N/A
It's a small world — especially when you have access to furniture importers like World Market. This physical retailer offers a lovely selection of goods from all across the globe. Step into one of its 242 US outlets, and you'll discover incredible home decor from every continent. It's a celebration of culture, packaged together with a nice little bow and presented all in one place.
What I Love About World Market
World Market is my favorite Ikea alternative for window shopping. Its products always seem so unique and exotic, with colors, patterns, and textures that I never see anywhere else. I always find myself oohing and aahing in front of the various in-store displays, captivated by the one-of-a-kind aesthetics laid out in mismatched aisles reminiscent of a treasure hunt. Although there's always a wide selection of furniture available, I find it's the smaller accent pieces — like armchairs and coffee tables — that capture my imagination. These pieces offer an easy and affordable way to spice up your living space and add a touch of worldly whimsy to an otherwise boring environment.
Even though I enjoy shopping at World Market's physical locations, I also appreciate the company's expansion into the world of e-commerce. Its website features a large (and growing) curation of goods, from furniture to trinkets like art and housewares. Whether shopping in-store or online, World Market always has that perfect piece you never knew you needed.
What I Didn't Like
As much as I enjoy a collection of worldwide goods, I can't help but feel saddened by the environmental toll. Shipping products from around the world to retail locations across the US emits literal tons of carbon emissions, and I do feel a bit guilty for taking part.
Other Great Furniture Brands To Check Out
We've seen some impressive Ikea alternatives, but these are far from your only outlets. There are hundreds of other furniture retailers on the market, each offering a distinct portfolio of designer pieces. Depending on your specific needs, you may enjoy the following online and digital retailers.
If you're still having trouble finding a suitable Ikea alternative, Home of Cozy has you covered! Check out our other brand comparisons for even more amazing options, or skip all the hullabaloo and head straight to our curation of today's best home furniture.