For a lot of folks, a futon is a piece of furniture that doesn't get a lot of attention. Futons get a bad rep as small and cheaply-made. But there are a lot of retailers and brands out there designing futons that look and feel just as comfortable as the best loveseats or three-seat couches out there.
Futon mattresses are actually pretty ingenious, perfect in a guest room, studio apartment, a dorm room, or any small space you can imagine.
To help you find the best futons and futon frames, I reviewed pieces from over 25 different brands and pared them down into the most pet-friendly, the best memory foam futon, the best futon for small apartments, best for guest rooms, best dorm room futons, best twin size, best easy assembly, and best wood frame.
How I Chose the Best Futon
Similar to my other reviews, I analyzed each piece of furniture for comfort, durability, overall style, materials, and construction. I also tested out the full functionality of each one in the upright positions and with the mattresses extended to see which futon is the best lounger out there.
The Best Overall Sofas of 2023
To help you find the best deep seat sofa, I tested individual models from over 23 different brands. These are the best new sofas with extra deep seats that balance the best in design, price, sustainability, and durability.
Best Futon Sofa Beds of 2023
Brand
Best For
1

Editor's Choice

Comfort
Shop Now
2

Wooden Frame
Shop Now
3

Pets
Shop Now
4

Memory Foam
Shop Now
5

Guest Rooms
Shop Now
6

Dorm Rooms
Shop Now
7

Easy Assembly
Shop Now
8

Small Apartments
Shop Now
1
Editor's Choice
2
3
4
5
6
7
8
Best For:
Small Apartments
1. Nirvana Futons Westfield Set
Price: $429
Category: Most Comfortable Futon
Dimensions: 81″ width x 32″ depth x 33.5″ height
Upholstery options: one fabric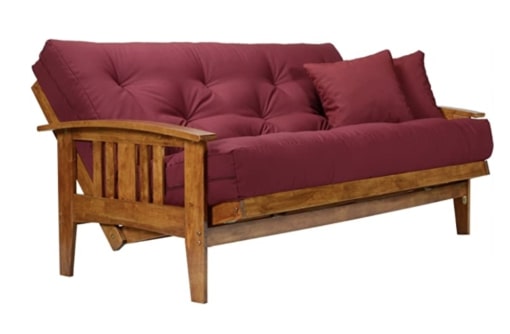 What I Loved
While Amazon may not always be the most enjoyable shopping experience for larger pieces of furniture, I was pleasantly surprised by the Nirvana Westfield set. This wood frame futon stood out as the classic example of what an American futon is: good woodworking and craftsmanship coupled with an incredibly comfortable futon mattress.
I loved the capability to order it with or without assembly. For the purpose of this test, I ordered without assembly to see just how easy it was to put together. Overall, it's about as easy to assemble as your average IKEA equivalent.
All in all, the solid hardwood frame felt sturdy. And coupled with the high-quality, comfortable futon mattress, I loved the three positions you could set: upright for the regular sofa position; a reclined lounging position, and folded down for a regular bed. I loved the 8″ queen-size twill and microfiber tufted mattress that felt much more plush than a lot of sofa beds I've tried before.
What I Didn't Love
While I personally didn't experience this, a few negative reviewers complained about receiving the wrong size futon or the completely wrong product.
Most Comfortable Futon: Nirvana
2. Okinawa Bi-Fold Wood Futon Frame
Price: $651.92
Category: Best Wooden Futon Frame
Dimensions: not available
Upholstery options: mattress and duvets sold separately; options for hemp, wool, organic cotton, latex, coconut fiber mattresses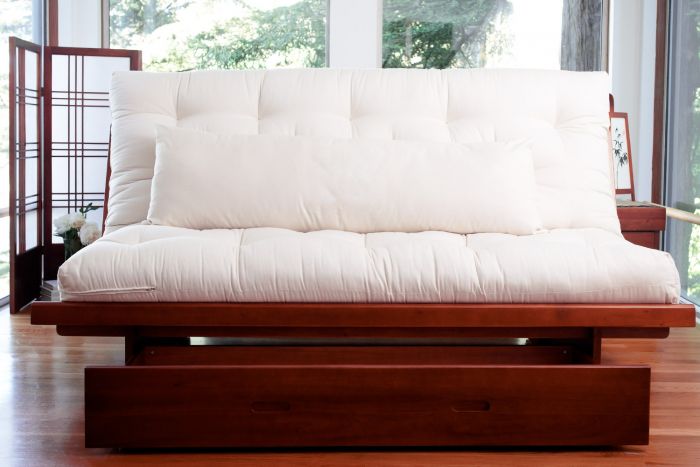 What I Loved
As someone who loves Japanese interiors and architecture, I'd be remiss in putting together this list and leave out a design that exemplifies traditional futon design. Futons are originally Japanese, and in a traditional context, include the actual mattress "shikibuton" and a matching duvet, "kakebuton," and very rarely a wooden frame. traditionally, futons didn't differ much from their contemporary Western counterparts. They were prized for their versatility, as traditional Japanese bedding is rolled up and stored for most of the day to make room in a primary living space.
And while importing furniture from Japan has historically been incredibly expensive, there are a ton of sites featuring authentic, traditional-style futons. When I came across The Futon Shop, their authentic, well-crafted mattresses, minimalist futon frames, and accessories were exactly what I had in mind for a futon I'd actually like to live with as a combination loveseat and regular bed.
The Okinawa Bi-Fold is incredibly well-designed, featuring two positions: folded up for a sofa and folded down for a queen-size sofa bed that comfortably sleeps anyone around 6 feet tall. Although it was on sale for about $650, its rich solid wood mahoganny frame made it resemble some much pricier George Nakashima loveseats that generally fetch over 5-figure prices at auctions and replica design studios.
I loved the smooth-rolling drawer underneath for added storage, and coupled with an organic cotton mattress, I actually had a great night of sleep. All in all, it's a pricy splurge once you factor in delivery plus the added mattress, which The Futon Shop sells, starting at $300. However, I think it's definitely worth it if you're seeking a stylish, functional, timeless piece of furniture you'll love for many years to come.
What I Didn't Love
While the Okinawa Bi-Fold wooden frame is one of the most stunning pieces of furniture I've seen in furniture, I really would have appreciated a bundle that included the mattress instead of having to spend over $300 for add-ons like mattresses and mattress covers. However, if you want the option to customize and buy your own futon mattress, this may actually be a positive point.
3. Porch & Den Kern Full-size Futon Frame and Mattress Set
Price: $221.39
Category: Most Pet-Friendly Futon
Dimensions: 79″ width x 37″ depth X 33″ height
Upholstery options: 12 fabric options, 3 suede options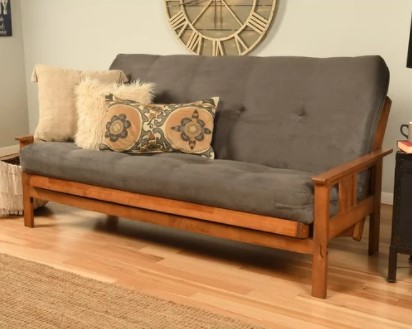 What I Loved
Like some of my other reviews, I brought in some friends who have pets since I don't have any of my own. Out of all the futons I tested, this is the one that held up the best to hair, scratches, and the occasional stain.
With a It did require assembly, but again, no more difficult than your typical IKEA What I Didn't Love
While it was definitely one of the best, low maintenance futons on this list, I personally didn't find it too comfortable to spend the night on. Though it's worth noting the terrier who tested this with me seemed pretty rested after a quick nap.
4. Mozaic Cotton Twill Foam Futon Mattress
Price: $207.75
Category: Best Memory Foam Futon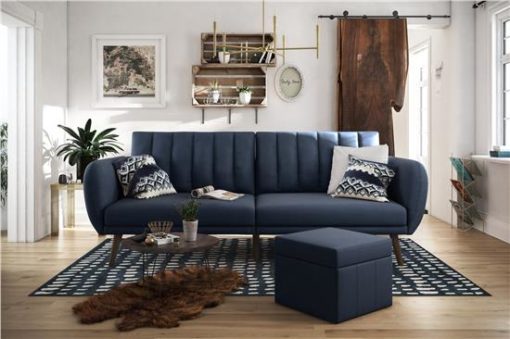 What I Loved
I love sleeping on a memory foam mattress. So, my philosophy is: if I have guests staying the night, why not treat them to the same level of comfort I'd want for myself? That's where a memory foam futon comes in. While they're definitely more niche within the futon market, there are some great options out there, like the Mozaic Cotton Twill Foam Futon Mattress set from Amazon.
The memory foam felt just as comfortable for a night's sleep as a Zinus or Helix mattress. I found it almost as easily adjustable as the other top contenders on this list. And for a little over $200, it was a great deal on a comfortable memory foam futon.
What I Didn't Love
Assembly wasn't as easy compared to the other top futons on this list. Plus, I noted several critical reviews that complained about missing pieces and parts.
5. The Novogratz Leyla Loveseat
Price: $ 308.99
Category: Best Futon for Guest Rooms
Dimensions: 60″ width x 30″ depth x 32" height
Upholstery options: 9 different color fabric options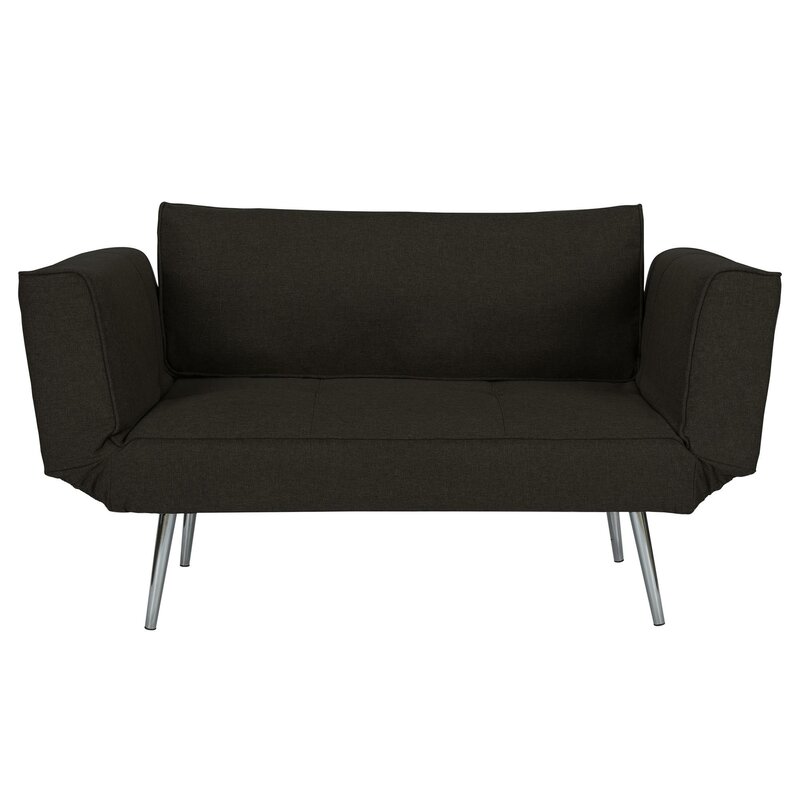 What I Loved
Novogratz is a popular online furniture brand that specializes in furniture for almost any room, all at great prices if you're looking for some good deals or you're furnishing your entire home on a budget. I love their price-conscious, democratic approach to home decor and furniture design, which is somewhat similar to IKEA but with a wider range of furniture styles.
What I loved about this Novogratz loveseat is its versatility. Not only is it a great small space sofa, it easily folds down into a twin-size futon mattress for overnight guests. With 9 different colors to choose from, it's easy to see this futon in a lot of different bedrooms, offices, studio apartments, or living rooms.
What I Didn't Love
It was fine for a quick nap but not really something I'd recommend spending an entire night on if you actually want to get a good night's rest.
6. Room Essentials Black Futon
Price: $239.99 to $268.99
Category: Best Futon for Dorm Rooms
Dimensions: 56″ width x 19.5″ depth x 30″ height
Upholstery options: 3 fabric options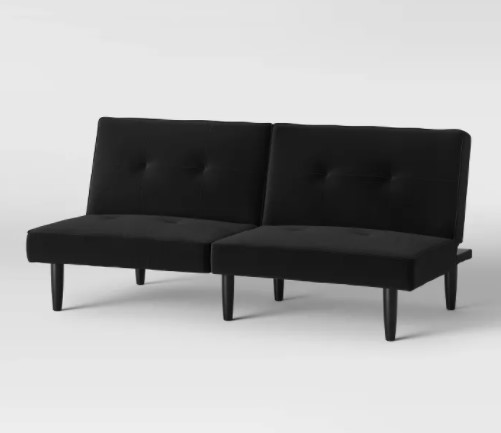 This futon bed comes with cup holders and an easy fold-up or down position. With faux leather and a metal frame, this minimalist, stylish futon is still durable and very easy to assemble in just a few easy steps. To convert to a bed, all you need to do is recline the backrest and remove the armrests.
7. Best Choice Modern Faux Leather Sofa and Futon Bed
Price: $159.99
Category: Best Easy-Assembly Futon
Dimensions: 69″ width x 33″ depth x 30″ height
Upholstery options: one faux leather option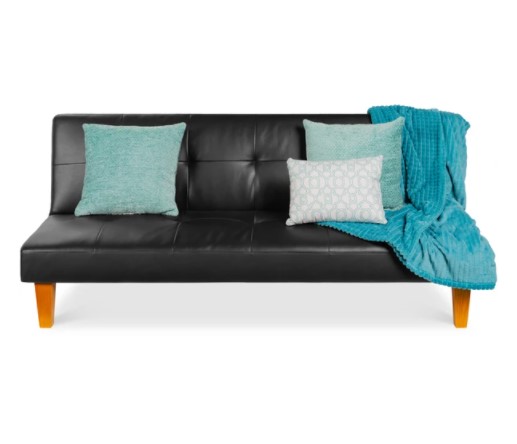 What I Loved
While a few of the top choices on this list required assembly, this was by far the most straightforward one to put together. I was able to get it assembled and fully functional within 20 minutes.
It's minimal, a good bargain, and has a sturdy metal frame. If you're looking for an easy-assembly futon that saves you table space with solutions like cup holders, this is the futon bed for you.
What I Didn't Love
I'm personally never a fan of faux leather upholstery, so this one isn't for me.
8. The Novogratz Elle Loveseat
Price: $304
Category: Best Futon for Small Apartments
Dimensions: 69″ width x 29″ depth x 31" height
Upholstery options: 3 fabric options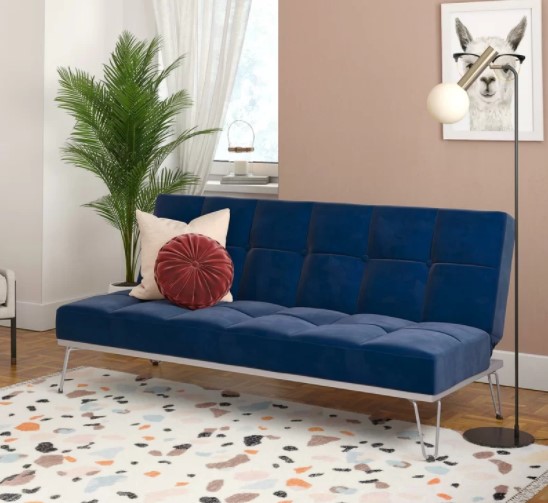 What I Loved
I don't know about you, but I've lived in some pretty small apartments. At one point, I had a 200-square foot studio with a galley kitchen and a sleeping/living space that was beautiful and sunlit, but couldn't hold much other than a twin-size bed, an accent chair, and a bookcase. So, when it comes to small-space furniture, I definitely know what I'm talking about.
Another Novogratz favorite, the Elle loveseat is definitely something I could have used back then. It has chic, tufted back cushions and seat cushions, giving it the look of a modern, mid-century modern sofa when folded up. But when you recline the back cushions, you get a comfortable enough mattress perfect for overnight guests or if you truly need to economize on space and use it full-time.
What I Didn't Love
Similar to some of my past studio apartments, it's great in the short term but I have doubts as to its long-term viability. This was a comfortable futon, but I don't know that I'd want to spend every night of my life on it.
Where to Find Your New Futon
Not into any of my top picks? No problem! Check out more great Home of Cozy resources to help you find the best small-space modular sofas along with the best online sofa brands for added convenience if you can't make it to a physical showroom.
Shop online and you can also find amazing deals on quality futons from Amazon, Wayfair, Walmart, West Elm, and many more retailers.