Futons are a great option for anyone seeking a multi-functional piece of furniture. That's because futon frames can be moved into different positions, typically a seating position and a flat, bed position.  
In addition, futon mattresses are a great fit for a range of homes and situations whether it's small spaces, guest rooms, or studio apartments. 
In this article, we're going to share the best futons available in 2020 to help you make your purchase. We'll break down the process for how we review futon mattresses and also how we categorize them. 
This list will include the most comfortable, the most pet-friendly, the best memory foam, the best for small apartments, best for guest rooms, best twin size, best dorm rooms, best for easy assembly, and best wood futon.
How We Chose the Best Futon Couch
When reviewing sofas we consider a number of factors including comfortability, durability, aesthetic, functionality, and construction. 
When it comes to futon sofa beds, we look for things like memory foam mattresses, whether the lounger is a love seat or standard size, adjustability, living space usage, and sleeping space of the futon bed. 
Here's a breakdown of our top picks!
Best Futon Couch Beds of 2020
Price: $429
Category: Most Comfortable Futon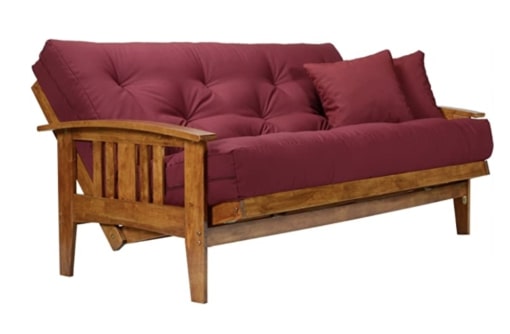 The Westfield Futon by Nirvana is artisan crafted with a solid hardwood frame. This high-quality, ultra-comfortable futon comes in three positions: sofa, lounging, and bed. It comes with a comfy 8 " plush, queen-size twill and microfiber tufted mattress made with a multi-layer of poly-cotton and four layers of high-density foam.  
Price: $249
Category: Most Pet-Friendly Futon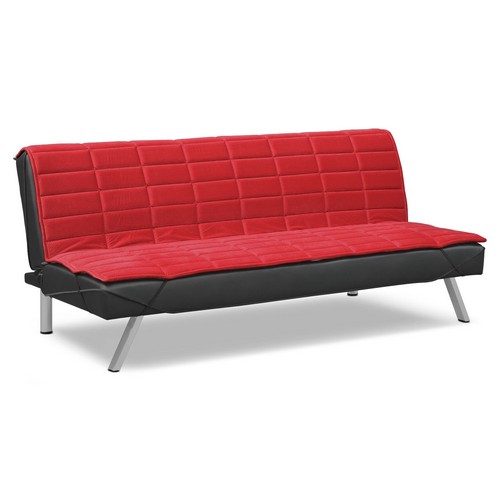 The Lotus is a low maintenance, easy going sofa futon, great for your furry friends as well. With just a click, this sofa can easily adjust for day or nighttime use. It's faux leather with microfiber cover upholstery makes it easy to clean and durable for your four-legged pals! It makes a great addition to your home office, guest bedroom, den, or basement.    
Price: $207.75
Category: Best Memory Foam Futon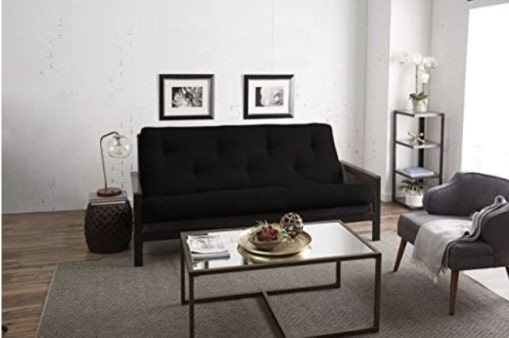 Price: $308.99
Category: Best Futon for Guest Rooms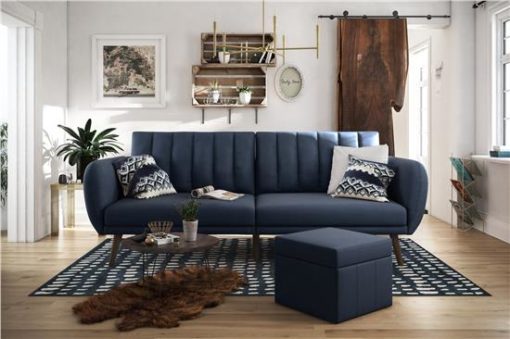 The Novogratz Brittany is the perfect place for your overnight guests to rest for the night. This twin-size futon guest bed is a gorgeous mid-century design with a tufted, split backrest that can be adjusted in three ways for the ultimate comfortability. This futon is upholstered with a durable linen that's easy to clean and ultra-comfortable.
Price: $239.99 to $268.99
Category: Best Futon for Dorm Rooms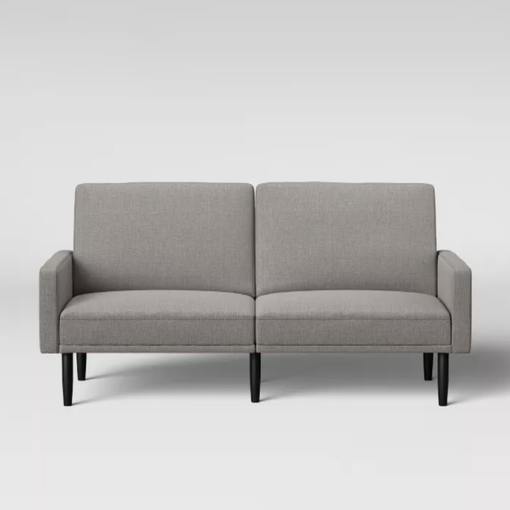 The Room Essentials line by Target was specifically designed for dorm rooms and first-time apartments with limited space. This bifold split back, futon is a high-quality, durable option for students who need multi-functional pieces good for sleeping and studying. 
Price: $159.99
Category: Best Easy Assembly Futon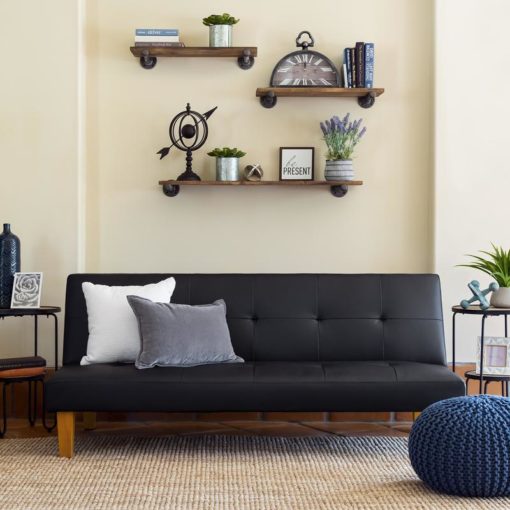 This futon bed comes with cup holders and an easy fold-up or down position. With faux leather and a metal frame, this futon couch is stylish and durable and very easy to assemble, in just a few easy steps. To convert to a bed, all you need to do is recline the backrest and remove the armrests.
Price: $219
Category: Best Wood Futon
The Eldorado solid hardwood futon comes with a suede microfiber mattress that adds a striking addition to any living space. With it's sturdy wooden frame, plush 8 " mattress, and full-size storage drawers, the Eldorado adds superior comfortability and functionality to your home. 
Price: $304
Category: Best Futon for Small Apartments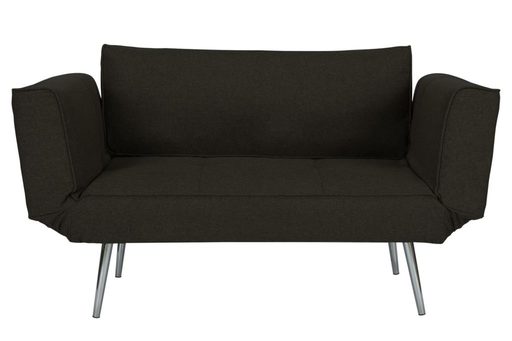 The Leyla loveseat split-back sleeper is the perfect solution for those with limited space. It's innovative, multi-functional design converts easily into a bed by folding down the armrests. Additionally, it comes with magazine storage to help you get the most functionality for your small space. 
Where to Find Your New Futon
If you're not seeing what you like on this list, we'd suggest checking out our compilation of best online sofa brands and small space modular sofas to fill your futon needs. Many of these picks can be found on large retailers like Amazon or Wayfair, but we always encourage you to shop around with the smaller brands we trust as well.