If you're living in a small apartment or other compact space and are looking for a plush and comfy sofa or sectional to be the focal point of your small living room, we've got you covered. From Allform to Crate & Barrel, we're bringing you the best small space couches with a wide range of styles and upholstery.
We previously covered this to an extent in our guide to small space modular sofas, but we're opening it up to non-modular brands here for your lounging needs.
5 Best Sofas for Small Spaces
1. Loveseat with Chaise by Allform
Price: $1445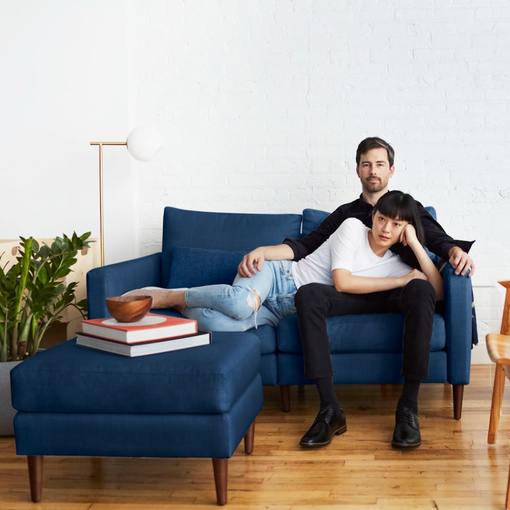 Allform specialize in high-quality sofas designed with versatility, quality and affordable prices in mind. It tops our list because of the high level of craftsmanship that goes into these sofas. From high-density foam seat and back cushions to the hardwood frame made from maple and poplar, Allform is a winner in our book.
The brand makes everything from sectional sofas to loveseat sofas for smaller spaces. Allform also offers a forever warranty on its hardwood frame and a 100-day trial period for those who want to try it out before committing to a long-term purchase.
What real customers loved about the Loveseat with Chaise by Allform
Customers love the colors and think the high-quality materials in these sofas are soft and comfortable, with a perfect deep seat. They also like the casual, easy styling and simple assembly. Plus, you can get it delivered right to your home.
Drawbacks or Flaws
Some customers said that the price was a little out of their range, but with furniture, you get what you pay for. And although the product is shipped directly to your home, Allform does not yet offer in-home delivery.
2. SODERHAMN Sofa by IKEA
Price: $599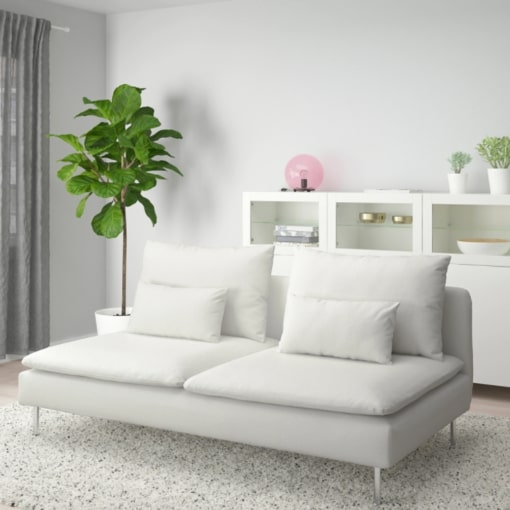 IKEA is mostly known as a value brand, but the SODERHAMN made our list both for its quality and style. It's got big retro style in a small package. The minimalist look is accompanied by plush seat cushions and an armless design.
What real customers loved about the SODERHAMN Sofa by IKEA
Customers enjoy the durability of this armless, two-seater microfiber sofa. As mid-century modern sofas go, customers really love this sofas lounge-ability and straight-forward assembly. This sofa is also available with armrests if you prefer.
Drawbacks or Flaws
Some customers feel that the online colors do not always match in person. As with any IKEA furniture, assembly is a bit of an ordeal as well.
3. Petrie Midcentury Apartment Sofa by Crate & Barrel
Price: $1799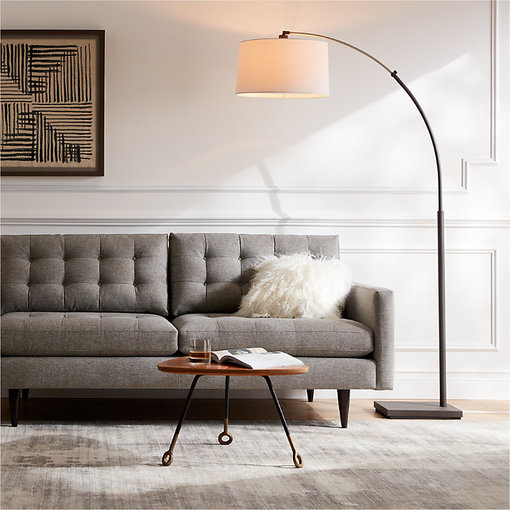 This square arm sofa is perfect for your limited square footage. It's durable solid wood frame is accompanied by a stylish look with clean lines, tufted cushions and compact design for your small space.
What real customers loved about the Petrie Midcentury Apartment Sofa by Crate & Barrel
Customers enjoy the light great color and have commented that the fabric is soft and comfortable while the wood frame balances with the stability and firmness you need in a couch.
Drawbacks or Flaws
Shoppers report that the stitching near the tufting buttons starts to wear after only 5-6 months and that stuffing starts to also break through these weak stitch points as well.
4. Mid-Century Tufted Shay Sofa by World Market
Price: $799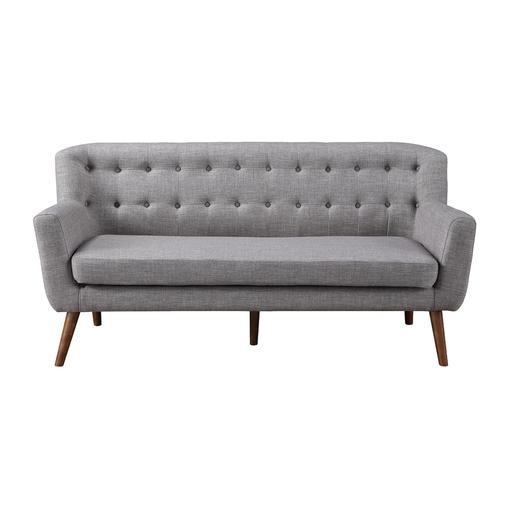 This small space sofa is perfect for those looking for a simple design that's easy on the eyes. The compact couch is available in three tastefully curated colors.
What real customers loved about the Mid-Century Tufted Shay Sofa by World Market
Customers enjoy the clean lines, button-tufting, and sloped wingback-style silhouette of this sofa. They also enjoy the smooth woven fabric upholstery for a stylish, but relaxing sofa that's perfect for a small living space.
Drawbacks or Flaws
Some customers have complained about the lack of selection in terms of sofa color choices available. They also aren't fond of the assembly required for the sofa.
5. Chelsea Apartment Sofa by Joybird
Price: $1395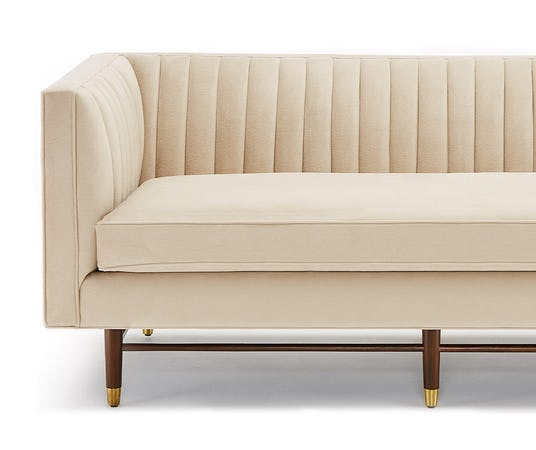 This small space sofa appeals to those looking to mix a chesterfield silhouette with a more modern settee-style design. It has a range of customizable options, including velvet upholstery and a range of interesting color options.
What real customers loved about the Chelsea Apartment Sofa by Joybird
Not only do customers love the look and feel of this modern sofa which is available in a variety of fabric and leather sofa options- they also love the customer service. Shoppers have said ordering, delivery, and trouble-shooting are expertly managed by this manufacturer.
Chelsea Apartment Sofa by Joybird Drawbacks or Flaws
Shoppers have stated that this sofa is perfect for a narrow space but say that you will not be curling up to watch Netflix on this one. So you may be sacrificing some comfort for style here.
The Best Overall Sofas of 2021
To help you find the best deep seat sofa, I tested individual models from over 23 different brands. These are the best new sofas with extra deep seats that balance the best in design, price, sustainability, and durability.
Some Tips for Buying Small Sofas
Complete your look with a few add-ons
To really pull your whole look together, opt for some additional home decor such as a coffee table, throw pillows, or blankets and you'll be ready for a movie binge in no time.
Get a multi-purpose sofa to maximize available space
If you want to make the most of your small space, easily turn your living room into a guest room for visitors by purchasing a futon or sleeper sofa instead of a traditional sofa. Having a sofa bed will help you maximize that square footage.
Small sofa alternatives
Not feeling any of the sofas we mentioned here today? Check out some of our favorite online sofa brands and places to buy a sofa.
Note that this is a limited list, and you should definitely do your due diligence and check out some other brands like Urban Outfitters, Novogratz and more.