If you're living in a small apartment or other compact space and are looking for a plush and comfy sofa or sectional to be the focal point of your small living room, we've got you covered. From Allform to Crate & Barrel, we're bringing you the best small space couches with a wide range of styles and upholstery.
We previously covered this to an extent in our guide to small space modular sofas, but we're opening it up to non-modular brands here for your lounging needs.
5 Best Sofas for Small Spaces
Brand
Best For
1

Editor's Choice

Quality, Functionality
Shop Now
2

Cleaning
Shop Now
3

Midcentury Style
Shop Now
4

Smallest Sofa
Shop Now
5

Fabric Choices
Shop Now
1
Editor's Choice
Best For:
Quality, Functionality
2
3
Best For:
Midcentury Style
4
5
1. Loveseat with Chaise by Allform
Price: $1,445
Overall Dimensions With Chaise: 63" width x 34" height. Chaise depth: 61″. Arm depth: 38″
Seat Dimensions: 27" width x 24" depth x 17" height
Frame Materials: kiln-dried laminated hardwood frame
Upholstery Options: 7 performance fabric, 2 leather options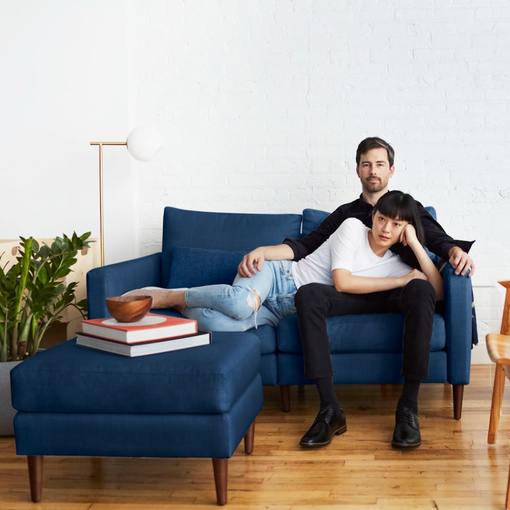 What I Loved
Allform takes the top rankings across Home of Cozy's reviews for both modular and small space sofas in general, and for plenty of good reasons too! Allform is a company that approaches furniture design intuitively, for the way people actually live their lives.
When it comes to sofas for smaller living spaces, Allform balances value, aesthetics, durability, and modular design. Because all of their seating is modular, you can literally start with an armchair or loveseat and add on pieces to create a full-size sofa or sectional that evolves with you.
But if you're just furnishing a small apartment or studio, the loveseat with a chaise lounger is by far the best option out there. Shopping online with Allform is a breeze, from the intuitive site down to the individual customization options. Plus, you can choose add-ons you likely won't see from other furniture brands and eCommerce sites like weighted pillows.
The loveseat and chaise combo was beyond comfy, with high-density foam cushions, performance fabric upholstery, and espresso wood legs lending the sofa a much more expensive look and feel than your typical small space sofa.
In terms of customer service and care, I loved how every frame is backed by a lifetime warranty. Plus, they make it easy to put your sofa or loveseat on a payment plan through Klarna or Katapult depending on your credit.
What I Didn't Love
This is a sofa you have to assemble yourself. That said, its ease of assembly is the reason I rated Allform higher than both the IKEA and Joybird sofas below.
2. SODERHAMN Sofa by IKEA
Price: $599
Dimensions: 73 1/4″ width 39″ depth x 32 5/8″ height
Frame Materials: steel frame
Upholstery Options: 5 fabric options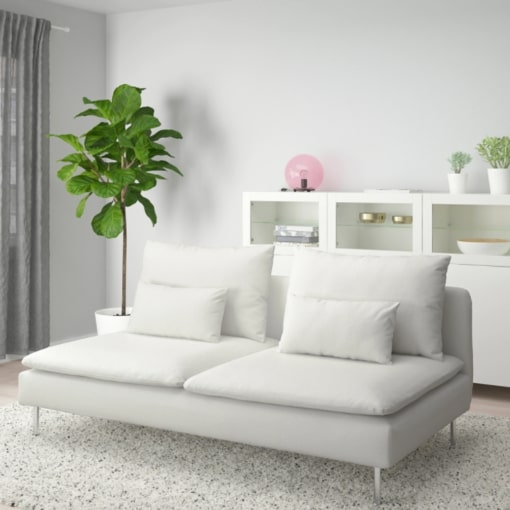 What I Loved
While not a modular design like Allform's loveseat, I love the SÖDERHAMN line's approach to small space living. This sofa maximizes its footprint, making it the perfect all-day lounging element without overly-stuffed back or armrests occupying too much space. In fact, there are no armrests at all, making this a sofa that works perfectly depending on the size and configuration of your space.
And while the fabrics weren't as durable as Allform's, I appreciated how easy they were to clean. Plus, the matching throw pillows break up the stark, minimal lines in a way that actually adds a bit of comfort. All in all, this is definitely one of IKEA's best small space couches in recent years.
What I Didn't Love
So, I loved the fabric quality, which is saying a lot considering how IKEA tends to stick to pretty basic upholstery options. However, I have to agree with some of the negative reviews out there that discuss how the product photography doesn't accurately capture how the fabric looks. For instance, I got the FINNSTA turquoise fabric upholstery, which looks closer to a pale blue in real life.
3. Petrie Midcentury Apartment Sofa by Crate & Barrel
Price: $1,799
Dimensions: 76″ width x 36″ depth x 32″ height
Seat Dimensions: 69″ width x 23″ depth x 19″height
Frame Materials: kiln-dried hardwood frame
Upholstery Options: 1 in-stock fabric option, 9 custom fabric, 50+ custom performance fabric options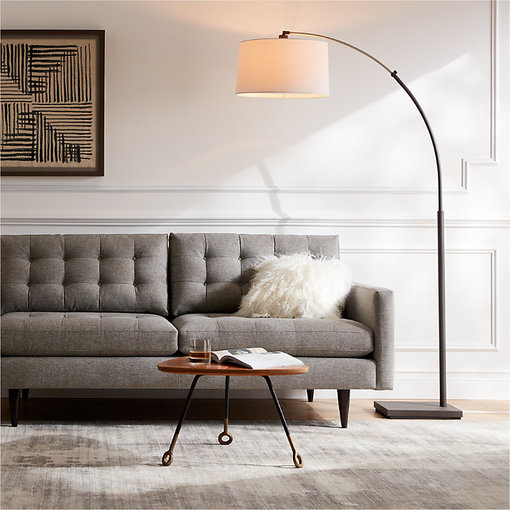 What I Loved
The Petrie Midcentury Apartment Sofa is one of Crate & Barrel's top-rated sofas. And having lounged on it, I can see why. With its square armrests, dark wood legs, and tufted seat and back cushions, it epitomizes the best of midcentury styling and contemporary comfort. Emphasis on the comfort. This sofa was much more comfortable than it looks.
At 76″ wide, you'd think this sofa would be cumbersome and way too big for a small living room, but I personally thought it was really well-proportioned. This square arm sofa is on the narrower side. Plus, it has a 23″ seat depth, it has a pretty slim profile.
Ultimately, the Petrie features a lot of style and comfort for a sofa that will fit a lot of different living spaces.
What I Didn't Love
I loved the clean lines and solid wood frame, but I definitely would love to see more in-stock options for this popular sofa.
Also, didn't notice this myself, but some customers who posted 2 and 3 stars noted some quality issues with the tufting, i.e. buttons starting to come loose within several weeks. Plus, there were some complains about weak and inconsistent stitching on the back cushion.
4. Mid-Century Tufted Shay Sofa by World Market
Price: $799
Dimensions: 68″ width x 30.75″ depth x 31″ height
Seat Dimensions: 57.5″ width x 21.25″ depth
Frame Materials: steel frame
Upholstery Options: 3 options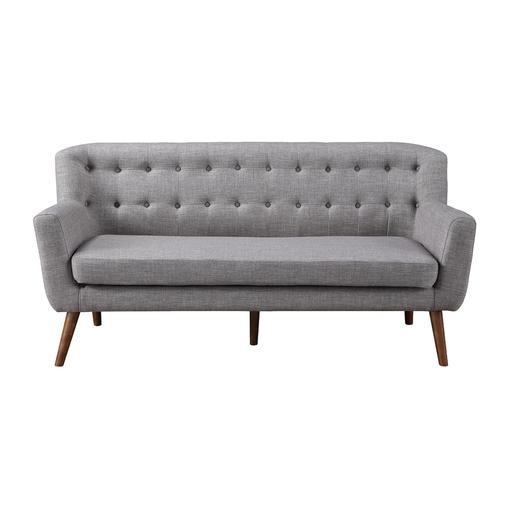 What I Loved
World Market is one of my personal favorites for smaller, accent pieces. I've noted in a few other reviews that their aesthetic direction kind of reminds me of Anthropologie or Urban Outfiftters, but for a fraction of the price and with much more consistent product quality. So, I was excited to try out the Shay Sofa, another tufted mid-century modern inspired design similar to the Petrie by Crate & Barrel.
At 68″ wide and a little over 30″ deep, this is definitely one of the best sofas for smaller spaces based on its size alone. Plus, I loved the slightly curved silhouette in the slim armrests and bach cushions.
And while the cushions weren't as soft as some of my previous top picks like Allform and Crate & Barrel, this is definitely a great deal for a three-seater sofa that would fit effortlessly in a studio apartment or home office.
What I Didn't Love
Like my criticism of the Petrie by Crate & Barrel, I would have loved to have seen more upholstery options for such a versatile, retro inspired design.
5. Chelsea Apartment Sofa by Joybird
Price: $1,395
Dimensions: 74″w x 30″d x 31″h
Seat Dimensions: 60″w x 19″d x 19″h
Frame Materials: Kiln dried hardwood frame
Upholstery Options: 20+ fabric options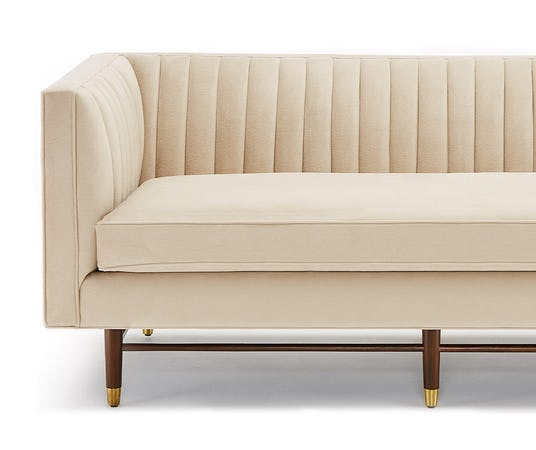 What I Loved
As far as apartment sofas go, this one definitely lives up to its name. I've always been a fan of Joybird, and this one just might be one of the most comfortable Joybird sofas I've tested for Home of Cozy. It doesn't hurt that it's also one of the most stylish designs in my top picks for small space couches.
I loved the unique rippled back cushion and minimal Chesterfield silhouette. Plus, its gold-capped wood legs added a chic, luxurious take on mid-century design. The clean lines of the bench-style seat cushion balanced the whole design out. And honestly, it felt great lounging on it for as stylish as it is. It's definitely a sofa with substance and style.
Also, I'm happy that all my gripes about retailers lacking upholstery choices ended with this one. The Joybird is famous for its classic three-seaters, sectional sofas and loveseats that come in a kaleidoscope of fabrics from leather sofa upholstery and pet-friendly options to microfiber.
What I Didn't Love
There wasn't much to dislike. I didn't observe any quality-related issues during the test. However, I did see a few negative reviews that disagreed with me on the comfort factor as some customers felt that the cushions were too firm.
The Best Overall Sofas of 2023
To help you find the best deep seat sofa, I tested individual models from over 23 different brands. These are the best new sofas with extra deep seats that balance the best in design, price, sustainability, and durability.
Some Tips for Buying Small Sofas
Complement your space
Just because you're outfitting your small space, that doesn't mean you have to skimp on style. Small sofas tend to be on the minimal side when it comes to aesthetics and design, mainly because a small space sofa with too many details would just look busy and chaotic.
So, when it comes to your space's home decor, think about the space in its entirety. Start 'small' in a figurative sense, with two to three colors, textures, or materials. In some of my smaller studio apartments, I used a painting as the focal point and built a color story for the room around it, using brighter accent colors and prints in smaller pieces like throw pillows, blankets, or decor pieces and the sofa as a 'visual anchor,' in a navy blue that coordinated with everything else.
Consider Convertible Sofas & Multi-Purpose Couches for Small Spaces
If your small space doubles as a kitchen, living room, home office, and even a bedroom, then you know whatever sofa you invest in has to pull double duty. Get a sofa that isn't just great to lounge in, but is ergonomic enough to support you if you have to work from home and don't have room for a desk and chair. Invest in a sofa with easy-to-clean upholstery in case you get any spills on it.
Also, look into add-ons if your space allows it such as a reclining seat or a chaise. And if you happen to have company over sans guest room, consider a convertible sofa like a futon or sleeper sofa. Just be sure to measure the surrounding area for clearance if you have a pull-out sofa or one that folds down and expands.
More options for Small sofas
If you're not into any of my top picks for small space sofas, Home of Cozy has more guides to help you find the best online sofa brands and places to buy a sofa.
Plus, you can always look into some great brands like Novogratz, West Elm, Amazon, and
Note that this is a limited list, and you should definitely do your due diligence and check out some other brands like Urban Outfitters, Novogratz and Amazon.