Velvet is the fabric of royalty. Rumor has it that the material's earliest iterations, which were made entirely from silk, could be found lining the throne rooms of ancient Egyptian pharaohs and Shang dynasty emperors! As time has gone on, velvet sofas have become much more attainable.
They're no longer exclusive to royal chambers; nowadays, you can find reasonably-priced cotton and polyester variants from your local home decor store or online shop. Still, velvet upholstery maintains its millennia-old allure and traditional silky-smooth feel. And, when spread across the right sofa, it transforms your living space into its own kind of modern-day palace.
For today's guide, I reviewed over 20 of today's best-selling velvet couches. Here are the ten softest and most glamorous models I could find.
How We Chose Our Top Velvet Couches of 2023
Evaluating velvet couches requires a more hands-on approach than, say, the best minimalist sofas. After all, the in-person look and feel of velvet are what makes it so special. That's why I spent dozens of hours researching and physically testing various velvet-clad couches, including sectionals, loveseats, chaises, sleeper sofas, and more. Here's a list of the criteria I used to uncover the best models:
1. Quality – I started my review by examining each sofa's overall craftsmanship, carefully inspecting seams and joints for attention to detail and durability.
2. Comfort – A big part of velvet's appeal is its silky-smooth touch, which feels best when paired with dense, cozy cushions that offer just enough firmness for proper support.
3. Aesthetics – Velvet sofas come in many shapes and sizes, with designs inspired by everything from traditional Chesterfields to mid-century modern sectionals. I did my best to include the best within their respective categories.
4. Assembly – Piecing together a modern velvet sofa should be relatively simple, with clear, concise instructions and a two-hour (or less) assembly time.
5. Sustainability – The team at Home of Cozy aims to promote sofas made from eco-friendly materials sourced from sustainable, carbon-neutral supply chains.
Our 10 Favorite Velvet Couches Of 2023
Brand
Best For
1

Editor's Choice

Overall
Shop Now
2

Sectional
Shop Now
3

Small Spaces
Shop Now
4

Family & Pets
Shop Now
5

Budget
Shop Now
6

Luxury
Shop Now
7

Sofa Bed
Shop Now
8

Accent Chair
Shop Now
9

Chestrfield
Shop Now
10

Reclining
Shop Now
1
Editor's Choice
2
3
4
5
6
7
8
9
10
Our review took all of these elements into account. And, the results speak for themselves. In the list below, you'll find the coziest and most luxe velvet sofas on the market, options that showcase this gorgeous upholstery in all its vibrancy.
Price: $1,359+
Dimensions: W84.3″ x D39″ x H31.1″
Frame materials: Solid wood & plywood
Upholstery options: 1 velvet option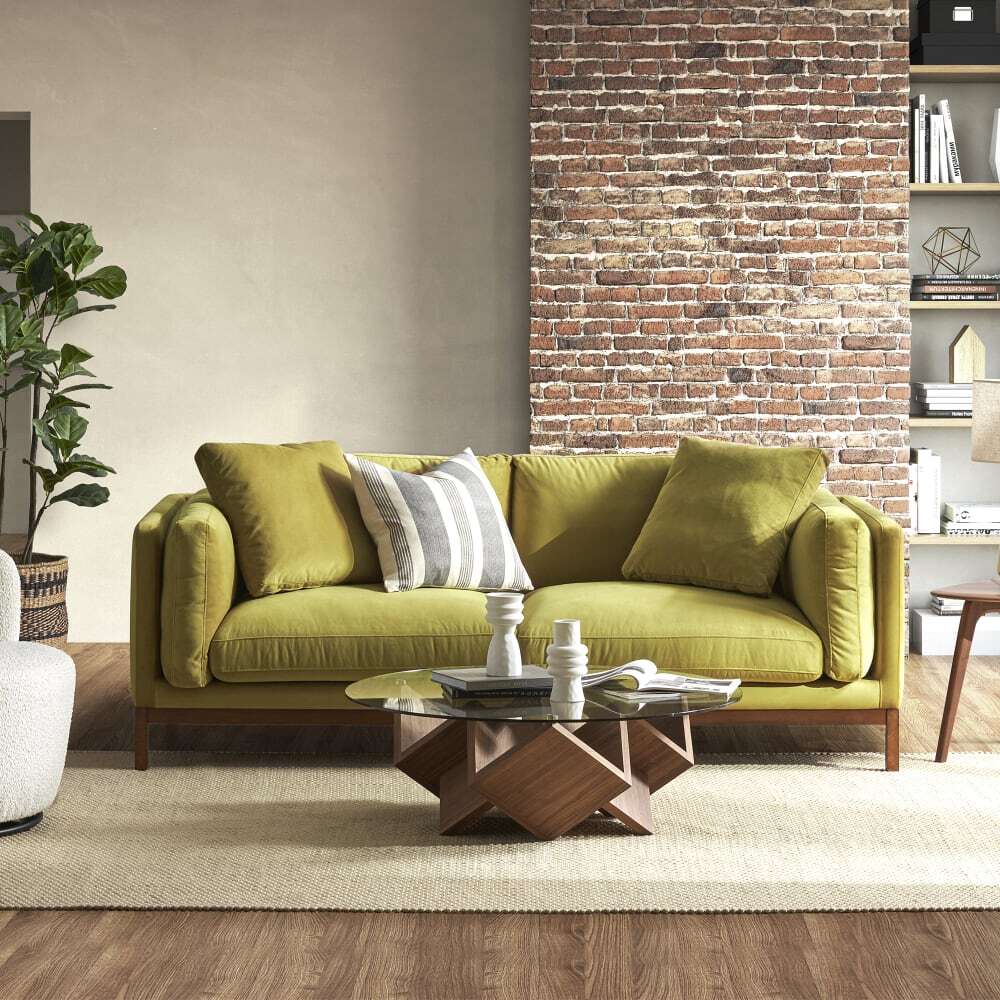 What I Love About This Castlery Sofa
It's hard to pinpoint precisely what sets the Owen Sofa apart from the pack. It's less a specific feature and more a combination of all the elements that make velvet sofas so delightful in the first place. With that said, we have to start somewhere — so I suppose we'll begin with its looks.
The Owen Sofa features a gorgeous mid-century silhouette clad in silky-smooth antique gold velvet. It's a bold design choice, slightly tempered by a lighter, mossy hue that only shows up when viewing the sofa in person. This lovely kaleidoscope of colors works exceptionally well with the walnut-stained trim lining the bottom of the couch, creating an earthy and eye-catching focal point in your living room. Of course, the Owen is also exceptionally cozy. Its seat cushions are deep and soft, perfect for snuggling up on a cool winter day or lounging on during an afternoon get-together with friends.
The entire piece comes in at a reasonable sub-$1,500 price point, which is a manufacturing miracle considering the high-quality materials and attention to detail. Alongside the price and shopping experience, I am also amazed by how easy it is to assemble. Just screw in the wood legs, and it's ready to go.
What I Didn't Love
As much as I love this modern velvet sofa, no couch is perfect. My main issue is the Prop 65 warning for Formaldehyde, a cancer-causing agent found in the sofa's plywood. Although it's common in low- to mid-range furniture (and mostly harmless in small doses), I prefer when manufacturers omit it altogether.
I also want to mention that the cushions and armrests feel extra firm during the first few weeks of use. They're never uncomfortable, but you should expect a short break-in period as they soften to their full potential.
Best For: Overall
Price: $2,397.00+
Dimensions: W115.4″ x W70.1″ x H31.5″
Frame materials: Solid kiln-dried ash hardwood
Upholstery options: 1 velvet option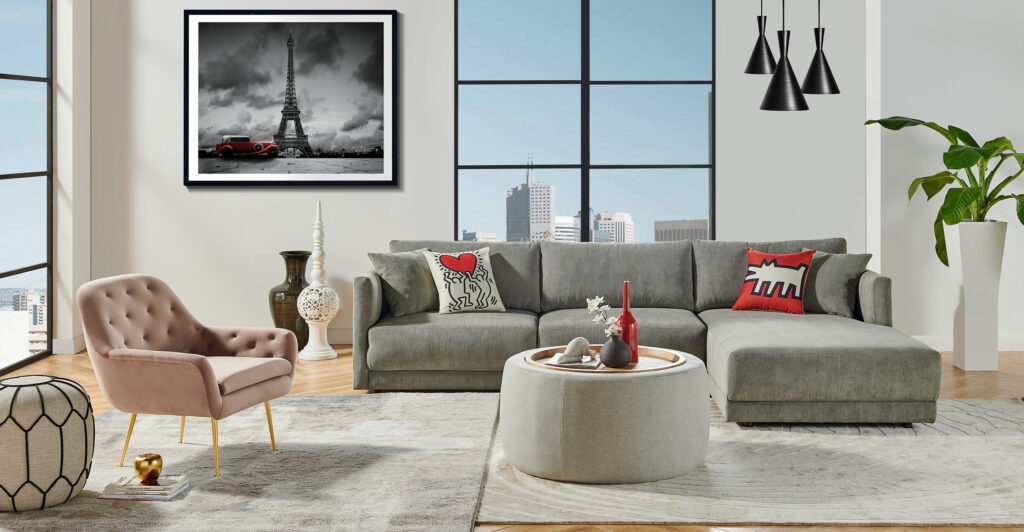 What I Love About This Kardiel Sofa
The Kardiel Domus is among the most spacious velvet sofas I've reviewed. Its 12-foot frame easily supports five people, and up to six or seven if you pile in and use the chaise lounge as extra seating. As you'd expect, the frame is exceptionally sturdy, incorporating kiln-dried ash hardwood construction throughout. The craftspeople at Kardiel clearly believe in the quality of their work, going so far as to pair the Domus with a 365-day in-home trial and lifetime warranty. Although I've never used the warranty myself, I've had nothing but pleasant encounters with Kardiel's team.
Regarding comfort, the Domus Sofa's velvet upholstery is soft and supple, providing a silky base that feels oh so good to brush up against. Look underneath the velvet, and you'll find layers of thick foam atop Kardiel's innovative nylon webbing. Everything comes together to hug your body like a kangaroo pouch, keeping you cozied up and suspended in a relaxed yet upright position.
What I Didn't Love
There's no getting around the fact that the Domus is big, bulky, and cumbersome. While assembly is straightforward, the pieces are heavy and difficult to move. According to the tearsheet, they all weigh in at over 200 pounds! It's best to bring a friend or partner along for the ride.
Also, remember to measure your space twice before purchasing. Although you can send the sofa back if it doesn't fit, believe me when I say that you don't want to deal with the hassle.
The Best Overall Sofas of 2023
To help you find the best deep seat sofa, I tested individual models from over 23 different brands. These are the best new sofas with extra deep seats that balance the best in design, price, sustainability, and durability.
Best For: Small spaces
Price: $760+
Dimensions: W60.63" x D30.7" x H30.32"
Frame materials: Solid wood
Upholstery options: 4 velvet options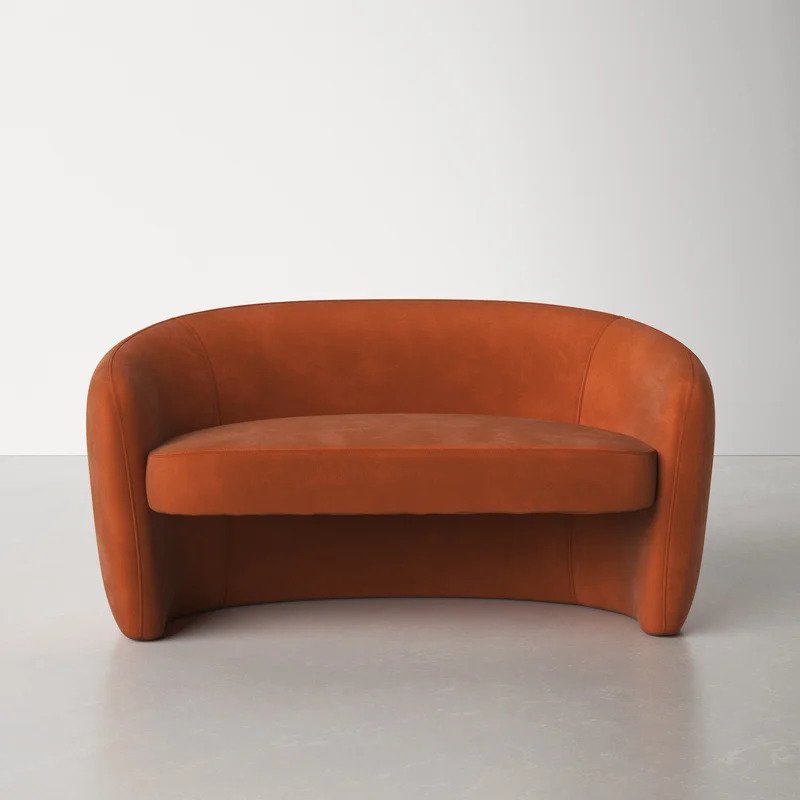 What I Love About This AllModern Sofa
The Kearney Loveseat is as cute and cozy as a bug in a rug. It's the perfect size for tiny homes and apartments, providing a comfy yet supportive seat that's soft and velvety. The 60″ frame and shallow 30″ depth fits perfectly in foyers and hallways, though I personally enjoy it at the foot of a queen-size bed. You can easily walk around it while enjoying a convenient seat whenever you need a breather!
Aside from its cute looks, my favorite part of the Kearney is that there's no assembly required. This sofa comes delivered in a single box. Unwrap it like a Christmas present, and it's ready to go anywhere in your home! Unlike all those Christmas gifts, it doesn't break the bank either. The $760 price tag is accessible to everyone and even comes with free shipping.
What I Didn't Love
As cute and convenient as this settee may be, the Kearney's small size also comes with distinct disadvantages. I measured the sofa's interior seat, and it's closer to 48″ from edge to edge than the tearsheet's 60″ width would have you believe. I fit just fine sitting alone, but things start to feel cramped when seated next to a partner (or even a child).
Speaking of children, I wouldn't recommend the Kearney in a home with toddlers or anyone under kindergarten age. Its asymmetrical design will tip over if you put too much pressure on the front edge.
Best For: Families and pets
Price: $2,290+
Dimensions: W85″ x D35″ x H33″
Frame materials: Baltic birch
Upholstery options: 5 velvet options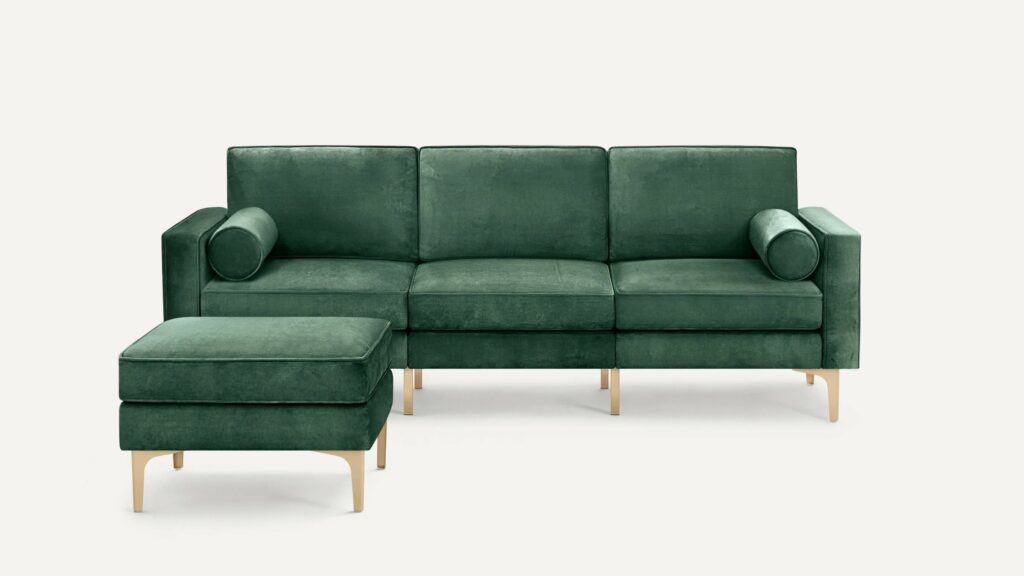 What I Love About This Burrow Sofa
I adore the Nomad's classic mid-century modern silhouette, complete with symmetrical cushions and slim metal legs buttressing the bottom edge. I also appreciate its circular bolster pillows, which are super soft and cozy wrapped in Burrow's buttery-smooth performance velvet upholstery. They also break up the rectangular design while providing extra support when sitting upright and chatting with friends or (if you're like me) the perfect place to rest your head for an afternoon nap.
Although you might not expect it from such a glamorous sofa, the Nomad is ideal for family and pets. It's spectacularly sturdy, complements of the solid wood frame and steel supports. Meanwhile, the matching ottoman ensures space for up to four at a time. Depending on the size of your family, you may be able to fit one more.
The 3-seater sofa comes in one of five colors, including my favorite, midnight navy blue velvet. It also comes in your choice of six leg finishes, including three wood and three metal. If you're looking for the perfect mix, try the midnight velvet and brass metal legs, or pair the green velvet sofa with the natural oak wood finish. These create a whimsical, contrasting aesthetic sure to spice up any space.
What I Didn't Love
Over the years, I've had mixed feelings about sofas with built-in phone chargers. They're convenient, yes. But they're also tacky. Sure, the Nomad's built-in charger extends over 72″ (about halfway across my living room). But so does my wall charger. I want to buy a couch, not an extra electronic prone to breaking.
Another thing to note is that, although Burrow offers free shipping, it can take a while to arrive. Be wary of delays, and factor those in when making plans.
Best For: Budget
Price: $399.99+
Dimensions: W56.3" x D31.1" x H33.1"
Frame materials: Solid & manufactured eucalyptus
Upholstery options: 10 velvet options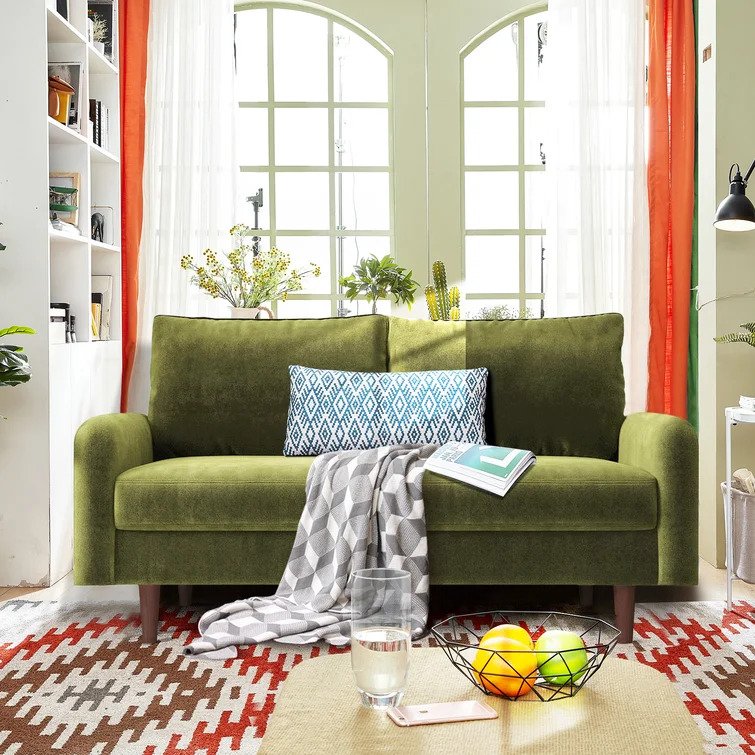 What I Love About This Wayfair Sofa
To be honest, I wasn't expecting much from the Hasaam. After all, most velvet sofas cost a minimum of $1,000, and the Hasaam starts at just $399! But after my review, I can confidently say that it's one of the best round-arm sofas on the market.
The Hasaam features a beautiful, modern silhouette that fits anywhere in your home. The velvet is also quite cozy and pairs well with the supportive foam cushion. Concerning durability, I was surprised to see a solid eucalyptus frame. Eucalyptus is a hard and eco-friendly material, meaning the Hasaam's structure isn't just exceptionally durable but good for the planet. It's everything I could want in such an affordable package, and it comes in ten vibrant colors guaranteed to match any space. With that in mind, I wholeheartedly recommend it to families on a budget.
What I Didn't Love
Although lush, the Hasaam's velvet fabric is thin and prone to ruffling in random places. You may need to spend extra time maintaining the sofa compared to some of the more expensive options on our list. Fortunately, Home of Cozy has a handy guide at the ready.
Best For: Luxury
Price: $3,799+
Dimensions: W118.2″ x D78.8″ x H26″
Frame materials: Kiln-dried hardwood
Upholstery options: 10 velvet options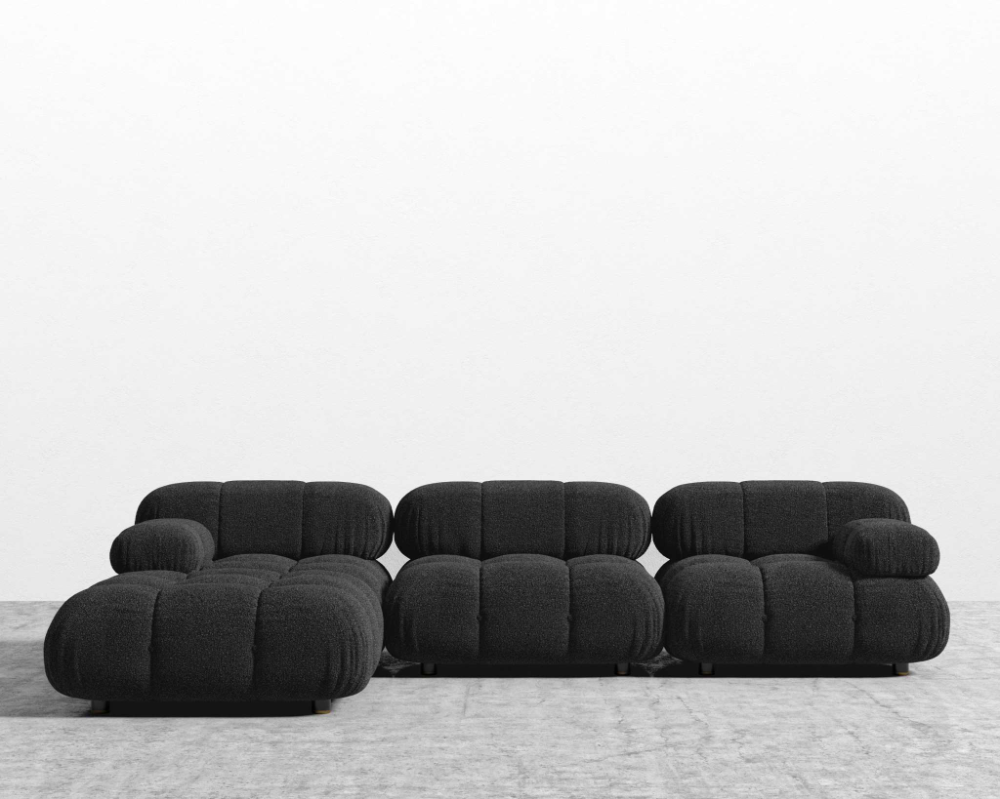 What I Love About This Rove Concepts Sofa
It's hard to compare the Belia to other velvet sofas, as it doesn't look or feel like anything else I've ever reviewed. To be sure, its strange curves and design accents are unique and novel in this space. I can say, however, that the sofa is incredibly comfortable in its own right, with several tufted layers of velvet-wrapped foam that you can have customized to your precise specifications.
Concerning size, the Rove Concepts Belia is as big as a rocket ship. It measures roughly 12 feet and features a chaise that extends seven feet forward. It's perfect for stretching out and relaxing, and it makes an exceptional extra bed for guests (though you may want to add a pad). I also enjoy the Belia's spacious armrests. They're thick and ultra-soft, great to lean against when watching the tube or lounging against with a book and a glass of wine.
What I Didn't Love
The Rove Concepts can seem jarring, with a strange silhouette unlike others you may have seen. It only works in particular environments, with particular decor. If you're not a designer, I'd consider bringing one on board to help you match the sofa to its environment. Of course, hiring a designer isn't cheap — but neither is the Belia. If you're not a Rove Concepts member, it'll set you back a whopping $4,749, possibly more, depending on customizations.
Best For: Sofa bed
Price: $469.99+
Dimensions: W81.5″ x D34″ x H34″
Frame materials: Manufactured wood
Upholstery options: 11 velvet options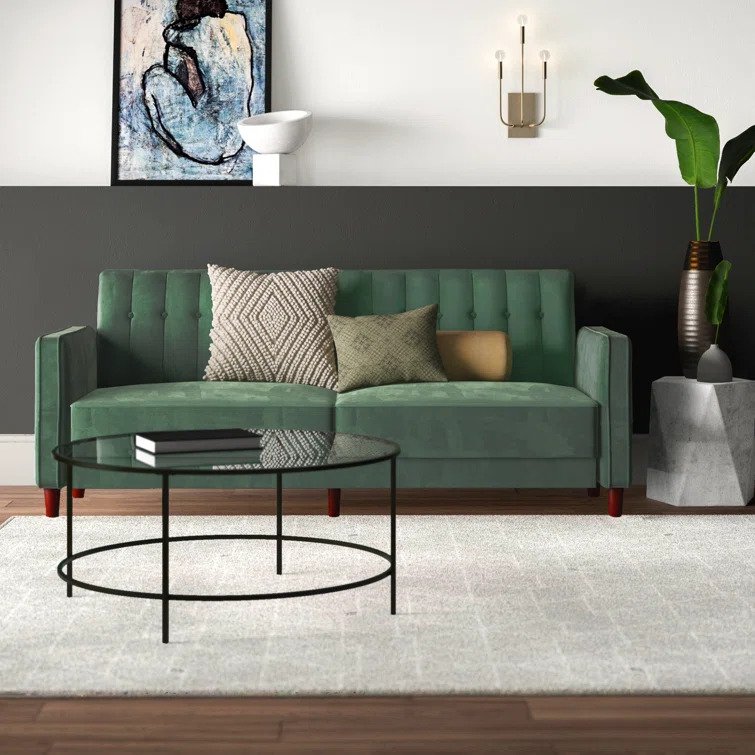 What I Love About This Wayfair Sofa
Most futons share the same lackluster design, with slim, hard-as-a-rock cushions and cheap, cookie-cutter craftsmanship. But the Perdue Sleeper from Wayfair is different — so much so that I didn't even realize it was a futon until getting up close and personal. Instead of those traditionally cheap-looking (and feeling) futon elements, the Perdue features a chunky silhouette, complete with dense cushions, elegant velvet-wrapped square armrests, and gorgeous tufted accents adorning the backrest. It resembles a bonafide sofa, one that I'd be proud to display in my living room.
Of course, it also functions as an extra bed! Once the party's over and things are winding down, you can push on the Perdue's backrest to reveal a twin-size mattress suitable for overnight guests. If my research shows anything, it's that guests absolutely love the sofa's velvet-wrapped cushions. That said, I do recommend adding a light pad for a touch of extra cushioning.
What I Didn't Love
While the Perdue is extraordinarily comfortable for a futon, it's still on the firmer side. I recommend adding a twin-size mattress pad (memory foam, if possible) to give your guests a better night's sleep.
Unfortunately, assembling the futon isn't the most delightful experience. It's not difficult so much as it is time-consuming. Set aside a few hours, and bring a friend, if possible. If you're like me and short on time (or, if you suffer from a sore or tight back), you can also hire a TaskRabbit to help assemble it for you.
Best For: Accent chair
Price: $659+
Dimensions: W41.9″ x D38″ x H34.1″
Frame materials: Solid wood & plywood
Upholstery options: 2 velvet options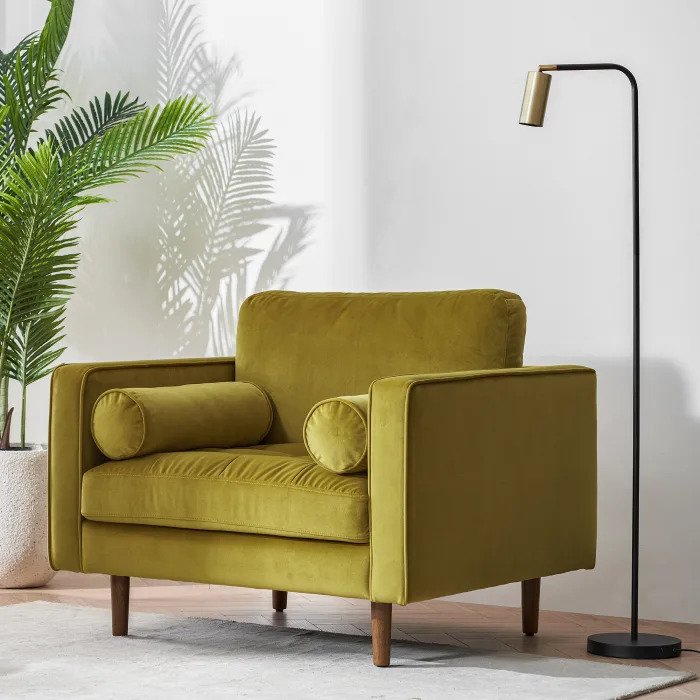 What I Love About This Castlery Sofa
The Madison collection is among my favorites within Castlery's extensive catalog. I adore the classic mid-century vibe, which provides an elegant feel in any living space, especially when clad in the company's silky velvet fabric. Castlery offers this sofa and its matching throw pillows in two colors — a royal gold and a distressed aquamarine. Although the gold is gorgeous, the latter is my favorite of the two. I just love rubbing my hand over the clean aquamarine and watching it change shades from light to dark, almost like the tide as it ebbs and flows across the shore.
Of course, I also love the Madison Armchair's spacious seat. It features a relaxed design, with deep seat and back cushions that blend layers of thick foam with buoyant pocket springs. Meanwhile, the solid wood and plywood construction feels quite sturdy under my 170-pound frame. It's also lightweight, shipping in a single box that you can easily move, unpackage, and assemble yourself.
What I Didn't Love
The Madison Armchair seats a single person yet costs more than the budget sofas on our list. If you decide you love the Madison Armchair and want to get a matching set of couches and bolster pillows, it's going to set you back several thousand dollars.
Although I'll praise Castlery's customer support to my dying breath, I'm not a fan of the company's 14-day return policy. Fourteen days isn't enough time to acquaint yourself with a piece you purchase over the internet, sight unseen. I think Castlery can and should do better.
Best For: Chesterfield
Price: $1,190+
Dimensions: W82″ x D32″ x H30″
Frame materials: Solid oak & rubberwood
Upholstery options: 6 velvet options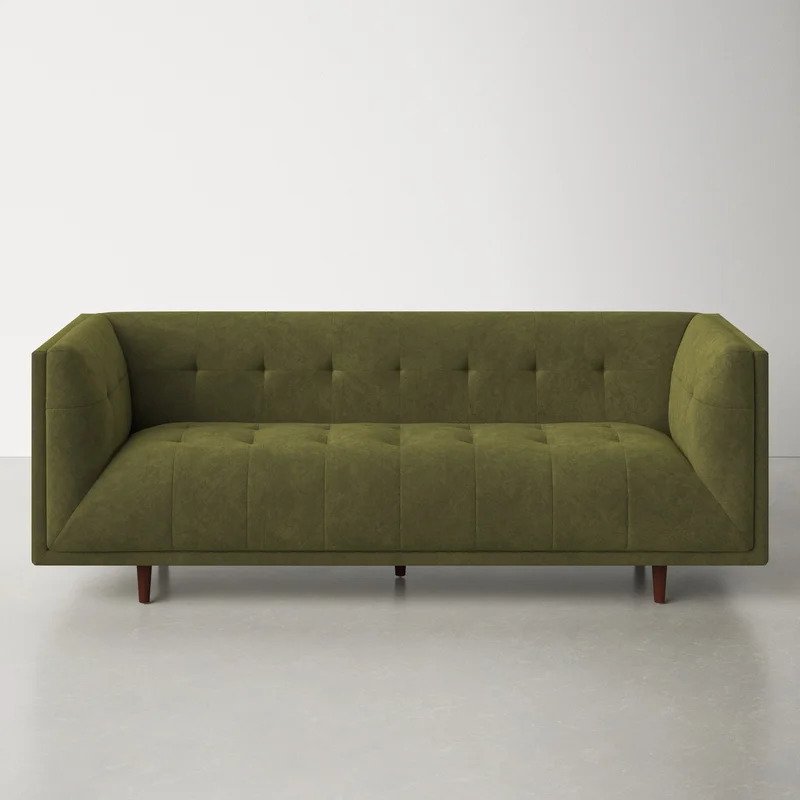 What I Love About This AllModern Sofa
The AllModern George is a Chesterfield sofa reimagined. It takes all the Chesterfield's traditional elements — including a chunky silhouette, tuxedo arms, and intricate tufting — and weaves them into a modern, upscale package wrapped in luscious velvet. Part of the design overhaul includes a revamp of the cushions, which conjoin to create a near-seamless bolster that embraces your body at every angle. I've found it makes for an incredibly comfortable yet appropriately firm and supportive sitting experience.
Like always, ordering from AllModern comes with a wonderful set of perks. First, the company's design team is there to help you find the perfect matching upholstery and even recommend additional pieces to go with your space. And, once you've decided on the right outfit, your George ships directly to your doorstep in a single box. You can piece it together in under an hour or pay a small fee for white glove delivery.
What I Didn't Love
The George Sofa's tapered legs feel a little unstable, with poorly-manufactured mounting plates that may buckle under too much pressure. I haven't experienced this myself, but I've seen reviews stating that going over (or, in some instances, nearing) the 750-pound weight limit can cause the legs to crack. However, if you screw everything on extra tight, I don't think you'll have an issue with any aspect of this channel-tufted velvet sofa.
Best For: Reclining
Price: $1,039.99+
Dimensions: W88" x D40" x D40"
Frame materials: Metal
Upholstery options: 2 velvet options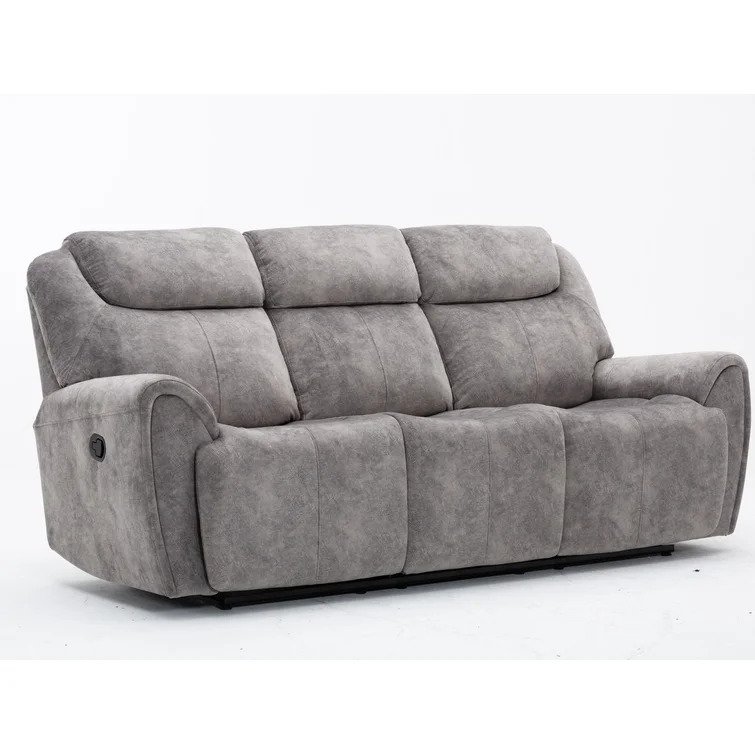 What I Love About This Wayfair Sofa
Move over, leather recliners. The Apollon Velvet Reclining Seat Sofa features the same reclining functionality, only it's way cozier.
Seriously — the Apollon is a snuggle fest. It features exceptionally soft velvet upholstery with a cloudy aesthetic that mimics its physical texture. All the while, the sofa's seat cushions provide dense comfort that's relaxed yet firm enough to keep you upright and engaged for hours at a time. Simply sit on either end of the sofa, pull the corresponding side lever, and transport yourself to paradise! The reclining motion is as smooth as the velvet upholstery, and the oversized round armrests ensure every part of you feels supported.
The Apollon seats three people and comes with a 650-pound weight capacity. Even though the sofa's center section doesn't recline, it still functions quite well as a seat. That said, I enjoy using the center portion as a snack receptacle. Movie and popcorn have never felt so good.
What I Didn't Love
The Apollon boasts a metal frame that, while durable, is excruciatingly heavy. That makes assembly much more of a chore, especially since you have to attach the backrest pieces to the bottom frame yourself. It takes over an hour and may leave your body aching.
I also dislike the limited color options. Sure, gray and brown will match most spaces. But they're a little too boring for my tastes.
Velvet Sofa FAQs
In this section, I'll answer some of the web's most frequently asked questions about velvet sofas and how well they hold up in the home.
Are velvet couches high maintenance?
Velvet couches are no more high maintenance than any of today's other types (except, perhaps, for leather). That's because modern velvet typically features a cotton or polyester base. Cotton is easy to maintain with a vacuum and damp microfiber rag, while polyester is a synthetic fiber heralded for its strength and resiliency.
Are velvet couches expensive?
Velvet sofas are a mid-range option, often landing between $1,000 and $3,000. In other words, they're neither cheap nor overly expensive. Of course, you can find outliers, especially if you opt for a velvet sofa made from materials like linen or silk. These fancier materials will raise the price but may provide a more luxe experience.
Is velvet good with pets?
Velvet is ideal for homes with pets. The fabric features a short, dense weave that doesn't shed or unthread from interactions with pet paws. Most modern-day velvet sofas also feature a polyester base, which is extraordinarily durable and easy to clean.
Of course, you should still take precautions with your living room furniture. Clean up any messes as soon you spot them, and perform regular maintenance to keep your velvet sofa in tip-top shape.