Home is supposed to be a sanctuary, a place to get away from the stress of your 9-5 workweek. Unfortunately, many homes feel more like bustling offices — eternally cluttered and overcrowded — than sanctuaries. If that's your situation, it's time to reclaim your living space with one of the best minimalist sofas.
Minimalist sofas take a less-is-more approach, stripping away unnecessary elements and highlighting the essentials. Most models feature simple shapes and clean lines alongside muted color palettes that inspire a sense of calm.
No matter your circumstance or lifestyle, the best minimalism-inspired sofas can help declutter your home while improving its functionality and aesthetics. Let me show you what I mean.
What You Should Look For In Your Minimalist Sofas
There are thousands of sofas on the market, including hundreds of models that prioritize a minimalist aesthetic. This guide bypasses all the fluff and only showcases the top options for various spaces, styles, and budgets.
Here are the criteria we used to identify the best minimalist couches, as well as what you should look for when choosing a model for your home:
1. Quality – The best minimalist sofas incorporate thoughtful craftsmanship, with luxurious yet durable materials that stand up to the wear and tear of daily life.
2. Budget – Living room furniture — especially sofas — can cost thousands of dollars. These prices are unattainable for many households, which is why our guide features options for every budget, proving that you can find superb models in the $1,000 price range.
3. Comfort – Sofas are for lounging, and suitable models incorporate soft fabric and plush cushions that provide hours of cozy relaxation.
4. Design – Minimalist design prioritizes simple shapes, lines, and colors — no bulky or gimmicky elements and no complex patterns.
5. Sustainability – Part of the minimalist philosophy is reducing unnecessary consumption. We recommend choosing brands that incorporate recycled or sustainably-sourced materials and have mission statements that focus on eco-consciousness.
For our guide below, we chose options that meet all these key points and more. We also included a broad selection of sizes, ensuring a reliable option for living space.
Top 12 Minimalist Sofas For a Simplified Living Room
A new sofa is a big investment. That's why it's wise to choose a timeless design that will fit your living space for some time — ideally one that's minimal and modular.
Keep in mind that going minimal doesn't mean locking yourself into a single look. You can still find minimalist sofas with personality, including ones with mid-century modern designs, customizable upholstery, and more. To see that kind of personality in action, look no further than the first option on our list.
Brand
Best For
1

Editor's Choice

Overall
Shop Now
2

Budget
Shop Now
3

Modern
Shop Now
4

Convenience
Shop Now
5

Size
Shop Now
6

Quality
Shop Now
7

Luxury
Shop Now
8

Simple
Shop Now
9

Comfort
Shop Now
10

Color
Shop Now
11

Style
Shop Now
12

Aesthetics
Shop Now
1
Editor's Choice
2
3
4
5
6
7
8
9
10
11
12
Price: $2,369
Dimensions: W90″ x D38″ x H34″
Frame Material: Maple & poplar
Upholstery: Polyester or leather
Colors: 9 color options
Warranty: Lifetime (frame) & 3 years (cushions)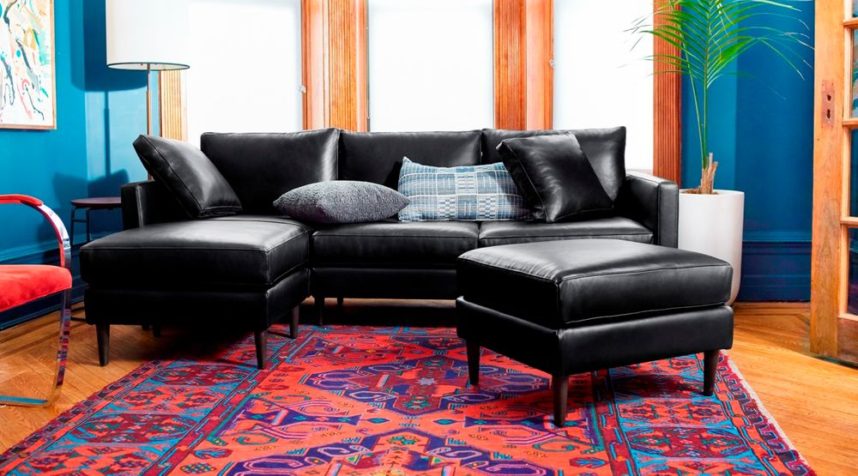 The 3-Seat Sofa by Allform is an artistic masterpiece. It honestly reminds me of a line art drawing from an upscale gallery, complete with minimal aesthetics and an incredible sophistication in its proportions.
Although its clean lines are gallery-worthy, Allform's 3-Seat Sofa best complements a family environment. It offers exceptional durability — with solid, square arms and wooden legs — alongside Performance Fabric that's wear-resistant yet smooth to the touch. Customize your sofa on the Allform website, and choose between seven subtle colors. Or, splurge a little and upgrade to genuine leather (and maybe a side chaise or two). No matter which changes you make, you'll find the soft upholstery and spacious design suitable for your entire family.
This entire modern sofa comes shipped to your door in just a handful of boxes. Once setup, climb atop the Allform's polyfoam seat cushions and rest easy knowing it includes 95% recycled materials sourced from an eco-friendly supply chain.
Price: $1,099 & up
Dimensions: W80" x D21.5" x H33.5"
Frame Material: Wood
Upholstery: Polyester
Colors: 6 color options
Warranty: 10 years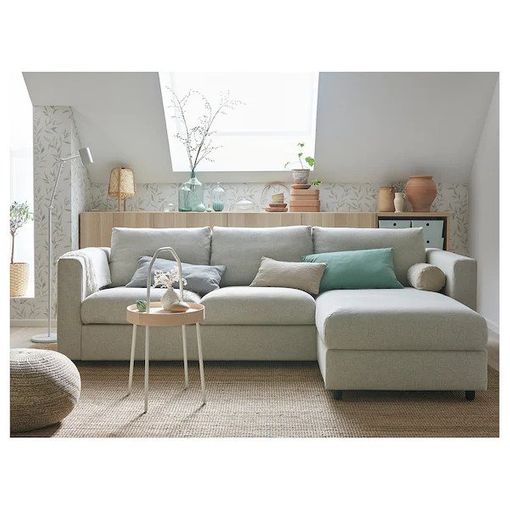 IKEA is one of my favorite brands. Its furniture is attainable on any budget, and the pieces still come with premium craftsmanship and an unbeatable 10-year warranty. The Finnala Sectional Sofa maintains the company's commitment to accessibility, featuring a wallet-friendly, minimal design ideal for any living space.
This classic 2-seater fits into smaller areas yet sacrifices nothing in the way of functionality. On the contrary, IKEA's Swedish designers crammed a full 80″ sofa bed in-between the two armrests! Although the 4.75″ thick sleeper mattress lacks in the cushioning department, it's more than enough to satisfy guests for a night or two.
Simply assemble the modular design in your living room or extra bedroom, and enjoy a multipurpose, modern minimalist sofa that will delight family and friends.
Price: $2,335 & up
Dimensions: Starting at W124" x D36.5" x H27.5"
Frame Material: Southern yellow pine
Upholstery: Polyester
Colors: 5 color options
Warranty: 10 years (frame) & 3 years (cushions)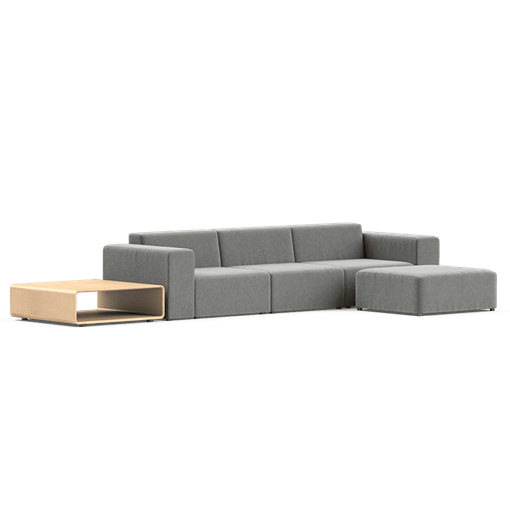 The Floyd Sectional sofa boasts a unique, block-like design with near-symmetrical cushions on the top, bottom, and sides. Although this kind of "chunky design" isn't usually associated with minimalist home decor, it works well with the sofa's clean, straight lines. At the same time, the muted polyester fabric provides an understated palette that fits beautifully in any room.
If the standard 2-arm sofa design isn't your cup of tea, you can customize your Floyd Sectional with an optional chaise. The chaise adds an extra dimension to the piece and provides a cozy space for you to stretch out and relax atop the sofa's plush cushions.
Price: $1,890
Dimensions: W91.5" x D60.5" x H33"
Frame Material: Hardwood
Upholstery: Polyester
Colors: 3
Warranty: 1 year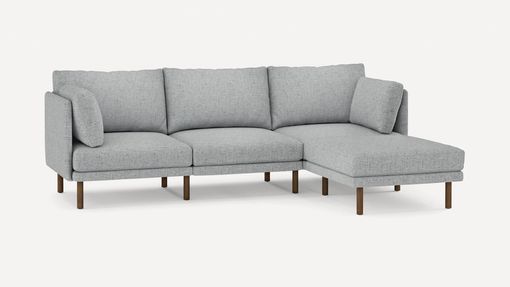 The Field 4-Piece from Burrow is among my favorite sofas for minimalists. I adore the slim, fabric-covered framing that buttresses each cushion and hugs the edges of the sofa. This framing is around the same size as the sofa's cylindrical legs, providing a consistent design that beautifully contrasts the thick CertiPUR cushions. The slim wooden legs also offer 7″ of clearance above the ground, providing an airy feel as though you're floating atop the couch.
One thing I dislike is that there aren't many color options for the Burrow. You can only choose between Oatmeal (light grey), Fog, and Carbon (dark grey), alongside three wood-grain finishes for the legs. Fortunately, these colors blend harmoniously, and any combination should look great in the family room.
Price: $1,890
Dimensions: W84″ x D42″ x H34″
Frame Material: Hardwood
Upholstery: Polyester or velvet
Colors: 7 color options
Warranty: Lifetime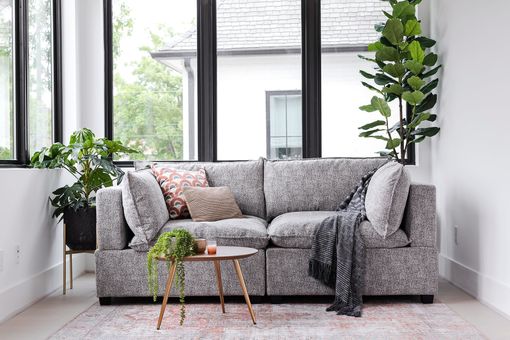 If you're looking to maximize your comfort, The Kova Sofa by Albany Park is an excellent option. It features a minimalist-meets-classic design, with clean lines and thick pillows across every surface. These pillows and seat cushions aren't just comfortable; they're stuffed like a Thanksgiving turkey, brimming with feathers and foam. Meanwhile, the velvety-soft upholstery feels oh-so-good as you snuggle up to relax with friends or a partner.
Like many of the other minimalist sofas on this list, the Kova features a modular design that you can adjust to fit your needs. Combine it with other sofa pieces from the Kova collection to transform this minimal velvet sofa into a workhorse that grows with your family.
Albany Park provides a 30-day home trial, meaning you don't have to take my word for it — you can try it out for yourself, risk-free.
Price: $4,197 & up
Dimensions: W121″ x D86″ x H38″
Frame Material: Hardwood
Upholstery: Varies
Colors: 137 color options
Warranty: n/a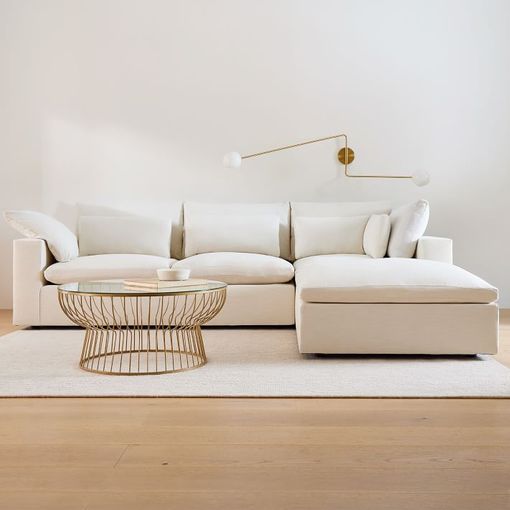 The West Elm Harmony is a luxurious sofa often regarded as one of the sleekest, most comfortable options around. It comes in over 100 color variants and sits atop a robust kiln-fired hardwood frame strong enough to last a lifetime. Although West Elm sofas lack a traditional warranty, my family has enjoyed the brand's furniture for nearly 20 years, and our pieces are still going strong.
Other iconic elements include the Harmony's clean lines and modular design. You can expand or adjust the couch in near-infinite ways, ensuring a versatile, minimalist sofa that fits any space. If you want to see what it might look like in your home, you should check out West Elm's drag-and-drop designer. This web application lets you add modular sectional pieces, chaises, and seat cushions that you can visualize in real-time!
Price: Starting at $4,518
Dimensions: W96" x 38D" x 28H"
Frame Material: Hardwood
Upholstery: Polyester, leather, or velvet
Colors: 95 color options
Warranty: Lifetime (frame)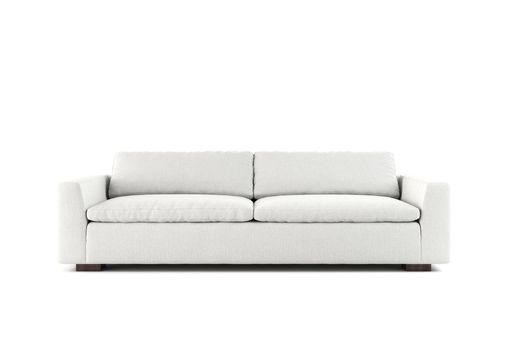 Prepare to melt away your stress atop Benchmade Modern's Like Butter Standard Sofa. This ultra-comfy couch features a hypoallergenic Trillium filling that envelops your body and promotes unparalleled rest and relaxation.
The Butter Standard comes in multiple finishes, including polyester, leather, or velvet. You can also choose between 95 color options, making it easy to find the perfect match for your living room. Although all the fabrics look and feel great, I personally enjoy the Espresso leather, which costs a bit extra but provides a rich, even tone to match the sofa's clean lines and minimalist vibes.
Benchmade Modern sofas are hand-crafted in the United States from kiln-dried hardwood. Naturally, such premium craftsmanship comes at a premium price. You can expect to pay around $4,500 for the Standard Sofa, and that's before purchasing any extras.
Price: $2,794 & up
Dimensions: Starting at W83″ x D41″ x H32″
Frame Material: Wood
Upholstery: Varies
Colors: 70 color options
Warranty: Lifetime (frame) & 1 year (cushions)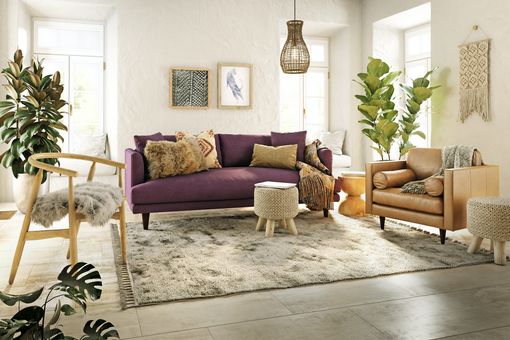 The Joybird Lewis is a classic mid-century sofa with an extra-long bottom seat cushion and four perfectly-tapered legs at its base. Despite this clear mid-century inspiration, the Lewis Sofa is an excellent minimalist option for the modern home, comfortably fitting into most living room aesthetics. The frame starts at 83" long and 41″ deep, promoting a comfortable posture for you and up to three others. It's so inviting, you can't help but plant yourself down and relax after a long day at work.
Your body isn't the only thing you'll be planting, either. Joy Bird donates a portion of its proceeds to One Tree Planted, an organization that helps with reforestation initiatives worldwide. So go ahead — customize the Lewis and add as many upgrades as your heart desires. Your body and the planet will thank you.
Price: Starting at $1,875
Dimensions: W82.5″ x D41″ x H33″
Frame Material: Ash
Upholstery: Varies
Colors: 110 color options
Warranty: 1 year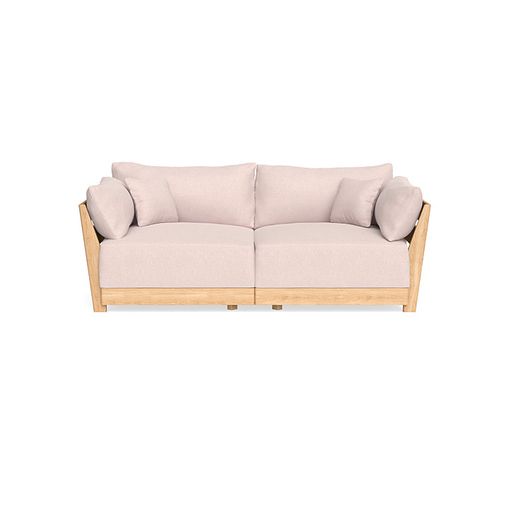 The Bondi by Inside Weather is more than a sofa — it's a collection of extremely versatile, modular components. Every piece within the Bondi collection conjoins seamlessly, working harmoniously to provide a minimalist sitting experience that adapts to your home.
The 2-Seater Sofa is an excellent introduction to the Bondi ecosystem. It comes with two seat blocks (complete with armrests and backrests) and all the cushions you need to create the loveseat of your dreams. If you prefer to ride solo, you can also attach the arms to a single seat block and use the other block as a matching ottoman.
This sofa system comes with a solid wood frame and features various types of upholstery, including faux leather, microfiber, and more. Just be sure to purchase matching fabrics and colors, or you'll lose the minimalist elements that make the Bondi love seat so appealing.
Price: $2,725
Dimensions: W60" x D38" x H34"
Frame Material: Hardwood
Upholstery: Linen
Colors: 11 color options
Warranty: Lifetime (frame)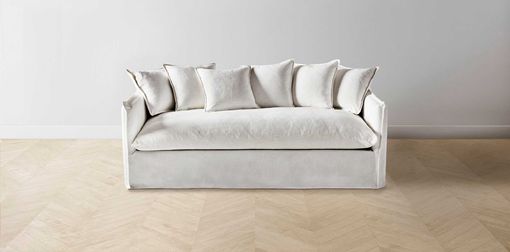 The Maiden Home Dune features a classic minimalist silhouette, including a one-piece frame, a large bottom seat cushion, and six generously-sized throw pillows. Move these throw pillows from the back to the side and instantly transform The Dune from a sofa to a daybed, taking advantage of the generous 38″ of depth. You and your entire family will love the spacious design and hardwood frame guaranteed to last a lifetime.
The Dune stays true to its namesake, coming in a handful of sand-inspired, muted colors like oyster, creme, and graphite (dark grey). While I'd prefer to see a few more fabric options, the linen upholstery works well and provides a cozy feel that you won't find with synthetic fibers.
Price: $3,499 & up
Dimensions: W107" x D36" x H29.5"
Frame Material: Wood
Upholstery: Fabric or leather
Colors: 9 color options
Warranty: Lifetime (frame) & 5 years (cushions)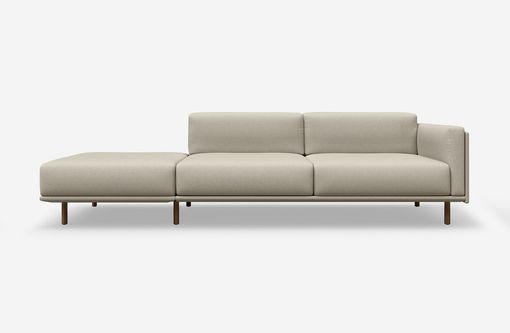 Italian-made sofas have a reputation for luxurious designs and fine craftsmanship. The Noord 3-Seat Lifestyle sofa reinforces this notion, delivering a sleek, minimalist design with clean lines and modular functionality that works beautifully in any living space.
The sofa comes in fabric or leather upholstery, with multiple color options for each type. Combine your favorite finish with Scandinavian-inspired wood or metal legs to enjoy a seamless color scheme or a contrasting pop of color. Civil also lets you choose the couch's orientation at checkout, with a left- or right-extending chaise that adds extra dimension to your space.
My favorite part about the Noord fabric or minimalist leather sofa is that all materials (including the plush Olmosoff seat cushions) are sourced responsibly. Although Civil isn't carbon neutral on its own, it does partner with Terrapass to offset emissions in other areas.
Price: $1,299
Dimensions: W91″ x D35″ x H28″
Frame Material: Larch
Upholstery: Viscose, polyester, cotton, and linen
Colors: 3 color options
Warranty: 1 year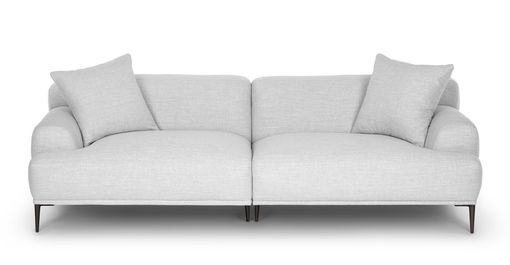 There's something intriguing about symmetry. The way things line up in perfect harmony creates a sense of tranquility and soothing. This feeling extends to the Abisko Sofa by Article, an entirely symmetrical sofa that inspires relaxation in your living space.
The Abisko may feature a minimalist aesthetic, but the overall design is as thoughtful and intricate as a Scandinavian knot. The sofa features a blend of natural and synthetic fibers dyed a shade of white, light gray, or black. Underneath the upholstery, you'll find feather-filled cushions that are airy yet supportive, helping you take a load off after a long day. You can also rest assured that the Article stands behind its products, offering free shipping and in-home assembly to customers within the United States.
Get More Comfy Furniture Studies from Home of Cozy
The best minimalist sofas promote a pleasant, relaxing environment you'll never want to leave. As the accent piece of your living room, a minimalist sofa sets the overall tone for the look and feel of your entire home. And, it provides versatile accommodation that can grow with your family.
Our goal at Home of Cozy is to provide a comprehensive overview of your top options, and I sincerely hope that this guide has helped you find the perfect fit for your family. You can find more interesting articles and furniture reviews on the Home of Cozy website, including The Best Sofas of 2023, The Best Time To Buy Living Room Furniture, and How to Clean Any Couch.