Your sofa is the centerpiece of your living room. It's where family and friends congregate to watch movies, play games, and talk (or bicker) with one another — where memories are made and then rehashed over a late night and a glass of wine. It's part of what makes your home… well, a home.
That's a lot of responsibility for one piece of furniture, and some couches have trouble rising to the challenge. Fortunately, the best extra-long couches are (quite literally) built for it.
Extra-long sofas are the perfect solution for growing families, frequent hosters, and those who want to make the most of their large living spaces. If you want a cozy couch that keeps up with your home and family adventures, this guide is for you.
What Criteria Did We Evaluate For These Reviews?
The team at Home of Cozy takes pride in our comprehensive furniture reviews. We spend hours researching and testing today's most popular options, ensuring a thorough and accurate overview. This guide to long couches is no different. The team put dozens of sofas to the test, scrutinizing and evaluating them to see how they perform in the living space.
Here's a look at the criteria we used to uncover the best extended sofas:
Total Length: To be considered an extra-long sofa in our eyes, a sofa has to be longer than 90″. This is usually long enough to fit 4-5 people or more.
Design: We want to recommend you sofas that will elevate your living space and look beautiful inside of your home, so we took design into account when curating this list.
Durability and Quality: Buying furniture can be an incredibly stressful process, so we only recommend sofas that are durable enough to last you a long time and are made of high-quality materials.
Sustainability: We want to make sure the pieces of furniture we recommend to you are eco-friendly and sustainable.
14 Best Extra Long Couches to Add to Your Living Space
Home of Cozy has compiled a list of our favorite extra long sofas for you to discover. We've included couches of varying shapes and extra-large sizes, and with all different types of upholstery. With all these options available, you should have no trouble finding a suitable model for your family's home.
Here's an at-a-glance look at our favorite options, followed by our in-depth review below.
Brand
Best For
1

Editor's Choice

Overall
Shop Now
2

Style
Shop Now
3

Modern
Shop Now
4

Comfort
Shop Now
5

Convenience
Shop Now
6

Traditional
Shop Now
7

Luxury
Shop Now
8

Convenience
Shop Now
9

Versatility
Shop Now
10

Design
Shop Now
11

High End
Shop Now
12

Value
Shop Now
13

Mid-Century
Shop Now
14

Aesthetics
Shop Now
1
Editor's Choice
2
3
4
5
6
7
8
9
10
11
12
13
14
Price: $5,619 & up
Dimensions: Starting at W124" x D97" x H34"
Frame Material: Maple & poplar
Upholstery: Polyester or leather
Colors: 9 color options
Warranty: Lifetime (frame) & 3 years (cushions)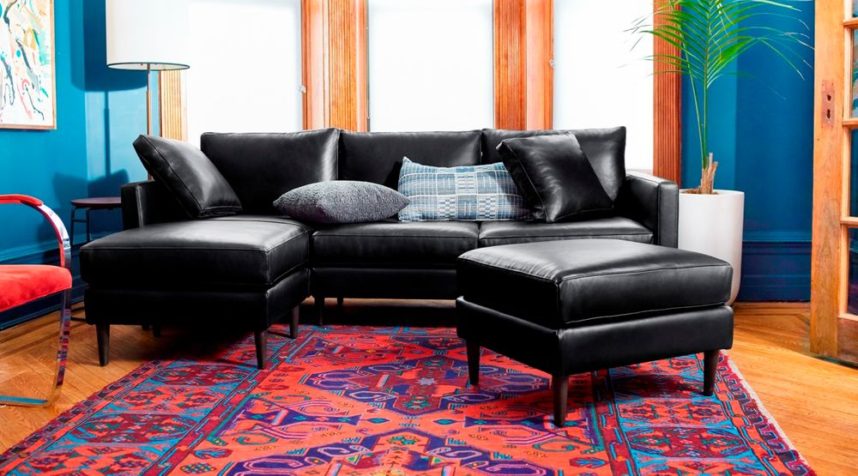 Allform has over a dozen different sofas in its extensive catalog, with options that seat anywhere from two to eight people. But it's the 6-Seater Corner Sectional that stands out, offering a generous 221″ wrap-around width that comfortably supports the entire family. It even comes with a chaise that you can attach to either side of the sofa, providing extra-deep seating and a cozy space to stretch out and relax.
Like other Allform furniture, you can personalize the 6-Seater to match your living space. In my home, it's the dark blue polyester fabric and rich espresso legs that fit the best. But every home is different, and Allform offers nine upholstery options (including genuine leather) and three leg finishes to suit every taste.
The team at Home of Cozy has spent a lot of time with Allform furniture, and we feel comfortable saying that you can't beat this sofa's quality and immaculate attention to detail.
You can see our full review of Allform's 3-seat sofa here.
Price: $2,599
Dimensions: W102.5" x D102.5" x H32.5"
Frame Material: Wood
Upholstery: Polyester, nylon, and cotton
Colors: 4 color options
Warranty: 3 years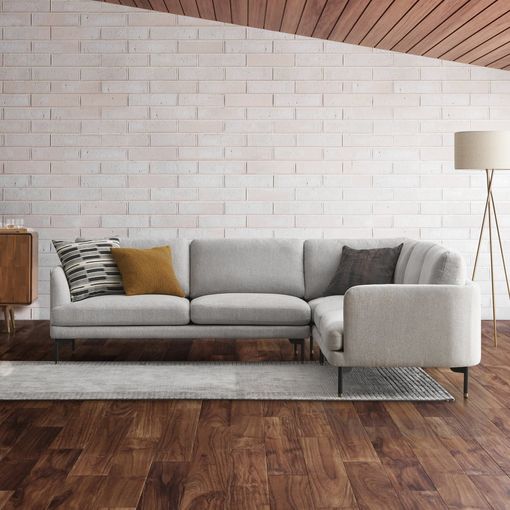 The Castlery Pebble is an elegant corner sofa that fits well in large and small spaces, providing your family with cozy seating suitable for every gathering. Although the couch only comes in four colors — forest green, dark grey, ivory, and ocean blue — they all provide a muted aesthetic that blends harmoniously with your existing furniture. Meanwhile, its gentle curves add a dash of whimsy without sacrificing the clean lines and mid-century modern sofa aesthetic adored by so many households.
Alongside its sleek curves, the design team at Castlery found a few other ways to add some extra charm. My favorite is probably the unexpected pop of metallic color found underneath the couch's hardwood frame, at the tip of each wooden leg. That's where you'll find a small brass cap, a unique element that grounds the space and flashes the hint of a smile.
Price: $2,060
Dimensions: W124.5″ x D34″ x H34″
Frame Material: Walnut
Upholstery: Polyester
Colors: 1 color option
Warranty: 1 Year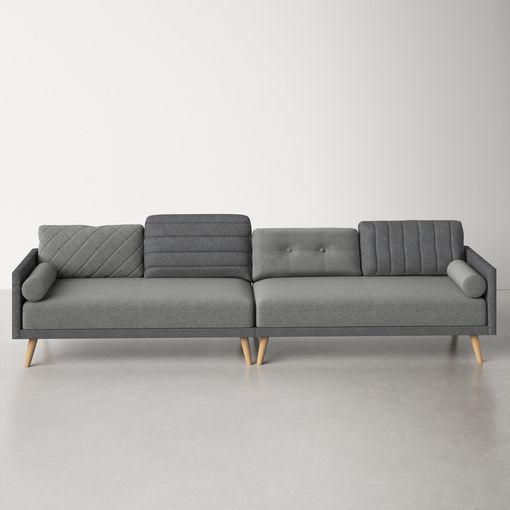 The AllModern Filton reminds me of a Picasso painting, with a distinct blend of shapes and patterns. The only disparity is that AllModern's sofa comes in shades of gray. While I'd normally knock the couch for incorporating such a lackluster color in its back cushions, the various tones combine to create a striking visual that's slightly masculine and extremely dapper.
The Filton measures 124.5″ wide, meaning it doesn't fit very well in small spaces like the home office. But it does make quite the statement in the living room. There, the solid wood frame and web suspension have room to breathe as they accommodate all your guests (often with room to spare). Place the extended frame against a wall in your main living space to enjoy a modern work of art that's beautiful and functional.
Price: $1,899 & up
Dimensions: Starting at W60″ x D39″ x H31.5″
Frame Material: Pine
Upholstery: Basketweave, velvet, linen, chenille, twill, canvas, or boucle
Colors: 181 color options
Warranty: n/a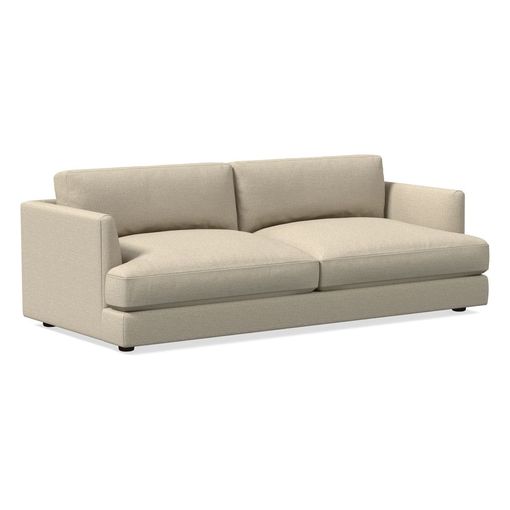 The Haven Sofa from West Elm is like a cozy oasis, with massive seat and back cushions that keep you comfortable for hours. This extra-long sofa comes in four widths, including 96″ and 108″ variants (measured from armrest to armrest), meaning it's suitable for nearly any-size family. You can also order the couch in multiple depths, ensuring plenty of space to relax and snuggle up on those cold, rainy days.
West Elm creates the Haven Sofa to order, and you can choose from half a dozen fabrics in a whopping 181 colors. If you need help choosing the right upholstery for your living room, there's a team of award-winning designers standing by — just start up a chat on the West Elm website, and enjoy a complimentary consultation.
Price: $3,030 & up
Dimensions: Starting at W158" x D36.5" x H27.5"
Frame Material: Southern yellow pine
Upholstery: Polyester
Colors: 5 color options
Warranty: 10 years (frame) & 3 years (cushions)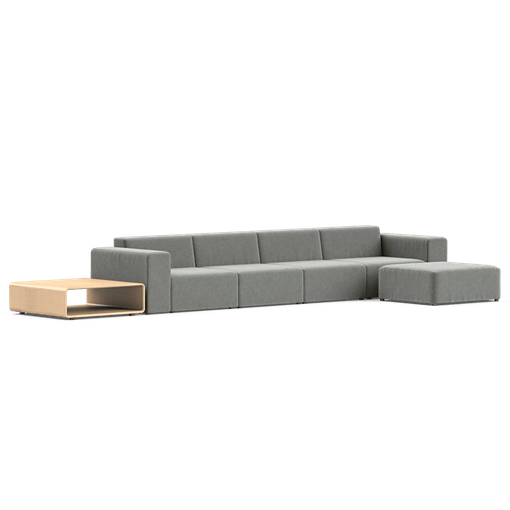 Most companies take the safe approach to sofa design, offering similar renditions of the same two or three looks. The Floyd Four-Seater is different, with a blocky aesthetic that looks like it came straight from a sci-fi movie. While some users dislike these chunkier details, I think Floyd's risk paid off. The blocky cushions are extraordinarily thick and well-padded, as well as superbly child-friendly. Factor in the super-soft upholstery, and you can see why this is the ideal sofa for Netflix movie nights and family-wide Nintendo Switch Sports tournaments.
The squarish design also helps with modularity, as adding and removing components is much easier. Even though Floyd has you choose between a traditional sofa and armless chaise lounge at checkout, you can adjust the components like a game of Tetris. You can also buy more seat sections as circumstances change, making this the perfect sofa for a new or growing family.
Price: $4,547 & up
Dimensions: W126.5" x D68.5" x H36"
Frame Material: Hardwood
Upholstery: Basketweave or linen
Colors: 2 color options
Warranty: n/a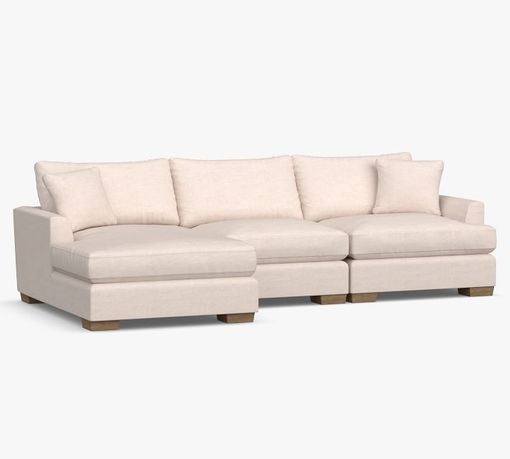 Pottery Barn is an American Institution. The company has been around since 1949, and it has a long track record of creating upscale furnishings for the modern home. The Sullivan Fin Sofa embodies this legacy, providing a sturdy and ultra-comfortable deep seating arrangement for families of three or four. If that's not quite large enough, you can buy extra armless sections, transforming it into a sofa large enough for all of your extended family and friends.
I love how the Sullivan Fin sits near-flush with the floor, with just 2″ of clearance underneath the hardwood frame. This makes it extra safe for children and pets, and lowers the sitting height to just 20.5″ tall — perfect for the entire family. The performance-grade basketweave and linen upholstery options also provide a classy (yet durable) aesthetic that fits well in most living spaces.
Price: $2,499 & up
Dimensions: Starting at W80″ x D35″ x H31″
Frame Material: Maple
Upholstery: Leather, faux leather, or fabric
Colors: 100+ color options
Warranty: Lifetime (frame)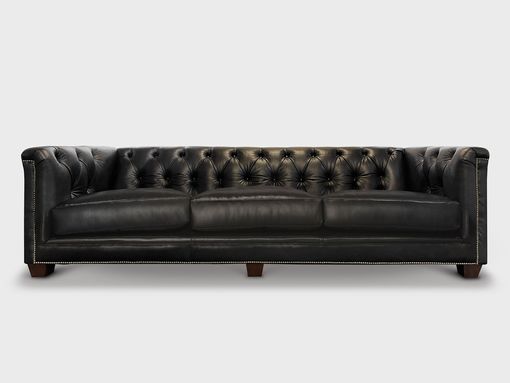 Make a statement with The Amelia Chesterfield sofa from Iron & Oak. This stunning rolled arm sofa looks like it came straight out of a Victorian-era parlor. The thick bottom cushion and tufted backrest combine with intricate nailhead work to jazz up your living space. While I think it looks best in an all-black top-grain leather tuxedo, you can also choose other natural leathers, faux leather, or even fabric finishes.
Alongside the upholstery, Iron & Oak provides many ways to make the Amelia Chesterfield your own. You can change the shape and colors of the legs, the look of the nailheads, or the cushion style (fancy a chaise lounge or sleeper sofa?). Even the width is customizable, anywhere from 84″ to 122″.
Iron & Oak sofas are built to order in the USA, and the company's skilled designers will work with you to create the luxury statement piece for your living space. Just be prepared to pay handsomely for their services.
Price: $1,469.99
Dimensions: W90" x D43" x H33"
Frame Material: Wood
Upholstery: Rayon & viscose
Colors: 1 color option
Warranty: 1 Year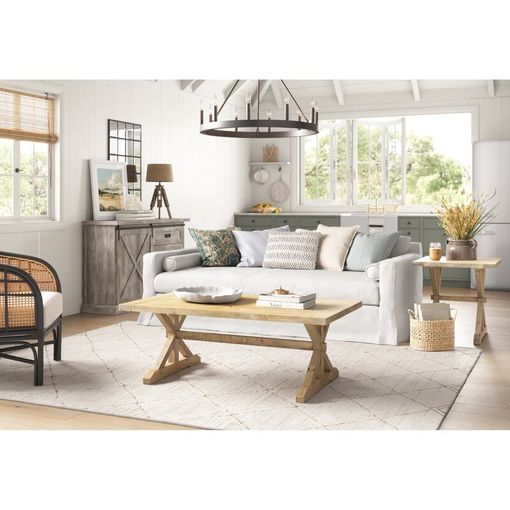 Imagine yourself in a vacation house by the beach, the sun shining down as waves crash against the sand outside. That's the vibe Wayfair's going for with its simple, airy-white Seahaven Sofa.
This extra-long sofa measures 90″ by 40″, providing deep seating with plenty of space for you (and three or four others) to lounge around and relax in pure bliss. In my experience, the sofa's thick, singular bottom seat cushion isn't just exceptionally comfortable, but also quite practical. You never have to worry about different elements sliding out of place, and it's easy-as-can-be to remove the couch's slipcover and throw it in the wash.
While some might find the all-white fabric sofa a little bland, it's easy to dress up. Add in a few colorful throw pillows, and you can transform your living space into a vibrant oasis.
Price: $1,795
Dimensions: W91.5" x D60.5" x H28"
Frame Material: Hardwood
Upholstery: Olefin
Colors: 4 color options
Warranty: 1 year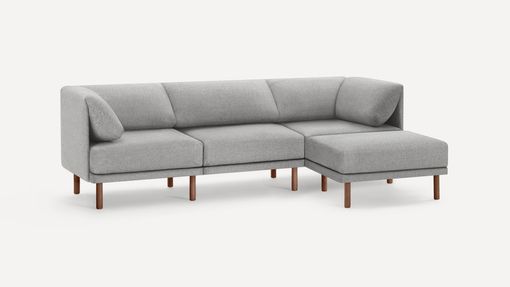 Most modular sectionals are a dime a dozen. But the Burrow Range is different, featuring a uniquely stylish design that sets itself apart. In particular, I like how you can configure the Burrow Range in various ways. Set it up in a straight line, turn one of the modules into a chaise, or transform it into a square lounger perfect for cuddling — the choice is yours. I also love how easy everything is to put together. Although assembly takes a little over an hour (with a partner), the instructions are clear and easy to follow. Simply join the pieces together, flip-the hinge-like back cushions into place, and you're ready to go!
The sofa comes in four color schemes — dark grey, light grey, navy blue, and olive green — and is made with durable, stain-resistant fabric that's easy to maintain. With all this in mind, Burrow's 4-Piece Sofa is one of my top recommendations for small spaces and mid-size households that love to entertain.
Price: $2,699 & up
Dimensions: W98.5" x D40" x H31.5"
Frame Material: Hardwood
Upholstery: Felt, tweed, polyester, velvet, or leather
Colors: 12 color options
Warranty: 5 years (frame) & 1 year (cushions)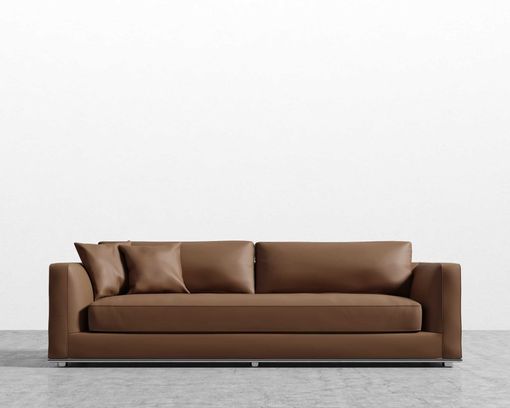 The Milo Sofa plays double duty — a stylish couch by day and a sleeper bed by night. This model comes with several different upholstery options, including felt, tweed, polyester, velvet, and leather. Although color choices are limited, all the fabrics feature muted, universal hues that match most modern living spaces.
Concerning size, the Milo measures 98.5″ wide and 40″ deep in couch form. In my experience, this is more than enough room to seat four or five people comfortably. While it's not the largest extra-long sofa, it does require a fair amount of space, especially once the party's over and your guests are ready to wind down. That's when you flip over the bottom cushions to reveal a full-size sleeper bed. Your guests are sure to enjoy a comfortable stay atop the thick PU cushions.
Price: $11,000 & up
Dimensions: W146" x D115" x H32.5"
Frame Material: Hardwood
Upholstery: Varies
Colors: 40 color options
Warranty: Lifetime (frame)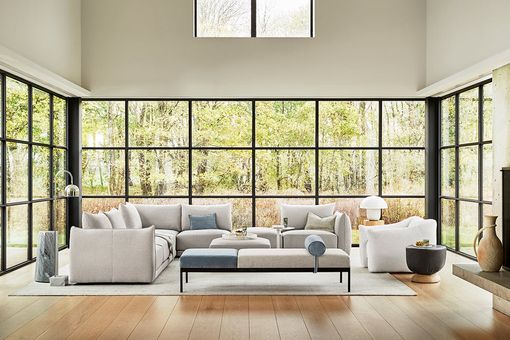 If you can afford its $11,000 price tag, the Jones Modular is the ultimate seating arrangement for gathering with family and friends. Its 146″ by 115″ frame can accommodate eight to 12 people (sometimes more) without issue, and everyone gets to face each other, encouraging a shared and intimate experience so often lacking in today's world.
Perhaps even more exciting, Maiden Home packed this sofa with layers of thick foam atop perfectly proportioned springs. Sinking into the Jones Modular honestly feels like falling into a vat of cotton candy. I just can't get enough of the thick, plush foam and incredible sense of buoyancy.
The Jones is made to order in the USA and customizable to your specifications. Choose from over half a dozen different upholstery options (you have to try the microfiber) and 40 color variations to match the look of your living room.
Price: $1,129 & up
Dimensions: W127" x D64.5" x H33.5"
Frame Material: Wood
Upholstery: Polyester
Colors: 6 color options
Warranty: 10 years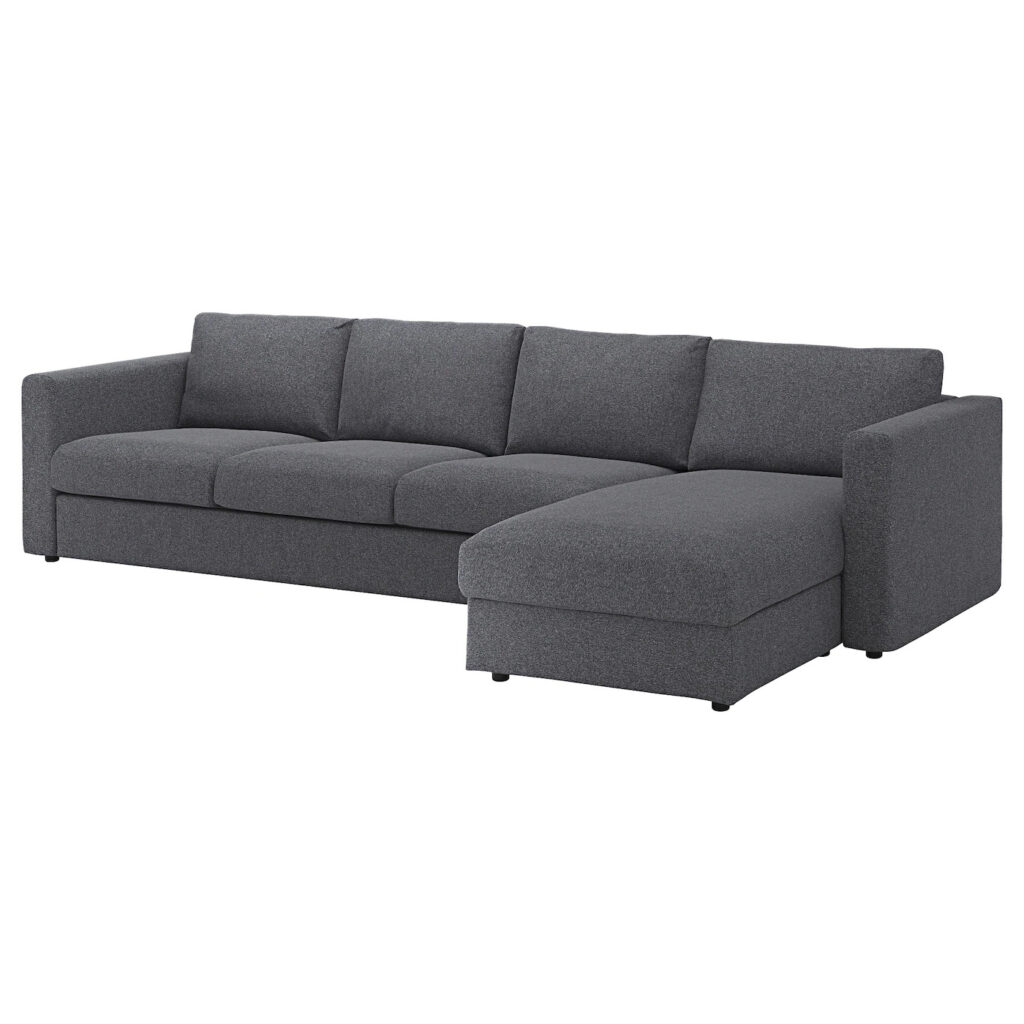 Most extra-long couches cost an arm and a leg, but the Finnala costs just over $1,000. Yes, you have to put it together yourself (it's IKEA, after all). But I think the 4-hour assembly time is worth thousands of dollars in potential savings. Not to mention, the solid wood frame and 10-year warranty guarantee a long-lasting couch that can rival luxury brands like West Elm.
The Finnala is pretty long, and it can comfortably seat four adults with room to spare. With that said, the 127″ L-shaped frame works surprisingly well in small spaces, even if it does feel a bit cozy. The chaise also opens up to offer extra storage space for linens and things of that nature — a much-needed feature for small homes.
This sofa comes with polyester upholstery, and you can choose between six different colors. If you're like me and hate going to the dry cleaner, you'll love how easy it is to slip off the couch covers and throw them in the washing machine. Overall, it's an excellent option for families on a budget.
Price: $2,298
Dimensions: W92" x D34" x H32"
Frame Material: Varies
Upholstery: Polyester
Colors: 55 color options
Warranty: Lifetime (frame) & 1 year (cushions)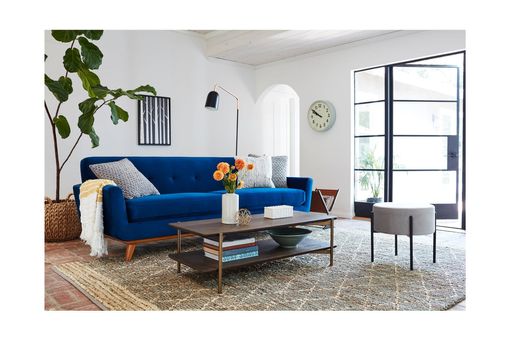 The Carson Sofa is a mid-century couch with aesthetics that come straight from an upper-class 1950s home. It features beautiful tufts dotting the backside cushion and outward-angled wooden legs with gorgeous pecan, natural, or espresso staining.
APT2B's Carson Sofa measures 92″, making it an excellent addition to small spaces that can't house the other, longer variants from this list. Although (slightly) smaller than other extra-long sofas, it packs just as much punch, elevating your space as a gorgeous focal point. Choose your favorite upholstery option from APT2 B's extensive selection, and let this cozy mid-century modern sofa wow your family and friends.
Price: $6,145
Dimensions: W111″ x D111″ x H28.5″
Frame Material: Hardwood
Upholstery: Polyester
Colors: 1 color option
Warranty: n/a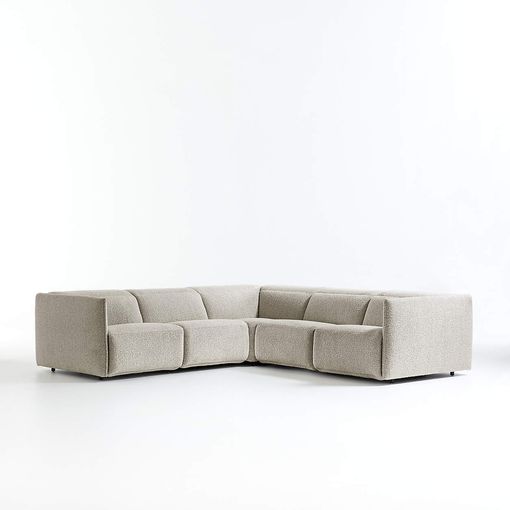 Nothing compares to kicking back and relaxing after a long day of work. As luck would have it, that's easy to achieve with the Leisure Power Recliner. This L-shaped Crate & Barrel exclusive measures 111″ by 111″ and comes with two built-in recliners – one on each side. Its extended, kiln-dried hardwood frame also boasts three standard seats, providing a space that supports five comfortably (though you will end up fighting over the two recliners).
Concerning aesthetics, I love how the Leisure Power's cream-colored upholstery contrasts with its dark metal legs and leg rests. I also appreciate how Crate & Barrel tucked the controls for each recliner far back within each armrest, easy to reach but out of the way. Overall, the Leisure Power is a glamorous reclining sofa that feels as good as it looks.
Get More Home Decor Tips & Tricks with Home of Cozy
There's no need to settle for a small couch or lackluster loveseat. The best extra-long sofas provide all the space you need to entertain guests and snuggle up with your whole family. More importantly, they help set the stage for creating memories that last a lifetime.
Although there are many wonderful extra-long sofas out there, the team at Home of Cozy feels comfortable recommending these top 14 options for most households. If you'd like to explore more home furniture, be sure to check out our articles on Sectionals vs. Sofas, Cozy Living Room Ideas, and the Best Couch Materials for Dogs.