Like cable television and corded phones, younger generations may never know the in-person sofa shopping experience. Flexibility and convenience are of equal concern to buyers as aesthetic and design in a world. Enter: the rise of the sofa-in-a-box.
For most people, the sofa is the center of their home, used for both lounging and entertaining. It's no surprise then that the sofa-in-a-box market has exploded in recent years. It's a trend that offers shoppers a wealth of new options when it comes to style and quality, shipped directly to their homes.
For your shopping ease, we've pulled together a comprehensive list of the best sofas-in-a-box available. From beloved online sofa brands like Inside Weather, Allform, Burrow, and more, these pieces are as attractive and comfortable as they are intelligently designed.
What You Should Look For in a Sofa in a Box
Between the turn of the new year and the first mentions of spring cleaning, you might have the urge to refresh your space. We know you're looking for the best couch available, so we tried to break down our reviews from a few clear different angles.
As it's a fairly new way to shop for a sofa, we try to be thorough in our reviews. Every couch in a box on this list is one we personally recommend, but you'll have to determine what's most important to you. In writing these reviews, we focused on the following criteria:
Quality: We consider a lot of factors to evaluate quality, but ultimately we're looking for furniture that shows exceptional attention to detail and will stand the test of time.
Budget: With the exception of our luxury choice, all range from $1,000 to $2,500. We also mention the cost of shipping and return policies, so you can get a clear picture of the all-in expense.
Comfort: A couch that comes in a box should be convenient but not at the expense of comfort. Whether you like a firm seat or a fluffy cloud, we try to make it easy for you to make the right choice.
Design: Every room has its own unique style, and it's important you find the perfect sofa to match. With options ranging from boho-Japandi to ultra-classic, we feature a number of design methods that are all expertly crafted.
Sustainability: Our consideration for sustainability is a factor of both environmentally responsible sourcing and product durability. High quality, eco-friendly materials that can handle a lifetime of wear make for the most sustainable sofa.
With this list, we hope to cut through some of the noise you'd normally face on your couch shopping journey. There are so many models on the market, but we only endorse ones we truly stand behind to make sure you're getting the best possible value and the best fit for your lifestyle.
The Top 9 Sofas in a Box of 2023
Whether your dream couch is the centerpiece of your decor or a subtle accent piece, your sofa adds an inviting tone to your living space. We know every room is unique, and so we tried to find a sofa-in-a-box to suit every style and need.
From large-scale sectionals perfect for entertaining to modular designs for small spaces, there's certain to be a couch that will make your house feel like home. No matter what you're looking for, a sofa-in-a-box is a great option to refresh your living room extremely conveniently.
Brand
Best For
1

Editor's Choice

Overall
Shop Now
2

Two-Seater
Shop Now
3

Sectional
Shop Now
4

Families
Shop Now
5

Luxury
Shop Now
6

Small Spaces
Shop Now
7

Customizable
Shop Now
8

Budget
Shop Now
9

Durability
Shop Now
1
Editor's Choice
2
3
4
5
6
7
8
9
Price: On Sale for $1,895
Dimensions: 90" width x 38" depth x 34" height
Arm Height: 25″ height
Leg Height: 6″ height
Frame Materials: Maple and Poplar Kiln-Dried Laminated Hardwood
Upholstery Options: 7 performance fabrics & 2 leathers
Home of Cozy Exclusive Offer: 20% off sitewide with promo code COZY20OFF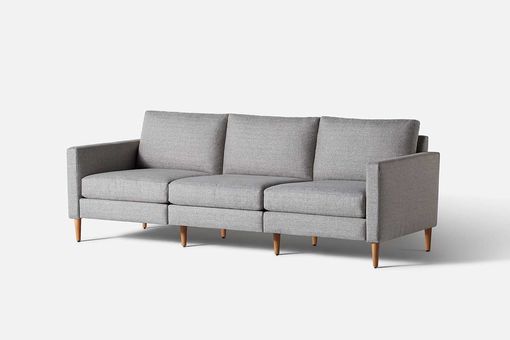 First on our list is the all-around winner for its equally impressive showing across the comfort, accessibility, and quality categories: the Allform 3-Seat Sofa. The sister brand to the wildly popular mattress-in-a-box makers, Helix, Allform has expertise at thinking inside the box.
With the same commitment to comfort, convenience, and customization as the rave-reviewed mattresses, the Allform line is complete with thoughtful, high quality, expertly designed, sustainable pieces.
Allform shows a true commitment to both utility and aesthetics; the range includes chaises, loveseats, and sofas with modular designs and custom finishes. With numerous fabrics and frame finishes spanning a range of color options, we'd argue that every iteration of the 3-seat sofa design is sure to be a timeless piece.
What We Love About The AllForm 3-Seater Modular Sofa
Designed with care and built to last, we would recommend the Allform 3-Seater to just about anyone. Melding modern design with warm, welcoming textures and tones, Allform's furniture can fit into any space.
The line features performance fabrics in a range of neutral and statement colors, and is largely exceedingly customizable. It features deep, plush cushions perfect for late movie nights that are still supportive enough for long work-from-couch nights. The Allform 3-Seat Sofa is our all-around choice for a couch suited for all-all around living.
Starting at $1,800, the Allform 3-Seater's price is fairly mid-range among the ones we reviewed, and an excellent value compared to other custom sofas available. This couch isn't the ordinary boxed futon you might be familiar with; sustainably designed, the Allform three-seater offers longevity and versatility.
Not only are the materials responsibly sourced, but the modular design allows you to expand or change your sofa with ease to suit any space you need it to.
The Sustainable Forest Initiative (SFI) certified wooden frame comes apart, allowing you to expand your seating at any time. The recycled upholstery is stain and scratch resistant, soft enough for your visiting friends to sleep on but durable enough to hold up to bouncing kids and rassling pets.
Allform's commitment to sustainability means you get a great quality product that will last a lifetime; after all, the most sustainable option is the thing you already have, and the second most is one you'll buy and use forever.
What We Didn't Love
Predictably, as it won our best-in-show, there aren't many downsides to purchasing an Allform 3-Seat Sofa if you're shopping for a sofa-in-a-box. The enthusiastic positive reviews on Allform's site speak to the quality and convenience of buying one of their models.
Perhaps the only downside is that the brand only offers no-contact delivery, which means you'll have to bring it inside and assemble it yourself. Luckily, this couch comes together quickly with uncomplicated tool-free assembly, and will be delivered in manageable, lightweight, individually labeled boxes for extra ease.
Home of Cozy Exclusive Offer: 20% off sitewide with promo code COZY20OFF
Price: On sale for $1,650
Dimensions: 82.25″ width x 41″ depth x 33″ height
Arm Height: 25.5″ height
Leg Height: 2″ height
Frame Materials: Ash hardwood frame
Upholstery Options: 20+ upholstery options in 80+ colors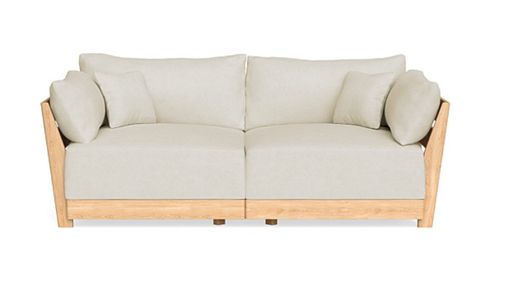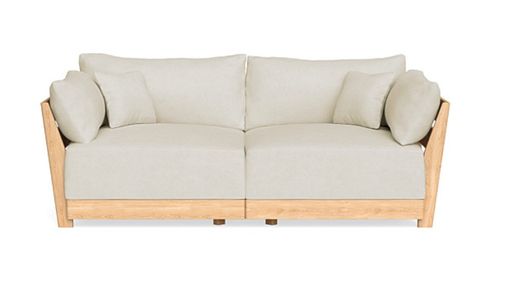 For a smaller space or a stunning accent piece, our pick is the Bondi 2-Seater Sofa. With an extremely broad range of fabrics and colors, Inside Weather's sofa-in-a-box is the perfect couch for anyone looking to outfit a more modest space exactly to their taste.
Inside Weather's products are sustainably made in the USA, designed and built in-house in their California studio, using responsibly sourced materials. All pieces are carbon neutral; the cushion stuffing is made from recycled water bottles and all orders ship in renewable sugar-based packaging.
What We Love About The Inside Weather Bondi Modular 2-Seat Sofa
Inside Weather's modern sofa-in-a-box design is impressively customizable, especially given the consideration shown for sustainable sourcing. The upholstery comes in a very broad range of fabrics all made by hand with recycled materials. The refined, oversized cushions, filled with their signature upcycled plastic water bottle down-alternative, are available in multiple densities depending on your comfort preference.
The durable, modular frame is built out of responsibly sourced wood and kiln-dried for strength. Plus, if the smaller size is perfect for you now, the Bondi is cleverly designed to grow and change with your space.
The smallest sofa in Inside Weather's most modular line, the Bondi 2-Seater's structural pieces can all be rearranged; all armrests and backrest pieces are the same, as are all base squares.
You can remove any of the arm or back pieces to better fit your space, or break apart the base pieces into two separate chairs. Down the line, you can add an ottoman and buy or rearrange armrests to make a sectional, or add base squares to extend the length to a three- or four-seater. If you need time to decide if the Bondi is right for your space, Inside Weather offers a 365-day trial, so you can try on your new sofa before you commit.
What We Didn't Love
Inside Weather's Bondi Sofa will make a great addition to your home — but not for lack of some effort on your part. The assembly process requires time and (basic) tools, and you'll need another set of hands.
Unfortunately, Inside Weather doesn't have an assembly service on offer, but they do have thorough instructions and expert help available virtually. With patience and a few hours, you'll have a fully functional Bondi, but don't expect it to spring to life upon unboxing, like some other sofa in a box models on this list.
Another downside is that if, after you've assembled your Bondi Two-Seater, you aren't thrilled with it, free return shipping isn't included in your Inside Weather purchase — though a one-year warranty is.
You'll have 365 days to decide if you love your new sofa, and you can absolutely return it if you don't, but it'll be on your dime. Luckily, what came out of a box can easily fit back into a box, you'll just, again, have to work for it a bit.
Price: $1,990
Dimensions: 85″ width x 61″ depth x 33″ height
Arm Height: 24″ height
Leg Height: 7″ height
Frame Materials: Baltic Birch
Upholstery Options: Scratch and stain resistant olefin fiber weave in 5 colors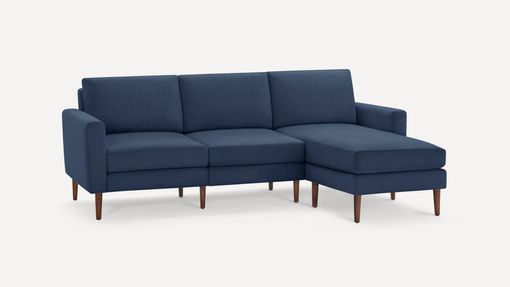 For a sofa in a box that's great for hosting and reclining, we love the Block Nomad Sofa Sectional.
The Burrow brand puts a strong emphasis on designing high quality pieces with convenient delivery and intuitive assembly — all at a reasonable price point — and the Nomad Sectional is one of their most impressive offerings. Created to optimize delivering a sofa in a box, Burrow's Nomad line is intentionally made to ship quickly and for free. They promise manageable packages light enough to carry inside with ease and pieces that are simple to put together.
With a large scale and modular form the Nomad Sectional is thoughtfully built to be the centerpiece of your space. Using scratch- and stain-resistant fabrics to upholster a warp-proof wooden frame and comfortable-but-supportive cushions, Burrow's sofa in a box is intended for everyday living. Plus, it has a built-in charger, so you can sit back and scroll all Sunday without ever turning on low-power mode.
What We Love About The Block Nomad Sofa Sectional by Burrow
The Block Nomad Sectional Sofa is a truly standout choice for anyone decorating a larger space. Thanks to the modular frame, the chaise piece can be attached to either side of the sofa, so you can change the layout to fit perfectly in any room.
You could also buy an additional chaise piece to have one on each side for the ultimate lounging setup. Elegant, functional, and far from traditional, Burrow's sofa-in-a-box can easily upgrade any room.
You can personalize the style of your Nomad and be sure to find one that matches your decor. There are three armrest styles available, four finish options for the wooden tapered legs, and the back cushions are reversible — tufted on one side, plain on the other — so you can customize the styling of your Nomad based on what best fits your space.
The upholstery is available in multiple lovely colors of Burrow's signature scratch- and stain-resistant Olefin fiber weave fabric, making the Nomad great for long lively nights of hosting with assurance of easy cleanup. With a customizable design, a warp-proof wooden frame, and comfortable-but-supportive cushions, Burrow's Nomad Sectional sofa in a box is intended for everyday living.
What We Didn't Love
One of the most frequent positive reviews left for the Nomad is that it looks exactly like the photos immediately upon assembly. And while that reliability is a key factor in Burrow's appeal, achieving the promise of lightweight, supportive, picture-perfect cushions straight from the box suited to stand the test of time is no easy feat. So it may not come as a shock that the most frequent negative review left for the Nomad is that it is uncomfortably stiff.
If you're transitioning from a beloved, well worn-in, pillowy couch, note that the transition to the new Nomad Sectional may be stark. Burrow intended this model to be a long-term investment piece, guaranteed to soften and break in over time while not wearing out or losing support.
Considering the longevity of Burrow's pieces, we'd venture that relatively stiff cushions are a short term phase worth going through for a lifetime of quality. Still, if you're looking to furnish a space that may get less traffic — say, the "fancy" living room or an office lobby — keep in mind the Nomad Sectional may never achieve its plushest, most comfortable potential.
Price: On Sale for $3,549
Dimensions: Customizable width x 37″ depth x 35″ height
Arm Height: 27″ height
Leg Height: 8″ height​​​​
Frame Materials: Kiln-dried, hardwood frame
Upholstery Options: Fabric & leather options with 62 colorways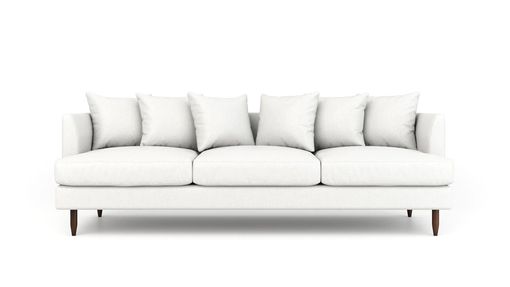 For a luxury shopping experience with convenient, (relatively) fast delivery, the OG Crowd Pleaser lives up to its name. To earn the title of best luxury sofa-in-a-box, this model isn't simply the most expensive on the list; evaluating the quality of the materials, it's clear that Benchmade Modern cuts no corners when it comes to design.
Their products are supremely customizable, enabling buyers to choose the exact length, fabric, and color of the couch to fit any living space. Sitting on a kiln-dried, hardwood frame, the Crowd Pleaser is built to last, with soft upholstery and supportive cushioning that won't deflate with wear. Aptly named for its universally complimentary design and extensive personalization options, there's sure to be an OG Crowd Pleaser for every space.
What We Love About The OG Crowd Pleaser by Benchmade Modern
Arguably, the OG Crowd Pleaser looks the least like it came out a box of all the sofas we reviewed. Its design is stylistically different from many of the minimalist, modern couches on the market, showcasing a plush, cloud-like silhouette.
Its cozy style is not for lack of support; featuring a subtle recline on the backrest coupled with adjustable back pillows, this sofa was built to keep your posture sharp while you relax. As elegant and stylish as it is inviting, the Crowd Pleaser isn't meant to be tucked away in the special occasion living room; scratch, stain, and pill resistant upholstery makes this sofa perfectly family friendly.
Benchmade Modern offers shoppers an extent of control and quality entirely unique to the sofa-in-a-box market. The length of the frame is customizable to the inch, and the elegant mid-century-modern style legs come in three finishes.
The upholstery is available in a range of leathers and fabrics totaling 62 colorways, with customizable cushion stuffing for a softer or firmer feel. Hand-crafted and custom-built in the USA using responsibly sourced materials, Benchmade Modern displays quality that is nothing short of luxury.
To guarantee you'll get the sofa of your dreams, the Crowd Pleaser comes with a free 100-day trial, and it has a lifetime warranty after that. If you're looking for a stunning investment piece that's perfect for your space down to the very last inch, the OG Crowd Pleaser is for you.
What we didn't love
Of course, luxury doesn't come cheap, and while nice, the factors that make The OG Crowd Pleaser so expensive aren't necessarily the most important considerations for all buyers.
If you have a large budget and you're looking for something entirely custom, designed to the inch to be perfect for your space, but with sofa-in-a-box convenience, this one is excellent.
But starting at over $3,000 and with an additional $99 for shipping, this couch is the most expensive one that we reviewed, and if you're hoping to maximize convenience on a budget, this might not be the right choice for you.
Price: $1,895
Dimensions: 87" width x 31" depth x 32" height
Arm Height: 20″ height
Leg Height: 7″ height
Frame Materials: Birch wood or upholstery
Upholstery Options: Stain-resistant polyester in 5 colors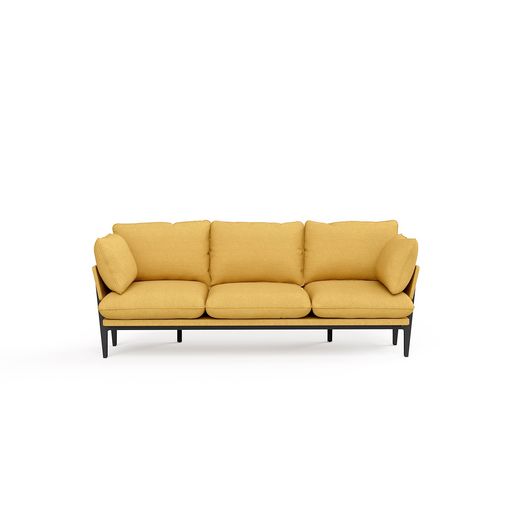 For maximum lounging even with minimal space, we love The Sofa from Floyd. The Sofa by Floyd, with its charming modern-yet-cozy aesthetic, is thoughtfully made to fit into any room — especially smaller ones. The customizable form allows you to order the perfect model for your space.
The Sofa has stain-resistant upholstery in a variety of universally complimentary styles, making it the perfect everyday couch. This sofa-in-a-box is super-lightweight with a simple design, making it a breeze to move and assemble. Not loud or overbearing but welcoming enough to be a statement piece, the Sofa from Floyd can fit any space, both in style and size.
What We Love About The Sofa by Floyd
Understanding the versatility of the present day living room, especially in small spaces, Floyd designed the Sofa to fit seamlessly into your lifestyle.
This modern Scandinavian-chic design comes in five different thoughtfully curated colors on a sturdy steel and birchwood base. With stain-resistant fabric prepared to wick off any liquids you may spill, the Sofa is perfect for anyone who eats, works, and occasionally sleeps (or drools) on their couch. The upholstery is durable, too, so no need to worry about pet claws or bouncing children.
Floyd's minimalist sofa-in-a-box designs are almost as easy to assemble as they are to look at. The Floyd website has a full instruction video, and the brand says it should take no more than 30 minutes with two people.
Meant to fit easily through any doorway and be stress-free to build, the Sofa arrives in lightweight, manageable pieces straight to your door. Floyd also offers separate chaise pieces that you can buy along with your sofa or down the line to best fit a bigger space (or more pets). Just attach it to the frame for the perfect small sectional, ready to be lounged in for entire long weekends.
What We Didn't Love
As an all-purpose-couch, you'd need to weigh your priorities to decide if the Floyd Sofa is right for you. It certainly measures up in durability and convenience, making it great for everyday spaces and everyday messes. But on the flip side, the Sofa's seat cushions are relatively thin, so it definitely isn't the big, fluffy, pillowy couch some people hope for.
It's also less customizable than some others in the same price range. If you're looking for a petite couch that's firm enough to support you through a day of online classes, but may not be cozy enough to accidentally fall asleep on, this could be your perfect sofa. But for a home that hosts a lot of visitors, the Floyd Sofa probably wouldn't be our first choice.
Price: $1,399
Dimensions: 89.4″ length x 36.6″ width x 37″ height
Arm Height: 19″ height
Leg Height: 7″ height
Frame Materials: Stainless steel
Upholstery Options: Suede or woven fabric in 3 colors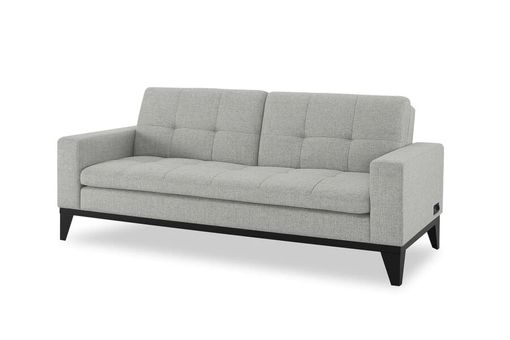 Coddle creates adjustable designs that can adapt to your life. With a grand total of 16+ positions to switch into, memory foam cushions, and performance fabric upholstery, the Code Couch is the best convertible, customizable sofa in a box.
If you need a sofa that can help maintain your posture while you work-from-couch but also host your sister when she tells you last minute she's driving in for the weekend, the Code was made for you.
What We Love About The Code Convertible Sofa by Coddle
The Code line was designed as multi-purpose furniture suited for multi-purpose spaces. Between completely upright and completely reclined, the Code sofa has 16 total positions for optimal comfortable seating. Fully upright, it's supportive enough to maintain your perfect posture.
Fully flat, the backrest reclines to a seemingly seamless, supremely sleepable queen sofa bed — all while charging your devices. Starting at $1,399, the Code Couch has a relatively low price point for such a comfortable, functional piece.
The Code Convertible arrives quickly and in one big box. It's a breeze to snap together, with just two bolts to tighten the armrests into place. Coddle also offers a full one-year warranty, in case you have any issues or decide the Code isn't right for you. A sleeper sofa that does so much more, the Code is a great choice for flexibility and comfort.
What We Didn't Love
The Code Couch is an impressively comfortable sleeper sofa that also arrives conveniently to your door in a box. The wow factor of this couch is that its position is customizable in form.
However, the Code only comes in three different color options, making it more limited stylistically than others on this list. While classic, the color palette of dark gray, light gray, and black upholstery is not ideal for making a statement.
Price: $847
Dimensions: 79″ width x 33.5″ depth x 33″ height
Arm Height: 18″ height
Leg Height: N/A
Frame Materials: Hard wood
Upholstery Options: 3 different fabric options with 25+ colors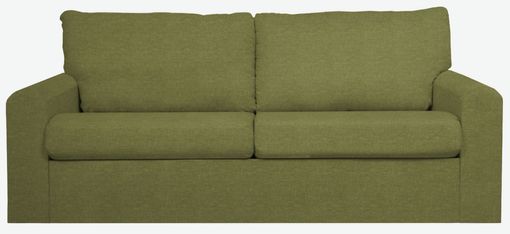 For a budget buy that doesn't skimp on comfort, style, or quality, the Laney Sofa from Home Reserve won't disappoint. Offering a range of easy-to-clean fabrics in a broad color spectrum with hidden built-in storage, the Laney Sofa packs a punch for the price.
What We Love About The Laney by Home Reserve
The Laney Sofa by Home Reserve is our best budget pick not just for the price, but for the value. Starting at $847, the Laney Sofa is half the cost of some of the other sofas we reviewed. Featuring clean lines and plush cushions, the Laney is a timeless piece that only gets cozier as you use it. With machine washable fabrics, the Laney is prepared for the wear and tear life brings.
The Laney Sofa is one of the smallest models we reviewed, making it perfect to cozy up even the smallest of spaces. Each seat cushion lifts to reveal built-in storage, which is a perfect way to make the most of your space. You can use the storage for pillows and blankets. You can also purchase an additional chaise or ottoman, if you'd like a more of a sectional look and feel. The Laney is a great investment piece, especially for a convertible piece.
What We Didn't Love
The Laney is part of a larger family of cleverly designed modular pieces. However, on its own, the Laney is one of the smaller sofas on this list. For its size, it certainly carries its weight, outfitted with a functional and elegant design.
However, it probably won't work well in larger spaces or for big groups — unless you intend to buy more pieces from the collection to extend your seating. The Laney is designed to be a two-seater, and can cozily fit three, but it wouldn't be ideal. For its quality and range of custom colors and fabrics, Home Reserve's pieces are still quite the bargain.
Price: On Sale for $1,199
Dimensions: 83.5″ width x 37.8″ depth x 26.4″ height
Arm Height: 26.4″ height
Leg Height: N/A
Frame Materials: Kiln-fired hardwood
Upholstery Options: 1 fabric in 2 colors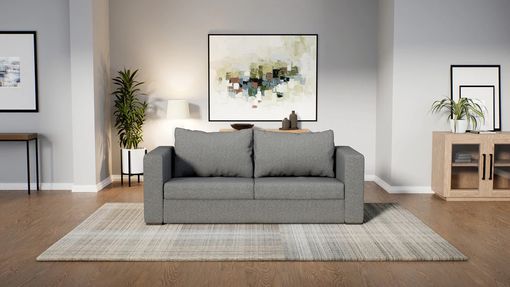 For a sofa that's easier to assemble than it was to write this review, the Elephant in a Box can't be beat. The Dynamic Sofa aims to be both the most durable and transportable couch on the market — or, as the brand says, the last sofa you'll ever need.
Delivered in one flat-pack box, this couch's unique accordion folded core extends to reveal an almost-fully-assembled sofa-in-a-box. Twist a few screws to secure the kiln-dried hardwood frame and the assembly process is complete. For a long-lasting sofa with a secret party trick, look no further than this one.
What We Love About The Dynamic Sofa by Elephant in a Box
Elephant in a Box's designs are certainly the most unique of this list. Strong yet flexible, the Dynamic Sofa was created to move through life with you. The backbone of this couch is an ingeniously designed honeycomb-folded core made out of cellulose fibers. This is the same technology also used in airplane and race car design. Translated to furniture, this tech is what allows Elephant in a Box to make lightweight, lasting pieces.
The Dynamic Sofa, with a collapsible spine structure, aims to be the most optimally shippable and transportable sofa around. The spine is made to be infinitely fold- and unfold-able, so it can move as many times as you do. The armrests can detach, and you can add seat extensions to even turn it into a true sectional. The convertible design allows you to modify your sofa for any new space instead of ever having to order a new one.
The brand offers a 30-day trial, so you can try it out before you commit to your purchase. With a 3,000lb weight capacity and a lifetime guarantee, the Dynamic Soda is the best choice if durability is the key factors in your sofa decision.
What We Didn't Love
The real wow factor of this sofa is what lies within; unfortunately, the exterior options are fairly limited. The Dynamic Sofa is available only in navy blue and gray. So, if you're looking for something for more of a statement, this won't be the model for your living room.
Price: $2,650
Dimensions: 60-100" width x 38" depth x 34" height
Arm Height: 19″ height
Leg Height: N/A
Frame Materials: Kiln-dried hardwood
Upholstery Options: 3 machine-washable fabric options in 5 colors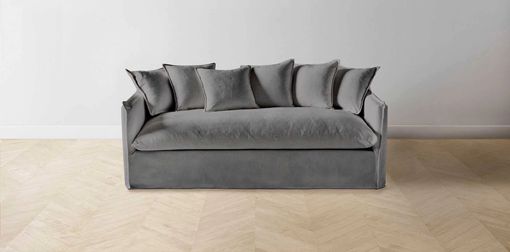 For an elevated look that's still family friendly, we recommend The Dune. Comfy, soft, and built to last, Maiden Home's tailor-made design is the best sofa-in-a-box for your well-loved living room. With a customizable length up to 100" and easily cleanable fabric, this sofa is designed with families in mind.
This couch has a kiln-dried hardwood frame for durability and a deep, plush seat to snugly fit everyone you love. Built to order and made to last, the Dune was created to be the home base of your living space.
What We Love About The Dune by Maiden Home
California cool with chic details, Maiden Home's design has plush, deep cushions clean lines, machine-washable fabric. You can host your kids' birthday parties or wine and paint nights with your friends without worrying about stains. The length is customizable, so you can order the perfect size sofa for your family.
Sitting on a frame that the brand says won't twist, warp, or crack, the Dune is carefully constructed for durability. The Dune is a convenient choice for those on the hunt for a low maintenance sofa with a cool style to match. And delivery is a breeze; Maiden Home offers free shipping and white glove delivery.
What We Didn't Love
Starting at $2,650, The Dune is still definitely an investment piece. Maiden Home furniture uses top tier materials and creates lovely. But if all you're looking for is a comfortable sofa-in-a-box, the Dune probably isn't for you right now.
Get More Great Home Recommendations with Home of Cozy
Gone are the days of bouncing from one stale-smelling showroom to the next in search of the perfect sofa. Instead, have one custom built to the inch with a few clicks. Thanks to the myriad of excellent options in the sofa-in-a-box market, you're sure to find a beautiful piece that perfectly completes your space.
We know it's hard to navigate the furniture market, even with the ease of doing it from home. At Home of Cozy, we keep up with industry trends and provide transparent reviews to help you make the best purchase possible. For stress-free shopping while you decorate, you can find plenty of other articles and comparisons in the Home of Cozy archives.