Pet owners see their pets as littler, furrier family members. That means they're along for the ride for most of the human activities… like cozying up on the couch through a Netflix binge.
While they're certainly welcome for wholesome family time, your pets usually will not master all of the facets of human etiquette. Pets have claws that pill or scratch the couch. They sometimes make messes on rugs. They drool on pillows and throw blankets.
Finding pet-friendly furniture that is both comfortable for you and durable for the wear and tear your pal will inflict upon it isn't always the easiest thing to do.
We've already discussed the best overall sofas and the best cat-proof sofas, but here we're going to address the whole pet animal kingdom.
Sofas and other pieces of large furniture can be extremely expensive. You don't want to invest in something that you'll have to replace quickly because it was ruined by fingernail scratches, slobber and stray hair.
We've done the research and are here to review the top 12 pet-friendly sofas on the market. If you purchase one of these, you can ensure you are investing in furniture that will withstand the test of your furry friends over time.
What Makes A Couch Pet-Friendly?
First of all, a pet-friendly sofa needs to be both durable and sturdy. But there are a few other qualities that can make them stand out as dog-friendly, cat-friendly and even hamster-friendly, if that's your thing.
You want to look for the following things when it comes to pet-friendly couches:
Pet-Friendly Upholstery and Fabrics: Ideally, you'll want to look for durable, pet-friendly fabrics that won't trap pet hair, dirt and other messes. You'll also want to make sure your fabric is not easily tearable and stain-resistant if possible. Polyester sofas and even leather couches can be a good pick here.
Easy To Clean and Maintain: If you have a dog or cat in your house, you are most likely cleaning your sofa and carpets frequently. Pet-friendly sofas shouldn't be made of hard-to-clean fabrics.
Durable Structure: Your sofa will need to stand the test of time, especially with pets in the house. You'll want to look for a couch with a sturdy wood frame. Additionally, you'll need to consider the material of your legs. If you have a dog that loves to chew, you may not want to opt for a sofa with wooden or fabric-covered legs.
Color: You'll want something that meshes well with your home's interior design, but also doesn't show off the pet hair that your dog or cat left behind. If you have a pet with light-colored hair, it may be best to opt for a lighter-colored couch. If you have a pet with dark hair, a deeper color will be the better choice.
Top 12 Pet-Friendly Couches in 2023
When doing our testing of the best pet-friendly sofa, we didn't only keep in mind specific fabrics and styles, but also size, shape, and overall build.
Every couch on this list uses performance fabric, leather or another material that can withstand animal claws. Their bases and build are durable enough to hold up against jumping and thudding.
They're all also quite aesthetically pleasing – with design and color options that will fit your apartment or house no matter its size.
Brand
Best For
1

Editor's Choice

Overall
Shop Now
2

Value
Shop Now
3

Luxury
Shop Now
4

Fabric Options
Shop Now
5

Style
Shop Now
6

Sleeper
Shop Now
7

Mid-Century
Shop Now
8

Simplicity
Shop Now
9

Leather
Shop Now
10

Convenience
Shop Now
11

Families
Shop Now
12

Custom
Shop Now
1
Editor's Choice
2
3
4
5
6
7
8
9
10
11
12
Below you can find our detailed review of each – accounting for all of the review criteria we listed above.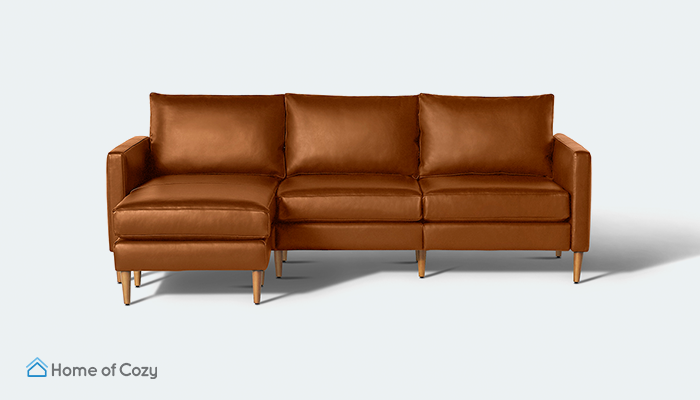 Price: $2245
Dimensions: 90" width, 34" height. Chaise depth: 61″. Arm depth: 38″
Fabrics: 7 performance fabric colors, 2 top-grain leather options
Home of Cozy Exclusive Offer: 20% off sitewide with promo code COZY20OFF
If you are on the hunt for the best pet-friendly couch, you'll have found it with the Allform 3-seat sofa with chaise. It checks almost every box we have for dog and cat lovers.
We chose to include the chaise because it gives you room to cuddle up with your pets without feeling overcrowded – but Allform's modular design makes it easy to design your own sofa if you wanted to make it bigger or smaller.
These sofas come in seven different performance fabric options as well as two different leather fabrics. Additionally, it has sturdy, kiln-dried wooden legs and a durable wooden frame. Because the couch was built with a modular design, it offers easy accessibility in both large and small spaces.
So, whether you live in a small apartment or large home, you can fit this pet-friendly sofa anywhere.
Check out our full Allform sofa review and Allform video review for specifics on how to build your Allform sofa. We also test its durability with a medicine ball drop – pretty fun stuff there.
Home of Cozy Exclusive Offer: 20% off sitewide with promo code COZY20OFF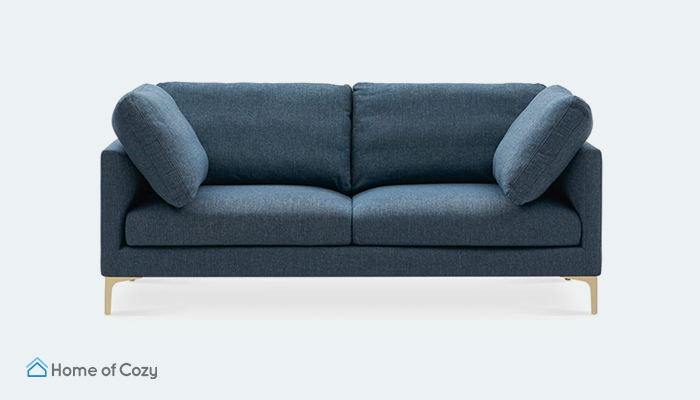 Price: $899
Dimensions: 72″ width, 35.4″ depth, 33.1″ height
Fabrics: 4 color options – polyester-based material
The second on our list of the top pet-friendly couches is the Adams Loveseat by Castlery. The Adams Loveseat is the perfect pet-friendly sofa for small spaces. It is a fairly small two-seater, so it's best for people with smaller pets like cats or small dogs. It's also a good furniture option if you live in a studio apartment or one with several smaller rooms.
One of the best parts of Castlery's loveseat is its sturdy wood frame and brass metal legs. These will ensure that your loveseat will withstand the test of time as your dog or cat jumps on and off of it over and over.
The Adams loveseat also comes with removable cushion covers and removable seat covers for easy maintenance. However, these fabrics are not supposed to go in the washing machine, as they are handwash only, which can be a bit of a pain.
If you have a dog that likes to play in the mud, make sure you clean them off before you allow them up on this particular piece of furniture, otherwise you'll be handwashing muddy paw prints off your new sofa.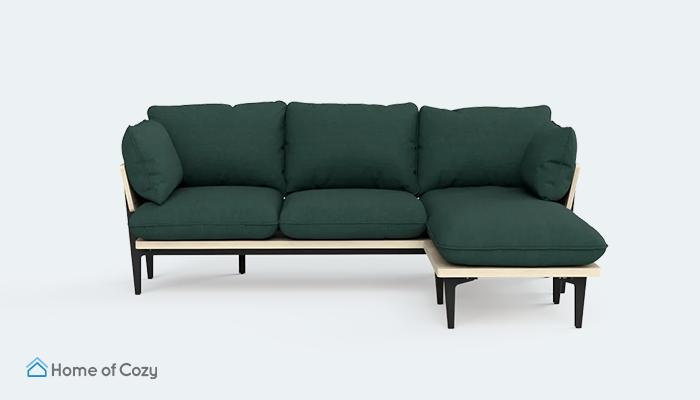 Price: $2295
Dimensions: 87" width, 61" depth, 32" height
Fabrics: Polyester-based stain-resistant fabric in 6 colors
We thought this was a great option for a pet-friendly household because of its durable and sturdy wood frame, as well as its removable cushions.
The wooden frame of the sofa and chaise is made from birch plywood and powder-coated steel. It's a design that was built for long-lasting support.
One bonus of this sofa that makes it one of the best pet-friendly sofas is that the cushions are removable for easy cleaning. Additionally, the upholstery fabric is incredibly pet-friendly.
Floyd chose a tight weave pattern so cat claws don't snag, so you can let your canine or feline friend cuddle on it. They also made sure the fabric was stain and smell-resistant.
If you do choose the Sofa 3-seater with chaise, you hopefully won't even notice that your pets share the sofa with you – unless they make messes for you to clean up.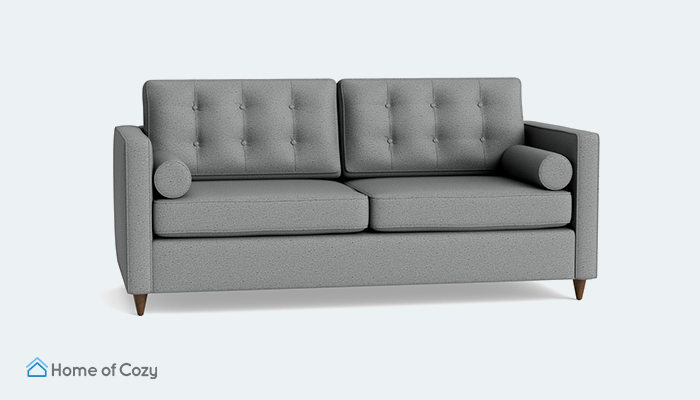 Price: $2,629
Dimensions: 79″ width, 35″ depth, 37″ height
Fabrics: "Pet-friendly" fabrics come in over 30 different colors
The Joybird Braxton Sleeper Sofa is one of the best sleeper sofas for pets – especially for small spaces. We put the Joybird sofa on the smaller side – even though it folds out to be a queen size sleeper sofa that you can use for guests if necessary. This makes it convenient for you and your guests and comfy for your and your furry friends when you're the only ones home.
The only drawback of this option is that the size may not be a great fit for a household with large dogs because it is only a two- or three-seater sofa.
We love that it comes in a variety of colors so you can show off your style. Joybird has an entire line of pet-friendly fabrics for you to choose from. Additionally, the tufted back cushions are a unique detail that elevates the design for a stylish space.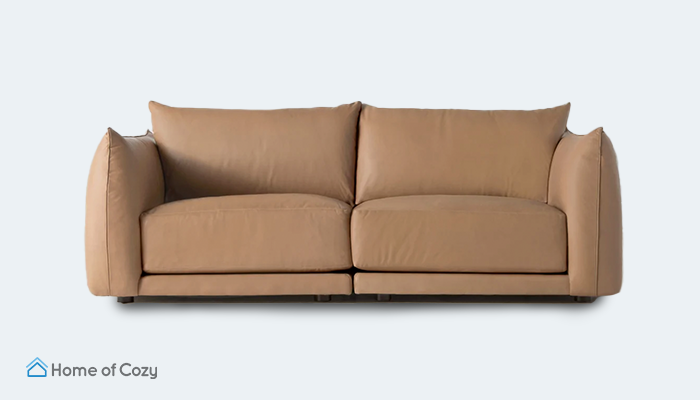 Price: $5100
Dimensions: 84" wide, 40" depth, 32.5" height
Fabrics: Top-grain leather, performance chevron, performance linen and more
The Jones Modular Sofa is a great build for a pet-friendly home because of its durable leather and flexible configuration. The modular element allows you to customize the fit of this sofa to your home.
We love that the sofa comes in three top grain leather stains, ranging from a light tan to a deep brown. Leather sofas are great for cat owners because their claws cannot snag in the fabric. Maiden Home is not necessarily a budget purchase.
The brand is a more luxury brand and the sofa will cost you about $5,100. If you are looking to invest in a luxury, durable, pet-friendly sofa option, this could be the right choice for you.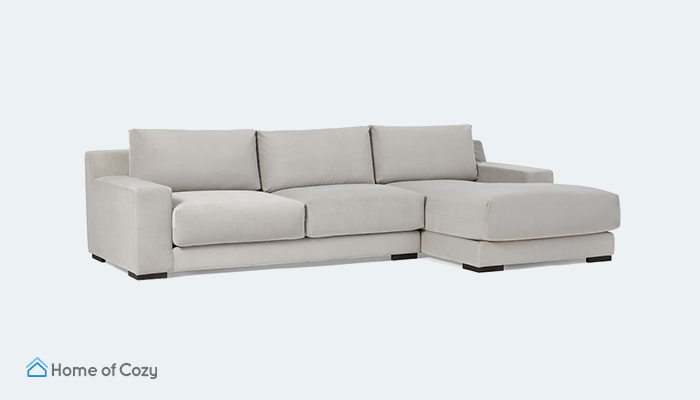 Price: $3,200 to $4800
Dimensions: 110.5″ width, 34″ depth, 36.5" height
Fabrics: Over 30 different color options across tweed, velvet, linen, twill and canvas
Another durable but luxurious option is West Elm's Newport 2-Piece Chaise Sectional. We think this couch is the perfect size for a large family with dogs or cats. You can choose the configuration and the fabric of this two-piece sectional, so you can ensure it fits well in your space and color scheme.
When picking your sofa, you can choose from a variety of fabrics including performance velvet, tight weaves and chenille tweed for a durable and easy to clean surface. We thought this was a great option if you're looking for a mid-century modern sofa that can withstand the test of time (and your animals).
Price: Starts around $1700
Dimensions: 81.25″ width, 33.5″ depth, 35.5" height (3-seater)
Fabrics: Customizable
For one of the most sturdy sofas on the market, go for the Inside Weather Issa Sofa. We think it's one of the best couches for a pet-friendly household because of its sturdy wood frame and wide selection of performance and stain-resistant fabrics.
One cool thing about the Inside Weather sofa is that it is completely customizable when it comes to shape, size and upholstery. There are over 60 fabric options, with both a performance and pet-friendly fabric line. The Issa sofa is ultra-durable and can be custom-sized to fit your entire family (and your pets).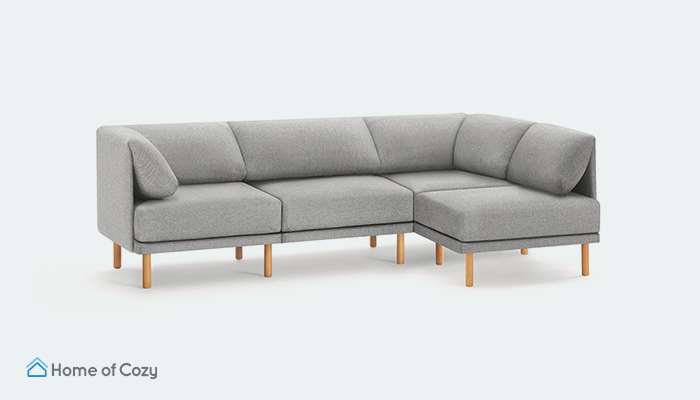 Price: $1995
Dimensions: 91.5″ length, 60.5″ depth, 28″ height
Fabrics: Tight-weave fabric in 4 different colors
We adore the Burrow Range 4-Piece One-Arm Sectional for people with pets. Not only does it fit our criteria with performance fabric designed for the long-haul, but you can also customize the configuration to fit your living space.
The sectional sofa comes in four different colors with a stain-resistant and scratch-resistant fabric. If you choose to invest in the Burrow piece, you can also choose from three different kiln-dried wooden legs to match the look of your space.
Because the Burrow 4-Piece One Arm Sectional is large, you don't have to worry about squishing your whole family and all your pets onto the couch. Everyone can kick back, relax and play board games or watch movies or have conversations – or whatever else your family (and pets) do together.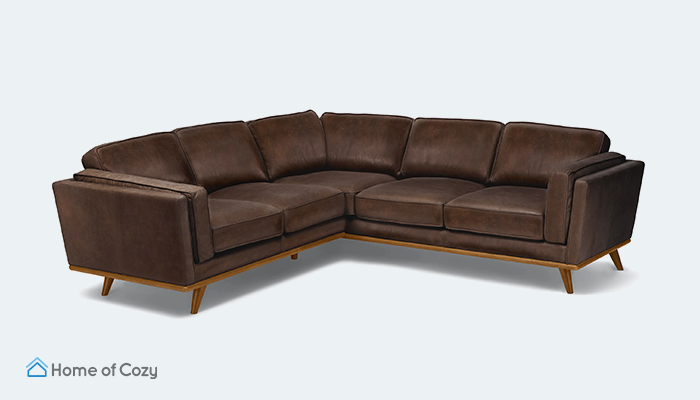 Price: $3999
Dimensions: 32″ height, 93″ width, 35″ depth
Fabrics: 3 fabric colors, 2 leather options
The Timber Leather Sectional by Article is a great option for a pet-friendly household because of its large size, sturdy frame and durable fabric. We love the Italian leather upholstery on this sectional, because it is incredibly durable and easy to maintain – plus it has the look of a much more expensive piece.
To clean it, you simply have to wipe it with a soft, clean cloth – obviously a huge bonus for those of us with pets. And, you'll never run out of space because this sofa can fit six people (or pets) comfortably.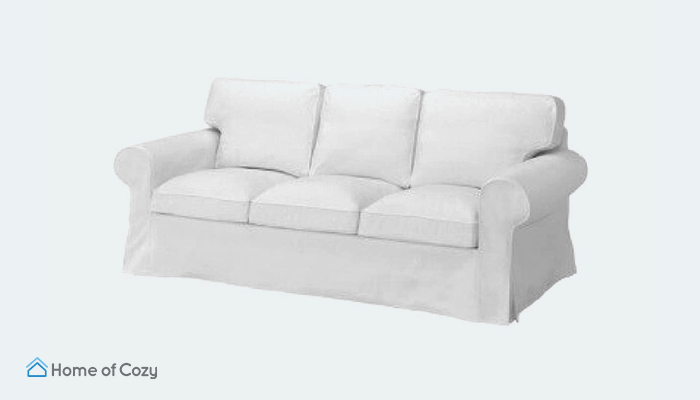 Price: $579
Dimensions: 34.6" height, 85.9" width, 34.6" depth
Fabrics: Polyester-based fabric available in multiple colors
Many people overlook the comfort and stability of an IKEA couch. However, the IKEA Ektorp sofa is a great fit for pet-friendly households because you can purchase a slipcover with it. A slipcovered sofa is easier to maintain and clean. Additionally, it can add a fun pop of color to the room while not being permanent.
It's a great idea for people who like to play with the colors and aesthetics of their space.
The sofa comes with a chaise, so you have plenty of room to both stretch out and cuddle up with your furry friends. One bonus is that you can wash your Ektorp slipcover in the washing machine for easy clean-up in case of large messes. It is the easiest piece of living room furniture to maintain and the easiest to clean on our entire round-up of pet-friendly sofas.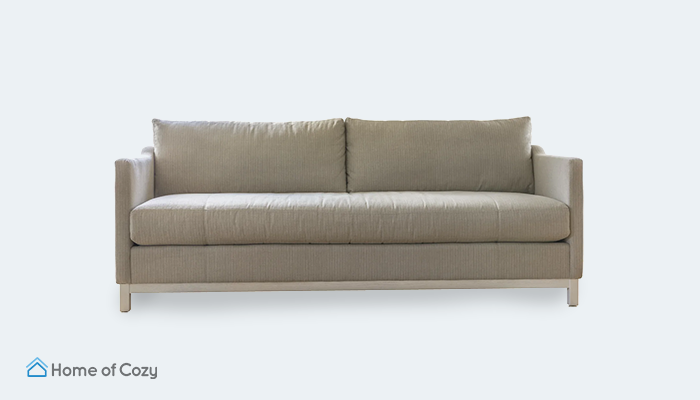 Price: $4805
Dimensions: 84″ width, 36.5″ depth, 35″ height
Fabrics: 6 standard fabrics colors and 5 "life friendly" fabric colors
We love the Brooke and Lou Brooklyn Sofa, because it was designed with family life in mind. It comes in five different "life-proof," stain-resistant fabrics and will work great in a casual living space – even if you have kids and pets who are ready to destroy
This four-seater couch does not have a chaise, so it may be a tight squeeze if you have a few kids and large pets. However, it is a great size for a couple or family with a smaller pet, like a small dog or cat. The Brooklyn sofa is incredibly durable, with a sturdy wood base and wooden legs. It can withstand the test of time against both your children and your pets.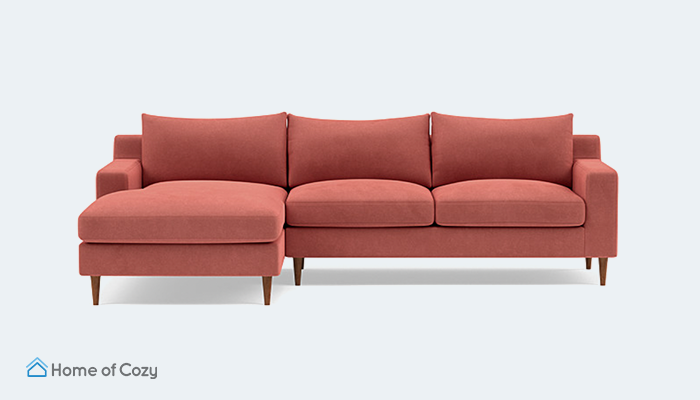 Price: $2045
Dimensions: Customizable
Fabrics: Customizable
The Interior Define Sloan Chaise Sectional is among the best customizable couch options for those looking for a pet-friendly sofa. You can choose from a variety of fabric swatches including multiple performance fabric textures and velvets.
One great thing about Interior Define pieces is that the tight weave on their performance fabrics allows for easy clean-up and less pet hair stuck in your seat cushions. When you order this made-to-order sofa, the company allows for a custom fit for your living space.
You can select everything from the sofa fabric, size, cushion fill and total depth. The customization options are super in-depth, which really elevates the buying experience.
But in the end, it's really about the quality of sofa you end up with, and Interior Design could not be left off this list.
Best Fabrics and Upholstery for Pet-Friendly Sofas
One thing to consider when picking out one of the above pet-friendly sofas (or finding another pet-friendly couch) is the material the couch is made from. Fabric and upholstery matter when it comes to the durability of a piece of furniture, especially when dogs and cats are involved.
Certain fabrics work better for furniture in a pet household because they are easy to maintain, do not trap pet hair and create a comfortable and durable surface for your pets to lay on without ripping.
Some of the top fabric types for furniture that pets will spend time on include:
Top Grain Leather: Leather furniture has a smooth and silky feel to it. Also, if you have a pet, you don't have to worry about constantly cleaning up pet hair on your sofa. A top grain leather upholstery will allow you to easily maintain your sofa's cleanliness without being too high maintenance.
Microfiber: Microfiber is a highly durable and easy-to-maintain fabric that also makes for a comfortable sofa. This fabric is naturally stain-resistant, dust-free and easy to clean. Microfiber couches are also great if you're looking for something that is both pet and kid-friendly.
Performance Fabrics: Performance fabrics were made to be easily maintained, cleaned and last a long time. They are naturally scratch and stain-resistant and easily cleanable. Additionally, some performance fabrics will also not catch pet hair.
Velvet: Velvet is a decent pet-resistant fabric if you're looking for something a little more luxurious. This ultra-soft fabric is a little harder to maintain than the other pet-friendly fabrics, but the aesthetics are unbeatable. Your pet's claws won't get trapped in the fabric – even if the pet hair sometimes will.
Find the Perfect Sofa For Your Home With Home of Cozy
We hope this guide helped you determine what's important when shopping for a pet friendly couch – durability, material choices, color choices and build.
We also hope you found some of the couch models we suggested to be suitable to what you're looking for – we really did try to include a variety!
If you still didn't find what you're looking for, check out some of our other in-depth guides and reviews lists: