Mid-century modern furniture is all about clean lines, comfort, and balanced proportions. If you're lucky, you can find an authentic mid-century modern sofa from a secondhand or antique store near you.
But if you're looking to buy a faithful recreation of a mid-century modern sofa either online or in-store, you're in luck! I've combed through dozens of individual sofa models and brands to see which companies produced the most comfortable, durable, and stylish mid-century sofas out there.
If you appreciate those distinctive elements of mid-century modern design such as button tufting, minimal armrests and tapered legs, check out my top picks below.
The 7 Best Mid-Century Modern Sofas
Brand
Best For
1

Editor's Choice

Quality, Functionality
Shop Now
2

Width Options
Shop Now
3

Velvet
Shop Now
4

Plush Cushions
Shop Now
5

Customer Service
Shop Now
6

Leather
Shop Now
7

Sleeper Sofa
Shop Now
1
Editor's Choice
Best For:
Quality, Functionality
2
3
4
5
Best For:
Customer Service
6
7
1. Sectional Sofas by AllForm
Price: $2,245 to $4,345
Dimensions: 90 in. width x 38 in. depth x 34 in. height
Frame Materials: Maple and Poplar Kiln-Dried Laminated Hardwood
Upholstery Options: 7 performance fabric, 2 top-grain leather options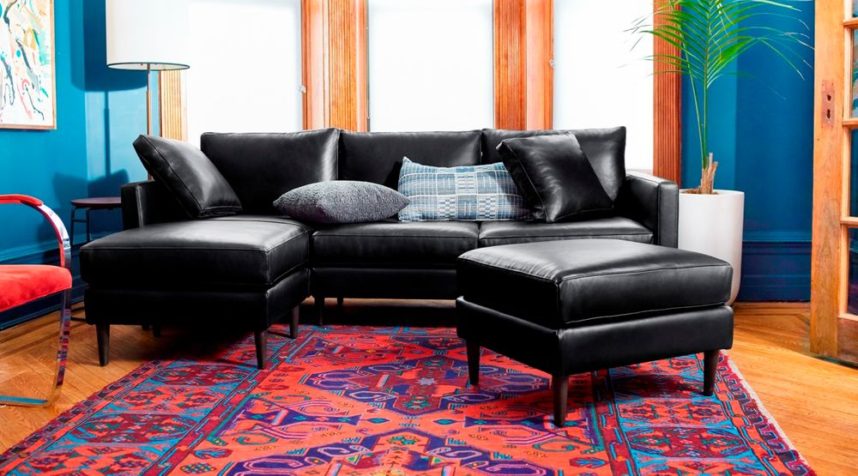 What I Loved
While it may be a pretty new furniture brand, Allform takes its design cues from the best elements of mid century modern style. The company designs fully modular seating. From its armchairs and loveseats to sofas and sectionals, each model utilizes seating modules that can be purchased together and positioned in an endless array of configurations based on your living room.
What I love about Allform the most is its adherence to mid-century design but with a contemporary take on production, shopping, and customer care. Each model is available in seven performance fabric upholstery options or two top-grain leather upholstery options. And its frames are handcrafted from kiln-dried laminated maple or poplar wood, which makes for a durable, long-lasting sofa.
Allform was also created by the same company behind Helix, one of the best-selling mattress-in-a-box brands out there. So, it makes sense that their shopping, customization, and delivery options fully focus on the needs of any online customer.
In terms of customer care, Allform provides no-contact delivery and most sofas arrive within 4 weeks or less. When you order from Allform, you get 100 days to try a sofa in your own home. If you don't love it for any reason, you can ship it back. Plus, their solid wood frames are backed by a lifetime guarantee!
What I Didn't Love
All of Allform's modular sofas and sectionals require assembly. However, if you've ever had to put together IKEA or Wayfair furniture, this will definitely be a much easier experience. Allform's instructions are incredibly easy to follow. Plus, the modular seating units are easy to fit together.
2. The Monroe Sofa by West Elm
Price: $1,399 & up
Dimensions: 91 in. width x 35 in. depth x 31 in. height four width options: 72 in., 80 in., 86 in., and 91 in.
Frame Materials: kiln-dried solid wood frame
Upholstery Options: 20+ performance fabric options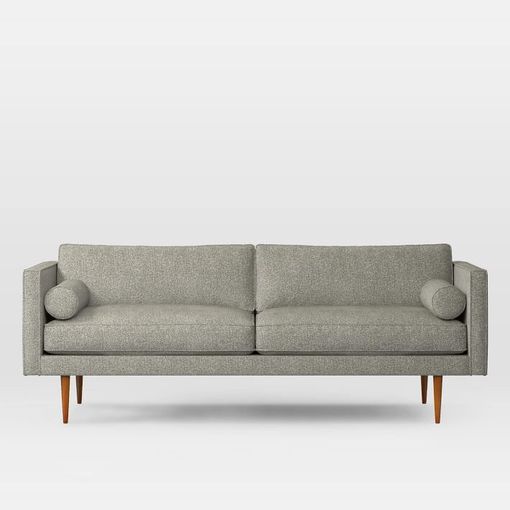 What I Loved
West Elm's Monroe Sofa is the quintessential mid-century modern couch, with its clean lines, square arms, and tapered legs. While it's not a modular sofa like Allform's sectional, this three seater sofa is available in four different widths so you can choose just the right size that will fit your living room whether you're looking for a small space sofa or something a little wider to spread out on.
When it comes to West Elm's sofas, I usually find their cushions to be somewhat stiff. However, they generally soften a bit after a few weeks at home. From reviews I've found, the cushions on this sofa in particular tends to retain their form for much longer. Personally, I think it'd be better for a home office instead of the comfy, overly-stuffed sofa you'd enjoy sinking into for movie nights.
As always, West Elm's white glove delivery service was fast and dependable. Their sofas generally come in several boxes, but since you're paying for white glove service, you don't have to worry about assembly.
What I Didn't Love
With its rollarm-style throw pillows, it definitely is one of the most stylish sofas I've tested this year. However, it wasn't the most comfortable.
3. Cosima Blue Channel Tufted Sofa by Crate & Barrel
Price: $2,179.00
Dimensions: 97 in. width x 35 in. depth x 26.5 in. height
Frame Materials: kiln-dried hardwood frame
Upholstery Options: one velvet option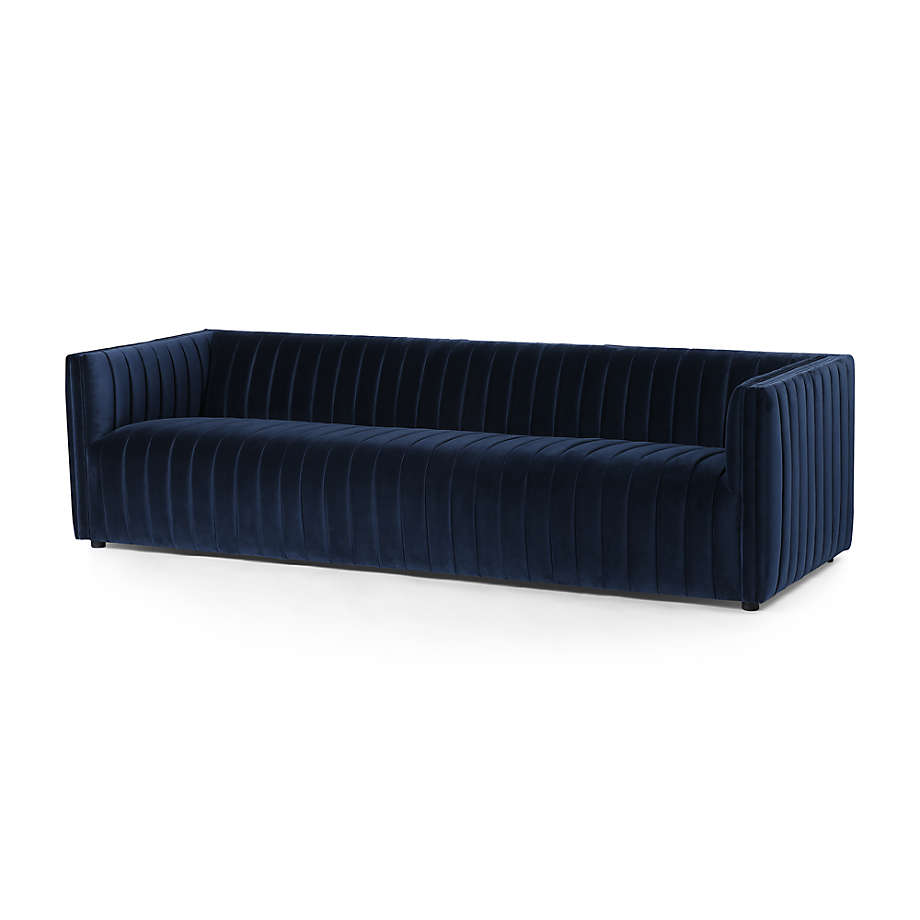 What I Loved
I used to think that you either love velvet furniture or you hate it. But after testing this one out, I started to question that since this sofa is pretty much the perfect balance of comfort and style. Unlike the first two top picks on this list, the Cosima is a tuxedo sofa; meaning its arms and back cushions are the same height. The result is a striking, minimalist statement piece that'll look and feel great in any living room.
The silhouette is inspired by early 20th century club chairs, and with its rich, velvet texture, this sofa looks like it'd be perfect among Art Deco home decor as well as it could among more contemporary pieces.
It's pretty comfortable and easy to live with, too! I found that the velvet is easily spot-cleaned (provided you get to any stains quickly, though.)
What I Didn't Love
A few negative reviews I found highlighted delays on Crate & Barrel's end. Additionally, I would have liked to have seen more than one upholstery option for this velvet model. While the Cosima is also available in a few leather upholsteries on different product pages, there aren't very many fabric options.
4. The Mina Two-Cushion Sofa by Anthropologie
Price: $1,998 to $2,598
Dimensions: 94 in. width x 30.0 in. depth x 36 in. height; two widths: 79 in., and 94 in.
Frame Materials: kiln-dried hardwood frame
Upholstery Options: one velvet option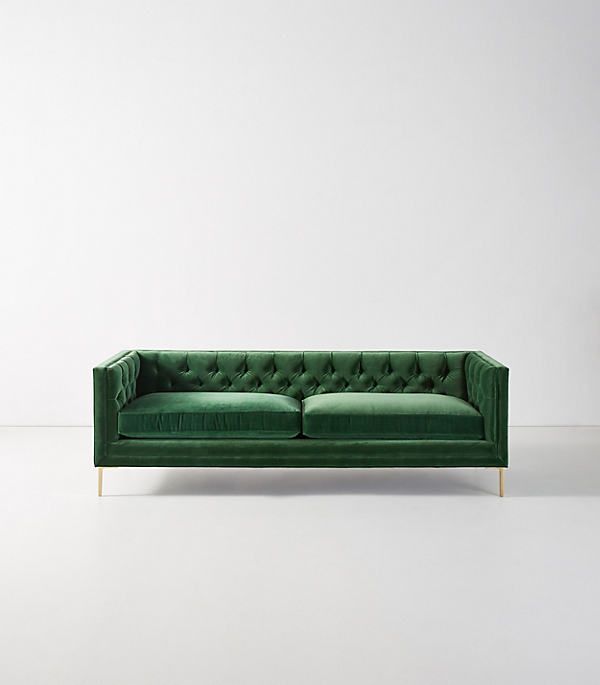 What I Loved
Another velvet Tuxedo sofa, the Mina is a bit more maximalist than Crate & Barrel's Cosima, with its tufted back cushions and brass legs.
I've written before about Anthropologie's furniture. While their furniture and home decor are pretty expensive, those who buy from them tend to be happy. And while the Mina only has four customer reviews on the site so far, they were all glowing 5-star reviews. I have to agree with them for the most part. It's slightly more plush than the Cosima as this one features slightly over-stuffed seat cushions. My only concern is that these types of cushions tend to deflate over time.
Other than that, the blue velvet was a bit lighter in tone than Crate & Barrel's Cosima. In my opinion, both their frames felt comparable in terms of strength and durability. If you happen to be deciding between the two, the key differentiator here is that this Anthropologie sofa is made to order versus Crate & Barrel's sofa which is ready-to-ship.
What I Didn't Love
This was one impressive sofa. However, I noted from a few reviews that this sofa can take up to three months to produce and deliver.
5. The Luca Sofa by Rove Concepts
Price: $1,478 (member price), $1,849 (regular)
Dimensions: height: 94 in. width 30.0″ depth x 36.0″ height
Frame Materials: kiln-dried wood frame
Upholstery Options:

in-stock options: 1 felt, 1 fabric, 5 velvet upholstery options
custom: 20+ custom upholstery options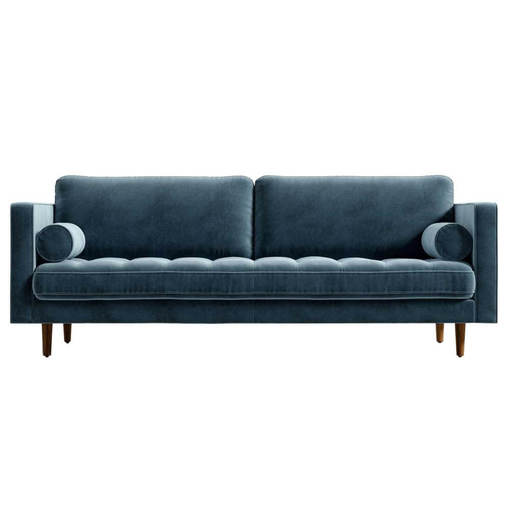 What I Loved
Rove Concepts is one of my favorite go-to's for contemporary and mid-century design. While they tend to be pretty pricy, you can get up to 20% many designs with a member discount. In this case, that cuts off almost $400.
With its tapered legs and roll-style bolster pillows, this is a fairly straightforward mid century modern sofa. This sofa is also part of a broader collection of armchairs and loveseats so you could mix and match to create a living room set.
The sofa itself is near perfection. I loved the tufted seat cushions (stuffed with eco-friendly foam and premium goose feather) plus its availability in a wider range of upholsteries compared to some of the other top picks above.
One thing that sets Rove Concepts apart is its customer service. Their team is incredibly attentive and ready to answer any and all questions regarding delivery as well as long-term repair and maintenance. Rove Concepts also includes Accident Protection for an additional $185. That might seem expensive, but I think it's worth it if this is a sofa you see yourself living with for a
What I Didn't Love
Like Anthropologie, Rove Concepts' shipping times tend to be pretty lengthy compared to other retailers.
6. Florence Chaise Sectional by Kardiel
Price: $2,979.00
Overall Dimension: 101.2 in. widith x 32 in. depth x Height 31.5 in. height
Sofa Module: 69.2 in. width x 32 in. depth
Chaise Module: 32 in. width x 67 in. depth
Frame Materials: High Polished #304 full length external stainless steel base frame ensures no chipping or rusting; Body Frame: Traditional hardwood box frame construction
Upholstery Options: 2 top-grain leather options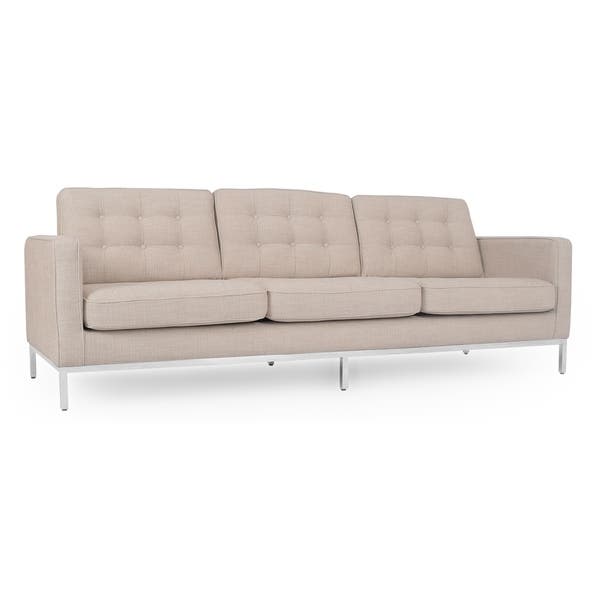 What I Loved
Kardiel is coveted among mid century modern lovers, particularly those who appreciate a finely-crafted leather sofa or sectional. Their Florence line, in particular, came up again and again in my research for this list. So, I tried out one of their top-rated chase sectionals in an aptly-named "espresso' brown top-grain leather.
With its rich tone and incredibly soft seats, this is definitely one of my personal favorites. The seats feature memory foam, giving you effortlessly ergonomic support while its overall silhouette just calls to mind more luxe retro designs you'd see in much pricier and exlcusive furniture showrooms.
Like Allform, the Florence line focuses specifically on three-seater chaise sectionals, a seating configuration I love since it gives you the space to fully spread out and lounge. All in all, there wasn't much I disliked about this sofa.
What I Didn't Love
All in all, there wasn't much I disliked about this sofa. Personally, I would have liked to have seen more options for the legs as I felt the silver base and legs made it look like something you'd see in an office or retail setting instead of a home.
And again, the negative reviews tended to come from customers opting for custom sofas. These were mostly comments on the extremely long shipping times that extended up to three months. However, I didn't see any negative comments on quality or comfort.
7. Erik Sofa by Inmod
Price: $749
Dimensions: 85 in. width x 30 in. depth x 31.5 in. height
Frame Materials: hardwood frame
Upholstery Options: one fabric option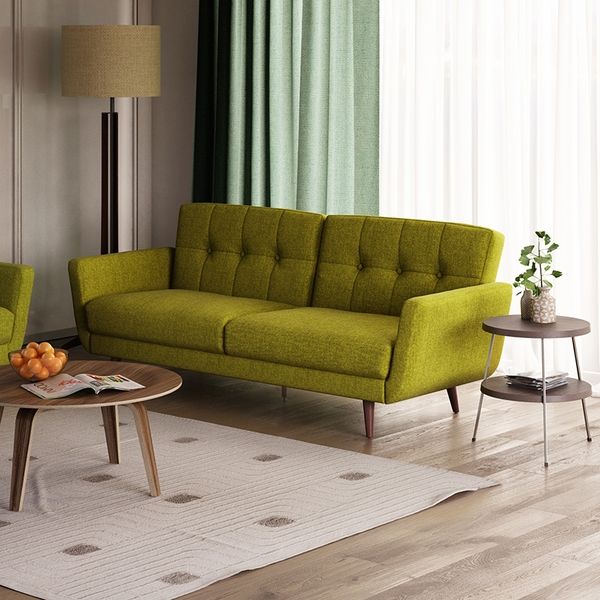 What I Loved
To close out the list, the Erik Soda by Inmod is one of my top choices for best mid century living room sofa of the year. It's a great choice if you're seeking a chic, mid century sofa under $1,000. Plus, this one is a sleeper sofa! While it doesn't have a pull-out mattress, the Erik is a convertible sofa featuring backrest cushions that easily fold down to give you about a full-size guest mattress.
While it wasn't the most comfortable for a full-night's rest, it does the job far better than a lot of other sofa beds and futons I've tried before. Plus, for $749, it's hard to beat when it comes to style and comfort on a budget.
What I Didn't Love
Compared to a few other sofas on this list, I just wasn't a fan of the acrylic legs. With wooden legs, I think this would be a lot sturdier and durable in the long-term.
Tips for Finding Your Perfect Mid-Century Modern Style Couch
Always Consider Your Space & Lifestyle
As with any sofa or any big piece of living room furniture, you have to start with the practical considerations and priorities. Do you have kids or pets? You'll likely need a kid and pet-friendly sofa with upholstery that can keep up with them. If you're living in a condo or apartment, consider loveseats, settees, small space or apartment sofas that can help you maximize the space you're working with.
Shop Around and Compare Brands
These are just seven great mid century modern sofas. If you're shopping around online, consider high-quality retailers like Joybird, Blu Dot, Article, and Burrow. If you don't mind combing through literally thousands of options, Wayfair is always a great choice, too. And if you're on a budget, there's always IKEA, the Scandinavian interior design juggernaut that has pretty much everything you need for modern living if you're buying multiple pieces of furniture, home decor, and accessories.
More Guides to Help You Shop for Living Room Furniture
If you're considering other furniture styles aside from mid century, explore some more Home of Cozy picks from deep seat sofas to corner sofas and so much more in our Best Furniture guides.