You started furniture shopping and hit a wall. You realized there are quite literally thousands of furniture stores. Whether you're searching within your area or looking online, there are so many different businesses vying for your sale. With all those choices, it's easy to get overwhelmed.
That's why I did the research and reviewed hundreds of online and brick-and-mortar furniture stores to see which companies gave shoppers the best pricing, product selection, and customer service. Read on to see which 10 furniture retailers made the cut.
The Best Overall Sofas of 2023
To help you find the best deep seat sofa, I tested individual models from over 23 different brands. These are the best new sofas with extra deep seats that balance the best in design, price, sustainability, and durability.
To help you out, I broke down each of my top picks by category depending on the type of furniture you're seeking or the experience you want from each retailer.
Best Online Furniture Store: World Market
Best New Furniture Brand: Allform
Best Traditional Brand: Ashley Furniture
Best for Affordability: IKEA
Best for The Dorm: Target
Best Modern-ish Brand: Crate and Barrel
Best For Small Purchases: Urban Outfitters
Best Furniture Delivery: Amazon
Best For Outdoor Furniture: Home Depot
Best Customer Service: Wayfair
Brand
Best For
1

Editor's Choice

Best Online Furniture Brand
Shop Now
2

Best New Furniture Brand
Shop Now
3

Best Traditional Brand
Shop Now
4

Affordability
Shop Now
5

Dorm Rooms
Shop Now
6

Best Modern-ish Brand
Shop Now
7

Small Purchases
Shop Now
8

Delivery
Shop Now
9

Outdoor Furniture
Shop Now
10

Customer Service
Shop Now
1
Editor's Choice
Best For:
Best Online Furniture Brand
2
Best For:
Best New Furniture Brand
3
Best For:
Best Traditional Brand
4
5
6
Best For:
Best Modern-ish Brand
7
Best For:
Small Purchases
8
9
Best For:
Outdoor Furniture
10
Best For:
Customer Service
Best Online Furniture Store: World Market
Best for: furniture for any room in your home, eclectic and boho-inspired interior design on a budget
Average Customer Rating: 4.1 out of 5 stars (BestCompany.com)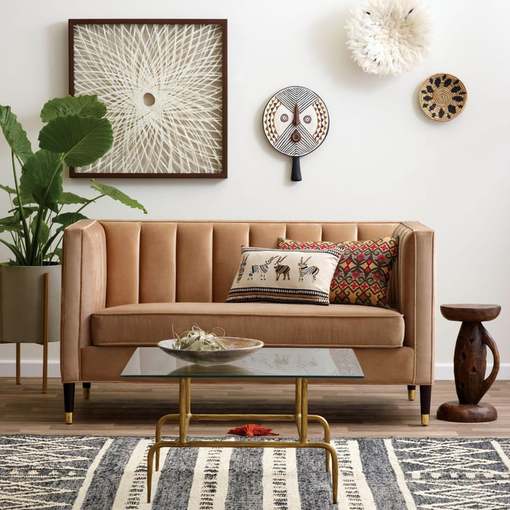 What World Market Does Best
World Market is a hit among in-store and online customers seeking a wide variety of furniture and home decor. Having shopped online and at a local store, it's hard to pick which experience is better. However, for convenience and product selection, their online store is definitely among the best I've so far.
In some previous reviews, I've described World Market's brand positioning as Anthropologie on a Home Goods budget. If you love the free-spirited, eclectic range of furniture and decor from Anthropologie but can't stomach a $600 price tag for a side table, World Market is definitely for you.
World Market's selection rivals furniture juggernauts like Wayfair or Amazon, but what I love is how easy their site is to shop. In the past few months, I've had to buy some essentials like a new dining set and a TV stand. While searching, I found that I loved using their "Pick Up Today" filter to see which products were immediately available at my local store. It's a feature you see from popular retailers like Walmart or Target, but with a curated range of furniture and decor that looks and feels much more distinctive and stylish than you'd normally find from a big box store.
I was also impressed when it came to their customer care. For returns, you get 60 days with most items. Plus, you can return most online orders in-store. Just keep in mind that anything returned after 60 days will just get you store credit. And from most of the reviews I went through, it seems like World Market's team is fairly friendly and attentive when customers do have issues they need to call in about.
How World Market Can Improve
As with any big box retailer, product and order quality can vary depending on what you're buying. From a few negative reviews I've found, the most common issues tend to be wrong or defective items being shipped, along with some miscommunications from their customer care team.
Best New Furniture Brand: Allform
Best for: high-quality modular armchairs, loveseats, sofas, and sectionals
Average Customer Rating: 4.7 out of 5 stars (Allform website)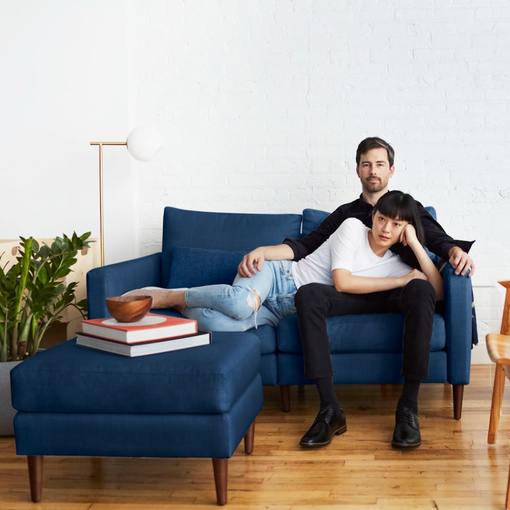 What Allform Does Best
Allform is a pretty new furniture brand from the same company behind Helix, one of the most innovative mattress-in-a-box brands. As a new online furniture brand, Allform has a singular focus on sustainable and modular design. They create easy-to-assemble modular chairs, loveseats, sofas, and sectionals, all designed to evolve with any living room or home you inhabit.
While they don't create cheap couches you can score for $100 to $200, Allform creates furniture that's built to last. Plus, it's easy to see how Allform shoppers become loyal customers. As someone who's lived in some pretty small spaces and apartments, it's fascinating to see a company that designs and builds furniture that meets those needs intuitively. I could easily see someone starting with a loveseat or small space chaise sectional and slowly building a seating configuration over time depending on how their living space changes.
Since Allform is primarily an eCommerce furniture store, they also pay close attention to customer service, delivery, and warranties that'll keep customers happy and loyal. On the off chance I've had an issue, their customer support team has gone above and beyond to ensure my needs were met.
Allform also gives customers 100 days to try any piece of furniture at home. If they're not completely in love with it for whatever reason, they can return it. Plus, they provide lifetime warranty coverage on the kiln-dried laminated hardwood frames used in their seating modules. However, from personal experience and reviews I've read, I have a hard time believing anyone actually takes them up on that since their frames are some of the sturdiest I've seen among furniture brands.
How Allform Can Improve
I've said it before but I'll say it again, I can't wait to see what else Allform comes up with! They seem to have a strong handle on creating high-quality modular seating, so I'd love to see a broader range of furniture pieces and styles.
Best Traditional Brand: Ashley Furniture
Best for: traditional brick and mortar store and showroom experience
Average Customer Rating: 3.2 out of 5 stars (Consumer Affairs)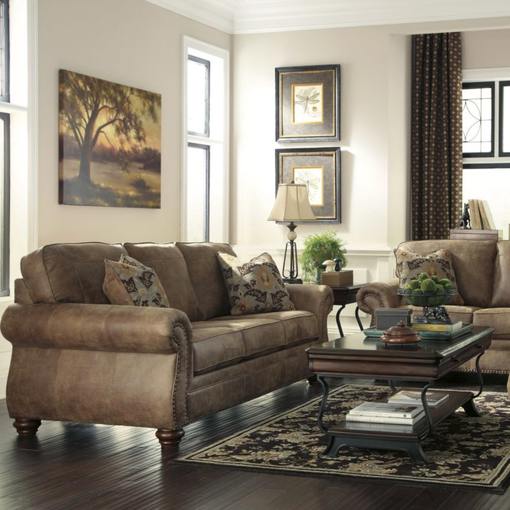 What Ashley Furniture Does Best
At a time when so many brands are throwing gimmicks and designer knockoffs at shoppers to entice them to buy, it's kind of refreshing to see a furniture company that sticks to the basics: good values and incredibly dependeble furniture that lasts a lifetime.
Similar to World Market and other big retailers, Ashley Furniture is well-known for its hybrid online-to-showroom experience, its extensive range, namely its living room, dining, and bedroom sets. This gives customers some of the best deals on quality furniture.
While their online store feels kind of dated and hard to navigate, I did appreciate their Room Builder tool, which operates like a pared-down 3D-rendering tool that interior designers use to conceptualize and visualize how furniture and decor will look in a real space. You can do everything from finding interior design inspiration, use a template room, or build your own floor plan.
How Ashley Furniture Can Improve
While Ashley Furniture sets the standard for a great showroom experience with its incredible selection of furniture and home decor, shopping online is kind of a challenge. I personally find their site kind of overwhelming and hard to navigate. Plus, many negative reviews I've found have highlighted significant customer service and product quality issues when it comes to online orders. For example, missing products from sets and miscommunication from customer service representatives.
Best For: Shoppers looking for traditional brick and mortar stores and showrooms.
Best for Affordability: IKEA
Best for: furniture and home decor for any room; modern and minimal Scandinavian interior design
Average Customer Rating: 4 out of 5 stars (Consumer Affairs)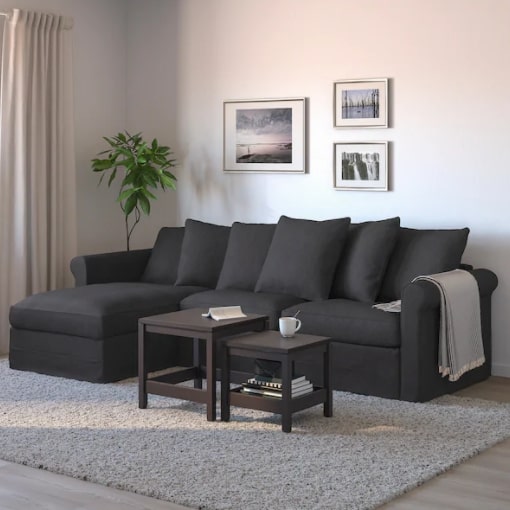 What IKEA Does Best
No matter your lifestyle or living situation, there's a strong chance you have at least one piece of IKEA furniture or home decor. The Swedish furniture company is famous worldwide as a one-stop shop for modern furniture and decor that blends style and affordability.
IKEA is perfect for finding quite literally any piece of furniture you need from dining tables and living room furniture to bedframes, headboards, and storage solutions. If you love in-store shopping, it's also one of the few furniture companies that have created an entirely branded experience.
Their huge warehouse stores almost feel like a cross between a theme park and a casino, with seemlingly endless visual inspiration for how you can coordinate spaces of any size. Go to a showroom and you can see pristine, minimalist living room displays alongside farmhouse-inspired kitchens.
How IKEA Can Improve
Product quality and sustainability are the two things IKEA can improve on. When you're buying cheap furniture, understand that there may be some trade-offs when it comes to durability or the integrity of the materials. However, if you can afford it, particleboard and plastic likely aren't the materials you'll look to in furniture that's built to last. And when it comes to environmental impact, IKEA is responsible for a fair degree of global deforestation and unsustainable wood sourcing. has come under fire in the past few years for its use of illegally-sourced timber in its wooden furniture. Going forward, it'll be interesting to see what practical steps IKEA takes to curb its unsustainable timber practices.
Best for The Dorm: Target
Best for: small spaces, dorm rooms, apartments
Average Customer Rating: 4.1 out of 5 stars (Consumer Affairs)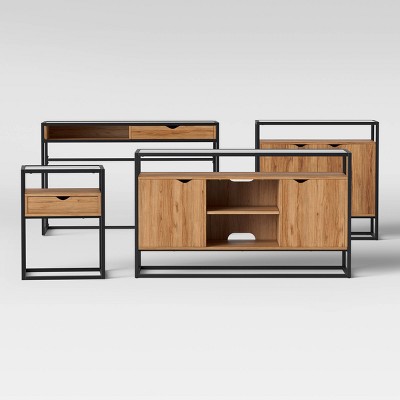 What Target Does Best
Target has developed a niche for itself as the premier destination for dorm and back-to-school shopping. Shopping for home decor feels similar to other big retailers like IKEA or Wayfair, in that Target has an incredible range of affordable furniture in a variety of styles. But where Target differentiates itself is in its deals.
Target has an entire category of its site dedicated to dorm furniture, with lots of amazing deals like seating from $25 to futons under $100. With its hybrid online and in-store shopping, you can even browse products online and easily find them at a Target near you for same-day pickup.
How Target Can Improve
Because of how Target's store models are configured, most stores generally don't have that much furniture and home decor. Target is generally a shopping destination for household items like cleaning supplies and groceries along with men's, women's, and children's clothing. Given how popular and affordable their furniture is, it'd be interesting to see a more home decor-focused shopping experience.
Best Modern-ish Brand: Crate and Barrel
Best for: high-end modern furniture for your entire home, modern home decor, outdoor furniture, high-quality kid's furniture
Average Customer Rating: 3.7 out of 5 stars (Consumer Affairs)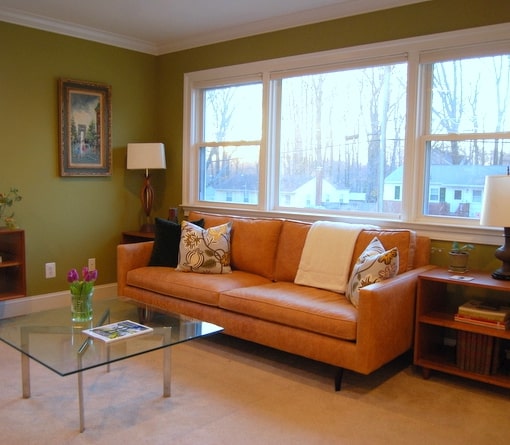 What Crate and Barrel Does Best
Like Target, Ashley Furniture, and IKEA, Crate and Barrel has a strong retail presence with over 89 stores and 15 international franchises.
Crate and Barrel is perfect for anyone who favors minimalist or modern design. If you've been shopping at Target or IKEA and are looking for more substantive, high-quality pieces, your furniture shopping journey will likely lead you to Crate and Barrel. Despite being a global chain, Crate and Barrel is well-regarded for their product quality. Like Allform, their sofas and loveseats generally feature solid kiln-dried wood frames, plush seat cushions, and durable performance fabrics designed for easy cleaning. And like IKEA, you can find something for any room in your home from large pieces of furniture such as bed frames all the way down to home decor accents and an impressive array of outdoor furniture.
Because you can find literally anything from dining sets to appliances, their website and retail outlets are also incredibly popular destinations for wedding registries. While it isn't really something we review a lot at Home of Cozy, I actually found their online wedding registry flow to be pretty easy to follow. And if you're a guest, they even have a handy guide and collection of their top 50 most popular gifts for you to consider.
How Crate and Barrel Can Improve
In my opinion, there isn't really much that Crate and Barrel does wrong. While I've personally never had an issue with a Crate and Barrel order online or in-store, I found a few Consumer Affairs reports that discussed significant delays with back-ordered items. These are products that go out of stock with the expectation that they may be replenished. However, numerous customers left negative reviews detailing how Crate and Barrel's customer service team wasn't able to communicate accurate delivery dates.
Best For: Shoppers who need furnishings for multiple rooms such as a desk for the home office as well as coffee tables for the living room.
Best for Small Purchases: Urban Outfitters
Best for: bold and trendy accent pieces such as side tables, bar stools, table lamps
Average Customer Rating: 2 stars out of 5 (Consumer Affairs)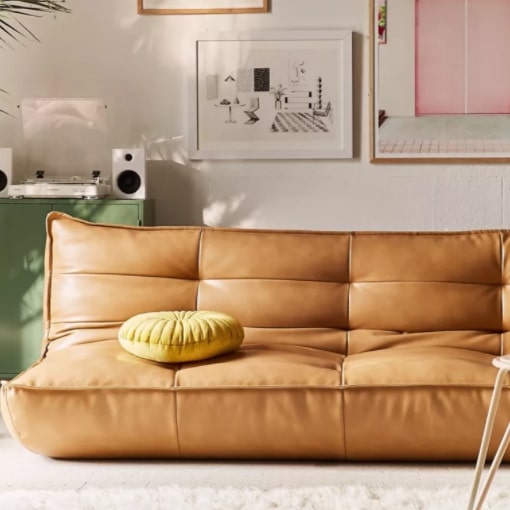 What Urban Oufitters Does Best
Urban Outfitters is incredibly popular for men's and women's apparel worldwide, but in the past few years, the Philadelphia-based retailer has been upping its game when it comes to furniture and home decor.
Urban Outfitters is intuitive when it comes to channeling the latest interior design trends within its evolving line-up of large pieces of furniture, bedding, and home accessories. Compared to other retailers, Urban Outfitters' buying team spends much more time scouring everything from the latest magazine editorials to influencers' accounts on Instagram to find just the right inspiration for their home collections.
Where Urban Outfitters excels is in its accent pieces including side tables, lighting, chairs, and small shelving units. Not only are these some of the most stylish pieces on the site, they're also some of the most affordable and fastest to ship.
How Urban Outfitters Can Improve
While its retail stores and the website are incredibly popular shopping destinations among customers, Urban Outfitters' aggregate ratings on sites like Consumer Affairs and Trustpilot are dragged down because of the significant number of negative reviews. Many customers experienced significant shipping delays as well as miscommunication from customer service representatives regarding actual delivery dates or surprise back-orders on products listed in-stock online.
Best Furniture Delivery: Amazon
Best for: one-stop shop for your entire home; anyone who wants the most stress-free delivery for all types of quality furniture
Average Customer Rating: 4.7 out of 5 stars (Amazon website)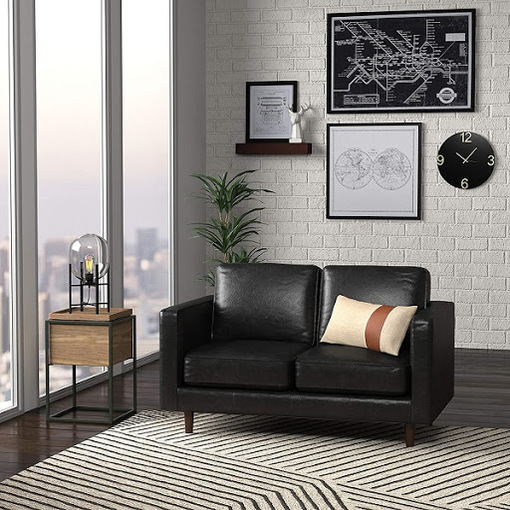 What Amazon Does Best
It's no surprise that the company that reinvented retail is such a hit with customers. Amazon leads the way when it comes to fast and efficient order fulfillment in addition to housing one of the most impressive marketplaces where you can find nearly anything you want for your home.
Amazon Prime members in particular, get access to exclusive sales and promotions, as well as priority deliveries that can arrive in as fast as one day. Plus, Amazon has one of the easiest return policies for furniture: 30 days with a receipt plus one to three-year warranties for its own furniture brands such as Rivet, Stone & Hammer, and Ravenna.
How Amazon Can Improve
Similar to other giants like Wayfair, Target, and IKEA, shopping at Amazon is a task in itself if you're simply browsing or considering many individual products. Amazon is also a marketplace website, which means that you'll be shopping from many different third-party brands. That means it'll be up to you to discern from customer reviews whether or not you can trust that brand. Additionally, if you don't have a Prime membership, you won't have access to as many great deals.
Best For Outdoor Furniture: Home Depot
Best for: outdoor furniture, gardening supplies, anything you need for a DIY project, moving boxes and supplies
Average Customer Rating: 3.8 out of 5 stars (Consumer Affairs)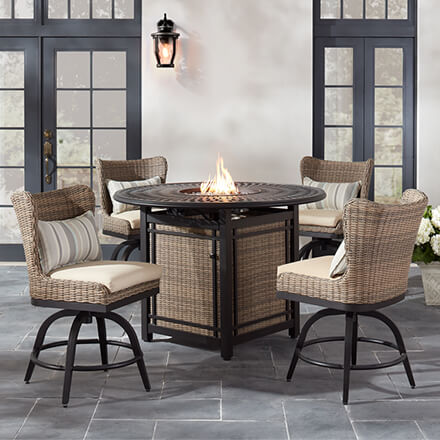 What Home Depot Does Best
Home Depot is one of the most trusted retail companies among, with almost 4 out of 5 stars on Consumer Affairs. The chain attracts everyone from professional contractors doing repairs to DIYers tackling a renovation project. Home Depot's no-frills approach is somewhat similar to IKEA's strategy: get people into a large warehouse and enable them to navigate to where they need to be, with support from team members as needed.
Like other large retail chains, Home Depot even has its own app, enabling you to find products online or in-store depending on your project. This is especially handy when it comes to trying to find individual products within their large warehouse stores.
In terms of product selection, Home Depot has many other retailers beat when it comes to gardening and outdoor furniture. Like IKEA, Home Depot locations are generally large and expansive, with ample room for many types of plants, gardening supplies, patio sets, and everything you need to maximize your outdoor living space.
How Home Depot Can Improve
Home Depot may be one of the few retailers for which I don't really have anything negative to say. Most customers who rated the company only experienced minor inconveniences such as delayed packages, but generally rated Home Depot highly when it came to exemplary customer service and affordable prices.
Best Customer Service: Wayfair
Best for: a wide selection of furniture and home goods for your entire home
Average Customer Rating: 3.7 out of 5 stars (Consumer Affairs)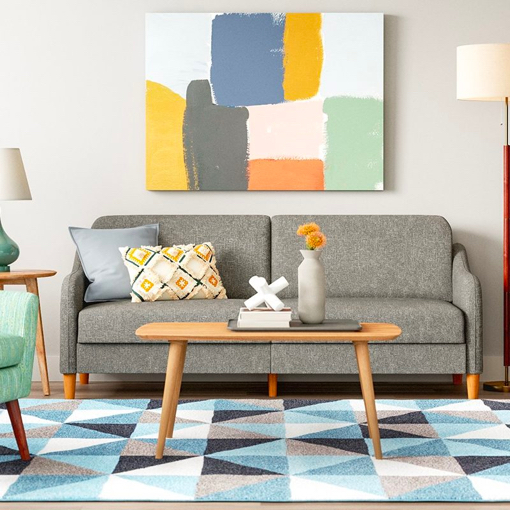 What Wayfair Does Best
If you've googled terms like "sectional sofas" to "mid-century modern loveseats," you've likely landed on the Wayfair site before. Wayfair has fast become one of the most popular furniture and home goods marketplaces online.
What I love about Wayfair is the sheer size of their product line-up. You can find quite literally any type of home furnishing you could want on the site. Wayfair even boasts over 22 million products. With such a broad range, I've found it especially helpful to use the internal search to narrow down my selection instead of just relying on categories. To illustrate Wayfair's price points, you can find everything from $200 to $300 futons all the way up to $3,000 or more for top-grain leather sectionals.
How Wayfair Can Improve
Like Amazon, large marketplace websites like Wayfair generally have a hard time moderating product quality from individual brands, especially since they're facilitating sales for millions of products for sale.
Other Furniture Retailers You Should Consider
West Elm – If you love Crate and Barrel but want slightly more affordable home furnishings, you'll love West Elm.
AllModern – Like the name implies, AllModern creates distinctive and stylish minimalist modern furniture and home decor. They even provide free shipping on most items.
Anthropologie – A sister brand to Urban Outfitters, Anthropologie is perfect for stylish, boho-inspired high-end furniture, kitchen accessories, and bed linens.
Pottery Barn – Pottery Barn is a high-end retailer specializing in some of the most comfortable sofas you'll ever sit on along with a great range of indoor and outdoor furniture. They even have specialized lines for kids and teens.
One Kings Lane – One Kings Lane features a curated range of luxury furniture and home decor. What I love about them most is their impeccable customer service and concierge design services plus white glove delivery, making for one of the least stressful furniture shopping and delivery experiences from any retailer.
Overstock – For over 20 years, savvy customers have flocked to Overstock for amazing deals on quality furniture and home decor. They also offer free shipping and incredibly easy returns on most products.
Apt2B – Apt2B will be your go-to if you're seeking chic, modern furniture on a budget. They have everything for living rooms, dining rooms, bedrooms, and home offices.
Birch Lane – Birch Lane specializes in classic, quality furniture you'll love for years. They have everything from expertly crafted sofas and large storage units to a wide range of lighting and home accessories. They also offer free shipping and easy online returns.
Rivet – If you're shopping for furniture on Amazon, check out their exclusive in-house brand, Rivet. It's a great brand for affordable mid-century sofas as well as solutions for small spaces.