In a world dominated by mass-produced, cookie-cutter furniture, boho couches feel like a breath of fresh air. These sofas feature an eclectic, free-flowing aesthetic, one that goes against "traditional" interior design advice to embody something far more original — you. They're the perfect way to change up your living space and add a dose of personality.
To help kickstart your living room's bohemian-style makeover, the team at Home of Cozy has compiled a list of 13 gorgeous boho-chic couches. When you're ready, say goodbye to that boring old space, and say hello to a lovely new boho living room that reflects your individuality.
What Do Bohemian Sofas Look Like?
Modern bohemian decor takes inspiration from the 1960s hippie movement and its free-spirited, nomadic followers. Today's boho couches incorporate eclectic design elements with lots of mismatched and lived-in layers, including throw pillows and throw blankets that add eye-catching (often earthy) colors. They also do away with strict, prudent rules about form and function, prioritizing a free-flowing mix of textures and patterns.
Boho couches are exceedingly comfortable and cozy, with thick cushions and soft fabrics that make you feel right at home. A personal touch is encouraged, and the right option includes elements that you find near and dear to your heart.
What Criteria Did We Evaluate For These Reviews?
For this guide on boho sofas, the team at Home of Cozy researched and tested dozens of today's most popular bohemian-style couches. We kept all the elements of the bohemian aesthetic in mind, considering a range of fabrics, patterns, styles, and textiles.
Here's a shortlist of the criteria we used to evaluate and find the best boho sofas:
1. Quality – A boho couch is only as good as its craftsmanship. Many of the sofas in our selection are handcrafted to order, and all feature exceptional attention to detail.
2. Budget – Part of the appeal of boho design is that you don't need to spend several thousand dollars on custom "upscale" furniture. Although some boho-style couches cost that much, our list includes excellent options for every budget.
3. Comfort – Sofas (especially boho sofas) are made for rest and relaxation. True to form, the best ones feature plush cushions wrapped in cozy upholstery.
4. Design – Free-flowing, eclectic, earthy — boho sofas feature a unique charm, blending with your decor while simultaneously standing out as gorgeous accent pieces.
5. Sustainability – The boho design style is inspired by hippie culture and nomadic, worldwide travelers. These groups tend to care about the planet, and the best boho brands incorporate eco-friendly, sustainable construction that embodies their philosophies.
One thing that surprised us during our search was just how many boho couches there are on the market. While it made our job more difficult, it also means that this list reflects the very best among today's extensive selection.
Top 13 Boho Style Sofas to Upgrade Your Living Space
It's important to find a boho sofa that fits your lifestyle. That's why this list includes 13 options for every preference. Let's start with a tried-and-true sofa that fits beautifully in any boho-themed home.
Brand
Best For
1

Editor's Choice

Quality
Shop Now
2

Overall
Shop Now
3

Color
Shop Now
4

Simple
Shop Now
5

Style
Shop Now
6

Comfort
Shop Now
7

Size
Shop Now
8

Leather
Shop Now
9

Design
Shop Now
10

Sleeper
Shop Now
11

Daybed
Shop Now
12

Tufted
Shop Now
13

Luxury
Shop Now
1
Editor's Choice
2
3
4
5
6
7
8
9
10
11
12
13
Price: $2,369
Dimensions: W90″ x D38″ x H34″
Frame Material: Maple & poplar
Upholstery: Leather (or polyester)
Colors: 2 leather color options
Warranty: Lifetime (frame) & 3 years (cushions)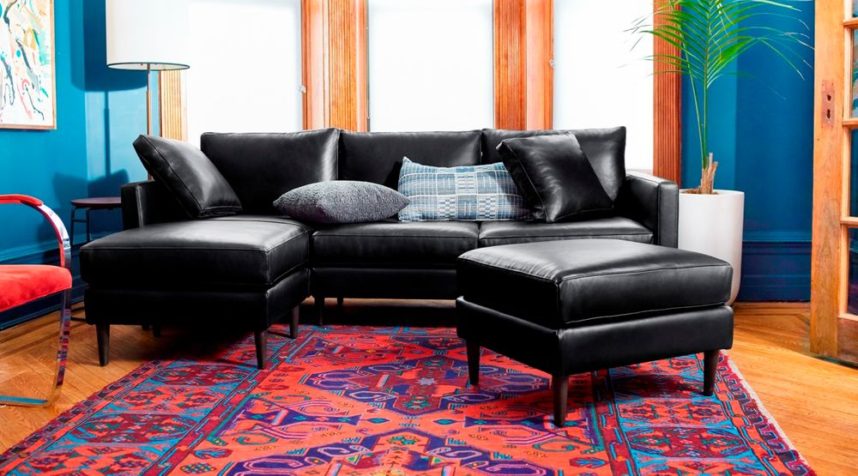 Allform specializes in mid-century modern sofas, but it also handcrafts select options with boho-inspired finishes. Cue the Allform 3-Seat Sofa.
The Allform 3-Seater comes in performance polyester or leather, though it's the latter that works so well as an eclectic centerpiece. The top-grain leather comes in Whiskey (my favorite) or Dark Smoke, two divinely earthy tones that fit beautifully in any boho living space. If you don't like leather or prefer the feel of fabric, you can also choose the Amber or Charcoal polyester variant without sacrificing much of that boho charm.
Like all Allform sofas, the 3-Seater is customizable and modular, meaning you can add pieces and adjust the layout to suit your needs. It's also entirely eco-friendly — made with 95% recycled materials — and boasts Sustainable Forest Initiative (SPI) certification for an ethically-sourced supply chain. In other words, it's as good for the planet as it is for your boho-themed home.
Price: $1,180
Dimensions: W72″ x D31″ H33″
Frame Material: Oak & pine
Upholstery: Velvet (or polyester)
Colors: 2 velvet color options
Warranty: 1 Year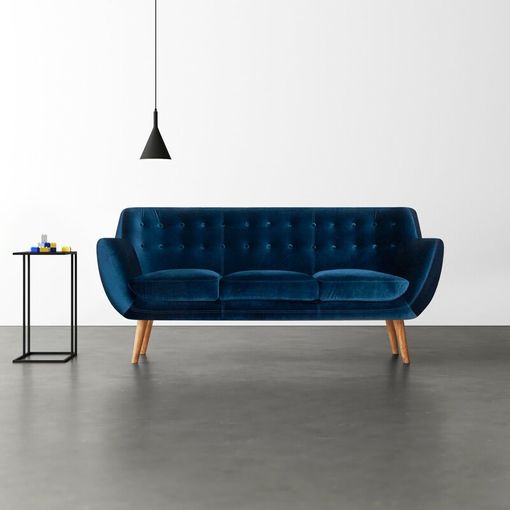 Tufted velvet is an iconic theme within boho design. Although many sofas don this type of fabric, nobody wears it like the Gelman from All Modern. This velvet sofa comes in a vibrant blue or mustard suit, providing an eclectic pop of color in every room. It also features 26 perfectly-positioned upholstery buttons, exuding all the charisma of a dimpled smile. It's not just the Gelman's tufted velvet that catches your eye, either — the sofa's upward-arching oak-and-pine frame is a focal point that looks as stunning in the living room as it does in the master bedroom.
While the Gelman's 72″ length can fit four people comfortably, I mostly recommend it for adult households and families that prefer form over function. The sofa isn't uncomfortable by any means, but the cushioning lacks the plushness necessary for snuggle-heavy movie nights.
Price: $1,499 & up
Dimensions: Starting at W72″ x D38″ x H34″
Frame Material: Wood
Upholstery: Velvet (or leather or fabric)
Colors: 4 velvet color options
Warranty: 1 year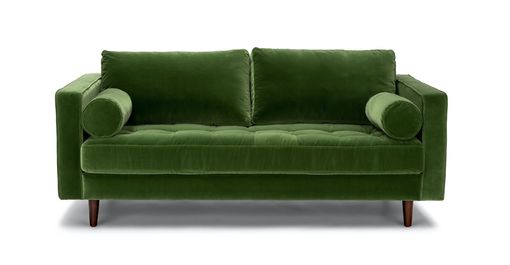 Even though we've already seen a luxurious tufted sofa, I couldn't help but include the Sven by Article in this list of boho couches. This piece is different from the others, as its tufts rest on the bottom cushion instead of the backside. The Sven's silhouette is also unique, featuring more of a modern-meets-boho aesthetic with cylindrical throw pillows and mismatched proportions that amp up its playfulness.
The Article Sven comes with stain-resistant velvet upholstery (perfect for households with children) in four color options — green, gold, teal, and blue. With that said, it's the emerald green that takes my breath away. The green palette looks like it's come straight from a woodland forest, providing a grounded, earthy feel that works quite well in any living space.
My favorite thing about this sofa is that the entire piece comes together in under 15 minutes, making assembly and maintenance an absolute breeze.
Price: $1,495 & up
Dimensions: Starting at W80" x D35" x H35"
Frame Material: Wood
Upholstery: Varies
Colors: 121 color options
Warranty: 10 years (frame)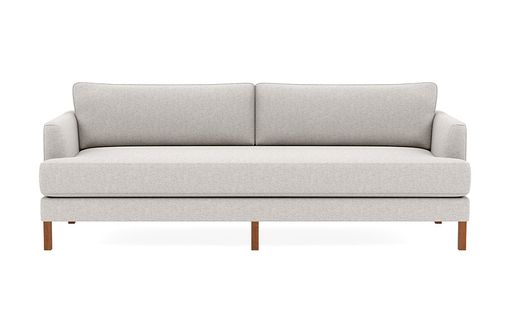 The Winslow Sofa from Interior Define features an elegant frame that starts at 80″ long, making it perfect for small or large boho-style living rooms. If you have a growing family, you can also pay a little extra to get it in 88″ or 96″ variants. You can spend even more for a 40″ depth (rather than 35″), which I recommend for spicing things up with lots of homey throw pillows and blankets.
Those aren't the only areas of customization, either. Interior Define offers over half a dozen different textile options — including chenille, velvet, and boucle — and over 100 color options, ensuring the perfect vibe in your living space.
Price: $1,455.99
Dimensions: W53″ x D30″ x H28″
Frame Material: Rattan
Upholstery: Velvet
Colors: 1 color option
Warranty: 3 years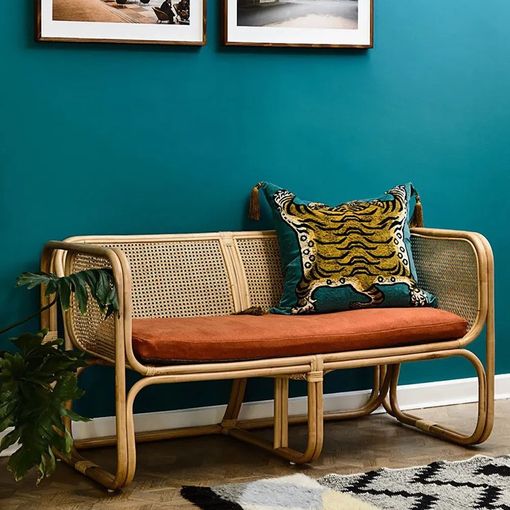 The Rattan Settee Loveseat by Homary is as bohemian as they come. It's such a deviation from the Western design aesthetic that it may be the most whimsical piece on our list. At the same time, its contemporary loveseat-style frame fits in with most modern homes.
This boho glam style sofa features an Asian-inspired rattan frame and velvet cushion that blend in perfect harmony. The wooden rattan is pure and natural, imperfect in its patterns, yet more gorgeous than any human-made material. Meanwhile, the velvet upholstery adds much-needed comfort to the robust rattan, and its orange palette pops beautifully against the surrounding finish. Add a couple of pillows with bright pillow covers to glam things up, and you'll immediately energize that eclectic feel.
At just 53″, the Homary settee is fairly small for a living room. I've found that it works fabulously in the foyer or hallway as a place to welcome guests and impress them with your stellar sense of style. It's also a natural shoo-in for the boho-style home office or guest bedroom.
Price: $1,729 & up
Dimensions: W89" x D33.5" x H32"
Frame Material: Wood
Upholstery: Linen or polyester
Colors: 118 color options
Warranty: 1 year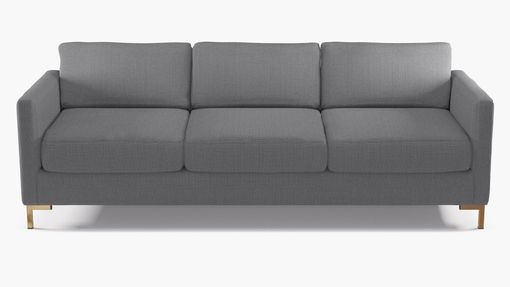 It may be called the Modern Sofa, but there's something uniquely timeless about this minimalist couch from The Inside. For starters, it comes in over 100 different fabrics, many of them embodying bold colors and charming geometric patterns that pleasantly distort the sofa's clean lines. This couch also incorporates unique metal legs, which feature sharp angles and come in your choice of finish. Choose bronze, silver, or brass to add a unique boho-style element to your living room's interior design.
The Inside's couches are all handcrafted and made to order, ensuring top-tier quality and eye-catching detail that you won't find anywhere else.
Price: $940 & up
Dimensions: W83″ x D35″ x H28.5″
Frame Material: Wood
Upholstery: Microsuede and velvet or chenille
Colors: 5 color options
Warranty: 1 year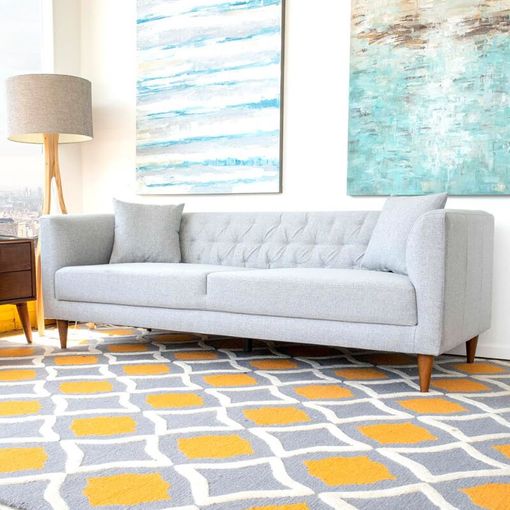 You don't need to spend a fortune on a new boho sofa. Stretch your budget while retaining the glam with this gorgeous 83″ couch from All Modern.
The Casas features a lovely silhouette, marrying a traditional rectangular aesthetic with soft curves around the edges. Elevating things even further is the tufted back, which adds visual intrigue and draws attention to the piece. Choose from one of five colors (including my favorite — gold) in velvet or chenille, and make it the focal point of your new bohemian-style living space.
Price: $2,559 & up
Dimensions: Starting at W72" x D39" x 34H"
Frame Material: Pine
Upholstery: Leather or faux leather
Colors: 17 color options
Warranty: n/a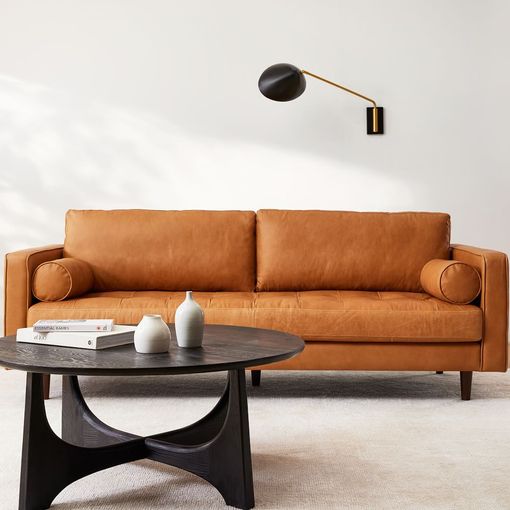 Although mid-century modern sofas were popular during the 1960s hippie movement, they aren't necessarily a shoo-in for all boho-themed homes. Unless it's the Dennes Leather Sofa by West Elm, that is.
The Dennes is delightfully boho with its geometric pillows and natural leather (or faux leather) upholstery. You can order this sofa in 17 different colors, ensuring a custom-dyed finish that matches the look of your bohemian-style interior design scheme. Just keep in mind that the sofa only comes in one color. To amp up the vibe and add some wow factor, I recommend layering contrasting throw blankets and pillows, ideally with bold colors and groovy patterns.
Price: $1,295
Dimensions: W82″ x D35″ x H35″
Frame Material: Hardwood
Upholstery: Velvet
Colors: 2 color options
Warranty: Lifetime
The Ẹkáàbọ̀ Park Sofa from Albany Park features an African aesthetic inspired by designer Darryl Sharpton's heritage. Its velvet upholstery's unique visual elements are a nod to the beauty of African culture. Both the Ademi and Idowu pattern variants remind me of the region's native Nymphalidae butterflies, incorporating bright pops of color and wing-like elements that catch your eye and hint at an air of mystery.
Although some reviewers find the sofa's fabric a little too loud, I think it blends seamlessly with the boho aesthetic. That said, unskilled designers may have trouble melding the look with other accessories in their home. It may not be for everyone, but I recommend the Ẹkáàbọ̀ Park for those wanting to elevate their space and imbue a sense of worldliness and wonder.
Price: $2,699 & up
Dimensions: W98.5" x D40" x H31.5"
Frame Material: Hardwood
Upholstery: Felt, tweed, polyester, velvet, or leather
Colors: 12 color options
Warranty: 5 years (frame) & 1 year (cushions)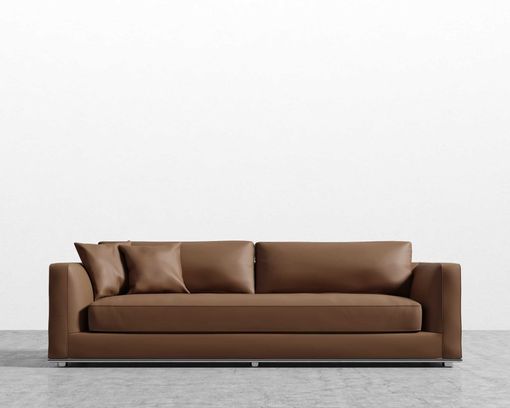 The boho aesthetic is about an eclectic mesh of elements. However, too much noise on too large a sofa can quickly overwhelm the senses. That's what makes the Milo Sleeper Sectional Sofa so ideal. At nearly 100″ wide, it's quite expansive. However, it features relatively straight lines and muted colors that don't overcrowd the space. Get it with a velvet or leather finish for just a hint of boho living that simultaneously blends like a chameleon.
Of course, I haven't even touched on its primary selling point. The Milo Sleeper's plush cushions fold into a standalone bed, providing nearly a foot of thick padding underneath your body for a perfect night's sleep. Although the wood frame and machine-washable slipcover can handle any living space, I find that this 2-in-1 bohemian sectional couch works particularly well in the guest room.
Price: $1,499
Dimensions: W75″ x D31″ x H18.5″
Frame Material: Wood
Upholstery: Velvet
Colors: 2 color options
Warranty: 1 Year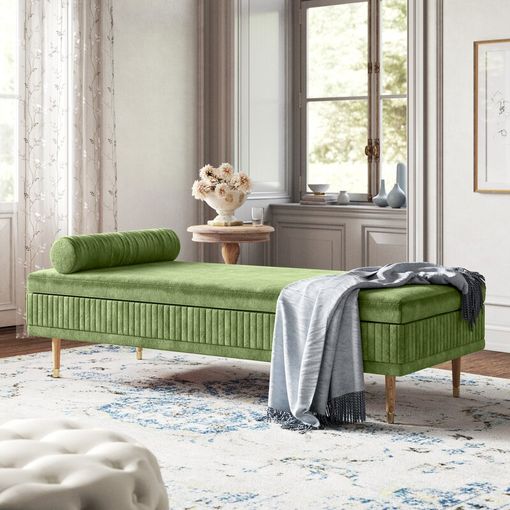 The Alaina Twin Daybed has a free-flowing design that's perfectly whimsical in all the right ways. It's the same size as a twin-size mattress and comes wholly covered in a luxurious sienna velvet. Place it by the fireplace in your living room or a window in your home office, and then relax as it enlivens your home with an earthy tone that's subdued yet alluring.
Aside from its color, one of the most striking things about this sofa is the channel tufting around its sides. This visual element reminds me of hand-carved wooden columns, offering a distinct appeal that pairs well with the tapered legs. The sofa also comes with a cylindrical throw pillow that accents the columnular tufting and perfectly balances the rectangular silhouette. This armless daybed will make a fine addition to your boho-inspired home.
Price: $2,099
Dimensions: W90" x D35" x H25"
Frame Material: Wood
Upholstery: Leather
Colors: 4 color options
Warranty: 10 years (frame) & 1 year (cushions)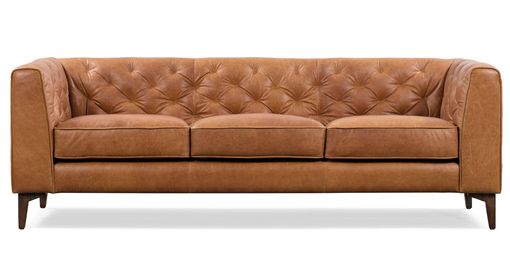 The Tufted Essex Sofa is as striking as they come. It features full-grain Italian leather in four different colors — tan, cocoa, black, and blue. The vintage-inspired silhouette incorporates tapered angles that provide a charming, boho-style appearance perfect for any living room.
My favorite detail is the tufting that wraps around the back and side interior space. These tufted accents depress deep into the sofa's plush cushioning, providing a multi-faceted surface that demands a closer look. At 90″, the Essex is the perfect size for large or small homes looking for a gorgeous leather focal point.
Poly & Bark charges just $2,000 for this genuine leather sofa, and it even comes with free shipping! Assemble the piece in under 10 minutes, and enjoy the new highlight to your modern living space.
Price: $5,100 & up
Dimensions: Starting at W84" x D40" x H32.5"
Frame Material: Hardwood
Upholstery: Varies
Colors: 40 color options
Warranty: Lifetime (frame)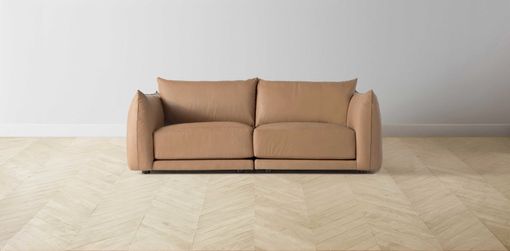 Last up, we have the bohemian-style Jones Modular Sofa from Maiden Home. This sofa may cost $5,100, but it's a classic example of getting what you pay for. It comes clad in genuine Tuscan Leather sourced from Italy and hand-polished by skilled artisans. Choose from your favorite among three different colors — Campbell, Bourbon, and Seal — to accentuate the personal touches you put in your living room. No matter which finish you choose, this top-grain leather sofa feels smooth to the touch and is easy to maintain, making it the perfect option for families.
You can find the Jones Modular in two sizes, including an 84″ 4-seater for small spaces and a 117″ 6-seater for larger ones. Although both work well, I love how the broad 117″ sofa pairs with the unique corners of the couch. These jut outwards like the point of a rhino's horn, providing an almost formidable aesthetic that commands your attention. Of course, you can always start with the smaller size and expand your piece with modular add-ons as needed.
Get More Comfy Home Decor Tips from Home of Cozy
Stand out amongst the crowd with these boho couches. They're perfectly eclectic in all the right ways, acting as an extension of your unique tastes and personality. What's more, they set the stage for your entire bohemian makeover, providing a quality piece that you can design your entire space around.
If you liked this guide, you'll love the rest of our site, which is designed around similar furniture and home decor reviews. For more tips and tricks, check out our articles on Leather vs. Fabric Sofas, Quality Sofa Brands, and the Best Mid-Century Modern Sofas.