Think outside the box-shaped sofa, and opt for something with a little more character. A curved couch — one with an arcing backrest — softens the look of your space, contrasting sharp corners and giving your other furniture room to breathe. Curved-back sofas are also elegant statement pieces in their own right, evoking strong art deco vibes that add a dose of glam and whimsy to any living room.
To determine the best of today's curved-back couches, I researched and tested over 24 popular models. On this list, you'll find the most chic and comfortable options I could find.
How We Chose Our Top Curved Sofas
Your furniture dramatically impacts the look and feel of your space, and we don't take that lightly. To ensure a comprehensive and accurate review of today's best curved couches, we researched and physically tested dozens of sectionals, loveseats, chaises, Chesterfields, and more. We also tried options with varying types of upholstery, including materials like velvet, leather, and even faux leather. Here's a list of the criteria used to evaluate the options:
1. Quality – We carefully inspected structural integrity and attention to detail around stitching and joints, ensuring a quality piece that will last your family many years.
2. Aesthetic – Although everyone's design tastes are different, the best curved sofas feature tried-and-true silhouettes that fit well within the modern home.
3. Comfort – Sofas are for lounging and relaxing. That's why we looked for cozy fabrics and foam thick enough for comfort but firm enough for proper support.
4. Buying experience – Your sofa buying experience should be delightful every step of the way, from online checkout to shipping to assembly and even post-purchasing support.
5. Sustainability – Whenever possible, the Home of Cozy team recommends sofas backed by companies that use ethically-sourced supply chains and prioritize eco-friendly business practices.
With these criteria guiding our way, we feel confident the following models represent the best curved sofas your money can buy.
Our 10 Favorite Curved Couches Of 2023
Brand
Best For
1

Editor's Choice

Overall
Shop Now
2

Sectional
Shop Now
3

Small Spaces
Shop Now
4

Budget
Shop Now
5

Luxury
Shop Now
6

Loveseat
Shop Now
7

Chesterfield
Shop Now
8

Leather
Shop Now
9

Velvet
Shop Now
10

Sofa Set
Shop Now
1
Editor's Choice
2
3
4
5
6
7
8
9
10
Best For: Overall
Price: $2,299.00+
Dimensions: W92″ x D46″ x H28.5″
Frame materials: Engineered hardwood
Upholstery options: Polyester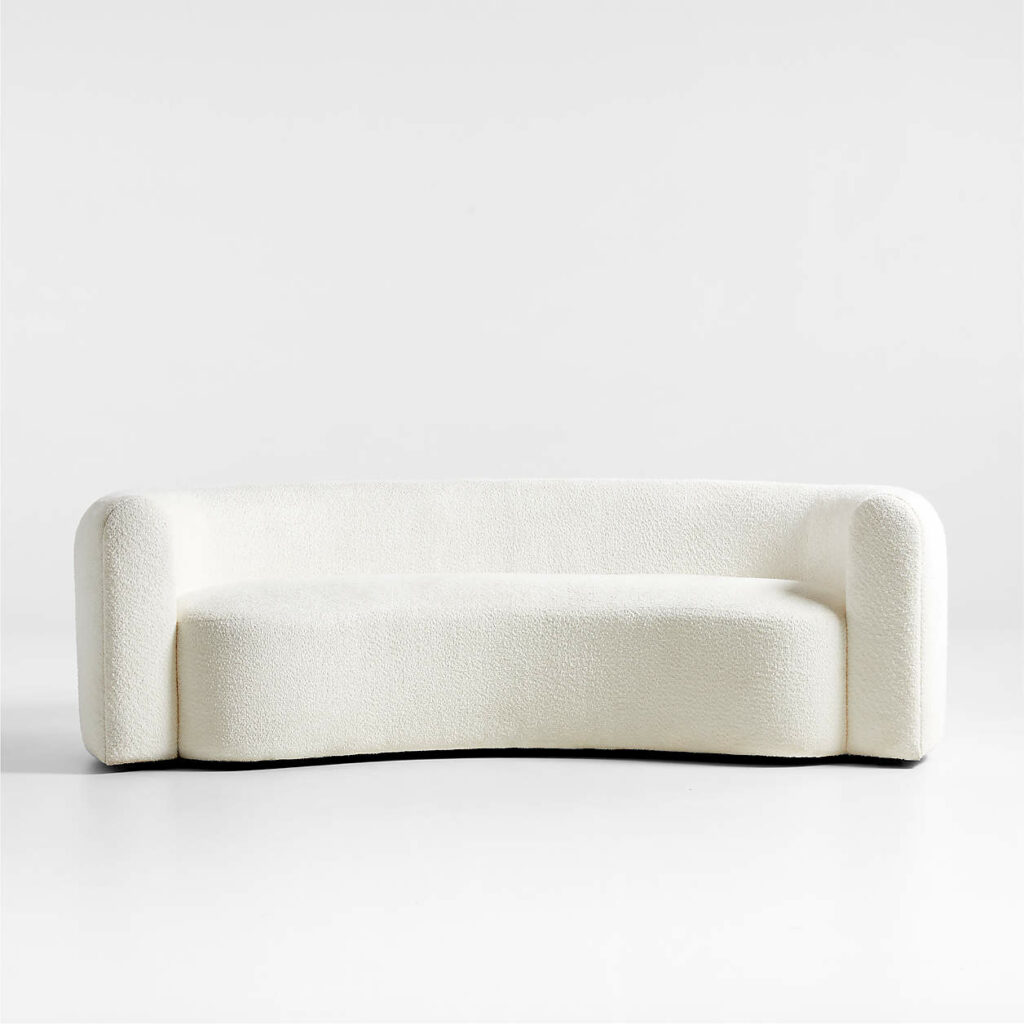 What I Love About This Crate & Barrel Sofa
The Crate & Barrel Hugger is like a crescent moon in the night sky, perfectly off-white and ever-so-slightly curved, as if to envelop you in a gentle embrace as you drift off to sleep. It's a minimalist's dream sofa, designed to fit nearly any environment while providing the perfect amount of extra seating. In my experience, its 92″ width accommodates three people (four is you squish), though it also makes a wonderful solo sofa — perfect for snuggling up and taking a catnap.
Concerning its feel, the foam interior and polyester upholstery are as soft and cuddly as a cloud. This boucle fabric sofa is also supremely deep, giving you plenty of space to move around and find that sweet spot. The backrest is a little steep, however, and it works best paired with a throw pillow or two. Although you'll need to supply your own throw pillows, I like how this gives you the chance to express yourself. Add a pop of color to match your other decor, and the Crate & Barrel Hugger ties beautifully with most modern living rooms.
What I Didn't Love
While I love the all-white color palette, I do wish there were more options. I mean, you can get it in toupe, as well. But this option has a six-month lead time that I'm too impatient to consider. Not to mention, it lacks the off-white version's creamy retro aesthetic, and it doesn't match my interior design.
Best For: Sectional
Price: $3,299.99+
Dimensions: W133.9″ x D63" x H27.6"
Frame materials: Solid wood
Upholstery options: Faux fur polyester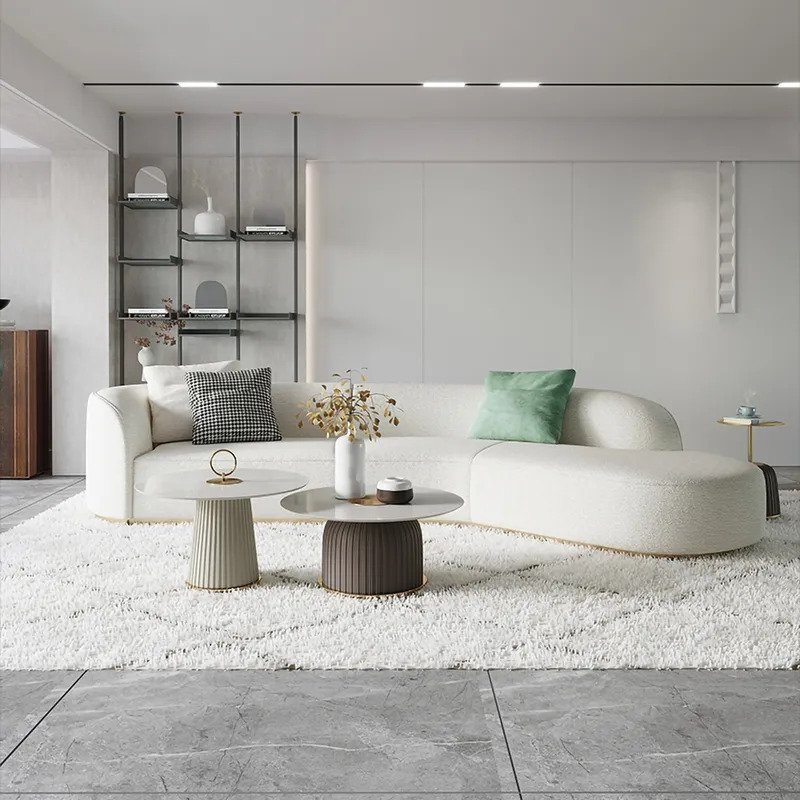 What I Love About This Homary Sofa
The Homary Sectional is ginormous. Its curved frame extends over ten feet in a wide-sweeping arc, instantly transforming your living room into a relaxing lounge with enough seating for all your friends and family.
Concerning craftsmanship, Homary's sectional boasts a solid wood frame and several layers of high-density foam. The entire ensemble is then clad in faux-fur upholstery made from performance polyester that feels like snuggling up with your favorite furry friend. Suffice it to say, this spacious sectional uses a lot of material, and Homary didn't skimp on any of it.
Then, there's my favorite part of all — the sectional's gold trim. This unique design element accents the cream-colored fabric like a vintage cocktail class, elevating the sofa off the floor in a charmingly upscale fashion.
What I Didn't Love
Although assembly isn't overly complicated, the Homary Sectional is large and cumbersome. Fortunately, the company offers white glove delivery, where they bring the sofa to your home, move it inside, and set it up for you. This service does cost an extra $129, but I think it's worth the investment.
Another consideration is that the sofa won't fit every space. I have a large living room, and Homary's sectional still consumes the entire area. Unless you have lots of space (I'd say a 150-square-foot living room, at minimum), you'll probably want to stick with something closer to the next modern sofa on our list.
Best For: Small spaces
Price: $740+
Dimensions: W60.63" x D30.7" x H30.32"
Frame materials: Solid wood
Upholstery options: Polyester blend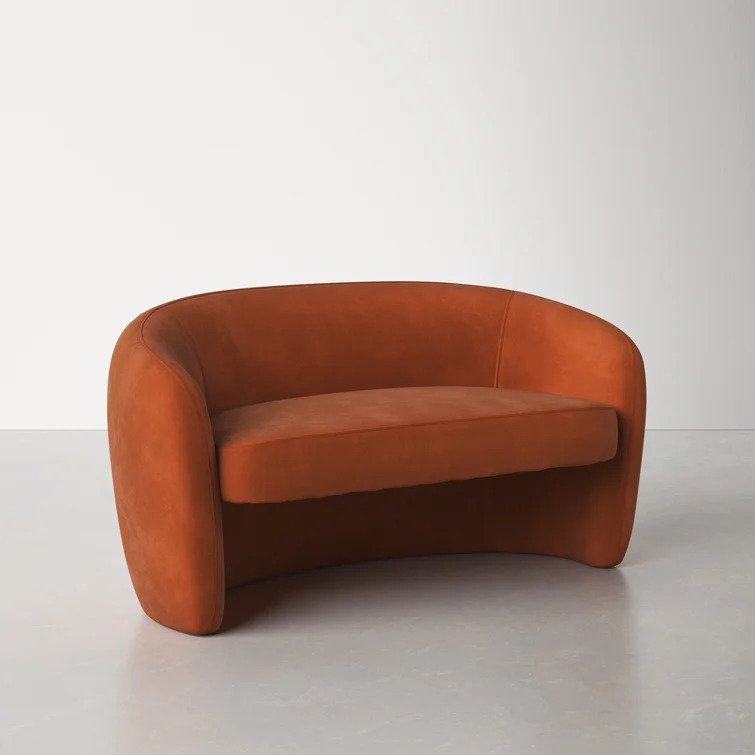 What I Love About This AllModern Sofa
At just 60″ wide, the Kearney Loveseat is perfect for homes where space comes at a premium. Combined with its 30″ depth, the Kearney fits exceedingly well in foyers, hallways, and modestly-sized living rooms. I personally prefer it at the foot of my bed, as it matches the width of my queen-size sofa and provides a charming, functional focal point. No matter where it sits, the loveseat's oval-shaped cushion and slim wrap-around backrest comfortably seat two people, maximizing the use of minimal square footage.
When it comes to the shopping experience, AllModern offers the Kearney for just over $700 and provides fast, free shipping across the United States. It's a fantastic deal, especially considering the solid wood frame and overall craftsmanship. What's more, it arrives at your home in a single package, with no assembly required. Since it only weighs 66 pounds, it's easy to situate anywhere. Move it around like a puzzle piece until it slots right into place.
What I Didn't Love
Although the Kearney Loveseat is a quality piece incorporating excellent materials, it doesn't feature the sturdiest design. If you put too much pressure on the front of the sofa, the 66-pound frame is liable to tip over — a significant danger when you have children around. The product tearsheet rates its weight capacity for 750 pounds, and I believe it. Just be careful about where you place that weight.
Best For: Budget
Price: $529.99+
Dimensions: W50" x D28.35″ x H28.74″
Frame materials: Wood
Upholstery options: Velvet (polyester)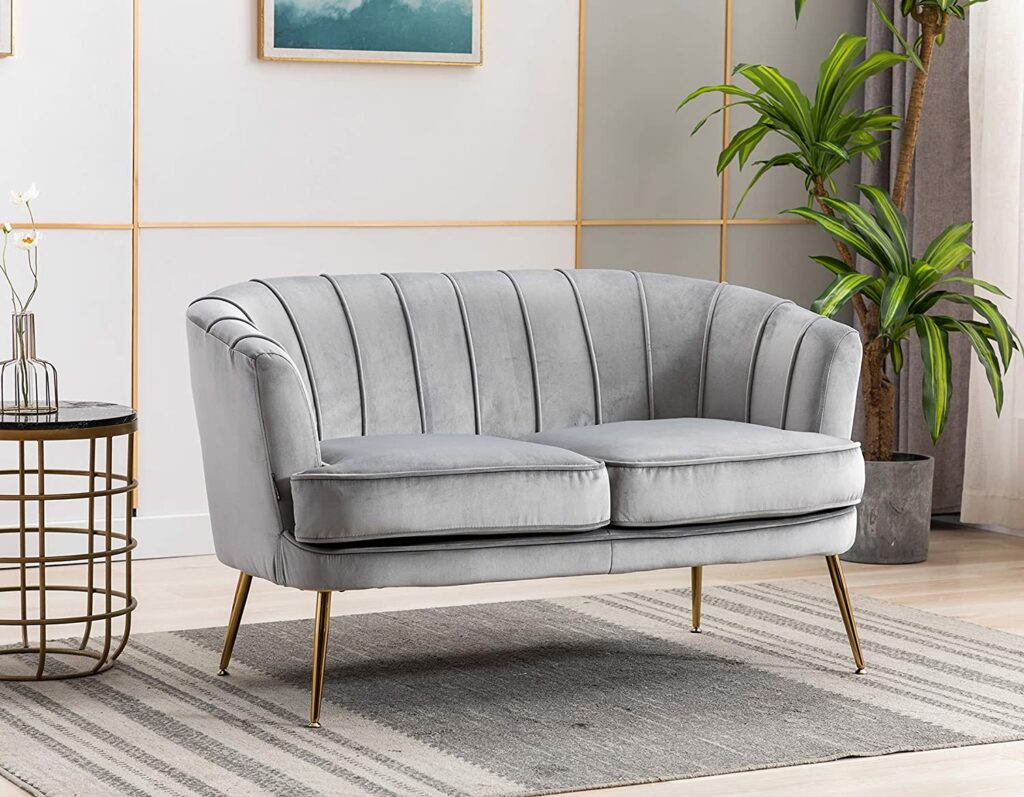 What I Love About This Amazon Sofa
Love them or hate them, there's no denying that Amazon is a great place to find deals. That's why I regularly search the platform for highly-rated home furniture that doesn't break the bank. On my latest trip down the Amazon rabbit hole, I stumbled upon this gem — the Artechworks Velvet Loveseat, a charming mid-century modern sofa for just $500.
Alongside the near-perfect five-star rating, the first thing to catch my eye was the embossed channeling above the seat cushions. These vertical grooves provide a ton of visual intrigue, breaking up the elongated 50″ frame and providing an art deco vibe to match the curved design. The next thing I noticed was the golden legs, which add a lovely flare of color and sheen to the all-gray velvet design. As I came to find out, they're also the only part of the sofa you have to assemble. Three screws on each of the four metal legs, and the loveseat is ready to go anywhere in your home. It's a compact yet cozy curved sofa that looks stunning alongside most modern home decor.
What I Didn't Love
Many of the sofas I research and review are made to order from American workshops. Unfortunately, that's not what you get with Artechworks. It's made in China and then imported, and it lacks the high-quality craftsmanship of local, handmade pieces. For instance, it has a 300-pound weight capacity, accommodating only two mid-size adults. Of course, the Artechworks Velvet Loveseat does cost a fraction of the price of a local piece. But it's something to keep in mind as you browse.
Best For: Luxury
Price: $4,000+
Dimensions: 59″ W x 31″H x 39″D
Frame materials: Wood
Upholstery options: Polyester & cotton blend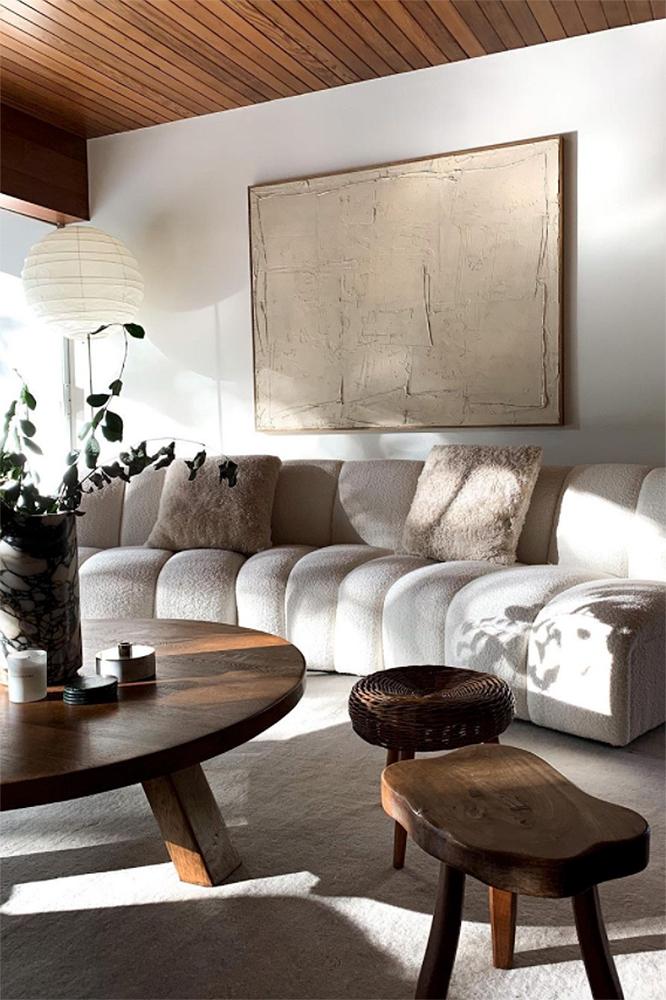 What I Love About This Claude Home Sofa
Before discussing this sofa, I'd like to touch on the manufacturer, Claude Home. I adore this company. It's run by Maggie Holladay, a self-taught furniture designer who curates a beautiful collection from artisans worldwide. She's an ambitious personality who's incredibly passionate about what she does, and you can see it in all the fantastic furniture her company brings forward.
Now, it's time to talk about the Modular Sofa. This sofa is, without a doubt, one of the most beautiful curved models on the market. It's a vintage-inspired piece made from wood, foam, and a perfectly soft blend of polyester and cotton, almost like microfiber. Each modular section (you can piece together as many as you like) measures 60″ wide and features tufted channels every 12″ or so.
Combined with the creamy-colored fabric, it almost reminds me of a Pillsbury roll, with delectable, pre-proportioned sections ready to enjoy. The sofa also feels like dough, with just enough give to embrace your body yet keep you upright and prepared to converse the night away.
What I Didn't Love
Claude Home is a boutique gallery with a smaller presence than many of the big companies on this list. The gallery also works with multiple artists to supply various products and furniture to customers. These factors translate to a less-streamlined buying experience. For instance, you'll need to email the company yourself if you'd like to arrange for delivery — a rather archaic practice you don't have to deal with when shopping at bigger online venues.
Fortunately, the company's customer service team is always ready and happy to help. You'll also feel good knowing you're supporting a smaller business rather than a mega-corporation.
Best For: Loveseat
Price: $1,340+
Dimensions: W85" x D35" x H30"
Frame materials: Kiln Dried Hardwood
Upholstery options: Polyester blend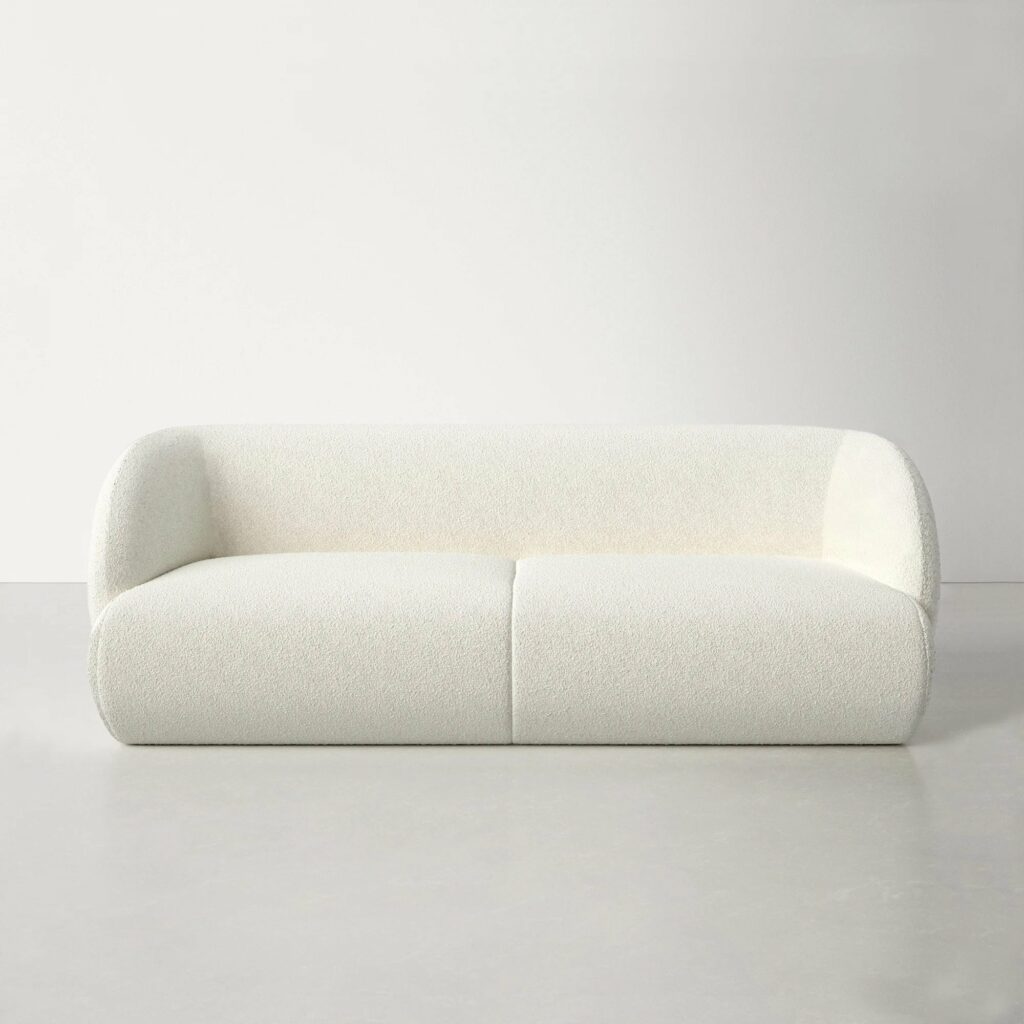 What I Love About This AllModern Sofa
I love how the Myra's backrest curves around to hug its giant seat cushion, almost like a bear hugging its cub. This isn't just charming; it provides a minimal and uniform aesthetic, with just three pieces comprising the entire visible section of AllModern's contemporary sofa. It also gives you built-in armrests and a sense of coziness, like it's you who's being encapsulated in a warm embrace. I get similar sensations of warmth and coziness from the sofa's fuzzy upholstery, which covers the entirety of the soft foam-covered hardwood frame.
As if the sofa wasn't delightful enough on its own, shopping for it is so much fun. AllModern holds your hand throughout the journey, even helping you choose complementary pieces to match your home's aesthetic. The company also provides free shipping and delightful post-purchasing support.
What I Didn't Love
Although this settee is wonderfully plush, the design doesn't lend itself to back support. There's a rather abrupt edge from seat cushion to backrest, which always hurts my back after mere minutes of sitting. I've discovered that you can remedy most of this with a set of throw pillows, but that's an extra expense atop the roughly $1,500 price tag.
The only other thing is the lying experience. The sofa is big enough to lie down on, but it's just ever-so-slightly too firm for long-term comfort. I have no trouble lounging, but I wouldn't recommend putting a guest up overnight.
Best For: Chesterfield
Price: $669.99+
Dimensions: W75.98" x D31.5" x H31.89"
Frame materials: Solid & manufactured wood
Upholstery options: Velvet (polyester)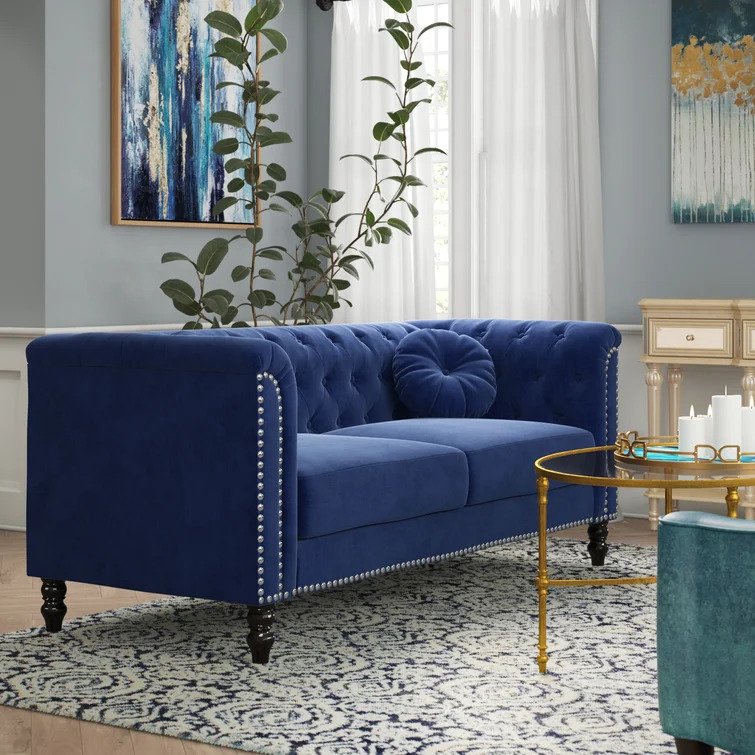 What I Love About This Wayfair Sofa
Chesterfield sofas feature elegant silhouettes with high backrests that draw the eye and provide a stunning focal point. The Connally Chesterfield follows suit, but it forgoes traditional leather upholstery for a chic velvet exterior that's much more hip and modern. Combined with the gorgeous backrest tufting and decorative rivets lining the curved armrests, you get a magnificent, one-of-a-kind piece. The sofa isn't just for looks, either. I've found the Connally perfectly snug, with dense, removable seat cushions and tufted throw pillows for extra lumbar support.
When I first encountered the Connally Chesterfield, I estimated its cost around $1,500 — maybe a little more. That's what I expect from pieces with solid wood legs, quality velvet polyester, and such intricate attention to detail. However, Wayfair sells this sofa for under $700! It's an incredible deal, made even better by the fast, free shipping.
What I Didn't Love
The Connally comes in six different colors. However, they all show up a shade or two darker than you see on screen. They're still lovely, of course, but they may not match expectations.
In terms of assembly, Wayfair's instructions are simple enough, but actually attaching the pieces (especially the armrests) is awkward and cumbersome. Don't do what I did; bring a friend to help with the setup.
Best For: Leather
Price: $3,999.00+
Dimensions: W98.25″ x D39.25″ x H28.75″
Frame materials: Kiln-dried solid pine & plywood
Upholstery options: Leather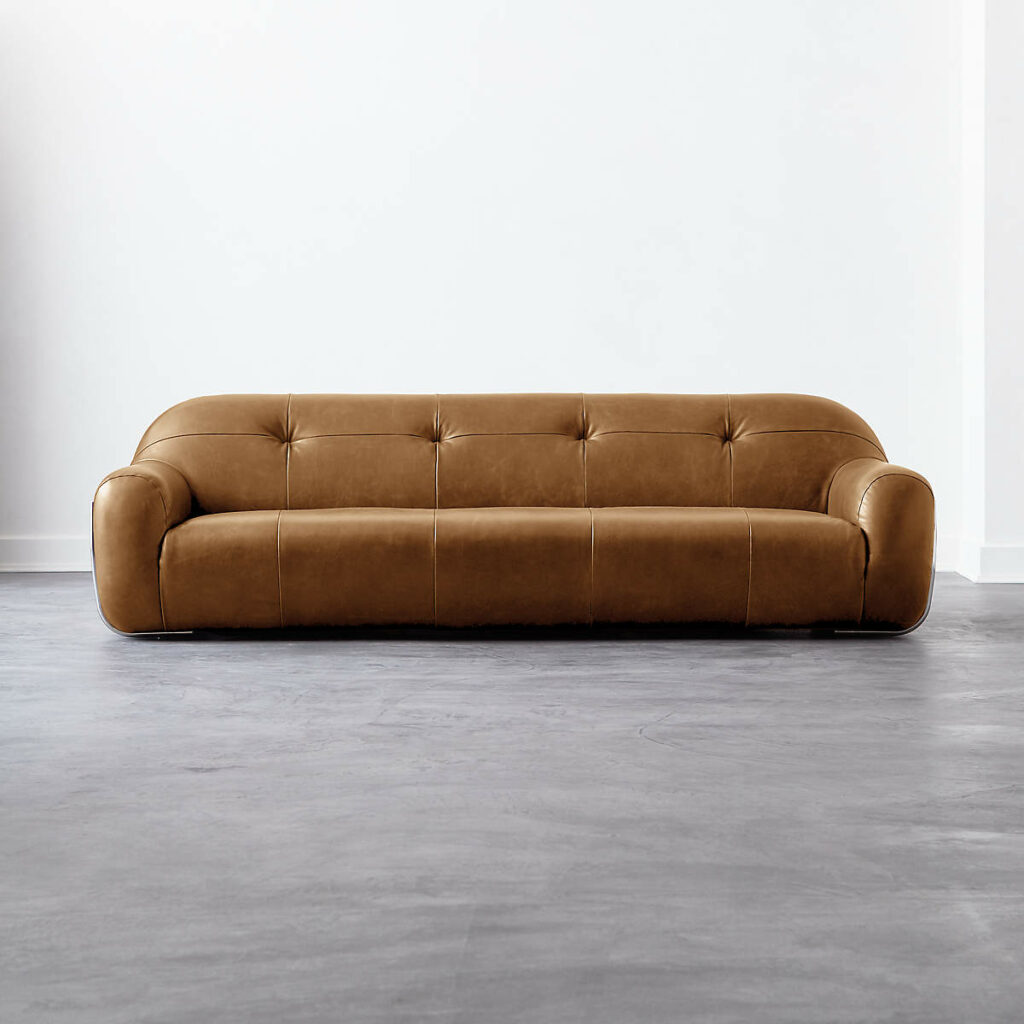 What I Love About This CB2 Sofa
The Brace Leather Sofa is one of the most comfortable couches I've had the chance to review. Its dense foam seat and backrest deliver a hominess ideal for lazy weekends and relaxed get-togethers. The experience is made even better by the sofa's leather-laden curves, which add to the comfort while providing a buttery smooth surface that's delightful to the touch (and easy to clean — a boon for messy people like me).
Generally, you can't get such comfort without sacrificing style. But the Brace thrives in its uniqueness, boasting a chunky silhouette and tobacco-colored upholstery blend that's playful and classy. Even though it looks gorgeous from the get-go, I've found it gets even better with age. That's because its leather takes on a progressively distressed look that adds to the charm over time. CB2 ties everything together with curving chrome accents that buttress the outside of both armrests, adding extra stability and a hint of bling.
What I Didn't Love
The Brace is a luxury sofa with a price tag to match. It comes out to roughly $4,000, and that's before you add any throw pillows or blankets. The sofa also takes a long time to arrive. As of my writing, there's a six-month waiting period to get your hands on this exquisite work of art.
Best For: Velvet
Price: $1,459.99
Dimensions: W85.5" x D31.75′ x H30.5"
Frame materials: Sold birch
Upholstery options: Velvet (polyester)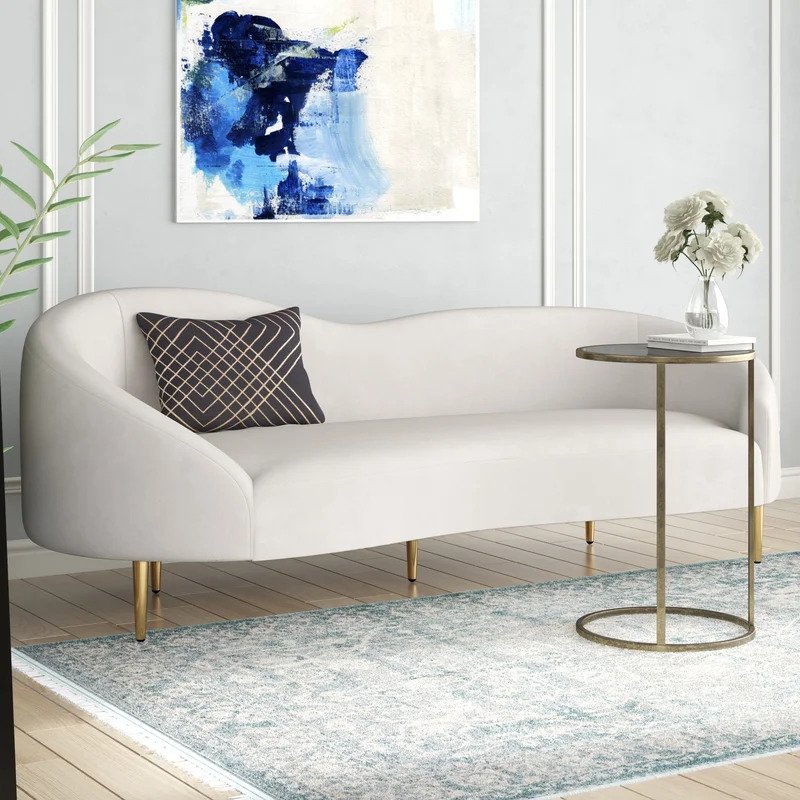 What I Love About This Wayfair Sofa
I adore the gold legs on the Shurtz Sofa. They look like pencil tips, ready to write a story of luxe and glam in your living room. They're also exceptionally sturdy. There are only five of them supporting the entire sofa, yet they provide 750 pounds of accommodation. You can literally feel the robust build quality, as there's minimal shake or wiggle when sitting. Of course, it helps that the sofa's foam is so firm, embracing your backside without letting you fall and sink into an oblivion of endless cushioning.
Concerning its aesthetics, the Shurtz is retro in all the right ways. I love all four color options, though the navy velvet upholstery is my favorite — it contrasts with those golden pencil tips so beautifully, creating an awe-striking piece that becomes the star of the space.
What I Didn't Love
I appreciate the Wayfair Shurtz's firm foam for its sense of support and stability. Unfortunately, it's not the comfiest option around. For that reason, I'd say the Shurtz is more of a looks sofa than an everyday lounger.
The sofa also comes with a Prop 65 Warning for cancer-causing agents. Although California often goes overboard with its cautionary tags, it's off-putting to see this on a piece you intend to keep in your home.
Best For: Curved sofa set
Price: $2,479.99+
Dimensions: W78.7″ x D30.3″ x H28.7″
Frame materials: Solid wood
Upholstery options: Velvet (polyester)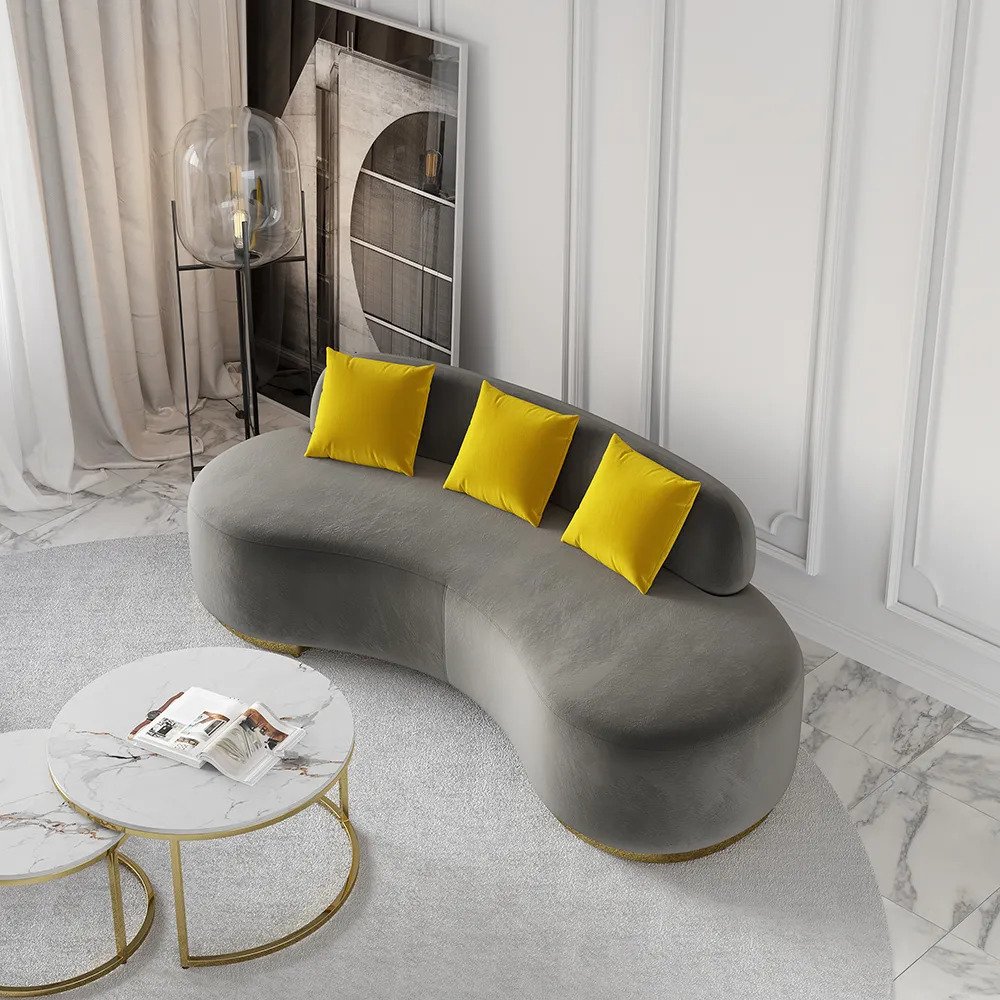 What I Love About This Homary Sofa
Most sofas hold three people, maybe four at maximum. But the Modern 3-Piece Sofa Set by Homary holds up to five, and even more if you squish into the armless frame. Plus, it features some of the most pronounced and lovely curves on the market. All three pieces — the sofa and chairs — come with curving backrests and seats that I can't help but gawk at whenever I walk into the room. They look so good in person, drawing you towards them and keeping you there with cushy foam and silky soft velvet.
In addition to the three main pieces, the set comes with several throw pillows, adding a pop of color and additional comfort. I love how these pillows bolster the backrest, adding lumbar support and a little extra space between you and the sofa's rolled edges. It's a welcome addition indicative of Homary's hallmark attention to detail.
What I Didn't Love
The Modern 3-Piece Sofa Set lacks a proper warranty. It does come with Homary's limited guarantee, but that doesn't even cover upholstery or cushions; it's frame only, and solely for a select number of manufacturer defects. Additionally, I haven't had the best customer service experiences with Homary. The company's team is slow to answer basic questions about furniture and delivery.
Curved Couch FAQs
Now that we've seen the best curved couches, let's answer a few of the most frequently asked questions surrounding these unique pieces of home furniture.
What is a curved couch called?
A curved couch goes by several names. You'll hear it referred to as a circular couch, a rounded couch, a crescent couch, and more.
Of course, couches and sofas come in many different shapes and forms. For that reason, you may also hear about curved loveseats, sectionals, and loungers, alongside other variants of these words.
Are curved sofas practical?
Curved sofas are just as practical as standard, rectangular sofas. Even moreso when you consider how they soften the hard lines and corners of a room.
When it comes to a curved seat, things can get a little more complicated. These tend to be deeper than the best standard couches, at least on the outer edges. In other words, they take up more room and may require a little more consideration regarding accessibility.
Where do you put a curved couch?
Generally speaking, you can put a curved couch anywhere you'd put a regular one.
Set it on the edge of your room, with the center of the backrest hugging the wall. Place it in a corner next to two perpendicular walls. Or, stage it in the center of your room surrounded by home decor for a stunning accent piece.
It's your interior design, and you can set up your living room furniture however you like.