Your home doesn't end at the back door. Instead, it comprises your entire property, including the porch, patio, front, and back yard. An outdoor couch lets you make the most of this often-overlooked square footage, converting it into an enjoyable extension of your living space.
For this guide on outdoor couches, I reviewed dozens of weather-resistant seating configurations, looking for models that could handle the scorching heat of a Florida sun and the frost of a Chicago winter. Allow me to show you the highest-quality and most comfortable outdoor furniture I could find.
How We Chose Our Top Outdoor Couches and Sofa Sets
Outdoor sofas may look similar to indoor models, but they feature an entirely different set of materials and workmanship. That's why the team at Home of Cozy started this guide with a fresh round of research and testing. We inspected over two dozen of today's most popular outdoor loungers, sectionals, 3-seaters, and loveseats — all made from various weather-resistant materials like wicker, acacia, and steel. Here are the criteria we used to evaluate the top performers:
1. Durability – Mother Nature can be relentless, and a reliable outdoor sofa set must withstand rain and shine atop a robust, sturdy frame. Bonus points if it can weather snow and other unpredictable conditions with minimal maintenance.
2. Comfort – Quality outdoor sofas boast several inches of thick foam that you can sink into without sacrificing support.
3. Design – Outdoor sofas are an extension of your home and garden, and they should feature attractive silhouettes, frames, and upholstery to match.
4. Sustainability – The team at Home of Cozy is all about protecting the environment. We do our best to recommend outdoor couches made with sustainable materials sourced from eco-friendly supply chains.
5. Budget – You don't need to spend a fortune to decorate your outdoor living space; we sought out the best outdoor sofas on every budget, starting well under $1,000.
We scrutinized today's most popular outdoor sofas, searching for models that scored the highest cumulative points among all five categories. The following models represent the very best among them. With that in mind, they should be well-suited for all your family's outdoor adventures, now and for years to come.
Our Favorite Outdoor Sofas of 2023
Best For: Overall
Price: $1,399
Dimensions: W70″ x D34″ x H31.25″
Frame materials: Stainless steel
Weather resistance: Moderate
Upholstery options: Sunbrella acrylic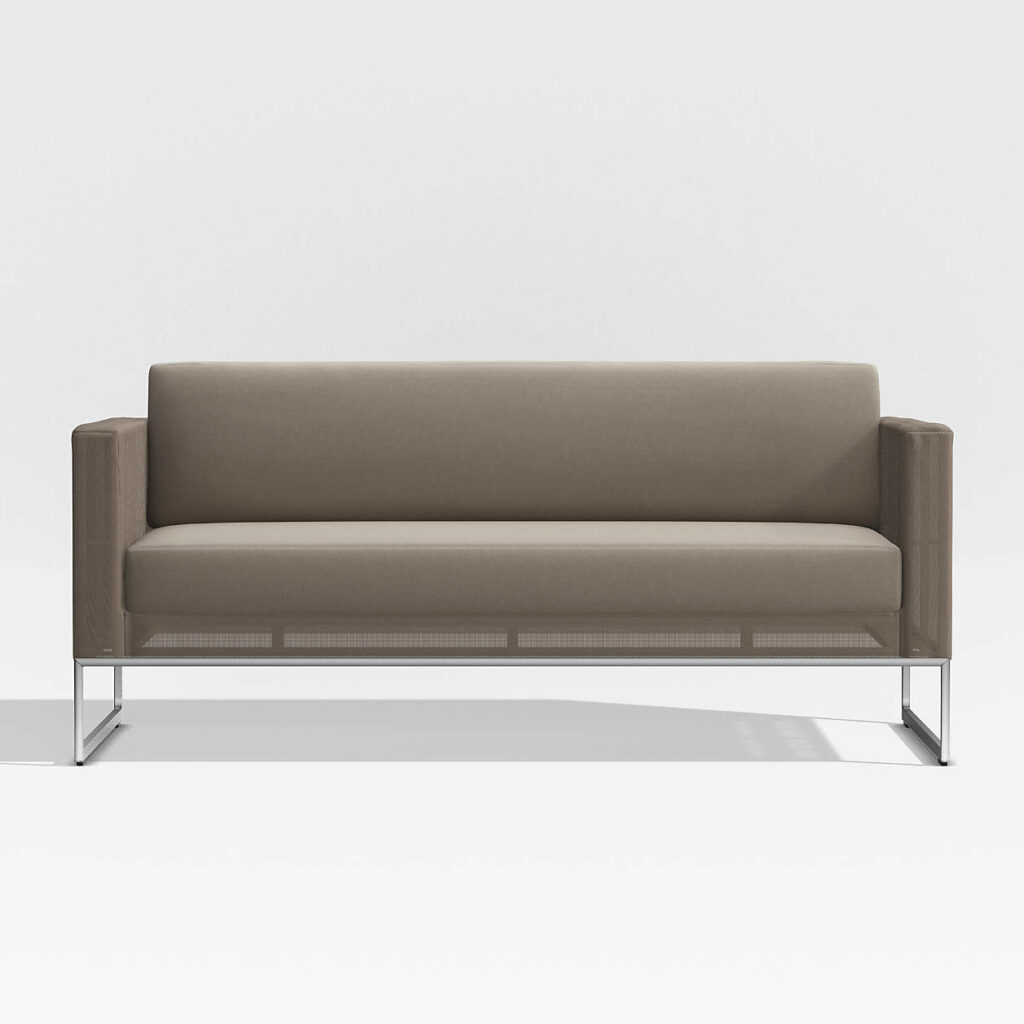 What I Love About This Crate & Barrel Sofa
The Dune Taupe looks like it came straight out of Apple headquarters in California. Its stainless steel frame and Sunbrella acrylic threads exude upscale charisma, featuring an incredibly modern (even futuristic) silhouette. However, this Crate & Barrel exclusive isn't a high-class executive piece of furniture from Steve Job's office; it's an outdoor sofa.
At first, I didn't know what to make of the Dune's aesthetic. I feared its futuristic styling would feel out of place next to my backyard's earthy, natural tones. But to my surprise, its contrasting design scheme pairs beautifully, helping to create a comfortable and modern outdoor living area that feels like an extension of my home. Meanwhile, the sofa's mesh bottom and sides feel airy and open, while the comfy foam cushions come wrapped in Sunbrella acrylic for maximum weather resistance (Sunbrella is the gold standard in outdoor furniture upholstery).
The entire sofa is a work of art, one that's tasteful yet entirely functional. Albeit slim, the aluminum frame is quite sturdy, and the unit feels well-suited to survive most climates.
What I Didn't Love
The Dune Taupe withstands the elements well, but extenuating circumstances — like heavy rains and scorching summer heat — may cause the Sunbrella fabric to fade or wrinkle over time. Crate & Barrel recommends taking extra precautions in these situations by pairing your sofa with a WeatherMAX cover. I encourage you not to skip this, even if it does set you back an extra $200. Unfortunately, the additional expense does turn an otherwise steal-of-a-deal into a mid-range offering comparable to other outdoor and patio sofas. But even so, this Crate & Barrel is a cut above the rest.
Best For: Sectional sofa
Price: $1799+
Dimensions: W98″ x D71" x H31″
Frame materials: Acacia wood and faux wicker
Weather resistance: Low-moderate
Upholstery options: Polyester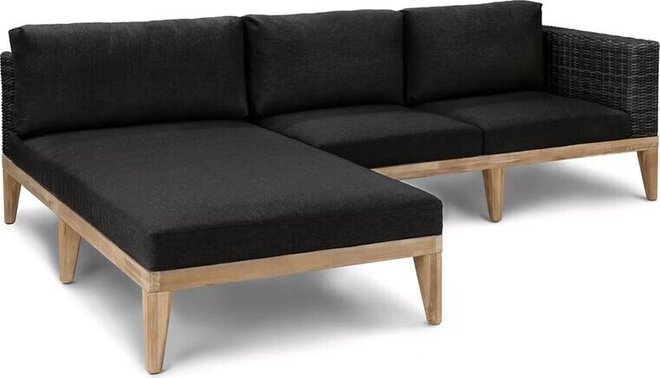 What I Love About This Article Sofa
I can usually spot the differences between indoor and outdoor sofas at just a glance. Little hints — like the style of frame or weatherproofing sheen on the fabric — give it away. But the Article Urba is different. It looks like a genuine indoor sofa, with a wooden frame, gorgeous polyester upholstery, and even an extended chaise for lounging. Even the most obvious sign of its outdoor nature, the wicker accents, give off a boho vibe that works just as well indoors as it does out. In all my years reviewing furniture, I've never come across such a stunning patio sectional, one that elevates the space to resemble a stylish living room.
The Article Urba also holds up to the elements. Its hard acacia frame is well-suited to withstand light rainfalls, and the polyester-wrapped seat cushions are made specifically for the outdoors. With that in mind, I'd still recommend a cover for the rainy months, if only for longevity and peace of mind. It's a sofa you'll want to enjoy for many years to come.
What I Didn't Love
The main downside I've encountered is that the Urba's cushions slide around with any exaggerated movement — something that often happens at get-togethers. The best way I've found to counteract this issue is non-slip padding, like Gorilla Grip. Since this is an outside couch, you may need to replace the grip more often. But it's well worth the small time and financial investment.
Best For: Poolside lounging
Price: $505.79+
Dimensions: W24″ x D78.85″ x H12″
Frame materials: Acacia wood
Weather resistance: Low-moderate
Upholstery options: Polyester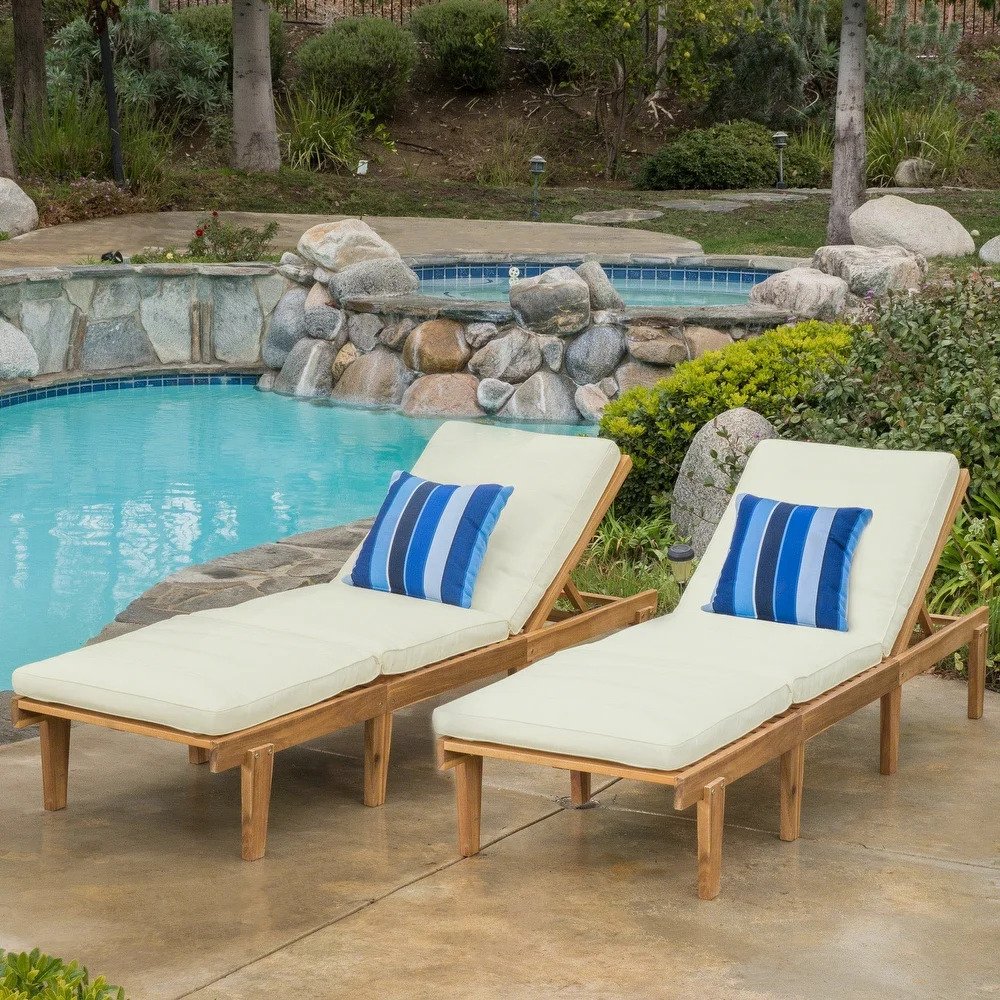 What I Love About This Overstock Sofa
The Ariana Outdoor Loungers aren't sofas, per se. However, they're by far my favorite outdoor seating for relaxation. They're just so comfortable, with cushion-clad reclining frames that adjust from sitting to lying in seconds. These cushions are plenty cozy and slim enough to dry near-instantly, making them a staple for lounging poolside with an ice-cold cocktail. Of course, the polyester fabric features a UV-resistant treatment, ensuring minimal fading or wear when exposed to the sun.
The Ariana Loungers come in one of two solid colors, including a lovely teak. Although initially disappointed by the lack of options, I soon realized it presented the perfect opportunity for personalization! Throw on your favorite outdoor pillows (simply add them to your Overstock order for free, easy shipping) for a pop of color that accents the beauty of your outdoor space.
What I Didn't Love
These outdoor lounge chairs aren't like the sofas on this list, lacking the cozy feel provided by larger and cushier models. Although you can sit and relax next to a friend, there's no way to secure the two loungers together — a missed opportunity.
Best For: Entertaining
Price: $549+
Dimensions: W35″ x D34" x H25.5"
Frame materials: Aluminum
Weather resistance: Excellent
Upholstery options: Olefin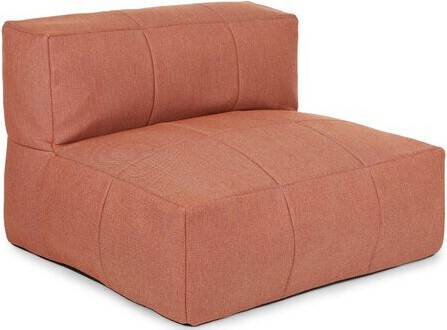 What I Love About This Article Sofa
Imagine an outdoor bean bag… for adults! That's what you get with the Corvos Chair Module.
Live out your childhood fantasies in style atop this playful yet sophisticated outdoor seat. It comes in three muted colors to match your existing outdoor decor, including my favorite — Red Saffron. Of course, the seat is extraordinarily comfortable, with interior bead cushioning that supports you like a buoy floating on water. The design also excels at keeping moisture out, its Olefin fabric providing a water-repellant and weather-resistant surface that's smooth and soft to the touch.
While the Corvos performs well as a solo act, it excels in a larger ensemble. Buckle multiple Corvos Seat Modules together, and it transforms into an outdoor sectional sofa that's big and cozy enough to accommodate you and several friends. Aside from a quick snap of the buckle, there's no assembly required.
What I Didn't Love
Polystyrene beads are the filling found in bean bags. If you've ever owned a beanbag, you'll know they're prone to sinking and losing shape. Although the beads found in this sofa chair are better than the ones you had in your childhood seating module, they may still compress over time.
Best For: Loveseat
Price: $520+
Dimensions: W65″ x D28.25″ x H29.5″
Frame materials: Acacia wood
Weather resistance: Exceptional
Upholstery options: Polyester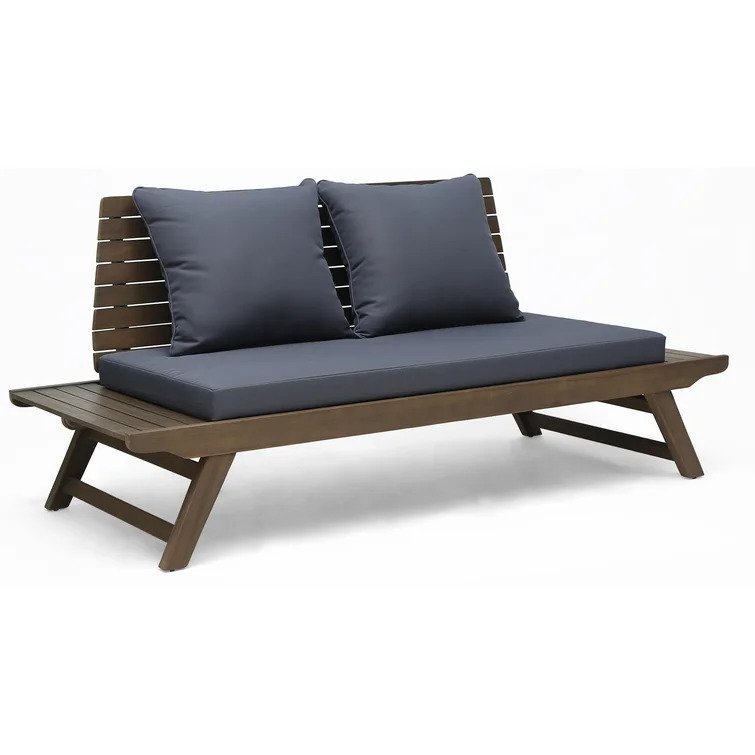 What I Love About This AllModern Sofa
The Bullock Sofa may not look like much — it's only 65″ wide and a mere 28″ deep — but it's one of the most enjoyable outdoor couches I've come across. It gives off a zen garden vibe, with minimal elements that add up to provide everything you're looking for in the moment. The thin 2″ cushions are surprisingly comfortable for their size, keeping you cozy for an entire luncheon or cocktail session with friends. I also love how you can keep your drink off to the side, courtesy of the water-resistant acacia slats extending from either end of the frame.
Although AllModern recommends two people for assembly, I discovered it's doable in under 30 minutes, all by yourself. What's more, the box comes with all the tools needed for setup.
What I Didn't Love
While the small acacia frame is one of this sofa's greatest strengths, it's also its greatest weakness. The frame feels slightly brittle, and I fear for its longevity, especially when the colder winter months come around. Additionally, it can only accommodate two people at once, and even then, it feels relatively cramped. If you plan to host get-togethers, I recommend purchasing more than one unit. Fortunately, the $500 price point makes that a feasible option.
Best For: Deep seating
Price: $1,399.99+
Dimensions: W87″ x D28.9″ x H26′
Frame materials: Aluminum
Weather resistance: Moderate
Upholstery options: Sunbrella acrylic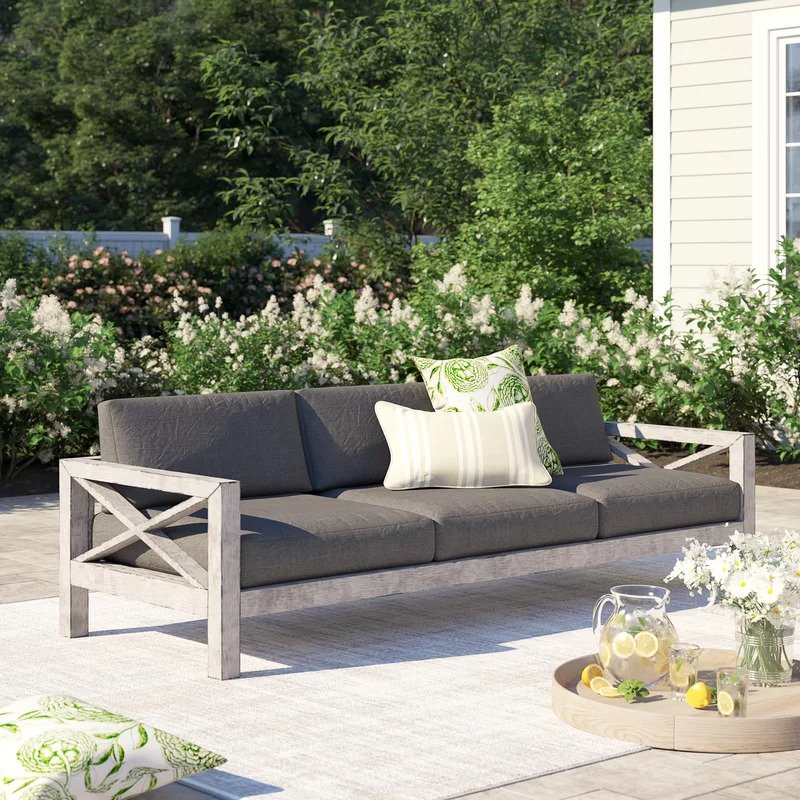 What I Love About This Wayfair Sofa
If you're searching for spacious outdoor seating, Wayfair has just what you need. Its Abbi-Rose Sofa offers loads of space, coming in at 87″ wide and nearly 29″ deep. It's big enough for me to stretch out and lay down for an afternoon nap, and there's even wiggle room to spare! If I'm in the sharing mood, it can also hold two others (three if we all squish atop the three cushions).
The Abbi-Rose Sofa is lightweight at 82 pounds, but it's impressively sturdy. That's largely thanks to the aluminum frame (the same material used for aircraft), rated to handle 900 pounds! Its sturdiness also comes compliments of the X-shaped side supports, which play double duty as a unique aesthetic accent that draws the eye and adds a rugged charm. I honestly adore the industrial, distressed look of this outdoor sofa. It looks right at home on a gravel landscape or (where I like to keep it) on the edge of the patio.
What I Didn't Love
The Abbi-Rose's frame is on the shorter side, leaving the upper half of its backrest unsupported by anything other than a few inches of cushion. It's a strange design choice that can seriously impact taller individuals. Even at 5′9, I can feel the support giving way when sitting upright. I like to add throw pillows behind me to provide an extra buffer between me and the backrest. It's not an optimal solution, but it gets the job done.
Read More: Best Deep Seat Indoor Sofas
Best For: Metal frame
Price: $1,066.97+
Dimensions: W76.5" x D27.5L x H30″
Frame materials: Aluminum
Weather resistance: Exceptional
Upholstery options: Canvas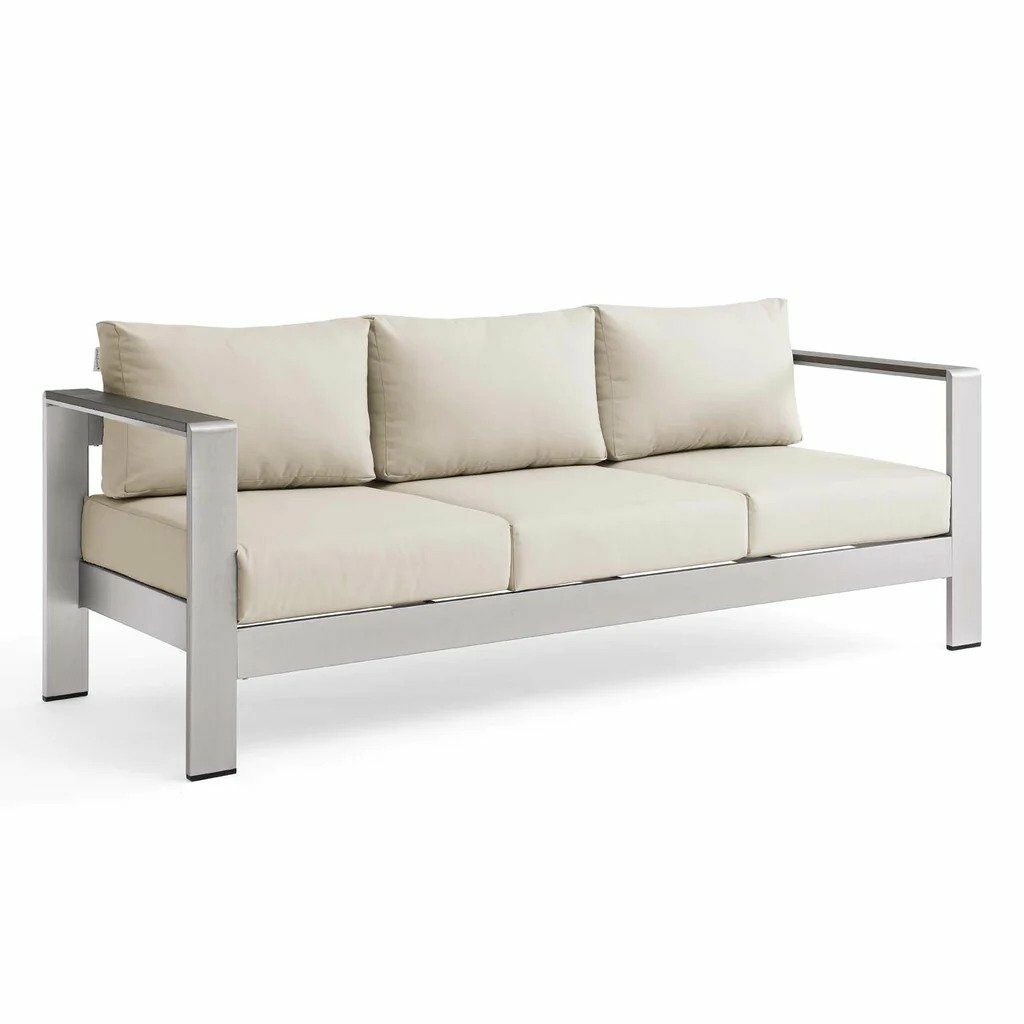 What I Love About This Modway Furniture Sofa
The Shore Patio is the sleekest outdoor sofa I've had the chance to review. It even beats out the Dune Taupe, featured at the beginning of this list. It's so refined in its proportions, with six equally-sized (and delightfully pillowy) cushions spread atop the shiny aluminum frame. The frame itself is thick and flat, commanding your attention without being overbearing,
On the product tearsheet, English Elm mentions that it tested the Shore Patio's cushions in all weather conditions. My own review certainly backs up these findings — the metal and canvas construction fare well in the sun and rain, maintaining their vibrancy when exposed to UV rays and drying quickly in the winter. Of course, I still recommend keeping your outdoor furniture covered in harsh weather conditions.
What I Didn't Love
The Shore Patio Sofa seems to suffer from quality control issues. Upon arrival, the sofa's edges were quite sharp, enough to warrant a light sanding with high-grit sandpaper. I'm not the only one who's encountered this problem, either. A quick search of Modway Furniture reviews shows a smattering of similar complaints. None of them are problematic enough to discourage my recommendation, but I would proceed with caution.
Best For: Wicker sofa
Price: $1,499+
Dimensions: W74″ x D37.3″ x H29″
Frame materials: Resin wicker and stainless steel
Weather resistance: Excellent
Upholstery options: Polyester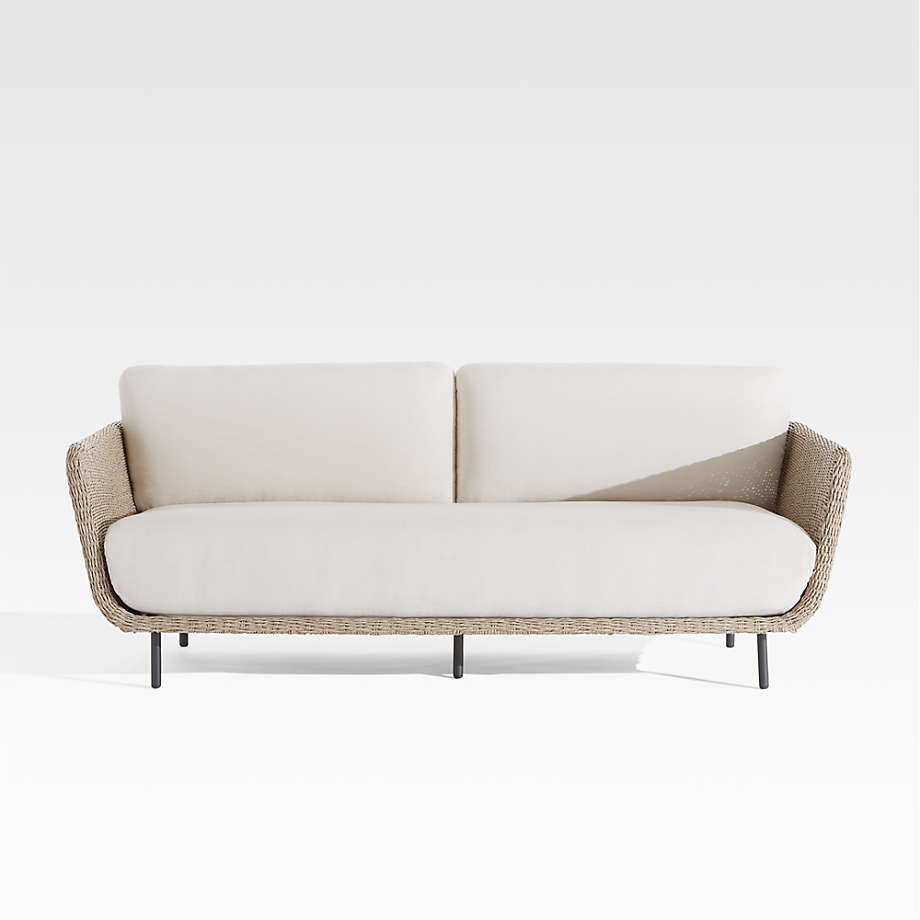 What I Love About This Crate & Barrel Sofa
Furniture makers have created wicker seating for millennia. It's exceptionally sturdy and can withstand continuous strain, wear, and tear, even outdoors. The Grotta Outdoor Wicker Sofa follows in the footsteps of this time-honored tradition, except it features a resin material instead of a plant-based rattan. With that said, I'd wager it's even more robust than its natural counterpart, as resin's synthetic properties are more resistant to weather than processed fibers. At least, that's what I've encountered. The Grotta is among the most weatherproof outdoor sofas I've reviewed, making it an excellent choice for wetter climates (though you'll still want to buy a good set of furniture covers).
In addition to its exceptional durability, the Grotta features a one-of-a-kind design. Whereas most outdoor sofas are boxy, with sharp angles, the Grotta is curved and circular, with a hammock-like silhouette. Even neater, Crate & Barrel combines this frame with thick polyfoam cushions that melt like butter when you sit down. It's a masterclass in outdoor furniture design, finely crafted by the hands of skilled artisans.
What I Didn't Love
Unfortunately, you can only get the Grotta in a singular off-white color scheme. Although it's classy, I'm still a fan of darkened wicker. I wish that were an option, especially since it'd pair well with the Grotta's underlying steel frame.
Even though I touted the benefits of the Grotta's faux resin wicker, there's also something to be said for the tradition of natural, plant-based frames. Both materials have pros and cons, and part of me wishes the Grotta came with genuine wicker hand-woven into the delightful frame.
Best For: Patio furniture set
Price: $2,159+
Dimensions: W76.5″ x D31″ x H32.5″
Frame materials: Aluminum, resid wood
Weather resistance: Moderate
Upholstery options: Polyester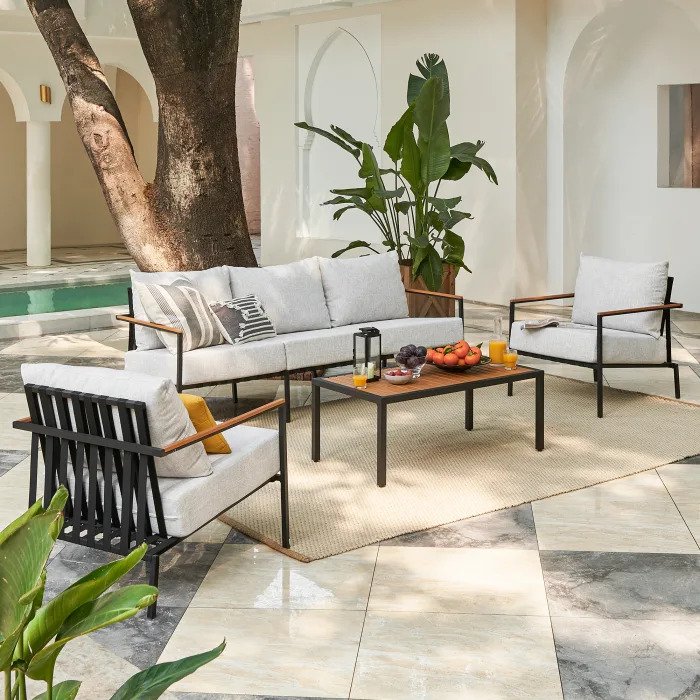 What I Love About This Castlery Sofa
Somehow or another, the team at Castlery took two traditionally rustic materials — stained wood and darkened metal — and combined them into a sleek, modern furniture set that looks gorgeous in every setting.
The Sorrento Sofa Set boasts almost everything you need to transform your patio or yard into an outdoor oasis. This includes a lovely tri-seater sofa, two lounge chairs, and a centerpiece coffee table. The couch and loungers feature firm bottom cushions for ample support and pillowy backrests for elevated comfort. Meanwhile, the table incorporates a dark aluminum frame surrounding waterproof resin slats designed to resemble gorgeous teak. I love the less-is-more approach, which doesn't just deliver a stunning design but also helps keep the price down. Pair it with a fire pit or an outdoor rug and side table, and it's a complete sectional set worthy of any backyard sanctuary.
What I Didn't Love
Although the polyester exterior isn't waterproof, the polyurethane cushions dry faster than other types of filling. Even so, I recommend getting a cover. Just, not the one offered by Castlery. It feels thin, flimsy, and more liable to cause a problem than protect your furniture set. Consider something like this one from Duck Covers instead.
Since the entire set is lightweight (I can easily move every piece by myself), you can also bring the pieces inside when the forecast takes a turn for the worse.
Best For: Patio set for small spaces
Price: $1,040+
Dimensions: W52″ x D27.2″ x H26.6″
Frame materials: Steel frame and faux wicker
Weather resistance: Excellent
Upholstery options: Polyester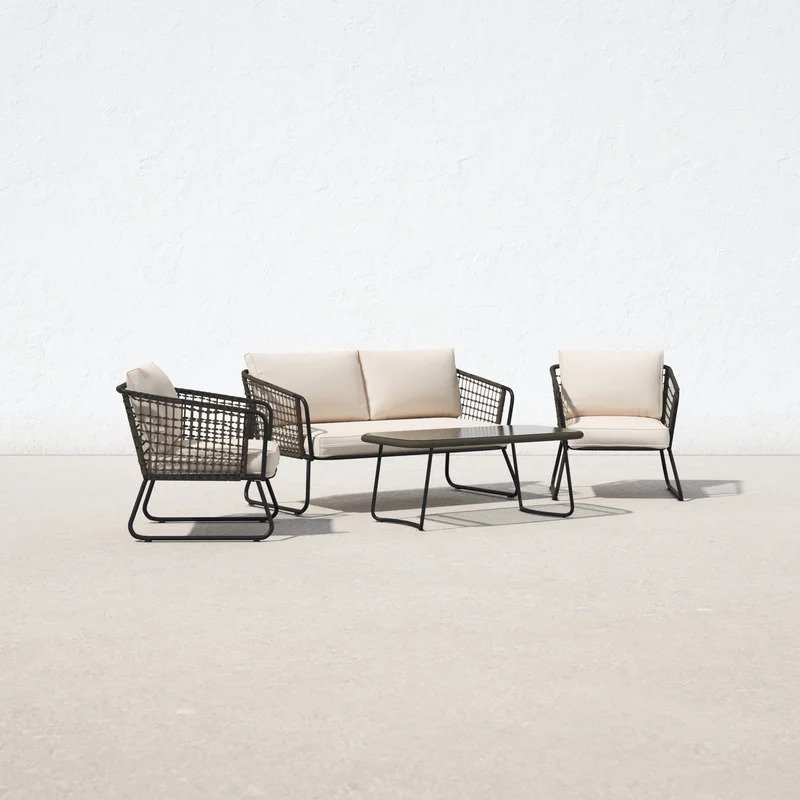 What I Love About This AllModern Sofa
The Esme Wicker Set features everything you need for your yard, including a sofa, two patio chairs, and an outdoor table. The design is also small and cute as a button, fitting in (quite literally) anywhere. I've had no trouble finding space on the patio, next to my garden, even on the porch itself. The entire set weighs just 68 pounds, making each piece a cinch to move from one spot to another. Since there are four pieces total, you can also split the set up for a cohesive look across your outdoor space.
Despite its small size, the steel frame is undeniably sturdy and able to withstand rainy weather. Meanwhile, the glass tabletop is entirely waterproof, and the polyester fabric repels moisture surprisingly well. Since the cushions are only a few inches thick, the lounger and sofa seat cushions also dry in a jiffy.
Then, there's my favorite part of all — the price. AllModern offers the entire set for around $1,000, shipping included. The entire buying process is quite pleasant, and the company keeps you apprised at every step on its journey from the factory to your doorstep.
What I Didn't Love
I thought that a small furniture set would be a breeze to assemble. Boy, was I wrong. This may be one of the best outdoor couch sets, but it features an excruciating assembly. I was wholly unimpressed with the poorly written instructions, as some of the information doesn't even pertain to this model. Even worse, the leg holes fail to line up correctly, so you must push and pull each part and then jam it all together. While it came together in the end, it was a process I wouldn't wish on my worst enemy. Bring a couple of friends and block out an afternoon.
Outdoor Couch FAQs
In this section, let's answer some of the web's most common questions surrounding outdoor seating and furniture sets.
1. Can you put a normal couch outside?
Barring unique circumstances (e.g., covered porches with proper weatherproofing), you should never put an indoor couch outside. An indoor couch isn't designed to withstand moisture or UV rays and will break down when exposed to the elements.
2. What type of furniture holds up best outdoors?
Outdoor furniture comes in various forms, some holding up better than others. In general, hardwood, metal, and wicker outdoor furniture sets hold up the best. They typically feature sturdy compositions and come treated with weather-resistant finishes able to withstand the wear and tear of inclement climates. Plastic and glass furniture are also ideal for outdoor use, as they're inherently moisture-resistant. However, they're less durable.
3. Can you put a regular couch on a covered porch?
You shouldn't put a regular couch under a covered porch unless you've gone through lengths to weatherproof its components (even then, you should exercise caution). Even if a sofa is only indirectly exposed to the elements, moisture in the air and rogue UV rays will corrode its frame and upholstery.
Home of Cozy recommends saving your indoor couch for inside and choosing high-quality outdoor seating for your porch and patio.