In this guide, we explore the three best mattress stores in Stockton, CA., where quality, comfort, and customer satisfaction are paramount. A good night's sleep is essential for your overall mental and physical well-being, and the key to achieving that lies in choosing the right mattress for your unique needs.
At our top mattress store picks, you can shop for a variety of mattresses such as the plush embrace of memory foam, the reliable support of innerspring, or the eco-friendly benefits of latex, Stockton's mattress stores have it all. From expert guidance to a diverse range of mattresses and sleep accessories, these stores are dedicated to ensuring you find the perfect match for a restful night's sleep.
Mattress Store Shopping Tips in Stockton, California
When it comes to finding the perfect mattress, a well-informed purchase can make all the difference in your sleep quality.
Here are some invaluable tips to consider before you embark on your mattress-shopping journey:
Do Your Research in Advance: Before you step foot into a mattress store or mattress wholesaler, arm yourself with knowledge. Understand the different types of mattresses, such as memory foam, innerspring, latex, or hybrid models. Each type offers unique benefits, so knowing your options will help you make an informed decision.
Determine Your Budget: Set a clear budget for your mattress purchase. Be honest and open about your budget with the salesperson. They can guide you toward options that meet your financial constraints while ensuring you get the best value for your money.
Consider Your Needs and Preferences: Think about your specific needs and preferences. Consider factors like firmness level, your usual sleeping positions, and any special health considerations you might have. For instance, individuals with back pain might benefit from a medium-firm mattress, while side sleepers often find comfort in softer options.
Test Different Mattresses: Don't be shy to spend time testing mattresses in the store. Lie down in your preferred sleeping position and take your time assessing your comfort level. Remember, you'll be spending a significant portion of your life on this mattress, so it's crucial to ensure it feels just right.
Trial Period and Return Policy: Inquire about the store's trial period and return policy. Many reputable mattress stores offer trial periods during which you can test the mattress at home. This allows you to assess how well you sleep on it and whether it meets your expectations. Understanding the return policy is essential in case the mattress doesn't live up to your comfort standards.
Compare Prices: Visit multiple stores and compare prices for the same or similar mattress models. Look for discounts, promotions, or package deals that might make your purchase more budget-friendly.
Negotiate: Don't hesitate to negotiate with the salesperson. Discuss the price, delivery options, and inquire about free accessories or extra perks that can enhance your overall sleeping experience. Many stores are open to negotiation, especially if it means closing a sale.
Warranty: Always check the warranty details. Understand what the warranty covers and for how long. A good warranty protects you in case of manufacturing defects or premature wear and tear.
Customer Reviews: Before making your final decision, read customer reviews and testimonials about the mattress you're interested in. Real-life experiences from other customers can provide valuable insights into the mattress's durability, comfort, and overall satisfaction.
Armed with these tips, you'll be well-prepared to make an educated choice when selecting the perfect mattress for your needs. Remember, investing in a quality mattress is an investment in your health and well-being, so take your time, ask questions, and choose wisely for the best night's sleep of your life
Our Top Picks for Best Mattress Stores in Stockton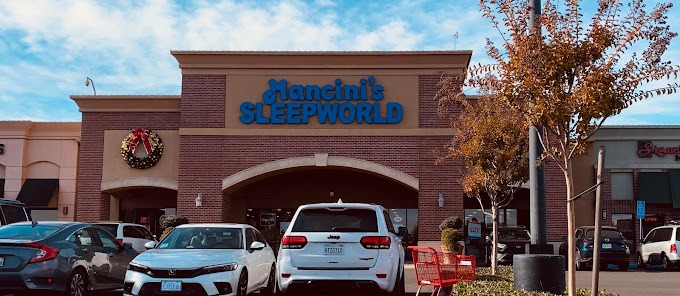 Address: 6555 Pacific Ave Stockton, CA 95207
Phone Number: 209-951-5400
Trial Length: 120 nights
Why We Picked This Store
I took my time to explore various options and picked Mancini's Sleepworld to make my mattress purchase because, from the minute that I stepped into the retailer, I was immediately drawn to its rich legacy of providing exceptional sleep solutions. With years of experience and a commitment to quality, this family-owned establishment stood out among the rest in Stockton, Modesto, and other areas. Their reputation for crafting top-notch mattresses resonated with my desire for enduring comfort.
What I Loved About Mancini's Sleepworld
I appreciate the personalized attention I received. The staff members were not just salespeople; they were knowledgeable sleep consultants who genuinely invested in my comfort. Their expert guidance helped me navigate the array of options, ensuring I made an informed decision tailored to my specific needs.
At Mancini's Sleepworld, I was immediately their extensive selection of premium mattresses sourced from acclaimed brands like Beautyrest, Sealy, Tempur-Pedic, Serta, Ashley, iComfort, Kluft, Aireloom, Sleepworld Designs, and Stearns & Foster. Each mattress exuded quality and comfort, promising a rejuvenating night's sleep tailored to my unique needs. The presence of their in-house collection, Sleepworld Express, added a touch of exclusivity to my choices.
What truly set Mancini's Sleepworld apart was the expertise of their mattress specialists. Their in-depth knowledge and genuine dedication guided me through the selection process. They understood my concerns, such as back pain and restlessness, and offered specialized beds that addressed these issues. It was this personalized attention that convinced me that Mancini's Sleepworld was not just a store; it was a sanctuary of unparalleled comfort and care.
I was particularly impressed by the craftsmanship evident in every mattress they offered. The attention to detail and focus on quality materials assured me that I was investing in a mattress built to last. Shopping in-store gave me the opportunity to try out a memory foam mattress to determine its firmness level. I was also able to see if a California king is too big for my body.
The store is a one-stop shop for furniture too. I was able to look at sectionals, living room sets, bedroom furniture, adjustable bases, sofas, and other instore home decor. The store is a complete furniture store with lovely bed frames, new mattresses, recliners, couches, dressers, headboards, nightstands, bedroom sets, and other items. I was even able to purchase a mattress protector. The wide selection was impressive.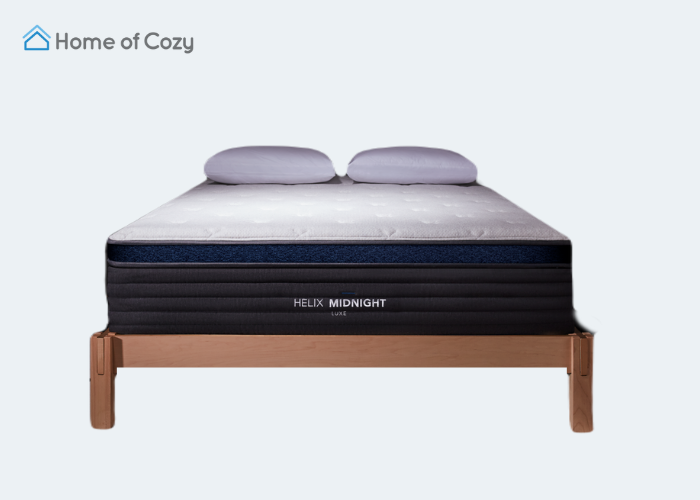 I picked the Helix Midnight Luxe mattress which surpassed my expectations for several compelling reasons.
The Luxe Upgrade Features, particularly the zoned lumbar support, showcased a thoughtful approach to contouring my body, ensuring optimal alignment and support. The addition of a quilted pillow top in the mattress design added an extra layer of plushness that I found incredibly inviting.
The medium feel of the Helix Midnight Luxe was a game-changer for me. It struck the perfect balance between firmness and softness, catering to my preference for a supportive yet comfortable sleep surface.
As a side sleeper, I particularly appreciated the pressure point relief provided by the luxury Memory Foam. It alleviated the tension in my hips and shoulders, allowing me to wake up feeling refreshed and pain-free.
I liked that I had the option to choose between the ultra-breathable TENCEL™ cover and the advanced GlacioTex™ Cooling Cover added a layer of personalization to my sleep experience. I opted for the GlacioTex™ Cooling Cover, which effectively dissipated heat from my body, ensuring a cool and refreshing night's sleep. This feature was especially valuable, considering my tendency to sleep warm.
The HELIX MIDNIGHT LUXE stood out with its mattress firm medium feel, coupled with its innovative cooling technology and pressure-relieving capabilities, making it the perfect mattress for me. The low price was also very attractive.
What I Didn't Love About Mancini's Sleepworld
The store was very crowded. However, despite there being a large influx of people, the store manager did take the time to come over and welcome me to the store before he directed one of his sleep experts to help me find the perfect queen mattress in their showroom.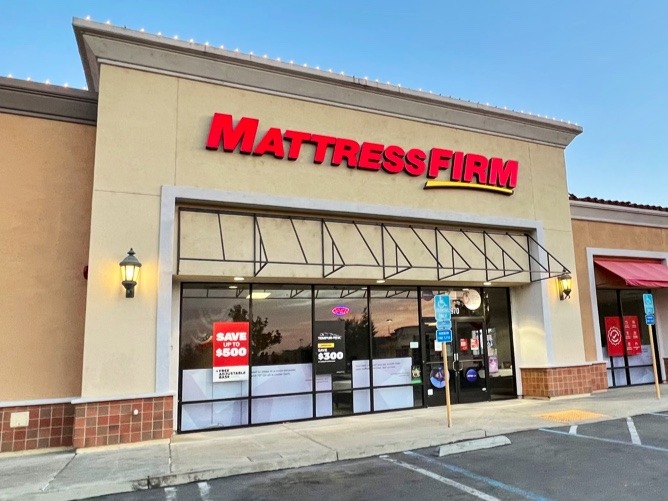 Address: 10970 Trinity Parkway, Stockton, CA 95219
Phone Number: (209) 477-9728
Trial Length: 120 nights
Why We Picked This Store
I chose Mattress Firm not just because they are a mattress company, but because they are in the business of matching individuals with their perfect mattresses. This personalized approach stood out to me, as I was looking for more than just a mattress; I wanted a tailored sleep solution.
With their extensive experience spanning 90 years, Mattress Firm has become America's largest specialty mattress store, with over 2,400 neighborhood stores in 49 states. The emphasis on training their Sleep Experts® for 80 hours ensures a knowledgeable and dedicated team, providing invaluable assistance in selecting the right mattress.
What I Loved About the Mattress Firm
What I loved most about Mattress Firm was their commitment to ensuring customers rest easy both during and after the purchase. Their unique Love Your Mattress Guarantee® reassured me that I was not only receiving the best prices and selection but also an unparalleled level of comfort and overall shopping experience. This guarantee provided peace of mind, making my decision to shop at Mattress Firm even more appealing.
Beyond their commitment to customers, I was deeply impressed by their Mattress Firm Foster Kids initiative, demonstrating their dedication to giving back to the community. Their involvement in programs like this, ensuring that foster children have the resources for a better night's sleep, showcased their genuine care for the well-being of others. This aspect resonated with me, as I appreciate companies that extend their impact beyond their business.
One thing to note is that the store offers easy accessibility and I found it on the map with no problems. They also accept credit cards.
What I Didn't Love About Mattress Firm
I felt like the store fell short with the communication of the specifics regarding their products. While the staff was friendly and helpful, having more detailed information readily available about the various mattress options would have enhanced my shopping experience further.
Despite the lackluster communication, the overall positive aspects of my experience with Mattress Firm, including their personalized approach, outstanding customer service, and community engagement, solidified my choice in selecting as a positive shopping experience.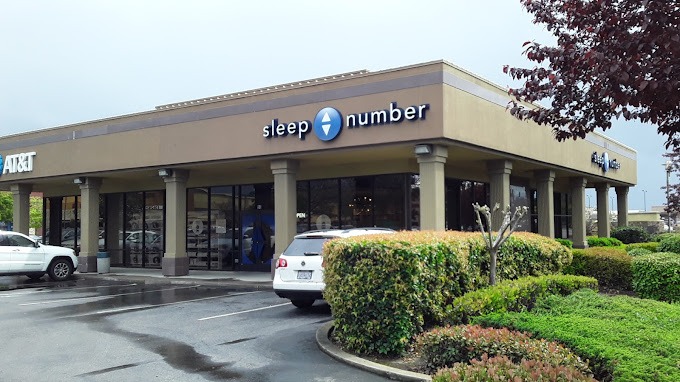 Address: 5756 Pacific Ave Stockton, CA 95207
Phone Number: (209) 689-0937
Trial Length: 100 nights

Why We Picked This Store
I chose Sleep Number Stockton because of their dedication to providing personalized sleep solutions tailored to individual needs. I appreciated their commitment to utilizing sleep science research and cutting-edge technology to create innovative smart beds and bedding. The emphasis on customization and individualized comfort stood out to me, reflecting their understanding that everybody is different.
What I Loved About Sleep Number
The knowledgeable sleep professionals at the Stockton Sleep Number mattress store, located at 5756 Pacific Ave, impressed me. They worked diligently to create a customized sleep experience, ensuring that my unique needs were met. The no-pressure atmosphere in the store allowed me to explore their full line of smart beds, pillows, and temperature-balancing bedding without feeling rushed or overwhelmed. They also carry a wide assortment of mattress brands.
The complimentary pressure mapping session was particularly helpful, allowing me to witness pressure points melting away as I discovered my ideal firmness, comfort, and support level — my Sleep Number® setting. This personalized approach and great customer service were exactly what I was looking for in my search for better sleep.
What I Didn't Love About Sleep Number
One aspect that I found lacking was the availability of detailed information about their products. While the staff was friendly and accommodating, having more comprehensive product information readily accessible would have enhanced my overall shopping experience.
Despite this, the store's dedication to improving sleep quality, their emphasis on customization, and the expertise of their sleep professionals convinced me that Sleep Number Stockton was the right choice for my sleep needs. Although I did not make a king-size mattress purchase, I did enjoy shopping at the location.
Conclusion
At Mancini's Sleepworld Stockton, I found more than just a store; it was a haven of comfort and expertise. The personalized attention from knowledgeable sleep consultants, coupled with a vast selection of premium mattresses, allowed me to make an informed decision. Their commitment to quality, transparency in pricing, and the extensive range of furniture options made my shopping experience truly memorable.
Undoubtedly, Mancini's sold me on the HELIX MIDNIGHT LUXE mattress, with its innovative features, stood out as the ideal choice, offering the perfect balance of support and comfort.
Mattress Firm Stockton impressed me with its personalized approach to matching individuals with their ideal mattresses. The Love Your Mattress Guarantee® and their dedication to community service demonstrated their commitment to customer satisfaction and social impact. Despite the need for more detailed product information, the positive aspects, including exceptional customer service and community engagement, made Mattress Firm a compelling choice.
Sleep Number Stockton's emphasis on personalized sleep solutions and innovative technology appealed to me. The knowledgeable sleep professionals and the opportunity for a pressure mapping session showcased their dedication to customization. While more detailed product information could enhance the shopping experience, the store's commitment to improving sleep quality and its tailored approach convinced me of their expertise.
In the end, choosing the right mattress store involves considering various factors, from product quality and customization options to customer service and community engagement. Armed with the knowledge gained from this guide and the invaluable shopping tips provided, you can confidently embark on your mattress-shopping journey. I strongly recommend that you read the Best Mattresses of 2023 before heading out to shop.