Ottomans are the unsung heroes of home decor, fulfilling several important roles at once. From a visual standpoint, ottomans make stylish accent pieces that tie your space together like a finely-wrapped bow. Functionally, they're extraordinarily versatile, acting as everything from extra seating to cozy footrests.
In this guide, I'll show you where to buy an ottoman that's affordable, made with care, and dressed in comfy upholstery that matches your other living room furniture. Join me as we find the perfect new piece of your space.
What Exactly Is An Ottoman?
Ottomans are among the most versatile pieces of furniture on the market. Depending on its specific set of features, you can use an ottoman as an extra seat, a coffee table, a footrest, or even as storage. They're also movable, meaning you can place your ottoman anywhere you need extra seating or access to its other functionality.
As you'd expect from such a versatile piece, ottomans work well in any room. However, they're most commonly seen in the living room, typically cozied up alongside a couch. While some ottomans come bundled with today's best sofas, you can also buy them as standalone units that you piece into your interior design separately. To that end, you'll find ottomans in various shapes, sizes, and colors, with upholstery ranging from fabric to leather.
No matter what shape it takes, today's best ottomans act as excellent accent pieces for your living space, adding visual intrigue and providing a focal point for your home.
Top 6 Ottomans to Elevate Your Home Decor
It can be hard to find an ottoman that's the proper shape, size, and color for your home — especially if you're looking to match your existing sofa. It's not so much due to a lack of options as it is the overwhelming amount of choices available. That's why we've collected our top six favorite ottomans from leading retailers. They're all exceptionally high-quality and fit well within most homes, big or small.
Here's an overview of our favorite options, followed by an in-depth look below.
Brand
Best For
1

Editor's Choice

Best Overall
Shop Now
2

Best for Storage
Shop Now
3

Best Leather
Shop Now
4

Best Square Shaped
Shop Now
5

Most Unique
Shop Now
6

Best Pouf
Shop Now
1
Editor's Choice
2
Best For:
Best for Storage
3
4
Best For:
Best Square Shaped
5
6
Price: $345 & up
Dimensions: W27″ x D23″ x H17″
Frame Material: Maple & poplar
Upholstery: Polyester or leather
Colors: 9 color options
Warranty: Lifetime (frame) & 3 years (cushions)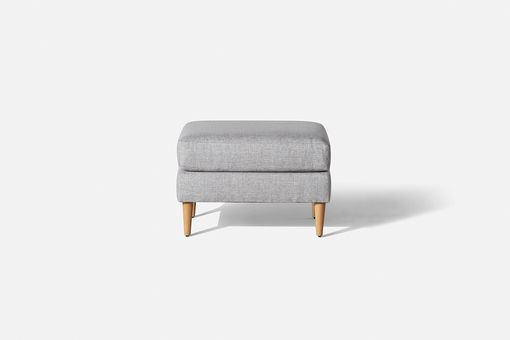 The Allform is a classic ottoman — perfectly refined, with a simple aesthetic and no unnecessary filler to clutter up your space. It features a squarish 23″ x 27″ design and 2-tier frame that combines a sturdy base with a thick, cozy cushion up top. Choose between nine upholstery options, including seven polyester fabrics and two leather variants (check out the Espresso leather for a particularly luxurious finish), and multiple leg finishes. The timeless design and simple colors blend beautifully alongside most couches, ensuring an excellent fit for your existing decor.
Allform prides itself in its craftsmanship, and I agree that its hand-crafted ottoman is a beacon of stellar artisanry. The maple and poplar frame is uniquely versatile, working well as a comfy seat, makeshift coffee table, or a classic footstool. The only thing this cocktail ottoman doesn't do is provide extra storage, but that's a small sacrifice considering the exceptional $350 price tag. If you're hesitant, check out Allform's 100-day money-back trial and experience this fantastic piece of furniture for yourself.
Price: $1,449 & up
Dimensions: W42″ x D25″ x H19″
Frame Material: Wood
Upholstery: Varies
Colors: 117 color options
Warranty: n/a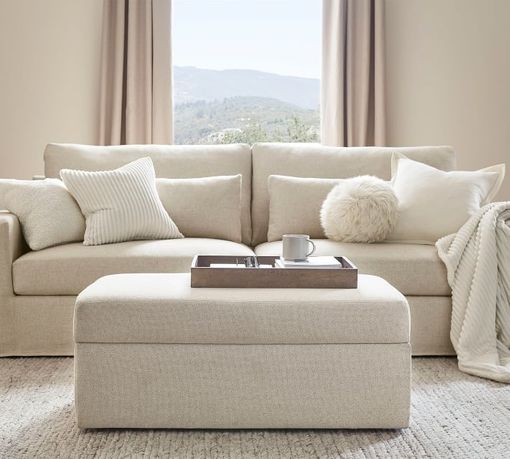 Lack of storage space is a common problem. Unfortunately, standard solutions like trunks and wardrobes can be quite unsightly, especially in the living room. Not to mention, they take up lots of usable space. That's why I love the Big Sur from Pottery Barn. It's a stylish piece that combines the versatility of a large, rectangular ottoman with the utility of a storage chest. Lift the top cushion to reveal a spacious storage compartment, complete with a pop-out side table to hold snacks and cocktails when friends are over!
The Big Sur comes in a wide variety of colors and patterns, with over 100 upholstery options. Although you have to pay up to access the Big Sur (to the tune of around $1,300), you can customize it to your heart's content, ensuring a nearly-square storage ottoman for your living space. Pottery Barn is known for its quality craftsmanship, and you can expect your new piece of furniture to last for years to come.
Price: $799 & up
Dimensions: W38″ x D38″ x H18″
Frame Material: Wood
Upholstery: Leather or faux leather
Colors: 18 color options
Warranty: n/a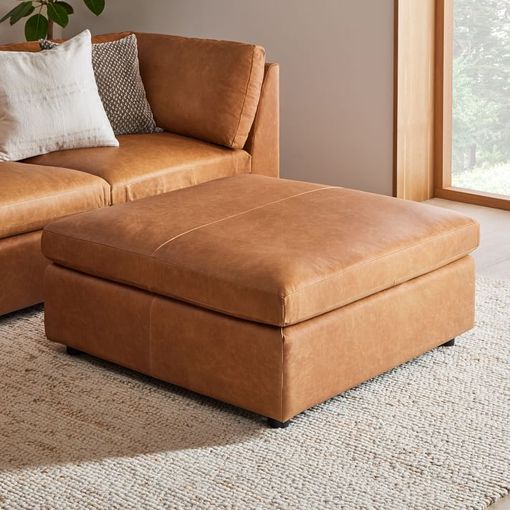 Nothing says luxury better than a genuine leather ottoman, particularly this one from West Elm. The Marin Square Ottoman comes wrapped in gorgeous top-grain or faux leather dyed to match your living space. I love that you can choose from 18 color options, each with a scratch- and stain-resistant finish suitable for most households (even those with children, to my excitement). Even more impressive, its price tag starts at $799, making this ottoman an extraordinary accessible accent piece that'll elevate any space.
Such luxury at such a low price tag does come with drawbacks, however. For one, this isn't a leather storage ottoman (there's no hidden compartment). It's also crafted in China, resulting in a less-than-stellar carbon footprint.
Price: $649 & up
Dimensions: W39.5″ x D39.5″ x H17″
Frame Material: Wood
Upholstery: Fabric or leather
Colors: 4 color options
Warranty: 1 year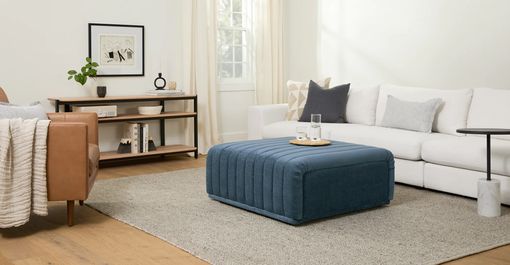 The SEFTO is a one-of-a-kind piece that makes a gorgeous focal point in any modern living space. It's a square-shaped ottoman with a unique tufting pattern that's visually intriguing and shockingly comfortable to sit or rest your feet on. Although you can get the SEFTO in a muted leather finish, the bright, glam fabrics excite me the most. In particular, the Marigold Yellow fabric ottoman pops out like an Andy Warhol painting, incorporating mid-century modern inspiration in every aspect of its design.
Of course, the SEFTO won't fit in every home. At 39.5″ in width and length, this piece of furniture takes up quite a bit of space. But, it also provides plenty of usable space — including extra seating for multiple guests or a smorgasbord of snacks and cocktails.
Price: $79.99
Dimensions: W24.5″ x D24.5″ x H14″
Frame Material: Steel
Outer Finish: Rattan
Colors: 1 color option
Warranty: 1 year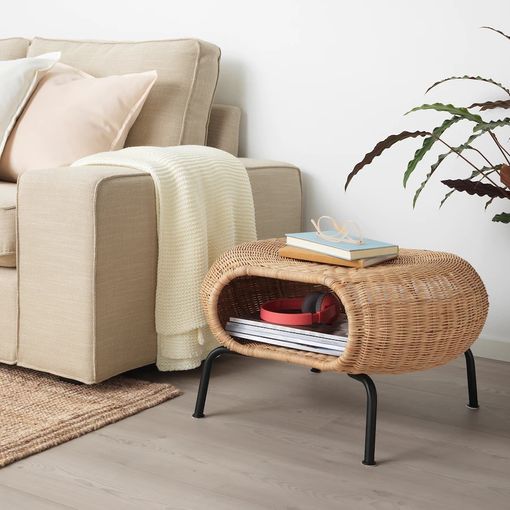 If you're looking for a round storage ottoman with boho inspiration, the Gamlehult is an excellent choice. It comes with a hand-woven rattan finish, carefully shaped into a circular pattern that wraps around a large storage pocket perfect for books or magazines. Although the ottoman looks fragile — especially with the hollow top storage space — I've found this piece of furniture quite robust. The rattan handles my 160-pound frame with ease, and the solid metal legs provide stable support that refuses to budge an inch. I have no trouble recommending it as a side table, coffee table, or foot rest for your living space.
Of course, it also comes with IKEA's famously affordable pricing, and you can get started with the Gamlehult for just $79.99. What's more, you don't have to deal with the brand's usual laborious installation. Pick up the unit in-store or have it delivered to your doorstep, then enjoy a simple 10-minute assembly process.
Price: $117 & up
Dimensions: W22″ x D22″ x H13″
Filling Material: Polystyrene beads
Upholstery: Cotton & jute
Colors: 2 color options
Warranty: n/a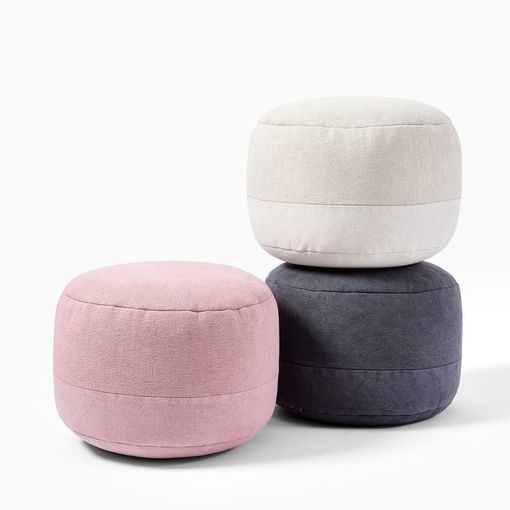 The Round Pouf Ottoman from West Elm is like a bean bag for adults. It's packed full of polystyrene beads that envelop your body to provide a base so comfy and cushy, I had a hard time believing it wasn't memory foam. Meanwhile, the exterior upholstery features a unique blend of fibers that combines the softness of cotton with the strength of jute.
Although the exterior is robust, polystyrene tends to sink over time. That's why I mostly recommend the West Elm as an occasional guest seat or cozy footrest — a shame considering how wonderfully cozy it is. Fortunately, it makes a lovely accent piece when not in use, and the two timeless color options (Sand and Iron) work well in every living space.
Frequently Asked Questions
In this section, I've done my best to answer pressing questions asked by those seeking where to buy an ottoman.
1. What can you use an ottoman for?
What's an ottoman, and what is an ottoman used for? Well, ottomans are a unique piece of furniture suitable for various purposes. Use them as extra seating for guests, side tables during cocktail hour, or footrests after a long day's work — your imagination sets the limit. Although ottomans come in all shapes and sizes, square storage ottomans and storage ottoman benches are particularly handy. These excel as transitional pieces, e.g., entryway or hallway storage, and tying together your living space home decor.
2. Can you sit on an ottoman?
Generally, yes. Although some ottomans are too small or fragile to sit on, these are few and far between. Unless the manufacturer indicates otherwise, you should feel safe sitting atop nearly any ottoman you purchase — including all the excellent options on our list.
3. What types of ottomans are on the market?
There are several different types of ottomans on the market, including: cocktail ottomans, poufs, cube ottomans, ottoman benches, and storage ottomans. Some ottomans are even foldable, allowing you to whip them out for guests and store them away after use. With that in mind, there's no best type of ottoman, as the ideal solution is the one that works best for your particular living space.
4. Do all ottomans have storage space?
Ottomans are commonly known for their storage space, but only among certain models. For instance, you'll rarely find storage compartments within poufs or cube ottomans, as these are closer to pillows than standalone furniture. However, storage space is a common addition to standard square and rectangular ottomans.
Get More Home Decor and Furniture Reviews with Home of Cozy
Ottomans are ideal for maximizing your living space and adding that finishing touch. Hopefully, this list has shown you the perfect ottoman for your home — or at least turned you in the right direction.
At Home of Cozy, it's our goal to provide complete and honest home furniture reviews. We've created guides on a variety of topics, including the best loveseats and best sectionals, as well as trending home decor.