Throw pillows are the sprinkles atop your decorative sundae. They pull your entire space together, giving the final design a cohesive look while adding a delicious pop of color.
You can find decorative pillows in thousands of different shapes, sizes, and styles. Although such a dazzling array of options is a boon for customizing your space, it can make searching for the right match a little overwhelming.
That's why I put together this guide — to cut through the fluff and show you where to buy throw pillows from retailers that consistently produce high-quality and versatile furnishings. If you're ready to throw on that finishing touch, join me as we check out today's best options.
What To Look For in a Throw Pillow
A good throw pillow features a cohesive design with high-quality materials and craftsmanship that can handle the wear and tear of a modern living space.
The home furniture experts at Home of Cozy understand this firsthand. That's why we researched and tested various pillows from digital and physical outlets, uncovering which retailers carry brands with pillows that meet our high expectations.
Here's the criteria we used to judge the competition:
Budget: We wanted to cover a wide variety of budgets on this list so we could make throw pillows accessible for everyone.
Style: Throw pillows come in various styles, from mid-century modern to boho chic. With this list, you can find decorative pillows that accentuate your interior design style, no matter how you choose to decorate.
Fill: Throw pillows come with many different types of fill, including down (feather), cotton, and foam.
Quality: We wanted to curate a list of high-quality throw pillows that highlight durability and quality craftsmanship.
We're confident the following retailers represent the best place to buy throw pillows online and in-store. Their collections check all the right boxes, ensuring meticulously-crafted yet affordable accent pieces for your home.
Top 11 Places to Buy Throw Pillows in 2023
Whether you're looking for a set of throw pillows to match your new interior design style or just want to refresh your living room, this list presents the best places to buy decorative pillows. Here are my favorite throw pillow outlets, all guaranteed to help you bring a fresh, cozy vibe to your space.
Pricing: Starting at $45
Storefront: Digital
Notable Brands: Allform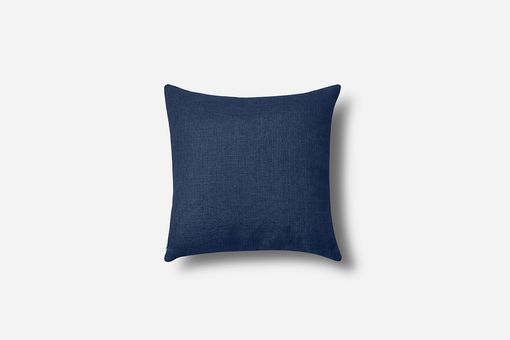 Although some dismiss minimal design as boring, I think it's one of the most elegant aesthetics around — especially when it comes to home decor like throw pillows. Just look at Allform. The brand's entire pillow lineup consists of two simple options: one square and one rectangular. Yet, they're absolutely stunning, with a quality and attention to craftsmanship that exceeds every other option I've tried.
Allform's throw pillows come in nine solid-color finishes, including seven performance fabrics for under $50 and two top grain leather fabrics for under $100. What's more, each option includes a handcrafted pillow cover and plush insert, carefully calibrated to provide an excellent sensory experience with unparalleled comfort.
While the lack of options limits customization potential, the timeless colors schemes — including the likes of Amber polyester and Whiskey leather — work well with any interior design. The pillows are also pet, kid, and all-around life-proof, ensuring a fantastic fit that blends with every space.
Pricing: Starting at $68
Storefront: Digital
Notable Brands: 54kibo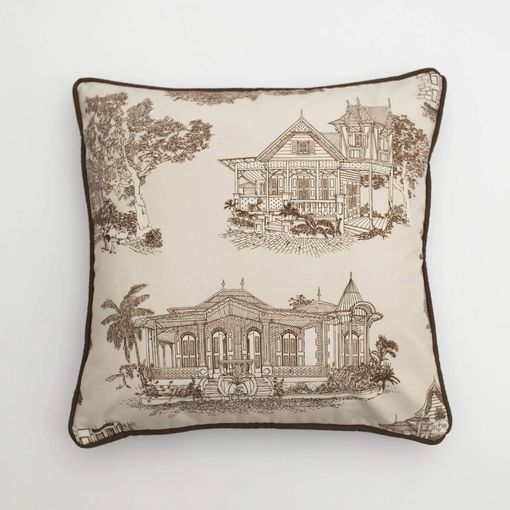 54kibo boasts a curated selection of throw pillows for those who enjoy eclectic — and oftentimes exotic — home decor. Its pillows come in all different shapes and sizes, with many incorporating trending design elements such as bright colors and bold patterns.
Of all 54kibo's throw pillows, my favorite is the Binga. This cotton pillow is handcrafted in Zimbabwe and features a gorgeous white spiral on a vibrant blue background. Like many of 54kibo's accessories, it's influenced by African design philosophies and packs a gorgeous boho aesthetic. It also gels well with many other furnishings listed on the site, including a whimsical set of velvet throw pillows (complete with eclectic tassels) that caught my eye. There's no doubt that this brand has everything you need to spice up your home's interior design.
Pricing: Starting at $12.99
Storefront: Digital & Physical
Notable Brands: Martha Stewart, Envogue, Cupcakes & Cashmere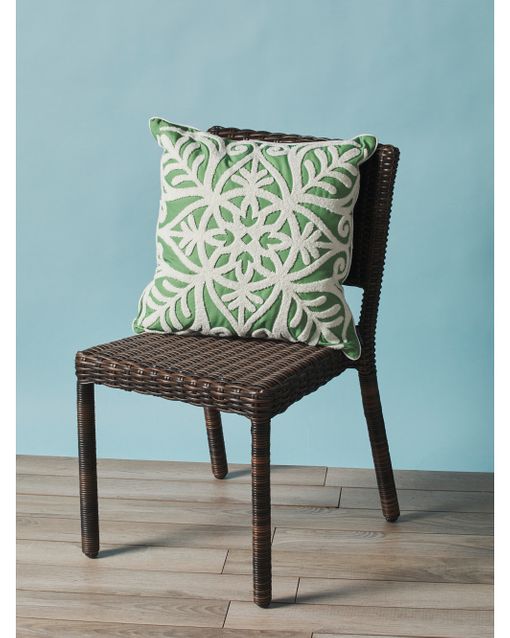 Home Goods is an excellent place to find unique throw pillows and throw pillow covers on a budget. The retail outlet offers hundreds of different styles, patterns, and textures to peruse at your leisure. Although shopping on the Home Goods website is more convenient, I prefer browsing at one of the retailer's 850 brick and mortar stores. There, the stock is constantly changing, and I encounter something new every time I go. It also affords the opportunity to touch and feel the upholstery, giving me greater insight into how it'll fit my space.
In addition to complete throw pillows, Home Goods carries various pillow inserts and pillowcases. In other words, the brand makes it easy to mix and match your pieces or change up your home decor on a whim.
Pricing: Starting at $13.99
Storefront: Digital & Physical
Notable Brands: Pottery Barn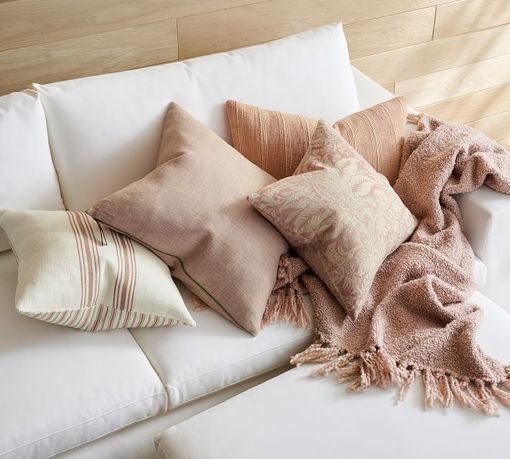 Pottery Barn is the queen of customization, selling its throw pillow covers and pillow inserts separately. The brand offers a variety of fabrics and textures to choose from, including jacquard, chenille, chevron, and faux fur (there's even a selection of outdoor pillow covers). Once you've found the perfect exterior, choose your favorite among down, cotton, and polyfiber inserts. I personally recommend the latter option, which hugs you during use but maintains its shape in everyday settings.
Of course, the tradeoff to all this customization is that you have to spend a little extra money to buy separate pieces. But I think the opportunity to build a perfect match for your living room is worth the expense.
Pricing: Starting at $9.99
Storefront: Digital & Physical
Notable Brands: West Elm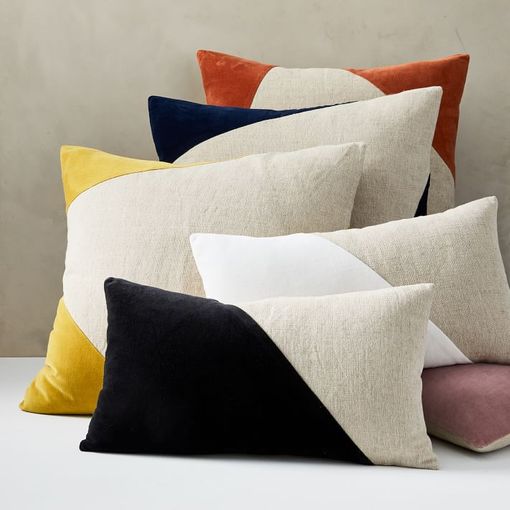 West Elm is part of the Williams-Sonoma family of brands, alongside other home decor stores like Pottery Barn. So it's not surprising to see that West Elm provides a similar shopping experience, offering its throw pillow covers and pillow inserts separately. Fortunately, the company curates an exclusive selection, including gorgeous fabrics and fillings I've not seen anywhere else!
Both the brand's physical storefronts and website carry its extensive range of home decor. In both places, you'll find throw pillows with an eclectic mix of plaid patterns, tufted buttons, and even unique seasonal elements — to name just a few. Pair your favorite covers and inserts to enjoy a gorgeous, one-of-a-kind living room that speaks of quality and high fashion.
In addition to feeling good about your space, you'll also feel good about your environmental impact. West Elm is passionate about its sustainable sourcing methods, and all cotton pillow covers and inserts are harvested and manufactured responsibly.
Pricing: Starting at $5
Storefront: Digital & Physical
Notable Brands: Pillowfort, Threshold, Broadway Lane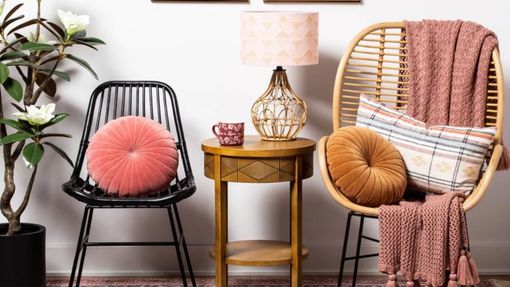 You may be surprised to see a global superstore like Target on this list, but it's honestly a great low-cost way to purchase throw pillows for your home. The company sells a massive collection under in-house sub-brands like Pillowfort and Threshold, and it also offers a curation of lovely pillows from third-party suppliers. Target is known for its trending designs, and you can always find fashionable and modern home decor from its website and physical locations.
Unfortunately, Target's physical locations are increasingly prioritizing grocery items, and I rarely see more than a few aisles dedicated to home furnishings. That's why I recommend shopping online, where you can browse thousands of options and compare multiple colors, patterns, and designs on a single screen. You can also view buyer ratings, more easily identifying which options hold their own in the throws of a rambunctious family household.
Pricing: Starting at $90
Storefront: Digital
Notable Brands: Bolé Road Textiles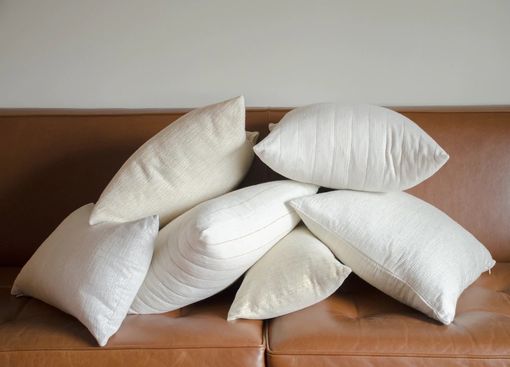 If you're seeking a luxury brand with a boho-chic aesthetic, Bolé Road Textiles is your one-stop-shop. The digital retailer offers dozens of throw pillows with bright colors and eye-catching patterns that'll take your breath away. While its designs work well with other boho furniture, they also make gorgeous focal points in rooms with minimal palettes, taking center stage like a dolled-up performer.
Unlike other upscale brands, the company's throw pillows come with luxe feather or down inserts included with your purchase. This helps offset the relatively high pricing while letting the experts choose the ideal pairing of materials. Since each throw pillow is handwoven in Ethiopia by skilled artisans, you can count on high-end craftsmanship that's stitched to perfection.
Pricing: Starting at $5
Storefront: Digital
Notable Brands: Lynn Chalk, Willa Skye Home, Our Pillow Studio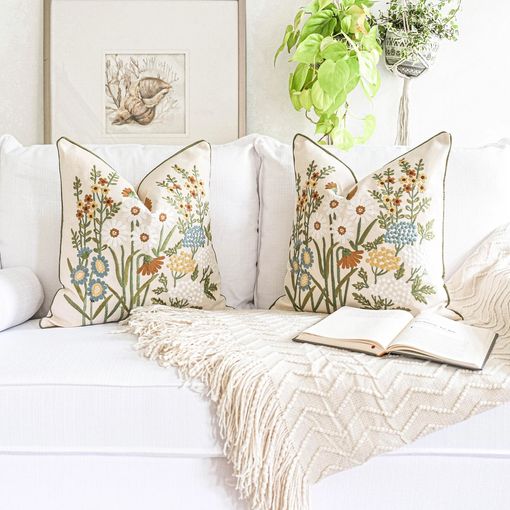 Etsy is a marketplace dedicated to DIY creators and crafters, a place to buy beautiful, handmade throw pillows directly from artists on every continent.
Naturally, you'll find all different types of throw pillows on Etsy. There are hand-sewn and hand-embroidered pillows stuffed with layers of plush cotton, as well as throw pillow covers with gorgeous hand-dyed illustrations. No matter which type of craftsmanship you enjoy, you're guaranteed a unique accent piece that'll delight your senses and wow your guests.
Aside from the beautiful products, my favorite thing about Etsy is that you're supporting small businesses worldwide. Just be vigilant while you shop, as I've noticed more and more mass-produced products making their way onto the platform. I recommend double-checking store ratings to ensure your dream pillow is genuinely handmade just for you.
Pricing: Starting at $14.99
Storefront: Digital & Physical
Notable Brands: World Market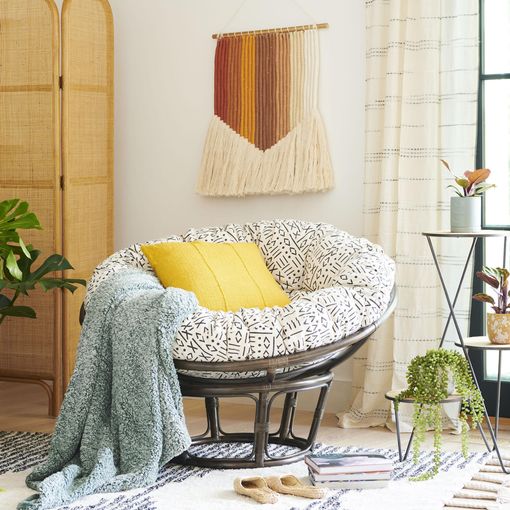 As the name suggests, World Market's throw pillows take inspiration from across the globe. You can find options with bright colors and bold patterns that enliven your space and add visual intrigue. But you can also find pillows with calming, solid colors like taupe and cream.
In addition to varied palettes, you'll encounter decorative pillow covers and pillow inserts in different shapes and for different purposes. In other words, it's not just the typical square selection but a unique conglomeration of circular pillows, lumbar pillows, outdoor pillows, and just about everything else you need to jazz up your interior design.
I've been going to World Market for years, and something always catches my eye, inviting a closer look. Usually, I'm pleasantly surprised by what I find, especially after flipping over the price tag. Most of World Market's throw pillows cost under $20, making it an excellent place to shop for deals.
Pricing: Starting at $12
Storefront: Digital
Notable Brands: Safavieh, Five Queens Court, Waverly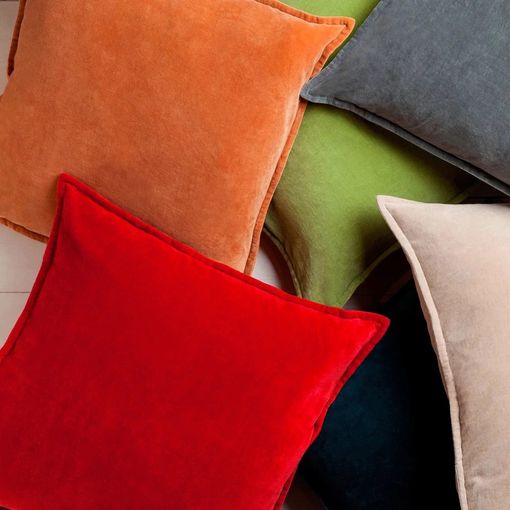 Overstock has a steadfast commitment to providing a range of home furnishings at affordable prices. The site's been around for over two decades now, and it's continually updated with fresh stock from hundreds of suppliers. I've found Overstock an excellent place to shop for throw pillows, as you can find options with all different colors, styles, and design elements — starting at just $12. Scouring the thousands of options is like a treasure hunt, with a gorgeous new accent piece as your reward.
Of course, some treasure is better than others, and I recommend keeping a keen eye on the customer reviews. You may pay a little extra, but it's worth the peace of mind. If you do run into any trouble, Overstock offers a hassle-free 30-day return policy.
Pricing: Starting at $26.25
Storefront: Digital
Notable Brands: EnShape, Kierkegaard Design Studio, Alyssa Hamilton Art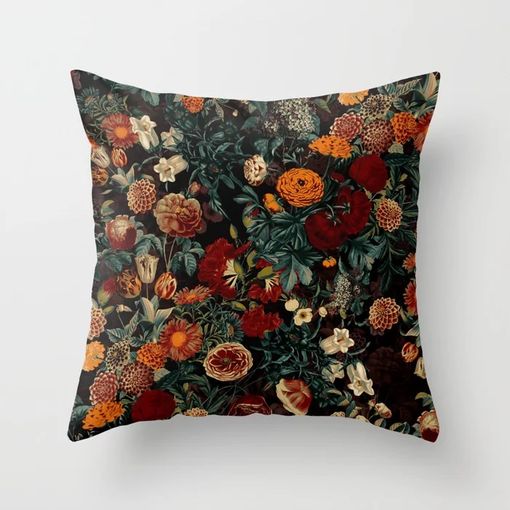 Society6 is like an art gallery, except everything's for sale at an affordable price. The website hosts over 300,000 talented artists from 160 countries, providing a space to create and sell home decor. In that sense, Society6 is more than just a platform. It's also a tool that takes the colossal startup cost out of interior design manufacturing. Designers can upload their works and transpose them onto various products. It's a win for the artists, who can sell physical products, and it's a win for you, who can design a room around a single aesthetic! Match your throw pillow cover with your blanket, and your space is no longer a simple living room — it's a gallery of its own.
I love the eclectic mix of throw pillows you can find on the platform. It houses everything under the sun, ranging from the basics to downright strange works of art that would enamor Salvador Dalí himself.
Get More Home Decor Recommendations with Home of Cozy
These retailers carry some of the best home decor money can buy, including oodles of throw pillows designed to elevate your space and sprinkle some decorative magic. I hope it's helped you find the perfect pillow for your home.
Whether you're looking for a fresh pop of color or a living room makeover, Home of Cozy has all the high-quality recommendations and reviews you need. For more home decor content, check out our articles on Cozy Living Room Ideas, Choosing a Sofa Color, and Today's Best Sofas.