Storage space is hard to come by, especially in the living room. With so much of the area taken up by furniture and home decor, there's nowhere left to stash throw pillows, blankets, and other essential furnishings.
That's why a couch with storage is such an ideal solution. Storage sofas expand your living area, providing a convenient repository to keep items and reduce clutter. Even better, most models feature a liftable chaise or convenient storage ottoman that camouflages your extra linens without sacrificing style.
If you're looking for a tidier, cozier home, let's check out today's best living room furniture with extra storage space.
What Makes a High-Quality Storage Sofa?
Home of Cozy aims to provide honest and comprehensive recommendations for living room furniture and home decor. For this guide on storage sofas, we researched and tested couches from various companies, evaluating each against a set of vital criteria:
1. Quality – Sofas see a lot of wear and tear, and every element — from the underlying framing to the upholstery — must feature excellent craftsmanship that can withstand vigorous activity.
2. Budget – Home of Cozy understands that every budget is different, which is why we showcase the top storage sofas in every price range.
3. Comfort – Storage sofas may include extra space for home essentials, but they still need to perform as comfortable seats, complete with cozy fabrics and cushioning.
4. Design – A storage sofa should blend seamlessly within your living space, incorporating pleasing colors and flush design elements that camouflage its storage capabilities.
5. Sustainability – We all share a single home, and that's planet Earth. The team at Home of Cozy keeps this in mind throughout our evaluations, prioritizing sofas with eco-conscious, verifiable sustainability practices.
There are dozens of storage sofas on the market, which is why we spent over a dozen hours preparing this article. Home of Cozy feels confident that the following list represents the best solutions for the modern family.
12 Best Storage Sofas to Give Your Living Room More Space
Brand
Best For
1

Editor's Choice

Fabric Choices
Shop Now
2

Reclining
Shop Now
3

Functionality
Shop Now
4

Small Spaces
Shop Now
5

Customization
Shop Now
6

Mid-Century Modern
Shop Now
7

Budget
Shop Now
8

Value
Shop Now
9

Unique Design
Shop Now
10

Daybed
Shop Now
11

Luxury
Shop Now
12

Durability
Shop Now
1
Editor's Choice
2
3
4
5
6
Best For:
Mid-Century Modern
7
8
9
10
11
12
The following sofas offer an easy way to add extra storage to small spaces and reduce clutter in large ones. They're all completely inconspicuous, adding this functionality without sacrificing stylistic or comfort-oriented elements. Check out the entire list of storage sofas to find a variety of sizes, shapes, and styles for every space.
Price: $3,298 & up
Dimensions: W113" x D62.5" x H34.5"
Frame Material: Wood
Upholstery: Varies
Colors: 194 color options
Warranty: n/a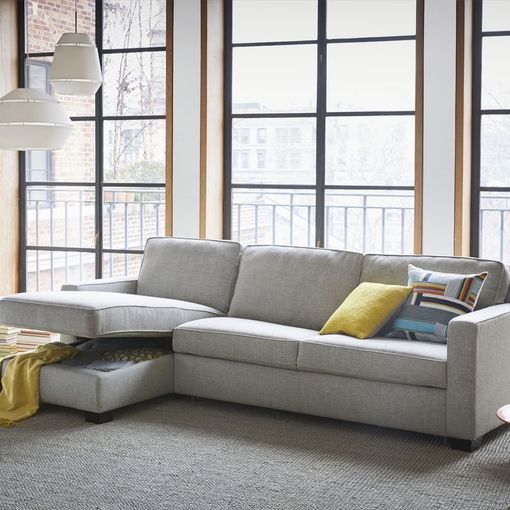 The Henry Sleeper Sectional from West Elm is a jack of all trades. It features everything you need in a sectional, including ample cushioning and your choice of over 100 upholstery options. But it also goes much further, incorporating a pullout queen-size sleeper bed and a chaise that opens up like a treasure chest. Fill the hidden storage compartment with all your loot — including throw pillows and linens — then snap the top shut to hide it away from sight.
West Elm's furniture is known for its robust build quality, and the convertible sofa's thick wood frame and premium craftsmanship are no different. I've found this storage sofa incredibly cozy, practical, and perfect for just about any living space.
Price: $1,179.99 & up
Dimensions: W89" x D62" x H36"
Frame Material: Wood
Upholstery: Polyester
Colors: 3 color options
Warranty: n/a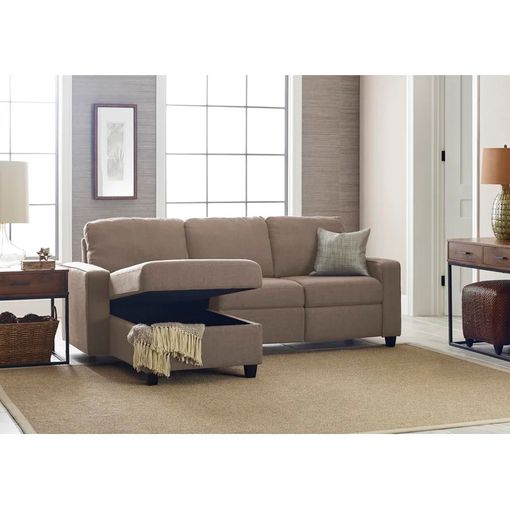 The Palisades Reclining Sectional by Wayfair is another storage sofa that plays double duty. Only this time, it features a pullout recliner! Stash your home furnishings in the side chaise storage compartment, and close it to hide everything out of sight. When you're ready to relax, simply re-open the extra storage compartment, pull out your pillow and blanket, then kick back and relax in the recliner.
The entire reclining sofa comes stuffed with Serta cushioning, making it feel far more luxurious than the affordable $1,000 price tag would lead you to believe. Although the 89″ frame is on the small-to-medium size, I've found that — combined with the extended side chaise — this sofa set can comfortably support three or four people. This makes it the ideal option for family gatherings or (my favorite activity) family snuggle fests.
Price: $2,229
Dimensions: W105" x D64" x H31.5"
Frame Material: Eucalyptus
Upholstery: Polyester
Colors: 3 color options
Warranty: 1 year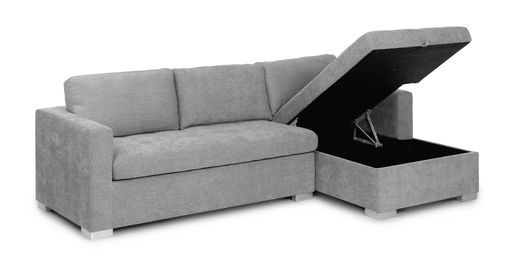 The Soma Sleeper Sectional isn't your ordinary sofa bed. Instead of a traditional 2- or 3-inch pad that slides around, the Soma's pullout bed frame boasts a plush full-size mattress with high-quality memory foam that'll delight your guests with a great night's sleep. It also features a roomy storage chaise with space for sheets, blankets, and pillows ⁠— handily at the ready when it's time to snooze.
Concerning aesthetics, I absolutely adore the Soma's chunky metal legs. These add a fun-yet-sophisticated element that speaks to the overall build quality. Once you factor in the solid wood frame (made from kiln-dried eucalyptus), it's clear that Article took no shortcuts with the Soma's design or construction.
Choose between a left- or right-facing storage chaise, as well as three different polyester colors ⁠— navy blue, light gray, or dark gray. Make the Soma Sleeper your own, and enjoy a versatile piece that's perfect for your family room.
Price: $1,079 & up
Dimensions: W99.5" x D64.5" x H33.5"
Frame Material: Wood
Upholstery: Polyester
Colors: 6 color options
Warranty: 10 years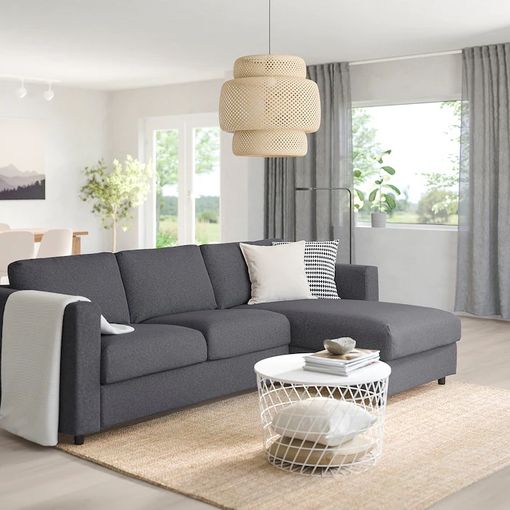 The Finnala from IKEA is a comfy 4-seater sofa that measures under 100″ in width yet easily accommodates small families. Like other sofas with extra storage space, it opens up underneath an extended right-side chaise, providing a 49″ x 31″ compartment for your furnishings. This L-shaped layout is exceptionally versatile; place it against the edge of your room or wrap it around a corner within smaller spaces.
Even though IKEA is a budget home decor brand, its furniture never fails to impress me. I love the Finnala's polyester-wrapped seat and back cushions, which invite you in for moments of pure relaxation and bliss. Yes, you'll have to find it at your local IKEA warehouse and go through that hours-long assembly process. But the quality and attention to detail are worth a few hours of labor.
Price: $1,730
Dimensions: W104" x D60.5" x H28"
Frame Material: Hardwood
Upholstery: Olefin
Colors: 4 color options
Warranty: 1 year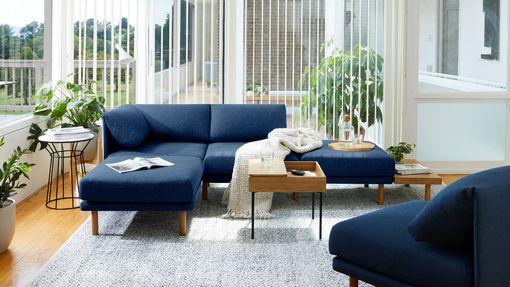 Burrow is a modular furniture brand with a variety of modern sofas and sectionals. The Range Sectional is among its most customizable options, featuring an ecosystem of add-on elements that you can arrange however you like.
One of these add-on elements is a 28″ x 14″ attachable side table, an accent piece that provides a unique type of storage space for your home. Although you can place small blankets or decorative elements atop the side table, in my experience, it works best as a place for treats and snacks during family movie nights.
If you opt for this storage sofa, I recommend purchasing an extra side table. It still plays well with Burrow's other modular elements (including its chaise lounges) while creating a symmetrical look that elevates your living space with enhanced functionality.
Price: $829.99 & up
Dimensions: W84" x D60.5" x H32"
Frame Material: Wood
Upholstery: Chenille or faux leather
Colors: 5 color options
Warranty: 1 year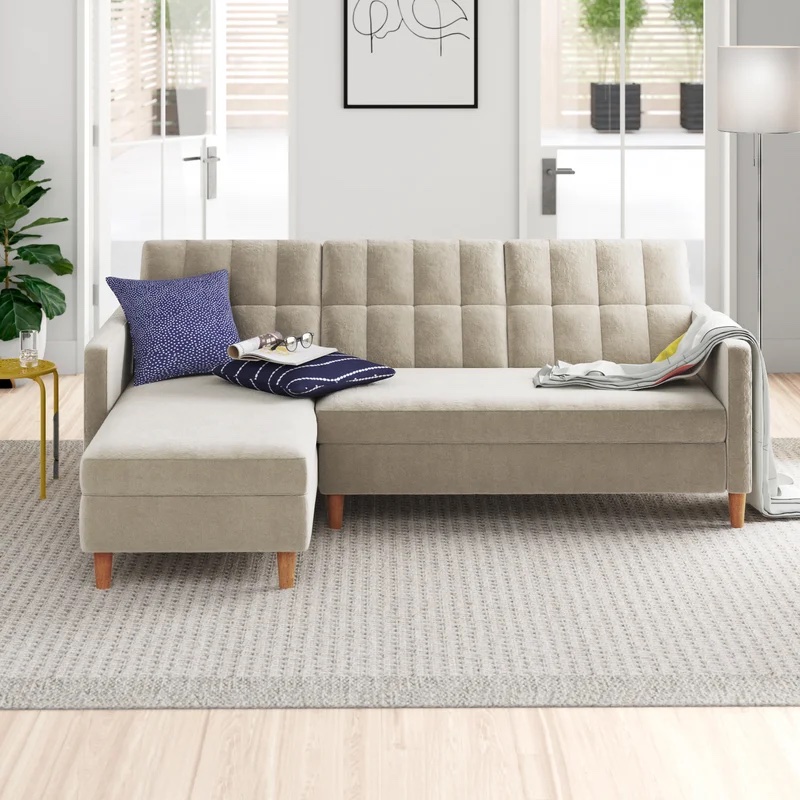 The Kayden Reversible Sleeper blends the functionality of a storage sofa with the convenience of a futon.
In sofa form, the Kayden is a generously-sized sectional complete with a lovely chaise lounge that opens up with several square feet of storage space. When evening comes, the backrest falls flat and transforms into a comfy twin-size bed for guests. If you're a fan of that mid-century aesthetic, the flattened sofa also works splendidly well as a relaxing daybed.
The Kayden is among the most versatile sofas on the market, making it ideal for nearly any space. Choose between chenille or faux leather upholstery, and select the perfect match for your space among five muted color schemes.
Price: $389 & up
Dimensions: Starting at W59" x D41" x H33"
Frame Material: Wood
Upholstery: Chenille
Colors: 1 color option
Warranty: n/a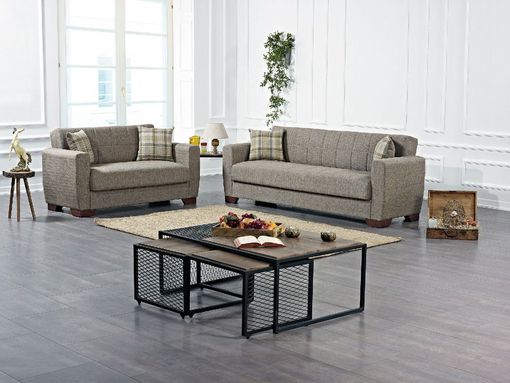 The Barato Storage Armchair offers a vast amount of extra storage space in a relatively tiny package. Its entire bottom cushion opens up on a hinge, providing easy access to a sizable cache running the length of the sofa.
Although the Barato lacks upholstery color customization, you can choose between two size variants. The first is a loveseat that measures 59″ wide and fits beautifully in the smallest apartments. The second measures 83″, working better in larger spaces and seating three people comfortably (four if you squish). No matter which you choose, the Barato also folds down into a small sofa bed ⁠— although only the 83″ offers enough room for adults to sleep on.
Ultimately, the Barato's comfy design and durable construction make it an excellent option for families in any size home.
Price: $599.98
Dimensions: W94.5″ x D63″ x H35.5″
Frame Material: Hardwood
Upholstery: Polyester
Colors: 2 color options
Warranty: n/a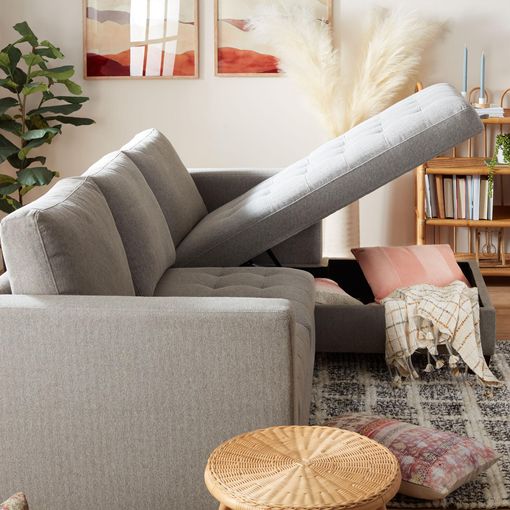 World Market is known for its lovely and affordable furniture that takes inspiration from all around the world. Its Trudeau Sectional Sofa follows suits, providing a mid-century modern design crafted in Southeast Asia.
I adore all the storage sofa's little design accents. My favorites include the lovely tufted cushions and easy-pull strap that extends from the chaise, just begging you to pull it open. Do so, and you'll encounter a sizable compartment with lots of storage space for various home accessories.
The hardwood frame and polyester upholstery are durable enough for any living room, and the 94.5″ width fits multiple adults and children. While the polyester comes in a blue or gray finish, it's the latter that excites me the most. The gray fabric is like a neutral canvas, inviting you to add your own stroke of color with a throw pillow or two.
Price: $340 & up
Dimensions: W58″ x D31″ x H32″
Frame Material: Wood
Upholstery: Linen
Colors: 3 color options
Warranty: 1 year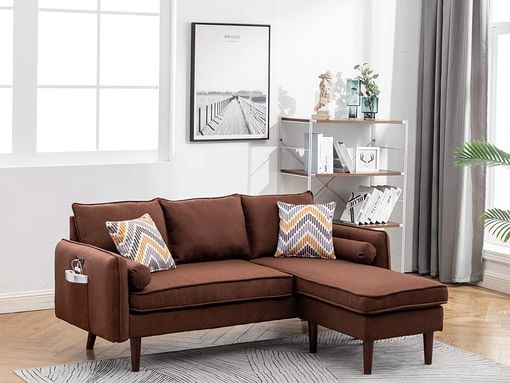 The Mia Linen Sofa from Lilola Furniture is cute as a button! The compact 58″ frame is perfect for smaller spaces, and it still manages to seat two users with room to spare. Although the Mia doesn't feature as much storage space as other options, it provides something just as handy — a lovely little side pocket with two USB ports! I love how easy it is to charge my phone while catching up on the latest episode of Ozark. Plus, you can store your cords in the little pocket when finished in the room.
I also like how affordable the Mia Linen Sofa is. Even though it incorporates a genuine wood frame, lovely linen upholstery, and a set of throw pillows, you can still snag it for under $400 from Amazon! If you have a large home and more money to spend, you can also find this storage sofa with an add-on chaise lounge, extending its seating area further.
Price: $450
Dimensions: W79.5″ x D43″ x H38″
Frame Material: Wood
Upholstery: n/a
Colors: 2 color options
Warranty: 5 years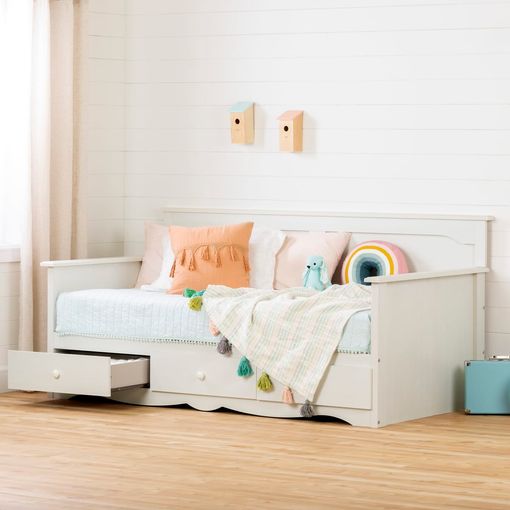 While it's not a sofa in the strictest sense, the Summer Breeze Twin Daybed is still an excellent seating option with plenty of extra storage space. It features a spacious 79.5″ x 43″ wooden frame with three pullout drawers perfect for storing sheets, blankets, and other household linens.
The Summer Breeze comes in your choice of a white or black finish. And that's only the beginning of your customization options! Since this daybed mounts any standard twin-size mattress, you can dress it up with just about any cover. Choose a bold pattern with contrasting throw pillows, or tone it down for an understated aesthetic — your imagination sets the limit.
I personally love how gorgeous the Summer Breeze looks in the home office, though it also makes a fine reading nook. It's a fun and affordable way to add a little extra storage to your space.
Price: $2,598 & up
Dimensions: W115.5″ x D64″ x H34.5″
Frame Material: Hardwood
Upholstery: Varies
Colors: 221 color options
Warranty: n/a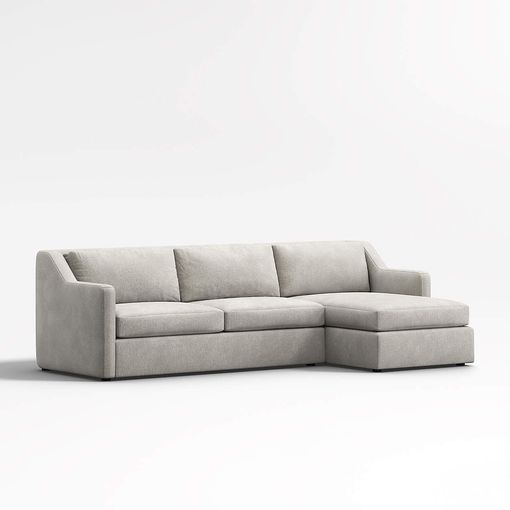 Elevate your home with the Notch Storage Sectional from Crate & Barrel. This comfy sofa comes in ten different upholstery options — including velvet, chenille, and linen fabric — and over 200 colors, offering a deluxe and highly customizable sectional for your living room. Of course, it also comes with plenty of storage space, courtesy of the easily-maneuverable chaise lounge that houses all your furnishings.
Crate & Barrel is known for its luxurious home decor, and the Notch Sectional is sure to thrill anywho who sits atop its plump cushions. Just be prepared to pay up, as this sofa starts at $2,500 and reaches over $4,000, depending on its outfit.
Price: $2,495 & up
Dimensions: W100.5″ x D68″ x H37″
Frame Material: Wood
Upholstery: Varies
Colors: 92 color options
Warranty: n/a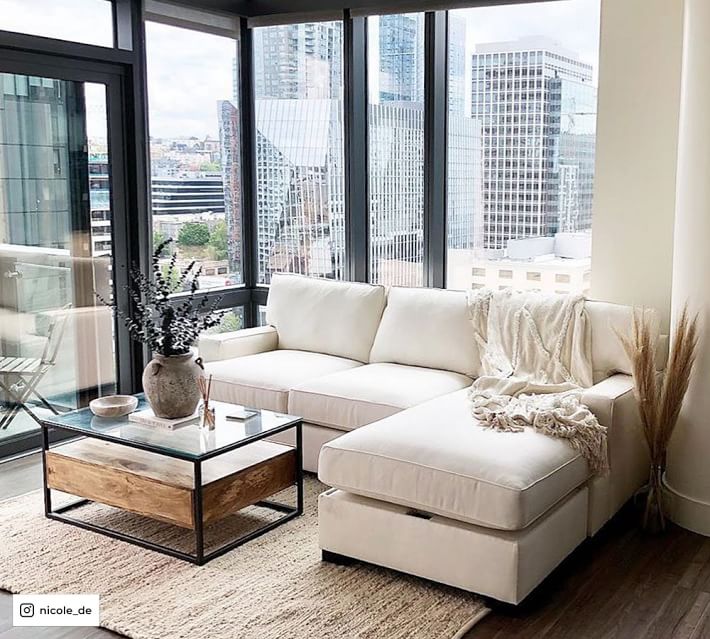 The Townsend is an excellent option for those who want a customizable sofa and don't mind spending a little extra to find that perfect match. Choose from one of Pottery Barn's many upholstery options for a finish that matches your space like a suit to its tie.
This sofa boasts a generous storage compartment underneath the chaise lounge, perfect for throw pillows, blankets, and more. Unlike most storage sofas, the chaise lounge doesn't lift on a hinge. Instead, you must pick up the actual cushion to reveal the storage space underneath. While this may seem detrimental, I've not had a problem with anything coming loose. On the contrary, the sturdy wood frame and taut cushions feel quite secure, and should last your family years of regular use.
Other Great Living Room Storage Options
Storage sofas are a convenient way to add storage to your living space, but they're not for everyone. Since they tend to run larger, many options feel more restrictive than helpful in small spaces.
Fortunately, other storage options are available. My favorite is the storage ottoman. You can find these in various sizes and even match them with your existing sofa and design scheme. They're much smaller and easier to maneuver than full-size sofas, yet they retain the same versatile, accessible, and functional traits.
Storage ottomans are also ideal for pairing with today's modular sofas, where add-ons are common, and each piece plays multiple roles. Use a storage ottoman as your side table or footrest, or reserve it as an additional seat for guests.
They're an excellent way to get the benefits of a storage sofa without the size issues or expensive price tag.
Get More Home Decor Recommendations with Home of Cozy
Storage sofas are growing in popularity as families look to maximize their living spaces. Assuming you find the right size (under 90"), they're also handy for folks who live in small spaces and need all the extra storage space they can get.
No matter your reasons for wanting one, I hope this guide helped you find the perfect piece for your home.
If you liked this guide and want to learn more about furniture and home decor, check out our reviews on popular brands like Joybird and Pottery Barn, as well as our articles on Cozy Living Room Ideas and the Best Corner Sofas.