As cliché as it sounds, every home is unique. However, most mass-produced furniture is not. This disparity leads to a lack of cohesion, as your furniture fails to capture the one-of-a-kind characteristics of your space's layout and interior design. That's what I find so endearing about modular furniture.
Modular furniture pieces let you create a dynamic living area designed to your specifications. You simply select your desired furniture components from the manufacturer and piece them together for a custom look without a custom price tag. No matter the size, shape, or configuration of your home, modular furniture is there to help. In this guide, I'll explain how it works and showcase ten of today's top brands for every space.
What Is Modular Furniture?
Modular furniture is a type of home furnishing that you can manipulate to suit your space. It comes in hundreds of styles, effectively replacing any traditional furniture, including sofas, bookcases, side tables, outdoor furniture, and more.
To get started with modular seating and other modular furniture, you choose a baseline aesthetic from the manufacturer, then add or subtract components to match the layout of your space. Once it's home, you can continue switching out pieces to accommodate a changing design scheme or configuration. In other words, it's custom furniture with extraordinary versatility, continuously adapting to meet your needs.
What Criteria Did We Evaluate For These Reviews?
The modular furniture market has exploded in recent years, leading to hundreds of innovative new brands. Although researching and testing all these options is nearly impossible for the average consumer, that's all we do at Home of Cozy.
Our team accumulated a master list of popular modular furniture brands, evaluating their products against these vital criteria:
1. Quality – The best modular furniture features top-tier craftsmanship, incorporating materials and finishes that can withstand the wear and tear of daily life and continuous adaptation.
2. Budget – Modular furniture is about achieving a custom-built aesthetic without a custom-built price tag, which is why the best brands offer affordable options for every space.
3. Comfort – While modularity is important, comfort is the key to a piece of furniture that makes your home feel like a home.
4. Design – The best modular furniture brands offer various types of furniture, with components that you can customize to meet the needs of your space and unique sense of style.
5. Sustainability – Eco-friendly craftsmanship shows that a brand sources its ingredients from high-quality and reputable supply chains.
Using these criteria as our touchstone, we honed in on today's best brands, ensuring an excellent selection of modular furniture designed for the modern home.
Top 10 Modular Furniture Brands For Your Home
Brand
Best For
1

Editor's Choice

Overall
Shop Now
2

Customization
Shop Now
3

Small Spaces
Shop Now
4

Budget
Shop Now
5

Luxury
Shop Now
6

Easy Assembly
Shop Now
7

Adaptability
Shop Now
8

Value
Shop Now
9

Variety
Shop Now
10

Quality
Shop Now
1
Editor's Choice
2
3
4
5
6
7
8
9
10
Home of Cozy wants to make sure everyone's getting their needs met. That's why this list covers furniture designed for every area in your home, including the main living space, bedroom, home office, and even your closet!
To kick things off, let's look at our favorite modular brand offering pieces for your living room.
Modular Furniture: Seating
Pricing: Mid-range
Warranty: Lifetime on frames & 3 years on cushions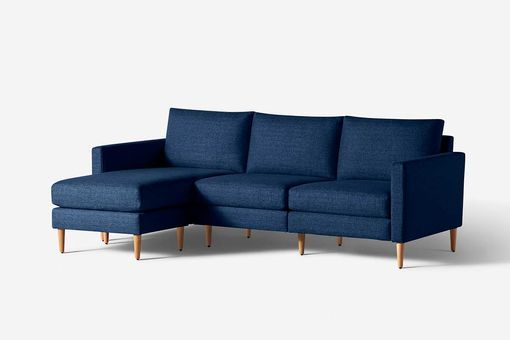 Allform's modular seating reminds me of Legos. The block-shaped components are easy to assemble and lots of fun to play with. What's more, you configure them into any shape, from armchair to wrap-around sectional. Of course, Allform does offer a few pre-configured layouts to help you get started ⁠— but the brand's patent-pending latch-and-lock furniture can continually adapt to whatever design you have in mind.
In addition to choosing the number and type of seating sections, Allform lets you choose between seven performance fabrics and two leather finishes. All the upholstery is pet- and stain-resistant, making it perfectly adept at handling every activity in your house.
If you're not convinced, I recommend taking Allform up on its 100-day trial. You can get your sofa or sectional home, set it up, and see how it feels in your space before committing. Conveniently, the trial also lets you add or remove sections until you've nailed down the perfect configuration of modular furniture.
Modular Furniture: Seating, tables, storage, and bed frames
Pricing: Mid-range
Warranty: 1 year on all furniture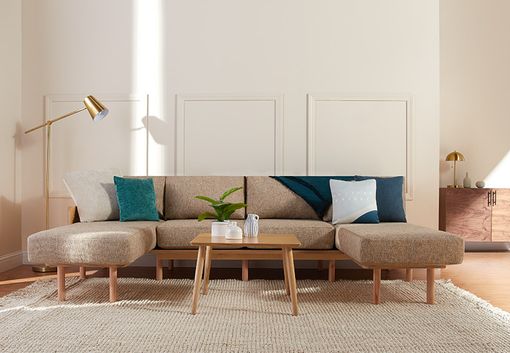 If the idea of a one-stop modular furniture shop sounds like a dream come true, you're in luck. Inside Weather features various modular furniture collections, including some with sofas and other deep seating, dining tables, bookshelves, and even bed frames! While some of Inside Weather's furniture offers more customization potential than others, you can adapt nearly every piece, both during checkout and after bringing it home. Even more impressive, Inside Weather's website lets you adjust and visualize any option's size, shape, upholstery, and color right from your browser!
Although Inside Weather offers a variety of options, it's the office furniture that excites me the most. You can customize every aspect of the company's desks, from the wood finish to the optional shelves, to create a dream workflow for your WFH space.
Modular Furniture: Seating, tables, storage, and bed frames
Pricing: High-end
Warranty: 3+ years on all furniture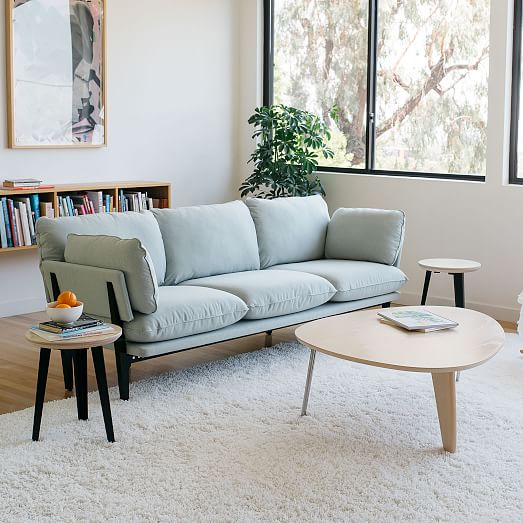 Floyd is another one of those one-stop furniture shops. Even though its modular selection is smaller than Inside Weather, the pieces are delightfully dapper and full of character. You can also put your unique stylistic touches on Floyd's pieces, ensuring a bespoke option that matches your home's decor.
The brand's modular furniture pieces start around $500, and that will only buy you a single shelf. In other words, you do have to pay up for access to Floyd's premium furniture. But the brand's pieces are all crafted with luxury materials like birch and ash wood, and the quality is second to none. Floyd also hosts regular sales and offers modular furniture sets for a discounted price.
My favorite part about Floyd is its steadfast commitment to doing right by the planet. The brand prioritizes eco-friendly business practices with responsibly sourced materials from reputable supply chains.
Modular Furniture: Seating, tables, storage, and bed frames
Pricing: Low-budget
Warranty: 1+ years on all furniture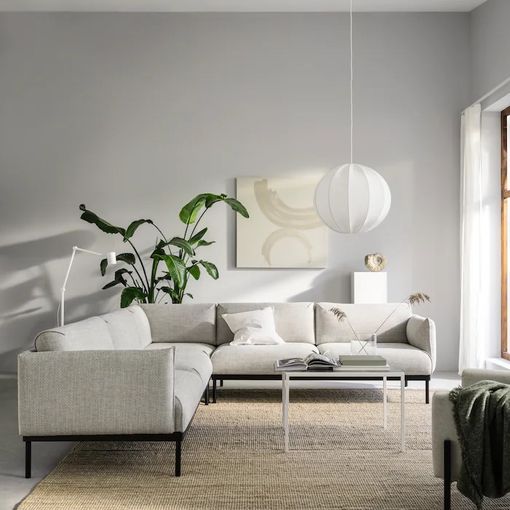 You may be surprised to see IKEA on a list of modular furniture brands. While you're right in thinking that much of its selection is more traditional, the budget brand also sells many modular furniture pieces. For example, I've been using IKEA's mix-and-match office desks for years, swapping out the tabletop or legs whenever I change up my space. And that's only the tip of the iceberg ⁠— IKEA sells a variety of modular sofas, tables, closets, and more.
Although IKEA has a reputation for mediocre quality, this claim is entirely without merit. Yes, the company does use fiberboard in its furniture. But all my IKEA gear has lasted years, and the company offers an incredible 10-year warranty on many of its products and accompanying modules (and at least one year on everything else). Unlike far too many of its competitors, the company also prioritizes accessibility and sustainability.
Modular Furniture: Seating
Pricing: High-end
Warranty: Lifetime on frames & 5 years on cushions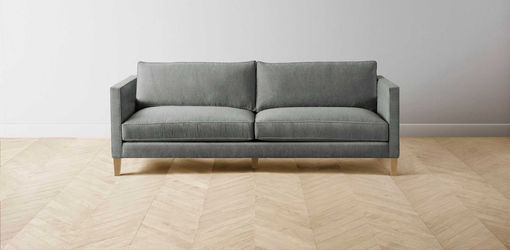 Maiden Home creates an array of stunning furniture, including high-end modular seating. The brand's versatile sofas come in dozens of gorgeous finishes, allowing you to pick the wood frame and upholstery that best matches your space. You also get to choose the layout, adding or subtracting seats until you've found a suitable configuration for your home.
Once you've finalized a design and placed your order on Maiden Home's website, the company's team gets to work building your sectional from scratch. These skilled artisans hand work every component using the best materials available, including eco-friendly, kiln-dried hardwood and quality fabrics from a local North Carolina mill.
Maiden Home's modular furniture pricing does reflect this level of detail, but I've found that it's still a bargain compared to contracting a traditional furniture shop. Besides, the brand's modular designs allow you to add or remove furniture pieces anytime down the line, ensuring an excellent addition to your home for years to come.
Modular Furniture: Seating, storage
Pricing: Mid-range
Warranty: 1 year on all furniture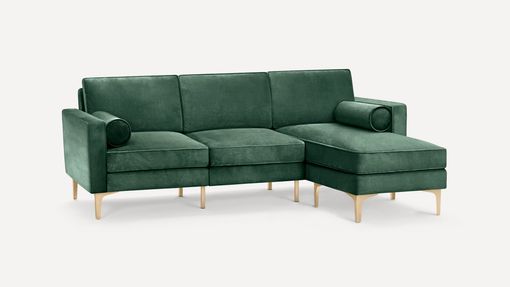 Most assemble-it-yourself furniture takes hours to put together. That's not the case with Burrow's modular storage shelves and seating, which feature simple latching technology that assembles and rearranges in minutes. Unfortunately, only some of Burrow's pieces are modular, while the rest of its home decor ⁠— including its coffee tables, credenzas, and more ⁠— is more traditional.
The good news is that Burrow's modular sofas are my favorite pieces, anyway. Not only are they customizable with various fabrics and finishes, but you can get started on a low- to mid-range budget. In fact, my favorite option ⁠— the Range Loveseat ⁠— starts at just $1,000 shipped right to your door!
Modular Furniture: Seating, tables, storage, and bed frames
Pricing: Mid-range
Warranty: 1 year on all furniture
The Loose Parts furniture system is unlike anything else on the market, incorporating a collection of loose parts that you can assemble in endless configurations. Piece the various wooden blocks and screws together, and watch as these furniture pieces transform into seating, tables, and even bed frames for your master suite!
Loose Parts boasts an industrial aesthetic inspired by the founder's Southern California workspace. While this look doesn't match my tastes, I do appreciate the overall design and attention to detail. I also love that Loose Parts is committed to eco-friendly craftsmanship, working alongside the Forest Stewardship Council to source wood from responsible distributors. The Loose Parts business philosophy also promotes reduced waste, as you can transform the parts time and again, creating every piece of modular furniture your home requires. It's an "open source and intuitive building system" that can work wonders in your space.
Modular Furniture: Seating
Pricing: Low-Budget
Warranty: 10 years on frames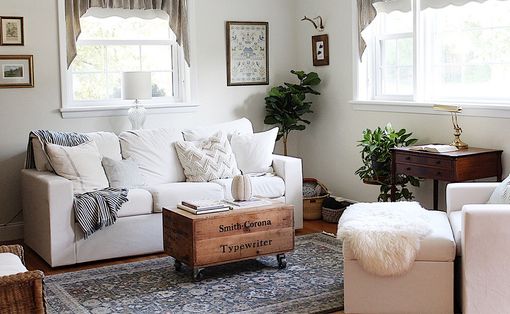 I don't know how Home Reserve does it, but the company sells high-quality seating for a fraction of its competitors. During testing, I uncovered that its couches and sectionals feature a level of modularity rivaling luxury brands like Floyd, yet they start well under $1,000!
Aside from its fantastic pricing and accessibility, I love how well Home Reserve furniture pieces perform over time. Their wooden frames and high-quality upholstery are extraordinarily resistant to damage, and you can easily replace the fabric, cushions, or very framework should anything ever go wrong. While there's no warranty on covers or pillows, Home Reserve does back its frames with a full-scope 10-year guarantee. The company will also work with you on a case-by-case basis to ensure all your other needs get met.
Choose your favorite among the hundreds of different sofa styles to match your interior design, and rest assured that Home Reserve is there, ready to adapt to your family's needs over the long haul.
Modular Furniture: Seating
Pricing: Mid-range
Warranty: Lifetime on frames & 1 year on cushions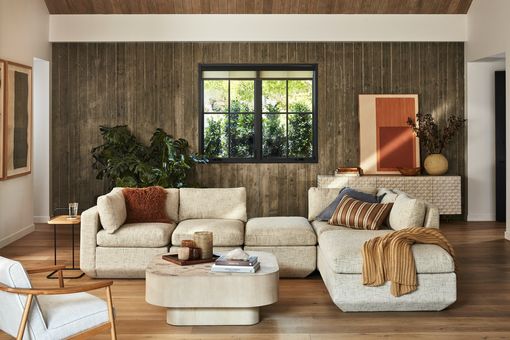 Joybird isn't your traditional modular furniture brand. That's because its furniture isn't modular in the sense that you can change its shape after you've brought it home. However, the company does offer an expansive selection of customizable sofas and (optional) matching ottomans. What's more, these pieces range from small to large, slotting nicely into any-size living space. They also come in hundreds of upholstery finishes, helping you secure a look and feel perfect for your living space.
While I adore many of Joybird's premium sofas and other furniture pieces, I'd like to highlight and recommend the Hughes Sofa. Its mid-century inspiration combines a classic silhouette and tufted cushion pattern that sings like a songbird, providing a luxurious focal point for your space. At the time of writing, this 4-seater is also on sale for under $1,400, providing an affordable piece to match your home decor and modular design.
Modular Furniture: Seating
Pricing: High-end
Warranty: Lifetime on frames & 1 year on cushions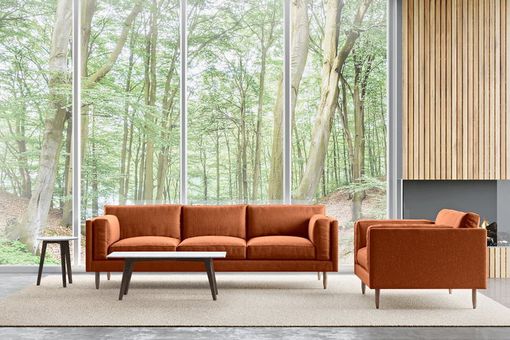 Although this list of modular furniture pieces proves you can find quality products on any budget, the age-old adage still holds true ⁠— you get what you pay for. If you have the money to spend and want the highest-quality living room furniture available, Benchmade Modern is today's best option.
Benchmade Modern specializes in living room furniture, offering 14 different sofas, loveseats, and chaise lounge chairs. After toying with all the options, I'm most impressed by the Like Butter modular sectional sofa. You can purchase this piece with your desired number of seats (up to eight, to start), and it only takes a few minutes to add additional seat blocks down the line. You can also choose between performance, velvet, or leather upholstery, as well as 61 stunning color options. While I'd happily recommend any finish, the Marfa Limestone leather exudes luxury and class, matching the upscale aesthetic provided by Benchmade Modern's modular sofas.
Benefits of Using Modular Furniture in Your Home
Modular furniture can be a boon in any home, as it's infinitely versatile. You can choose and adjust the various sections or components to fit your space and change them as circumstances change.
For example, if you start with a modular loveseat or couch, you can easily buy more seats or blocks to extend it into a full-size sectional. Or, as is the case with options like Allform and Benchmade Modern, you can break it apart into separate armchairs that fit small spaces with ease.
These types of furniture are ideal for minimalists, those who move often, and those who like to try new configurations. There's never any need to get rid of or purchase entirely new furniture; instead, you can play with your existing pieces and breathe fresh life into your interior design. No matter what size house you have and no matter which room you're working with ⁠— be it your living room, bedroom, or home office ⁠— modular furniture has your family covered.
Create a More Comfortable Living Space with Home of Cozy
Modular furniture is incredibly convenient, adapting to its surroundings like a chameleon. Start with a look that matches your space and decor, then adapt the piece to fit your ongoing needs. It's much more sustainable and far more personal than a standard out-of-the-box option.
As e-commerce and on-demand, customizable storefronts continue to flourish, you can expect the number of modular furniture brands to continue increasing. While this helps improve quality and drive down costs, it also means more furniture to sort through as you outfit your home. That's why we're here to help every step of the way.
Home of Cozy is the best place to find high-quality and honest furniture reviews to decorate your home. In addition to this guide on modular furniture, we also have articles on the best sofa brands, the Joybird brand, and how long a sofa should last. Take a look and stick around to transform your house into a home of cozy.