Imagine moving your sofa halfway across the country, only to discover it won't fit through your new front door. Sounds awful, right? Unfortunately, it happens all the time.
Moving is one of the most stressful events in life, and couches are among the most frustrating pieces to transport. Don't add to your burden with big and bulky furniture that requires an army of movers. Instead, take a load off by choosing easy-to-move sofas from this list of lightweight sofas.
What Makes A Couch Great for Frequent Movers?
Easy-to-move sofas share a common set of traits. The first is a light weight that's easy on your back. The second is a reasonable size that fits into various living spaces, squeezing through all its twists and turns. Lastly, your easy-to-move sofa should be easy to assemble and disassemble (if applicable). In essence, these couches should provide minimal resistance as you tow them across town or country.
For this guide, the team at Home of Cozy evaluated popular sofas with the aforementioned traits, using the following criteria to identify the best models on the market:
1. Quality – Good craftsmanship is important for any piece of furniture, but it's imperative in a piece that you plan to disassemble, reassemble, and move around.
2. Budget – Frequent movers include families with all different budgets, and an easy-to-move couch shouldn't cost an arm and a leg.
3. Comfort – Even though our focus is maneuverability, we're still talking about couches. As such, your sofa needs to provide comfortable, plush cushions and soft fabric that keeps you cozy for hours at a time.
4. Design – Easy-to-move couches should be modular and small-to-medium in size, ensuring a proper fit, no matter where you choose to move.
5. Sustainability – It doesn't matter where you go — Earth is still your home. Home of Cozy prioritizes sofas with eco-friendly and sustainable supply chains that keep the health of our planet in mind.
We also prioritized the best sofas and loveseats in various categories (e.g., mid-century modern, comfort-oriented, etc), ensuring an excellent fit for your lifestyle.
Top 9 Sofas & Couches for Frequent Movers
It's hard to find a couch that's comfy, easy to move, and sized for most living rooms. Many renters avoid the hassle altogether, purchasing a new sofa every time they move into a new home. But there's a better and more affordable option that doesn't involve lifting back-breakingly heavy furniture.
This list of brands offers several high-quality sofas that can streamline your moving process without sacrificing mobility (or your back). Take a look at the table below, and keep scrolling to see a detailed breakdown of each piece of furniture I recommend.
Brand
Best For
1

Editor's Choice

Overall
Shop Now
2

Sectionals
Shop Now
3

Budget Buys
Shop Now
4

Extra Comfort
Shop Now
5

Large Spaces
Shop Now
6

Small Spaces
Shop Now
7

Mid-Century Design
Shop Now
8

Sustainability
Shop Now
9

Durability
Shop Now
1
Editor's Choice
2
3
4
5
6
7
Best For:
Mid-Century Design
8
9
Price: $1,895
Dimensions: W90″ x D38″ x H34″
Frame Material: Maple & poplar
Upholstery: Polyester or leather
Colors: 9 color options
Warranty: Lifetime (frame) & 3 years (cushions)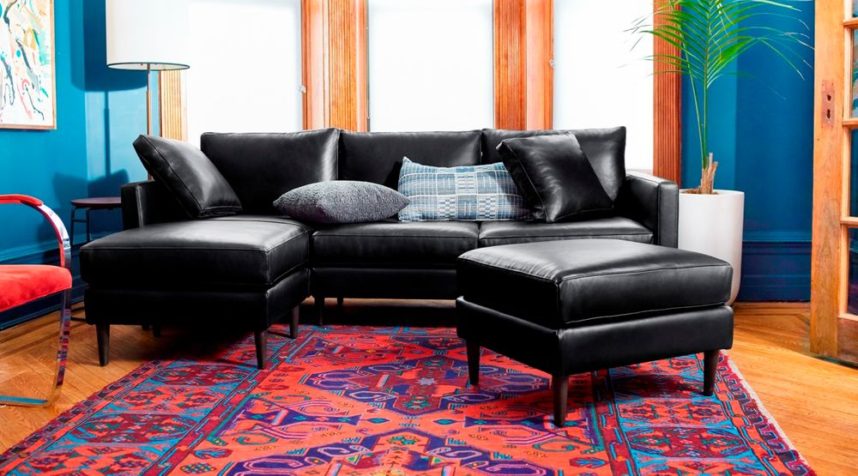 I've moved three times in the past five years and can personally attest to the difficulty of finding an easy-to-move sofa that looks great in every living room. That's why I was so excited to discover the 3-Seat Sofa from Allform.
This gorgeous piece features a classic silhouette, with a 90″ length and extended chaise that works wonders in small spaces and large ones alike. Choose between luxurious polyester or leather fabric, and select your favorite among nine attractive color options to best match your home decor.
Concerning maneuverability, the Allform 3-Seater is among the easiest-to-move sofas on the market, featuring a patent-pending latching system that enables tool-free assembly (and disassembly) in under an hour.
Each sofa also boasts a maple and poplar frame for toughness and a featherlight weight profile you can carry with ease. Once you factor in the 100-day trial and lifetime warranty, Allform's modular furniture becomes the obvious choice for frequent movers.
Price: $1,990 & up
Dimensions: W85″ x D61″ x H33″
Frame Material: Baltic birch
Upholstery: Olefin
Colors: 5 color options
Warranty: 1 year
The Nomad Sectional lives up to its name, providing a trusty companion that's easy to move. It ships in a handful of boxes right to your doorstep and assembles in under 15 minutes. It's also incredibly easy to disassemble, requiring no tools — just a bit of elbow grease and a determination to get its lightweight pieces packed into the moving van.
Choose between five different upholstery colors, six leg finishes, and three different armrest styles, mixing and matching to create a sectional that seamlessly blends with your space. You can even place the chaise section in any spot along the 3-seat spread, ensuring a piece that fits beautifully in small apartments and large homes alike. I have no trouble recommending the Nomad Sectional sofa as an excellent choice for those on a mid-range budget.
Price: $449 & up
Dimensions: W81″ x D31.5″ x H34″
Frame Material: Wood
Upholstery: Polytester
Colors: 4 color options
Warranty: 10 years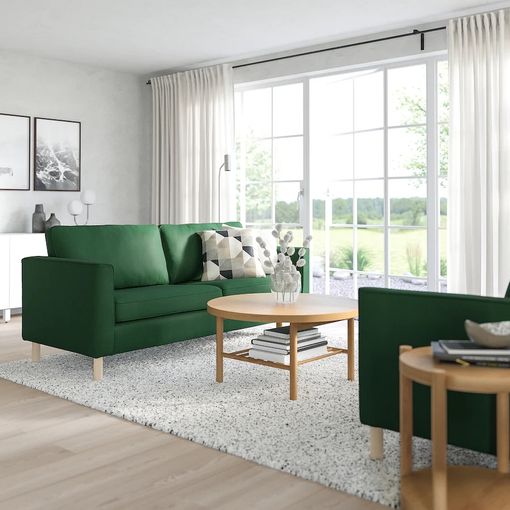 The IKEA Pärup is like a jack in the box that suddenly springs to life. It takes less than half an hour to assemble, something I don't usually expect from IKEA furniture. It even disassembles in the same time frame, making it an excellent piece to have on hand when you're moving to a new home. The lightweight fiberboard construction is easy to carry around, and it retains most of the durability of other engineered woods.
Concerning aesthetics, I love the minimalist design and polyester finish that you can match with your other home decor. The upholstery is also removable and machine-washable, saving on professional cleaning or reupholstery fees down the line. Speaking of saving money — this gorgeous piece of modular furniture starts at just $450! That said, you do have to pick it up yourself (fortunately, IKEA's delicious meatballs make the trip worthwhile).
Price: Starting at $1,390
Dimensions: W84″ x D42″ x H34″
Frame Material: Hardwood
Upholstery: Polyester or velvet
Colors: 7 color options
Warranty: Lifetime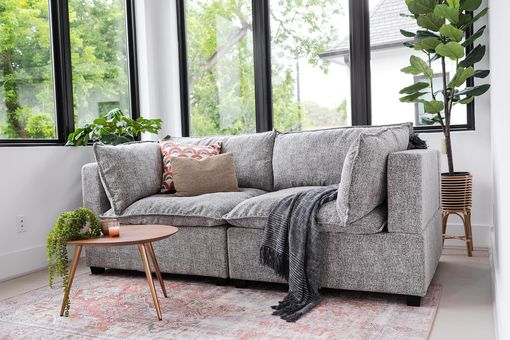 Albany markets the Kova as the world's most comfortable sofa. While I can't back up that particular claim, I can promise that the foam-meets-feather cushions and luxurious upholstery are undeniably cozy. I'm particularly fond of the blue velvet finish, which offers a silky smooth texture perfect for snuggling up on a cold winter's day.
The Kova Sofa ships in a box and comes together in under 15 minutes with no tools required. This modular piece of furniture also disassembles in record time, so moving it around is a walk in the Albany Park (no movers necessary, thank you very much). I appreciate the peace of mind that comes with this upscale brand, as the lifetime warranty guarantees a swift replacement should anything happen during your move.
Price: $3,500 & up
Dimensions: W89.5″ x D62.5″ x H28″
Frame Material: Teak
Upholstery: Sunbrella® Acrylic
Colors: 6 color options
Warranty: 3 years (frame) & 5 years (cushions)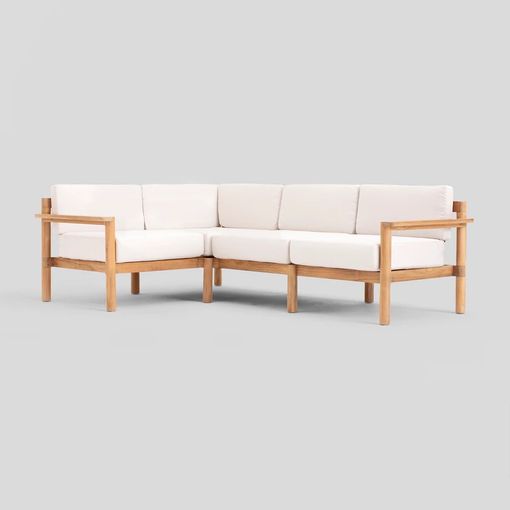 We've seen many multipurpose sofas that are easy to move, but we haven't seen any as versatile as The Sectional by Neighbor. This lovely sofa is an indoor/outdoor hybrid perfect for your summer home or poolside cabana (or both, given how easy it is to transport the lightweight and modular frame).
Its Sunbrella® Acrylic upholstery creates an elegant focal point that's water-proof and resistant to damage. At the same time, the teak frame and armrests provide unrivaled durability that can withstand the elements and all your children's messes without fuss. In an incredible feat of design and engineering, everything comes together in a stunning silhouette that offers plenty of seating space.
My favorite thing about Neighbor is its steadfast commitment to our planet. Although you have to pay up for the brand's eco-friendly craftsmanship, you're helping create a more sustainable future in the process.
Price: $708 & up
Dimensions: Starting at W66″ x D39.5″ x H33″
Frame Material: Wood
Upholstery: Varies
Colors: 57 color options
Warranty: 10 years (frame)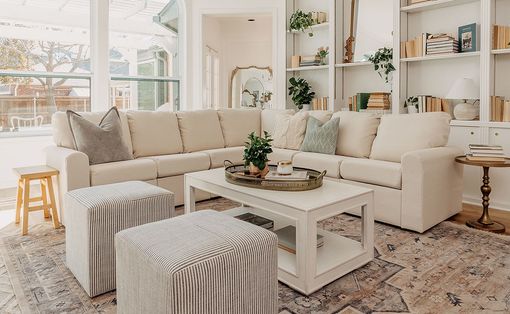 The Laney is like an embroidery kit, comprising several modular components that you stitch together at home. Choose from 31 starting layouts, then add or remove the various seat and ottoman sections until you're left with an ideal configuration for your living space. All the components come upholstered in your choice of stain-resistant fabric and ship in individual boxes for easy transport.
Even if you expect to move in the next year or two, I recommend starting with a size and shape that fits your current home. While you may have to buy extra pieces or throw a few in storage when you move, Home Reserve's pricing is still more affordable than purchasing an entirely new piece of furniture. Plus, the company provides stellar customer service and a 10-year warranty, ensuring plenty of support should you damage the finish during a move. I recommend it as one of the best sofas for movers on a budget.
Price: $2,799
Dimensions: W76″ x D36″ x H32″
Frame Material: Hardwood
Upholstery: Polyester
Colors: 1 color options
Warranty: n/a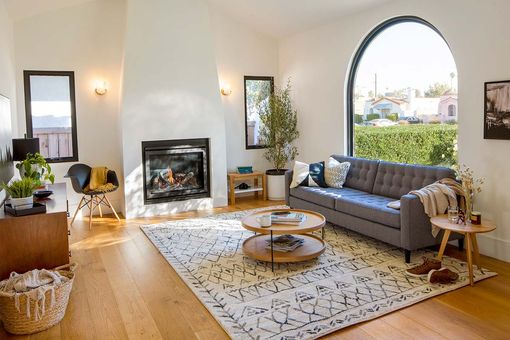 Even with all the versatile sofas on this list, you can never be sure your chosen model will suit your next home as well as your current one. That's why I love Fernish and its unique business model. This company allows you to rent living room furniture like its Petrie Midcentury Apartment Sofa. By renting instead of buying, you get a comfy, color-coordinating couch for the duration of your tenancy. When you're ready to leave, send it back and get another piece of furniture suitable for your new place. Easy!
That's not your only option, however. If you want, you can put your rent payments towards buying the sofa at the end of your stay. It may be worth the hassle, especially for the Petrie sofa. Its light gray color scheme and mid-century modern design look extraordinarily classy in most spaces. Plus, the 75-pound weight is easy to move from one place to another (though you'll still need to enlist a friend for help).
Price: $3,699 & up
Dimensions: W78.5″ x D37.5″ x H29.5″
Frame Material: Wood
Upholstery: Wool & polyamide
Colors: 5 color options
Warranty: 5 years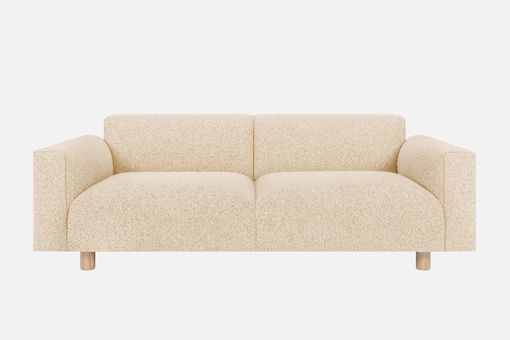 Most easy-to-move couches are on the slimmer side — you know, to help them get through the door. But the Koti Two-Seater is different, boasting a chunky aesthetic that makes quite the statement in your living room. The reason it fits this list is simple: the Koti measures under 30″ tall, allowing you to turn it sideways and shimmy it through just about anywhere. If you're like me and love the Koti's playful yet modern vibe, it may be worth the extra hassle of finding the space in your configuration.
Another part of the Koti's appeal is its extraordinary craftsmanship. I love how the deep cushions and virgin wool upholstery feel like a comfy bed of clouds, while the robust wood frame provides a sturdy foundation that grounds the space. Even neater, Hem incorporates eco-friendly and recyclable materials throughout the design, providing one of the most sustainable options for frequent movers.
Price: $1,799
Dimensions: W78.5″ x D36″ x H26.5″
Frame Material: Wood
Upholstery: Polyester
Colors: 2 color options
Warranty: 3 years (frame) & 1 year (cushions)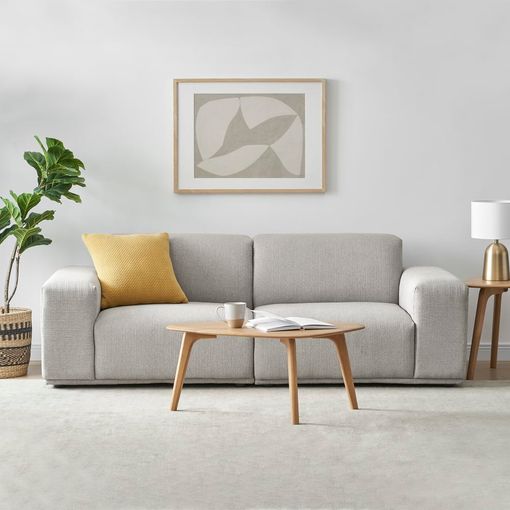 The Todd Sofa by Castlery is another easy-to-move couch that lacks modularity. Instead, it features a compact and lightweight frame that easily slips into the smallest moving trucks. It also fits nicely in any living space, courtesy of the understated stain-resistant gray upholstery that harmonizes like a zen monk. If you want to have some fun, you can sprinkle on a colorful throw pillow or two, drawing the eye for a flashy focal point.
While frequent movers can't disassemble the sofa very easily, this does come with a few benefits. First, there's no complicated installation or de-installation required; instead, the couch comes delivered to your door, ready to use. It also means less risk of damage to the wood frame. While the Todd features a robust assembly that feels quite sturdy, I do wonder about the plastic feet, which seem much less durable than the rest of the piece. Fortunately, these don't detract from the design, as they're tucked away out of sight.
Other Great Furniture Options To Make Moving Easy
Sofas aren't the only problematic piece of furniture for moving. You also have to think about the rest of your home decor, including your bed, side tables, kitchen table, and more.
With that in mind, here's a look at some of our favorite easy-to-move furniture:
All of these versatile designs come from well-respected brands known for their quality craftsmanship and sustainable materials. They perfectly complement our list of couches that come apart for moving.
Get More High-Quality Home Furniture Reviews with Home of Cozy
Easy-to-move furniture is a great way to furnish your home now and in the future. It lets you build a foundation and set some roots without attaching yourself to any particular space. From personal experience and run-ins with readers, I can confidently say that this type of lightweight, mobile furniture is ideal for renters and those who lead more nomadic lifestyles.
While we enjoy talking about mobile furniture, Home of Cozy discusses all aspects of modern living. We're an excellent resource for learning about other home essentials like today's best sofas, best minimalist sofas, and furniture made in the USA.