Ottoman coffee tables sit at the juncture between function and style. They're incredibly versatile, providing extra seating, storage space, and a convenient surface to set drinks and snacks during get-togethers with friends. At the same time, ottoman coffee tables bring cohesion to your interior design. Place one in-between your sofa and entertainment center, and watch as it pulls the entire space together.
For today's guide, our team researched and tested over 30 ottoman coffee tables from manufacturers big and small. We feel confident recommending the following models as the most comfortable and stylish options your money can buy.
What Is an Ottoman Coffee Table?
An ottoman coffee table is an oversized, upholstered seating module that doubles as a tabletop surface. Ottoman coffee tables generally feature a rectangular or circular design and measure at least 24″ across, ensuring enough space to accommodate you and various items. Although you can find smaller ottoman tables with a similar aesthetic, those usually work better as end tables or footrests than coffee tables.
No matter its shape or size, ottoman coffee tables work within (almost) all living spaces. They work particularly well in the living room, replacing assorted chairs and surfaces with one compact piece of furniture. But you can also place ottoman coffee tables in your bedroom or entryway, using them as storage benches for setting mail and taking shoes on or off.
What Makes a High-Quality Ottoman Coffee Table?
Since ottoman coffee tables play double duty (sitting and storage), they require more durability than your average furnishing. The best ottoman coffee tables must feature sturdy wooden frames and performance upholstery resistant to spills and stains.
In addition to craftsmanship, you must also look at how much comfort each ottoman provides. While ottomans are rarely as comfortable as standalone armchairs, they should feature enough foam padding to keep you happy for up to an hour at a time.
The final criterion we use to evaluate ottomans is manufacturer support.
Retailers must be at the top of their game when selling furniture online, offering stellar customer service and curbside or in-home delivery.
The Best 12 Ottoman Coffee Tables Worth Considering
Brand
Best For
1

Editor's Choice

Easy Delivery
Shop Now
2

Sophistication
Shop Now
3

Oversized
Shop Now
4

Easy Moving
Shop Now
5

Leather
Shop Now
6

Quality
Shop Now
7

Timeless Design
Shop Now
8

Bohemian
Shop Now
9

Round
Shop Now
10

Elegance
Shop Now
11

Extra Seating
Shop Now
12

Simple Design
Shop Now
1
Editor's Choice
2
3
4
5
6
7
Best For:
Timeless Design
8
9
10
11
12
1. Best Ottoman Coffee Table for Easy Delivery: Allform Ottoman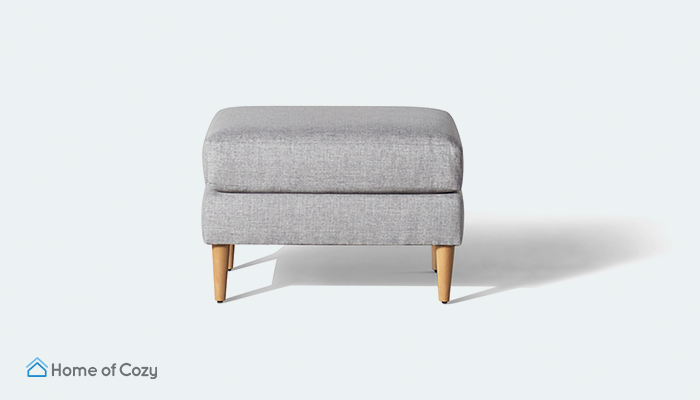 Price: $345+
Dimensions: W27″ x D23″ x H17″
Frame materials: Maple & poplar
Upholstery options: Polyester or leather
What I Love About This Allform Ottoman
If your living room's interior design is an ice cream sundae, the Allform Ottoman is the cherry on top. It completes big and small spaces alike, offering a vibrant pop of color and a compact frame that slides in to tie all the other furniture together.
The Allform Ottoman comes in two types of upholstery (polyester or leather) and your choice of nine colors. There are also three different leg stains, giving you a total of 27 different configurations. Allform's website makes it easy to mix and match finishes, and I was able to customize my ottoman to perfection in a matter of minutes. It's performed beautifully as an accessory piece in my office, acting as a convenient side table and footrest when writing's done and I'm ready to relax.
Aside from its ottoman, the thing I love most about Allform is its commitment to the environment. Allform works with the SFC and Sustainable Forest Initiative to ensure that its kiln-dried wood frames are responsibly-sourced from ethical supply chains. Since the furniture is made in the USA by skilled craftsmen and women, shipping emissions are also much lower compared to importers like Wayfair.
What I Didn't Love
Allform doesn't have a showroom where you can test its products before you purchase. Fortunately, Allform does make up for it in several ways. First, they offer free swatches to all who ask. Second, they have a 100-day Relaxin Trial, where you can test the ottoman out in your home risk-free. There's also a lifetime warranty on the frame, guaranteeing its performance for… well, life.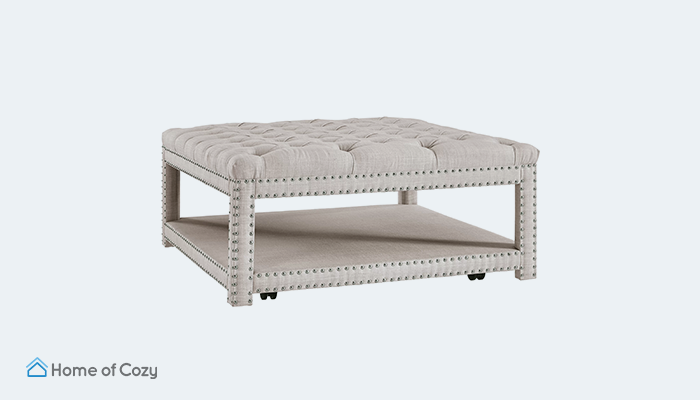 Price: $359.99
Dimensions: W40″ x D40″ x H18″
Frame materials: Manufactured wood
Upholstery options: Polyester
What I Love About This Wayfair Ottoman
The Winbush Cocktail Ottoman from Wayfair is my favorite ottoman coffee table, bar none. It features a gorgeous beige, charcoal, or gray wooden frame accented by sparkling silver nailheads adorning all four edges of the ottoman. On top, you'll find a plush foam surface covered in sleek polyester upholstery and tufted in a delightful diamond pattern. The decadent foam and upholstered tufting feel so good on your tush, providing exceptional support for an hour of continuous use.
Although I prefer to enjoy the ottoman alone (it's my ottoman), you can share it if you want. The large 40″ diameter holds two people without issue, as well as trays for cocktails and even board games. Meanwhile, the accessory bottom shelf surrounded by nailhead trim is perfect for storing home decor or (what I like to do) baskets filled with magazines.
One important observation is that the Winbush Ottoman tufted ottoman comes with caster wheels. You won't find these in the official pictures or product description, but they do come in the box. Although optional, I recommend using them. They make the ottoman's cumbersome 57-pound frame much easier to move, and they only add a minute or two to the breezy 15-minute assembly process.
What I Didn't Love
I only have two minor complaints about the Winbush Ottoman. The first has to do with the assembly. You'll need to make sure you tighten the screws extra tight with your Allen wrench, or they'll loosen and fall off.
The other issue I've noticed is that the surface section is a dust and dirt magnet. Particles get trapped in the tiny tufts and require vacuuming to remove. I recommend our sofa maintenance guide for advice on keeping your ottoman in tip-top shape.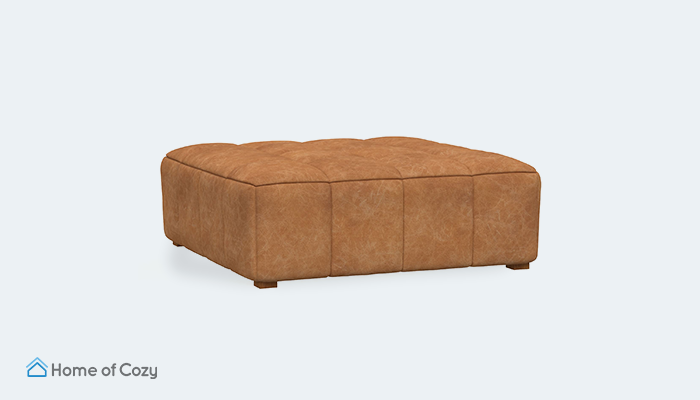 Price: $549+
Dimensions: W43″ x D43" x H15"
Frame materials: Plywood
Upholstery options: 26 fabric options
What I Love About This Pottery Barn Teen Ottoman
The Baldwin Ottoman reminds me of a share-a-square chocolate bar, with a checkered pattern and a golden caramel palette that looks good enough to eat. Its vegan leather upholstery provides a rich and decadent finish that's smooth to the touch, and I've found that it holds up remarkably well to the ins and outs of daily life.
If durable faux leather upholstery isn't your thing, that's no problem. Pottery Barn offers 26 different fabrics, including faux suede and sherpa — the latter of which keeps your living room feeling warm and cozy throughout the winter months.
When it comes to comfort, the Baldwin Ottoman is no slouch. Pottery Barn's supportive foam and fiber filling is comfy, but it holds its weight, maintaining shape and form instead of collapsing into nothingness. This makes it perfect for both sitting and storage, as well as carrying living room trays loaded with all your favorite drinks and snacks.
What I Didn't Love
I'm not sure why Pottery Barn put the Baldwin in its teen-oriented furniture catalog. The Baldwin is an upscale piece that looks just as gorgeous in a grand living room as in a college apartment. Unless I'm missing something (I'm not), it seems like a poor marketing decision from the furniture giant.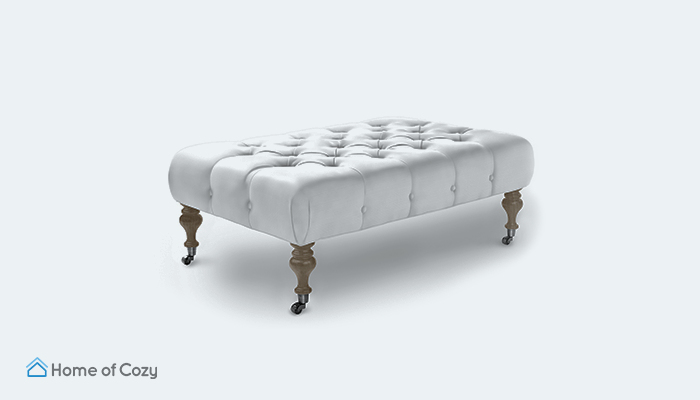 Price: $2,398+
Dimensions: W44″ x D27″ x H17″
Frame materials: Solid maple
Upholstery options: 73 fabric options
What I Love About This Serena & Lily Ottoman
The Essex Ottoman from Serena & Lily is as luxurious as they come. It features a gorgeous silhouette that looks straight out of the Victorian era, and it features the finest craftsmanship performed by skilled artisans right here in the USA. I absolutely adore the button-tufted top and ornamental wood legs, which capture a classy, upscale vibe you won't find anywhere else. The ottoman is a genuine pleasure to use, with a generous 44″ top and smooth-gliding caster wheels that move around carpet and hardwood like a professional ice skater on the Olympic rink.
While I've found that the Essex's rectangular dimensions work best as a coffee table or footrest, the soy-based foam is also quite comfortable for your tush. If you can, I'd recommend trying it out in person. Serena & Lily features 17 (and counting) design showrooms around the USA where you can test out the Essex and get a feel for how it'll look in your space.
What I Didn't Love
The Serena & Lily is one of the most expensive ottoman benches I've reviewed. It also costs an exorbitant amount to ship, starting at $299. Fortunately, it does come assembled.
My other complaint is the lackluster customer support. Nowadays, online chat services are standard. Unfortunately, the only way to reach Serena & Lily is by email or contacting a design room via phone.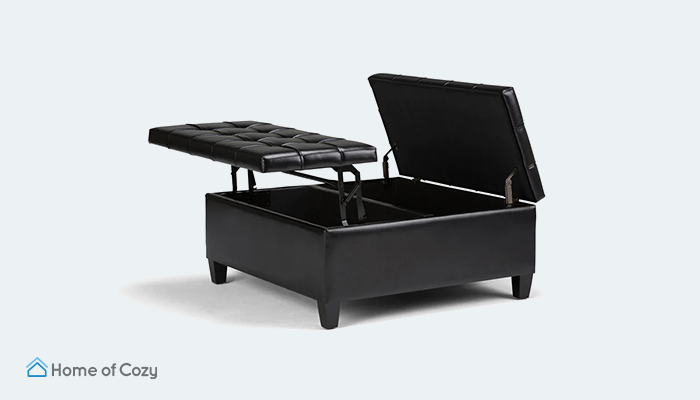 Price: $299+
Dimensions: W36" x D36" x H16.5"
Frame materials: Solid & engineered wood
Upholstery options: Tweed, linen, vegan leather
What I Love About This Simpli Home Ottoman
Few coffee table ottomans come with a built-in storage compartment. Even fewer of these feature a gorgeous faux leather exterior rivaling the fanciest options from upscale retailers. That's what makes the Harrison Ottoman so dear to my heart. It's a bonafide 36″ by 36″ square storage ottoman, wrapped in quality upholstery and priced at just $299 — an unbelievable deal.
Whereas other tufted storage ottomans may feature an extra shelf (at most), the Harrison's top opens up to reveal two spacious compartments perfect for storing home essentials like throw pillows and blankets. The top isn't just adaptable, either. It's also quite cozy, filled with high-density foam that feels as good on your tush as it looks to your eyes.
Perhaps my favorite part about the Harrison is its accessibility when it comes to assembly. All you have to do is attach the four legs, and you're ready to start enjoying your new favorite piece of living room furniture then and there.
What I Didn't Love
The center seam on the Simpli Home Ottoman — the part where the two lift-tops come up to reveal the storage compartment — doesn't line up perfectly. This leaves a moderate-to-large gap running down the center of the leather storage ottoman. I don't personally find that it detracts much from the design, but it is definitely noticeable.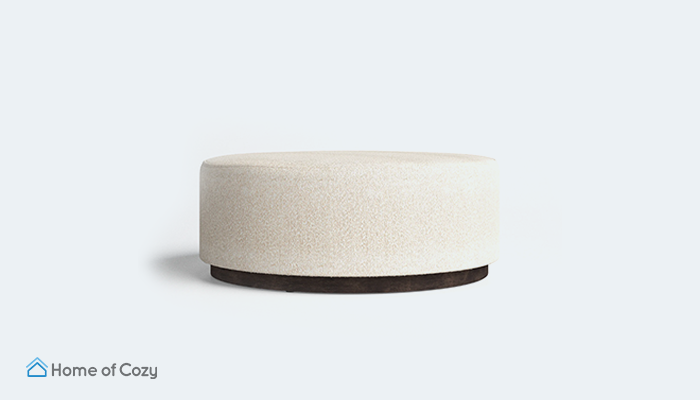 Price: $749
Dimensions: W36" x D36" x H14.5"
Frame materials: Solid parawood
Upholstery options: Polyester
What I Love About This Joss & Main Ottoman
Look around your living room, and tell me what you see. I'll bet it's filled with square and rectangular furniture like sofas, shelves, tables, and pieces of that nature. The thing is, all these sharp edges can start to feel a little monotonous (and even jarring) after a while. That's why I recommend the Rayna from Joss & Main, a circular ottoman that softens the look of your space while adding a handy surface for seating and storage.
The Rayna Ottoman is one of my favorite ottomans. The circular silhouette looks elegant in the modern home, and its off-white polyester upholstery goes with all existing decor. The ottoman is also delightfully easy to work with. There's no assembly required, and its parawood frame is lightweight and easy to move. Slide it from one end of the room to the other, instantly transforming it from a footrest to a serving tray table to a board game surface during family game nights.
What I Didn't Love
As much as I love the Rayna's off-white color, I wish there were more shades to choose from. Joss & Main is usually better about this kind of thing. There's also been a recent problem with backorders. Shipping is delayed on new orders, and you may have to wait a few months before receiving your pouf ottoman.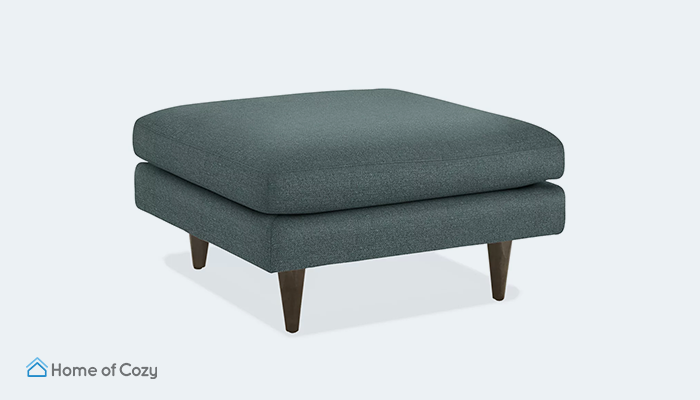 Price: $499+
Dimensions: W27″ x D20″ x H28″
Frame materials: Solid wood
Upholstery options: 263 fabric options
What I Love About This Room and Board Ottoman
If you're seeking a timeless ottoman fit for any living space, the Room and Board Jasper is my go-to recommendation. It features a gorgeous mid-century modern silhouette packed with a CertiPUR® foam and feather blend down that's light, airy, and oh-so-comfy!
Plus, the Jasper Ottoman comes in thousands of variations, more than any other ottoman I've seen. Start with a rectangular or square frame, then choose from over 250 fabrics (ranging from performance polyester to lovely aniline leather) and five different leg styles.
I have to be honest: I was initially concerned that choosing from all these options would require an extensive back-and-forth with one of the company's representatives. But Room and Board's online shop is streamlined and easy to navigate. Once you've browsed the product listing and decided on your favorite ensemble, it takes under two minutes to check out — no human interaction required.
What I Didn't Love
I looked into Room and Board's official policy, and it appears they don't offer a warranty on the Jasper Ottoman. That's not terribly surprising for such an affordable, made-to-order piece, but it would still be nice to have. The good news is that Room and Board's support team will be happy to work with you should anything go wrong, as long as it's within a reasonable time frame.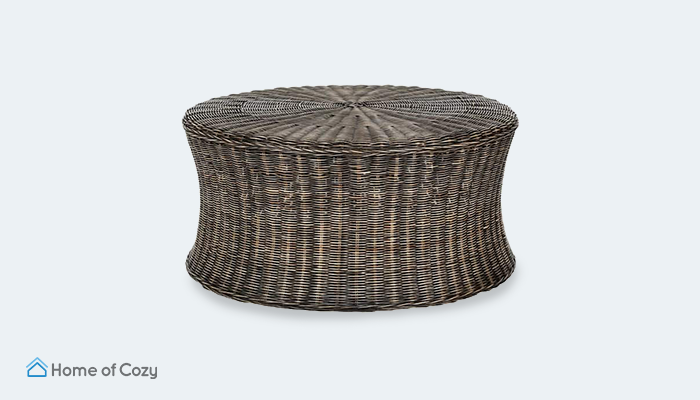 Price: $269
Dimensions: W32" x D32" x H15.5"
Frame materials: Wood
Upholstery options: Rattan
What I Love About This Overstock Ottoman
When it comes to using a large ottoman coffee table as a surface for accessories and trinkets, the Safavieh is the best option around. I've seen it used for drinks, games, pictures, and even potted plants. Display it front and center in your living room, or place it in the corner for an instant functional upgrade.
If I had to choose the one thing I love most about the Overstock Ottoman, it would have to be its Indo-inspired design. The all-natural golden brown rattan really stands out in the modern home, providing an eye-catching focal point that wows everyone who enters the space. It's a great way to kick up the boho vibes and bring a bit of rusticity into the mix.
The Safavieh comes from Overstock, one of my favorite places to shop for room decor online. The pieces are so affordable, as demonstrated by the Safavieh bargain $269 price tag. Plus, shipping is free, and most of its furniture (the Safavieh included) comes assembled and ready for use.
What I Didn't Love
The Safavieh Ottoman isn't very comfortable. Try as I might to find a cozy position, it takes roughly 15 minutes before the rattan surface becomes too uncomfortable to remain seated. It's a little better when used as a footrest, but I'd still recommend pairing it with a throw pillow or blanket.
My other gripe is the wasted space. It would have been relatively easy for the manufacturer to make the surface a lid and use the inside for storage, but they opted for a one-piece design instead.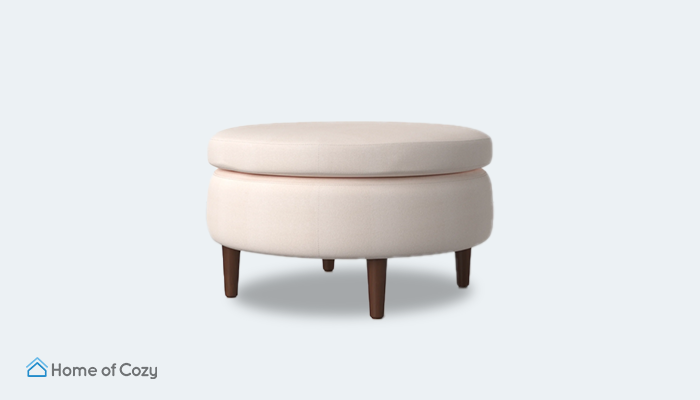 Price: $320
Dimensions: W31″ x D31″ x H18″
Frame materials: Solid wood
Upholstery options: Polyester
What I Love About This AllModern Ottoman
I'm a sucker for round ottomans, and the Antigua is one the best. I love how it pairs a traditional mid-century modern design — denoted by two levels of cushions and tapered wooden legs — with a spherical silhouette. I've found that this design softens the perpendicular lines of most rooms and helps provide a more welcoming atmosphere. The plush foam interior and soft polyester upholstery also inject great warmth and coziness into the space, making it an excellent choice for family homes.
The ottoman's manufacturer, AllModern, is a member of the Wayfair family of sites, and it has a massive catalog full of quality home decor for you to peruse and enjoy. The Antigua round storage ottoman pairs well with most of the company's sofa sets, making it an affordable starting point for redecorating your living room.
If you're interested in a redesign, I recommend contacting the company's customer support team. They offer complimentary design services, helping you choose the perfect pieces of furniture based on your unique needs and specifications.
What I Didn't Love
At the time of writing, AllModern only had one ottoman cocktail table left in stock. The Antigua's popularity shouldn't come as a surprise (it's absolutely gorgeous, after all), but it does mean you may need to wait while it's on backorder.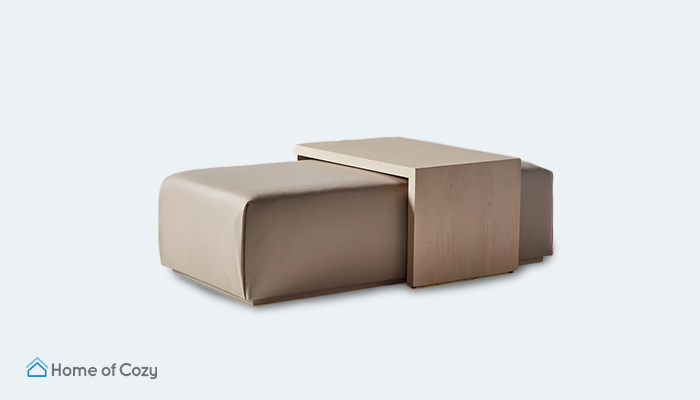 Price: $1,475+
Dimensions: W47″ x D30″ x H16″
Frame materials: Solid ash
Upholstery options: 74 fabric options
What I Love About This Maiden Home Ottoman
Elegance often comes at the expense of functionality. But that's not the case with the Bowery Ottoman from Maiden Home. This stunning piece of furniture is elegant and functional, featuring an extended ottoman seat or footstool with a wood overlay that doubles as a second surface.
If that sounds confusing, let me break down how both parts work. The first part, the ottoman itself, is a foam seat covered in your choice of 74 different fabrics. It's almost entirely flat and comes with just enough cushioning to provide support for around 30 minutes of continuous seating (much more than that, and it starts to get uncomfortable).
Then there's the overlay, which features durable ash construction and comes in your choice of six finishes. It's made from solid wood and acts as a permanent tabletop surface in your living room. The ottoman fits perfectly underneath it and moves in and out like a smooth-gliding Jenga block.
If you're unsure which ensemble to choose, I recommend going with Maiden Home's Swan leather and Espresso stain. These finishes contrast beautifully, providing a functional, glam, and upscale focal point that elevates every space.
What I Didn't Love
Maiden Home builds the Bowery to order, which translates to extended lead times. You can expect to wait two months or longer from the time you place your order to the time it arrives at your door. Fortunately, Maiden Home has some of the best customer service in the industry, and they'll keep you apprised every step of the way.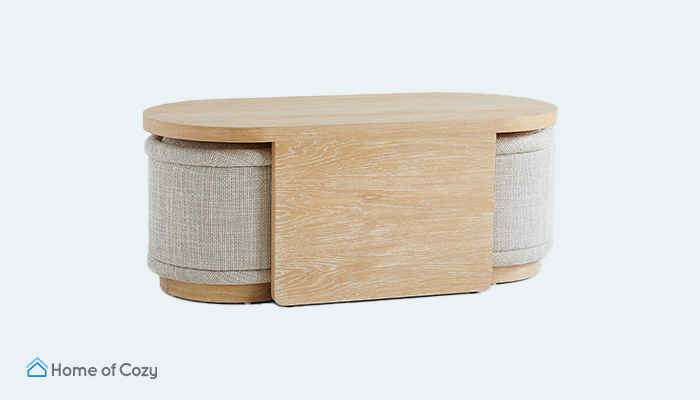 Price: $879
Dimensions: W46″ x D22″ x H18.9″
Frame materials: Solid oak, beech, and engineered wood
Upholstery options: Polyester
What I Love About This Crate & Barrel Ottoman
Most ottoman coffee tables seat a single person. The Union Nesting Ottoman is different, providing seating for two while maintaining a solid surface for your drinks and snacks. That comes courtesy of the unique stacking design, which features built-in stools that pull out from either end of the ottoman's frame. Even when the seats are in use, you still have full access to the tabletop surface, making it an excellent choice for gatherings in small spaces.
Concerning craftsmanship, Crate & Barrel builds the Union with only the finest materials. These include a solid oak and beech exterior, with gorgeous oak veneer layered on top. As for the two seats, each one comes filled with polyfoam and wrapped in polyester chenille that's as stain- and spill-resistance as they come.
Crate & Barrel offers several ways to shop for the Union. You can go in person to one of the company's 100+ outlets or customize the entire piece online. I prefer going in-store first and getting a feel for the materials before committing, but it's totally up to you. Either way, you can have your ottoman sent to your local outlet or to your doorstep, pre-assembled and ready for use out of the box.
What I Didn't Love
After an up-close inspection, I'm not particularly impressed with the quality of the ottoman's Oak veneer. The frame is robust, but I can already see small cracks forming in the exterior layer. That's not unusual for veneer-laden living room furniture, but it's still a troubling occurrence so early in my journey with the ottoman.
The other issue I have is with the country of origin. The Union is made in Vietnam and shipped over to the United States. That's in stark contrast to many of the other USA-made ottomans on this list, and it comes with a significant environmental impact. Fortunately, Crate & Barrel somewhat tempers the impact by using FSC® Certified materials sourced from eco-friendly and ethical supply chains.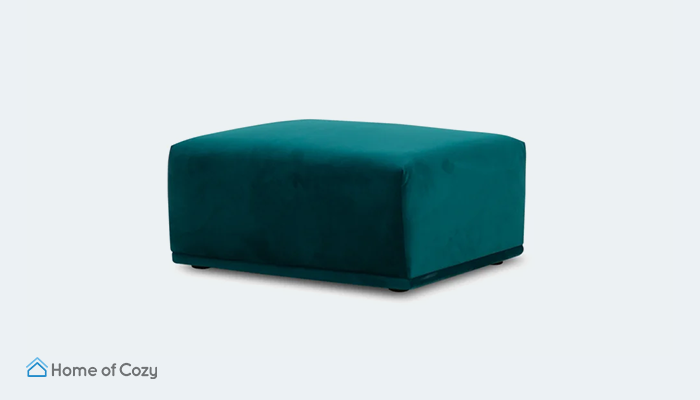 Price: $269
Dimensions: W29.5" x D25.5" x H13.7"
Frame materials: Solid wood
Upholstery options: Polyester or leather
What I Love About This Castlery Ottoman
The Todd Ottoman may be no-frills, but that's not to say it's lacking. On the contrary, it's among the most comfortable ottomans I've tried, filled with high-resilience foam and wrapped with polyester or leather upholstery. The polyester options are particularly endearing, coming in a gray or deep teal velvet finish. The latter is rich and vibrant — a standout piece and a conversation starter that draws the eye and begs for you to sit down atop its plush foam surface.
Shopping for the Todd at Castlery is easy, with only two steps required for checkout. Castlery is also great about keeping its best-sellers in stock, meaning your new ottoman should arrive within a 30-day delivery window.
What I Didn't Love
The Todd Ottoman looks larger in the pictures than it actually is. It only measures 29.5″ wide, so keep that in mind if you're planning to pick up this best-seller.
This velvet ottoman also comes with a Formaldehyde Prop 65 warning for cancer-causing materials. It's a fairly standard warning in low-cost furniture (formaldehyde is an affordable way to add fire retardancy), but I still try to avoid it whenever possible.
Ottoman Coffee Table FAQs
If you still have questions about upholstered coffee tables, we have the answers.
How to choose the right ottoman coffee table size?
When in doubt, measure it out! There's no right or wrong ottoman coffee table size, so the answer comes down to what fits best in your space. With that said, I do recommend keeping one-and-a-half to two feet clearance on all sides of the ottoman. That gives you some wiggle room and lets you move it around while maintaining a thoroughfare.
The other consideration when choosing the size of your ottoman coffee table is its intended use. Just because you have the space doesn't mean you need to fill it all. For example, if you only need a simple piece to kick up your feet, you can probably get away with something smaller.
Does every ottoman coffee table have storage?
Every ottoman coffee table does have storage space — on top. But that's more of a surface layer than storage for tucking away goods. Only some ottoman coffee tables have extra storage compartments like shelves and hutches.
Can you use an ottoman as a coffee table?
You can indeed use an ottoman as a coffee table. That's what this entire article is about, after all. With that said, some ottomans work better as coffee tables than others. An ottoman that works well as a coffee table usually boasts a minimum 24″ diameter and a flat surface for resting items.
Get More Home Decor and Furniture Reviews With Home of Cozy
Ottoman coffee tables are the ideal way to finish your living room's interior design. Their versatile nature makes them perfect for modern living, and they add charm and sophistication to every space. The options on this list are all excellent options for expanding your seating and storage capacity, and I hope it helps you find the perfect new addition to your home.
The team at Home of Cozy aims to provide complete and honest reviews on all of today's essential living room furniture. If you're looking for more pieces, like a matching couch for your new ottoman, be sure to check out our guides to the best loveseats, the best sofas, or the best sectionals.