Pit sectionals offer the ultimate lounging experience, with modular seat blocks that combine into bed-like "pits" perfect for relaxing. Simply push the various pieces together, and voila! You've instantly transformed your living room, family room, or home theater into a comfy sea of cushions.
For today's guide, we researched and reviewed over two dozen pit sectionals from brands big and small. Each of the following models features an easy-to-move modular design, with plenty of seating space for you and your loved ones. Whether you're looking to indulge yourself with a cozy catnap or enjoy movie night with the whole family, these pit sectionals are a great way to experience some well-deserved downtime.
What is a Pit Sectional?
A pit sectional is a modular U-shaped sofa with a large ottoman that fits right in the center. When arranged like so, the modular sectional and ottoman combine to create a giant pit of cushions, giving you plenty of space to stretch out and relax.
These kinds of U-shaped sectionals are also quite versatile. In fact, most pit couches come with six or more modular pieces, arrangeable in any way you like — from an L-shaped configuration to a straight-line design. Adjust your modular sofa as you please to complement any room and situation.
How We Chose Our Favorite Pit Sectionals
Before choosing our ten favorite models for today's guide, we put over two dozen pit sectionals through a strict evaluation process. Here's a look at the criteria we used to judge each model:
1. Comfort – A pit sectional's primary job is providing comfort to you and your family. That's why we searched for overstuffed models, filled to the brim with plush foam or down filling that's supportive for several hours at a time.
2. Materials & design – Although pit sectionals come with various types of frames and fabrics, they should all provide a durable foundation that blends well in the modern home.
3. Pricing – We looked for the best pit sectionals within each price range, from budget to high-end, ensuring a suitable option for families on every budget.
4. Delivery & assembly – Pit sectionals should be delivered on time and at a reasonable price. They should also feature an installation process that takes a maximum of four hours, with minimal (or no) tools necessary.
5. Customer support – Ordering a pit sectional couch online can be a scary proposition; that's why we reached out to each retailer's customer support team, testing for promptness, friendliness, and knowledgeability.
With these criteria as our guiding principles, we narrowed our initial 25 pit sectionals down to a top ten. The following options represent the best in their respective categories, all capable of providing your family with a cozy, reliable piece of furniture for years to come.
The 10 the Most Comfortable Pit Sectionals
Brand
Best For
1

Editor's Choice

Customization
Shop Now
2

Comfort
Shop Now
3

Easy Delivery
Shop Now
4

Casual
Shop Now
5

Leather
Shop Now
6

Value
Shop Now
7

Contemporary
Shop Now
8

Quality
Shop Now
9

Big Budgets
Shop Now
10

Versatility
Shop Now
1
Editor's Choice
2
3
4
5
6
7
8
9
10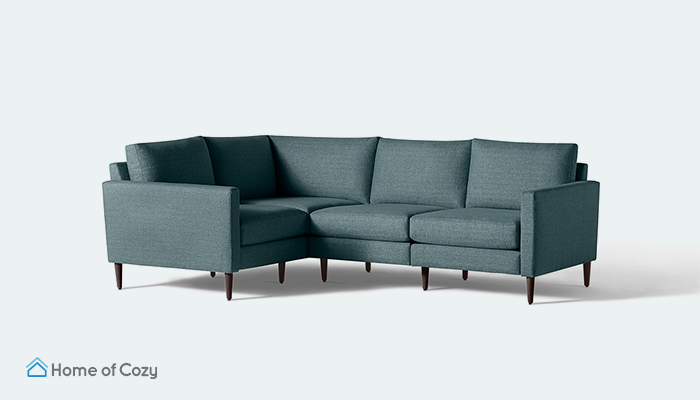 Price: $4,495+
Dimensions: W151″ x D70″ x H34″
Frame materials: Kiln-dried maple & poplar hardwood
Upholstery options: Polyester or leather
What I Love About This Allform Sectional
Allform is my favorite sofa manufacturer, and its 6-Seat Sectional is among the most comfortable pieces of furniture I've ever sat on. Unlike other modular pit sectional sofas, which maybe feature one or two standout features, the Allform is exceptional in every regard.
It all starts with the manufacturing process. Every Allform Sectional is handmade to order by skilled North Carolina artisans who weave together a kiln-dried hardwood frame, polyfoam filling, and your choice of microfiber-esque polyester or leather upholstery in nine color options. The resulting sectional feels like a fairy tale, providing Goldilocks plushness that keeps you comfy and well-supported for hours of continuous use.
Since it's modular, you can configure the sectional however you like. Arrange it in a "pit" shape with an ottoman in the center, or opt for a more traditional L-shaped layout with the ottoman as a chaise sectional. Swapping between configurations is easy: simply move the ottoman around to make quick adjustments, or use the tool-free latching system to adjust each seat module for more fine-tuned changes.
The last thing I want to mention is Allform's customer service. It's downright magical. Allform offers free delivery, a 100-day in-home trial run, and a lifetime warranty. Meanwhile, the staff is knowledgeable and friendly to inquiries, and they never abandon you after purchase. I couldn't recommend Aliform more.
What I Didn't Love
I always like to try furniture before I buy it. After all, spending $5,000 on a new sofa is no small decision. Unfortunately, Allform has a single showroom location, and it's way across the country in New York City.
The good news is that Allform makes great efforts to remedy this issue. They'll send you free swatch booklets with all nine upholstery options, and they offer their iconic Relaxin' Trial, where you can try the pit corner sectional out in your home and send it back — all for free.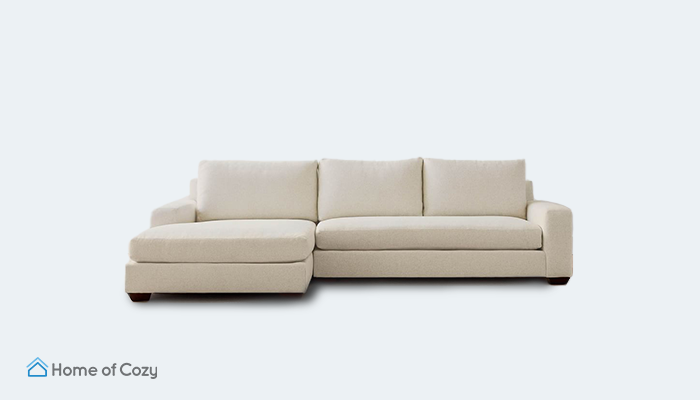 Price: $5,196+
Dimensions: Starting at W124″ x D68″ x H37″
Frame materials: Engineered hardwood
Upholstery options: 78 fabric options
What I Love About This Pottery Barn Sectional
Comfort is the most important element of a pit sectional; that's the whole reason people choose them over more traditional options. Pottery Barn understands this concept, and it stuffs its Big Sur full of the most comfortable materials possible. The filing consists of a custom feather-down fiber blend, which (as cliche as it might sound) feels like sitting on a cloud.
Sitting in the Big Sur chaise sectional is also surprisingly supportive. It's easy to swap from an upright to napping position, and the pit interior comes flanked by thick square armrests perfect for holding drinks, controllers, books, and miscellaneous knick-knacks.
Concerning customizability, the Big Sur comes with over 75 fabric options, which is both a blessing and a curse. A blessing in that it lets you choose the perfect match for your home. A curse in that the versatile design scheme be a little overwhelming. The good news is that Pottery Barn's expert design team can help — for free! Send them pictures of your existing setup, and they'll create a custom Big Sur just for you. Pottery Barn will even bring it to your home and set it up in the room of your choice!
What I Didn't Love
The Big Sur chaise lounge shown above is only the starting point for your new pit sectional. You'll need to add two additional ottomans to attain an entire pit-like seating arrangement. Unfortunately, shopping for all these different pieces on Pottery Barn's website is a nightmare. Navigating the product listings feels clunky and far less intuitive than platforms like Allform.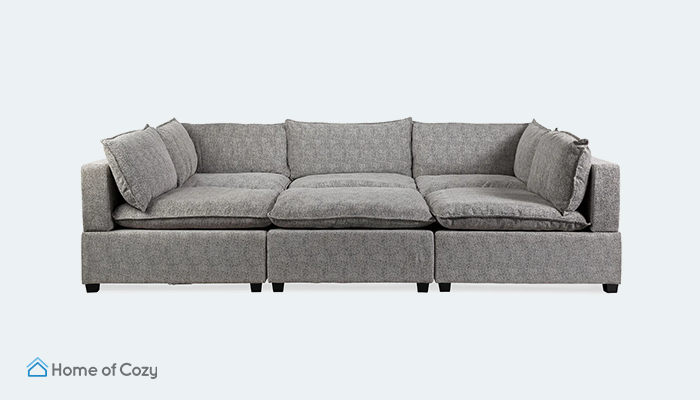 Price: $4340
Dimensions: W121″ x D79" x H34″
Frame materials: Kiln-dried hardwood
Upholstery options: Polyester
What I Love About This Albany Park Sectional
Kova makes everything easy, with a simple pricing structure that includes zero upsells. Shipping is included, with no hidden fees. And assembly of its products is easy as can be.
Take the Kova Pit, for example. It ships in convenient, easy-to-handle boxes and boasts a tool-free setup that pieces together like a children's jigsaw puzzle. I couldn't believe how simple it was — all you have to do is slide in the armrests and backrests and toss on the reversible pillows.
Once you've assembled the Kova Pit, it's time to get cozy! I love how much room the 121″ by 79″ frame affords, offering enough space for you (and up to five others) to stretch out and relax. Meanwhile, the feather-filled seat and back cushions provide a delightfully snug foundation, and they come with just enough firmness to keep you adequately supported for several hours at a time.
Albany Park offers the Kova Pit in several different performance fabrics, ranging from standard polyester to silky-smooth velvet. If you're looking for a decadent, vibrant option full of warmth, check out my favorite finish: rust velvet. If that's not your style, consider ordering free swatches to see which will work best in your home.
What I Didn't Love
The Albany Park's cushions lose shape and shift around a lot. I've found that the best way to combat these issues is with regular (daily) fluffing. Although not a deal-breaker, it is an annoying timesink you should keep in mind when making your final purchase decision.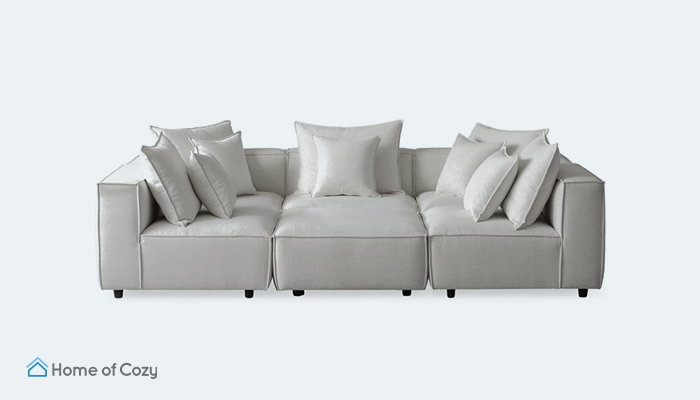 Price: $4,999
Dimensions: W124″ x D81″ x H28″
Frame materials: Solid hardwood
Upholstery options: Polyester
What I Love About This Arhaus Sectional
Sitting in the Arhaus Coburn makes me feel safe and secure, like a babe in his mother's arms. That's because the six-piece pit is surrounded by chunky foam arrests and a towering backrest, enveloping you in a cradle of coziness. It's a delightful sensation, made even better by the feather-wrapped cushions and polyester fabric options that are as soft as boucle.
The Arhaus isn't just warm and cozy; it's also incredibly durable. The solid hardwood frame feels as sturdy as stone, and the Crypton® Performance Fabrics have proven themselves to be remarkably stain-resistant, wiping free of spills in a single pass.
Proof of quality is always in the warranty, and Arhaus doesn't disappoint. The company offers a ten-year guarantee on all frames and internal springs, ensuring access to support and replacement parts should things ever go wrong.
What I Didn't Love
I dislike how there's no curvature to the Coburn's back cushions; they feature a straight vertical drop. While this adds to the cozy pit-like feeling of the sofa, it's not particularly supportive. Fortunately, the thick throw pillows do a lot to temper any discomfort.
I also had a less-than-stellar experience with customer service. My first attempt to contact Arhaus about one of its armless chairs was met by silence for two days — I couldn't get hold of a single soul! The good news is that subsequent communication always hit the mark.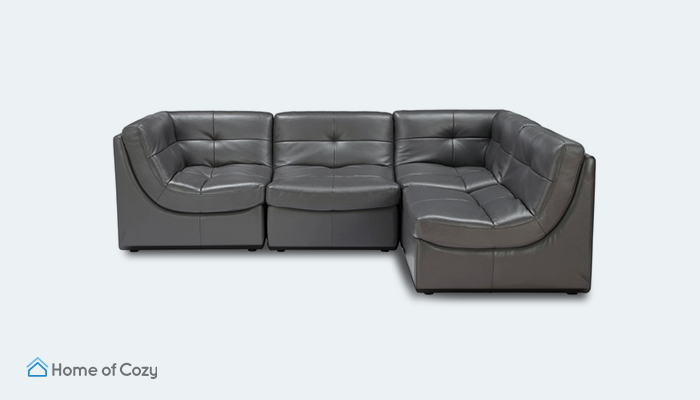 Price: $4998.99
Dimensions: W114″ x D78″ x H35″
Frame materials: Kiln-dried hardwood
Upholstery options: Top-grain leather
What I Love About This Z Gallerie Sectional
The Convo has the most eccentric design of any pit sectional I've encountered. It's a bit difficult to describe, with seats that curve like a crescent moon sitting atop a base covered in top-grain leather fabric. Whether you love the design or not, one thing's for sure: the Z Gallerie Convo is a luxe statement piece that draws the eye and gets the conversation going every time.
I'm a big fan of the Convo myself, but only in specific environments. I've found that it works best as a functional art piece for condos, lofts, and theater rooms. That's where its tufted semi-aniline leather upholstery shines and feels most at home.
In terms of relaxation, the Z Gallerie is less of a traditional pit sectional and more like a wraparound sectional with deep seats. However, it's just as (if not more) comfortable, with ample foam padding that contours with your body's natural curves.
What I Didn't Love
Look, I get it: the Z Gallerie Convo isn't for everyone. It works best in artsy spaces, not your typical family home. It also requires a lot of throw pillows. I recommend piling on at least eight, which you can use to support your head and back while relaxing into the curving cushions.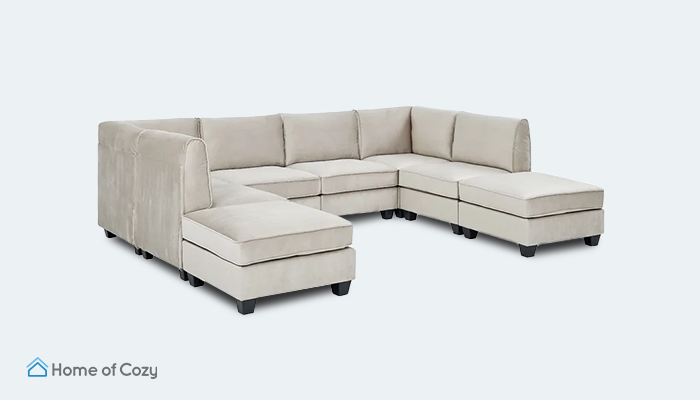 Price: $1,479.99
Dimensions: W120″ x D90″ x H34.5″
Frame materials: Engineered wood
Upholstery options: Polyester
What I Love About This Wayfair Sectional
The low-profile Dawnelle Sectional gets so much right, starting with the number of seats. Instead of the traditional six, Wayfair's Dawnelle features eight of them! This translates to an extra-wide 120″ by 90″ frame, ideal for game nights, movie nights, and — yes — sleepovers with friends and family.
Despite the extra materials required to make such a massive sectional pit sofa, the Dawnelle maintains excellent overall quality. Each seat cushion features plush foam and silky-smooth polyester upholstery that feels amazing underneath your body.
Then, there's my favorite part of all: the price. The Dawnelle costs under $1,500 shipped to your door. Wayfair makes the delivery process easy, teasing regular updates on your order and keeping you apprised of estimated arrival times. Plus, the customer service team has always responded promptly and courteously to my inquiries, both before and after purchasing.
What I Didn't Love
There's no sugarcoating it: assembling the Dawnelle is a Survivor-level challenge. Whereas pit sectionals like the Allform and Kova come together in 30 minutes max, each seat module on the Dawnelle requires that much time on its own. And, there are eight of them! It's a painstaking process involving various components, screws, an Allen wrench, and lots of elbow grease. I recommend bringing a friend to make the process a bit smoother.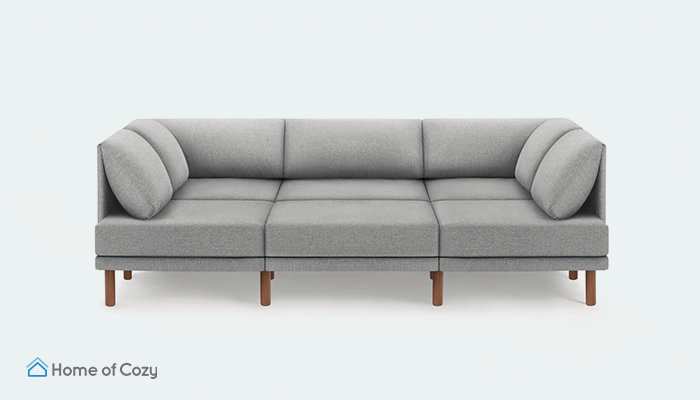 Price: $2795
Dimensions: W91.5″ x D60.5″ x H28″
Frame materials: Hardwood
Upholstery options: Polyester
What I Love About This Burrow Sectional
Burrow is an iconic sofa-in-a-box manufacturer, delivering contemporary sofas and sectionals to your doorstep. The Range is no exception, arriving in a handful of boxes and piecing together with just a handful of tools. All you have to do is screw together the frame, throw on the cushions, flip over the backrest, and you're in business!
The Range's silhouette is one of my favorites, featuring a large mid-century-inspired upper platform atop slimmer cylindrical legs. It creates a wonderful contrast, even more so when you choose the right color configuration. Burrow offers The Range in four polyester finishes and three leg finishes. If you're looking for that perfect balance, try my favorite combo: Navy Blue upholstery with Black Metal supports.
When it comes to comfort, The Range is on a different level. Burrow stuffs it full of plush CertiPUR foam, offering sink-in comfort that caresses your body like a masseuse. It's the perfect low-cost, modular sofa for the modern home.
What I Didn't Love
Unlike other sofa-in-a-box companies, Burrow doesn't guarantee its furniture with a lifetime warranty. Unfortunately, I've found this indicative of its ever-so-slightly lesser quality, which is more akin to your standard big box store than your luxury retailer.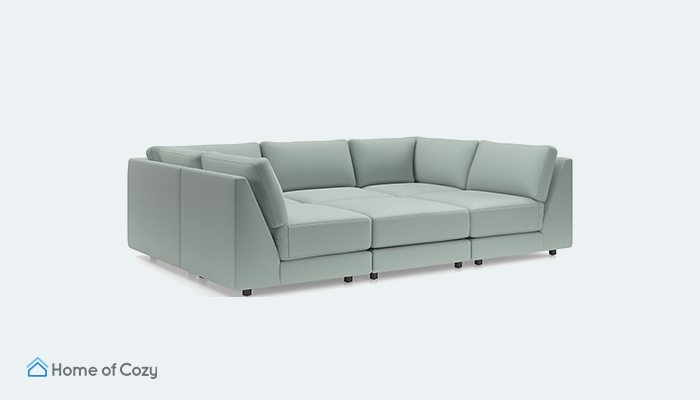 Price: $5,894+
Dimensions: W115.5″ x D75.5" x H32.5″
Frame materials: Kiln-dried hardwood
Upholstery options: 214 fabric options
What I Love About This Crate & Barrel Sectional
The Crate & Barrel Peyton feels like a cozy nest, perfectly padded and surrounded by protective cushions. There's so much space to move around inside the pit — more than enough for me (a full-grown adult) to spread out like a starfish. Of course, you can also share the pit sectional with others. It easily holds six people, and several more if you squish.
While you might be concerned about the sectional handling that much weight in your living space, it's a non-issue. Crate & Barrel uses an FSC® kiln-dried hardwood frame that easily holds hundreds of pounds. The wire suspension is similarly robust and perfectly cozy, wrapped in polyfoam and fiber that compresses like a warm pad of butter.
Like all of Crate & Barrel's mid-century modern sofas, the Peyton is customizable online or in-store. I viewed it at my local shop and was mesmerized by its gorgeous polyester finish, though you can choose from a total of 214 different fabrics. Crate & Barrel's customer service team is competent and friendly, always answering my questions right on the spot. Pro tip: ask them about white glove delivery, and you can have your new pit sectional set up in your home hassle-free!
What I Didn't Love
Crate & Barrel furniture lacks a traditional warranty, with minimal post-purchasing support options. The company's official statement on the matter promises to take care of you should any issues arise. But it's on a discretionary basis, and you have no recourse in the matter. Fortunately, I've been impressed by Crate & Barrel's build quality, and I doubt you'll have any issues.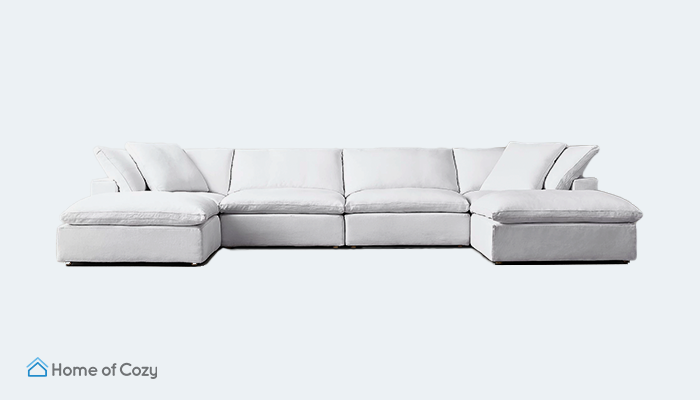 Price: $20,960+
Dimensions: W158″ x D80″ x H31.5″
Frame materials: Kiln-dried hardwood
Upholstery options: 153 fabric options
What I Love About This RH Sectional
If you've spent much time on Instagram or TikTok, you've almost certainly heard of the Cloud Couch. It's one of the trendiest pieces of furniture on the market, so iconic that I've written an entire article on the subject. If you're unfamiliar, let me fill you in. The mid-century modern Cloud Couch is a one-of-a-kind designer sofa that's so comfortable, celebrities like Kylie Jenner and Naomi Watts use theirs every day to relieve stress and live a life of luxury.
For just over $20,000, you can have a custom-made Cloud Modular Sectional crafted to your precise specifications. This price includes eight kiln-dried hardwood seat blocks with reinforced joinery, pocket spring suspension wrapped in foam and real feathers, and your choice of luxe fabric. The resulting sectional can hold up to eight people, providing a cush basin for get-togethers, movies, or simple relaxation.
Of course, RH is always there to give you the royal treatment. You can chat with RH customer service reps 24 hours a day, seven days a week. RH also handles all the delivery and setup. For one flat-rate fee, they'll bring it into the room of your choice and set it up, no stress or hassle. If you have the budget, there's no other pit sectional I recommend more than the RH Cloud Couch.
What I Didn't Love
Let's be real for a minute: the eight-seater Cloud Couch is prohibitively expensive. It's only for those who have the extra money and are willing to spend it on a new sectional for their living space. Since it's so large (158″ wide), you'll also need a mansion-sized room to accommodate the darn thing.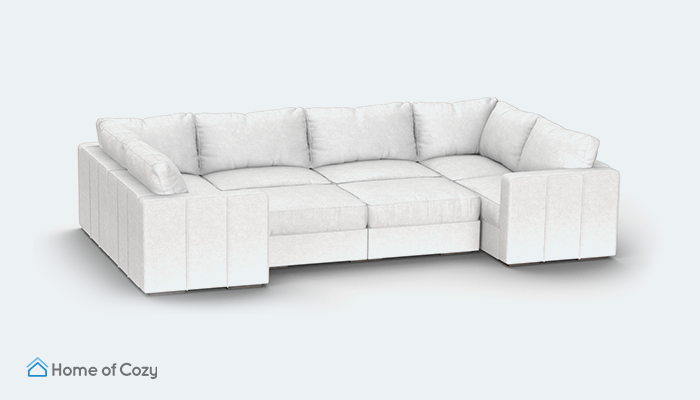 Price: $4,815.25+
Dimensions: W107″ x D71″ x H29″
Frame materials: Wood
Upholstery options: 174 fabric options
What I Love About This Lovesac Sectional
There's a reason the Sactional is known as The World's Most Adaptable Couch. Everything about it is adjustable, allowing you to build your dream sofa from the ground up.
Here's how it works: Lovesac's step-by-step checkout takes you through seven prompts, letting you choose different silhouettes, configurations, and upholstery options. It also lets you choose your sofa's filling (high-density foam, down feathers, or Lovesoft™) and add-on accessories like throw pillows. I haven't experienced a more streamlined and intuitive system in all my days reviewing furniture.
Perhaps the most surprising thing about the Lovesac is its price. A full six-seater pit costs under $5,000, and that's with a sturdy wooden frame and lovely chenille fabric. Of course, upgrades like faux leather or built-in storage compartments will raise the cost. But even these are far more reasonable and accessible than competing manufacturers.
The Sactional from Lovesac ships free, straight to your door. And, it feels like a dream! I recommend splurging on the Lovesoft™ filling, which features the perfect plushness for proper comfort and support. The fabric is soft and durable and slips right off for machine washing. Simple, easy, and incredibly versatile — what more could you ask for?
What I Didn't Love
The Sactional is your traditional sofa in a box. As such, it takes a long time to set up. If you're quick, you can get it done in four hours, but you should probably budget an entire Saturday or Sunday. You'll also need to hang onto those bulky boxes just in case you need to make a return.
Lovesac offers a 60-day in-home trial, but shipping the Sactional back is so stressful you'll probably want to keep it. I recommend searching for a Lovesac showroom to get a feel for how it'll mesh with your interior design before you pull the trigger.
FAQs about Pit Sectionals
Let's review some frequently asked questions about pit sectionals and how they perform in the home.
Do Sectional Couches Fit in Small Spaces?
Whether or not a sectional couch will fit in a small space depends on its size and how many sections you use. In general, sectional sofas are better for larger rooms. However, you can find smaller options well-suited for starter homes and apartments. You can also buy fewer sectional pieces or split pieces up between different rooms.
What Should You Look for in A Modular Pit Sectional Sofa Brand?
When searching for the perfect pit sectional sofa brand, look closely at material quality and customer service.
Concerning materials quality, seek out brands offering hardwood frames (preferably kiln-dried), high-performance polyester or leather fabric, and specialized foam or down filling. Regarding customer service, always send questions to the brands you're interested in. How they respond is an excellent way to gauge how easy the rest of your buying journey will be.
How To Choose the Right Coffee Table for A Pit Couch?
The only difference between choosing a coffee table for a standard sofa vs. a pit sectional is sizing conventions. In general, you'll want a bigger, chunkier coffee table to complement your bigger, chunkier pit couch. Given the occasional roughhousing that takes place on pit sectionals, you may also want to forego a glass coffee table in favor of solid wood.
Find More of the Best Home Decor and Furniture with Home of Cozy Reviews
Modular pit sectional sofas are among the most comfortable pieces of furniture available. They're giant basins of comfort, overflowing with plush cushions designed to keep you and your entire family cozy. As such, pit sectionals make great additions to households with children and those seeking the very best in lounge furniture.
If you're in the market for more comfortable furniture, Home of Cozy is here to help. Be sure to visit our pages on the best sofas, the best sleeper sofas, and the best traditional sectionals.