Stop searching for a couch that might work in your space, and commission your dream sofa instead! Whatever you can imagine, you can create, from cozy loveseats to grand leather sectionals suitable for the whole family. Take creative control over the entire process, and you can ensure the perfect piece of furniture for your home's interior design.
For this guide on custom sofas, we researched over three dozen custom furniture manufacturers. The following brands offer the most configurations, with a selection of showroom-quality seating options you'll be proud to display in your home.
What Is a Custom Sofa?
A custom-made sofa is a high-quality, upholstered piece of furniture handcrafted to your specifications. You choose the dimensions, materials, and finishes, then a skilled team of craftsmen (or women) gets to work creating the sofa of your dreams.
If you're not an interior designer, that's no problem either. The best custom furniture brands offer complimentary design services to assist with the schematics. They'll guide you through the process, helping you choose the proper configuration for your space and the right upholstery to match your existing decor.
How We Chose Our Favorite Custom Sofas
Here are the criteria we used to evaluate today's best custom sofa manufacturers:
1. Quality – People often equate custom with quality — but that's not always the case. That's why we searched for sofa manufacturers that prioritize high-end craftsmanship, including robust wooden or metal frames, luxe upholstery, and meticulous stitchwork.
2. Comfort – All sofas (custom or otherwise) should feature supportive designs, with enough foam cushioning to comfortably cradle your tush for hours at a time.
3. Adaptability – The best customizable sofa manufacturers offer dozens of different configuration options, including size, shape, and materials.
4. Customer Support – We tested each manufacturer's support team to identify which were knowledgeable, prompt, and friendly in their responses to inquiries.
5. Delivery – Your new custom sofa should arrive on time, at your doorstep, either preconfigured or ready to piece together in under two hours.
Using these criteria as our guide, we settled on the following eight custom sofa manufacturers to feature on this list. Take comfort knowing that each one offers high-quality, versatile models that will suit your family's needs for years to come.
The 8 Best Custom Sofas
Brand
Best For
1

Editor's Choice

Overall
Shop Now
2

Sustainability
Shop Now
3

Easy Moving
Shop Now
4

Apartments
Shop Now
5

Variety
Shop Now
6

Value
Shop Now
7

Quality
Shop Now
8

Removable Cushions
Shop Now
1
Editor's Choice
2
3
4
5
6
7
8
Best For:
Removable Cushions
1. Best Overall Custom Sofa: Allform
Price: Mid-Range
Frame materials: Kiln-dried maple & poplar hardwood
Upholstery options: Polyester & leather
Warranty: Lifetime
What I Love About Allform
I love how easy it is to create a custom sofa with Allform. It's as simple as choosing the number of seat modules you want, selecting between performance fabrics and top-grain leather, and then checking out via the platform's intuitive interface. I'm not kidding when I say you can have your dream sofa ready and made in under five minutes!
Of course, it takes a while longer for Allform to actually make and deliver your order. But even that is quick 'n easy, courtesy of the company's skilled artisans who craft every sofa here in the USA! You can honestly feel the love and care they put into each model, with excellent structural integrity and delightful foam cushioning that hugs your body with a gentle embrace.
If you need more convincing about Allform's quality, you can request free swatches from the website. The company also offers a 100-day in-home trial, where you can try your custom sofa on for size before fully committing.
What I Don't Love
I always like to experience sofas before I place an order. No amount of free swatches can tell you what a sofa will look and feel like in person, and an in-home trial is still a logistical nightmare. Unfortunately, Allform only has one showroom, and it's all the way in New York City. If you ask me, the company should partner with other furniture stores, so potential customers can more easily go and experience its exceptional sofas and custom ottomans for themselves.
2. Most Sustainable Custom Sofa: Joybird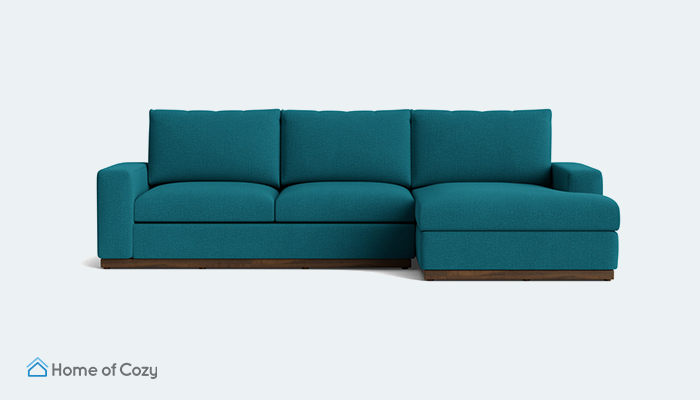 Price: Mid-Range
Frame materials: Engineered + solid wood
Upholstery options: 98 fabric options
Warranty: Lifetime
What I Love About Joybird
I always feel good shopping at Joybird. Not because of how comfy its custom sofas are (although that certainly helps), but because of how much the company does for the planet. You see, Joybird partners with One Tree Planted, an organization that regrows trees in deforested areas across the globe. With every custom sofa ordered, Joybird donates to help regrow forests in locations ranging from California to Nova Scotia!
With that said, Joybird's commitment to the environment is only one of the reasons I love shopping there. It also offers a vast selection of sofas, all of which you can customize to your liking. Choose from nearly 100 fabric options — including premium materials like Sunbrella acrylic and aniline leather — to create the perfect match for your living space. I've been thoroughly impressed by Joybird's quality over the years, and I recommend them to anyone who fancies the company's signature silhouettes.
What I Don't Love
Joybird's customization options are painfully limited. You only get to choose between a premade design and upholstery. That's it.
Luckily, the company offers many silhouettes (including some with beautiful tufting) and one of the largest selections of fabrics in the industry, making it easy to find and create something that suits your style.
3. Best Custom Sofa for Easy Moving: Burrow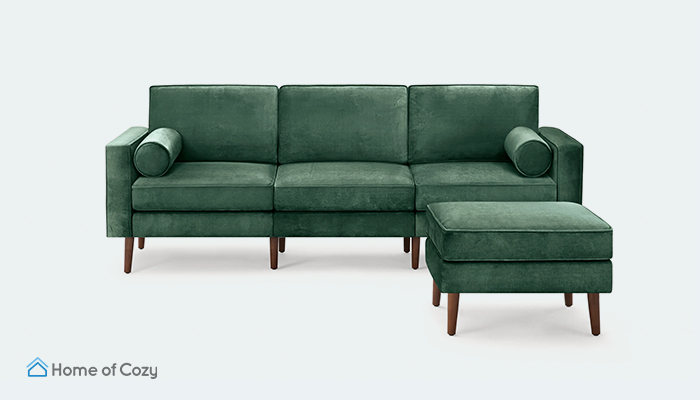 Price: Mid-Range
Frame materials: Baltic birch
Upholstery options: Polyester & leather
Warranty: 1 year
What I Love About Burrow
Burrow specializes in mid-century modern, modular sofas with customizable layouts and finishes. Take the Burrow Nomad, for example. It comes with anywhere from two to four seats, ideal for any-size living space. It also comes in over two dozen fabrics, wood or metal legs, and even plain or tufted seat cushions! Burrow's single-page customization system is as streamlined as can be, with clearly defined options and a visual guide that updates with every change you make.
Another great thing about Burrow's modularity is the free and easy delivery. The couch and optional chaise arrive in a handful of boxes, and you piece it together yourself. Using my experience as a baseline, it takes less than 30 minutes from start to finish. You can also deconstruct your sofa just as easily, making Burrow an excellent option for families that tend to move around.
I've always received excellent support from Burrow's New York customer service team, both for design questions and order inquiries. The team is knowledgeable and friendly, and I recommend reaching out if you need help choosing a suitable configuration.
What I Don't Love
Burrow offers a one-year manufacturer warranty on its sofas — a pittance compared to Allform's and Joybird's lifetime guarantees. To add insult to injury, you can optionally pay for a five-year warranty through a third party. A couch is a significant investment; it should come with the peace of mind that it'll last longer than a year.
4. Best Custom Sofa for Apartments: Floyd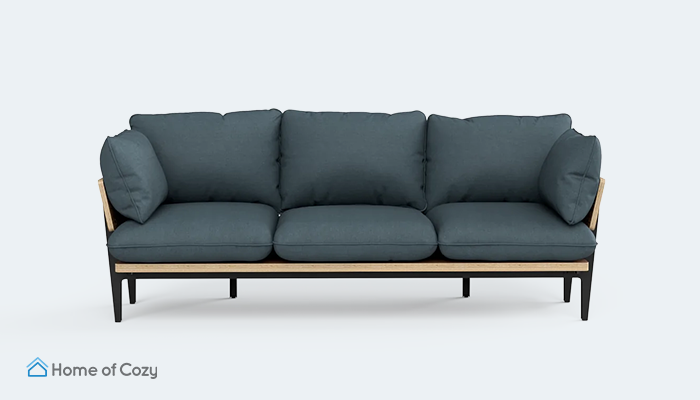 Price: Mid-Range
Frame materials: Birch plywood & steel
Upholstery options: Polyester
Warranty: 1 year
What I Love About Floyd
The Floyd may be smaller than other custom sofas, but it still makes quite the statement piece, with colorful seat cushions and an au naturale wood frame that fits beautifully in apartments. Choose from a handful of starting silhouettes, six fabric options, and three wooden finishes to craft the perfect match for your home.
Looking at the Floyd Sofa's slim frame on the website's product page, I was initially concerned about its durability. But the sofa is surprisingly sturdy in person, compliments of the birch plywood base and 11-gauge steel support system that accommodates 300 pounds per seat! You can pile the whole family on this couch, and it won't sag an inch (well, except for the delightfully sink-in cushions).
Another thing I love about Floyd is its pricing. The two-seater Floyd starts around $1,500, putting it at the low end of the mid-range pricing spectrum. It's an incredible deal considering you can spend the same amount on a similarly-sized big-box model from Wayfair, and this one comes with way more charm and personality. Plus, you can order free swatches before buying to make sure it's just what you're looking for.
What I Don't Love
The Floyd isn't difficult to assemble, per se. But it does take longer than the website's instruction video would have you believe. Floyd claims a 30-minute installation with two people, but it's closer to quadruple that time frame. And, it requires a fair amount of elbow grease to fasten everything together.
5. Widest Variety of Custom Sofas: Inside Weather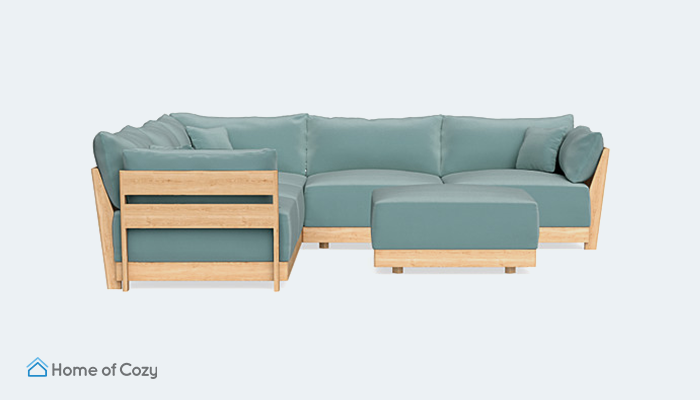 Price: Mid-Range
Frame materials: Solid wood
Upholstery options: 400 fabric options
Warranty: 1 year
What I Love About Inside Weather
Inside Weather sells nearly a dozen customizable sofas, all with gorgeous silhouettes and a vast selection of personalization options. However, it's the company's Modular Bondi that I want to talk about today. This sofa is customizable to the core, a modular masterpiece that fits every space to perfection.
What makes the Bondi unique is its modular, block-based frame. Every single seat block is the same: the only difference between center pieces, edges, and corners is the wooden back and armrests you attach. This system lets you easily create any-size layout you want, from armchairs to loveseats to giant ten-piece sectionals perfect for grand foyers! Connecting these pieces is as intuitive as can be, and you can set up a three-piece Bondi in under 30 minutes.
Of course, layout isn't the only customization option. Inside Weather offers 400 different fabrics, all of which you can add to your Bondi Modular. Every order is then handmade in California and delivered to your doorstep (with white glove delivery upon request).
What I Don't Love
The Inside Weather Modular Bondi is on the more expensive side. It makes sense, given the overall quality and California-made craftsmanship. But its accessibility may be out of reach for some families.
My other gripe is the misleading fee associated with returns. Inside Weather charges a 25% "environmental fee" on orders that don't meet your expectations. This environmental fee is nothing more than virtue signaling and goes straight into the company's pockets. You also have to pay for return shipping, making its in-home trial a risky decision.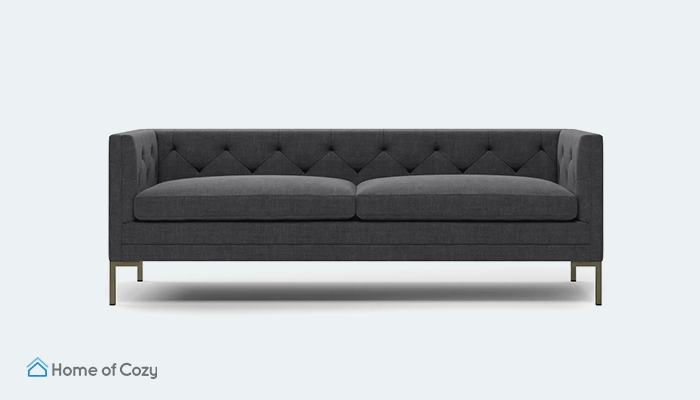 Price: High-end
Frame materials: Engineered wood
Upholstery options: Polyester blend & leather
Warranty: Lifetime
What I Love About BenchMade Modern
Benchmade Modern is one of my favorite places to shop for custom sofas. The selection is massive, the customization potential is endless, and the couches are as cozy as can be.
Let's start by talking about the selection. Benchmade Modern has three dozen custom sofas in its catalog, ranging from mid-century options like the Tyler to one-of-a-kind statement pieces like the OG Crowd Pleaser leather sofa bed. Whatever sofa style you prefer, you'll find it at BenchMade Modern.
Then, there's the customization. Benchmade Modern's sofas are handmade to order, meaning you can ask for exactly what you want. Choose your sofa's precise length (in 5-foot increments), the upholstery, the leg finish, and even the filling — foam and fiber or luxuriously soft Trillium!
Every configuration is more than worthy of your hard-earned money, providing a comfy basin for hours of continuous use.
What I Don't Love
Both the standard foam and the Trillium foam cushions are high-maintenance (to say the least). They constantly lose shape, requiring regular fluffing to keep from sinking into a puddle of fluff. Unfortunately, that's the tradeoff you must make to attain such comfort.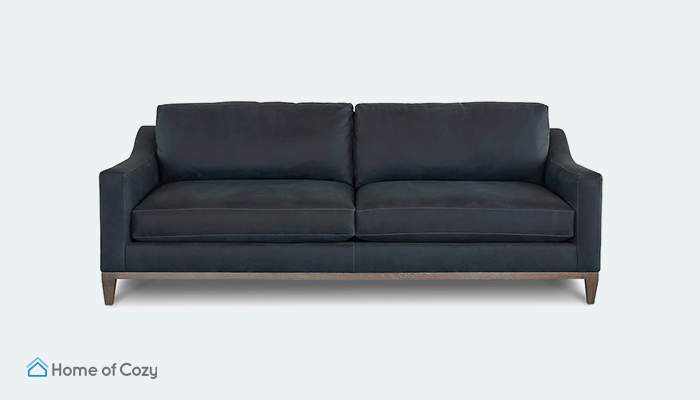 Price: Budget
Frame materials: Hardwood
Upholstery options: 300 fabric options
Warranty: 7 years
What I Love About Bassett Furniture
Custom sofas aren't just for the ultra-wealthy. Shop at Bassett, and you can commission your dream sofa for the same price you'd pay for a big-box reclining model at IKEA. Seriously — Bassett custom sofas start at $1,200, which includes your choice of over 300 upholstery options!
Bassett's been in business for over 100 years, and the quality of its craftsmanship reflects that. I've been so impressed by Bassett's attention to detail, which includes an interlocking wooden frame that maintains a rock-solid stance underneath hundreds of pounds. It's also quite comfy, loaded with Basset's plush foam specifically formulated to melt away stress and help you relax.
Since Bassett operates a network of brick & mortar stores, there's plenty of opportunity to test its quality furniture before ordering. Head to one of the brand's 60 first-party outlets, where you'll encounter a friendly and knowledgeable staff ready to help you create the sofa of your dreams. Pro Tip: Shopping at a first-party physical outlet also unlocks extra customization options, so I recommend going in person whenever possible.
What I Don't Love
Bassett Furniture's online service is lacking compared to digital-native companies. I've never had luck connecting with one of its support representatives online, and shipping rates are through the roof. Fortunately, its in-store team is very approachable and will work with you to ensure your purchasing experience goes smoothly.
8. Best Removable Covers Custom Sofa: Campaign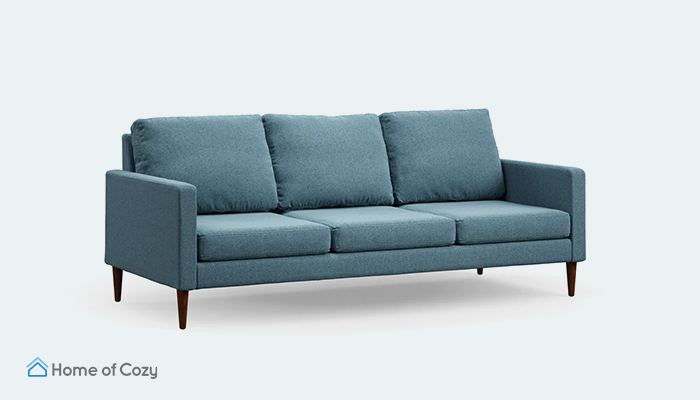 Price: Mid-Range
Frame materials: Steel
Upholstery options: Polyester
Warranty: Lifetime
What I Love About Campaign
Campaign may be new to the custom furniture scene, but they're already making big changes in the space.
One of the most significant innovations they've unveiled is a removable cover system. That's right — the company's sofa and ottoman covers feature velcro strips, letting your dress things up or down depending on the occasion. With the holiday season approaching, I absolutely love the idea of swapping over to the Harvest Yellow for Thanksgiving and then the Dusty Rose for Christmas. It's the perfect sofa for bringing out some of that festive spirit.
Another unique facet of the Campaign Sofa is its internal steel frame. Whereas most custom sofas feature an engineered or solid hardwood, the Campaign harnesses the strength and durability of metal. The result is one of the sturdiest sofas I've encountered, perfect for families and households that do lots of entertaining. Plus, you still get the homey look of wood, courtesy of the oak or maple legs adorning all four corners of the sofa.
What I Don't Love
Campaign isn't exactly known for its exceptional customer service. The company is routinely out of stock on its products (that's how you know they're great) and rarely updates its website to match. Reaching out for help will get you a response… eventually. But it's far from a quick, pleasant experience.
Benefits of Designing a Custom Sofa
There are many reasons to choose a custom sofa over a pre-manufactured model:
Premium comfort. The best custom couches feature plush cushions filled with materials like polyfoam and down feathers, and they come wrapped in the softest performance fabrics available.
A perfect fit. Choose the right shape and size, and your custom sofa will fit your living space better than a built-in credenza.
Complements your interior design. Pick an upholstery that harmonizes with your existing decor, or go bold and create a contrasting statement piece.
Lasts for generations. A made-to-order sofa is far more than "just another piece of furniture." It provides an enduring, heirloom-quality piece you can pass down for generations.
Custom sofas are also unique to you and your living space! They're a true representation of your style and a great way to share a piece of your personality with others.
Custom Sofa FAQs
Let's review some frequently asked questions about custom sofas and what to look for when shopping for one.
How Expensive Are Custom Couches?
Most custom couches cost somewhere between $1,000 and $10,000. However, like all types of furniture, custom couches range in price based on several factors. The most prominent are size, materials, and country of origin.
If you're seeking a large premium leather sofa made in the USA, it's likely to sit near the upper end of the price spectrum. Meanwhile, a small polyester loveseat made overseas will cost much less.
What Should You Look for in a Custom Sofa Brand?
When seeking a custom sofa brand, the most important consideration is craftsmanship (e.g., what materials they use and who does the construction). In our experience, these factors accurately depict how sturdy and comfortable your sofa will be.
With that in mind, seek out sofas with solid wood frames, plush foam filling, and polyester, cotton, or leather upholstery. If you can find a sofa manufacturer that handmakes its furniture in the USA, excellent. If not, be sure to ask where their artisans are located and what techniques they use to create furniture. Asking these probing questions doubles as a way to gauge how supportive the company will be throughout the buying process.
When Is the Best Time To Order a Custom Sofa?
The best time to order a custom sofa is when it's on sale! According to NerdWallet, Labor Day, Memorial Day, and Black Friday offer some of the biggest discounts. Do note, however, that lead times are longer during these periods. With so many others making purchases at the same time, you can expect delivery estimates to be double, even triple, the norm.
On the flip side: if you don't care about price and speed is your priority, January is the best time to purchase a custom sofa. Business is notoriously slow at the beginning of the year.
Learn More Custom Sofa Purchases With Home of Cozy
Choosing a build-your-own couch company offers the chance to attain your dream sofa, made to order and delivered right to your door. It's an increasingly affordable option that's well worth considering when shopping for a new sofa.
The team at Home of Cozy stays up to date on all the latest furniture trends, and we want to share our findings with you. Be sure to check out our comprehensive brand reviews or head to our home decor recommendations for inspiration on your custom sofa. If you need even more support, don't hesitate to leave a comment. We'd love to hear from you.