Floor couches are the optimal seating solution for small spaces. Their compact silhouettes fit beautifully in apartment living rooms, guest bedrooms, and even college dorm rooms. Although small in stature, floor couches offer plenty of style, and you can find various colors and configurations to complement every interior design.
For today's guide on floor couches, I researched and tested over 25 options, including everything from modern sofa sets to futon sofas to humble bean bags. The following floor couches represent the highest-quality pieces I could find — each guaranteed to streamline your space and provide a comfy experience for friends and family to enjoy.
What Is a Floor Couch?
A floor couch is a sofa without legs (also known as a lazy sofa). These couches forego traditional supports and hug right up against the floor itself.
There are many reasons why one might choose a floor couch over a traditional sofa. First, their minimalist aesthetics assimilate into any interior design scheme, complementing your other furniture like a matching suit & tie. Second, their compact frames fit exceedingly well into small spaces such as apartments and starter homes. Finally, floor sectionals influence the room's general sense of scale, letting designers create unique visuals unobtainable from standard models.
How We Chose Our Top Floor Couches
Floor-level sofas encompass a variety of seating options, including loveseats, three-seaters, sectionals, and even bean bags. To ensure a comprehensive overview of all these options, our team researched and tested over two dozen models from as many different brands. Here's a look at the criteria we used to gauge the quality of each floor couch and manufacturer:
1. Craftsmanship – We began by inspecting the frames and upholstery, paying particular attention to the wooden joinery and stitchwork around the seams.
2. Comfort – A floor couch should provide enough cushioning and support to keep users comfortable for several hours of continuous use.
3. Style – Although floor couches come in various configurations, we prioritized those with minimalist silhouettes and customizable color palettes.
4. Customer Support – Customer service is essential when spending hundreds or even thousands on a new piece of furniture. We reached out to each manufacturer's support team, testing which ones were knowledgeable and passionate about their products.
5. Delivery & Assembly – Installation should be easy and stress-free, preferably with a white-glove, done-for-you delivery option.
The following floor couches scored the highest marks in their respective categories. No matter which one you choose, it should serve your family well for years to come.
The Best 10 Floor Couches On The Market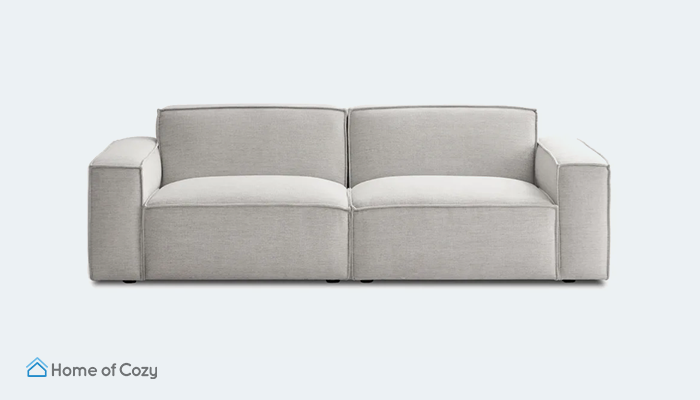 Price: $1,799+
Dimensions: W89.8″ x D39.4″ x H27.6″
Frame materials: Engineered wood
Upholstery options: Polyester-acrylic or leather
What I Love About This Castlery Sofa
Castlery is one of my favorite places to shop for furniture online. While the company isn't perfect (I'll touch on that in a moment), the quality of its furniture is second to none.
Take the Jonathon Sofa, for instance. It's a classic minimalist sofa with clean lines and a chunky silhouette that hugs right up against the floor. The polyester-acrylic upholstery is snuggly-soft, and the attached cushions come overstuffed with mounds of foam and fiber filling. There's nothing quite like reclining into the Jonathan after a long day at work, resting your arms on the armrests, and letting the luxury craftsmanship melt away your stress.
Shopping at Castlery is similarly stress-free. I've ordered from many online furniture stores while writing for Home of Cozy, and nowhere has been as pleasant as Castlery. All the essential furniture details are right where you'd expect them, accurate to a tee. Lead times for furniture are similarly on-point, and the company's customer service team has always been delightful to deal with. If you're looking for an excellent floor sofa from an exceptional company, you can't go wrong with the Jonathon from Castlery.
What I Didn't Love
The one thing I dislike about Castlery is its return policy. The company offers a measly 14-day return period and a 20% restocking fee on all orders. The good news is that you're probably going to love the Jonathon. It also comes with a three-year warranty, and Castlery's customer support team is there to help should anything go wrong.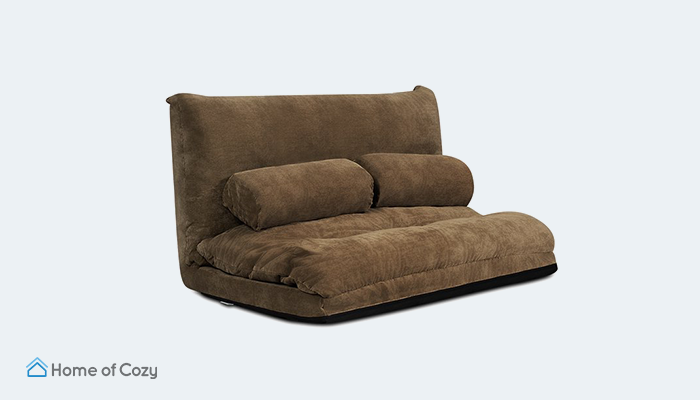 Price: $199.99+
Dimensions: W42.5" x D22.5" x H21"
Frame materials: Metal
Upholstery options: Corduroy
What I Love About This Walmart Sofa
The Giantex from Walmart is one of the most versatile couches I've come across, with a three-piece frame that adjusts like a tri-fold wallet. Keep it stacked together when you want a plush sofa, and unfold it when you want a lounger or makeshift mattress. The Giantex's adjustable backrest locks into six positions, accommodating anywhere from 90° upright to 180° laid-back and relaxed.
Concerning comfort, I've found the Giantex surprisingly supportive, especially in the lower back region. That comes courtesy of the two lumbar cushions, which extend the length of the entire sofa. In keeping with the armless sofa's versatile design, these cushions are entirely adjustable, transforming into sleeper sofa pillows at a moment's notice.
Even with all its other perks, my favorite thing about the Giantex is probably its $200 price tag. No other sofa I reviewed comes close to providing so much value in such an affordable package.
What I Didn't Love
The Giantex is quite cozy as a sofa or lounge. However, it's not the ideal bed, lacking consistent padding across all parts of the frame. I could see myself or a guest using it for a night or two, but it may strain your body to continue using it after that.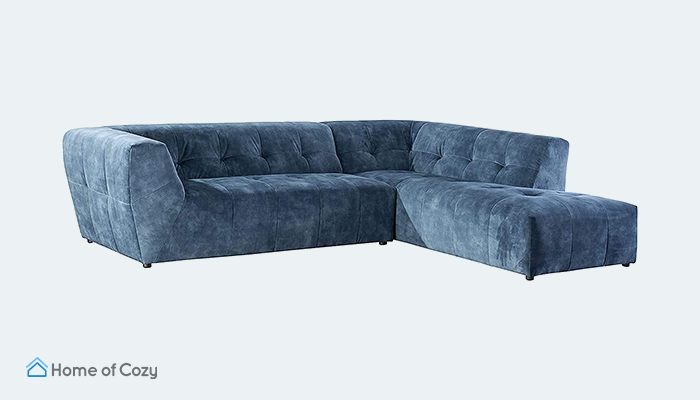 Price: $2,199.99
Dimensions: W113″ x D87″ x H29″
Frame materials: Hardwood
Upholstery options: Velvet
What I Love About This Amazon Sofa
Velvet is one of my favorite upholsteries. Its silky-soft texture is perfect for snuggling with a loved one or relaxing with a warm cup of tea and a book. It's also incredibly vibrant, with a color spectrum that oscillates from lighter to darker depending on which direction the fibers face.
The Acanva Sectional embodies everything I love about velvet and pairs it with a stunning mid-century modern sectional design that looks straight out of a 1950s Hollywood set. I just adore the sofa's combination of visual elements, including the vertical channels across the seats and the gradual slope of the backrest. The latter isn't just aesthetically pleasing; it also offers exceptional comfort, providing a cozy sitting or laying experience in every position.
Since the Acanva's gorgeous velvet upholstery is made from performance polyester (similar to my all-time favorite sofa from Allform), it's ideal for families with children or pets. Spills wipe up with a single pass, and there's no maintenance required aside from occasional vacuuming.
What I Didn't Love
The Acanva's price fluctuates drastically. When I first started reviewing floor couches for small spaces, the Acanva cost $1,700. Today, it sits at $2,299 — a $500 difference! I dug a bit deeper, and it appears that the sofa's price changes continually, sometimes higher, sometimes lower. If it's hovering near the top end of the aforementioned price range, you may want to wait a few weeks to see if the cost goes down.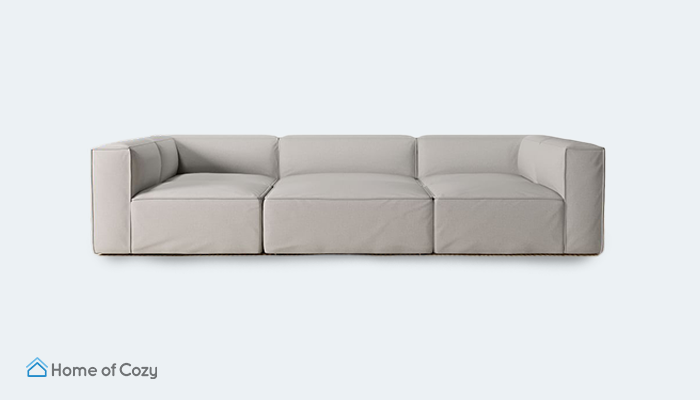 Price: $499+
Dimensions: Starting at W35″ x D35″ x H26.3″
Frame materials: Solid pine & engineered wood
Upholstery options: 15 fabric options
What I Love About This West Elm Sofa
The West Elm Remi is a modular sofa. In other words, you choose the layout yourself. Select from various seat modules, corner modules, and ottomans, and piece together the custom chaise lounge sofa of your dreams!
I love how much freedom West Elm's modular system affords, accommodating every person's needs to a tee. It's not just flexible in configuration, either; you can also make one-of-a-kind designs by choosing various colors and patterns. Choose a singular palette for a minimalist aesthetic, or alternate between different-colored seat modules for a funky, boho vibe.
While it may sound daunting, assembling the Remi Sofa is fairly straightforward. Every module attaches via alligator clips, and it all pieces together in a matter of minutes. The bond is remarkably robust and will not come undone without intentional effort. Combined with the solid pine and engineered hardwood craftsmanship, West Elm's Remi is among the sturdiest sofas I've reviewed in recent years.
What I Didn't Love
As much as I love West Elm (and the Remi, in particular), I hate that it doesn't come with a manufacturer's warranty. A written warranty comes standard from most other furniture and home decor manufacturers, and West Elm needs to get with the times.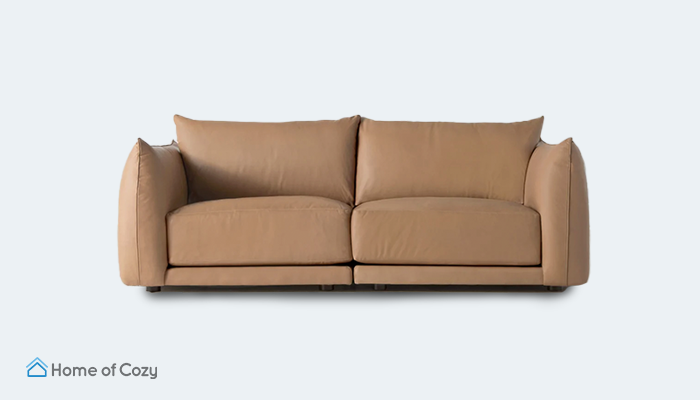 Price: $2,900+
Dimensions: Starting at W84″ x D40″ x H32.5″
Frame materials: Hardwood
Upholstery options: 15 fabric options
What I Love About This Maiden Home Sofa
Leather sits at the intersection between rustic charm and modern sophistication. It's a timeless, all-natural fabric that's remarkably versatile and the only one that gets better with age.
Although I've come across dozens of leather-wrapped floor couches, I'm most enamored by the Jones Modular. Its top-grain Tuscan leather is deliciously decadent, with vibrant pigmentation and an au naturel matte finish. It's also remarkably smooth and as soft as suede, providing the kind of cozy sitting experience you'd expect from such an upscale piece.
The Maiden Home lounger does cost more than most of the other options I reviewed, but its quality is second to none. The hardwood frame is as sturdy as stone, handcrafted with joinery techniques that put its competitors to shame. It also comes with a lifetime warranty — a clear indicator of Maiden Home's commitment to providing an heirloom-quality lounge couch that will last your family for years to come.
What I Didn't Love
According to the Jones Modular's official description, its down cushions are buttery-soft. In truth, they're closer to a three out of five on the firmness scale. While I enjoy a bit more firmness (the extra support is great for those with lower-back problems), you may not. I wish Maiden Home would pay more attention to the accuracy of its product listings.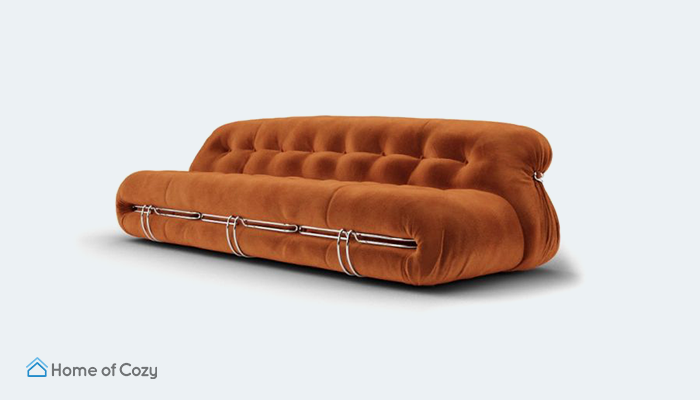 Price: $2,639+
Dimensions: W98.4″ x D41.3″ x H28″
Frame materials: Merbau wood & stainless steel
Upholstery options: 8 fabric options
What I Love About This Eternity Modern Sofa
The Soriana from Eternity Modern is one of a kind. It's so unique — a mixture of minimalism-meets-futuristic, with a pillowy silhouette wrapped in your choice of upholstery and accented by a chrome exoskeleton. It can't help but grab your attention and capture the imagination, making it a no-brainer for any creative space or modern loft.
Alongside style, the Soriana provides extraordinary comfort. This comes courtesy of the triple-layer PU foam, which supports your body like a buoy on the water. Meanwhile, its ergonomic backrest offers some of the best lumbar and mid-back support I've encountered on a floor couch. The Soriana is so comfy, you'll never want to get up!
Although marketed as a three-seater sofa, you should have no trouble squeezing four or five atop the Soriana's generous 100″ width. The internal Merbau's robust wood frame is also more than capable of accommodating your entire family or entourage of friends.
What I Didn't Love
Unlike most sofas this size, the Soriana comes assembled and ready to go. However, delivery is quite costly. For curbside delivery, you'll need to shell out $189. If you want to avoid the hassle of moving its cumbersome 234-pound frame, it'll cost you a whopping $439!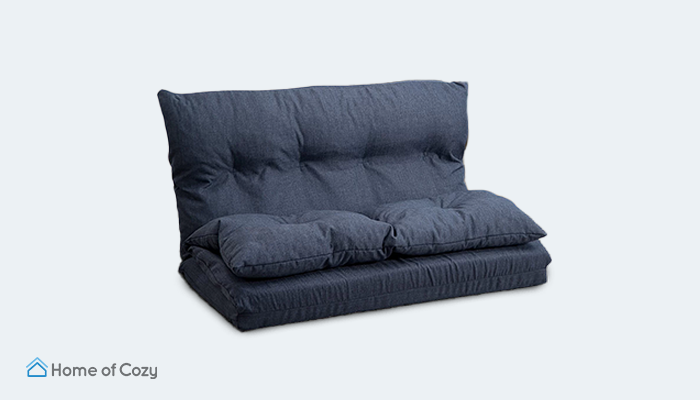 Price: $156.50+
Dimensions: W54" x D40" x H23.6"
Frame materials: Metal
Upholstery options: Denim
What I Love About This Wayfair Sofa
As a self-proclaimed gamer, I feel uniquely qualified to boast about the merits of this Adjustable Game Chair from Wayfair. It's been the perfect companion for my at-home console space, keeping me comfy and in the right headspace during online sessions with friends. It's adjustable to work with any-height TV, and the plush foam supports your back and tush with perfect firmness (though you may need to add lumbar support).
While I like to keep my home spotless, that's not true of all gamers. Fortunately, the foldable lounge chair's denim material is exceptionally resistant to spills, wiping up with a single pass of your cloth. If there's ever any issue with the upholstery or the steel frame's folding mechanism, Wayfair's always there to help. The company offers a one-year warranty on all products, including this adjustable gaming chair.
What I Didn't Love
The Adjustable Game Chair comes with a California Proposition 65 warning, likely due to a flame retardant used in the foam core. This warning is relatively common among lower-cost — and even some higher-end — floor chairs and gaming sofas, but it is something I try to avoid when possible.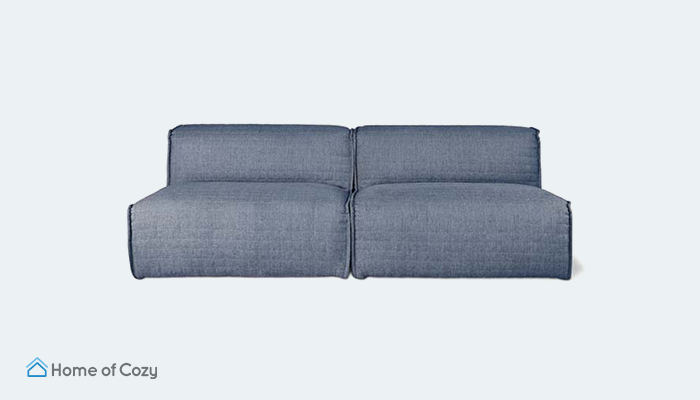 Price: $2,650
Dimensions: W78″ x D39″ x H28″
Frame materials: Hardwood
Upholstery options: Polyester-acrylic
What I Love About This SmartFurniture Sofa
Loveseats are my favorite types of sofas. They're compact and cozy, yet big enough to fit two full-grown adults (three if you squeeze). The Nexus is one of the comfiest I've come across, with plush down seating that compresses into a relaxing yet supportive position to accommodate every body. At the same time, its armless design is quite versatile, ensuring plenty of room to stretch out and relax in any position you prefer.
My favorite part about the Nexus is probably its eco-friendly construction. The down filling may be as comfortable as a bed of feathers, but it's actually made from recycled plastic bottles! Six hundred of them, to be exact. Meanwhile, the four fabric options are all so visually appealing, softening the look of your space while simultaneously drawing your eye toward the Nexus's gorgeous silhouette.
What I Didn't Love
Although I like the Nexus floor loveseat's minimalist design, I wish there was an option with armrests. Since it features a modular assembly that you can customize to your liking, it should at least come with the choice.
The other issue I had was with customer support. When I first reached out with basic questions about the Nexus sofa couch, nobody at the company was able to answer. Post-purchasing support is better, but it still pales in comparison to the thoughtful communication offered by other furniture companies on this list.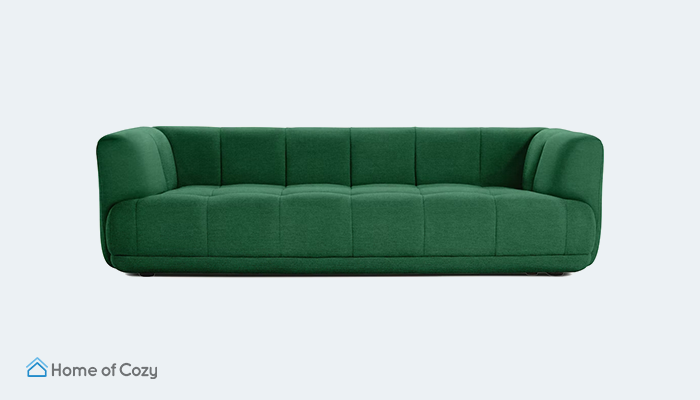 Price: $5,895
Dimensions: 28.35″ H 112.5″ W 56.3″ D
Frame materials: plywood, pine, and beechwood
Upholstery options: Polyester, wool, acrylic, cotton, nylon
What I Love About This Hay Sofa
The Quilton Sectional by Hay is the designer sofa that dreams are made of (and on). The expansive 112″ x 56″ basin provides plenty of room for relaxing and — if you're not careful — dozing off (I may or may not have spent an entire afternoon snoozing on its heavenly cushions). To that end, the Hay Sofa is ideal for hosting friends and family gatherings, and it can seat up to five people with room to spare. Since the Quilton Sofa is a modular sectional, you can also expand it as your situation allows.
The part that had me most excited about reviewing the Quilton Sectional was its array of luxury upholstery options. It's the only floor couch I found with wool fabric as one of my choices. Hay blends their natural wool with synthetic polyester to create a soft (never scratchy) yet durable foundation that feels as good on your skin as it looks to your eyes.
Ordering the Quilton from Hay offers a seamless checkout and delivery experience, and I recommend the Quilton to anyone seeking a luxury statement piece for their space.
What I Didn't Love
As you might expect, the Quilton is exorbitantly pricey. The two-piece sectional costs $5,900 before shipping. What's more, any extra sectional pieces lift the price tag considerably. Suffice it to say, this sofa is for die-hard interior designers seeking the very best in home furniture.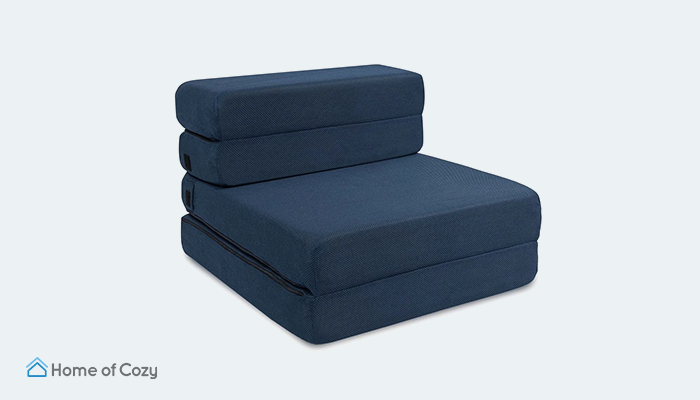 Price: $123.49
Dimensions: W25″ x D27.5″ x H4.5″
Frame materials: Metal
Upholstery options: Polyester
What I Love About This Overstock Sofa
I bought my Milliard Tri-Fold Mattress about five years ago as a spare bed for guests. It's been sat on, slept on, folded up, and stored dozens of times in those five years — and it's still going strong.
The secret to Milliard's durability is its metal frame. The frame and its tri-fold latching mechanisms are exceptionally robust, capable of withstanding thousands of uses. Fold and unfold to your heart's content, knowing that the Milliard convertible floor sofa bed will be there for the long haul.
While you might be concerned about the comfortability of a metal frame tucked within a slim 4.5″ mattress, you needn't worry. It's covered in several layers of high-quality CertiPur foam! Upon waking, you'll feel like you've just come straight from the massage parlor. The washable polyester cover is also supremely soft, making it an exceptional overnight experience from top to bottom.
Of course, you can't go wrong with the price, either. At $120 per unit, it's an affordable way to add an extra guest bed to any home.
What I Didn't Love
The Milliard is tiny. In sofa form, the seat measures just 9″ high, making it more of a casual chair than an actual sofa. In mattress form, this folding floor model matches the size of a standard single bed, meaning it's best suited for children and small adults.
Floor Couches FAQs
Now that we've seen the best floor couches, let's review some commonly asked questions about these trendy pieces of furniture.
Are Floor Sofas Comfortable?
Like any piece of furniture, comfortability varies based on design and overall quality. If you'd like to ensure a cozy experience, seek out models with standard or memory foam padding and back support cushions optimized for your lumbar region.
When it comes to the floor sofas on today's list, they all offer premium comfortability for hours of continuous use.
Can I Use Floor Couches as Outdoor Furniture?
You should only use floor couches as outdoor furniture if you've ordered them with the appropriate upholstery. Outdoor floor couches use specialized fabrics like generic acrylic or branded Sunbrella® upholstery to resist corrosion from rain and shine.
We recommend reaching out to manufacturers directly to inquire about weather-resistant upholstery options.
When Is a Sofa Too Close to the Floor?
There's no one-height-fits-all solution, as every floor sofa accommodates a different posture and seating position. Floor sofas can range from simple cushions that require stretching out your legs or sitting crisscross to oversized sectionals for everyday use.
If you're concerned about legroom, look for sofas with a minimum of 12″ to 14″ from floor to cushion. If you're shopping for living room furniture specifically, you can also add an ottoman or coffee table that lets you kick up your legs.