Sofa chairs combine the sink-in comfort of today's coziest couches with a compact silhouette that fits anywhere. Place one in the living room to accent your primary sofa, in the bedroom as a reading nook, or in the home office for indulgent breaks from work. It doesn't matter where you keep them — sofa chairs provide an easy, affordable way to expand seating capacity and style in every space.
To decide on our ten favorite sofa chairs for big and small spaces, we researched and reviewed over 25 options from today's top manufacturers. These models represent the most comfortable models we came across, well-crafted sofa chairs that will keep you cozy for hours on end.
What is a Sofa Chair Anyway?
A sofa chair is an upholstered seat that supports a single person in an upright or laid-back sitting position. Although designed to seat a single user, sofa chairs still come in various shapes and sizes. You can find compact models with simple square seat cushions, chunky models with extended chaise lounges, and everything in between.
Sofa chairs work well on their own or as accent pieces placed next to larger couches or sectionals. When used as accent chairs, they provide extra space for guests while adding personality and dimension to the interior design.
How We Chose Our Favorite Sofa Chairs
The team at Home of Cozy has collectively spent hundreds of hours researching and testing sofas and sofa chairs. Our experience in the space gives us unique insights into which elements make for a comfy experience. With that in mind, here's a look at the different criteria we used to evaluate sofa chairs for this guide:
1. Craftsmanship – We sought out sofa chairs with durable frames and careful stitchwork, preferably made by hand or constructed with care in an ethical factory.
2. Comfort – The best sofa chairs should feature layers of plush foam molded to fit the contours of your body for hours-long support.
3. Materials – Every quality sofa chair begins with a durable wood or metal frame and features resilient foam topped with cozy upholstery.
4. Aesthetics – Although beauty can be subjective, we prioritized silhouettes that look and feel at home in a modern living space.
5. Sustainability – Whenever possible, the team at Home of Cozy likes to highlight furniture crafted with eco-friendly materials and shipped in a carbon-neutral manner.
After countless hours of research and hands-on reviewing, we confidently recommend the following options as today's best sofa chairs for your home.
Our Picks For The 10 Best Sofa Chairs Of 2023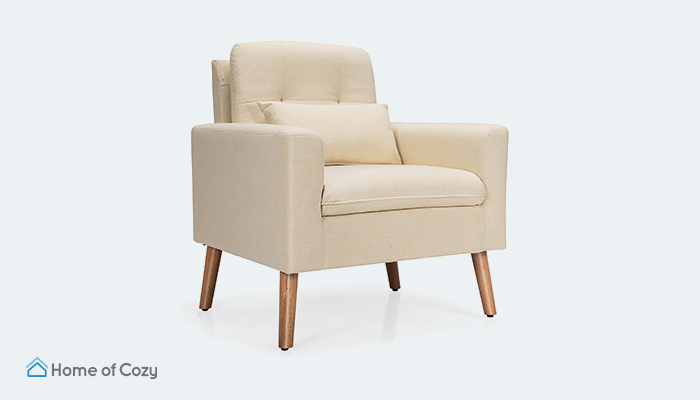 Price: $216.99+
Dimensions: W29.6″ x D29.5″ x H15.5″
Frame material: Pine wood
Upholstery options: Linen
What I Love About This Target Sofa
If you've ever gone shopping for modern sofa chairs, you know that far too many of them lack adequate back support. They're either too soft, too firm, or designed without consideration for human anatomy. The Costway Linen Sofa Chair makes none of those mistakes, and you can feel the difference as soon as you plant yourself atop its plush cushions. They embrace you like a grandmother: warm, gentle, and oh-so comforting. Meanwhile, the sloping backrest and linen-wrapped bolster pillow keep your lower back in the ideal position for hours of continuous relaxation.
Costway's sofa chair doesn't just feel great on my back. I also love its ergonomic armrests, which sit about 4″ above the seat — ideally situated for upper body support while lounging, reading, or watching the latest season of Rings of Power. The frame itself is a solid pine wood elevated atop rubber wood legs for excellent sturdiness and durability. I measure in at 170 pounds, and I could see this piece easily accommodating double the weight.
Although it's manufactured by Costway, I recommend buying it at Target. The superstore retailer offers several perks, including a discounted price tag and free shipping! There's also Target's generous 90-day return policy, which I've taken advantage of countless times. Whether you buy the Costway Linen Chair in-store or online, you can return it at your local outlet anytime within 90 days, as easy as can be!
What I Didn't Love
The Costway Linen Sofa Chair is on the smaller side. That's unfortunate because it's sturdy enough for larger individuals; it's just a tight squeeze. Another issue is packaging from the manufacturer. The way it's placed in the box makes it prone to damage during transit. I recommend inspecting yours as soon as you get it to ensure everything checks out.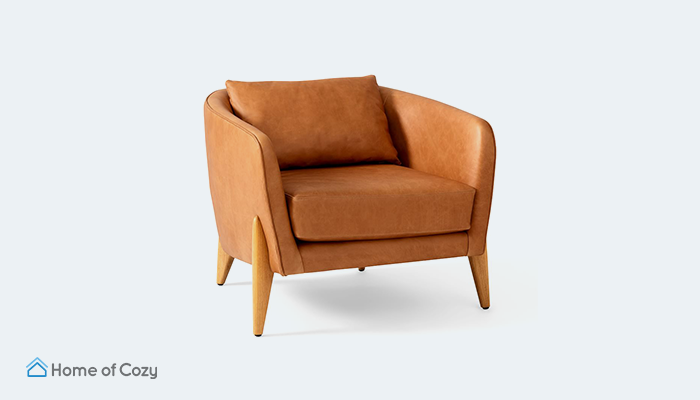 Price: $1,039+
Dimensions: W32.3″ x D33.3″ x H27.3″
Frame material: Solid oak
Upholstery options: Leather
What I Love About This West Elm Sofa
West Elm is my go-to destination for high-end furniture. I've been shopping at the retailer for years, and I'm always impressed by the product quality, customer service, and delivery experience. When it came time to make this list, I knew I had to include one of the company's best pieces: the Delray Leather Chair.
The best word I have to describe the Delray is luxurious. It's handcrafted in Thailand from solid oak, then covered in high-resilience foam and wrapped in the finest of leathers. The result is a classy, comfortable sofa chair that combines the ideal amount of sink-in comfort with wrap-around armrests that keeps you poised and proper. Place it in the living room, and you'll find that it works just as well for relaxing in front of the TV as it does for partaking in conversation with family and friends.
Oh, and don't be surprised if the conversation turns toward the chair itself. Its elegant proportions and contrasting leather upholstery meets wood legs make it a standout focal point in any space.
What I Didn't Love
I have two words of caution for those considering the Delray leather sofa chair. First, there's the lead time. Even though West Elm offers white glove delivery and setup, you still have to wait over a month (or more) to have it crafted and sent from Thailand. Second, there's the lack of a warranty. Like all Williams-Sonoma brands, West Elm offers no guarantee on its furniture besides a standard 30-day return policy.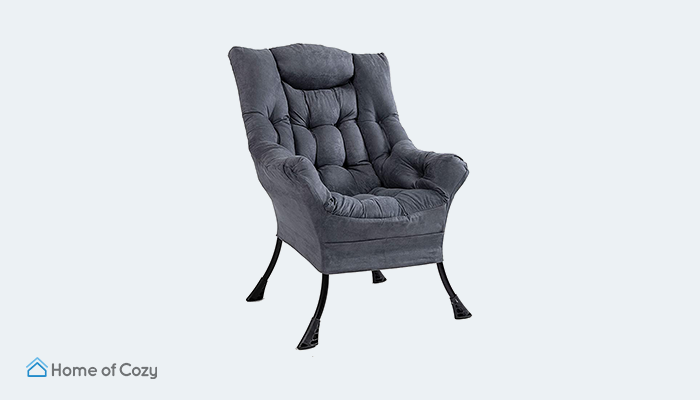 Price: $156.99+
Dimensions: W29″ x D23″ x H42″
Frame material: Steel
Upholstery options: Linen
What I Love About This Amazon Sofa
The Superrella is funky fresh. It reminds me of 70s disco attire, with groovy colors and flared legs, all wrapped up and packaged as an affordable sofa chair. When I say affordable, I mean it. The Superella starts at just $150, making it accessible to families on the smallest of budgets. What's more, it ships from Amazon, meaning it qualifies for free two-day delivery and easy-peasy returns.
While returns are easy, you won't need to bother. The Superalla is remarkably high-quality, with a steel frame that holds up to 440 pounds! It comes covered in ample foam padding and wrapped in dark grey or colorful linen that wipes clean of minor spills with a single pass. It also supports a perfectly laid-back sitting posture, one that feels relaxed yet supportive enough for hours of enjoyment. I recommend pairing it with the Superrella footrest for maximum enjoyment.
What I Didn't Love
If you're looking for a classy or elegant accent sofa to match upscale home decor, the Superella is not for you. It has a unique charm that I've found works best in dens, game rooms, and children's bedrooms. Due to the way its wing-like armrests extend from the base, it's also ill-suited for wider individuals. With that said, it does feature the right dimensions for taller users up to 6′ or so.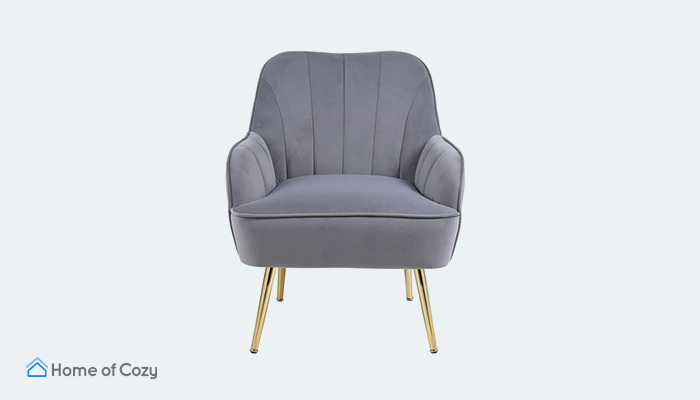 Price: $165.99
Dimensions: W25.5 x D28.7″ x H30.7″
Frame material: Wood
Upholstery options: Flannel
What I Love About This Walmart Sofa
If I'm being completely honest, Walmart isn't usually my go-to choice for furniture shopping. While there's the occasional deal for a decent piece of furniture, I haven't had a lot of luck shopping there. That is, until I discovered the Hommpa Wingback Accent Chair.
Let me tell you: this modern sofa chair is the best value on the market, a stylish, elegant option that looks like it belongs in a fancy art gallery — not Walmart's bargain-basement website. Just look at the breathtaking clamshell channeling on the backrest. It's so well done, perfectly accenting the wingback design to make a statement that elevates any room.
Plus, it's extraordinarily comfortable. The seating area may look like it's lacking support, but I've found it offers just enough cushioning for your back and tush. Add on throw blankets, and you have the coziest little reading chair money can buy. It's one of my favorite pieces of living room furniture out there, and it only sets you back $170.
What I Didn't Love
Although Walmart offers online returns within 30 days of delivery, there's no in-store return option. This is standard practice for smaller businesses, but it stands in sharp contrast to both Target and Amazon. It also ships from Jitrading, an importing company with a less-than-stellar track record for customer service. Don't expect post-purchasing support once your one-month return period ends.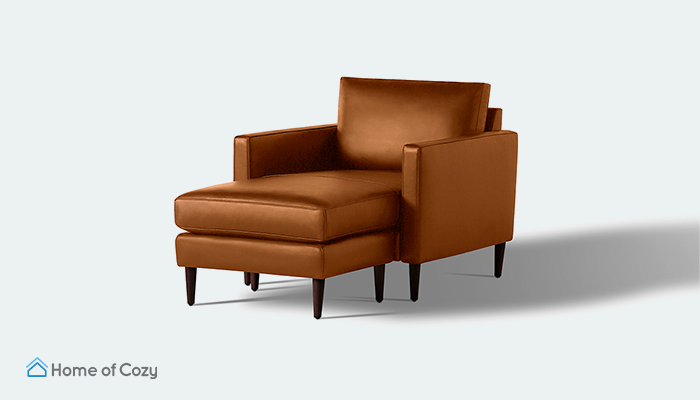 Price: $1,195+
Dimensions: W36" x D61" x H34"
Frame material: Maple and poplar hardwood
Upholstery options: Polyester, leather
What I Love About This Allform Sofa
It's no secret that Allform makes some of the best loveseats, sofas, and sectionals on the market. But you may not know that the company also manufactures the best sofa chairs. These sofa chairs work just like the company's couches — everything is customizable, from the furniture's size and shape to its fabric and color to optional add-ons like chaise lounges and ottomans!
If you're looking for my favorite configuration, you can't go wrong with the Armchair w/ Chaise. It's so comfortable, overflowing with polyfoam, and wrapped in your choice of silky-smooth polyester or luxe top-grain leather (no faux leather here). It's also incredibly stylish, with a sleek, minimalist silhouette that extends forward — courtesy of the chaise — to catch your legs as they fall to rest.
I also want to take a moment to discuss what it's like to set up an Allform Sofa. Assembling our Allform sofa was a breeze, courtesy of a simple latch-and-lock process. It took under 30 minutes from start to finish and felt more like a game than a complex installation. Allform also offers free shipping, a 100-day in-home trial, and a lifetime warranty on all single couch chair frames. If you need more convincing about how great Allform is, check out its near-perfect customer rating and see for yourself.
What I Didn't Love
Allform may be one of the best sofa chairs on the market, but such luxury comes at a cost. The Allform Sofa Chair (with chaise) starts at $1,195 and goes up to $2,000 for the top-grain leather version. While you can reduce this price by foregoing the chaise, you'll have to sacrifice my favorite part about the chair.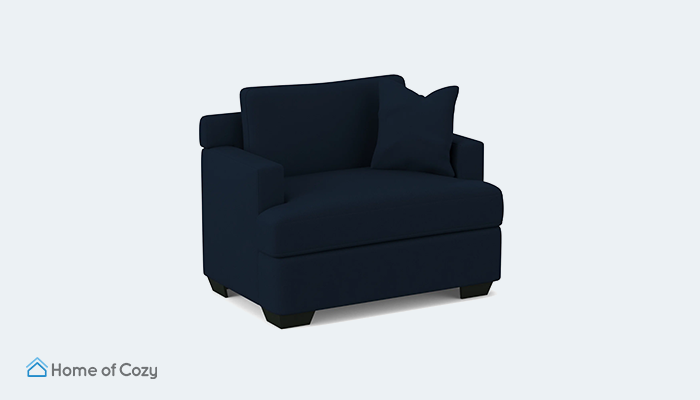 Price: $630+
Dimensions: W49" x D36" x H32"
Frame material: Solid wood
Upholstery options: Polyester, cotton, linen, acrylic
What I Love About This Wayfair Sofa
It's the oversized lounge chair you've always wanted: the one you dream about when sitting on your hard-as-a-rock hand-me-down from grandma.
The Ann Armchair is exceptionally roomy, with a 36″ basin perfect for stretching out with a book or cuddling up with a loved one for an intimate snuggle. Its cushions are light and fluffy yet buoyant enough to keep your body from sinking in and losing postural support. Suffice it to say, you've never felt anything like this before.
Concerning aesthetics, the Ann features a fairly standard design. But it revels in its simplicity, appearing poised and elegant in any space. If you want to spice things up a bit, Wayfair lets you choose from 47 upholstery colors, several of which boast brighter palettes sure to catch the eye.
Perhaps my favorite part about the Ann is that it's handmade to order, right here in the USA. Once it's finished, Wayfair ships the Ann straight to your doorstep, entirely for free. As if that weren't enough, it also comes completely assembled. All you have to do is place it in the room of your choice (it makes an excellent living room chair), and you're ready to relax!
What I Didn't Love
Since the Ann Armchair is made to order, you'll have to deal with long lead times. Wayfair estimates around six weeks from the time of purchase. With that said, I would plan for eight instead. Delays aren't uncommon, and it's better to be prepared than disappointed.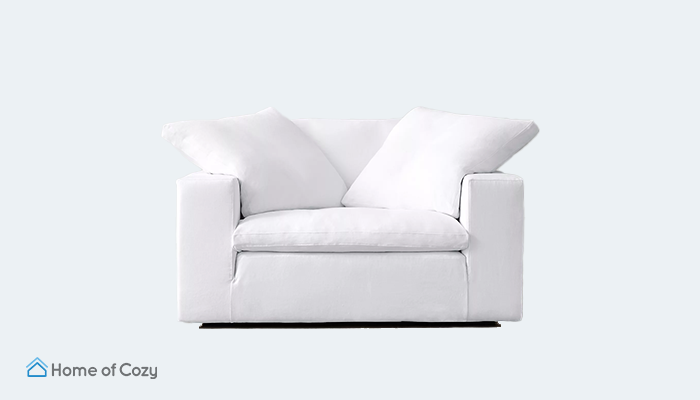 Price: $4,695+
Dimensions: W48″ x D40″ x H31.5″
Frame material: Kiln-dried hardwood
Upholstery options: Polyester, cotton, linen
What I Love About This RH Sofa
Everyone's heard about the Tik-Tok famous RH Cloud Couch. But you probably haven't heard that there's a smaller version available. It's called the Cloud Chair, and it shares all the features that make its big brother so delightfully cozy.
If you want to know how it feels, look no further than the name itself. The Cloud Chair is as plush and pillowy as a cloud, filled to the brim with down feather filling wrapped in silky-smooth upholstery. It's also remarkably sturdy, handcrafted from kiln-dried hardwood and reinforced with corner block joinery.
Although white linen is the most popular option (for obvious reasons), you can get the Cloud Chair in nearly 150 different colors and weaves, including my personal favorite: Azure Performance Linen.
If you need help choosing the right option, I recommend contacting RH's knowledgeable design team. They've always been so polite when responding to my inquiries, and their passion for interior design is palpable.
What I Didn't Love
The RH Cloud Chair is exorbitantly expensive, coming in at just under $5,000. That's nearly three times the price of the next highest-priced model on our list of best sofa chairs! If you're looking for something a little more affordable, we've curated a list of Cloud Couch dupes just for you.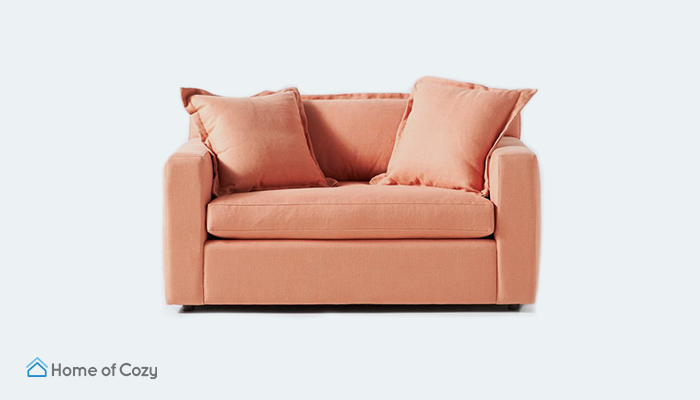 Price: $1,798+
Dimensions: W58″ x D45″ x H33″
Frame material: Kiln-dried hardwood
Upholstery options: Polyester, Cotton, Linen
What I Love About This Anthropologie Sofa
Generally, I wouldn't recommend a sofa chair as a guest sleeper bed. Most of them are simply too small and compact to make for a good night's sleep. But the Katina Sleeper Chair from Anthropologie is different, incorporating a spacious frame with everything you need for a peaceful slumber. Flip over the couch chair's plush cushions to reveal a generous 36″ by 72″ pull-out mattress that's big enough to accommodate any-size individual with room to spare. I honestly couldn't believe how great it felt as a sleeper, with several inches of mattress foam covering coil springs that keep your back aligned in perfect harmony.
Anthropologie's Katina Sleeper Chair is made to order in the USA and ships for free right to your doorstep. Since there's no assembly required, all you have to do is bring it inside and place it in the room of your choice. I've found that it fits best in the spare room or home office, but it's also sleek enough to slot right in with your living room furniture.
What I Didn't Love
The Katina is what I'd call a 1.5-seater sofa chair. As such, it doesn't fit into the same compact spaces that a single sofa chair would. I've also found that the unique size looks out of place next to a standard-size sofa. I recommend placing this sofa bed alone in a spare room or using it alongside an oversized sectional.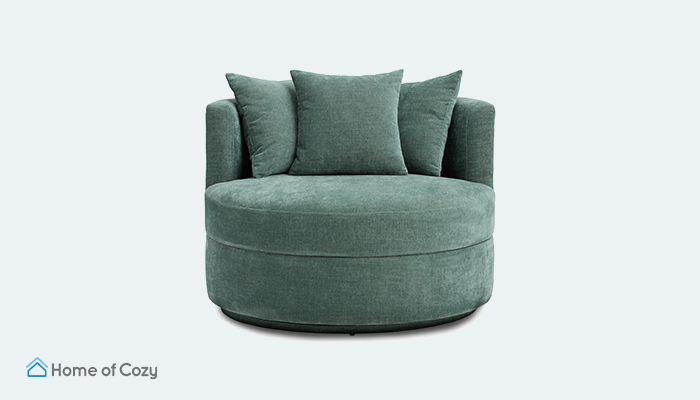 Price: $499.99
Dimensions: W37″ x D37" x H26.5"
Frame material: Plywood
Upholstery options: Polyester
What I Love About This World Market Sofa
I've never encountered anything like the World Market Rico Chair before. Its design looks like a matrix of moons, with a full-circle swivel base and a crescent backrest covering half the seat. Meanwhile, the solid-color velvet upholstery helps tone down the eclectic silhouette and even gives it a minimalist appearance. Since it blends with most interior designs and turns in any direction at a moment's notice, you can place it in any room to great effect.
I also want to mention the Rico's accessibility. This velvet accent chair costs just $499, and you can order it online or in-store (my local outlet has several in stock, and I imagine it's the same at most of World Market's 250 locations). Even more impressive, there's no assembly required. Just bring it home and find a suitable spot for your new favorite furnishing.
What I Didn't Love
Even though the Rico Swivel Chair comes with multiple throw pillows (they come in rust, ivory, or teal), you may want to add one or two extra. That's because the crescent-shaped backrest is a straight vertical incline with no slope. I've found that the pillows get the job done well enough for shorter-term use, but my lower back does start to ache after a couple of hours in the padded seat.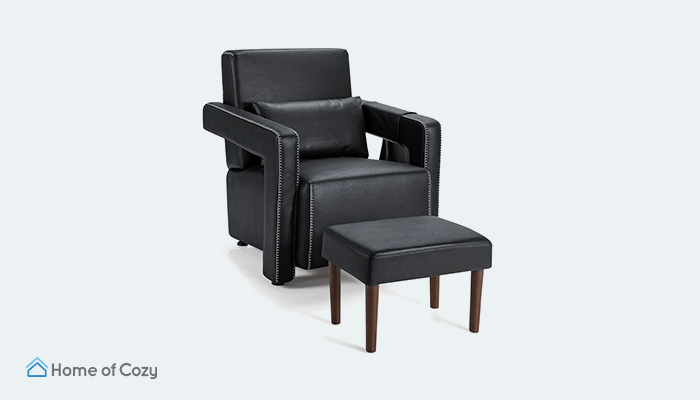 Price: $274.49
Dimensions: W31" x D31" x H34.5′
Frame material: Larch wood
Upholstery options: Polyester
What I Love About This Overstock Sofa
There's nothing wrong with sitting upright, all fancy and proper. But sometimes, all I want to do is kick back and relax. If you feel the same way, the Costway Modern Berber may be the chair for you.
The Costway Modern Berber is your ideal lounger, with a slanted backrest and seat that keep your tush planted in the chair and your feet up high. To better support this posture, the Costway also comes with a matching ottoman, upholstered in the same polyester fleece as the chair. The entire ensemble is an absolute delight, ideal for laid-back reading or potato-ing in front of the tube. There's even an overhanging side storage bag that keeps your book, remote, and small accessories within easy reach!
Costway always impresses me with its prices, and the Berber Sofa Chair is no exception. The chair and ottoman cost under $300 shipped to your door. Assembly is reasonably straightforward, though it does take longer than I'd have hoped. You can do it yourself, but you should set aside 30 minutes to an hour from start to finish.
What I Didn't Love
The Costway's greatest strength is also its greatest weakness. With that said, I wouldn't recommend this chair to those who like to entertain. It's much better suited for relaxation than engaging with others.
I also dislike the lackluster 90-day warranty from Costway. The chair is reasonably durable, but at $300, it's not top-of-the-line. For extra peace of mind, I'd recommend shelling out for Overstock's 5-year Guardsman warranty.
Tips for Buying a Sofa Chair
Now that we've seen today's best sofa chairs, let's review a few tips on how to choose the right one for you and your family.
Find a Chair That Complements Your Home Decor
Your sofa chair should complement the overall look and feel of your home. There are two ways to go about this: you can choose one that matches or contrasts.
You should match your sofa chair to your other home decor when you want to create a sense of harmony in the space. Pick a model with similar colors, textures, patterns, and shapes to the surrounding pieces, and it will blend seamlessly into the room.
You should choose a contrasting sofa chair when you want a striking accent piece that draws the eye and breaks up a one-note environment. To achieve this aesthetic, choose a bold color (consider a brighter version of the colors you're already using, or select one opposite the color wheel) and a unique texture or pattern. You can also choose a sofa chair with a different design scheme altogether. If most of your furniture is mid-century modern, try shaking things up with a rustic or boho-chic sofa chair set.
Consider Different Armchair Styles
There are many different types of sofa armchairs on the market. Dozens, in fact. Here's a look at a few of the most popular:
Tub chairs are armchairs with circular seat basins and wrap-around backrests.
Lawsons are armchairs with boxy cushions and short armrests.
Wingbacks are armchairs with bucket-style seats and backrests, featuring wing-like elements protruding from the edges.
Club chairs are armchairs with extra-thick cushioning, often with nailheads.
A sofa chair isn't your only option for single-person seating, either. If no sofa chair is speaking to you, you may want to consider a traditional rocking chair or recliner chair instead. As always, it's about what feels best to you.
Know Your Budget Before Browsing
Don't waste time searching for a chair far outside your budget. Go into your search with a price range in mind and cut right to the contenders.
If you're planning to pay with a credit card, it's easy to get sucked into a model that costs more than you can reasonably afford (we've all been there). If you have to have a piece over your budget, consider saving up for the chair instead of paying with credit. Stash away money every month and ask for holiday gift cards from friends and family. You can also wait for sales with no exclusions and make your purchase when there's a discount available.
With a little planning and research, it's possible to acquire the perfect sofa chair for your home. If you need more guidance on finding the right furniture, view our latest product roundups for easy, at-a-glance browsing.