Buying furniture from a brick-and-mortar store is so 2021. Nowadays, you can buy your favorite pieces online and have them shipped directly to your door. Buying direct-to-consumer furniture isn't just convenient — it also cuts out the middleman, providing exceptional pricing straight from the manufacturer.
Today's article outlines the top direct-to-consumer furniture companies on the market, showcasing 14 brands that deliver quality pieces for every room in your house. Skip the trip to the big-box furniture store, and check out these DTC retailers instead.
Why Choose Direct-to-Consumer Furniture?
There are many reasons to buy furniture directly from the manufacturer or official brand retailer. Most notably, direct-to-consumer furniture ships straight to your doorstep, ready to assemble and begin using in your home on the same day.
Another great thing about buying DTC is how much control you have over the production process. You can generally customize your favorite pieces before they're made, adjusting the finish and upholstery to match your existing home decor. Since you're so involved in the furniture's creation, transparency and sustainability also play a central role in most DTC business models.
Lastly, there's the ever-important topic of price. Selling directly to the customer reduces overhead costs by a significant margin, and most direct-to-consumer furniture brands pass these savings onto you in the form of lower pricing and free shipping. A select few go even further, offering in-home trial periods and free return delivery should you change your mind about your order.
What Criteria Did We Evaluate For These Reviews?
Home of Cozy aims to provide comprehensive and reliable information in our furniture reviews. Our process includes in-depth research and physical testing whenever possible, ensuring an accurate representation of how a piece will perform in your home. For this guide on direct-to-consumer furniture brands, our team combed the most popular DTC companies and evaluated their products against the following criteria.
1. Quality – Craftsmanship sets the foundation for every piece of furniture. That's why we looked for brands offering furniture with robust framing, sturdy hardware, and damage-resistant finishes.
2. Budget – While DTC furniture is more affordable than traditional options, we still want to see manufacturers passing along as many savings as possible.
3. Comfort – Furniture is made for humans, and a comfortable, human-centric design — with supportive contact points — is an essential component of any DTC piece.
4. Design – Since everyone has a unique sense of style, you should be able to customize your furniture to match your home's interior design.
5. Sustainability – Direct-to-consumer and similar types of new furniture companies exert a great deal of control over production, with the best brands boasting transparent sustainability commitments that ensure quality, eco-friendly products.
Following our review, we feel confident that today's list of best DTC furniture brands will exceed your expectations and provide a lovely addition to your home for years to come.
Top 14 Direct to Consumer Furniture Brands in 2022
This list of direct-to-consumer brands encompasses furniture for every space in your home. To kick things off, I've chosen a brand that outfits your primary living space in stunning attire.
Type of Furniture: Seating and decor
Pricing: Mid-range
Shipping: Free
Trial Period: 100 days
Warranty: Up to lifetime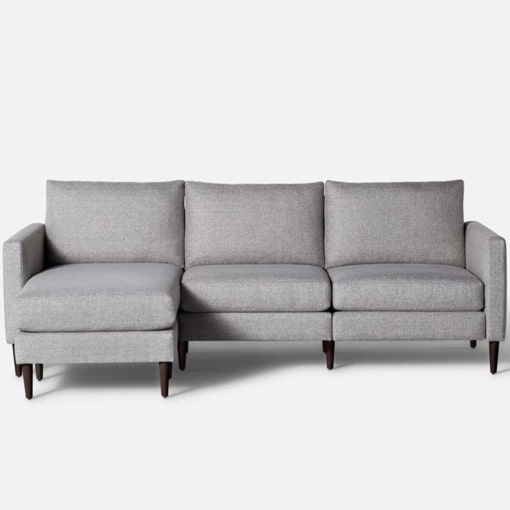 Allform isn't just one of the most popular direct-to-consumer furniture brands on the market; it's also my favorite. The company specializes in high-quality yet affordable modular sofas that you can customize to your heart's content. Start with a general shape and size, then choose from three wood tones, two fabrics types, and nine colorful finishes. Every aspect of the Allform experience feels optimized to delight. This begins at the intuitive checkout and extends to the unboxing process that always makes me feel like a kid on Christmas. The brand's sofas come in a handful of convenient packages, ready to unwrap and assemble in under an hour.
While I appreciate how much time and effort the company puts into the shopping experience, I'm even more impressed by its commitment to sustainability. Allform sofas incorporate natural and recycled materials, and the company works with the Sustainable Furniture Council (SFC) to source products from eco-friendly suppliers.
Type of Furniture: Seating, tables, storage, and beds
Pricing: High-end
Shipping: Starting at $5
Trial Period: 30-day return policy
Warranty: Up to 10 years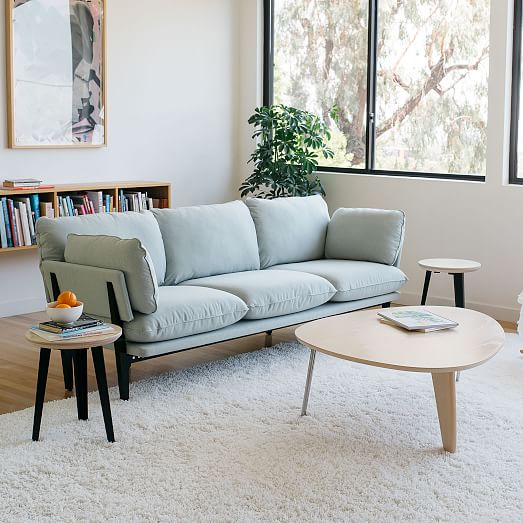 Floyd has its headquarters in Detroit, Michigan, a city that sits at the heart of American-made manufacturing. From my experience with this direct-to-consumer furniture brand, I can confidently say that it shares the city's legacy of greatness, offering quality pieces designed to last your family a lifetime.
The brand's modern furniture selection encompasses the essentials, including sofas, ottomans, coffee tables, and bed frames. Although there are only a few dozen pieces in Floyd's catalog, the brand's high quality trumps quantity any day. I'm in love with nearly every one of the iconic designs, all of which combine simplicity and elegance delivered in a convenient, direct-to-consumer package. I also love how Floyd's craftsmanship pushes the envelope on sustainability, refusing to break down and clutter our overflowing landfills.
My only real gripe with Floyd is its website, which looks nice but feels extraordinarily clunky compared to options like Allform. Still, the hassle is worth the effort once the furniture arrives and becomes a stunning focal piece in your home.
Type of Furniture: Seating, tables, storage, beds, and decor
Pricing: Mid-range
Shipping: Free
Trial Period: 30-day return policy
Warranty: 1 year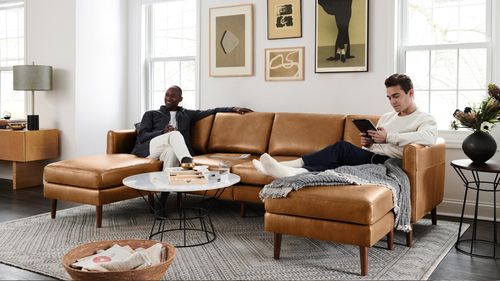 Burrow offers everything you need to transform your home, including hundreds of furnishings for your living room, bedroom, and office. If that's not enough of a selling point, consider that the company's high-quality furniture ships right to your door and evolves as your needs change. Its extensive catalog features furniture that's easy to assemble, easy to move, and built to expand (or contract) into large and small spaces.
Even though I love most of Burrow's adaptable furniture, its couches and sofas are the most exciting. I'm always hunting for a good deal, and Burrow's most popular 2-seater starts at just $1,495. It's also customizable in size, shape, and color, meaning you can fine-tune and tweak everything to fit your space.
While Burrow doesn't offer an in-home trial like other direct-to-consumer furniture brands, it does boast a 30-day money-back guarantee business model. You can also request free fabric swatches to determine the right match for your home before committing.
Type of Furniture: Seating, tables, storage, beds, and decor
Pricing: Low-budget
Shipping: Starting at $5
Trial Period: 1-year return policy
Warranty: Up to lifetime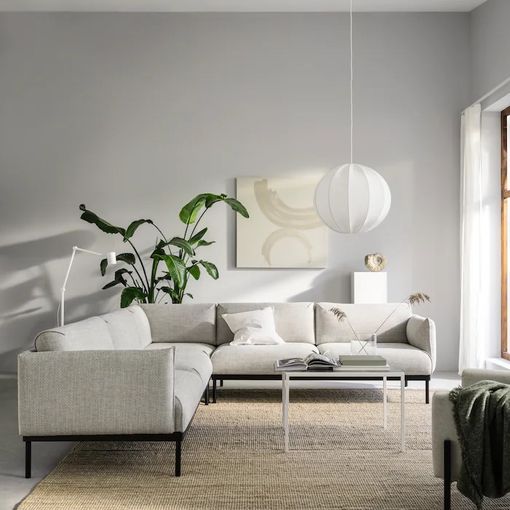 Although better known for its purple and yellow warehouses, IKEA is a major player in the direct-to-consumer business model. In fact, it's one of the original pioneers, having launched its e-commerce site way back in 2001.
Whether purchased in-store or online, I find that IKEA's home furniture offers a stylish and budget-friendly way to furnish your home with sleek and modern designs. The brand's high-quality collections — affectionately named in Swedish — cover every area of your living space. You'll find pieces for every room, including sofas and tables, small decorations, and even large appliances. Unfortunately, you do have to assemble most of IKEA's furniture yourself. But the affordable pricing is a worthwhile trade-off (I always remind myself how good the space will look when I'm done).
Should anything ever go wrong with your purchase, IKEA offers a generous 6-month to 1-year return policy on every item. The company also provides exceptional warranties, with 10-year policies standard on many items.
Type of Furniture: Seating, tables, storage, beds, and decor
Pricing: High-end
Shipping: Starting at $8
Trial Period: 1 year
Warranty: 1 year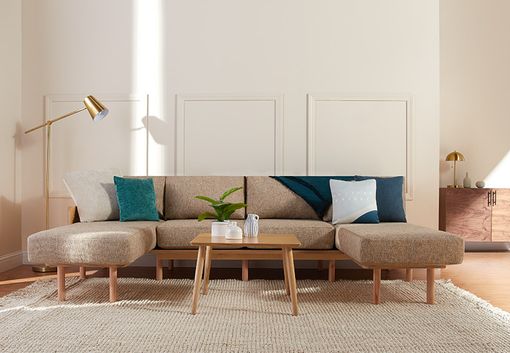 Inside Weather first captured my attention when I was on the lookout for a new workstation. I stumbled across its customizable writing desk, the Latte Jorn, and was stunned by the robust build quality and gorgeous wood grain finishes. Since then, I've been a massive fan of the company, promoting its pieces to all who'll listen.
Before you object to the company's high prices, you must understand that its quality is unrivaled in the DTC furniture space. The brand sources its materials from local distributors, and its team of skilled artisans handcrafts each piece from their Northern California workshop. While I live fairly close to the headquarters, that's hardly necessary. Inside Weather cheerfully ships all the furniture from its website — including its loveseats, dining room tables, and even its bed frames — right to your door!
While I'm certain you'll love your furniture from Inside Weather, you don't have to take my word for it. The 1-year in-home trial lets you see how each piece feels in your space before committing. This even includes any piece of furniture you've yourself, ensuring zero sacrifices and total peace of mind.
Type of Furniture: Seating, tables, storage, beds, and decor
Pricing: Mid-range
Shipping: Starting at $49
Trial Period: 90-day return policy
Warranty: Up to lifetime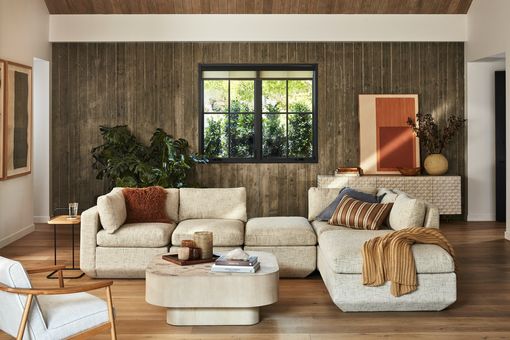 Joybird is one of the most popular direct-to-consumer furniture brands on the market, largely due to its accessibility. The company offers many ways to experience its furniture, including a 90-day trial policy and a handful of brick and mortar showroom locations where you can peruse and test furniture out in person. Of course, you'll need to order from the website to take full advantage of Joybird's incredible customization services. Depending on the piece of furniture, Joybird offers hundreds (yes, hundreds) of different finishes that you can mix and match to create the piece of your dreams.
There's only one thing I love more than Joybird's customer service and furniture customization — and that's its eco-friendly mission statement. The company partners with the One Tree Planted organization, ensuring a culture of sustainability that helps regrow forests around the world.
Type of Furniture: Seating, tables, and beds
Pricing: High-end
Shipping: Free on select items, otherwise $95
Trial Period: 30-day return policy
Warranty: Up to lifetime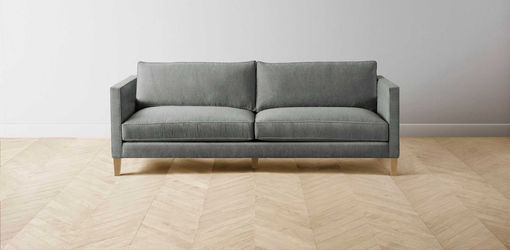 Maiden Home doesn't create DTC furniture; it creates functional art. Each piece is handmade to order in North Carolina, expertly crafted by skilled artisans who pore over every detail. Of course, that does translate to an extended lead time while you wait for your custom order (several months at the time of writing). But I've been pleasantly surprised by how responsive Maiden Home's team is, keeping you apprised every step of the way. The company also provides full white glove delivery, delivering and setting everything up in your space once it's ready to go.
If Maiden Home's luxurious business model piques your interest, I recommend checking out The Muir sofa. It's one of my favorite pieces from Maiden Home, with a lovely minimal aesthetic that combines natural wood with a touch of plush for balanced comfort.
Type of Furniture: Seating, tables, storage, beds, and decor
Pricing: Mid-range
Shipping: Free on select items, otherwise starting at $19
Trial Period: 14-day return policy
Warranty: Up to 10 years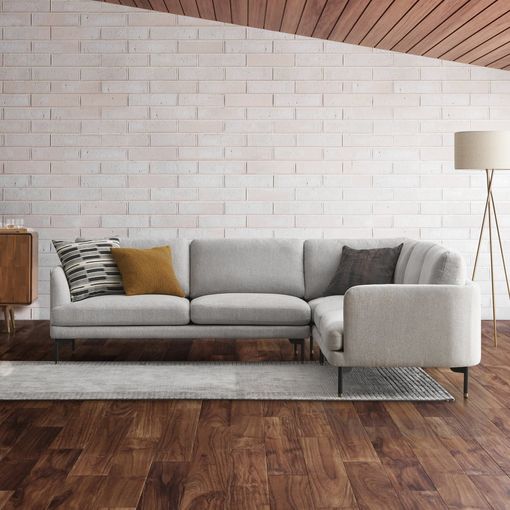 Castlery is the king of DTC furnishings, providing all the pieces you need to give your home the royal treatment. Although all of Castlery's collections feature luxury designs, I'm most in love with its outdoor curation. The brand offers an assortment of weather-proof sofas and dining sets that you can customize to your liking. I've found these pieces ideal for grand outdoor balls (read: dinner parties) and lackadaisical staycations by the pool.
In addition to its expansive selection, Castlery offers reasonable pricing, striking a balance between quality and affordability that's suitable for most homes. The company also places a heavy emphasis on structural quality, ensuring long-standing durability that can handle the wear and tear of modern family life.
Unfortunately, there's no way to experience Castlery's high-quality furniture without fully committing. Castlery only offers a 14-day return policy, and it's subject to a 20% restocking fee, making it less of a trial and more of a hassle.
Type of Furniture: Seating
Pricing: Mid-range
Shipping: Free
Trial Period: 30-day return policy
Warranty: Up to lifetime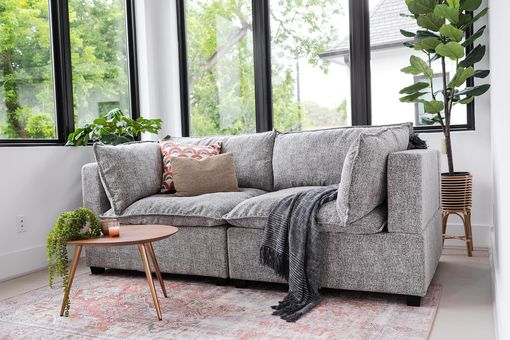 While most DTC furniture brands cater to every aspect of modern living, Albany Park hones in on a single product category: seating. Although the brand's focus on seating reduces your options, it guarantees high-quality pieces designed by experts in the space. The company further makes up for the options by offering extensive customization on its loveseats, couches, and sectionals. Choose from various fabrics, colors, textures, and patterns, mixing and matching to create the perfect complement for your home. If you prefer to let the experts take care of designing, you can also buy prefab pieces like those from Albany Park's Ekáàbò collection. This African-inspired sofa collection provides a preconfigured boho-inspired aesthetic that delivers a fun and eclectic feel to your space.
No matter which seat you choose, everything from Albany Park arrives in a handful of flatpacks, shipped right to your door. And, unlike other affordable brands (I'm looking at you, IKEA), these easy-to-assemble furniture pieces come together in under 15 minutes!
Type of Furniture: Seating, tables, and decor
Pricing: Mid-range
Shipping: Starting at $14
Trial Period: 60-day return policy
Warranty: Up to 10 years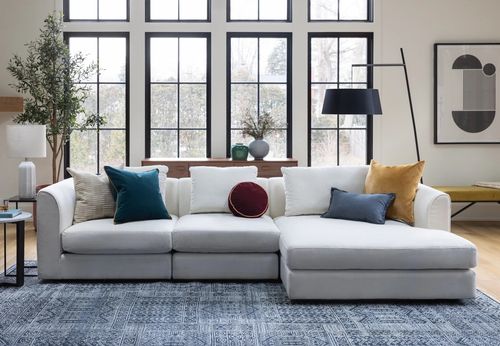 One of my biggest issues with direct-to-consumer couches and other furniture is that — without seeing and touching the options — it's hard to know how well they'll fit your space. That's where Interior Define's e-commerce site comes in. The company offers free online design consultations staffed by trained professionals. They'll give you advice on which of the brand's high-quality seats, tables, and decor you should buy, even going so far as to help you customize your pieces for enhanced harmony in your home. If you end up disliking your order, no problem. Interior Define's generous 60-day return policy makes it easy to return or exchange your products.
If this kind of personalized service isn't enough for you, Interior Define also runs a handful of showrooms across the USA. There you can touch and feel the different options, getting a first-hand look at how comfortable and supportive Interior Define furniture is. While I wish there were more showrooms available, Interior Define is in the process of expanding, with new locations slated to open over the next couple of years.
Type of Furniture: Seating, beds, and decor
Pricing: Mid-range
Shipping: Free
Trial Period: 30-day return policy
Warranty: Up to lifetime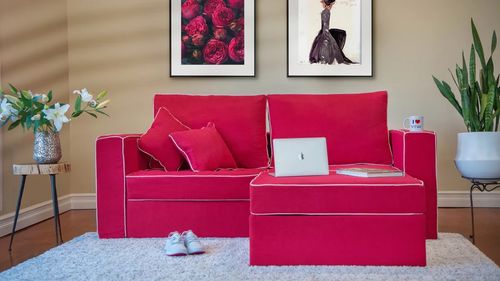 Most DTC home furnishing brands pack their sofas and sectionals in several boxes (sometimes over a dozen). This isn't just highly cost-inefficient; it's also terrible for the planet. That's why I love Elephant in a Box.
Elephant in a Box manages to pack entire sofas into one box. It's all thanks to the company's HoneyComb Support Technology, a lightweight, flexible, yet incredibly robust frame that expands like an accordion. Simply unpack your elephant from its box, stitch together a few pieces (no tools required), and your new sofa is ready for action! There's no sacrificing comfort, either — EIAB sofas include expanding pillows that balloon into plush cushions perfect for snuggling up with the family.
The one thing I don't love is the lack of customizable upholstery. Most options offer limited color palettes, and some lack any customization whatsoever. That said, you can spend a little extra and splurge on one of EIAB's various fabric covers. These are custom-cut to cover your couch, and they elevate its look in a heartbeat.
Type of Furniture: Seating, tables, storage, beds, and decor
Pricing: Mid-range
Shipping: Starting at $6.95
Trial Period: 30-day return policy
Warranty: 1 year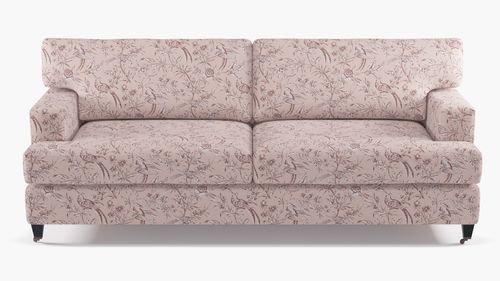 Although customization is a common feature in DTC furniture, nobody does it like The Inside. This company offers dozens of finishes and over 100 different fabric swatches, enough to match the craziest design schemes imaginable (yes, even your retro shag rug). What's more, you'll find just about everything on the Inside's marketplace, including essential furniture, small home decor items, and even wallpaper. Given everything The Inside offers, it's no surprise that the company acts as a one-stop shop for many aspiring designers.
As a design enthusiast myself, I'm a massive fan of The Inside's loyalty program. It's free to join and provides 15% off the brand's already-low prices. Plus, the more you spend, the more perks you have to look forward to. I'm currently inching towards Gold tier and can't wait for the exclusive sneak peeks and early access that'll afford me.
If you'd like to cut out the middleman retailers and enjoy all the perks of a direct-from-manufacturer furniture brand, it may be time to join me on The Inside.
Type of Furniture: Seating, tables, storage, and decor
Pricing: High-end
Shipping: Starting at $2.50
Trial Period: 30-day return policy
Warranty: 10 years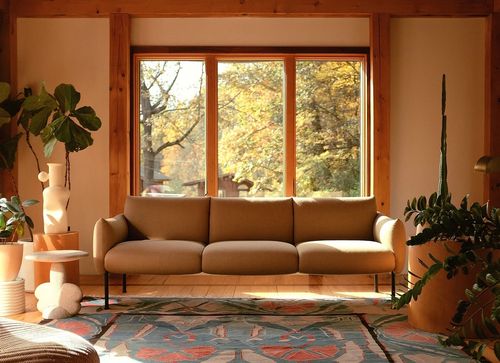 If I had to describe Dims in one word, it would be playful. This New York brand features a hand-curated marketplace full of fun and eclectic furniture sourced worldwide. Even though the company sometimes stretches traditional design boundaries with its selection (the Crayola-colored Cleo Chair is an excellent example), I've found every piece to be quite tasteful and worthy of its place on this upscale DTC website.
While researching the company for this article, I discovered that it's only been around a few years — something that comes with disadvantages and advantages. To remark on the former, this digital-native brand operates in a space still overwhelmingly dominated by traditional brick and mortar stores. And, it doesn't have nearly as many options as its competitors. But Dims is already starting to gain its footing, delivering boutique-quality furniture with friendly customer service and an increasingly eco-friendly business model.
Type of Furniture: Seating, tables, storage, beds, and decor
Pricing: Mid-range
Shipping: Free on select items, otherwise starting at $49
Trial Period: 30-day return policy
Warranty: 1 year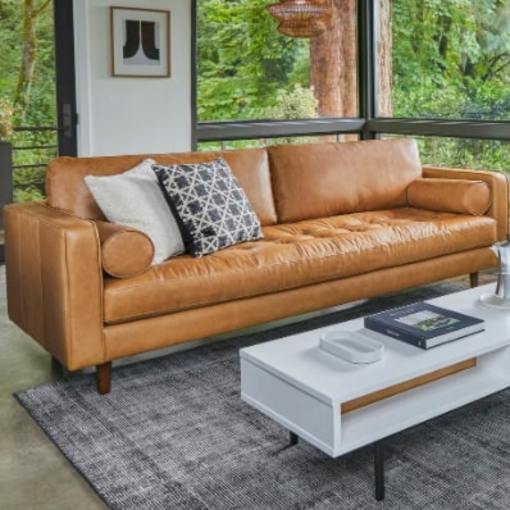 I first discovered Article a few years ago when seeking a sofa for my new apartment. Its Sven Sofa felt like love at first sight, the gorgeous mid-century modern design and classy Oxford Blue leather a match made in heaven. Meanwhile, the polyester filling is among the softest and most supple I've encountered, and its gorgeous silhouette fits my living space better than an antique built-in fits a traditional Victorian home.
In the years since our first encounter, Article has only continued to strengthen its brand, providing a whole catalog of home decor for every space in your home. The brand carries a little bit of everything, including seating, tables, storage, and more. Moreover, every single item is easy to assemble (the Sven, for instance, takes under 15 minutes from start to finish), and customer service is there for you every step of the way. If you're looking for an excellent and reasonably-priced DTC furniture store, Article has you covered.
Get Top Quality Furniture Reviews with Home of Cozy
If recent sales numbers are any indication, DTC shopping isn't just the latest fad — it's the future. The current process is quick and easy, allowing you to browse and select pieces of furniture in a fraction of the time. What's more, direct-to-consumer furniture brands generally offer furniture that's far easier to assemble than more traditional pieces, and much more customizable too.
Home of Cozy is the best place to find trustworthy home furniture reviews. You can learn more about modern home furniture from our other posts, including The Best Sofas of 2021, The Best Time To Buy Living Room Furniture, and How to Clean Any Couch.