Take a moment to visualize your dream sofa. Really immerse yourself in the experience, getting a sense of its gorgeous hardwood frame and stunning upholstery woven around soft, cozy cushions. Sink into those cushions as you doze off in a state of bliss, then wake in excitement to the sound of friends and family congregating around for a night of joy and laughter. Luxury sofas are always there — for moments of rest, upbeat get-togethers, and everything in between — ready to capture the true essence of what it means to have a home.
Although there's nothing wrong with budget living room furniture (heck, I love a good bargain), luxury sofas offer more than a place to sit. They provide a uniquely stylish, comfortable, and sturdy foundation for your family's adventures, one that you'll be proud to use and display for years to come. I spent dozens of hours reviewing high-quality sofas, putting each piece of furniture through a comprehensive testing process to see which ones meet Home of Cozy's strict criteria. This review showcases the very best of my findings.
How We Chose Our Favorite Luxury Couches
The team at Home of Cozy has spent years researching and writing about luxury couches. This includes loveseats, sectionals, sofa beds, and more, with upholstery ranging from polyester to velvet to leather. Each sofa we review receives hours of research and (when possible) physical testing to determine how it measures up in the following categories:
1. Comfort – As the most important attribute of a luxury sofa, we carefully check firmness and fit to ensure a relaxed yet appropriately supportive seat.
2. Style – Luxury couches should be aesthetically pleasing, with tried-and-true designs atop personalizable frames and fabrics.
3. Durability – If you're going to shell out thousands for a sofa, it must last longer than the baseline 7-year lifespan. That means incorporating a sturdy wood frame (ideally hardwood) backed by a reliable warranty.
4. Sustainability – It's 2023, and an eco-friendly design is no longer optional. Every sofa should boast sustainably-sourced materials and come from a company with environmentally responsible business practices.
5. Customer Service – When buying high-end sofas, you deserve white-glove treatment that's responsive and there to handle any issues.
The sofas on this list received top marks in most, if not all, of these categories. They represent the best luxury sofas your hard-earned money can buy — heirloom-quality pieces that will look and function beautifully in your home today and for years to come.
Our Picks For The 10 Best Luxury Sofas Of 2023
Brand
Best For
1

Editor's Choice

Overall
Shop Now
2

Sectionals
Shop Now
3

Loveseat
Shop Now
4

Customization
Shop Now
5

Sofa bed
Shop Now
6

Mid-Century Modern
Shop Now
7

Chesterfield
Shop Now
8

Leather
Shop Now
9

Velvet
Shop Now
10

Armchair
Shop Now
1
Editor's Choice
2
3
4
5
6
Best For:
Mid-Century Modern
7
8
9
10
Price: $2,245+
Dimensions: W90″ x H34″ x D61″
Frame material: Solid maple and poplar kiln-dried wood
Upholstery options: Polyester and leather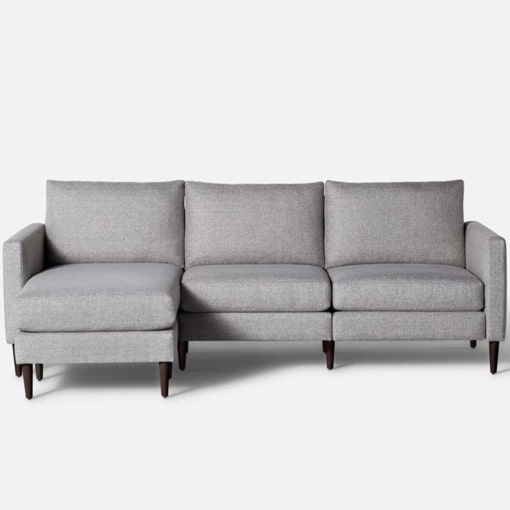 What I Love About This AllForm Sofa
It's no secret that I'm a massive Allform enthusiast. I love the company's Three-Seater Sofa so much, I talk about it to everyone who'll listen (it's become such a habit, my own partner has started tuning me out). The reason for my praise is simple: Allform's Three-Seater Sofa is unbelievably comfortable, stylish, and full of minimalistic charm. All the while, my testing has shown that its eco-friendly maple and poplar construction is durable enough to last a lifetime (there's not even an ounce of sinkage or sliding, even when filled to capacity).
In terms of upholstery, you can get Allform's Three-Seater in polyester or top-grain leather. I enjoy the look and feel of both options, but I'm personally a fan of the silky-smooth smoky leather variant. If that's not your vibe, no problem — the sofa comes in eight other color options, ensuring the perfect match for any modern design.
Like the rest of Allform's furniture, the modular Three-Seater ships in a handful of boxes that arrive within seven to 14 days from checkout (Home of Cozy's order arrived within ten days). Once you've got it in your possession, it's time for assembly. Luckily, the process couldn't be more straightforward. Everything pieces together in under an hour, courtesy of the company's patent-pending and tool-free latching system that snaps right into place.
What I Didn't Love
Of course, no product is perfect, and I have encountered a handful of minor quirks with the Allform Three-Seater.
Unlike other luxurious sofa brands, Allform doesn't offer white-glove delivery and setup. Yes, assembly is simple enough to do on your own, but I'd still like to see a done-for-you option. Other than that, the only issue I have is the lack of an ottoman. The Three-Seater does come with a chaise, but a matching ottoman costs extra. A minor nitpick, but something that's affected my experience, nonetheless.
Price: $2,959+
Dimensions: W111.4″ x H26.7″ x D87.5″
Frame material: Solid wood
Upholstery options: Polyester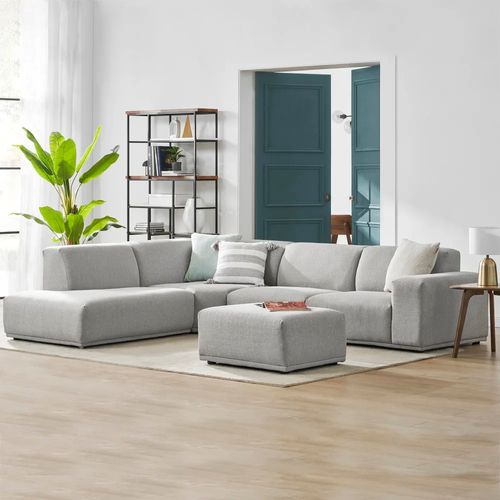 What I Love About This Castlery Sofa
The Castlery Todd Extended Sectional boasts one of my favorite sofa designs. But I didn't always feel that way. You see, I generally prefer a few curves and rounded edges in my furniture — both of which the Todd lacks. But the sofa's blocky aesthetic pairs extraordinarily well with its minimal, low-profile frame, and I couldn't help but fall in love as we became more intimate.
I'm also in love with the physical feel of Castlery's webbing suspension and spring-meets-foam cushion filling. Although I'm no Goldilocks, I'd say it's the perfect density — neither too firm nor too soft, but just right.
What I Didn't Love
Although I love the Todd corner sofa's low-profile design, the 14″ seat is arguably too low. My legs don't sit flush with the bottom cushion when sitting upright; instead, they're angled ever-so-slightly upwards. While this isn't hugely detrimental to comfort, it is noticeable and may eventually wear on couch potatoes who spend a lot of time watching TV or playing games.
Price: $3,630+
Dimensions: W88″ x H37.5″ x D40″
Frame material: Wood and stainless steel
Upholstery options: Leather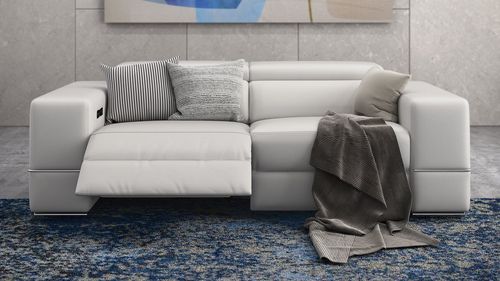 What I Love About This Zuri Sofa
The Zuri is a vacation for your body, with smooth top-grain leather, plush cushions, and a reclining seat that melts away stress.
Unlike most recliner arm sofas, there's no jerking movement with the Zuri. It literally glides into place, complements of a quiet motor assembly built into the wooden frame. At the same time, both the footrest and headrest adjust independently, providing the perfect sitting position for my moderate 5'9 frame.
Concerning aesthetics, I love how this upholstered sofa's top-grain leather and stainless steel accents exude upscale charm, as though they came straight out of an NYC penthouse. While I was initially worried it might look too gaudy, that turned out to be a non-issue. In my experience, the Zuri two-seater fits just as well in the upscale living room as it does the home theater or even the guest bedroom.
What I Didn't Love
I dislike moving the 273-pound frame. It's big, bulky, and (if you're not careful) a safety hazard. That said, it's hard for me to complain when the heavy internal motor and sturdy frame are responsible for much of its appeal.
The only other problem I have is the height of the footrest. I measured, and it sits about a foot off the ground when fully extended. Although plenty comfortable, I do wish I could bring it higher in some circumstances.
Price: $3,388+
Dimensions: Starting at W65″ x H33″ x D37″
Frame material: Wood
Upholstery options: Polyester and leather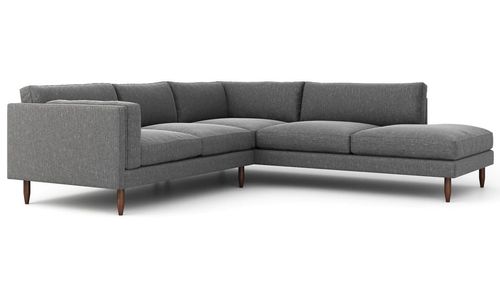 What I Love About This BenchMade Modern Sofa
The Skinny Fat blends the best elements of mid-century sofas with the plush, oversized cushions of more modern, chunky variants. These timeless aesthetic elements don't only deliver style; they also deliver one of the most relaxed, cozy sitting experiences I've ever had. Yes, ever.
I also appreciate how customizable the solid wood frame is. You can get the Skinny Fat sofa in anywhere from 65″ to 100″ lengths, with roughly 5″ increments between each option. With that said, I've found 80″ is the sweet spot. It perfectly fits my mid-sized home while providing ample room for three. The 80″ variant also offers enough space between armrests to lie down, and it's surprisingly comfy when paired with the 40″ depth upgrade.
What I Didn't Love
The Skinny Fat's cushions start to sink and sag a little faster than I'd like. It only takes a few weeks before things start to lose the oomph they once had. While a little fluffing and adjustment can help the process, there's nothing short of re-stuffing that I imagine would entirely fix the issue.
Price: $4,504+
Dimensions: W91″ x H33″ x D41″
Frame material: Wood and metal
Upholstery options: Polyester and leather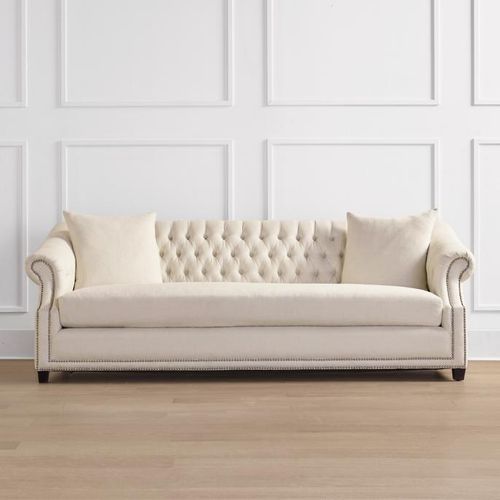 What I Love About This Frontgate Sofa
The Frontgate Wendover is so glam and luxurious, it looks like it came straight from the queen's palace! I wouldn't be surprised, as it's definitely comfortable enough for royalty. The seamless back and bottom cushions leave zero gaps, making the entire 91″ stretch of sofa supremely cozy and suitable for stretching out. And that's not even accounting for the hidden futon sleeper, which rests underneath the cushions and pulls out to reveal a thick, firm mattress that embraces your body like a cocoon. As someone with back pain, I appreciate how much thought went into getting this mattress right.
Another thing I love is Frontgate's support. The company's customer service is on-point throughout the buying process, providing timely updates and answers to every question. A delightful experience.
What I Didn't Love
Since we're discussing luxury and designer sofas, I do expect prices to be on the higher side. However, the Wendover starts at around $5,000 and reaches upwards of $10,000, depending on the material and colors. It's definitely worth it, but that's still a little rich for my blood.
Price: $1,360+
Dimensions: W87.4" x H33.1" x D34"
Frame material: Kiln-dried hardwood
Upholstery options: Polyester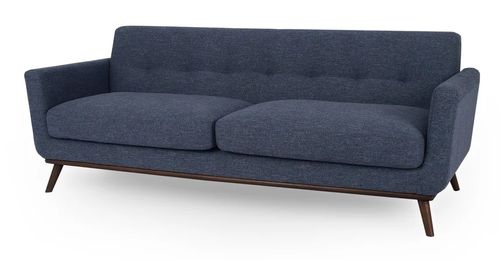 What I Love About This Kardiel Sofa
White glove delivery is luxury at its finest, and it's one of my favorite things about ordering from Perigold. As soon as you purchase a Jackie Classic sofa, the company's reps will contact you to schedule a time for delivery. Once they arrive with your expensive couch, they'll bring it in and set it up anywhere in your house — for free. You don't even have to lift a finger!
If Perigold's service and price don't win you over (they should), the look and feel of the Jackie Classic will. I simply adore the gorgeous mid-century classic design wrapped in delightfully fuzzy polyester fabric. The upholstery feels oh-so-cozy and refined atop the surprisingly firm feather-meets-foam cushions.
Considering how much effort went into the aesthetics of this stunning fabric sofa, I was initially concerned about durability. Luckily, the seat and back cushions feel incredibly sturdy across the kiln-dried hardwood frame, supporting my weight without budging an inch.
What I Didn't Love
Unfortunately, the feather cushions are a little on the firmer side. This isn't a major issue (I generally appreciate a little extra support), but it isn't as comfortable over extended hours of use. With that in mind, I'd consider the Jackie Classic more of an occasional cocktail and lounger sofa than a daily driver.
You should also be aware that the sofa sells out fast. It took me many tries to find the one in my favorite color (Bliss) while it was in stock. You may want to join the waitlist for notification.
Price: $2,636+
Dimensions: W95" x H40.5" x D30.5"
Frame material: Solid and engineered pine wood
Upholstery options: Leather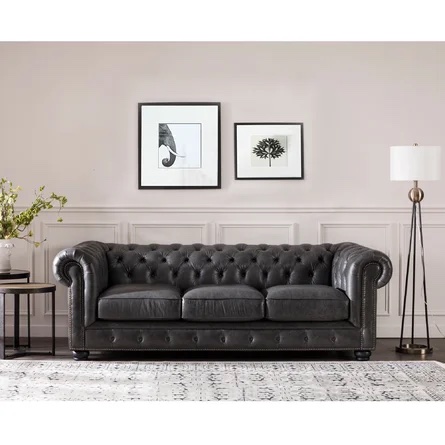 What I Love About This Birch Lane Sofa
Chesterfields have been around for hundreds of years, providing a timeless aesthetic that makes any room feel upscale and expensive. The Adelbert by Birch Lane embodies this legacy of excellence, providing an equally chunky yet elegant aesthetic. The little tufts and metal accents give a lovely touch of whimsy, and I've found them to be quite well done, with exquisite attention to detail and top-notch craftsmanship.
While I appreciate all the different leather color variants Birch Lane offers, it's the chocolate-colored variant that has my heart. It looks even better in person than on Birch Lane's website, with rich tones that blend well in both rustic and modern settings.
Of course, none of that matters if it's not comfortable. Fortunately, the Adelbert's oversized down-filled seat and backrest cushions provide the perfect density for lazy afternoons and relaxing weekday evenings.
What I Didn't Love
The Adelbert doesn't fit in smaller spaces. Not just because of its physical size, but its presence dominates the room, and it needs room to breathe.
Something else to consider is that the back of the sofa features synthetic polyurethane, not genuine leather. It may be visually similar, but polyurethane isn't as durable or luxurious as its expensive counterpart. While I haven't had the sofa long enough to experience any issues myself, polyurethane is notoriously prone to wear and tear over time.
Price: $2,495+
Dimensions: W86″ x H33″ x D35″
Frame material: Baltic Birch
Upholstery options: Top-grain Italian leather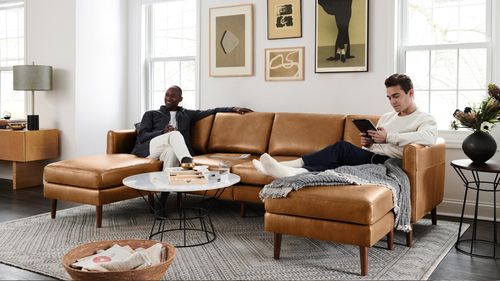 What I Love About This Burrow Sofa
Nothing says luxury better than top-grain Italian leather. It's a sophisticated material that feels extraordinarily sleek and modern, with just a touch of rustic traditionalism sprinkled on top. Although this unique leather works well on most sofas, it fits particularly well on the mid-century modern Arch Nomad by Burrow.
While I prefer my Arch Nomad with a Slate gray wrap, I appreciate how Burrow offers three color options to suit different tastes. The company also offers six different color finishes across wood or metal legs. Wood provides a homey vibe that fits well in my space, but I can envision the metal variant looking spectacular in an artist loft or even a business of sorts. Of course, I had to go with the Slope-style armrest configuration for myself. They sit slightly lower than the Arch and Block armrests, providing the perfect height for my arms to rest while watching the tube.
The Baltic Birch frame and steel hardware feel perfectly robust, with absolutely no shaking or wobble, and the thick seat cushions sink just far enough for comfort without sacrificing support.
What I Didn't Love
Assembly is trickier than the instructions suggest, especially attaching the armrests on Step 4. If it's not too much of a hassle, I'd encourage you to bring a friend along for the journey. However, you may want to schedule your friend on the day your sofa arrives, as Burrow is prone to missing its delivery windows.
Price: $4,725+
Dimensions: W94″ x H32″ x D52″
Frame material: Wood
Upholstery options: Polyester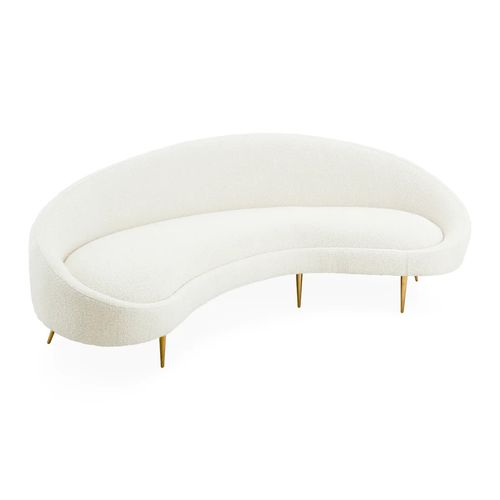 What I Love About This AllForm Sofa
The Ether Curved Seat Sofa looks like a crescent moon, with an elegant arcing frame that comes in various shades of gray. For that reason, it matches most living room schemes, including my own (to my great delight). In my experience with the Ether, I've found that it works best in the center of the room, floating out in space with little else to distract from its stunning craftsmanship. However, I've also tested in a corner, and the curving form factor works well there, too, balancing the room's hard-line angles.
Although not mid-century in the traditional sense, the design feels very 1950s. It boasts a seductive charm that almost reminds me of Marilyn Monroe. With that in mind, I think it would make the perfect statement piece in any artsy studio or upscale living room needing a feminine touch. It's also more than comfortable enough for such a space, as the cushions feel thick and well-padded without any sinkage. Meanwhile, the velvet fabric is ideal for snuggling up and relaxing, alone or with a partner.
What I Didn't Love
At around $5,000 shipped, there's no getting past how expensive the Ether is. That said, its aesthetics and craftsmanship do justify the price tag. I just wish that there were more color options. Grays make sense for this piece, but a vibrant velvet or silver leg option would send me over the moon.
Price: $3,450+
Dimensions: W38" x H29" x D34"
Frame material: Kiln-dried hardwood
Upholstery options: Polyester, leather, wool, and mohair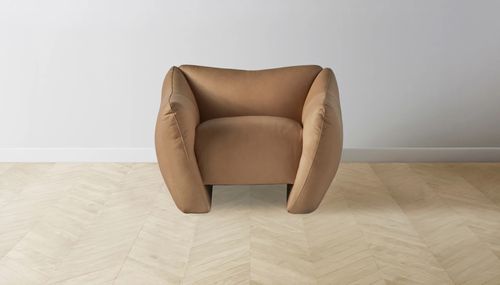 What I Love About This Maiden Home
I adore Maiden Home's furniture. Every single piece is upscale, classy, and guaranteed to last a lifetime (literally). The Bond Chair is no exception, featuring a strong-as-steel hardwood frame, down-filled cushions, and your choice of four luxury fabric finishes. Everything about it looks and feels like a million bucks, making an incredible statement piece unlike any other chair I've encountered.
My favorite thing about Maiden Home is that everything is made to order. You can see minor variations in each Bond Chair you buy, with minutely mismatched stitches or slight color variations. I love this. It reminds me that these pieces are crafted here in the USA and infused with love.
Maiden Home's customer support only reinforces this feeling of care and community. They've provided me with lightning-quick answers to questions and have always been there to support and enhance my shopping experience.
What I Didn't Love
The Bond Chair doesn't work in every space. It boasts a unique and slightly pointed design that requires softer home decor, otherwise it starts to look overbearing.
Of course, it can only hold one person. To get the full functionality of a sofa, you'd have to buy multiple, which would set you back over $10,000 — more than any other option I tested.
Luxury Sofa FAQs
If you'd like to learn more about high-end couches, here's a quick Q&A answering some of the web's most frequently asked questions.
1. How much does a high-end sofa cost?
High-end sofas range in price from a few thousand to tens of thousands of dollars. If you're in the market for a new luxury sofa, you should consider $2,000 a good starting point (with a few rare exceptions). Do keep in mind, however, that additional money can provide a bigger, comfier, and higher-quality couch, as well as a better customer experience.
2. What are the best luxury sofas?
The best luxury sofa is the one that best fits your family and living space. If you're looking for high-quality options, the team at Home of Cozy highly recommends the AllForm Three-Seater, the Castlery Todd, and the Zuri Luxor.
3. How can you tell if a sofa is high quality?
High-quality sofas incorporate solid wood frames, premium leather or performance fabrics, and meticulous craftsmanship. You can generally see the attention to detail within the joints and stitching when it comes to high-quality sofas. You can also check the tag, as brands like Allform, Burrow, and Maiden Home have a reputation for creating high-quality sofas ideal for most living spaces.