Nugget Couch Price, Durability, Pros and Cons
The Nugget Couch is part-furniture and part-toy. This play couch is customizable and can be used for sitting, sleeping, fort-building or anything else the kiddos can dream up.
Co-founders David Baron and Ryan Cocca dreamed up the design for The Nugget when they were still college students, and growing tired of the small, uncomfortable, furniture typically sold to college students.
In 2015, the guys opened a Kickstarter to raise funding to start production of the foam couches. They reached their original goal of $20k in a single day. They then increased their goal to $60k and at the end of the day, raised nearly $85k to cover the tools needed to prepare and pack The Nugget's dynamic foam pieces.
Today the company is headquartered Hillsborough, North Carolina and, by all accounts, is doing quite well.
Now, let's get into what we came here to do: review the Nugget Couch.
What Materials Is The Nugget Couch Made From?
The kids' couch is super simple, with just four removable open-cell polyurethane foam pieces wrapped in a plush microsuede fabric. The pieces consist of two seat cushions: one sturdy base cushion and one soft cushion, and two supportive triangle pillows.
Pros and Cons of The Nugget Couch
Pros
Great fit for a kids playroom
Great for Occupational Therapy and Gross Motor Skills
Low-VOC CertiPur Certified Foam
Removable/Replaceable microsuede Nugget cover
Washable cover
No sharp corners
30-day trial
15 color fabric options
Free shipping in the U.S.
Cons
Tiny and not practical for a large living room
Frequently on backorder due to demand
Only one couch design to choose from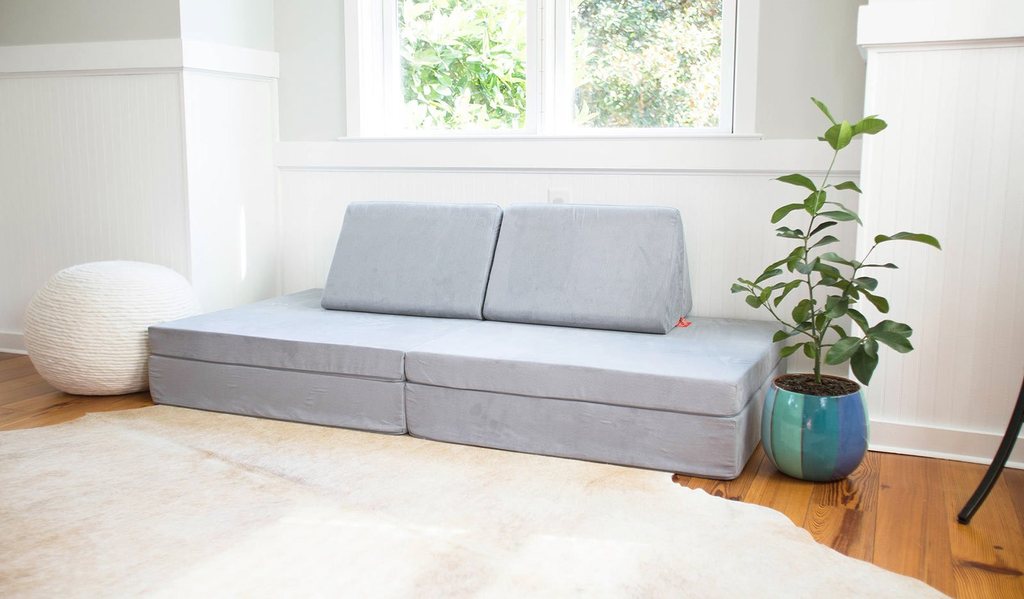 Nugget Couch Frequently Asked Questions
How much are Nugget Couches?
Nugget couches currently cost $229, with financing available. You can also buy additional fabric covers for your Nugget for $99 apiece.
What color or fabric options are available?
The Nugget comes in over 15 unique shades. Koala (a calm, cool gray) and Sweetpea (a blush pink) are some of the most popular among the color choices.
How long does it take for Nugget to deliver sofas?
Nugget couches ordered after January 24, 2022, will ship within 4 weeks of purchase. They send out shipping confirmations immediately upon your item leaving their facility.  
How long do Nugget sofas typically last?
If kept in good condition and used reasonably, your sofa can last several years. "Used reasonably" may not apply if the couch is used as intended, though. The quality of materials and production methods matter as well.
In the case of The Nugget, the team's high-quality production standards ensure that zippers, seams, and handles should stand up to everyday use. Additionally, each Nugget sofa comes with a limited one-year warranty that covers manufacturing defects that functionally impair the look or use of the couch.
What age ranges are recommended for this product?
The Nugget is meant for children ages 6 months to 5 years old.
It is designed for imaginative play and DIY adventures! Whether it's a magic carpet ride, a pirate ship voyage, a rocket ship to outer space- the only limit is your child's' playtime imagination.
How does The Nugget compare to the Foamnasium Blocksy and other alternatives?
For those that may be looking for an alternative to the Nugget due to its long wait times for shipping, there are some alternatives you can consider.
The Foamnasium Blocksy Kids Couch ($229) is very close to the Nugget, also four pieces of removable pieces and currently the same price as The Nugget.
The Jaxx Zipline Kids Modular Loveseat ($164) has a slightly different design- three pieces, a base couch, and two seat cushions which can be customized, but with less versatility than the Blocksy and Nugget.
The LUCID Folding Sofa and Play Mat (Starting at $109) is a one-piece, fold-up mat and unline the other alternatives, comes in bed sizes: Twin, Twin XL, Full XL, Queen, and King.
The Best Overall Sofas of 2023
To help you find the best deep seat sofa, I tested individual models from over 23 different brands. These are the best new sofas with extra deep seats that balance the best in design, price, sustainability, and durability.
Real Nugget Couch Customer Reviews
Positive Reviews
"My kids have used the Nugget every single day for months." – Olivia P.
"I really didn't think it'd get much use other than the couch. Boy was I wrong." – Kelly T.
"This thing is life-changing… Don't second guess it. Buy one!" – Jonathan B.
"Loved by my 17-month as much as the 11-year-old." – Allison H.
"One of the best 'toys' we've ever had." – Mellie M.
Negative Reviews
"The blue Nugget stained all my furniture and the stain won't come out." -Anthony P.
"My Nugget hasn't arrived and I've contacted customer service and have not heard back and it's been over a week." – Lauren A.
"The lottery is not the best idea. For parents of multiple children etc., there are people who sign up with multiple accounts, etc." – Darcel D.
"Our families' entire clothes got stained when playing on the nugget couch. I wished you would have added some instructions to wash the cover first before using. It was misleading for you to provide instructions to play after unboxing instead." – Quinn L.
"I have not received my nugget. It says it has been delivered and FedEx tells me that nugget did not give them the paperwork to get through customs into Canada so they returned it to Nugget. Despite multiple emails to nugget 5 days ago I have not had any correspondence about the situation. I am very disappointed in the customer service and I hope I will get an update on my order at some point!" -Mark A.