For most couples, a queen-size mattress is the way to go. Smaller sizes are too narrow to comfortably fit two sleepers, while king-size beds are pricey and take up too much space to comfortably fit in most bedrooms.
In the sections below, we'll step through the factors to consider while shopping online for a queen-size mattress. Then, we'll review Home of Cozy's top picks for the best queen-size mattresses of 2023. Our picks cover a range of mattress types, price points, and comfort preferences.
Best Queen Size Mattress
Brand
Best For
1

Editor's Choice

Overall
Shop Now
2

Hybrid
Shop Now
3

For the Money
Shop Now
4

Luxury
Shop Now
5

Couples
Shop Now
6

Organic
Shop Now
7

Plus Size
Shop Now
8

Firm
Shop Now
9

Budget
Shop Now
1
Editor's Choice
2
3
4
5
6
7
8
9
Shopping for a Queen Mattress: Factors to Consider
Dimensions
Before purchasing a new bed, always take measurements in your bedroom and doorways to make sure that there's enough space. A standard queen-size mattress measures 60" wide by 80" long. Some brands offer special sizes, such as an extra-wide Olympic queen (66" x 80") or an RV-friendly short queen (60" x 74").
Thickness is not related to mattress size classifications, but varies significantly by model. Most mattresses are between 8" and 14" thick.
Mattress Types
When shopping for a new bed, it's helpful to have a basic understanding of how mattresses are constructed and classified. The most common mattress types include:
Innerspring: a mattress with a steel core and a thin padding layer, usually placed atop a box spring
Foam: memory foam or polyfoam comfort layers supported by a high-density foam base
Hybrid: a multi-layered mattress with a coil core and thick layers of foam
Latex: layers of synthetic or natural latex
Traditional innerspring mattresses are becoming less common. Most mattresses sold online are either foam, hybrid, or latex. All-foam mattresses are often (but not always) softer and lower priced. Hybrid beds come in a wide range of firmness levels and are great for all sleep styles. Latex is considered a luxury material, and latex mattresses are usually high-quality and high-priced.
Sleep Style and Comfort Preferences
Sleeping position is an important consideration when shopping for a new mattress. Side sleepers tend to prefer softer beds that allow pressure relief around the hips and shoulders. Meanwhile, back and stomach sleepers generally require a firmer surface to prevent sinking around the hips that traps the spine in an unnatural curve.
Body type is another factor to keep in mind. Heavy-bodied sleepers require supportive mattresses and usually prefer extra firmness for lumbar support. Lighter-bodied sleepers often like softer mattresses, because their bodies don't exert enough downward pressure to experience pressure relief on a firm mattress.
Firmness, Edge Support, and Motion Isolation
You might want a "firm" mattress or a "soft" mattress, but what do those words really mean? It's especially tricky to find the right feel when you're shopping online and can't test out the bed before clicking "buy."
To help sort out the confusion, online bedding retailers use this unofficial 1–10 firmness scale:
1/10: an extremely soft mattress that permits deep sinking
10/10: maximum firmness, allowing no compression or contouring
6.5/10: the industry standard for a medium-firm mattress
This rating system isn't an exact science, but it's useful. To get a good idea of a bed's firmness, check the firmness rating provided by the manufacturer and also read professional product reviews (like those below) along with the user reviews that retailers publish on their websites.
Along with firmness, edge support and motion isolation are key comfort factors. Edge support refers to how well a bed resists sagging when you lie or sit on its perimeter. Motion isolation means the limit of motion transfer, i.e. a mattress's ability to absorb one sleeper's movement without bothering the partner on the other side of the bed.
Budget
Accounting for nearly half of all mattress sales in the US, the queen size is in high demand. In the fiercely competitive online bedding industry, queens often offer the best value. Typically, a queen is only slightly more expensive than a full size, whereas there's a big price jump between a queen and a king.
The price range for the mattresses featured below is $393–$1,699.
Along with price, there are two buyer protections to consider when buying a mattress online: warranty and sleep trial. Most brands offer at least a 10-year warranty that covers manufacturing defects. A sleep trial, on the other hand, offers the chance to return a mattress even if it's not defective. During a sleep trial period (usually 30–120 days) you can return a mattress with no questions asked if it doesn't meet your needs.
Our Top Picks for the Best Queen-Size Mattress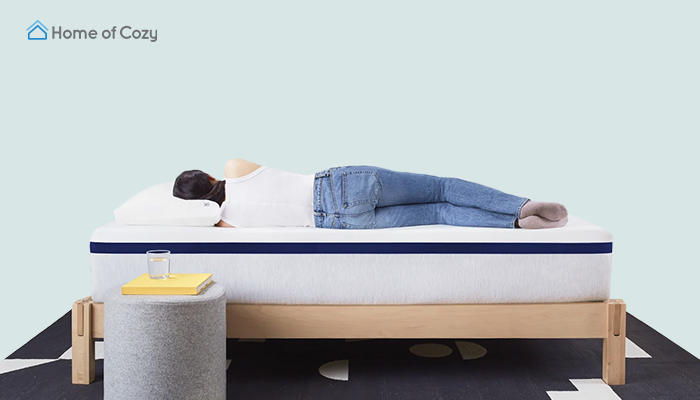 Price: $1,099
Mattress type: Hybrid
Firmness: 5.5/10
Trial length: 100 nights
Warranty: 10 years
Why I Picked This Helix Mattress
Helix offers some of the best values in the online mattress industry, especially at mid-range prices. Their mattresses are assembled in Arizona with materials produced by Helix. The brand is fiberglass-free and earns CertiPUR-US and GREENGUARD Gold certifications for the use of safe and clean materials.
The Midnight is Helix's top seller. You won't find a better mattress at a lower price.
What I Loved
The Helix Midnight's hybrid construction includes a core layer with hundreds of individually wrapped steel coils. The core is topped with two layers of Helix Responsive Foam and a comfort layer of Memory Plus Foam, Helix's special pressure-relieving blend.
This mattress is on the softer end of the medium-firm range, ideal for side sleepers and those with light body weights. It's not so soft that you'll feel stuck, but there's a significant dose of contouring to provide pressure relief around the hips and shoulders.
The Midnight is also a top choice for couples, thanks to excellent edge support and motion isolation.
What I Didn't Love
The Midnight's firmness level hits the sweet spot for many sleepers. However, this mattress isn't recommended for stomach sleepers or plus-size individuals who require extra firmness.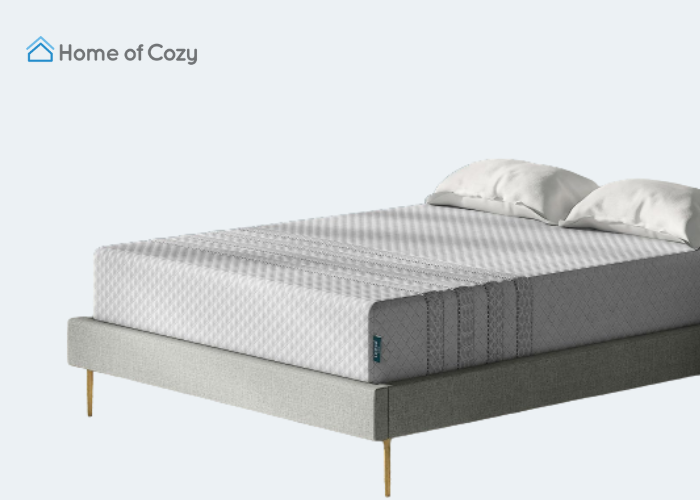 Price: $1,699
Mattress type: Hybrid
Firmness: 7/10
Trial length: 100 nights
Warranty: 10 years
Why I Picked This Leesa Mattress
Leesa beds are known for their heavenly foam feel, although the brand has expanded its inventory to meet a range of comfort preferences. Leesa uses CeriPUR-US-certified foam and the company donates one mattress to a family in need for every 10 sold.
What I Loved
Leesa's Sapira Hybrid is a 6.5/10 on the firmness scale, offering a nice balance of contouring and support. The construction includes three separate foam comfort layers, supported by a coil core that's made up of more than 1,000 active response pocketed coils.
When you test out this mattress, the high-quality construction is evident. It's slightly bouncy, but also provides just enough contouring for combination sleepers like myself who move around a lot during the night. The way the mattress gently cushions without sinking helps provide excellent motion isolation, a major plus for couples.
What I Didn't Love
Many new mattresses release an odor when they're removed from packaging. This is known as "off-gassing". Off-gassing odor is harmless and typically disappears after a few hours or a day or two. Compared to other brands, Leesa mattresses tend to off-gas more intensely. If you're sensitive to odors, be prepared to thoroughly air out your mattress after unboxing it.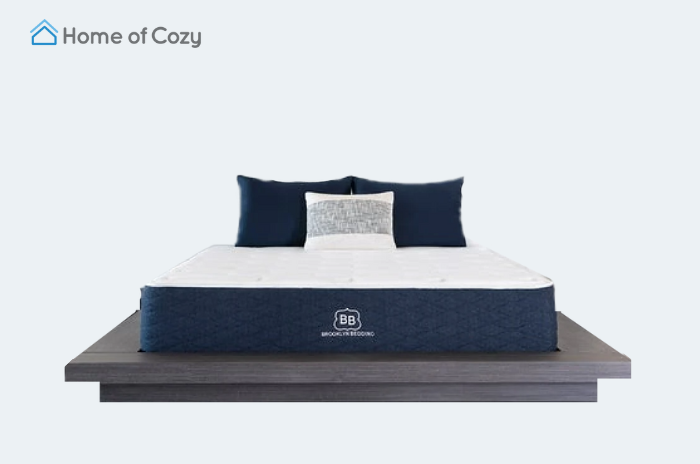 Price: $1,299
Mattress type: Hybrid
Firmness: Available in soft (3/10), medium (5/10), or firm (7/10)
Trial length: 120 nights
Warranty: 10 years
Why I Picked This Brooklyn Bedding Mattress
Brooklyn Bedding has been a leader in the boxed mattress industry since 2008. They offer one of the most extensive selections of mattresses, along with some of the industry's most enticing values.
What I Loved
The Signature Hybrid stacks up well against the most expensive luxury mattresses, but it's available for a mid-range price. It's available in soft, medium, or firm, rated 3/10, 5/10, and 7/10 respectively for firmness. Each option uses the same materials, but they're arranged in different proportions to offer these three firmness levels.
Over 12" thick in total, this mattress features an 8" coil core and thick comfort layers. Regardless of which firmness option you select, this bed is strong and supportive and provides a responsive, buoyant feel.
What I Didn't Love
This mattress has over 8,000 five-star reviews. Among the customers who aren't completely satisfied, a common complaint is that the bed doesn't do a good enough job of releasing heat. For hot sleepers, Brooklyn Bedding offers a cooling "cloud pillow top" cover as an optional add-on.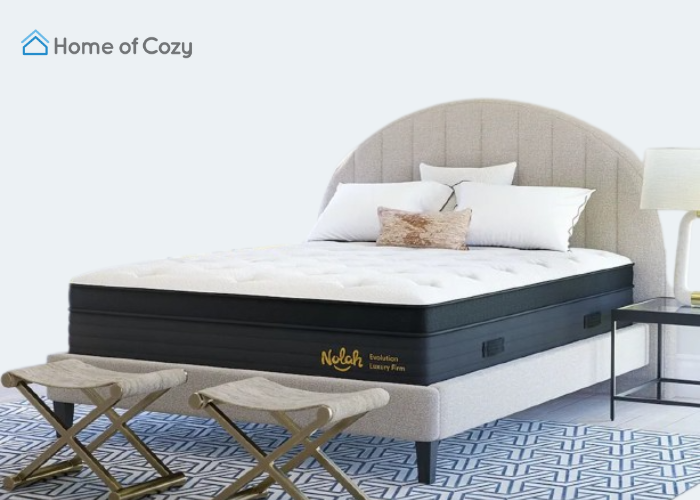 Price: $1,699
Mattress type: Hybrid
Firmness: Available in plush (4.5/10), luxury firm (6.5/10), or firm (7.5/10)
Trial length: 120 nights
Warranty: Lifetime
Why I Picked This Nolah Mattress
The Nolah brand makes a number of impressive high-end mattresses, and the Evolution 15" is the best of the bunch. This luxury hybrid is thick, customizable, and generally regarded as one of the best hybrid mattresses on the market.
What I Loved
With the Evolution 15", Nolah seems determined to exceed expectations. Most mattresses come with a 100-night sleep trial and a 10-year warranty; this one offers a 120-night trial and a lifetime warranty. Most luxury mattresses are around 12" thick; this one is 15".
More important than these numbers is the fact that this mattress feels absolutely amazing. It's a jumbo-thick hybrid with a zoned coil core. That means the center of the bed is slightly firmer to support the hips, while the upper third provides a bit more pressure relief for the shoulders and head.
Since this mattress is supportive enough for heavy-bodied sleepers and comes in three different firmness options, it's one of the few models that can truly be recommended for all sleepers.
What I Didn't Love
This is a high-end mattress and it's priced accordingly. Many shoppers won't be willing or able to shell out $1,699 for their queen mattress.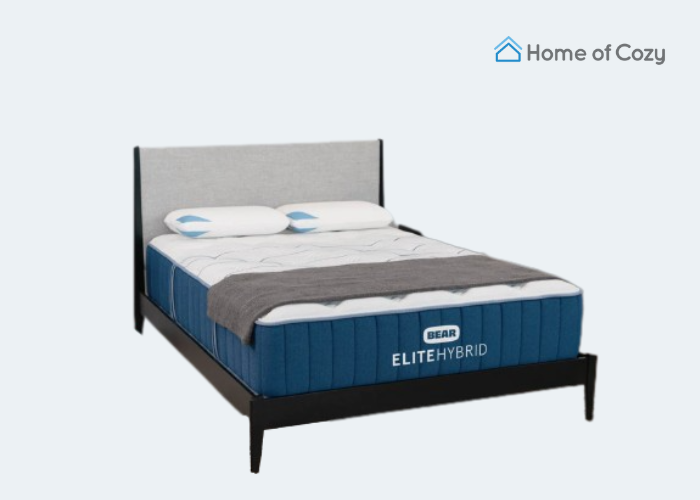 Price: $1,373
Mattress type: Hybrid
Firmness: available in soft (5/10), medium (6/10), or firm (7/10)
Trial length: 120 nights
Warranty: Lifetime
Why I Picked This Bear Mattress
Bear is a lesser-known brand, but they make high-quality mattresses at affordable prices. The Elite Hybrid is Bear's most advanced and luxurious design.
What I Loved
Considering its 14" construction, zoned support system, and advanced temperature regulation features, the Bear Elite Hybrid is a bargain at its mid-range price. This is a luxury mattress that's suitable for all body types and sleep styles.
I selected this model as my "best for couples" mattress for several reasons. First, shoppers can choose from three firmness options: soft, medium, or firm. All three options are actually within the medium-firm range, allowing couples to choose the option that most precisely suits their needs.
Second, thanks to an extra thick coil core and multiple layers of comfort foam, this mattress does an excellent job of isolating motion. The surface cushions but doesn't sink down, and movement on one side of the bed has little to no effect on the other side.
Finally, it's important for couples to have a bed that doesn't overheat, and the Bear Elite Hybrid excels in this area. The thick coil core allows plenty of airflow and the comfort layers are designed to release heat. The memory foam layer contains a copper infusion to wick away heat, while the hand-quilted cushion cover is made with Celliant fiber and phase change material. These are breathable materials that release body heat in order to maintain a neutral surface temperature throughout the night.
What I Didn't Love
Note that although the Bear Elite Hybrid comes in three different firmness options, they're all within the medium-firm range. If you need a very firm or very soft mattress, this one won't meet your needs.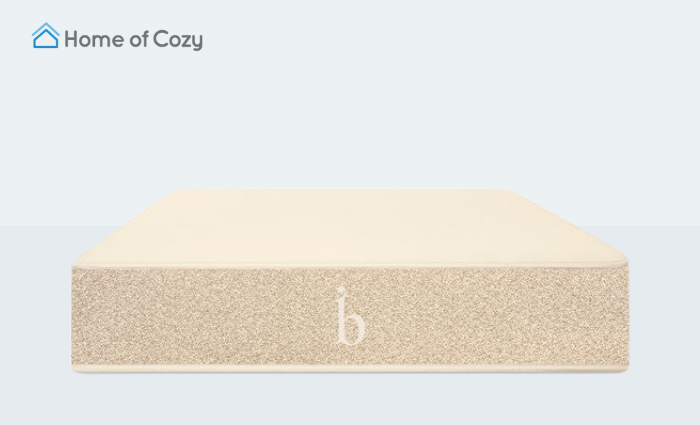 Price: $1,699
Mattress type: Hybrid
Firmness: 6.5/10
Trial length: 100 nights
Warranty: 25 years
Why I Picked This Birch Mattress
Birch is the go-to brand for shoppers who prioritize the use of materials that are organic, safe, and hypoallergenic. The Birch Natural is a luxurious medium-firm mattress that features a thick layer of natural Talalay latex.
What I Loved
The Birch Natural is made with natural Talalay latex, a luxury material that provides a heavenly blend of comfort and support. This bed's unique construction also includes an organic wool base layer, individually wrapped coils, and a breathable organic cotton cover. Birch's certifications for clean and safe materials include the Global Organic Textile Standard (GOT, for organic cotton production standards) and GREENGUARD Gold (for chemical emissions avoidance).
The Birch Natural offers a medium-firm feel, but many sleepers find latex to be both more supportive and more effective at relieving pressure.
An added benefit of all-natural materials: this product emits zero off-gassing odors.
What I Didn't Love
The Birch Natural is even with the Leesa Sapira Hybrid and the Nolah Evolution 15" as the priciest mattresses that we've included in this guide (all three are currently right at $1,699 after discounts). It's an incredible mattress—if you can afford it.
Best for Plus-Size Sleepers: Titan Plus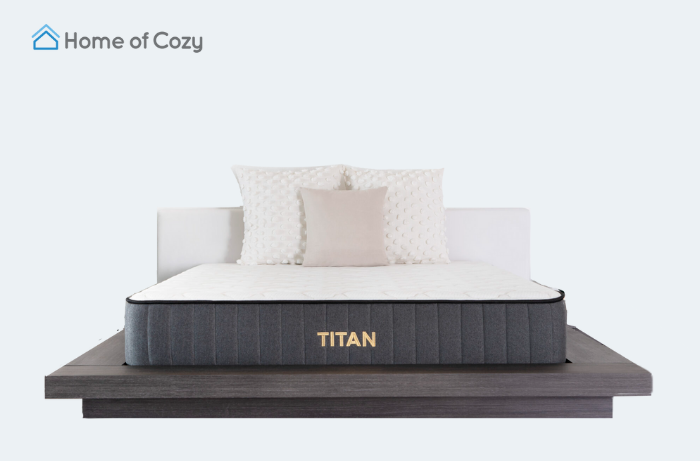 Price: $936.80
Mattress type: Hybrid
Firmness: 9/10
Trial length: 120 nights
Warranty: 10 years
Why I Picked This Titan Mattress
Nearly 30% of Americans weigh over 200 pounds, and plus-size sleepers require mattresses that are supportive and durable. Many plus-size sleepers also prefer extra firmness in order to avoid excessive compression.
Of the mattresses designed specifically for heavy-bodied sleepers, the Titan Plus is my top pick.
What I Loved
The Tital Plus is an 11" hybrid designed for sleepers who weigh more than 250 pounds. The core layer is made with 13.5 gauge steel coils and the mattress is built to support up to 1,000 pounds.
The feel is very firm, but several layers of foam provide a surface that contours slightly against pressure points. The foam is dense and strong and won't sink down under heavy pressure.
To prevent the overheating that many plus-size sleepers experience, the top foam layer is infused with cooling gel for wicking away body heat. A GlacioTex™ Cooling Cover is an optional add-on for sleepers who want maximum cooling.
What I Didn't Love
The Titan Plus was designed to meet the needs of plus-size bodies. If you have a low body weight, this mattress won't offer much pressure relief. This mattress would be suitable for mixed-weight couples if the lighter individual is a back or stomach sleeper, but a side sleeper with a light body weight would require a softer surface.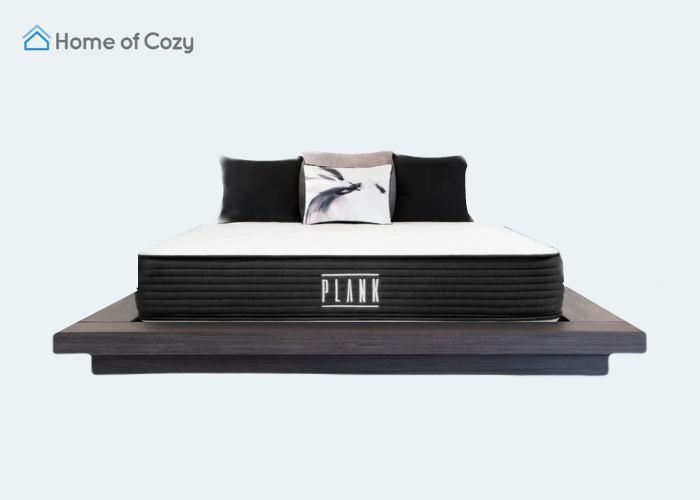 Price: $999
Mattress type: Foam
Firmness: flippable design with a firm side (8/10) and an ultra-firm side (10/10)
Trial length: 120 nights
Warranty: 10 years
Why I Picked This Plank Mattress
Plank (by Brooklyn Bedding) has been around for more than 25 years, but the brand has chosen to stick with a small product list in order to maintain high quality and consistency while catering specifically to customers who require firm mattresses.
There are just three Plank mattress designs: the Plank Firm, the Plank Firm Luxe, and the Plank Firm Natural. The original Plank Firm is the brand's flagship model, described as "the firmest mattress on the market."
What I Loved
The Plank Firm is flippable, offering the choice between a firm side and an ultra-firm side. Flippable mattresses are helpful when you're buying online and you aren't able to test out the feel before making a decision. With this model, you know you're getting a very firm mattress, but you have two options to choose from in order to get the perfect feel.
This bed is especially recommended for back sleepers and stomach sleepers who suffer from lower back pain. Often, this pain is caused by mattresses that compress too deeply around the hips, resulting in uncomfortable spinal alignment. Upgrading to an ultra-firm mattress is the best bet for resolving this issue.
What I Didn't Love
The word "firm" is right there in the name. If you aren't looking for an especially stiff mattress, then this isn't the one for you.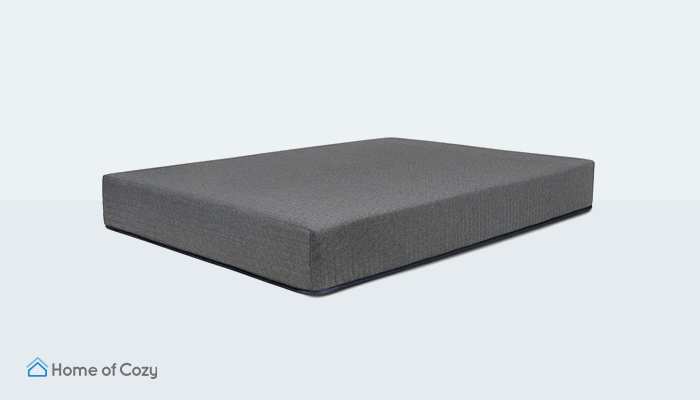 Price: $393–$711 (prices vary based on thickness options)
Mattress type: Foam
Firmness: Available in medium soft (4/10), medium (5/10), medium firm (6/10), firm medium (7/10), and firm (8/10)
Trial length: 120 nights
Warranty: 10 years
Why I Picked This Dreamfoam Mattress
The Dreamfoam Essential is a budget-friendly memory foam mattress that doesn't cut corners. Available in numerous size options, this bed is ideal for RVs, kids' beds, and guest rooms.
What I Loved
The Dreamfoam Essential is available in five different thickness options: 6", 8", 10", 12", or 14". The thicker the model, the lower the firmness rating. The thinner the model, the lower the price.
This budget-friendly mattress is also available in more than 20 different sizes, making it a popular option for RV beds with irregular dimensions.
The Dreamfoam Essential's construction is all foam, with a high-density foam foundation and a gel memory foam top layer.
What I Didn't Love
I wouldn't recommend the Dreamfoam Essential for sleepers with heavy body weights who require extra firmness and support. The thinner models of this mattress are firm but won't offer enough support. Meanwhile, the thicker models provide more support, but they're too soft.
Find the Perfect Mattress for Your Budget
If none of the products featured above seem like a perfect fit, then check out a few more Home of Cozy buying guides. If you're looking for a smaller price tag, try our list of the Best Mattresses Under $1k. Or, for the best of the best, have a look at the Best Mattresses of 2023.