Is it time to invest in a new bed? Why not consider a latex mattress? The latex mattress offers ultimate comfort and longevity. The support ensures optimum spinal alignment and pressure point relief so you'll enjoy improved sleep quality. The exceptional durability of a latex mattress provides long-term value and helps reduce the need for frequent replacements. You'll gain a lot more for your investment at an affordable price point.
Latex mattresses are known for their natural resistance to allergens and superior temperature regulation. They are even a sustainable eco-friendly choice for environmentally conscious individuals.
In this mattress guide, we will explore the top six best latex mattress choices and everything you need to know to make a decision on whether the mattress type is right for you. Each one, I have personally evaluated for comfort and I'll outline what I loved and what I didn't love so you can pick the perfect mattress to fit your unique sleep needs.
Best Latex Mattress
Brand
Best For
1

Editor's Choice

Overall
Shop Now
2

Luxury
Shop Now
3

Firm
Shop Now
4

Kids
Shop Now
5

Customizable
Shop Now
6

Budget
Shop Now
1
Editor's Choice
2
3
4
5
6
Latex Mattress Considerations
When shopping for a latex mattress, it's important to consider several important factors that can impact your satisfaction and peace of mind.
Here are some essential points to keep in mind when shopping for a latex mattress:
Eco-Friendly and Quality Material
GOLS and OEKO-TEX certifications: These certifications also indicate that the mattress is made from high-quality materials that are not harmful to your health.
Natural Latex: If you're interested in an eco-friendly option, consider mattresses that use natural latex, which is derived from rubber tree sap and is more sustainable compared to synthetic latex.
Certifications
GOLS (Global Organic Latex Standard): Look for mattresses with GOLS certification, which ensures that the latex used in the mattress is organic and produced using sustainable and eco-friendly practices.
OEKO-TEX Standard 100: This certification indicates that the materials used in the mattress have been tested for harmful substances, ensuring that they meet strict safety and environmental standards.
Trial Period and Warranty
Trial Period: Check the manufacturer's trial period policy. A trial period allows you to sleep on the mattress in your own home and determine if it suits your comfort needs. Look for a trial period of at least 30 days to ensure you have sufficient time to assess the mattress.
Warranty: Review the warranty terms provided by the manufacturer. A good warranty typically covers defects in materials and workmanship. Look for a warranty that offers coverage for an extended period, such as 10 years or more.
Customer Reviews
Taking the time to read customer reviews and testimonials can provide insights into what other customers think about the mattress. Look for feedback related to comfort, durability, and overall satisfaction.
Return Policy
Check the return policy in case the mattress doesn't meet your expectations. Understand the terms and conditions for returns, including any associated costs or requirements. Some manufacturers also have exchange policies if there is a problem with the mattress.
Our Top Picks for Best Latex Mattress
Let's explore our top latex mattress choices for 2023. We are confident that you'll find the perfect latex mattress to meet your needs from our list.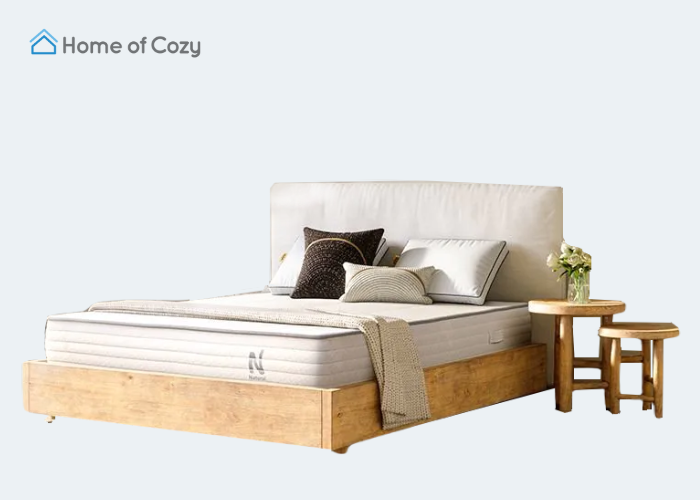 Price Range: $1899 to $2299
Mattress Type: Natural Latex Foam Hybrid
Firmness: 5 to 6 Luxury Firm
Trial Length: 120 nights
Warranty: Lifetime Warranty
The Nolah Latex 11 mattress – is a versatile sleep solution that seamlessly blends comfort, support, and eco-consciousness. The hybrid design is a union of natural latex and high-resilience foam, this mattress offers a harmonious balance of responsiveness and contouring. Its commitment to sustainability through the use of only eco-friendly materials and CertiPUR-US-certified foam underscores its appeal if you are eco-conscious.
With cooling properties, excellent edge support, and minimal motion transfer, the Nolah Latex 11 emerges as a top overall contender, providing a restorative sleep experience for those seeking the best of both worlds in comfort and environmental responsibility.
This latex mattress pairs well with the adjustable base.
Why I Picked the Nolah Latex 11
When it came time to try out a new mattress designed from latex, I did thorough research to find the perfect balance of comfort, support, and durability. After exploring various options, I was drawn to the Nolah Latex 11 for several reasons. Its hybrid design combining latex and high-resilience foam intrigued me, promising a blend of responsiveness and impressive contouring.
The emphasis on eco-friendliness, with natural latex and CertiPUR-US certified foam, aligned with my sustainability values and made me feel good about doing my part in being eco-friendly. Also, the brand's commitment to quality and its generous 120-night trial period gave me confidence in my choice.
What I Loved
The combination of latex and high-resilience foam delivered a comfortable yet supportive feel. It responded quickly to my movements, making adjustments during the night effortless. The mattress's design ensured excellent airflow and temperature regulation. I noticed that I woke up feeling refreshed. The organic cotton cover and wool layers truly functioned well to wick away any moisture so I felt cool and dry, This is truly a great mattress for hot sleepers.
The Nolah Latex 11's edge support surprised me. It maintained stability even near the edges, which is great for sitting or getting in and out of bed.
The mattress effectively absorbed motion, ensuring that my pet's movements didn't disrupt my sleep.
What I Didn't Love
While the mattress did soften over time, the initial firmness was slightly more than I anticipated. It took a bit of time for me to fully adjust to the feel. Like many new latex mattresses, there was a noticeable off-gassing odor. Although it dissipated over a few days, it was a minor inconvenience.
The Nolah Latex 11 offered a well-rounded sleep experience that aligned with my comfort and sustainability preferences. Its responsive comfort, cooling properties, and edge support were standout features that enhanced my sleep quality. My decision to choose the Nolah Latex 11 as the best overall mattress was a positive one and I appreciate the quality sleep it consistently provides.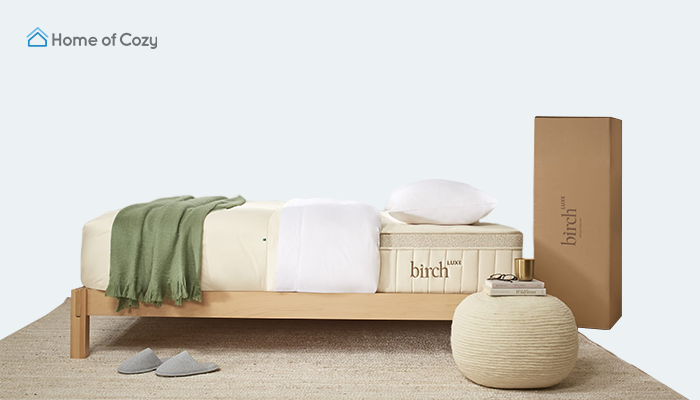 Price Range: $1599 to $2999
Mattress Type: Natural Latex Foam Hybrid
Firmness: 4 to 5 with Topper 5 to 6 without Topper
Trial Length: 100 nights
Warranty: 25-Year Warranty
Designed as an upgrade to the Birch Natural Mattress by Helix, the Luxe version elevates the sleep experience with organic cashmere, two additional comfort layers, targeted lumbar support, and a full edge structure. The luxury mattress is crafted with natural and organic materials such as breathable latex, ultra-fine cashmere, and moisture-wicking wool, this mattress is dedicated to providing a cool, comfortable, and restful night's sleep.
With an emphasis on eco-responsible production, the Birch Luxe Natural Latex Mattress stands as a luxurious and conscientious choice for those seeking the epitome of comfort and sustainability in their sleep environment.
Why I Picked the Birch Luxe Natural Latex Mattress
The Birch Natural Mattress, the Luxe version offers a wealth of upgrades that truly make this an outstanding latex mattress choice. The inclusion of organic cashmere, two additional organic comfort layers, and breathable natural latex are fantastic upgrades.
What I Loved
To be honest, the Birch Luxe Natural Mattress exceeded my expectations with its two extra organic comfort layers. These layers contributed to a luxurious and cradling sleep experience that left me waking up refreshed. The targeted zoned lumbar support was a fantastic perk. It effectively eased the pain in my lower back.
The premium natural and organic materials used in the mattress, including plush cotton, cashmere, wool, and latex, truly delivered on their promise of breathability and temperature regulation. I felt cool and comfortable throughout the night.
I appreciated the full-edge structure that gave me a sense of security and stability, allowing me to utilize the entire sleep surface without feeling like I might roll off.
What I Didn't Love
While the mattress provided exceptional comfort, the firmness initially felt slightly more than I preferred.
The Birch Luxe Natural Mattress, with its premium features and organic materials, is an investment. While the price aligns with the quality, it's essential to weigh the benefits against your budget.
The Birch Luxe Natural Mattress exceeded my expectations with its upgraded features and emphasis on natural, organic, and sustainable materials. While there were minor considerations such as initial firmness and cost, the overall sleep experience and commitment to eco-responsible production made the decision worthwhile. The comfort, support, and temperature regulation offered by the Birch Luxe Natural Mattress truly set it apart from other mattresses and impressed me.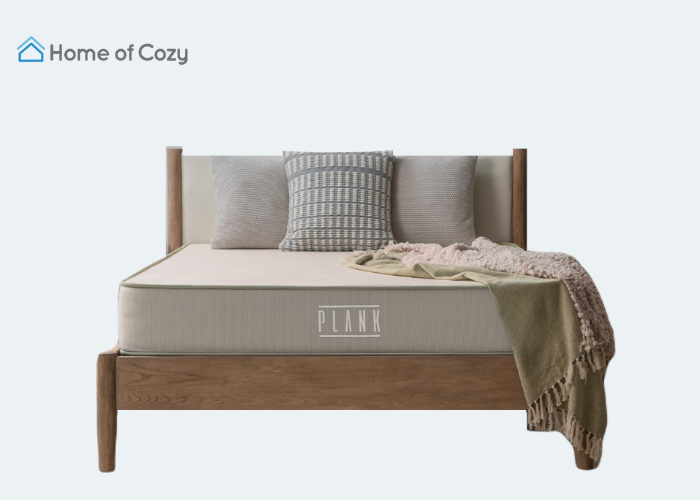 Price Range: $1049 to $1998
Mattress Type: Natural Latex Foam Hybrid
Firmness: 6 to 8
Trial Length: 120 nights
Warranty: 10-Year Warranty
The Plank Firm Natural Latex Mattress by Brooklyn Bedding immediately caught my attention with its innovative approach to sleep comfort. The concept of "firmer is better" combined with a flippable design intrigued me, offering the option to choose between a firm or even firmer side for personalized sleep preferences.
Why I Picked the Plank Firm Natural Latex Mattress
The use of organic and eco-friendly materials such as 100% natural Talalay latex, organic wool, and GOTS-certified organic cotton showcased a commitment to both sleep quality and environmental responsibility. Also, the TitanCore individually wrapped coils promised pressure point relief and contouring support, addressing my need for a mattress that aligns my spine while ensuring restful sleep.
What I Loved
I loved the ability to choose between two firmness options provided a remarkable level of customization, allowing me to switch between a firm and medium-firm feel based on my comfort needs. I went with a king mattress to try out and I was happy that I was able to flip the mattress alone.
The use of GOTS-certified organic cotton, 100% natural Talalay latex, and organic wool for temperature regulation resonated with my preference for sustainable and natural materials. I appreciated that this brand was so eco-friendly.
The individually wrapped TitanCore coils, combined with the layers of organic wool, delivered exceptional pressure point relief and contouring support that contributed to my overall comfort. I woke up with no back pain which was a wonderfully pleasant surprise.
The organic latex mattress features a wool top cover which offers impressive breathability and moisture-wicking properties.
What I Didn't Love
Adapting to the firmer feel initially required an adjustment period, as it was notably different from mattresses I'd previously slept on.
The Plank Firm Natural Latex Mattress is designed with high-quality materials, including coils, which contributes to its weight. While this is a testament to its durability, it's worth considering when it comes to moving or rotating the mattress. I was surprised that I could flip the mattress alone but an elderly person might require assistance.
The Plank Firm Natural Latex Mattress offered a unique and customizable sleep solution that aligned with my desire for firm support and eco-friendly materials. While the initial adjustment period and weight were considerations, the mattress's commitment to quality, pressure relief, and sustainable sleep experience made it a rewarding choice. The ability to breathe deep and enjoy restful sleep was achieved through the Plank Firm Naturals. The flippable technology is also a wonderful perk making this one of my top picks.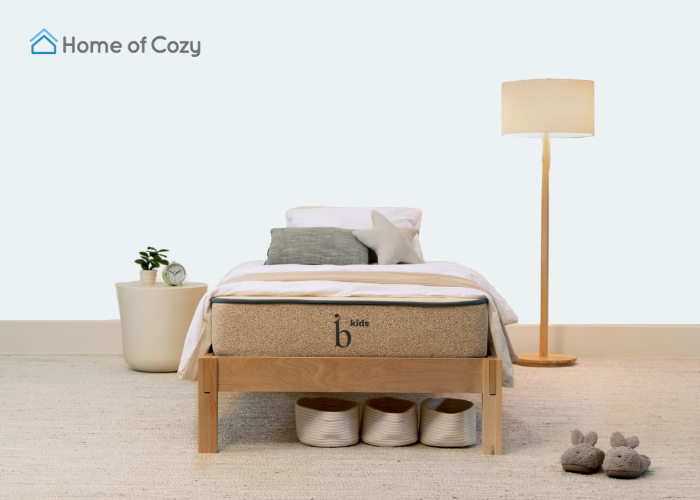 Price Range: $899 to $1099
Mattress Type: Natural Latex Foam Hybrid
Firmness: Firmer side (ages 3-7), softer side (ages 8-12)
Trial Length: 100 nights
Warranty: 10-Year Warranty
The Birch Kids Natural Latex Mattress by Helix stands as a leading choice for providing children ages 3 to 12 with a safe, sustainable, and comfortable sleep environment.
The mattress is crafted with natural and certified organic materials. Its two-sided, flippable design offers age-appropriate comfort, featuring a firmer side for ages 3-7 and a softer side for ages 8-12.
You want to keep your children safe so you'll be happy to know that the Birch Kids Natural Latex Mattress boasts certifications such as GOTS and GREENGUARD Gold, reassuring parents of its high safety standards. This thoughtfully engineered mattress is a testament to Birch's commitment to offering the best for both kids and the environment.
Why I Picked the Birch Kids Natural Latex Mattress
Choosing the Birch Kids Natural Latex Mattress was an easy decision for me as a parent seeking the utmost comfort and safety for my child's sleep. The mattress's use of natural and certified organic materials aligned perfectly with my desire for a healthier sleep experience for my youngster. The 2-sided, flippable design catered to my child's changing needs as they grow, providing the appropriate level of firmness for their age.
The GOTS and GREENGUARD Gold certifications gave me confidence in the mattress's safety, and the inclusion of natural latex and organic wool further supported my child's comfort and well-being.
What I Loved
The dual-sided design, offering a firmer side for younger children and a softer side for older ones, provided tailored comfort that evolved with my child's unique needs. Children are always different and what works for one child might not work for another. Luckily, this latex bed gives me options to make my child happy and comfortable which I greatly appreciate.
The ability to flip the mattress according to my child's preference provided a cost-effective and convenient solution for their changing sleep needs as they age.
What I Didn't Love
While the flippable design was a key selling point, my child needed a bit of time to adjust to the firm side initially. However, the mattress's adaptability and comfort overcame this minor challenge.
As with any high-quality and eco-friendly product, the Birch Kids Natural Latex Mattress comes at a slightly higher price tag. While the benefits outweighed the cost for me, budget-conscious buyers may want to consider this factor.
The mattress's use of organic wool is excellent for its hypoallergenic properties, but I would recommend consulting with a doctor if your child has potential wool allergies. Some children do have wool allergies and even allergies to the layers of latex so always approach a new mattress with caution. Any latex hybrid mattress can pose an allergy concern.
The Birch Kids Natural Latex Mattress fulfilled my goals as a parent seeking a natural, comfortable, and safe sleep solution for my child. Despite minor considerations, the mattress's commitment to using sustainable and safe materials, combined with its innovative flippable design, made it an excellent investment for my child. I also appreciated the sleep trial because some kids might not like this mattress.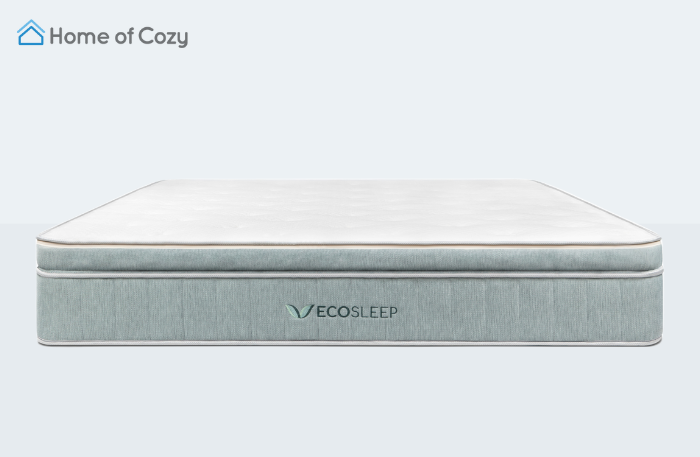 Price Range: $749 to $1686
Mattress Type: Natural Latex Foam Hybrid
Firmness: Customizable
Trial Length: 120 nights
Warranty: 10-Year Warranty
The Ecosleep Luxe latex mattress was designed with a dual-sided concept. The firmer side offers robust support, while the softer side provides a plush feel, accommodating various sleep needs. Crafted with natural latex foam, this mattress ensures responsiveness, breathability, and hypoallergenic properties.
Why I Picked the Ecosleep Luxe Latex Mattress
Selecting the Ecosleep Luxe mattress was driven by its impressive combination of natural materials, adaptability, and a commitment to eco-conscious sleep. The dual-sided design, catering to different comfort preferences, helped ease my body aches once I found the side that best met my needs.
What I Loved
The dual-sided design allowed me to tailor my sleep experience to my changing preferences, offering both firmer and softer options for optimal comfort. All I had to do was unzip the pillow top cover and flip the mattress.
The use of natural latex foam provided a supportive yet responsive feel that met my expectations for comfort and sustainability.
What I Didn't Love
Shifting between the firmer and softer sides required a brief period of adjustment to find the preferred level of comfort. While the dual-sided design accommodates a broad range of comfort preferences, it might not suit those seeking an extremely firm or extremely soft mattress.
Price is another consideration. The price of the mattress falls in the mid-range point but it might be out of the price range of some buyers.
The Ecosleep Luxe mattress surpassed my expectations as a consumer seeking a natural, adaptable, and eco-conscious sleep solution. Despite minor considerations such as firmness transition and price range, the mattress's emphasis on personalized comfort, sustainable materials, and extended trial and warranty periods made it a sound investment in quality sleep and well-being.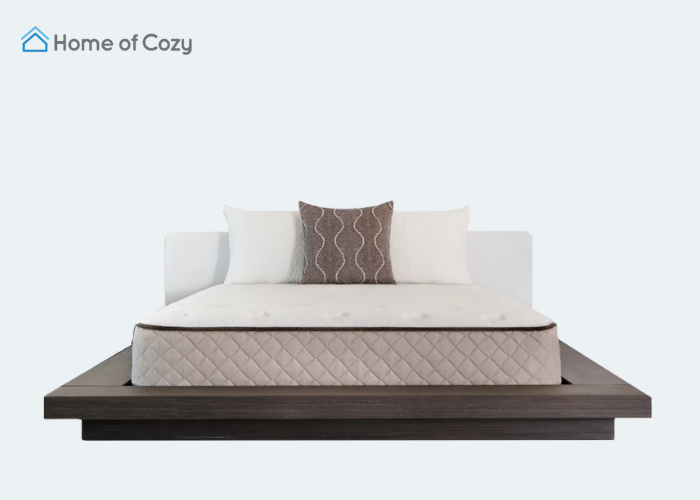 Price Range: $449 to $561
Mattress Type: Natural Latex Foam Hybrid
Firmness: Customizable
Trial Length: 120 nights
Warranty: 10-Year Warranty
The Dreamfoam Latex mattress by Brooklyn Bedding is an impressive combination of comfort and affordably. The latex mattress features the luxury of Oeko-Tex Class 1 certified Talalay latex for pressure point relief at a budget-friendly price.
The mattress offers remarkable responsiveness with a bouncy feel this mattress is enhanced by a quilted top featuring super soft reflex foam. Paired with individually pocketed coils, the mattress provides deep compression support for a more comfortable and restful night's sleep. The upgraded 12″ model even offers a zippered cover for personalized comfort.
Why I Picked the Dreamfoam by Brooklyn Bedding
My choice of the Dreamfoam by Brooklyn Bedding was driven by its impressive blend of affordability, comfort, and customization options. The use of Oeko-Tex Class 1 certified Talalay latex is an undeniable perk and pressure-relieving sleep experience. I also appreciated the affordable price tag which made this one stand out in my mattress review.
What I Loved
The ultra-plush 1″ quilted top with super soft reflex foam provided exceptional body contouring, contributing to a comfortable sleep surface that adapted to my body's shape. The 3″ layer of Oeko-Tex Class 1 certified Talalay latex brought a unique buoyant quality that relieved muscle tension and pressure, creating a relaxing sleep experience. I was able to wake up pain-free.
The availability of three levels of firmness allowed me to personalize my sleep support, ensuring that the mattress catered to my specific comfort needs.
What I Didn't Love
While the three available firmness levels cater to a wide range of preferences seeking a firmness scale, individuals seeking an extremely soft or extremely firm mattress might need to explore other options. Even though the zippered topper cover allowed for personalization, finding the optimal comfort and support combination required some experimentation.
The Dreamfoam by Brooklyn Bedding offered a balance of affordability, comfort, and customization that exceeded my expectations. Despite minor considerations such as the adjustment period and cover customization learning curve, the mattress's use of Talalay latex, customizable firmness, and extensive trial and warranty periods made it a worthwhile investment.
Types of Latex Mattresses
There are three types of latex mattresses available: natural latex, synthetic latex, and blended latex.
Let's explore the benefits and differences of each type:
Natural Latex Mattresses
Natural latex mattresses are made from the sap of rubber trees, also known as latex. They are highly regarded for their eco-friendly and sustainable properties. If you want to reduce your carbon footprint while enjoying a comfortable night's sleep then this is a wonderful mattress option.
Benefits include:
Environmentally Friendly: Derived from renewable resources, these mattresses are completely biodegradable and have a very low environmental impact.
Allergen Resistance: Natural latex has inherent antimicrobial properties that make it resistant to dust mites and other allergens, promoting a healthier sleep environment.
Durability: Natural latex mattresses are exceptionally durable and can last many years with proper care.
Breathability: The open-cell structure of natural latex allows for better air circulation, helping with temperature regulation and preventing overheating while you sleep.
Synthetic Latex Mattresses
Synthetic latex mattresses are made from synthetic materials, typically derived from petrochemicals.
While they can offer some benefits, they also have limitations compared to natural latex:
Affordability: Synthetic latex mattresses are often more budget-friendly than natural latex mattresses.
Consistency: Synthetic latex can provide a more consistent feel across the mattress surface, as natural latex might have slight variations in texture.
Hypoallergenic: While synthetic latex lacks the inherent allergen resistance of natural latex, it can still be less prone to allergen buildup over time than some other mattress materials.
Blended Latex Mattresses
Blended latex mattresses combine natural latex with synthetic latex foam, offering a compromise between the benefits of both types. Some also combine organic wool or other materials to combine the best of both worlds.
Cost-Effectiveness: Blended latex mattresses are often more affordable than natural latex mattresses while still incorporating some of their features. If you are watching your budget then this might be a good cost-effective mattress choice.
Balanced Feel: Blended latex aims to strike a balance between the unique qualities of natural and synthetic latex, providing comfort and support. A blended latex mattress often has more bounce. It will feel more like memory foam mattresses.
Durability: While not as long-lasting as pure natural latex mattresses, blended latex mattresses can still offer good durability.
When researching and choosing a latex mattress, it's essential to consider your personal preferences, budget, and priorities such as sustainability. Natural latex is favored for its eco-friendliness and allergen resistance, while synthetic latex can be more budget-friendly.
Blended latex offers a middle ground between the two. Assessing the benefits and differences of each type can help you make an informed decision that aligns with your comfort, budget, and sustainability goals.
Comparing Natural vs. Synthetic Latex
When comparing natural latex and synthetic latex mattresses, distinct differences emerge in terms of their origin, eco-friendliness, and overall feel.
Examining Natural Eco-friendly Latex
Derived from the sap of rubber trees, natural latex mattresses are the number one choice for eco-conscious consumers. The extraction process of obtaining the latex involves tapping the trees, which allows them to continue growing and contributing to the environment. The resulting material used in the manufacture of the mattresses boasts exceptional qualities:
Eco-Friendly: Natural latex is biodegradable and renewable, making it an environmentally sustainable option.
Allergen Resistance: Its inherent antimicrobial properties make it resistant to dust mites and allergens, creating a much healthier sleep environment that is beneficial if you suffer from allergies, COPD, or other breathing difficulties.
Durability: Natural latex mattresses exhibit remarkable longevity, often lasting well over a decade with proper care and maintenance.
Breathability: The open-cell structure of natural latex promotes wonderful and refreshing airflow, aiding temperature regulation during sleep so you stay cooler.
Consideration for Price: While the benefits are significant, natural latex mattresses may come with a higher price tag due to their sustainable and eco-friendly production methods. Most eco-friendly things cost more but the benefits for the environment are undeniable and knowing you are reducing your carbon footprint gives you peace of mind.
Synthetic Latex Considerations
Synthetic latex mattresses, on the other hand, are crafted from petrochemicals through a chemical process. While they offer certain advantages, they differ in several key ways:
Material Source: Derived from non-renewable resources, synthetic latex lacks the ecological benefits associated with natural latex.
Feel and Consistency: Synthetic latex provides a more uniform feel across the mattress due to its controlled manufacturing process, whereas natural latex may have slight variations in texture. You'll enjoy a smoother surface with fewer imperfections due to the comfort layer.
Affordability: Synthetic latex mattresses are often more budget-friendly, appealing to those seeking comfort without a high price tag.
Environmental Impact: The production of synthetic latex involves the use of chemicals and energy, resulting in a higher environmental footprint which is a concern for eco-conscious individuals.
Ultimately, the choice between natural and synthetic latex depends on individual preferences and values. Natural latex offers a blend of eco-friendliness, durability, and allergen resistance, though it might come at a higher cost.
Synthetic latex mattresses provide a more consistent feel and affordability but lack the sustainability and health benefits associated with natural latex. Weighing these factors can help guide your decision toward a latex mattress that is right for you.
Common Materials Used in Natural Latex Mattresses
Eco-friendly latex beds are designed with a strong focus on sustainability. The manufacturers use materials that are natural, renewable, and environmentally responsible.
Here are the most common materials used in eco-friendly latex mattresses:
Natural Latex: The core component of eco-friendly latex mattresses is natural latex foam, which is derived from the sap of rubber trees (Hevea brasiliensis). The latex is harvested in a way that minimizes harm to the trees and allows them to continue producing sap. Natural latex is biodegradable and renewable, making it an eco-conscious choice.
Organic Cotton: Organic cotton is often used for the mattress cover, topper, and other components. It is grown without the use of synthetic pesticides or fertilizers, reducing the environmental impact and promoting healthier farming practices. Organic cotton is biodegradable and supports sustainable agriculture farming practices.
Organic Wool: Organic wool is used in some latex mattresses for added comfort, moisture-wicking properties, and optimum temperature regulation. It comes from sheep raised following organic ranching standards, which prioritize animal welfare and natural husbandry.
Coconut Coir: Some eco-friendly latex mattresses use coconut coir (fiber from coconut husks) as a natural and sustainable support layer. Coconut coir is breathable, durable, and biodegradable.
Natural Fiber Blends: In addition to organic cotton and wool, other natural fibers like hemp, flax, or bamboo may be used as part of the mattress cover or comfort layers.
Recycled Materials: Some eco-friendly latex mattresses incorporate recycled materials, such as recycled steel coils or fibers made from recycled plastic bottles. This helps divert waste from landfills and reduces the need for virgin materials.
Latex Mattress Firmness Considerations
Latex mattresses come with a range of firmness options to cater to different sleeping positions and individual preferences. Choosing the right firmness level for your individual needs is crucial for ensuring optimal comfort, support, and quality sleep.
Firmness options include:
Soft/Firmness Level 1-3
Soft to medium firmness mattresses provide cushioning for your body's pressure points, especially around the hips and shoulders. The firmness levels are ideal
Pressure Relief: These softer mattresses allow your body to sink slightly, aligning the spine and reducing pressure on joints.
Preference for Plushness: If you enjoy a more "hugged" feeling and want to sink into your mattress, a softer option may be suitable. This one offers wonderful body contouring with a lush comfort layer.
Medium/Firmness Level 4-6:
Versatile Comfort: Medium-firm mattresses strike a balance between support and contouring, accommodating various sleeping positions. It's ideal when you don't want a bed that's too soft or too hard.
Balanced Support: These mattresses offer support for the spine while still providing some degree of comfort and cushioning.
Back and Stomach Sleepers: Medium-firm mattresses are often preferred by back and stomach sleepers because the mattress's firmness helps maintain proper alignment without excessive sinkage.
Firm/Firmness Level 7-10:
Stomach and Back Sleepers: Firm mattresses provide solid support, ensuring your body remains properly aligned, which is crucial for back and stomach sleepers.
Heavier Individuals: Firmer mattresses can prevent excessive sinkage, making them suitable for individuals with higher body weight.
Minimal Contouring: Firm mattresses offer less contouring, which might appeal to those who prefer sleeping "on top" of the mattress rather than sinking down into its layers.
When selecting a firmness level, consider your primary sleeping position:
Side Sleepers: Opt for a soft to medium firmness to alleviate pressure on hips and shoulders.
Back Sleepers: A medium to medium-firm mattress can maintain spinal alignment and offer support.
Stomach Sleepers: Choose a medium-firm to firm mattress to prevent excessive sinking and maintain proper alignment.
Preferences also play a role:
If you prefer a plush, sinking feeling, lean towards a softer latex matters
If you prefer a more supported and "on top" feeling, consider a medium-firm to a firm mattress.
You'll need to try out different firmness levels and consider how they align with your individual sleeping habits and comfort preferences. Ultimately, you want a latex mattress that gives you restful and rejuvenating sleep.
Sleeping Positions on a Latex Mattress
Sleeping positions play a significant role in determining the type of mattress that will provide optimal comfort and support. Latex mattresses are well known for their versatility and adaptable properties. They can accommodate various sleeping positions to ensure a restful night's sleep which makes them ideal for many different people.
Side Sleepers: If you're a side sleeper then you probably place the most pressure on your hips and shoulders which can quickly make you uncomfortable if you don't have enough give and cushion in the mattress. A medium to medium-soft latex mattress can offer the needed contouring to relieve pressure points. This allows the mattress to conform to the body's curves, promoting better spinal alignment and reducing the risk of waking up with sore, achy joints.
Back Sleepers: Back sleepers benefit from a mattress that maintains the natural curve of the spine while offering sufficient support. A medium-firm latex mattress strikes the perfect balance between cushioning and support, preventing the lower back from sinking too deeply into the foam. This position helps distribute weight evenly and reduces the risk of spinal misalignment.
Stomach Sleepers: Stomach sleepers need a mattress that prevents the hips from sinking too far into the mattress, which could strain the lower back. A medium-firm to firm latex mattress provides the necessary support to keep the spine aligned. This position reduces the potential for discomfort in the neck, shoulders, and lower back.
Combination Sleepers: Combination sleepers switch between various positions throughout the night. A medium-firm latex mattress can be an excellent choice, as it accommodates shifting sleeping positions. It offers enough responsiveness to adapt to different body shapes and contours while maintaining adequate support for every sleep position.
Couples with Different Preferences: Latex mattresses also suit couples with varying sleeping preferences. Some latex mattresses are designed with customizable layers, allowing each side of the bed to have a different firmness level. This feature caters to individual comfort needs and ensures both partners get the support they require to truly rest without disturbing each other.
When choosing a latex mattress based on sleeping positions:
Test and Feel: Whenever possible, test different firmness levels to determine which one aligns with your preferred sleeping position. Luckily, all of the mattresses we feature in our guide of the best latex mattresses for 2023 have sleep night trials so you can ensure that the mattress is truly the right choice for your needs.
Consider Preferences: Take into account personal preferences for plushness versus support.
Pay Attention to Labels: Look for mattresses labeled as "universal comfort" or with a range of firmness options to suit different sleepers.
Ultimately, the key to a restorative sleep experience lies in selecting a latex mattress that complements your unique sleeping position. By matching your individual needs with the appropriate firmness level, you can enjoy the benefits of latex's comfort and support throughout the night.
Motion Isolation with a Latex Mattress
Motion isolation is a crucial aspect of sleep quality, particularly for couples sharing a bed. Latex mattresses are famous for their ability to provide excellent motion isolation, which can greatly enhance the sleep experience for both individuals. This feature is especially advantageous when compared to mattresses that lack effective motion isolation, such as traditional innerspring mattresses.
The concept behind motion isolation is simple: when one person (or a pet) moves or shifts position on the mattress, the movement is absorbed and localized, minimizing its impact on the rest of the mattress. This means that if your partner or dog tosses, turns, or gets in and out of bed, you're less likely to feel the movements on your side of the mattress so you can continue sleeping undisturbed.
Latex mattresses excel in motion isolation due to their unique composition and structure. The latex material's natural resilience and ability to conform to the body help absorb and dampen the energy generated by movements. This results in an impressive peaceful and undisturbed sleep environment for both sleepers which is why couples love latex mattresses.
The benefits of good motion isolation are particularly evident for couples with different sleep schedules or those who experience different levels of restlessness during the night. It helps prevent disruptions caused by movements, allowing each person to enjoy uninterrupted sleep and wake up feeling truly rejuvenated.
When shopping for a mattress, especially for couples, you should consider a latex mattress with strong motion isolation capabilities that can contribute to a wonderfully harmonious sleep environment. A latex mattress provides a better night's sleep, minimizes sleep disruptions, and ensures that both individuals can enjoy the restorative benefits of quality rest.
Allergies and Latex
For those who suffer from allergies, a latex mattress can be a game-changer. Natural latex, derived from the sap of genuine rubber trees, inherently resists dust mites and mold growth. Dust mites and mold are common triggers for allergy symptoms, including sneezing, runny nose, and congestion.
By choosing a latex mattress, you're picking a sleep surface that naturally discourages these harmful and often dangerous allergens, promoting a cleaner and healthier sleeping environment. When you invest in a latex mattress, you're making a positive contribution to your sleep quality and overall health.
Latex Mattress Durability
Durability is a significant factor to consider when investing in a mattress, and latex mattresses excel in this aspect. The mattress type is well known for its longevity and ability to maintain its supportive qualities over time. Latex mattresses offer a compelling solution for individuals seeking a mattress that stands the test of time.
Mattresses are not cheap, even budget-friendly ones, so you want one that will stand the test of time.
Longevity and Resilience: Latex mattresses are among the most durable mattress choices available in the mattress market. Their composition, which includes natural or synthetic latex foam, allows them to withstand years of use without significant wear and tear. Unlike some other mattress types that can develop sagging or lose their shape, latex mattresses retain their original form and support for an extended period.
Lifespan Considerations: The lifespan of a mattress is a crucial consideration when evaluating its value. Latex mattresses are known to have an impressive lifespan, often lasting between 10 to 15 years or even longer with proper care. This longevity can provide substantial long-term value, as you won't need to replace your mattress as frequently compared to mattresses with shorter lifespans.
Investment in Quality: Choosing a latex mattress is, in many ways, an investment in quality. While the upfront cost might be higher compared to some other mattress types, the extended lifespan and consistent comfort and support over the years justify the expense. Choosing a durable mattress like latex can potentially save you money in the long run by reducing the need for frequent mattress replacements.
When considering mattress options, take into account the mattress's durability and lifespan. Latex mattresses offer a notable advantage in this regard, offering peace of mind that your investment will provide lasting comfort and support for years to come. Whether you're looking for a mattress that can accommodate changing sleep needs or you simply value a long-lasting, high-quality sleep surface. Latex mattresses are an excellent choice that combines durability with exceptional sleep comfort.
Latex Temperature Regulation
Temperature regulation is crucial for your nightly sleep comfort, and latex mattresses are known for their ability to provide a sleep surface that stays comfortable throughout the night. You don't want to wake up sweaty and miserable.
Here's how latex mattresses excel in temperature regulation and what features to look for:
Breathability and Airflow
Latex mattresses are designed with an open-cell structure that promotes better airflow. This allows air to circulate more freely through the mattress, dissipating heat and regulating your body temperature. The breathable nature of latex helps prevent the accumulation of excess heat, which can lead to discomfort and disrupted sleep.
Natural Cooling Properties
Latex itself has natural cooling properties due to its composition and structure. It doesn't retain heat in the same way that some other mattress materials, such as memory foam, can. This means that as you sleep, the mattress will work to maintain a more neutral temperature, reducing the likelihood of waking up feeling too hot and uncomfortable.
Airflow-Enhancing Features
When shopping for a latex mattress, consider features that enhance airflow and temperature regulation:
Ventilation Holes: Some latex mattresses include ventilation holes or perforations in the foam layers. These openings allow for even better air circulation, enhancing the cooling effect.
Breathable Covers: Look for mattresses with breathable covers made from materials that wick away moisture and allow air to pass through. These covers can contribute to a more comfortable sleep experience and help reduce body heat.
Sleeping Cool: For individuals who tend to sleep hot, a latex mattress can be a great solution. The mattress features natural breathability and temperature regulation which can help you maintain a cooler and more comfortable sleep environment. Also, when paired with breathable bedding and proper room ventilation, a latex mattress can contribute to a refreshing and restorative night's sleep.
Thickness and Layers of a Latex Mattress
The thickness and layer composition of a latex mattress play a significant role in determining the feel, support, and comfort. When shopping for a latex mattress, always research how the layers are structured.
Here's what to consider:
Mattress Thickness
The thickness of a latex mattress can vary widely, typically ranging from 6 to 13 inches or more. Thicker mattresses may have additional layers or enhanced materials, which can affect their overall feel and support. Think about your body weight, sleeping preferences, and any specific comfort needs when selecting a thickness that suits you. Also, consider your bedding. With thicker mattresses, you'll need deep-pocket fitted sheets.
Comfort Layers
The top layer of the mattress, known as the comfort layer, is responsible for providing initial softness and contouring. This layer is often made from softer latex to create a comfortable surface that adapts to your body's curves.
The transition layer is situated between the comfort layer and the support core. It offers a balance between contouring and support, preventing you from sinking too deeply into the mattress.
The support core is usually the thickest and most substantial layer of the mattress. It's designed to provide deep support, maintain spinal alignment, and distribute your body weight evenly across the mattress.
The arrangement of these layers affects the overall feel of the mattress. A mattress with more soft comfort layers may feel plush, while those with thicker support cores might feel firmer.
Different layer combinations can cater to different sleep preferences, whether you prefer a softer, medium, or firmer feel.
Body Weight Considerations
Heavier individuals may benefit from a mattress with a thicker support core to ensure adequate support and prevent excessive sinking. Also, if you share the bed with a partner, consider how the mattress's layering and thickness accommodate both your comfort needs and potential differences in body weight.
Understanding the layers and thickness of a latex mattress allows you to make an informed decision that aligns with your comfort preferences and support requirements. By carefully considering these factors, you can select a mattress that provides the right balance of cushioning, support, and overall sleep satisfaction.
Edge Support
Edge support is an important factor to consider when evaluating the overall quality and durability of a latex mattress. A mattress with good edge support offers stability, prevents sagging, and ensures that the entire sleep surface remains comfortable and supportive.
Mattress Budget Considerations
Setting a budget is an essential step when purchasing a latex mattress, as it helps guide your choices and ensures that you're making a financially responsible decision. Latex mattresses can vary in price based on factors such as material quality, type (natural or synthetic), and brand reputation.
Before you start shopping, assess your budget realistically. Consider how much you're willing to invest in a quality mattress that will provide comfort and durability for years to come.
Luckily, latex mattresses come in a range of price points, with factors such as mattress thickness, layer composition, certifications, and brand reputation affecting the cost.
Natural latex mattresses tend to be more expensive than synthetic latex options due to their sustainable sourcing and eco-friendly properties.
While natural latex mattresses may have a higher upfront cost, their durability can result in long-term value. Consider the potential savings from not having to replace the mattress as frequently as you might with lower-quality options.
If you are shopping on a budget, keep an eye out for sales, promotions, and discounts from reputable retailers or manufacturers. These opportunities can help you get a higher-quality mattress within your budget.
Ultimately, while it's important to establish a budget that aligns with your financial situation, also remember that the mattress you choose will impact your sleep quality and overall well-being. It's worth considering the long-term value and benefits that a high-quality latex mattress can provide. By balancing your budget with your sleep needs, we are confident that you can find a latex mattress that offers both comfort and value for your investment.
Conclusion
In this comprehensive latex mattress review lineup, we've explored a diverse array of latex mattresses, each catering to distinct sleep preferences and needs. For eco-conscious individuals to those seeking luxury, firm support, comfort for kids, and budget-friendly options, these mattresses span the spectrum of choices – there is something for everyone on this list no matter your budget or sleep style.
Nolah Natural 11 impresses as the best overall contender, blending comfort and eco-consciousness seamlessly. Its cooling mattress properties, edge support, and minimal motion transfer contribute to a restorative sleep experience. It stands out as the best firm mattress choice on our list for a lot of reasons.
Birch Luxe Natural offers unparalleled luxury with its organic materials (such as New Zealand wool) and innovative design, delivering comfort and sustainability hand in hand. This is undoubtedly, one of the best organic mattresses available.
Plank Firm Natural stands out for its unique flippable firmness levels, accommodating different comfort preferences and offering pressure relief. The versatility of the foam beds' many features makes it a definite consideration if you are shopping for a mattress.
Birch Kids Natural prioritizes safety and tailored comfort for young sleepers, combining eco-friendly materials with an age-appropriate dual-sided design. As a GOLS-certified mattress, you know that this bed is safe for your child.
Ecosleep Luxe offers a fully customizable experience, allowing users to switch between firmer and softer sides.
Dreamfoam Latex caters to budget-conscious individuals with its affordability and comfort. The bed is an affordable latex mattress option that we believed you will truly appreciate.
When shopping for a latex mattress, consider how this lineup underscores the importance of factors such as comfort, support, eco-friendliness, and budget constraints. Each mattress in this guide has its strengths and considerations. If you are still on the fence about which mattress to pick, we encourage you to read the Best Organic Mattress and Best Hypoallergenic Mattress for Allergies to learn about additional mattress choices.