Until I owned an adjustable bed, I had no idea how many ways it would improve my life.
An adjustable bed is great because it allows sleepers to customize their resting or sleeping position. An adjustable bed is awesome for gaming, reading, or streaming.
But you might be surprised to learn that an adjustable bed can also be part of self-care for some common health challenges.
As someone who suffers from acid reflux (thanks, pizza!), an adjustable bed has been a real lifesaver. I also have chronic allergies and I've found that sleeping on an adjustable bed has made nighttime breathing easier. Those few inches seem to make a real difference to my sleep quality.
As a regular hiker—who admittedly, overdoes it sometimes—an adjustable bed has provided me additional pressure relief where I most need it. An adjustable bed would be a bonus for gym rats, too.
Folks who struggle with sleep apnea or snoring may also be helped by an adjustable bed. Elevating your head just 20 degrees can open your airways. You'll rest better and your partner will, too.
For all these reasons, adjustable beds are more popular and increasingly available than ever before.
An adjustable bed frame is hinged, so adjustments can be made to elevate the head of the mattress under your upper body and raise the foot of the mattress under your lower body. These operations can be performed together or independently of each other.
Many adjustable beds have some pretty cool upgraded features through their wireless remotes, such as massage settings, zero gravity settings, and lighting.
But not every mattress works with an adjustable base. You'll need a mattress that's compatible.
If you invest in an adjustable bed frame, you'll need a specialized mattress that is flexible enough to move with the base. Buying a mattress that is compatible with your adjustable bed frame is essential so you can experience all of its benefits.
In this shopping guide, we'll reveal our top picks of the best mattresses for adjustable beds in 2023.
But before we get into the individual reviews, let's go over some important considerations when you're shopping for the best mattress for an adjustable bed. And keep reading for our bonus guide to the best adjustable beds for every sleeping position.
Shopping for a Mattress for an Adjustable Mattress: Your Checklist
Compatibility with Adjustable Base. This is the single most important consideration when shopping for a mattress for an adjustable bed. Not all mattresses are suitable for adjustable bases, so check with the manufacturer or retailer to be sure the mattress is compatible with the adjustable bed frame.
Flexibility and Durability. Choose a mattress constructed with flexible materials that can easily bend and adjust with the movements of the adjustable bed without damaging the mattress. The mattress should also be durable and resilient, so it will maintain its shape and level of support, even when regularly repositioned.
Type of Mattress. No matter what your materials preference is in a mattress, there's an adjustable mattress bed out there for you. Memory foam, latex, and air mattresses often work especially well with adjustable bases because of their flexibility. Hybrid mattresses can also work. Because of their more rigid construction, innerspring mattresses might be less compatible with an adjustable bed frame. If you do prefer the feel of an innerspring mattress, look for one with individually pocketed coils for greater flexibility and movement. See our short primer at the end of this review to learn more about the advantages of each type of mattress material in adjustable bed mattresses.
Firmness Level. No matter your sleeping position—back sleeper, side sleeper, stomach sleeper, or combination sleepers—adjustable beds come in a variety of firmness levels from soft to extra-firm to suit your preferences.
Profile Height. Carefully check the mattress's height. Thicker mattresses may limit the range of motion of an adjustable base. Check the maximum mattress height recommended by the manufacturer of the adjustable bed frame to be sure.
Split Mattress Option. Some adjustable beds allow for split configurations, where each side of the bed can be adjusted independently. This can be an excellent option for partnered sleepers because a split mattress can accommodate different sleep preferences.
Flexibility in Comfort Levels. Adjustable beds are specifically designed to provide personalized comfort. Choose a mattress that offers various comfort levels—soft, medium, firm—to cater to your sleep preferences.
Trial Period and Return Policy. You won't know if a mattress is a good match for you until you sleep on it, ideally for 100 nights or more. So always opt for a mattress that comes with a generous sleep trial period. Adjustable beds can significantly affect how a mattress feels, so you'll want time to assess its comfort and compatibility. Likewise, make sure the mattress manufacturer offers a no-hassle return policy.
Motion Isolation. If sharing the bed, consider a mattress with good motion isolation to prevent disturbances caused by your partner's or pet's movements.
Wireless Remote Compatibility. If the adjustable bed frame comes with a wireless remote control, to be sure that the mattress can be easily adjusted using the remote. It may take a while to master the tech, but it will be worth it!
Warranty and Customer Reviews. Check the mattress warranty and read customer reviews to gauge a particular mattress brand's performance on adjustable beds. Look for reviews from people who use the same type of adjustable base you're considering buying.
Adjustable Bed Features. Consider the specific features of your adjustable bed, such as massage functions or presets, and how well the mattress complements these features.
Size and Dimensions. No matter what size mattress you choose—whether it's an XL twin or a California King adjustable bed—to work properly it must be the right size to fit your adjustable bed frame—without hanging over the edge of the base. It wouldn't be a bad idea to measure your room space, too.
Budget. There are excellent mattresses for adjustable beds in every price range, though you should plan to spend a bit more for a specialized mattress such as one for an adjustable bed. As always, investing in quality translates into better comfort and durability.
White-Glove Delivery. Most mattress companies offer white-glove delivery service and it's a popular option. Adjustable bed frames and the accompanying mattress are heavier and bulkier than standard bed frames and mattresses. For this reason and especially if you don't have "muscle" to deal with delivery and placement of your new adjustable bed setup, you might strongly want to pay extra for a higher tier of customer service. White-glove delivery includes unboxing your new bed, setting up your new bed, hauling away your old mattress, and disposing of all packing materials. White-glove delivery team will coordinate a convenient appointment time so you're not waiting around for hours.
Our Top Picks for Best Adjustable Bed Mattresses in 2023
Brand
Best For
1

Editor's Choice

Overall
Shop Now
2

Value
Shop Now
3

Combination Sleepers
Shop Now
4

Back Pain
Shop Now
5

Hot Sleepers
Shop Now
6

Organic
Shop Now
7

Firm
Shop Now
8

Plus Size
Shop Now
9

Budget
Shop Now
1
Editor's Choice
2
3
Best For:
Combination Sleepers
4
5
6
7
8
9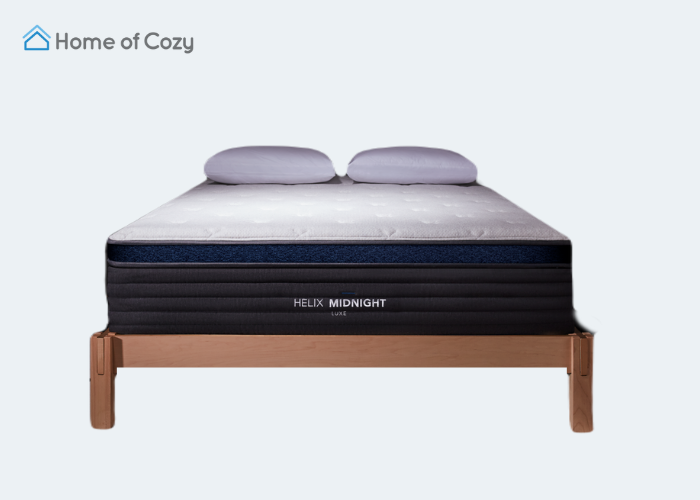 Best For: Side sleepers, back sleepers, partnered sleepers with different sleep styles, hot sleepers
Price: $1,373.80-2,873.80
Mattress Type: Hybrid mattress, bed-in-a-box
Firmness Scale: Medium-firm mattress, 4.5-6.5/10 on firmness scale
Trial Length: 100-Night, Risk-Free Sleep Trial
Warranty: 15-Year Warranty
What I Loved
This is a mattress most sleepers will love to come at bedtime. The tufted and textured Helix Midnight Luxe has six different layers and measures a plush 14" in thickness. Zoned, pocketed support coils promote spinal alignment, while the breathable, quilted pillow top layer adds cushioning without creating excessive heat. This cooling gel memory foam mattress reduces shoulder and hip pressure points as it contours to the body. The Helix Midnight Luxe also has excellent edge support and motion isolation, making it a great choice for couples with different sleeping positions.
What I Didn't Love
If you want the airy, light feel of a traditional pillow top mattress, the Helix Midnight Luxe may not be for you. It has a more classic, neutral-foam feel.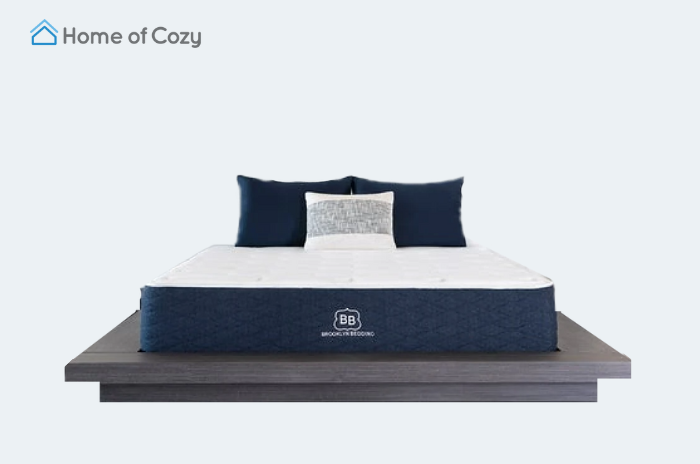 Best For: Side sleepers, partnered sleepers, sleepers with troublesome pressure points
Price: $665-1,559
Mattress Type: Hybrid mattress, bed-in-a-box
Firmness: Customizable firmness levels from 2.5-7.5/10 on firmness scale
Trial Length: 120 Night, Risk-Free Sleep Trial
Warranty: 10-Year Warranty
What I Loved
This Arizona-made mattress from Brooklyn Bedding provides superior value at a factory-direct price. You can customize the firmness of the Brooklyn Signature Hybrid with three options: soft, medium, or firm. The top-of-the-line foams used to construct the Brooklyn Signature Hybrid offer outstanding pressure relief and contouring comfort, along with buoyancy, breathability, and best-in-class comfort. The individually pocketed coils are zoned for independent movement, support, and superior motion isolation, and the reinforced perimeter means excellent edge support. An optional GlacioTex™ Cooling Cover delivers high-tech cooling comfort to hot or heavy sleepers.
What I Didn't Love
Sleepers who like the gentler feel of memory foam won't enjoy the Brooklyn Signature Hybrid. And stomach sleepers require more support than this model can deliver. The Plank Firm Luxe would be a good option.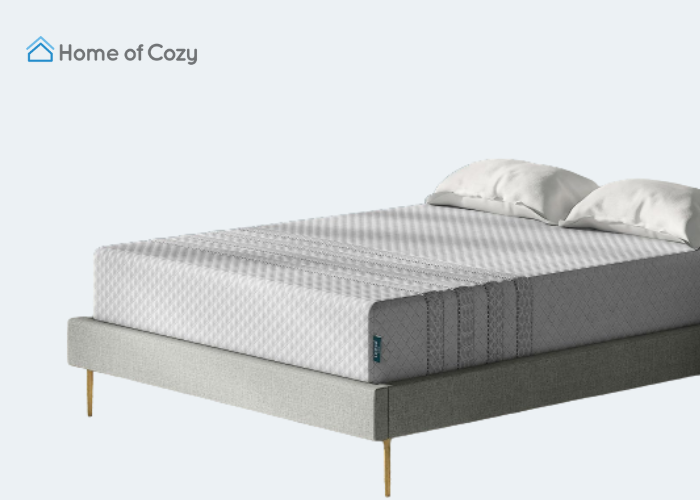 Best For: Combination Sleepers, hot sleepers, back sleepers, green shoppers, shoppers who want to support charity
Price: $1,349- 2,299
Mattress Type: Hybrid mattress, bed-in-a-box
Firmness: 5-7/10 on firmness scale
Trial Length: 100-Night, Risk-Free Sleep Trial
Warranty: 10-Year Warranty
What I Loved
The high-performance Leesa Sapira Hybrid is designed for combination sleepers. This hybrid mattress provides sleepers with balance of bounce and pressure relief in a medium-firm feel that suits most people. Premium memory foam offers cooling and contouring, while 1,000 pocketed springs actively respond to your individual movement and sleep style. If you also suffer from back pain, the Leesa Sapira Hybrid is an excellent choice. The breathable cover of ultra-fine viscose and plant-based rayon fibers help hot sleepers stay cool. The Leesa Sapira Hybrid carries the CertiPUR-US® safety certification through independent accredited testing labs that ensure materials are low VOC and made without ozone depleters, phthalates, BPDE, formaldehyde, or heavy metals. If you want to support a company with a dedication to social causes as part of its corporate mission, the Leesa Sapira Hybrid might tip the balance.
What I Didn't Love
If you prefer a plusher, cushier mattress, the Leesa Sapira Hybrid isn't a good fit. If you're a partnered sleeper, you may be prone to feeling your mate's movements during sleep.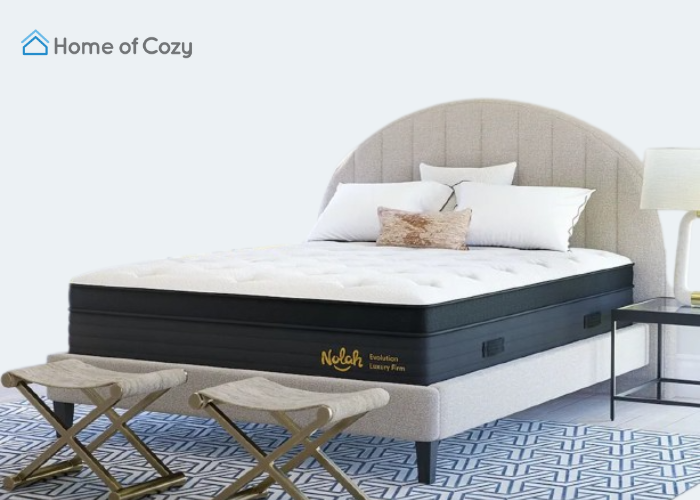 Best For: Side sleepers, sleepers with hip, back, or shoulder pain, combination sleepers, hot sleepers
Price: $1,499-3,198
Mattress Type: Hybrid, bed-in-a-box
Firmness: Available in plush, luxury firm, and firm, 4-8/10 on firmness scale
Trial Length: 120-Night, Risk-Free Sleep Trial
Warranty: Lifetime Warranty
What I Loved
If you need enhanced spinal alignment—I have scoliosis so this mattress was of special interest to me—the Nolah Evolution 15 may be just what the doctor ordered. This high-tech, hybrid mattress—the company's most advanced—has been singled out by the Sleep Foundation for its superior features. Targeted back and shoulder support and responsive pressure relief come courtesy of the HDMax™ Tri-Zone™ coils, while the breathable cover, heat-dissipating Euro topper, and graphite-infused AirFoamICE™ provide luxurious cushioning and best-in-class cooling. The design of this innerspring mattress includes a unique coil-on-coil construction that provides an even balance of contouring and responsiveness. A cushy layer of memory foam is quilted with a Euro top for a comforting touch. This mattress compares favorably to a Tempur-pedic. Another luxe mattress well suited for those with shoulder pain is the Saatva Classic.
What I Didn't Love
The Nolah Evolution 15 may be just a bit too cushy for sleepers who prefer a firmer mattress.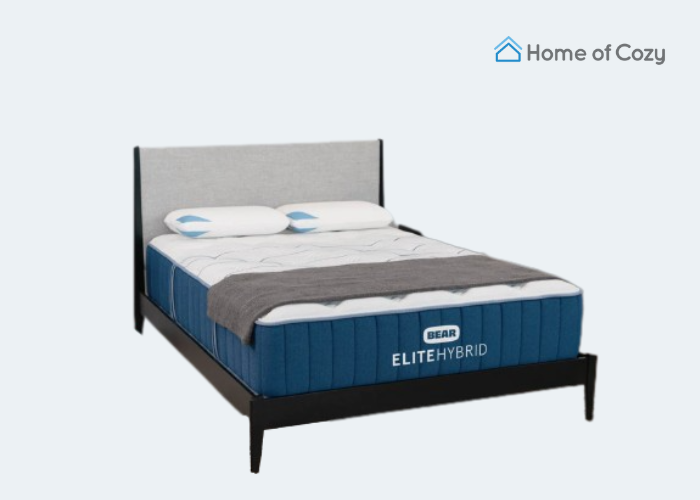 Best For: Hot sleepers, couples, combination sleepers, sleepers who live in hotter climates
Price Range: $1,721-3,565
Mattress Type: Hybrid mattress, bed-in-a-box
Firmness Scale: Three firmness levels, ranging from 5/10-7/10 on firmness scale
Sleep Trial: 120-Night, Risk-Free Sleep Trial
Warranty: Lifetime Warranty
What I Loved
The Elite Hybrid is Bear's newest and most sophisticated mattress for hotter sleepers or those who reside in hot climates such as the Southeast or Southwest U.S. Temperature regulation is another strength, thanks to copper-infused, cooling memory foam that draws away and disperses body heat. The Bear Elite Hybrid also performs well in several areas where other mattresses struggle. Individually wrapped coils provide superior motion distribution compared to traditional innerspring designs, while memory foam and zoned support create a perfect mix of firmness and contouring. The Bear Elite Hybrid features a layout of five ergonomic zones offering varying pressure relief levels to support the spine and joints. This system employs higher-gauged coils in the mattress's middle section for lumbar support, while the end zones are more gently cushioned. Its edge support and motion distribution are incredible, letting one partner toss and turn without disturbing the other.
What I Didn't Love
This is a premium mattress, so of course it carries a higher price tag, which may put it out of reach for more price-sensitive shoppers. Also, our reviewers felt that each of the firmness models tended to run a bit softer than ratings suggest.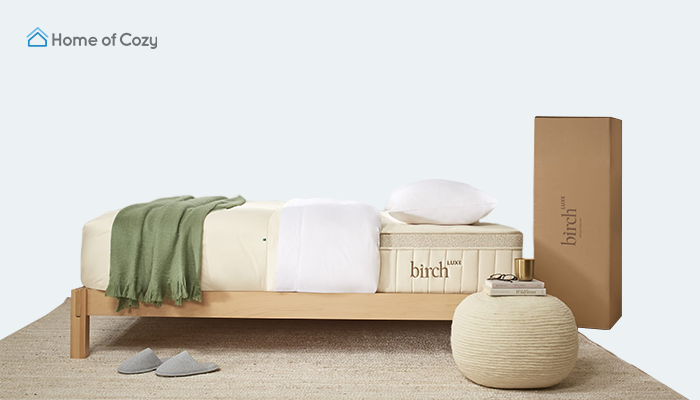 Best For: Shoppers seeking a sustainable mattress, back sleepers, side sleepers, combination sleepers
Price: $1,936.30-3,623.80
Mattress Type: Hybrid Mattress, bed-in-a-box
Firmness Scale: Medium-firm mattress, with a mattress topper, 4-5/10, without a mattress topper, 6-7/10 on firmness scale
Trial Length: 100-Night, Risk-Free Sleep Trial
Warranty: 25-year Warranty
What I Loved
You'll be cradled, cool, and comfortable on the ultra-plush Birch Luxe Natural pillow top mattress. Birch is committed to using organic, natural materials that pass rigorous testing and achieve the highest ratings and standards from third party organizations. In addition, Birch's production credentials are eco-responsible and their partners adhere to ethical practices and materials sourcing. The materials—ultra-fine, organic cashmere, two organic comfort layers, and non-toxic, natural latex—are breathable, moisture-wicking and cooling. The Birch Luxe Natural mattress is an upgrade to the company's Birch Natural mattress with enhanced lumbar support, full perimeter support, and a plush quilted, organic cotton Euro top. A latex mattress like the Birch Luxe Natural is an outstanding choice for those with allergies, asthma, or skin sensitivities.
What I Didn't Love
Yes, the price is steep. But this premium mattress delivers safety, sustainability along with an incredibly dreamy, luxe sleep experience.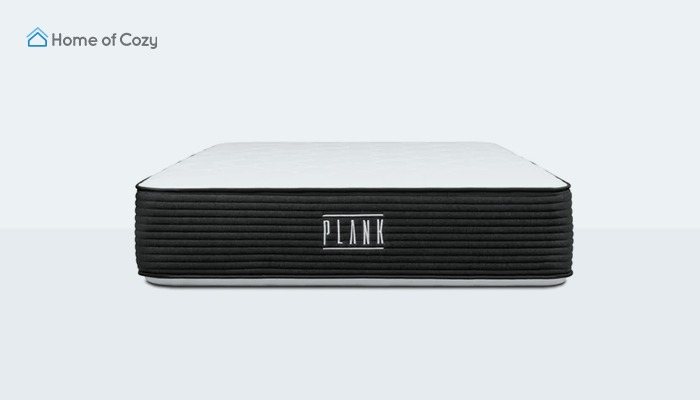 Best For: Sleepers who prefer a firm to extra-firm mattress, stomach sleepers, back sleepers who weigh more than 230 pounds, hot sleepers
Price: $934-1,732
Mattress Type: Hybrid mattress, bed-in-a-box
Firmness: Two firmness levels, from 7-9.5/10 on firmness scale
Trial Length: 120-Night, No-Risk Sleep Trial
Warranty: 10-Year Warranty
What I Loved
Brooklyn Bedding's Plank Firm Luxe (formerly known as the Plank Hybrid) is a flippable model with a firm (7+/10) side and an extra firm side (9+/10). It's one of the firmest, flattest mattresses available, designed to be exceptionally even and supportive on both sides. The Plank Firm Luxe will especially appeal to sleepers who like to sleep on top of a bed, not sink into one, which is also a bonus when moving across the mattress. The hybrid construction of this double-sided mattress includes 6" of individually-encased Ascension Firm coils for bounce and responsiveness, and a 6" high-density foam core for cushioning. A cooling fiber infusion throughout the GlacioTex™ cover delivers maximum cooling on contact to dissipate heat. The Plank Firm Luxe comes in many standard and unusual sizes, including Olympic Queen and XL Twin. This mattress delivers great value and versatility for the money.
What I Didn't Love
The Plank Firm is too firm for sleepers who weigh less than 130 pounds. It also doesn't offer enough pressure relief for most side sleepers. Partnered sleepers may be prone to feeling each other's movements.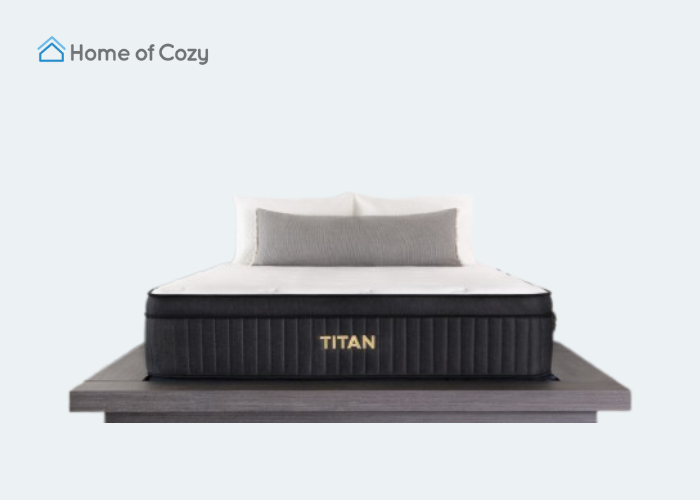 Best For: Heavier or plus size sleepers, back sleepers, stomach sleepers, couples who want superior motion isolation for better sleep
Price Range: $899-1,799
Mattress Type: Hybrid mattress, bed-in-a-box
Firmness Scale: Medium-firm mattress, 5-7/10 on firmness scale
Trial Length: 120-Night, Risk-Free Sleep Trial
Warranty: 10-Year Warranty
What I Loved
The Titan Plus was a pioneer in the plus-sized mattress category—and arguably the most luxurious and durable one. It's designed with substantial support (i.e, less sagging) for heavier sleepers in a more traditional medium firmness. This pillow top mattress builds on the benefits of the original Titan Plus, with additional contouring and pressure point relief to accommodate both sleep partners. An 8" core of individually pocketed, premium TitanCaliber™ coils ensures extra lift and extra durability for the life of the mattress. A 1" layer of quilted, gel memory foam resists body impressions and provides a cool-to-the touch surface for temperature regulation. The Titan Plus Luxe will support up to 1,000 pounds.
What I Didn't Love
If you're a lighter sleeper (less than 130 pounds in weight), the Titan Plus Luxe isn't your best match.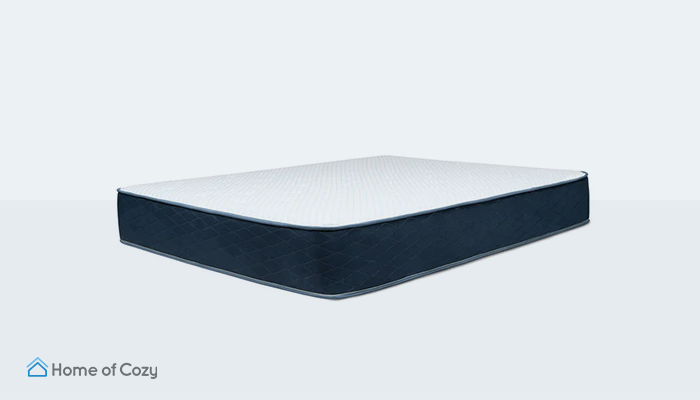 Best For: Budget shoppers, back sleepers, side sleepers, combination sleepers, hot sleepers
Price: $532-999
Mattress Type: Hybrid mattress, bed-in-a-box
Firmness Scale: Medium-firm, 6.5/10 on firmness scale
Trial Length: 120-Night, Risk-Free Sleep Trial
Warranty: 10-Year Warranty
What I Loved
The Dreamfoam Hybrid packs a lot of punch at a lower price point. Engineered with one of the most advanced fabrics on the market—typically reserved for luxury mattresses—it delivers cooling relief on contact. This premium temperature moderation is paired with a four-layer hybrid construction of high-quality foams and individually encased coils for enhanced airflow and deeper compression support. Because the Dreamfoam Hybrid has a balance of firmness and bounce, it's an especially solid choice for combination sleepers or partnered sleepers. The Nectar Mattress is another good value option for someone who likes the contouring feel of memory foam.
What I Didn't Love
Heavier sleepers need more support and durability than the Dreamfoam Hybrid offers. Likewise, stomach sleepers won't find the firm sleeping surface they need. Instead, consider the Brooklyn Signature
An Adjustable Bed Can Be a BIG Lifestyle Upgrade
There are many reasons adjustable beds have become so popular in the mattress marketplace over the past few years.
Though the best mattresses for adjustable beds are pricier than standard mattresses, there are options in every price range. And once you experience an adjustable bed, you may never want to go back to a traditional mattress. Adjustable bed buyers gush with praise for the host of benefits that pay off for many years.
We're confident our expert roundup of the top mattresses for adjustable beds will help you zero in on the best bed for your needs.
And if you're looking for a mattress for a non-adjustable bed for yourself or a family member, we invite you to check out the Best Mattresses for 2023. It's our in-depth, up-to-date review of the best offerings from multiple mattress manufacturers.
A Quick Guide to Adjustable Beds Matched by Sleeping Position
Buying a mattress in 2023 can be a maze of industry buzzwords that feels like you need a Ph.D. to decipher! So we've broken down the basics here, including recommendations for which sleeping positions do best with which mattress type to keep your spine in neutral, pain-free alignment.
Memory Foam Mattresses
Memory foam mattresses adapt to your body's shape. They cradle your body with a distinctive "sinking" feel and are good for relieving pressure-point pain at the shoulders, hips, knees, and back. Tempur-Pedic pioneered the memory foam mattress category which is a topseller. Memory foam mattresses are a great match for side sleepers who need a more "giving" sleep surface. However, memory foam mattresses do tend to retain heat (sometimes called sleeping hot) so if you're a heavier sleeper or suffer from night sweats, look for a mattress with cooling properties such as copper-infused fibers or gel-infused layers.
Latex Mattresses
Similar to memory foam, latex offers pressure-relieving qualities, but with a big, eco-friendly difference. Latex mattresses are made from rubber trees and are naturally organic and hypoallergenic. Latex mattresses are an excellent choice for those with allergies, asthma, or skin sensitivities.
Innerspring Mattresses
This is the original, old-school type of mattress construction. Innerspring mattresses are made with steel coils or springs covered with fabric that provide structure, stability, and durability. They are usually firmer and have more bounce, making them a great choice if you have an ahem, active sex life. Pocketed coils are the highest quality innerspring mattress you can buy, offering excellent body contouring and motion isolation. Stomach sleepers may benefit from the firmer surface an innerspring mattress provides.
Hybrid Mattresses
Hybrid mattresses use a combination of materials like memory foam or latex and innerspring construction, which many people find to be the perfect combination for great sleep. Hybrid mattresses suit a wide variety of sleepers, including those who suffer from back pain. Medical experts recommend a medium-firm mattress for a good balance of cushioning and support for back and combination sleepers. No matter what type of mattress, heavy or plus-size sleepers need a firmer bed for optimal support.
Airbed Mattresses
Adjustable mattresses, also known as airbeds, like Sleep Number, have air chambers that allow you to control the mattress firmness level. Adjustable mattresses (sometimes called smart mattresses) can offer variable pressure relief and they are a great choice for guest rooms to accommodate different sleep preferences. People with lighter body weights will appreciate the ability to adjust the mattress to a softer feel.