Two mattresses for the price of one? Yes, that's a thing.
It's called a flippable mattress.
I remember flippable mattresses from summer vacations at my grandparents' house. Come to find out, flippable mattresses are enjoying a resurgence in popularity—and they're finding a younger audience, to boot.
There are some pretty compelling reasons you might want to buy a flippable mattress and we're going to cover those in detail. Then we'll share our top picks for the best flippable mattresses in 2023.
But first, let's discuss what a flippable mattress is and how to choose one.
Best Flippable Mattresses
What Makes a Mattress Flippable?
Flippable mattresses, sometimes called double-sided mattresses or reversible mattresses, can be literally flipped over, allowing you to comfortably sleep on either side.
Many flippable beds include the same firmness level on each side, particularly traditional innerspring beds. That can be advantageous from a durability standpoint.
But most double-sided mattresses offer two different firmnesses—often a soft side and a firmer side—which offers versatility in sleeping surfaces and sleeping positions, in addition to durability.
If you want a flippable mattress, think about whether you want single firmness or dual firmness, which means that each side has a different feel.
Unlike one-sided mattresses, flippable mattresses can help extend the lifespan of your bed by avoiding continuous wear and tear on the same side and sections of a mattress. A longer lifespan can mean you replace your double-sided mattress less often than a standard mattress.
As demand for flippable mattresses has increased, there are some excellent options on the market.
Even though there aren't as many flippable beds on the market as standard mattresses, a number of leading brands including Brooklyn Bedding, Brentwood Home, Helix, Layla, Nest Bedding, and Saatva have at least one flippable mattress.
Reasons To Buy a Flippable or Double-Sided Mattress
A flippable mattress with reversible firmness levels offers flexibility for a variety of sleeping scenarios.
A dual-firmness flippable mattress is especially desirable for:
Sleepers who aren't certain of their exact mattress firmness preference and want to have options
Children and teenagers whose firmness preferences may change as they grow
Guest rooms where sleepers' firmness preferences can vary
Combination sleepers who want variety in how their bed feels
Before we share our favorite flippable mattresses, let's jump into what you need to keep in mind as you begin shopping for double-sided mattresses.
Considerations When Shopping for a Flippable Mattress
Some of the criteria are the same as when shopping for a flippable mattress as a standard mattress, but there are also some key differences.
To help you make an informed choice in a flippable mattress, let's discuss what to look for.
Material Quality. Look for durable and high-quality materials. The durability of any mattress depends on its materials. Being two-sided doesn't compensate for weaker components. Beware of flippable mattresses with very thin comfort layers on one side—they may be cheaper, but they're likely to wear out faster.
Material and Safety Certifications. Be on the lookout for various certifications indicating materials safety and standards compliance as you're comparing flippable mattress models. Keep reading for more about how to decipher the alphabet soup of common certifications.
Comfort Level. Test both sides for different comfort levels. Consider preferences, especially if you'll be sharing the bed.
Support and Alignment. To ensure proper spinal alignment and body weight support, test for excessive sagging (or softness) on each side of a double-sided mattress. You want both sides of a flippable mattress to feel comfortable for your unique sleep needs. If they don't, rule it out.
Edge Support. Check for good edge support on both sides. This is important for comfort and safety, especially if you have balance or mobility issues.
Motion Isolation. Choose a flippable mattress with good motion isolation to minimize disturbances from a partner's (or pet's) movements.
Temperature Regulation. Look for cooling features or airflow-promoting materials such as copper fibers or gel-infused foams in a flippable mattress. This is essential to combat heat retention, which is especially pronounced in foam mattresses, and a source of sleeping frustration for heavier sleepers or menopausal women who suffer from night sweats.
Durability and Longevity. Research the expected lifespan of any double-sided mattress you're considering. Read customer reviews for real-life tea on how well a particular flippable mattress actually holds up over time with normal usage. Durability always depends on how well you care for your mattress.
Flip Frequency and Rotation. Flippable mattresses have to be flipped regularly. So consider your willingness and ability to do so. Handles on a double-sided mattress definitely help ease flipping. Keep reading: we'll talk more about flip frequency.
Trial Period and Warranty. Before buying any flippable mattress, read the manufacturer's trial period and warranty. A longer sleep trial period and a substantial warranty are indicators of quality.
Size and Dimensions. Whether you're buying an XL twin flippable mattress or a California King flippable mattress, ensure it fits your existing bed frame. It's also a good idea to measure your room space, too.
Do Your Homework. Spend some time with both customer and expert mattress reviews specific to the flippable mattresses you're looking at. Closely read the comments regarding comfort, durability, and maintenance—they tell a lot about a mattress's performance in the real world.
Return Policy. Always confirm the flippable mattress manufacturer's return policy in case your sleep trial is a bust and the bed doesn't meet your expectations. Be sure you understand the return or exchange process so you don't encounter nasty surprises.
Price and Budget. Set a budget (but allow, say 10 percent price flexibility) and compare options within that range. Consider higher-quality options for better sleep, longevity, and after-the-sale support.
Flippable Mattresses: How Often Do I Need to Flip 'Em?
Many flippable mattresses weigh more than one-sided mattresses. This is especially true for dual-firmness designs because of the distinct comfort system built into each side.
And that can make flipping a double-sided mattress a chore—especially if you're single, have any mobility issues, or are unable to lift at least 50 and sometimes as much as 150 pounds. This is an important detail many buyers overlook.
Handles on the mattress cover can help. But even with handles, it usually takes two people to safely flip a mattress over.
These are the general guidelines for flipping the majority of double-sided mattresses:
Single Firmness Flippable Mattresses. If your flippable mattress has the same firmness on each side, then you'll really only need to flip it every 3-6 months. If you notice patterns of wear happening sooner, you might want to consider flipping your double-sided mattress more frequently.
Dual-Firmness Flippable Mattresses. For a mattress with two different firmness levels, you can flip it whenever and as often as you want to adjust the firmness feel for better sleep. This offers great freedom and flexibility if your sleeping status, weight, or activity level changes.
These are general recommendations for flipping or rotating your double-sided mattress. But always double-check with the manufacturer of the flippable mattress you buy for specific instructions to optimize the performance and durability of your bed. Those policies should be followed to ensure the validity of your warranty.
Okay, now let's reveal our flippable mattress faves!
Our Top Picks for Best Flippable & Double-sided Mattress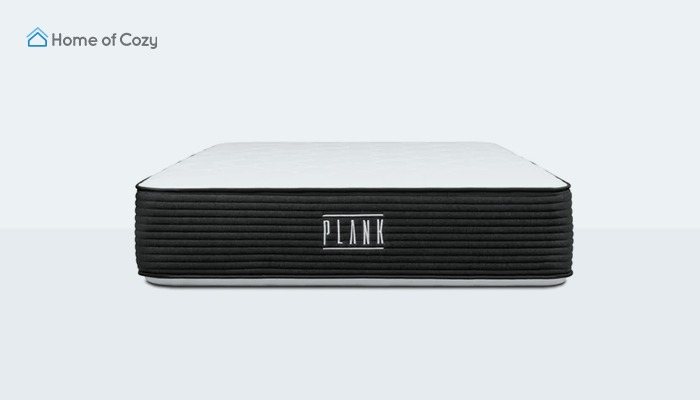 Best For: Sleepers who prefer a firm to extra-firm mattress, stomach sleepers, back sleepers who weigh more than 230 pounds, hot sleepers
Price: $934-1,732
Mattress Type: Hybrid mattress, bed-in-a-box
Firmness: Two firmness levels, from 7-9.5/10 on firmness scale
Trial Length: 120-Night, No-Risk Sleep Trial
Warranty: 10-Year Warranty
What I Loved
Brooklyn Bedding Plank Firm Luxe (formerly known as the Plank Hybrid) is a flippable model with a firm (7+/10) side and an extra firm side (9+/10). It's one of the firmest, flattest mattresses available, designed to be exceptionally even and supportive on both sides. The Plank Firm Luxe will especially appeal to sleepers who like to sleep on top of a bed, not sink into one, which is also a bonus for moving across the mattress. The hybrid construction of this double-sided mattress includes 6" of individually-encased Ascension Firm coils for bounce and responsiveness, and a 6" high-density foam core for cushioning. A cooling fiber infusion throughout the GlacioTex™ cover delivers maximum cooling on contact to dissipate heat. The Plank Firm Luxe comes in many standard and unusual sizes, including RV King, Short Queen, Olympic Queen, and XL Twin. This mattress delivers great value and versatility for the money.
What I Didn't Love: The Plank Firm is too firm for sleepers who weigh less than 130 pounds. It also doesn't offer enough pressure relief for most side sleepers. Partnered sleepers may be prone to feeling each other's movements.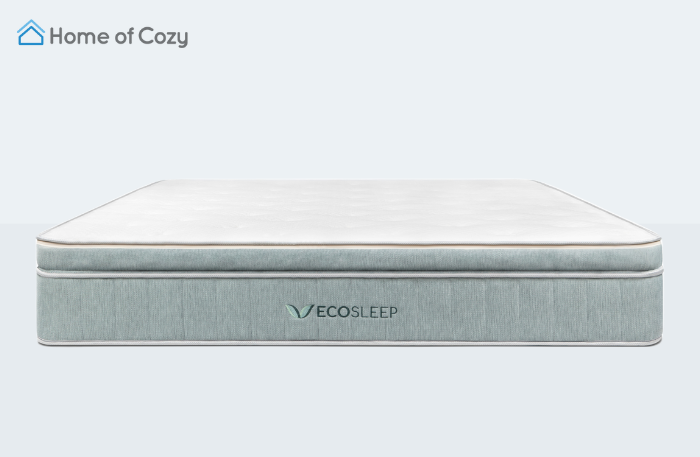 Best For: Eco-conscious sleepers, back sleepers, stomach sleepers, hot sleepers
Price: $999-2,2,49
Mattress Type: Hybrid mattress, bed-in-a-box
Firmness: Two firmness levels, from 7-8/10 on firmness scale
Trial Length: 120-Night, No Risk-Sleep Trial
Warranty: 10-Year Warranty
What I Loved
The all-organic EcoSleep Luxe offers a thoroughly natural, customizable way to sleep. This Brooklyn Bedding mattress is constructed of pure, sustainably sourced latex throughout, paired with an 8" core of up to 1,032 individually encased coils for optimal pressure-point relief and superior motion isolation. The exceptional comfort and unique responsiveness of the RainForest Alliance-certified latex results in either a plush or firm sleep experience, depending on which side of the latex core you use. To create your ideal sleep experience, simply unzip the cover and flip the latex core so that either the soft or firm side is on top—then re-zip the cover. The plush, quilted top layer of Joma Wool™ and 100 percent organic cotton ensure the zippered cover is naturally hygienic and breathable so hotter sleepers rest easier.
What I Didn't Love
Side sleepers are likely to find the EcoSleep Luxe a bit too firm and responsive, particularly at the hips and shoulders where pressure relief matters most.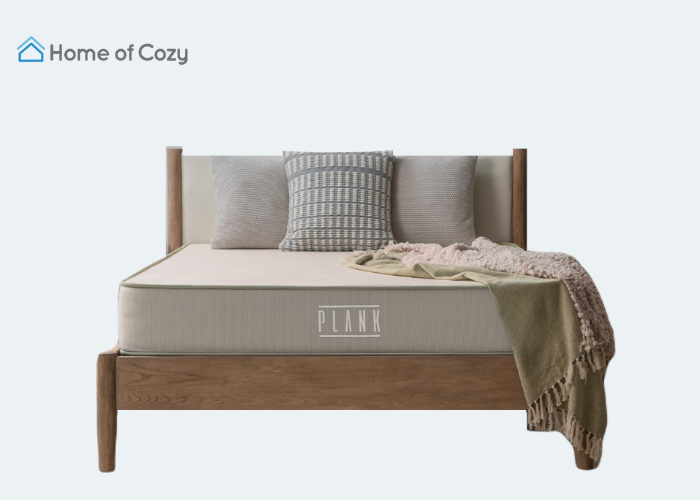 Best For: Green shoppers, back sleepers, stomach sleepers, hot sleepers or those who live in hotter climates
Price: $1,339-2,665
Mattress Type: Hybrid mattress, bed-in-a-box
Firmness: 6-8/10 on firmness scale
Trial Length: 120-Night, No-Risk Sleep Trial
Warranty: 10-Year Warranty
What I Loved
The Plank Firm Natural is another flippable mattress made by Brooklyn Bedding that has two firmness levels (dual firmness). This natural Talalay latex bed—certified by the Forest Stewardship Council for ethical production—has a firm feel on one side and a medium-firm feel on the other. Two layers of 100 percent organic wool and organic cotton construction are naturally temperature-regulating, offer pressure-point relief, and provide natural shape retention. The Plank Firm Natural is GOTS certified (keep reading for more about that). This mattress minimizes movement, though very light sleepers may be disturbed by a partner's or pet's movements. The Plank Firm Natural also boasts excellent edge support thanks to a reinforced perimeter, so even if you sleep at the mattress's edge, there shouldn't be sagging. Plank mattresses are also sold in select Brooklyn Bedding showrooms nationwide and through third-party retailers like Amazon and some Walmart stores. If you want a plusher flippable mattress, consider the brand's Plank Luxe Firm.
What I Didn't Like
Those who have latex allergies should avoid the Plank Firm Natural.
Side sleepers who are seeking deeper pressure relief and lighter weight sleepers under 130 pounds should also steer clear of this extra firm mattress, and opt instead for a softer bed that offers greater cushioning and contouring.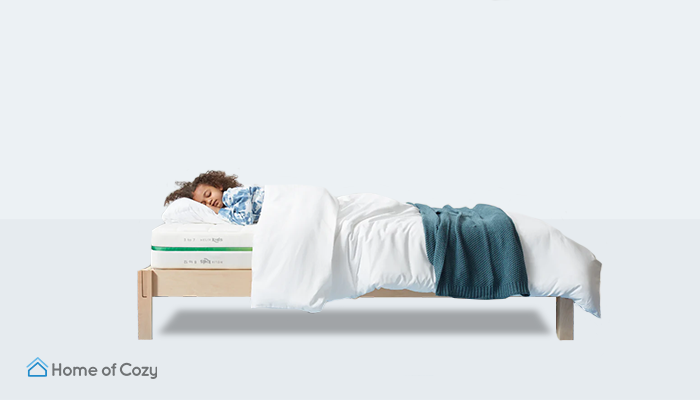 Best For: Growing kids aged 3 to 12, appropriate for kids with all sleeping positions: back, side, stomach, or combination
Price: $748.80-998.80
Mattress Type: Hybrid mattress, bed-in-a-box
Firmness: Two firmness levels, from 7-9.5/10 on firmness scale
Trial Length: 100-Night, No-Risk Sleep Trial
Warranty: 10-Year Warranty
What I Loved
Double-sided mattresses are a terrific value as your kid grows. The non-toxic (Greenguard and CertiPUR-US certified, free of lead and fiberglass for optimum safety) Helix Kids flippable mattress is specifically designed for kids with changing needs and sleep preferences between the ages of 3 and 12. This hybrid mattress has 6" of innersprings and custom foam layers for comfort, support, and durability. The firmer side is best for the younger set, aged 3 to 7, while the softer side, which has a medium-firm feel is ideal for children between 8 and 12. The Tencel cover is hypoallergenic and water-resistant, which takes some of the worry out of spills, stains, or other oopsies. And the odor-fighting microbe shield keeps funky kid smell at bay. The coils and cover are both breathable, which makes the Helix Kids mattress perfect for hot-natured youngsters. The Helix Kids mattress offers outstanding sleep support for the proper development of growing bodies. It comes in two sizes, twin and full, both kid-tested and parent-approved. The Saatva Youth is also worth considering in this category.
What I Didn't Love
The Helix Kids mattress isn't for children older than 12, nor is it a good match for kids who like a slow-moving memory foam feel in a bed.
One Other Thing to Know Before Buying a Flippable Mattress
Body weight is an important, but often overlooked, consideration when evaluating different mattress types, including flippable mattresses.
As a general rule, heavier people need a firmer bed for optimal support, while lighter-weight folks will be better off with a softer, more giving mattress.
When deciding on the right mattress firmness level, be sure and factor in additional weight if you sleep with a partner or a beefy dog. And sleeping position also influences your mattress selection. Stomach and back sleepers need firmer mattresses (often innerspring or hybrid mattresses) to maintain proper spinal alignment, while side sleepers tend to do best with more giving mattresses, like memory foam.
As always, an at-home sleep trial of no less than 100 nights is crucial to determine if the flippable mattress you think is a heavenly match actually delivers blissful sleep night after night.
Decoding Mattress Certifications
There are a variety of abbreviations conferred by third-party, independent testing bodies separate from the mattress manufacturer that you might see promoted when you're looking at flippable mattresses (or standard mattresses). They can serve as an indicator of specific qualities you may find important when you're in the market for a mattress.
These are the most common:
CertiPUR-US
This certification indicates that any foams in a mattress have been made without certain harmful chemicals and have been tested for low volatile organic compound (VOC) emission levels.
OEKO-TEX
The Standard 100 by Oeko-Tex is an assurance that none of the mattress fabric components contain no unsafe levels of chemicals known to be harmful.
GOTS
GOTS is short for the Global Organic Textile Standard. It shows that a mattress manufacturer has followed strict production standards, and ensures the entire product, not just certain components. Some mattress brands may misuse the GOLS certification, when for example, only the organic cotton cover is GOLS certified. To be sure you're not being misled, you can log onto the GOTS public database to double-check accuracy.
GOLS
The Global Organic Latex Standard is similar to GOTS, but specifically covers latex mattresses and pillows.
GREENGUARD
This is an indoor air quality certification that shows that a mattress meets chemical emission standards. The GREENGUARD Gold certification is a more stringent certification that requires products to have even lower VOC emission levels.
Why You Might Just Flip For a Flippable Mattress 
Flippable or double-sided mattresses offer unmatched, two-for-one value that extends your mattress buying budget.
And flippable mattresses are a fantastic buy for a variety of sleeping situations, whether you want a bed for your primary bedroom, your child's room, a guest room, or a vacation rental.
So if you're looking for unmatched durability and versatility, a flippable mattress could absolutely be the way to go.
But since most of us aren't familiar with flippable or double-sided mattresses, it can be a bit daunting to figure out which ones offer the best performance and value.
We hope our primer and roundup of the Best Flippable or Double-Sided Mattresses for 2023 has been helpful and increased your confidence as you're shopping. We want you to select the brand and model of flippable mattress that works best for you and maximizes your investment.
Armed with this information, no matter what side of the flippable mattress you wake up on, we want you to be well-rested.
And if you're shopping for a standard mattress for other bedrooms, take a look at our comprehensive guide to the 10 Best Mattresses for 2023.