At Home of Cozy, we're committed to helping you find more than just a bed; we want to help you discover the best mattress assembled in the USA to comprehensively support your nighttime well-being.
Join us as we delve into the realm of American-assembled mattresses, guiding you toward the perfect fit for your unique sleep needs.
Best American-Assembled Mattresses
Brand
Best For
1

Editor's Choice

Overall
Shop Now
2

Value
Shop Now
3

Side Sleepers
Shop Now
4

Couples
Shop Now
5

Organic Option
Shop Now
6

Ultra-Firm
Shop Now
7

Pressure Relief
Shop Now
8

Plus Size
Shop Now
9

Budget
Shop Now
1
Editor's Choice
2
3
4
5
6
7
Best For:
Pressure Relief
8
9
In our quest to provide you with the most reliable options, we've focused on several key areas most important when choosing the best USA-assembled mattress:
● Materials & Certifications: We highlight robust, durable mattresses made from high-density, natural materials. Plus, we look for certifications like CertiPUR-US and GOLS that guarantee adherence to rigorous safety and environmental standards.
● Comfort & Support: Recognizing that comfort is deeply personal, we explore a wide range of firmness levels and highlight mattresses that excel in pressure relief and body contouring.
● Trial Periods, Warranties, & Value: We evaluate trial periods and warranties and scrutinize pricing structures to provide peace of mind and ensure excellent value for your investment.
Our Top Picks for Best USA-Assembled Mattresses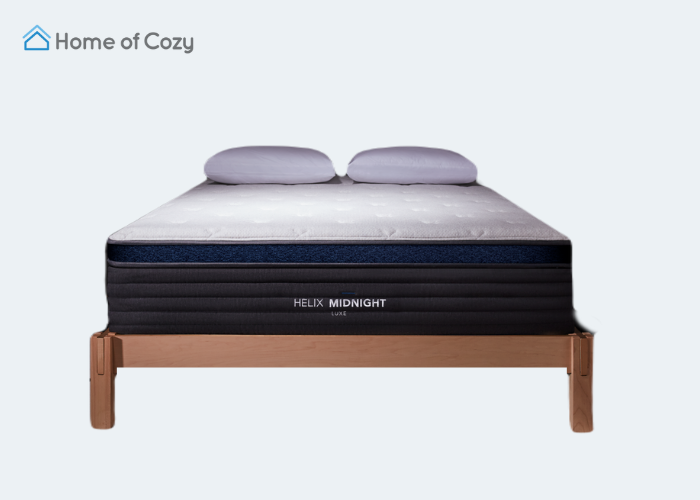 Price Range: $1,374 – $2,874
Mattress Type: Hybrid foam & pocketed coils
Firmness: 5/5.5 out of 10 (Medium)
Trial Length: 100-night sleep trial
Warranty: 10 to 15 years
What We Loved
We found it hard not to love everything about the Helix Midnight Luxe. Many of the research team and I suffer from the usual suspects when it comes to poor sleep – pain, temperature changes, etc. – and this mattress provided us with the support and comfort needed for a good night's sleep.
Specifically, we all loved the patented hybrid design of medium-feel memory foam supported by a reinforced steel coil system. For us, this combination offered just the right amount of contouring and support without feeling like we were sinking into the mattress.
And when these supportive features are combined with the plush pillow top and optional cooling cover, you get a mattress that's ultra-luxurious and ideally suited for those with acute or chronic sleep issues in sizes ranging from twin to California King.
What We Didn't Love
Throughout the rigorous testing process, the only complaint we had from the team was related to the lack of extremeness in the Helix Midnight Luxe feel. As a medium-firmness mattress, this may not provide the sleep you want if extreme softness or firmness is required for a restful, restorative sleep.
Why We Picked This Mattress
At Home of Cozy, we've reviewed the best mattresses, and the Helix Midnight Luxe's top spot on our list is due to its excellent customer reviews, smooth delivery process, professional endorsements, fire-retardancy, hypoallergenic design, sleep-enhancing add-ons, as well as CertiPUR-US and GREENGUARD certifications. These factors, combined with the superior sleep quality, made this mattress a clear winner when it comes to reliability, safety, and comfort.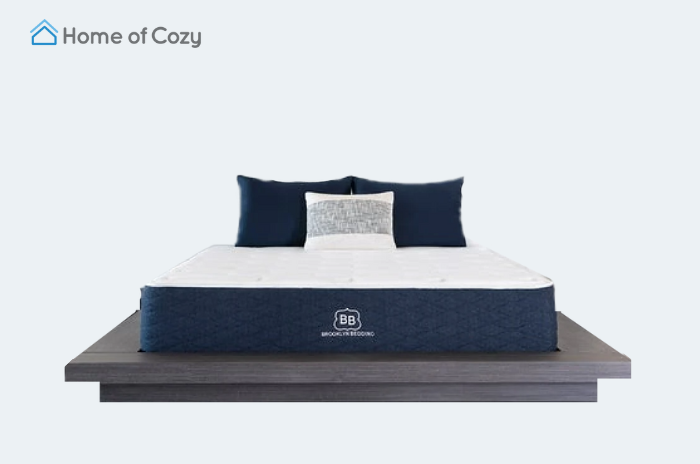 Price Range: $699 to $1,599
Mattress Type: Hybrid foam & coil system
Firmness: 3/4 out of 10 (Medium-plush)
Trial Length: 120 nights
Warranty: 10-year
What We Loved
As an avid mattress tester, I know how difficult it can be to find the perfect mattress that includes special discounts or extra perks to make the investment worth it. The Brooklyn Bedding Signature Hybrid is just that mattress, offering the premium sleep luxury of a high-end brand with the bonuses and perks you want to keep you coming back for all your sleep needs.
This hybrid mattress comprises premium foams and individual Ascension coils designed to provide pressure relief and support, contouring your body's curves as you sleep. The breathable cover encourages cooling airflow, while the optional pillow top cover can make you feel like you are sleeping on a cloud.
This mattress's innovative combination of materials provides an incredibly comfortable night's rest from the moment it arrives at your door, thanks to its bed-in-a-box delivery. This specialized packing system means your new mattress is compressed and shipped in an easy-to-manage box, allowing for a quick and stress-free setup – with free shipping to boot.
What We Didn't Love
While the product page does provide detailed information on selecting the right firmness for you, taking the time to do so is a long process that you shouldn't rush, so make sure you've got time to consider before purchasing.
Why We Picked This Mattress
The Brooklyn Bedding Signature Hybrid is our top pick for a great value mattress because of its superior hybrid design, luxurious materials, and bed-in-a-box delivery system that guarantees easy setup and stress-free shipping. All Brooklyn Bedding mattresses are shipped from the company's Arizona factory. Furthermore, like many of the best mattress brands, they offer special discounts for military, first responders, medical providers, and educators to ensure anyone can get a good night's sleep without compromising quality for cost.
Perfect for Side Sleepers: Leesa Legend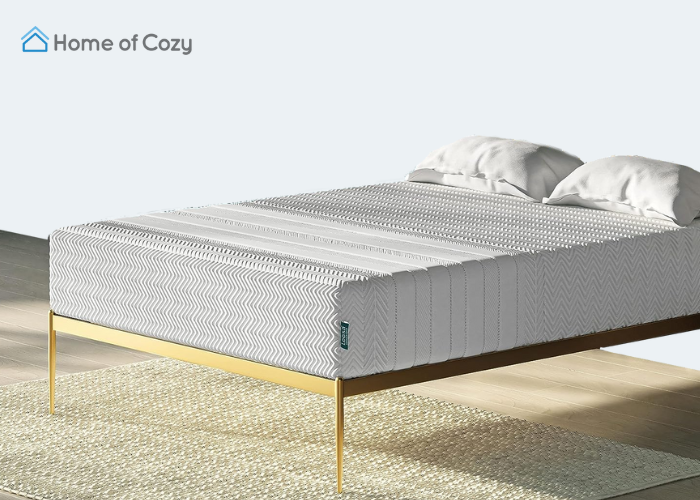 Price Range: $1,999 to $2,999
Mattress Type: Hybrid foam & pocket spring
Firmness: 3/4 out of 10 (Medium-plush)
Trial Length: 100 nights
Warranty: 10 years, full-replacement, limited
What We Loved
We loved the Leesa Legend's combination of premium foam layers for contouring support and an advanced pocketed spring system that provides excellent pressure relief. For side sleepers, these two features alone would be enough, but add in its medium plush firmness, and you get an ideal mattress that allows for true alignment of your body's curves without causing discomfort or frequent movement.
If that weren't enough, we found the quality of the design materials to make this even better for those who prefer a softer feel with more cushioning. With organic cotton and merino wool as the top cover and fire barrier, you get breathable comfort without compromising safety – or triggering your allergies.
Entirely-eco friendly and made with recycled materials, this mattress doesn't just support the environment; it's also designed to support all body types with sizes ranging from tin XL to Cal King.
What We Didn't Love
While we loved this luxury pressure-relieving mattress's overall comfort, we disagreed on its actual feel. Some on the team found it more medium-firm, while others found it too soft. This discrepancy in opinion made it difficult to recommend as a one-size-fits-all mattress option and means you should be comfortable with a range of firmness levels before you buy.
Why We Picked This Mattress
At Home of Cozy, we often find that mattress companies can fail to consider the needs of side sleepers. This is why we chose to include this mattress in our top picks as it's specifically designed for those with chronic hip, neck, and back pain from sleeping on their side.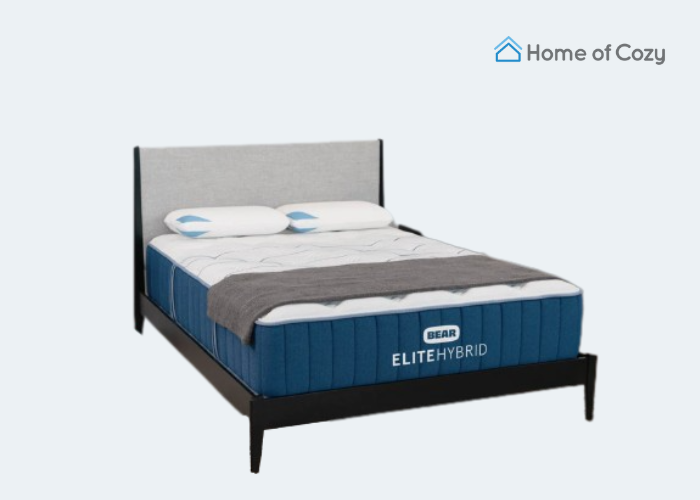 Price Range: $1,721 to $3,565
Mattress Type: Hybrid cooling foam & coil system
Firmness: 5/6/7 out of 10 (Soft, medium, & firm)
Trial Length: 120 nights
Warranty: 3 to 10 years
What We Loved
The Bear Elite Hybrid is an ideal mattress for couples, combining the best elements of foam and coils to provide pressure relief for side and back sleepers without disturbing your partner. The secret is the individually-encased spring coils that react independently to body movement, contouring to your shape without creating noise or the feeling of being "tipped" out of bed.
Plus, with its copper-infused foam and Celliant cover, this mattress uses the principles of thermoregulation to provide cooling comfort and ensure undisturbed sleep for both partners – a great benefit for couples with different comfort zones and bedding preferences.
The multiple firmness levels are accurate, with the softer layers providing more contouring support and the firmer ones offering extra stability. Plus, you'll be pleased to know Bear mattress is CertiPUR-US certified for superior quality and safety standards, meaning your quality sleep will never be affected by harmful chemicals, allergens, or toxins.
What We Didn't Love
Whether it's got a soft, medium-firm, or extra firm feel, the pleasure of sleeping on the Bear Elite Hybrid was slightly marred by the multiple warranty options. I knew that the mattress was great and wished the brand offered a single multi-year standard warranty rather than choosing an option from a tiered pricing package. While the warranty options are good, I felt it was a bit of a hassle to choose one.
Why We Picked This Mattress
Our Home of Cozy blog is filled with tips for couples needing a mattress that satisfies their individual sleep needs. The Bear Elite Hybrid represents the best of our research, offering a couples cooling relief, incredible support, and individualized comfort zones that keep both parties happy – and sleeping soundly.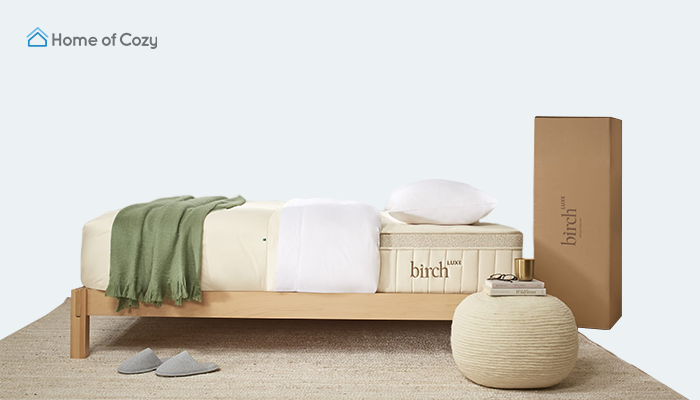 Price Range: $1,998.80 to $3,748.80
Mattress Type: Latex
Firmness: 6/7 out of 10 (Medium-firm)
Trial Length: 100 nights
Warranty: 25-year
What We Loved
There are a lot of organic mattresses on the market, but few, if any, offer the superior comfort and support of the Birch Luxe Natural. This mattress is made with certified organic materials, from the cover to the core, eliminating any concern for off-gassing or chemical exposure.
Sustainably sourced, natural latex mattress foam provides contouring relief that helps conform to your body shape without sacrificing support. A combination of organic cashmere, cotton, and wool make up the top cover, creating a plush and breathable feel that ensures you don't overheat while sleeping.
The Birch Luxe Natural also has outstanding motion isolation, making it perfect for those who share a bed with a partner or pet. Additionally, back and stomach sleepers will love it as the zoned lumbar support reduces sinking on either side, maintaining better spinal alignment and a more refreshing start to the day.
What We Didn't Love
The mattress passes a lot of tests when it comes to eco-friendliness, general comfort, and support. However, we did wish that it came in more firmness options. For side sleepers, the firmness level might be a bit much for providing the same lumbar benefits that back and stomach sleepers enjoy.
Why We Picked This Mattress
Eco-friendly mattresses for singles, couples and families have always been a favorite at Home of Cozy, and we couldn't pass up the chance to highlight this high-quality organic mattress. Offering a better way to start the day with breathable support, a generous warranty, and even in-home setup upon delivery options, this type of mattress ensures you don't have to sacrifice quality when making an eco-conscious choice.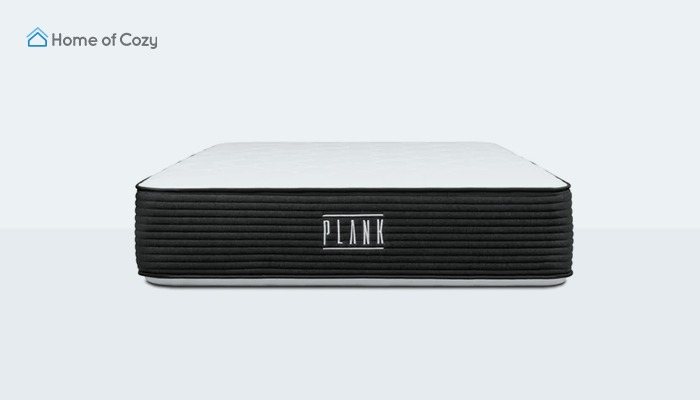 Price Range: $924 to $1732
Mattress Type: Hybrid foam & encased coils
Firmness: 7/9 out of 10 (Firm & Extra-firm)
Trial Length: 120 nights
Warranty: 10 years
What We Loved
The Plank Luxe Firm takes the bouncy feel of traditional innerspring beds but swaps the pocketed springs for a compression layer of high-density foam and encapsulated spring coils. The result is a mattress that comfortably yet firmly supports proper alignment and posture throughout the night, minimizing joint, neck, and back pain in the morning.
This powerful combination of materials provides superior pain relief, excellent motion isolation, and virtually no noise from bed movement. Best of all, the breathable open cell technology embedded into every foam layer maximizes air circulation while you sleep, ensuring you don't overheat and sweat through one of the luxurious bedding add-ons you can make during the order.
The firmness quality is matched only by the amazing weight capacity. With the ability to hold up to 950 lbs, the Plank Firm Luxe is as ideal for heavier sleepers as it is for lighter ones. Add in the fact that it is American Chiropractor Approved, and it's easy to see why this mattress has become a favorite among multiple types of sleepers.
What We Didn't Love
The overall design was great, but if your current box spring or foundation has a lot of give or flex, you may have to consider upgrading your base to ensure maximum support and lasting durability.
Why We Picked This Mattress
Home of Cozy has explored the many benefits of choosing the right mattress firmness, and we were proud to feature one of the best, firmest options available. With its unique combination of supportive materials, this mattress ensures you get the best night's rest without sacrificing comfort or quality.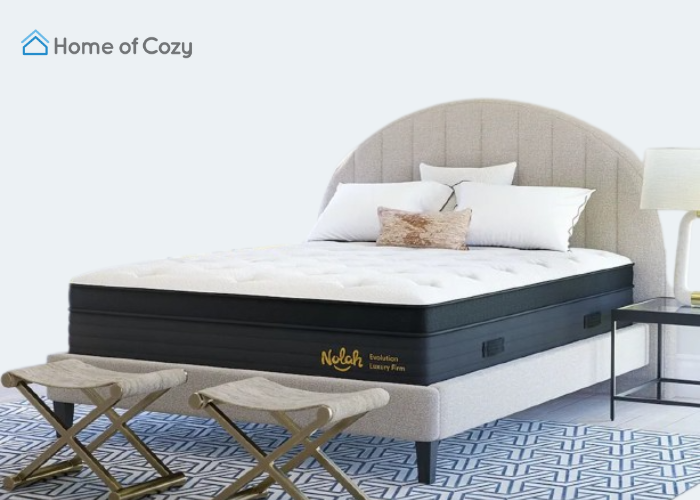 Price Range: $1,499 – $3,948
Mattress Type: Hybrid patented foam & coil system
Firmness: 4/8 out of 10 (Plush, Luxury Firm, Firm)
Trial Length: 120 nights
Warranty: Lifetime
What We Loved
The Noah Evolution uses a patented foam & coil system that creates individualized comfort zones that respond and adapt to every area of your body for maximum pressure relief and support.
These comfort zones are created by combining 8 layers of individually wrapped coils with 5 layers of high-density adaptive foam, making for a mattress that both conforms to the shape of your body and prevents you from sinking too deeply in any one area. The result is an even distribution of weight that allows for proper spinal alignment throughout the night.
We also love the hybrid design, which offers better motion transfer than traditional all-foam or innerspring mattresses. It's also exceptionally breathable to help hot sleepers stay cool and comfortable in any sleeping environment. If things couldn't get any better, we also found great comfort with the high-quality edge support, plush Euro top cover, and generous lifetime warranty.
What We Didn't Love
I was happy the mattress had built-in, heavy-duty side straps because I couldn't have lifted it without them. Though we all agreed after trying it out that the increased height and weight were worth the extra effort, considering how well it relaxes and supports pressure points throughout the night.
Why We Picked This Mattress
Back problems are no joke, and we've always strived to recommend the best ways to correct them with high-quality mattresses. So, when the opportunity came to showcase one of the best American-assembled combination sleepers for relieving pressure points, we jumped right on it with this prime example of innovation and comfort.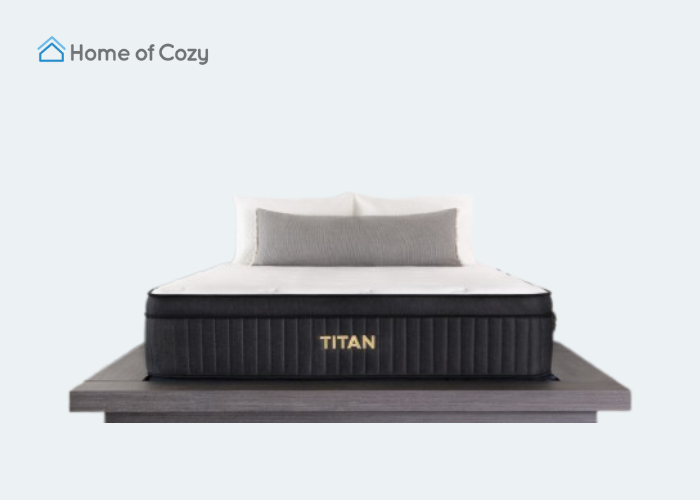 Price Range: $899 – $1,799
Mattress Type: Hybrid high-density & gel-foam with coil system
Firmness: 5/7 out of 10 (Medium-firm)
Trial Length: 120 nights
Warranty: 10-year
What We Loved
The Titan Luxe Plus is designed to provide supreme support and comfort no matter what size of user you may be. With a 13″ height containing eight inches of individually encased coils, three inches of high-density support foam layers, a quilted top with gel memory foam, and options for cooling covers, this mattress is made to comfort, cool, and contour to your body without sacrificing design integrity.
The unique design is also as motionless as it is supportive. With the individualized coils and foam layers that actively respond to your movements, this mattress ensures that you get minimal motion transfer and restful sleep every night, no matter what size of person you are or how many people may be in bed at once.
And with enhanced edge support from over 1000 coils and several inches of supportive foam, this mattress will last longer than your traditional gel or memory foam mattress, a key benefit for plus-sized sleepers tired of replacing their mattresses every few years.
What We Didn't Love
This is a heavier mattress designed to support leads of weight, so understandably, we were bummed that there were no white glove delivery options to help with the setup. Be aware that you might need a hand if you live alone and need to set up one of these mattresses properly.
Why We Picked This Mattress
At Home of Cozy, we know that most mattresses are either too firm or too soft to provide adequate support for heavier sleepers. That's why we chose the Titan Luxe Plus — it offers exceptional comfort, superior spine alignment, and superior durability than other plus-size mattress options.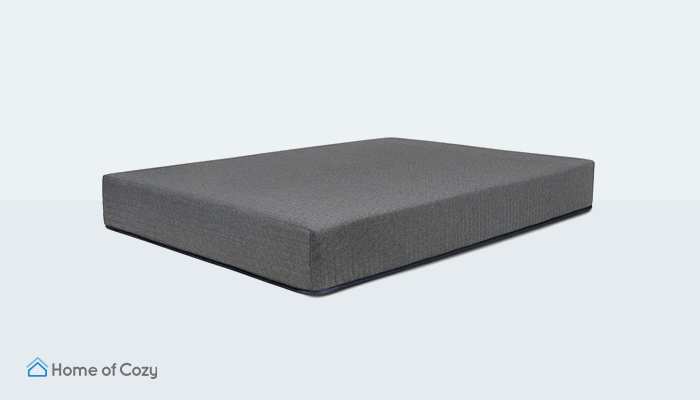 Price Range: $274 to $699
Mattress Type: Foam
Firmness: 3/9 out of 10 (soft to firm)
Trial Length: 120 nights
Warranty: 10-year
What We Loved
The Dream Foam Essential is the perfect mattress for those on a tight budget who still need superior quality, comfort, and support. With up to three layers of foam offering 6 to 14 inches of thickness available in sizes to suit any sleeping situation, this mattress is designed to keep you comfortable no matter what sleeping position you prefer.
The top layer is made from a memory gel foam designed to cradle and cool while supporting pressure points often irritated for side and stomach sleepers. The second layer is made from a high-density foam that enhances structural firmness, reducing sinking and roll-off along the edge. Larger mattress options come with a third comfort layer for even more incredible support and sleep quality.
You'd think the affordable price would mean you'd skimp on quality, but that's not the case here. The Dream Foam Essential contains CertiPUR-US certified foam with low VOC emissions making it safe for indoor air quality and chemical-free for better sleep health.
What We Didn't Love
We didn't find much to complain about in this model— except that the firmness quality comes at a higher price. The 6″ thick mattress will have a firmness level closer to an 8 or nine, while the pricier 12″ and 14″ models will have soft and medium options ranging from a 3 to 6.
Why We Picked This Mattress
We understand that sometimes finding the perfect mattress assembled in America isn't about getting the most luxurious option—that's why we chose to showcase this supportive, comfortable, affordable mattress with a 10-year warranty. Offering great sleep and quality craftsmanship, the Dream Foam Essential is the perfect way to get the rest you need without breaking the bank.
Sleep Soundly with American-Assembled Mattresses
Finding the perfect mattress assembled in America doesn't have to be stressful or expensive. With so many options available, there's something for every budget and sleeping style. From luxurious hybrid mattresses with exceptional motion transfer to budget-friendly foam models designed to provide incredible comfort and support, American-assembled mattresses offer reliable, consistent quality that's hard to beat.