Furniture that's assembled in the USA is world-famous for its use of high-quality materials, timeless eye for design, and long-lasting durability. If you're decorating a living room, dining room, or your entire home, it's worth it to have furniture that's simply built to last.
To help you find the best American-assembled furniture brands out there, I tested designs from over 20 different furniture companies, furniture makers, and retailers to see who has the best balance of high-quality craftsmanship, reasonable pricing, and design.
Our 12 Best American Furniture Brand Picks
Brand
Best For
1

Editor's Choice

Sofas with large seats, sectionals
Shop Now
2

Wood furniture for the bedroom
Shop Now
3

Affordable handcrafted furniture
Shop Now
4

Customizable living room furniture
Shop Now
5

Mattress longevity
Shop Now
6

Simple assembly
Shop Now
7

Luxury modern sofas
Shop Now
8

Mid-century modern
Shop Now
9

Durability
Shop Now
10

High-traffic areas
Shop Now
11

Long-term adaptability
Shop Now
12

Eco-friendliness
Shop Now
1
Editor's Choice
Best For:
Sofas with large seats, sectionals
2
Best For:
Wood furniture for the bedroom
3
Best For:
Affordable handcrafted furniture
4
Best For:
Customizable living room furniture
5
Best For:
Mattress longevity
6
Best For:
Simple assembly
7
Best For:
Luxury modern sofas
8
Best For:
Mid-century modern
9
10
Best For:
High-traffic areas
11
Best For:
Long-term adaptability
12
Best For:
Eco-friendliness
The Best Overall Sofas of 2023
To help you find the best deep seat sofa, I tested individual models from over 23 different brands. These are the best new sofas with extra deep seats that balance the best in design, price, sustainability, and durability.
1. Best American-Assembled Furniture For Large Seating & Sectionals: Allform
Price Range:
Best for: modular furniture from armchairs to three-seater sofas and sectionals
Upholstery Options: performance fabric, top-grain leather
Home of Cozy Exclusive Offer: 20% off sitewide with promo code COZY20OFF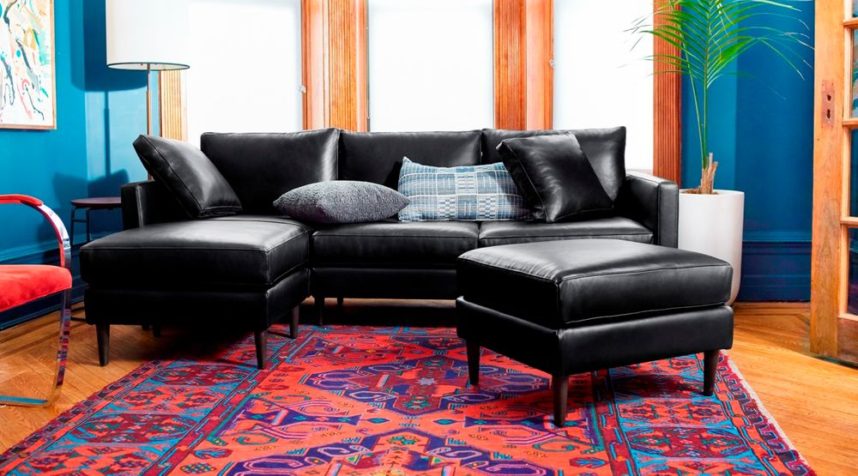 What I Loved
What I love about Allform is their attention to craftsmanship and woodworking rendered in incredibly versatile modular designs that can fit any home. Because they offer such an incredible balance of design and durability, I had to put them at the top of this list.
Allform is a family-owned furniture maker based in North Carolina specializing in practical, easy-to-assemble modular seating customized for any configuration you're thinking of whether you're just interested in an accent chair, a loveseat, three-seater sofa, or even a sectional that seats up to 8 people.
As a relatively new furniture company, Allform saw a gap in the market for stylish furniture backed by an expert eye for good materials. All of their frames are crafted from kiln-dried laminated hardwood and materials are rigorously tested to ensure they're scratch, pill and stain-resistant.
Shopping at Allform is also easier than most of the other brands I tested. They have just one physical showroom, located in New York City. However, their online store makes it easy to build and customize your very own modular furniture and have it shipped fast. Test orders I've done with Allform have taken just one to two weeks to deliver. And self-assembly took just 30 minutes for a loveseat and about 38 minutes for a three-seat sofa.
After that, lounging (and even a light nap) felt amazing on Allform's modular furniture. For long-term maintenance and customer service, the brand's also thought of everything. Allform offers 100 day at-home free trials, meaning you can send back your furniture if you're not completely in love with it. Plus, all of their frames have lifetime warranties, something I don't think I've ever seen a furniture maker offer. Although, given how sturdy their frames are, I doubt many people will actually take them up on it.
What I Didn't Love
During the 8-day period I tested Allform's furniture, I didn't see or experience any product defects or flaws. Also, there are virtually no negative reviews among the 300+ testimonials I read through. However, a few customers did not know they'd have to assemble furniture themselves. Despite that, I have to say that self-assembly is still much easier than with other furniture companies like IKEA or Joybird.
Home of Cozy Exclusive Offer: 20% off sitewide with promo code COZY20OFF
2. Best American-Assembled Furniture For The Bedroom: Vaughn-Bassett
Price Range: $199/95 to $4,599.95
Best for: wood furniture for the bedroom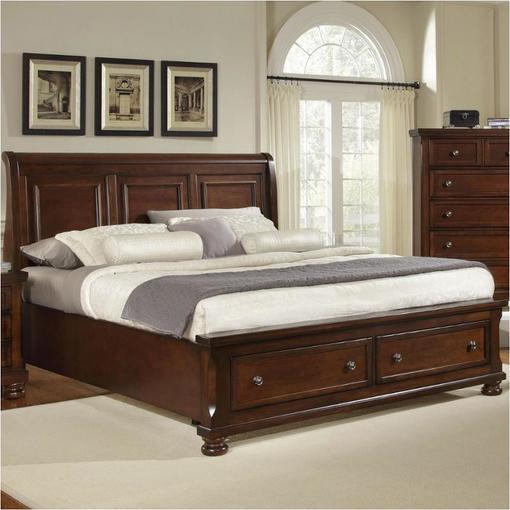 What I Loved
I'm admittedly a huge fan of quality woodworking and joinery, so naturally I tend to gravitate to brands that harness the natural durability of solid wood in their designs. Vaughn-Bassett exemplifies everything great about American craftsmanship. The brand manufactures in North Carolina and Virginia, specializing in wooden bedroom sets usually styled in rustic farmhouse pieces that evoke classic Amish and Shaker designs.
In person, Vaughn-Bassett's pieces are simply stunning. They're the kinds of heirloom–quality furniture you can see yourself living with for a lifetime. Their drawers in particular are definitely well-worth the investment as their components and mechanisms are some of the most impressive I've seen in cabinet design.
What I Didn't Love
While I didn't find too many negative comments or reviews on the furniture itself, many complaints I found were more focused on the lack of product availability or online sales through the company's site. Currently, customers can explore models on the site but have to find dealers in their area.
3. Best American-Assembled Handcrafted Furniture: Maiden Home
Price Range: $725 to $4,705
Best for: handmade seating, tables, beds, and storage pieces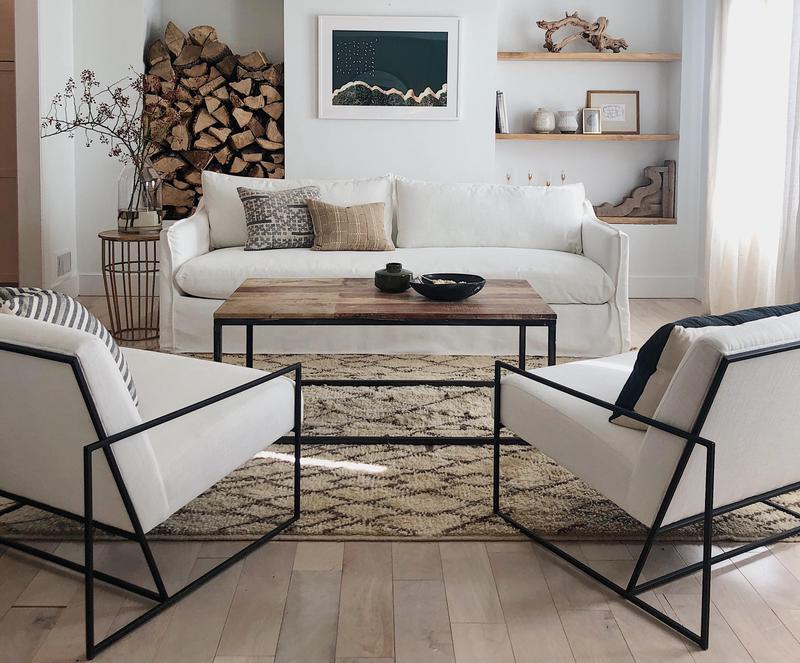 What I Loved
Maiden Home furniture is simply a cut above the rest. You won't find it in showrooms or in retail shops, but the brand brings an cool, crisp, breath of fresh air to the direct-to-consumer market with designs that look just as stunning in Architectural Digest spreads as they will in your living room.
Like Allform, Maiden Home is an eCommerce brand that's committed to bringing a mastery of woodworking and timeless design to home decor lovers everywhere. Starting on their site, everything is displayed in a curatorial layout, really driving home just how each piece is both aspirational and functional. As a small space enthusiast, by far my favorite design is the Dune Chair and a Half, available in performance linen that looks as good as it feels. It's the perfect elevated lounging piece that would work pretty much anywhere.
What I Didn't Love
Maiden Home features some of the most aesthetically pleasing and comfortable home furnishings I've ever seen. However, it's a high-end company and their prices are on the steeper side, putting them out of reach for a lot of consumers.
4. Best American-Assembled Customizable Furniture: The Joinery
Price Range: $199 to $9,799
Best for: customizable living room furniture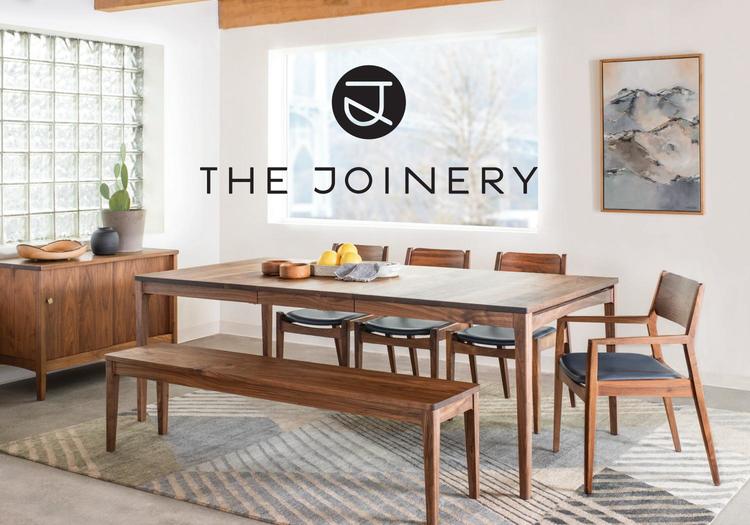 What I Loved
Like the name implies, The Joinery specializes in premium hardwood furniture built to last a lifetime. Starting in 1982 as a one-person refurbishing operation, The Joinery still creates its contemporary furniture designs in its Portland, Oregon workshop.
What I love about The Joinery is the company's unwavering attention to detail coupled with its emphasis on sustainable design. Whenever possible, The Joinery's craftsmen find the most environmental source for Cherry, Western Walnut, Eastern Walnut, Maple, and Oregon White Oak.
Unlike Vaughn-Bassett, you can buy their hardwood furniture directly from the company website, and you can even request wood samples to see how each type and finish will look in your home.
What I Didn't Love
Like Maiden Home, you're going to have to pay a premium for The Joinery's furniture. While there are some affordable tables and accent pieces, expect to pay at least $2,000 for bed frames, sofas, and other large pieces.
5. Best American-Assembled Furniture For Mattress Longevity: Helix Sleep
Price Range: $85 to $1,749
Best for: hybrid mattresses, bed bases, bedding, pillows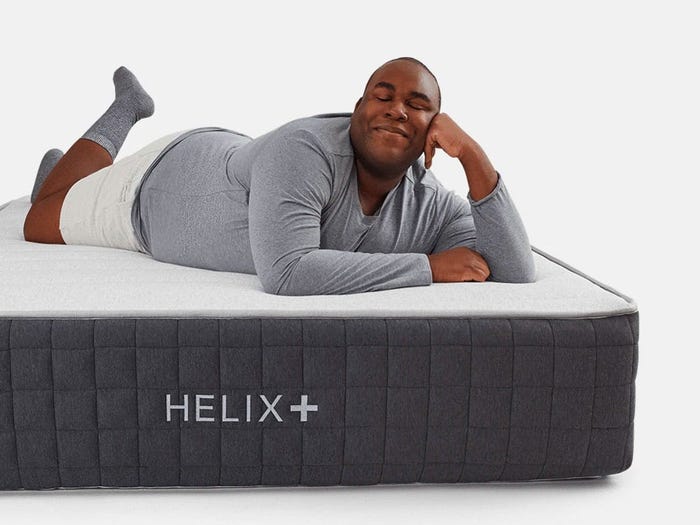 What I Loved
In the past few years, there've been a dozen different "mattress in a box" companies, but Helix Sleep is by far the most innovative when it comes to combining convenience, affordability, and high quality American manufacturing.
Helix Sleep's signature is its range of hybrid mattresses, with seven different models based on personal preferences for firmness, temperature, and sleep position. The best part is that the company tailors its recommendations for you based on your answers to its sleep quiz.
I actually have a Helix mattress of my own, the Helix Midnight which features medium firmness, pressure point relief, and side sleeper support. I have to say, it might be the best mattress I've ever had. I always wake up rested and with absolutely no back or joint pain.
While they don't create bedroom furniture yet, you can explore bedding, pillows, and even bed bases.
What I Didn't Love
There isn't really much to complain about. Helix Sleep creates impeccable mattresses and bedding, but like I mentioned, it'll be great to see more bedroom furniture from this brand.
6. Best American-Assembled Furniture For Simple Assembly: Floyd
Price Range: $285 to $5,995
Best for: beds, tables, sofas and seating, outdoor furniture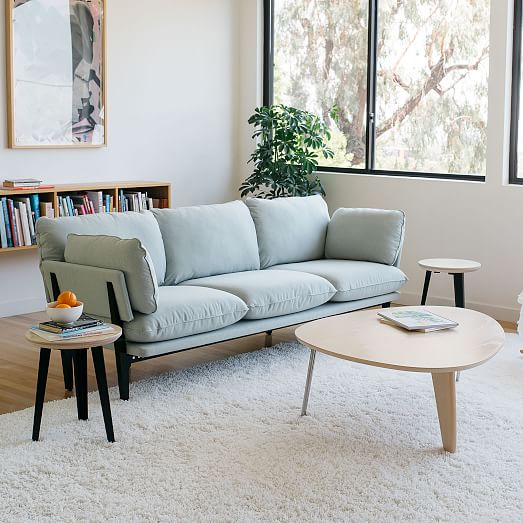 What I Loved
Floyd is a brand that creates "furniture for the home, not the landfill." Starting in 2013, Floyd is part of a new generation of furniture manufacturer that sees sustainability as a core tenet of its brand and not just something to brag about in the press or on social media.
Floyd got its start with just one product: a Kickstarter-funded table leg that could turn any found surface into a piece of furniture. Today, Floyd features everything from beds to seating and even outdoor furniture.
It's hard to pick a favorite piece. To be honest, they're all incredibly well-crafted and look great in-person. What I do love about Floyd is their bundles, which makes shopping super convenient if you're furnishing one room or an entire home. Their bundles are product collections you can buy all at once, broken down by room type: Living Room, Dining Room, etc., along with bundles for entire apartments and offices.
What I Didn't Love
It's hard to find anything to complain about. However, like Allform and Helix Sleep, it'll be nice to see a broader range of furniture and home decor from Floyd in the future.
7. Best American-Assembled Luxury Furniture: BenchMade Modern
Price Range: not available
Best for: highly customizable seating, rugs, lighting, and home decor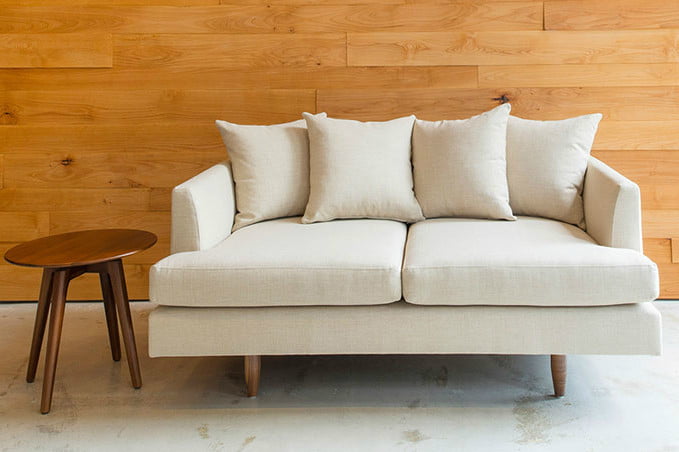 What I Loved
Benchmade Modern creates furniture handcrafted in Dallas, Texas and Los Angeles, California and focuses on modern designs that you can customize based on everything from fabric to leg design, seat depth, and overall size.
Their range of customizability is probably the thing I love the most, coupled with the relatively quick lead times for their made-to-order designs. For the purpose of this test, I went with the Skinny Fat Sofa, one of their ready-to-ship models. It was incredible to sit and lounge on, with a signature Trillium Foam filling that bounces back to its original shape instantly.
What I Didn't Love
I couldn't find any super critical reviews, which isn't surprising considering Benchmade Modern was voted Best Online Sofa of 2020 by Wirecutter and the New York Times. However, like other eCommerce brands, I'd love to see a broader range of designs beyond reinvented mid-century classics in the future.
8. Best American-Assembled Furniture For Mid-Century Modern Pieces: Eastvold Furniture
Price Range: $680 to $4,950
Best for: mid-century modern wood furniture, functional furniture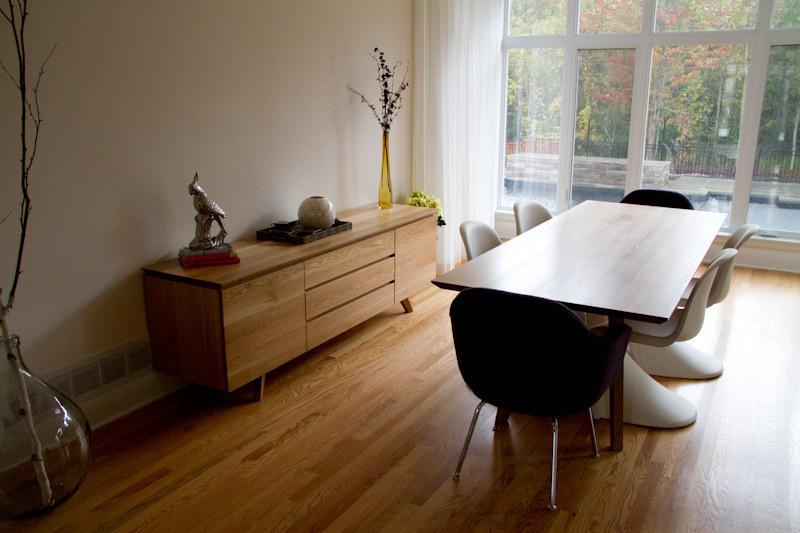 What I Loved
Eastvold Furniture is a furniture company based in Minnesota. Like The Joinery, Eastvold is rooted in a love for quality craftsmanship and high-quality woodworking. Each piece is made by hand and something that sets Eastvold apart is the company's ability to create heirloom-quality pieces that can be shipped anywhere in the country.
The company specializes in mid-century modern inspired pieces crafted from solid wood. In person, their furniture is simply stunning. And it doesn't just look great, everything is crafted with an attention to function as much as form, with storage pieces, tables, and benches that are well worth it.
What I Didn't Love
Like Maiden Home, Eastvold Furniture is on the pricier side. Expect to pay a lot upfront. However, like I said, Eastvold is well worth the investment.
9. Best American-Assembled Furniture For Durability: Stickley
Price Range: not available
Best for: furniture that stands the test of time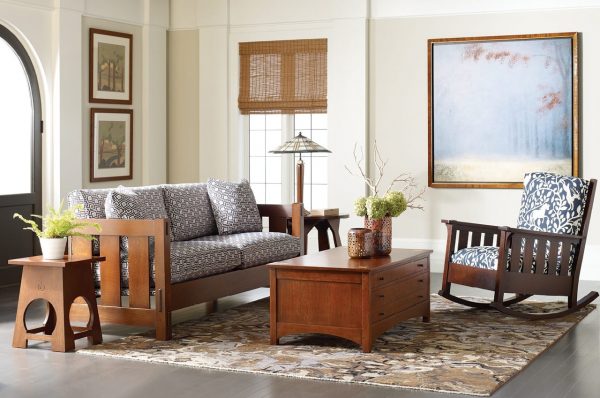 What I Loved
Stickley is a true American heritage brand. They've been around for more than a century, creating solid wood furniture with an unparalleled attention to craftsmanship. Today, they create furniture for bedrooms, living rooms, dining rooms, kitchens, and home offices. They also feature a range of designs perfect for kids' rooms.
While a lot of companies tout themselves as producers of heirloom-quality, Stickley actually lives up to its word. More than one reviewer I came across discussed how their Stickley furniture was actually passed down to them as opposed to coming from a furniture store brand new, which was a level of brand loyalty I honestly haven't seen much in the furniture sector.
What I Didn't Love
Like Vaughn-Bassett, it's a bit challenging to find their furniture online. Their website doesn't support eCommerce, so you'll have to find furniture through one of their dealers.
10. Best American-Assembled Furniture For High-Traffic Areas: Emblem
Price Range: $1,550 to $2,900
Best for: furniture for high-traffic areas
What I Loved
While other American brands focus on reinvented classics, Emblem designs bold, modern staples with luxurious upholstery and design accents.
Like Allform, Emblem is fairly new to the furniture scene having just launched in 2019. However, the brand blends convenience and durability with the high-end appeal of a design studio. Not only can you buy made-to-order sofas and accent chairs, Emblem can also create fully custom pieces of furniture (considering you're okay with a long lead time.)
In-person, I'm a huge fan of The Strategy Chair, a rotating accent chair that's honestly comfortable enough to work in all day. With its performance velvet upholstery and brushed brass or black base, it's the perfect luxe piece that'll elevate any office.
Emblem also boasts some incredible lead times for custom furniture that's designed and crafted to order. Emblem Standard pieces are available within 4 to 6 weeks, which sounds like quite the wait but compared to other designer brands, is actually pretty fast.
What I Didn't Love
While their lead times for standard models is about 4 to 6 weeks. You can expect 8 weeks or longer for custom pieces. Also, the brand only has a handful of pieces available made-to-order.
Best For Long-Term Adaptability: Burrow
Price Range: $800 – $5,000
Best for: modular, easily adaptable furniture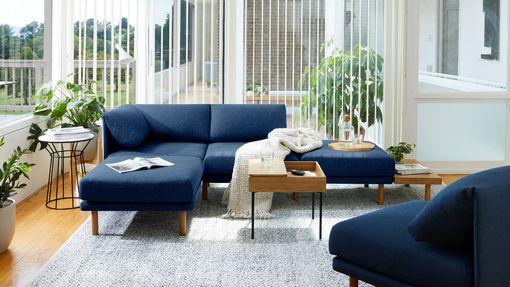 What I Loved
I am a huge fan of this brand. Burrow is a New York-based brand with a focus on innovative, affordable, high-quality furniture made to last.
With an easy mechanism for removing and adding sections, Burrow's collection of sofas and sectionals are made to shrink and grow as your needs change. So if you move to a smaller place, or need a bigger sofa to accommodate your growing family, you can simply buy additional sofa sections instead of investing in an entirely new sofa.
Plus, each sofa is upholstered with microfiber or velvet performance fabrics resistant to wear and tear like stains, spills, and scratching from pets.
What I Didn't Love
Compared to other direct-to-consumer brands, Burrow furniture does take a long time to arrive at your door. Each time I've ordered from Burrow, delivery has taken about 7 weeks from the time of ordering.
12. Best American Assembled Furniture For Eco-Friendliness: Inside Weather
Price Range: $250 – $4,500
Best for: Eco-friendliness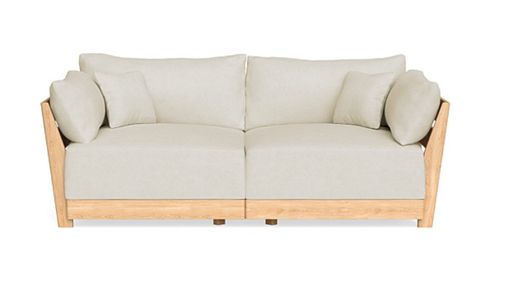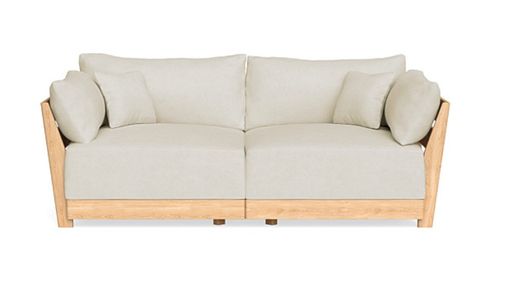 What I Loved
Inside Weather, based out of the San Francisco Bay Area, manufactures responsibly sourced, sustainable, and affordable sofas, sectionals, ottomans, dining tables, coffee tables, desks, bed frames, and more.
Another furniture-in-a-box brand, Inside Weather's cushion stuffing is made out of recycled water bottles, and every piece of furniture they manufacture is carbon neutral. Even their packaging is eco-friendly, made out of a sugar-based cardboard that is much more sustainable than traditional paper-based packaging.
Another perk– all pieces are made to order, and virtually every aspect is customizable to your exact specifications.
What I Didn't Love
Relative to other furniture-in-a-box brands, Inside Weather furniture is tough to assemble, especially on your own. Each piece takes me at least a couple of ours, as well as some basic tools.
Another downer – even if you have the extra cash for white glove service, Inside Weather does not offer assembly service. So, you're stuck putting your furniture together on your own.
Other Brands Specializing in Furniture Assembled in America
Bend Goods: This brand focuses on sleek, modern and minimal contemporary pieces.
Burrow: This New York-based direct-to-consumer brands features seating, beds, storage, and tables that are all sustainably-produced.
Campaign: Campaign lives up to its eco-friendly branding. They create furniture crafted from 100% recycled materials.
Fyrn: If you love Vaughn-Bassett and Stickley, Fyrn is another great heritage brand that creates modern heirlooms built to withstand the test of time.
The Inside: The Inside is a furniture manufacturer with facilities in North Carolina, Illinois, and Pennsylvania. They feature customizable sofas, bedroom furniture, and outdoor furniture/
Medley Home: Medley is an online furniture retailer focused on premium pieces designed and crafted with a focus on eco-friendliness and sustainability.
Sabai: With a focus on sustainability, Sabai is a New York-based company that uses natural fibers and recycled materials to create sectionals, sofas, and ottomans.
Simplicity Sofas: Based in North Carolina, Simplicity Sofas features modular sofas that nod to classic and contemporary design.
Vermont Woods Studio: Vermont Woods Studio handcrafts solid wood furniture for bedrooms, living rooms, dining rooms, and home offices. All pieces are customizable and include a lifetime guarantee.