Full-size mattresses are ideal for single adults and for couples who are tight on space or working with a limited budget.
In this full-size mattress buyer's guide, we'll cover everything you should be aware of while shopping for a bed in this category. Then, we'll offer Home of Cozy's top 10 picks for the best full-size mattresses of 2023.
Full-Size Mattress Shopping: Key Considerations
Brand
Best For
1

Editor's Choice

Overall
Shop Now
2

Side Sleepers
Shop Now
3

Value
Shop Now
4

Soft
Shop Now
5

Cooling
Shop Now
6

Kids
Shop Now
7

Budget
Shop Now
8

Organic
Shop Now
9

Plus Size
Shop Now
10

Firm
Shop Now
1
Editor's Choice
2
3
4
5
6
7
8
9
10
Budget
Full-size is the smallest standard mattress size that's meant to accommodate two sleepers. As such, a full-size bed is a great choice for couples who are on a tight budget.
Bedding retailers typically sell full-size mattresses for prices that are around 45% higher than their twin prices. From full to queen, the price jump is usually between 20–40%.
The price range for the full-size mattresses featured below is $336–$1,499.
While comparing prices, also consider the purchase terms offered by different retailers. Most online mattress brands offer a 10-year warranty along with a "sleep trial" period of 100 days.
During a sleep trial period, you can send back a mattress for a full refund even if it's not defective. However, returning a mattress is a hassle, and some shipping costs or fees may apply. So, sleep trials should be viewed as a "nice to have" protection, rather than a way to test out products.
Dimensions
A standard full-size mattress is 53" wide by 75" long. This size is appropriate for single adults or for couples who like sleeping close together. By comparison, a standard queen size is 60" wide by 80" long.
Some companies offer specialty sizes, such as a "short-full" that's designed to fit in RVs or other tight spaces.
Mattress Types
While shopping for a full-size bed, here are the four most common types of mattress that you'll choose from:
Innerspring: a thin layer of padding supported by a steel coil core
Foam: multiply layers of foam, typically with a high-density foam base and top layers of memory foam or polyfoam
Hybrid: a coil core between multiple layers of thick foam
Latex: natural or synthetic latex foam, often in combination with layers of other materials, such as a coil core a foam base
Innerspring mattresses were once the norm, but they're less popular these days. If you're shopping online, you'll mostly come across foam and hybrid models. Or, if you're in the market for a luxury design, there's latex.
Sleeping Position, Body Type, and Comfort Preferences
Your usual sleeping position is likely to affect the type of mattress you prefer. Most side sleepers enjoy the feel of a soft mattress that provides plenty of pressure relief around the hips and shoulders. Meanwhile, back and stomach sleepers (especially stomach sleepers) usually require a firmer mattress to maintain a pain-free spinal alignment.
Body type matters too. Larger folks tend to sleep better on firmer mattresses, as a soft surface can result in an uncomfortable "stuck in" feeling. Meanwhile, individuals with light body weights often prefer softer mattresses. For these sleepers, firm mattresses don't permit sufficient pressure relief.
Firmness, Motion Isolation, and Edge Support
Mattress firmness is described using this 10-point scale:
1/10: an exceptionally soft mattress that contours deeply
10/10: a mattress with maximum, stiff-as-a-board firmness
6.5/10: the industry standard for medium-firmness
Firmness ratings are subjective, but they're helpful for giving shoppers an idea of what to expect. Most mattresses are rated between 4/10–8/10. You can expect products outside of that range to be either very soft or very firm.
Two other factors to be aware of are motion isolation and edge support.
Motion isolation is a mattress's ability to prevent movements on one side of the bed from rippling across the entire sleep surface. On a mattress that effectively limits motion transfer, you can bounce around on one side of the bed without spilling a glass of water that's standing on the other side. Since a full-size mattress is rather small for two sleepers, motion isolation is an especially helpful feature. Note that softer foam beds tend to be best for motion isolation.
Edge support refers to how supportive a mattress is around its perimeter. In a bed with weak edge support, you might notice some sloping if you lie or sit on the edge. Hybrid mattresses with strong coil cores typically offer better edge support compared to all-foam models.
Home of Cozy's Picks for the Best Full-Size Mattresses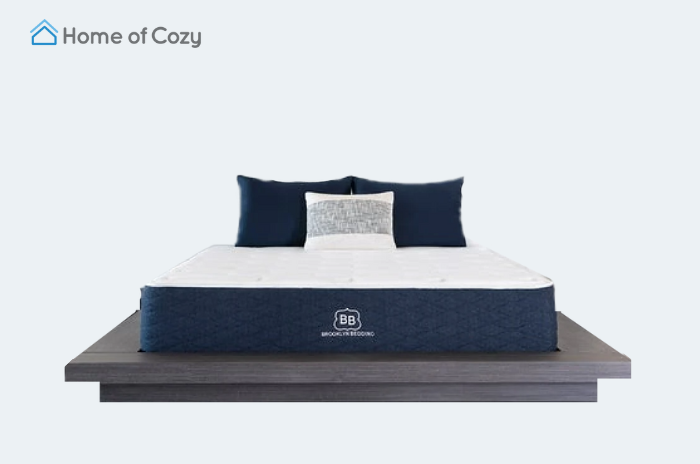 Price: $948.80
Mattress type: hybrid
Firmness: available in soft (3/10), medium (5/10), or firm (7/10)
Trial length: 120 nights
Warranty: 10 years
Why I Picked This Brooklyn Bedding Mattress
Brooklyn Bedding is an Arizona-based brand that offers one of the mattress industry's most extensive selections. The Signature Hybrid is one of the company's top sellers, thanks to a great combination of quality, affordability, and custom options.
What I Loved
The Signature Hybrid—our pick for "best overall" full-size mattress— is available in soft, medium, or firm options. Each design includes a coil core and several layers of foam. The core is made of individually encased coils. Each coil operates independently, helping to create a surface that offers superior responsiveness and motion isolation.
This hybrid mattress is over 12" thick and presents an excellent balance of support and comfort. Thanks to the combination of a thick coil core, a layer of transition foam, and a top layer of comfort foam, the Signature Hybrid provides a sleep surface that's luxurious, cozy, and responsive.
What I Didn't Love
The Signature Hybrid's weakest performance area is edge support. The perimeter of the bed is supportive in lying-down positions but will dip slightly when you sit down on the edge of the bed. This is an important factor to consider if you have mobility issues that make it hard to get in and out of bed.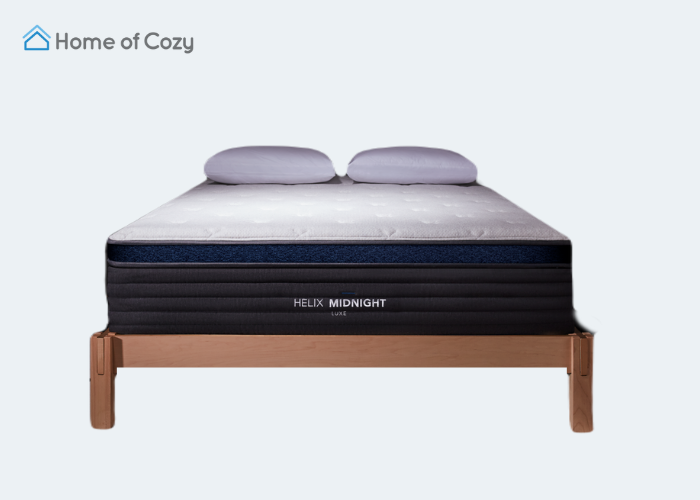 Price: $1,499
Mattress type: hybrid
Firmness: 5.5/10
Trial length: 100 nights
Warranty: 15 years
Why I Picked This Helix Mattress
The Helix Midnight Luxe is an upgraded version of the brand's best-seller, the standard Helix Midnight. At 13.5" tall, this model is thick, supportive, and luxurious.
What I Loved
If you love the feeling of a gentle sleep surface that contours and cradles your muscles and joints, you'll love the Midnight Luxe. This is a medium-firm mattress that won't sink down, but will provide the heavenly pressure relief that's associated with high-quality memory foam.
With a firmness scale rating of 5.5, the Midnight Luxe is designed specifically for side sleepers. The hybrid design is extra thick and features zoned lumbar support. That means the hip area is slightly firmer, while the upper third of the mattress is a bit softer to provide pressure relief under the head and shoulders.
What I Didn't Love
"Luxe" models are pricy. At $1,499 for a full-size, the Helix Midnight Luxe will be out of reach for many shoppers.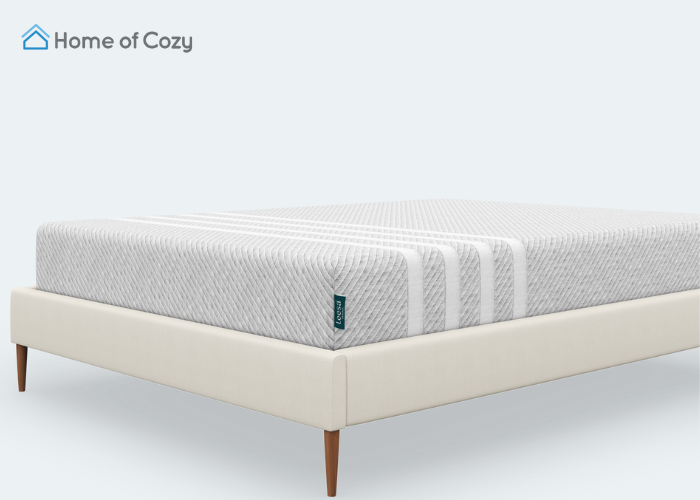 Price: $999
Mattress type: foam
Firmness: 5/10
Trial length: 100 nights
Warranty: 10 years
Why I Picked This Leesa Mattress
Leesa makes top-quality mattresses, featuring some of the industry's most responsive and comfortable foam.
Something special I love about this brand: for every 10 mattresses they sell, Leesa donates a mattress to a family in need.
What I Loved
The Leesa Original is one of the most beautiful and luxurious memory foam mattresses on the market. It's not cheap, but it's priced several hundred dollars below some comparable designs from other brands.
The all-foam construction includes a high-density foam base, a memory foam recovery layer, and a breathable foam comfort layer. On top, there's a gorgeous knit cover made with aerated foam for temperature regulation.
I would describe the feel of this mattress as soft yet bouncy. Leesa's foam simply feels amazing—it's highly responsive and doesn't sink down, but does provide significant contouring for maximum pressure relief.
What I Didn't Love
The Leesa Original is fairly soft, with a firmness rating of 5/10. This mattress is ideal for side sleepers, but many back and stomach sleepers will require a firmer design.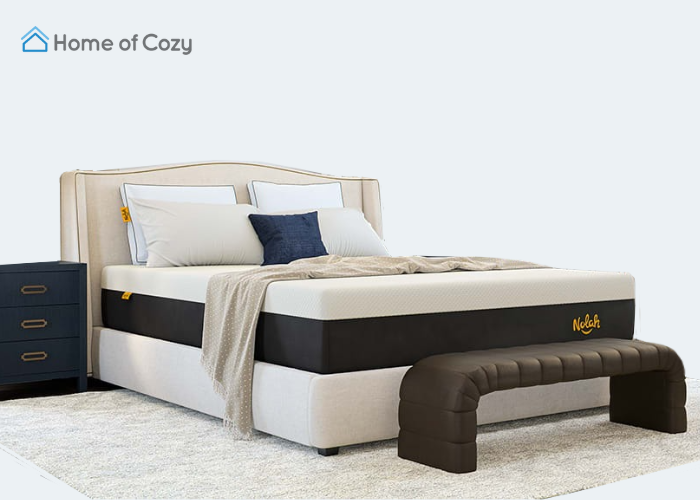 Price: $1,199
Mattress type: foam
Firmness: 5/10
Trial length: 120 nights
Lifetime warranty
Why I Picked This Nolah Mattress
Nolah makes mattresses that look beautiful and feel amazing. The all-foam Nolah Signature 12" is our top pick for sleepers who enjoy a plush sleep surface that provides significant contouring under sensitive pressure points.
What I Loved
The Nolah Signature 12" is an all-foam construction, although Nolah also makes a hybrid version by the same name. The all-foam version (which is $100 cheaper than the hybrid) is soft, plush, and ideal for side sleepers.
While some soft mattresses feel weak and squishy, the Nolah Signature 12" is thick and supportive. The surface contours gently for deep pressure relief, but maintains that perfect feeling of being "on" the bed rather than "in" it. That's thanks to a luxury construction that includes four separate layers of foam, including 2.5" of Nolah's proprietary AirFoam™. Along with its pressure-relieving properties, AirFoam is a temperature-neutral material that releases heat more effectively than standard memory foam.
What I Didn't Love
Like the Leesa Original, the Nolah Signature 12" is another great option for side sleepers. However, most back and stomach sleepers will be better off with a firmer mattress.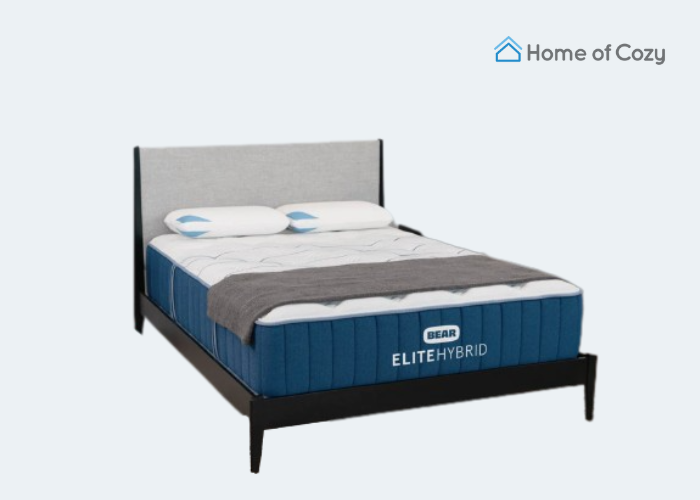 Price: $1,373
Mattress type: hybrid
Firmness: available in soft (5/10), medium (6/10), or firm (7/10)
Trial length: 120 nights
Lifetime warranty
Why I Picked This Bear Mattress
The Bear Elite Hybrid is an amazing mattress with added benefits for hot sleepers. This 14" mattress is available in three different firmness levels.
What I Loved
The Bear Elite Hybrid's construction is thick and sophisticated, with a zoned coil support system and reinforced edges. Individually pocketed coils and generous layers of foam help this bed provide a surface that's supportive and cozy, with high marks for motion isolation, edge support, and overall comfort. With three firmness options to choose from, I would recommend this mattress for all body types and sleep styles.
The Bear Elite Hybris's high-tech design is especially helpful for sleepers who tend to overheat at night. The tall coil core permits air to move through the mattress, while the memory foam comfort layer contains an infusion of heat-wicking copper. Finally, the hand-quilted cover is made from phase change material and Celliant fiber, breathable materials that disperse body heat to maintain a cool sleep surface. These next-level cooling features are a lifesaver for sleepers who naturally overheat or who live in hot climates.
What I Didn't Love
The full-size Bear Elite Hybrid is 14" thick and weighs 80 lbs. Compared to most full-size beds, it's bulky and heavy. When it's time to haul this mattress into the bedroom, be prepared for a two-person job.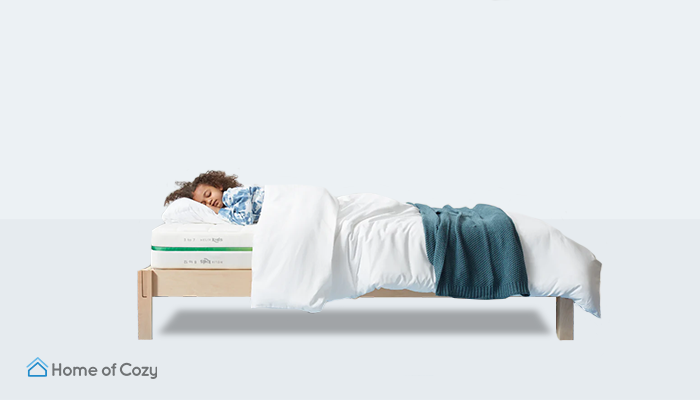 Price: $799
Mattress type: hybrid
Firmness: flippable design with a firm side (6.5/10) for younger kids and a soft side (4.5/10) for older kids
Trial length: 100 nights
Warranty: 10 years
Why I Picked This Helix Mattress
When you think of a kids' bed, you might picture a flimsy innerspring mattress that a youngster will quickly grow out of. If you're interested in providing your kiddos with higher quality, consider the Helix Kids. This flippable mattress is designed to provide optimal comfort and support from age 3 all the way to age 12.
What I Loved
The flippable Helix Kids mattress includes:
A firm side for ages 3–7
A softer side for ages 8–12
The firm side is appropriate for very young kids who require extra support for stability around the neck and head. The softer side is ideal for big kids who tend to prefer more cushioning.
This kid-friendly mattress is made with CertiPUR-US-certified foam and does not contain fiberglass, lead, or harmful chemicals.
What I Didn't Love
Helix mattresses are built to last. However, it's important to note that because this mattress is built for kids, it's just 8" thick. Technically, this model has a weight limit of 500 lbs, but it shouldn't be expected to provide sufficient support for full-sized bodies outside of the recommended age range.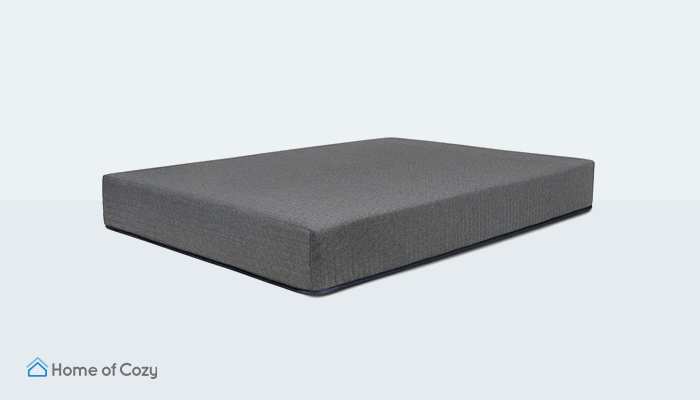 Price: $336–$561 (prices vary based on thickness options)
Mattress type: foam
Firmness: available in medium soft (4/10), medium (5/10), medium firm (6/10), firm medium (7/10), and firm (8/10)
Trial length: 120 nights
Warranty: 10 years
Why I Picked This Dreamfoam Mattress
The Dreamfoam Essential is a top pick for shoppers who want a quality bed at an affordable price. This mattress is available in over 20 different sizes and five different thickness and firmness options.
What I Loved
If it's been a few years since you've shopped for a mattress, you might not be happy with the price tags you're seeing. Fortunately, there are still some great bargains out there, like the Dreamfoam Essential. This mattress starts at just $336 for a 6" full-size. It's also available in 8", 10", 12", and 14" models.
This mattress is made with a minimalist construction: a thick layer of high-density base foam, topped with cooling gel-infused memory foam. The 12" and 14" inch designs, which are softer, also include a layer of transition foam for extra contouring and pressure relief.
What I Didn't Love
The Dreamfoam Essential isn't a great match for plus-size sleepers, who typically prefer extra support and firmness. The 10", 12", and 14" options may feel too soft, while the 6" and 8" models may not feel supportive enough for larger bodies.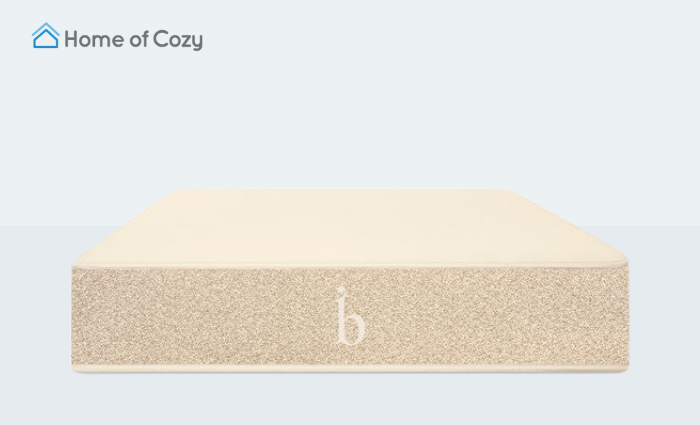 Price: $1,499
Mattress type: hybrid
Firmness: 6.5/10
Trial length: 100 nights
Warranty: 25 years
Why I Picked This Birch Mattress
If the use of clean, safe, organic materials is an important mattress consideration for you, take a look at the Birch Natural. Birch makes luxury mattresses with an emphasis on the highest-quality organic materials. This product's certifications for safe, clean materials include GREENGUARD Gold and the Global Organic Textile Standard (GOT).
What I Loved
Lots of new mattresses release an unpleasant odor when they're removed from packaging. This is the result of chemical byproducts escaping the vacuum seal. If you're turned off by this idea, or by the use of harmful chemicals in general, then you might be interested in the Birch Natural. Among online bedding brands, Birch stands out as a leader in the use of materials that are clean, organic, and eco-friendly.
The Birch Natural's impressive construction includes an organic wool base layer, a core of individually wrapped coils, and a breathable organic cotton cover. However, the superstar material is a thick layer of natural Talalay latex. This luxurious material is known for providing a heavenly blend of support, responsiveness, and pressure relief.
This mattress offers a medium-firm feel. However, high-quality latex mattresses like the Birch Natural feel amazing in all positions and for all body types.
Best for Plus-Size Sleepers: Titan Plus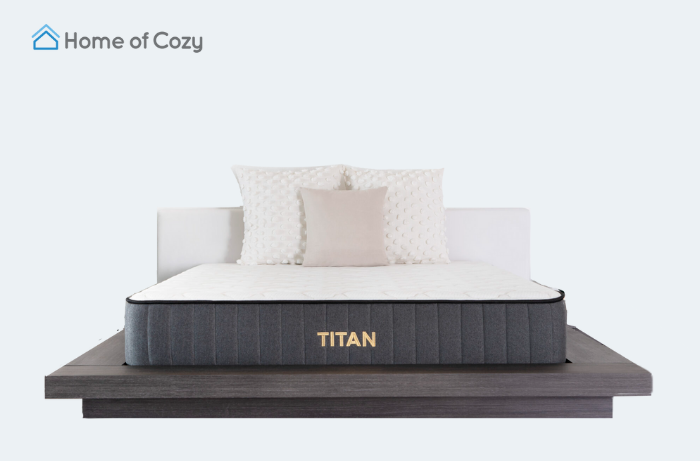 Price: $749.30
Mattress type: hybrid
Firmness: 9/10
Trial length: 120 nights
Warranty: 10 years
Why I Picked This Titan Mattress
Many plus-size individuals deal with muscle pain and joint pain. Sleeping on the wrong mattress can make this problem worse, while upgrading to an appropriate mattress can bring major relief.
The Titan Plus is a firm and supportive mattress designed specifically to meet the needs of heavy-bodied sleepers.
What I Loved
The Titan Plus was designed to meet the sleep needs of individuals who weigh over 250 lbs. The mattress supports a weight limit of 1,000 lbs and includes a core layer of 13.5 gauge steel coils.
Most plus-size sleepers prefer a firm mattress. The Titan Plus, rated 9/10 for firmness, meets that need. The construction includes several layers of comforting foam, but the surface doesn't sink down at all, even under heavy weight.
The Titan Plus is also an excellent option for sleepers who tend to overheat. The coil core permits plenty of airflow, while the top foam layer includes cooling gel for dispersing body heat. A GlacioTex™ Cooling Cover is available as an add-on for sleepers who want maximum temperature regulation.
What I Didn't Love
This mattress isn't as stiff as a board, but most lighter-bodied sleepers and side sleepers will prefer a softer surface. If you're in a couple in which only one sleeper requires extra firmness, the other sleeper may need to add some cushioning to their side of the bed.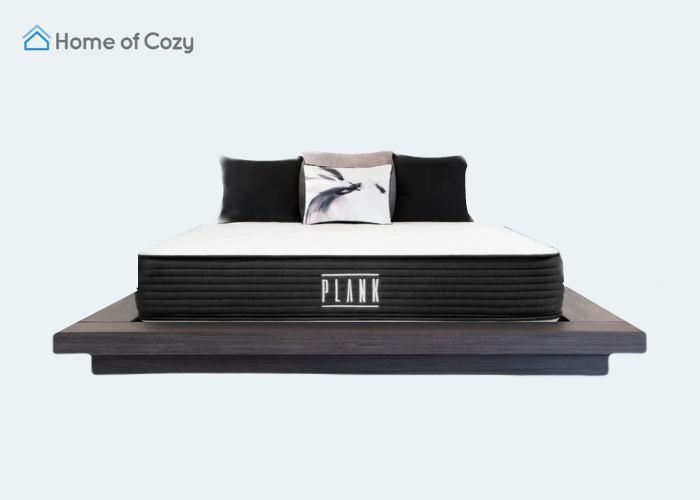 Price: $749.30
Mattress type: foam
Firmness: flippable design with a firm side (8/10) and an ultra-firm side (10/10)
Trial length: 120 nights
Warranty: 10 years
Why I Picked This Plank Mattress
Plank calls this model "the firmest mattress on the market." If you're one of those sleepers who finds almost every bed to be too soft, then the Plank Firm might be the mattress you've been looking for.
What I Loved
Some individuals require a particularly stiff mattress. This is often the case for back sleepers and stomach sleepers who experience lower back pain. An extremely firm mattress that helps support the hips can help sleepers maintain a neutral spinal alignment during sleep. This prevents the unnatural vertebrae curve that can cause or worsen back pain.
For those who require extra firmness, the Plank Firm is definitely a mattress to consider. This flippable all-foam mattress has two sides to choose from: a firm side and an ultra-firm side. Since pain relief involves getting things "just right", it's helpful to have these two options to choose from. That's especially true when you're shopping online and don't have the opportunity to test out your new mattress before purchasing it.
What I Didn't Love
This probably goes without saying, but don't consider the Plank Firm unless you want an extremely firm bed. Side sleepers, combination sleepers, and even some back and stomach sleepers will all prefer a mattress that offers more pressure relief.
Read More from Home of Cozy to Find Your Next Mattress
If your search for the perfect mattress continues, check out a few more brands in Home of Cozy's review of the Best Mattresses of 2023. Not sure if a full-size bed is big enough? Have a look at our picks for the Best Queen-Size Mattresses of 2023.