You know the value of a good night's sleep and money in your wallet.
But, can you have both? Good sleep, and not breaking the bank while you're at it?
Let's be real—the mattress that promises you the sleep of the gods often comes with a price tag that's out of this world. The good news? You don't have to break the bank to find your dream mattress.
Quality mattresses that are also affordable aren't just in your dreams. So, let's jump into the cushy exploration for the perfect budget-friendly choice. But first, here's what you can do to find the best budget mattresses for your home.
Best Cheap Mattresses
Research and Compare
While we know the importance of a good mattress, don't rush into buying the first mattress that fits your budget!
Take some time to research and compare the various options that won't max out your credit card. If you're reading this, then chances are you're already doing the dirty work: reading mattress reviews, and finding a retailer you like, with online mattresses scattered all over your computer screen.
Determine Your Budget
Before you start, know what you're comfortable with and what you're not (bed firmness aside!). While you might know if you prefer pocketed coils vs. polyfoam, you know you don't want an expensive mattress to take over your budget, barring you from getting things like a bed frame, accessories, or pillows.
Consider Mattress Types
There are lots of different mattress types to choose from, so know what you love! Do you dream of the best memory foam mattress, cushy, soft, and ready for endless sinking? Or, are you envisioning the best hybrid mattress, with a little bit of foam, a dash of gel, and some coils?
If you know your mattress styles, you'll know that innerspring mattresses are generally more budget-friendly and offer more durability, while high-end memory foam, latex mattresses, and organic mattresses usually come with a heftier price tag.
Outlet Stores and Sales
Why pay in full when you can get a discount? While we're showing you some top picks from online stores, don't forget the ones that are in-person that you can try out on your own.
And if you do want a greater collection to choose from online, you can look out for sales for holidays that mattress brands often like getting on sale, like Labor Day, Memorial Day, Presidents Day, and even Black Friday sales, turning the best cheap mattress even cheaper!
Trial Period and Return Policy
But of course, with all the testing and rolling around in the showroom, spending a couple of minutes bouncing on a bed is no way to decide if it's right for you.
Most reputable mattress companies offer a trial period, usually around 100 nights, even for their budget-friendly options. Take advantage of this period and be your own mattress tester, so you can be sure that you love it. Make sure you know return policies in place before purchasing, as we're sure returning a big, heavy mattress isn't quite the same as returning a tiny Amazon package.
Local Brands and Manufacturers
Big names dominate the mattress market, but it doesn't mean you need to overlook the underdogs!
Local or lesser-known brands often offer excellent quality at a fraction of the price. They may cut costs on marketing and distribution, passing the savings directly to you, the consumer. Plus, supporting local businesses is always a win-win.
Mattress Thickness
If you've been mattress shopping for a while, you'll notice that thickness varies.
Why? Well, there are all sorts of reasons, mostly comfort-related, to make a mattress big and tall or thin and small.
High-end options might boast layers upon layers of foam, coils, and other materials, making them super plush and thick. But here's the thing: a thinner mattress can still provide good support and comfort, even if it doesn't look it.
So while affordable mattresses might skimp on thickness to cut costs, it doesn't mean it's less comfortable. So when you're shopping, know that there are different mattress thicknesses, and which type might be right for you.
Online-Only Brands
Many mattress companies are skipping the middleman and selling directly to consumers online.
This direct-to-consumer model often results in lower prices… without sacrificing quality! Brands save on storefronts, sales commissions, and other overheads and pass those savings on to you. Cool, right? But since you can't test these mattresses in a store, make sure to do your homework.
Mattress-in-a-Box
The convenience of a mattress-in-a-box option is hard to beat. These mattresses are compressed and rolled up, making them easier to ship and handle. The upside? Lower shipping costs, which can translate into overall savings. Plus, it's quite an experience to unroll your new mattress and watch it expand to its full size.
Just remember to give it time to fully inflate, usually 24 to 48 hours, before jumping in for a snooze.
Warranty, Trial Period, Return Policy
You might think that a budget-friendly mattress would skimp on the warranty, but that's not necessarily the case! There are many affordable options that still come with a decent warranty— sometimes up to 10 years!
A solid warranty can offer you peace of mind, so always read the fine print. And if a budget mattress doesn't have any warranty at all, that could be a red flag.
Customer Reviews
Last but certainly not least, let's circle back to the power of customer reviews. Whether you're considering a well-known brand, an online-only option, or a mattress-in-a-box, reviews can offer honest, outside insights. Because as much as those sales pages look great, it only means so much until it's put to the test.
Ask yourself: Do people consistently mention that the mattress sagged after a few months? Or are they raving about how their chronic back pain disappeared?
Pro tip: Take a scroll through their social media accounts and take a look at the comments, which often say a lot about a brand and how they respond to defects and customer complaints.
Our Top 5 Most Affordable Mattresses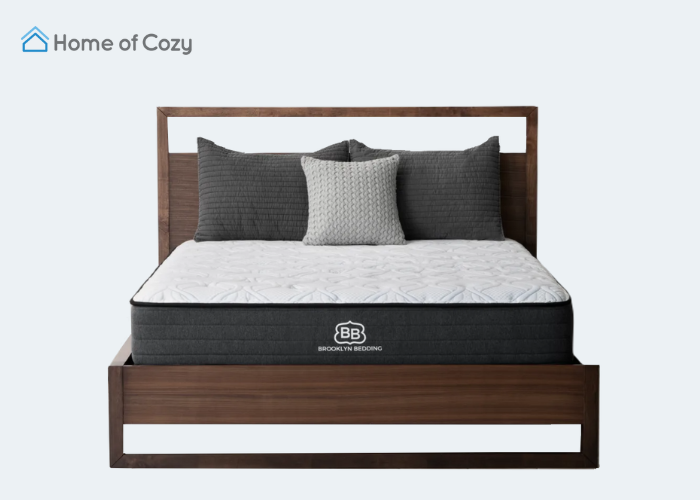 Price Range: $399— $1,132
Mattress Type: Hybrid (individually wrapped steel coils and high-density foam)
Firmness: Universal Medium Feel
Trial Length: 120-Night Trial
Warranty: 10-Year Warranty
Why I Picked This Brooklyn Bedding Mattress
Its balance of quality, affordability, and smart engineering makes this mattress a comfy, cozy, go-to choice. It has a blend of comfort and support and is Brooklyn Bedding's own Arizona factory, and made in America means oftentimes more trustworthy materials. 🇺🇸 I also love the direct-to-customer model, which makes it loads more affordable than more pricy picks with lots of middlemen mixed in.
What I Loved
Universal mediums feel: The mattress is designed to be universally comfortable, and suitable for most sleep positions. Not too firm and not too soft, it's the Goldilocks mattress: just right.
Hybrid design: Combines the benefits of both worlds: it's part foam for low-motion transfer and part innerspring mattress, offering excellent motion isolation and pressure relief.
High-density foam: High-quality foam, plus a quilted foam layer on the top to complement the steel coil support.
Free shipping + bed-in-a-box: The mattress ships directly to your door, factory-direct, and the shipping is free! For a product this large, it's oftentimes difficult to find a free shipping option to save some money! Plus, its easy shipping style makes it simple for anyone to set it up.
Budget-friendly: There's a reason this mattress is at the top of our list— it's affordable!
Made in the USA: Manufactured in-house in an Arizona factory, this mattress has better oversight into quality control, which you don't always have with mattresses made internationally.
What I Didn't Love
Simplistic design: Where other mattresses are more advanced— cooling mattresses, gel-infused memory foam, or green tea infusion— this one is a bit more simplified.
Limited firmness options: The mattress is only available in a universal medium feel, which may not suit everyone's preference if they prefer something more firm or soft.
May not suit heavy sleepers: While the mattress supports a broad range of body types, it's not particularly specialized for heavy sleepers like some others are.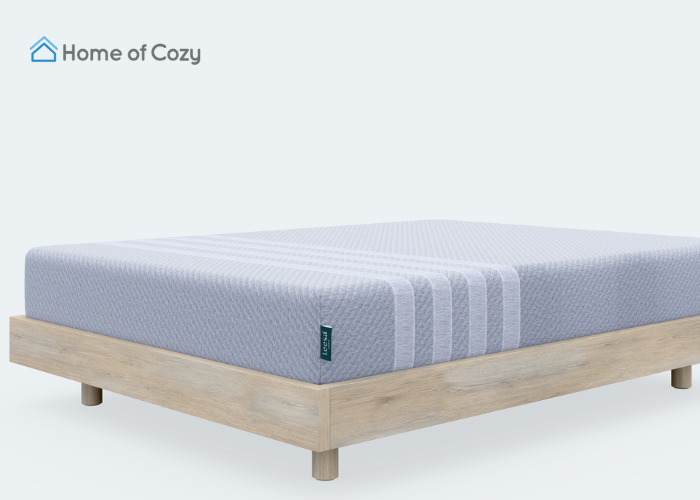 Price Range: $529— $999 (but has plans with Bread Pay™)
Mattress Type: Memory foam mattress (3-layer construction)
Firmness: Medium-firm
Trial Length: 100-Night Trial
Warranty: 10-Year Warranty (Limited)
Why I Picked This Leesa Studio Mattress
It's not often that you find a mattress that scores high in quality but doesn't break the bank— which is why I loved the Leesa Studio. The discounted pricing and easy financing options with BreadPay™ are a nice touch for flexibility in payment, and as an all-foam mattress with 3-layer construction in its memory foam, it's great for foam lovers who love a great deal on a mattress!
What I Loved
Comfortable foam layering: The top layer of high-quality, responsive memory foam offers cooling comfort. The secondary supportive foam layer ensures this less tossing and turning by relieving pressure on the hips and shoulders.
CertiPUR-US® and GREENGUARD Certified: Unlike some other mattresses with questionable materials and environmental implications, the Leesa Studio is made without harmful ozone depleters, flame retardants, formaldehyde, mercury, lead, and other heavy metals, as well as no VOCs.
Social impact + philanthropy: For every 10 mattresses Leesa sells, they donate one to a child or family in need who is suffering from bedlessness.
What I Didn't Love
Limited info on firmness: While the firmness is talking about on a sliding scale and based on customer levels, I wish there were some more firmness options to choose from so sleepers could customize their orders.
Additional costs of add-ons: While the mattress itself is affordable, its upgrades at an additional cost that doesn't come with the mattress, like the Ultra Cool Mattress Protector.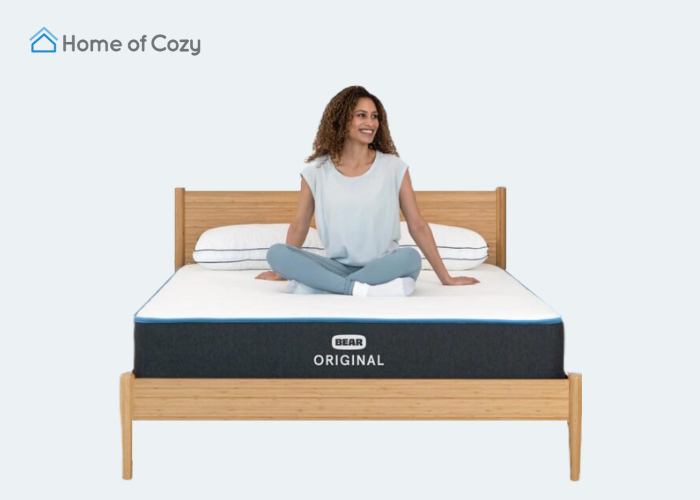 Price Range: $487— $1,622
Mattress Type: Gel Memory Foam
Firmness: Medium-Firm (7.1 out of 10)
Trial Length: 120-Night Sleep Trial
Warranty: Lifetime Warranty
Why I Picked This Bear Original Mattress
When it comes to an active lifestyle, sleep is crucial for recovery, and Bear engineered this mattress specifically with that in mind.
What really caught my eye was the cooling gel memory foam and Sleep Recovery Technology™ powered by Celliant, which is designed to improve tissue oxygen levels and, therefore, enhance recovery. And while we're on the subject of health and sustainability, it's worth noting that it's also GREENGUARD Gold Certified, making for a sustainable snooze.
What I Loved
Cooling technology: Sweat no more with this cooling gel memory foam, excellent for temperature regulation during hot nights and for hot sleepers.
Body contouring: With a foam style, contours to your body shape, offering pressure relief for hips and shoulders while providing robust back support.
Affordability: Even without the current 35% off discount, the Bear Original offers considerable value for its high-quality features.
Free accessories: Along with the mattress itself, the Bear Mattress also comes with the Bear Sleep Bundle for free, including 2 pillows, 2 sheet sets, and 2 mattress protectors.
Low-toxic certifications: CertiPUR-US Certified, this foam bed is both affordable and sustainable, with low-VOC makeup.
What I Didn't Love
Medium feel isn't customizable: Stomach sleepers, who might prefer a softer mattress might not love this medium-firm feel, which is great for back sleepers but might be too firm for others.
No handles: While it might not be the first thing you think about when it comes to a mattress, it'll be a little bit harder to adjust your mattress with the bed frame since it doesn't have handles.
Limited to memory foam: If you don't eat, sleep, and breathe memory foam, you might prefer a more hybrid mattress for some variation.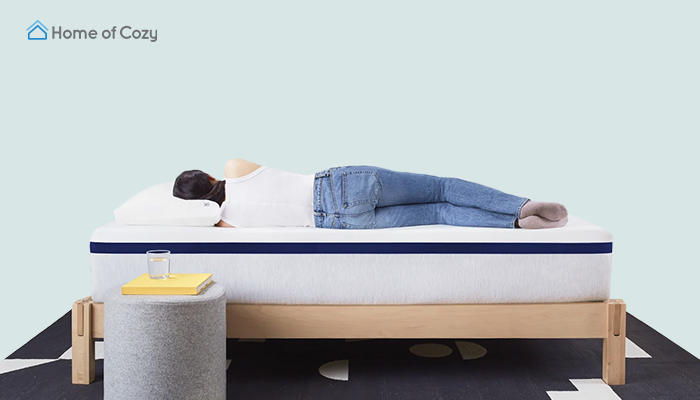 Price Range: $702.20— $1,748
Mattress type: Hybrid (individually wrapped steel coils and high-density foam)
Firmness: Universal Medium Feel
Trial length: 120 Night Trial
Warranty: 10-Year Warranty
Why I Picked the Helix Midnight Mattress
This sleek, cool-to-the-touch, and natural mattress can give all the targeted pressure-relieving you need and is made out of quality materials. While some mattresses try to tackle all sleeping positions, the Helix Midnight Mattress is designed specifically for side sleepers with several memory foam comfort layers, all without the toxic off-gassing that many mattresses have.
What I Loved
Medium feel is spot-on: The medium feel is super on-par in the firmness scale based on the mattress's current customers— comfortable, but supportive where it needs to be.
Cooling features + innovative support: The GlacioTex™ Cooling Cover + Pillow Top lives up to its promise: no letting hot body heat ruin your night's sleep! Plus, the individual coils offer great edge support, so you don't feel like you're falling off the bed when sleeping with a partner.
Low-VOC and environmentally friendly: It's comforting to know that the mattress is CertiPUR-US® Certified, which means no harmful chemicals were used in its production.
Breathe knit cover included: While other mattresses just come with the mattress, this one comes with a knit cover for more support for your mattress.
What I Didn't Love
Even though the Helix Midnight ticks most of my boxes, it's not perfect. Here are a few areas for improvement:
Up-sell tactics: It's tricky focusing on the mattress with so many upsells on the websites. With additional accessories, bed frames, adjustable frames, and more, it's a chore to make sure your basket just has your one mattress in it.
Price point: Out of all the budget-friendly options, this is the least. While it's less expensive than many other mattresses, it definitely isn't the cheapest out of the bunch!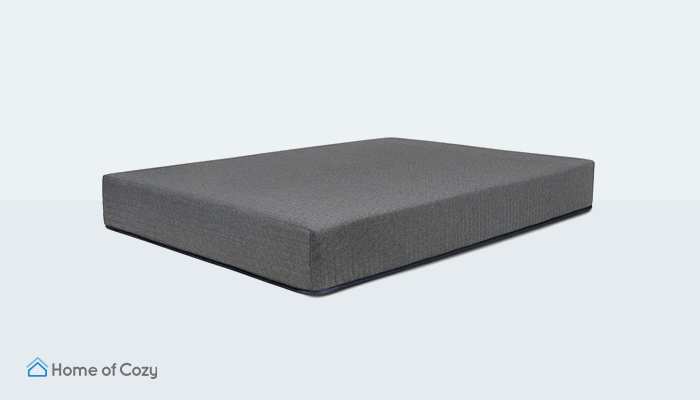 Price Range: $274— $699
Mattress Type: Memory Foam (multi-layer)
Firmness: Multiple firmness options: from soft-medium to firm (depending on the size of the mattress)
Trial Length: 120-Night Trial
Warranty: 10-Year Warranty
Why I Picked This Dreamfoam Essentials Mattress
I love this mattress because of its customizability. While the others boast other features— cooling, environmentally- and health-conscious, or being a great medium-firm mattress, the Dreamfoam Essentials Mattress can fit all sleep styles, offering equal parts pressure point relief, softness, and support all in one! Plus, it's one of the most affordable of the bunch!
What I Loved
Customizable comfort: The best part of this mattress— is the different depths and firmness levels to cater to your individual needs. Of course, there are different sizes, like a twin size, queen size, or king size, among others, but beyond that, it offers cooling features like gel swirl memory foam, supportive cushioning, a Nano Stain Terminator finish, and a low price for what you get!
Hypoallergenic: For those who get sensitive to bedding, cushioning, and other fluffy stuff, don't worry! The Dreamfoam Essentials Mattress offers is CertiPUR-US® Certified, so you can sleep and breathe easily.
Naturally cooling: While other mattresses require you to purchase additional accessories for maximum cooling effects, the Dreamfoam has a top layer made of gel-infused memory foam, along with an open cell structure of the foam to provide airflow and breathability so that body heat can properly escape.
What I Didn't Love
Not flippable: Some sleepers might like the flexibility of being able to flip their mattress, but all the support layers (memory foam layer, foam, etc.) wouldn't allow for your maximum sleeping experience.
Hope you loved our cozy little roundup of the most affordable mattresses for your home. Which one do you want to doze off into? P.S., if you're interested in reading a little more about affordable mattresses, check out our list of the Best Mattresses Under $1,000 and the Best Bed-in-a-Box Brands, so you can be a bed expert by the end of the day!