Adding a mattress topper is an affordable alternative to replacing an unsatisfactory mattress. A topper is a thin layer of material that's placed on top of a mattress to make a bed more comfortable. Toppers may also help to even out the sleep surface, protect the mattress, and extend the lifespan of an old mattress.
In the sections below, we'll step through everything you need to know about buying a mattress topper online in 2023. Then, we'll review Home of Cozy's picks for the best toppers on the market.
Best Mattress Toppers
What Is a Mattress Topper and When Should You Add One?
Compared to mattress protectors or mattress pads, toppers are thicker and used primarily to make a bed more comfortable. Protectors and pads are mainly used to protect a mattress and keep it clean.
Toppers are most useful for adjusting the feel of a bed that's slightly uncomfortable or uneven. Toppers are an ideal solution for improving a mattress that's too firm or one that's beginning to sink down slightly around the middle.
A mattress topper can be used to add a few years of life to an old mattress. However, you shouldn't expect a miracle. If your mattress is severely worn out, caved-in, or completely lacking comfort, then a topper won't function as more than a band-aid for addressing these issues.
Choosing a Mattress Topper: Factors to Consider
Thickness and Fit
Mattress toppers are typically between 1.5"–3" thick. Thicker toppers make a more significant difference in changing the way a bed feels, while thinner toppers are helpful when only a minor adjustment is needed.
Before purchasing a topper, make sure that its dimensions are an exact match for your mattress. Toppers come in standard mattress sizes, but it's important to note that mattress dimensions may vary slightly (around one inch) between brands.
Materials
Mattress toppers are most commonly made from memory foam or high-density polyfoam. Some manufacturers use latex, microfiber, cotton, polyester, wool, feathers, or down alternatives.
Memory foam toppers are usually soft and designed to add cushioning and pressure relief. Soft toppers are useful for side sleepers who need to adjust the firmness level of a bed to provide more relief around the hips. Soft toppers can also improve a bed's motion isolation, meaning that movements on one side of the bed will become less noticeable on the other side.
Meanwhile, higher-density foam or latex toppers may provide more firmness, which is often helpful for back sleepers and stomach sleepers.
Along with choosing a topper that offers your ideal comfort adjustment, other features to look for include hypoallergenic and safe materials, removable and machine-washable covers, and elastic straps for holding the topper in place.
If you tend to overheat at night, note that memory foam sleep products tend to trap heat. Some manufacturers help out hot sleepers by adding gel, graphite, or copper infusions into their foam to improve the material's ability to wick away heat. Some other materials, such as latex, are naturally superior for releasing body heat.
Price
Mattress topper prices vary widely, based on the size, thickness, and materials. Budget-friendly toppers in small sizes cost under $100, while some high-end king-size toppers cost over $500.
As an alternative to buying a new mattress, even the highest-priced toppers may offer great value.
The price range for the toppers featured below is $81 for the lowest-priced twin size to $561 for the highest-priced king size.
Most high-quality toppers come with a warranty of between 1–10 years. Some toppers also come with "sleep trial" periods that allow for no-questions-asked returns.
Home of Cozy's Picks for 2023's Best Mattress Toppers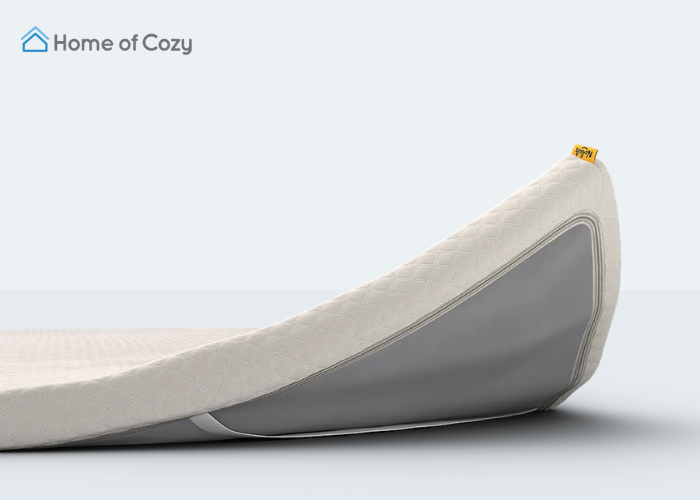 Price: $249–$399
Warranty: 10 years
Material: foam
Thickness: 2"
Why I Picked This Nolah Mattress Topper
Our pick for "best overall" is the two-inch Nolah Mattress Topper, made with Nolah's proprietary Airfoam™. This luxurious topper excels in comfort, convenience, durability, and temperature regulation.
What I Loved
The Nolah Mattress Topper features two inches of Nolah's proprietary AirFoam™️. Airfoam has a similar feel to latex, offering a heavenly balance of support and pressure relief. Airfoam is also an excellent cooling material. It's made without the heat-trapping chemicals used in traditional memory foam and also includes microscopic bubbles that promote airflow.
This topper is especially recommended for side sleepers who need to make a firm bed softer. However, I would recommend this topper for all sleep styles. It improves pressure relief but isn't so soft that it creates the uncomfortable "stuck in" feeling that sometimes bothers back and stomach sleepers. Plus, to get the perfect match, Nolah offers two firmness options: plush (softer) and luxury firm (slightly firmer).
Along with its amazing feel, the Nolah Mattress Topper offers a few convenience benefits that most toppers don't provide. The breathable cotton cover is removable and washable, and each corner has an elastic band that wraps under your mattress to provide a secure fit.
What I Didn't Love
Luxury bedding products are pricy. The Nolah Mattress Topper's price range runs from $249 for a twin up to $399 for a king.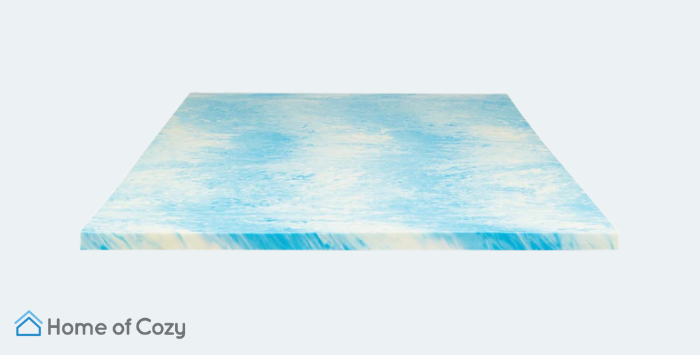 Price: $99–$189
Warranty: 3 years
Material: gel-infused memory foam
Thickness: available in 2" or 3" options
Why I Picked This Brooklyn Bedding Topper
Brooklyn Bedding is a leading mattress brand that also makes a variety of other high-quality sleep products, including this 2.5-lb Gel Swirl Memory Foam Topper. This affordable topper offers a significant comfort upgrade for mattresses that are too stiff.
What I Loved
At just $189 for a king-size, the Gel Swirl Memory Foam Topper is one of the most affordable high-quality toppers on the market. It's also one of the comfiest. This topper comes in two-inch or three-inch thickness options and is made entirely from dense, plush cooling gel-infused foam. If you own a firm mattress and you'd like to add a major dose of cushioning, this is the right topper for the job.
To counteract the heat-trapping effects of memory foam, Brooklyn Bedding uses a "swirl" of gel. Gel helps to draw away heat to maintain a surface temperature that's closer to temperature-neutral compared to regular memory foam.
Brooklyn Bedding's foam is also CertiPUR-US certified for avoidance of ozone depleters, heavy metals, and harmful chemicals.
What I Didn't Love
Like most memory foam products, this topper releases an "off-gassing" odor when it's removed from the packaging. Off-gassing smells aren't hazardous and typically only last for a few hours or a day or two, but this product's smell is particularly strong at first, as it's a pure memory foam topper without a cover.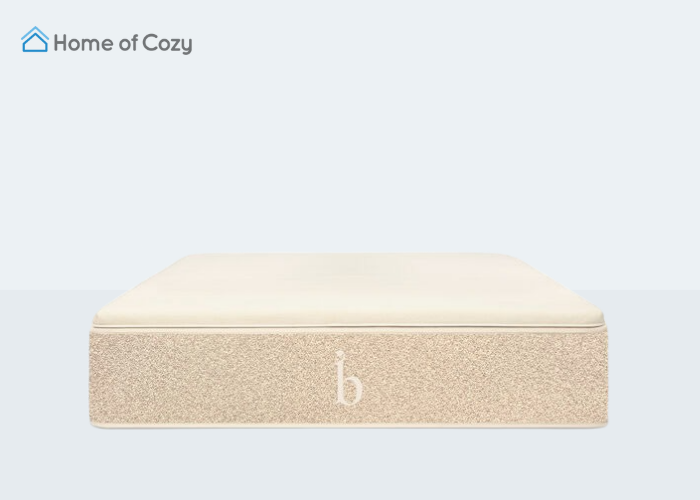 Price: $327.20–$561.60
Warranty: 10 years
Material: natural latex, cotton, and wool
Thickness: 2"
Why I Picked This Birch Topper
Birch is a top choice for shoppers seeking sleep products made with clean, organic materials. The Birch Plush Organic Mattress Topper is a medium-firm luxury topper made with organic wool, organic cotton, and natural Talalay latex.
This topper comes with a 100-night sleep trial period and a 10-year warranty.
What I Loved
The Birch Plush Organic Mattress Topper's construction includes a thick layer of Talalay latex, a layer of hypoallergenic organic wool, and a breathable organic cotton cover. Birch doesn't use any synthetic materials and earns several certifications for the use of clean, safe materials. These include GREENGUARD Gold, the Global Organic Textile Standard (GOTS), and eco-INSTITUT certifications.
Most importantly, this topper feels amazing, thanks to the superior comfort qualities of Talalay latex. The feel is gentle like foam, but stronger. You'll receive lovely cushioning around pressure points, along with ample support around the hips and shoulders.
I recommend Birch's mattress topper for all body types and sleep styles, but especially for back and stomach sleepers who experience lower back pain on softer sleep surfaces.
What I Didn't Love
This luxurious latex mattress topper is the highest-priced product among our favorite toppers. To enjoy the benefits of organic luxury bedding, you'll have to shell out $467 for a queen-size topper or $561 for a king.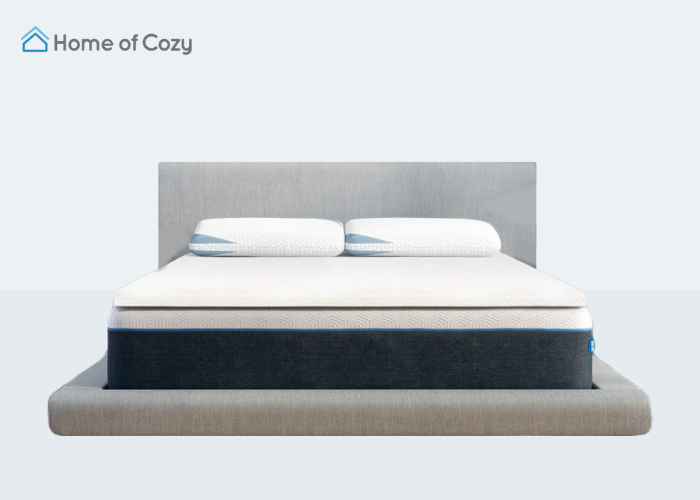 Price: $160–$322
Warranty: 3 years
Material: foam
Thickness: 3"
Why I Picked This Bear Topper
The Bear Pro Topper offers three inches of plush, pressure-relieving memory foam. It's a great choice if you need to make your bed significantly softer and comfier.
What I Loved
The Bear Pro Topper offers a thick layer of dense, luxurious memory foam. If your current mattress offers minimal contouring or pressure relief, this three-inch topper will make a major difference. Bear's memory foam is plush and responsive, offering deep contouring around joints and pressure points.
This topper is made with CertiPUR-US-certified foam and is free of mercury, formaldehyde, lead, and other harmful substances. It also includes a zippered removable cover that you can machine wash or spot clean.
What I Didn't Love
Note that this 3" topper is the thickest model we've reviewed in this guide. If your mattress is also thick (more than 12"), then adding this topper might result in an overall bed height that's awkwardly high.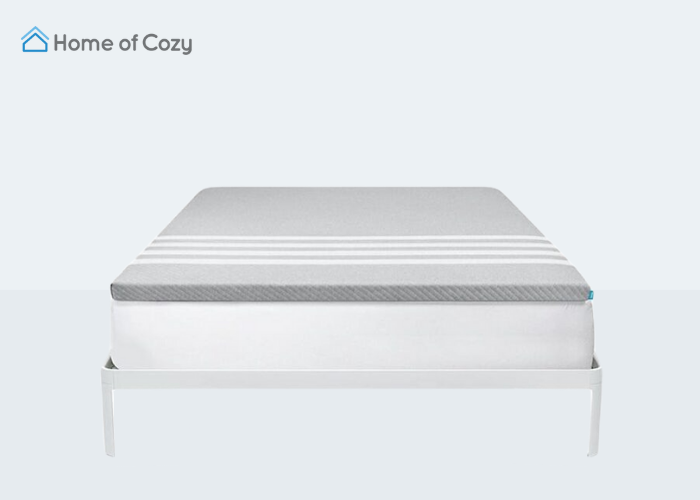 Price: $159–$287
Warranty: 1 year
Material: foam
Thickness: 2"
Why I Picked This Leesa Topper
The Leesa Mattress Topper is our top pick for combination sleepers—those who move between different sleeping positions during the night. This topper provides a major dose of cushioning but it's firm enough to support healthy spinal alignment in all sleep positions.
What I Loved
The Leesa Mattress Topper is two inches thick and made with Leesa's proprietary version of memory foam. It's a highly responsive material that's slightly bouncy and easy to move around on.
This attractive topper features a breathable grey knit cover that can be removed for cleaning. Made from polyester and viscose, the cover looks beautiful and provides the topper with a surface that's soft and pleasant to touch.
What I Didn't Love
The only group I wouldn't recommend this topper for is plus-size sleepers. It's a thin topper and it's fairly soft. If you have a heavy body weight and require extra support, a stiffer topper is recommended, such as one made with latex.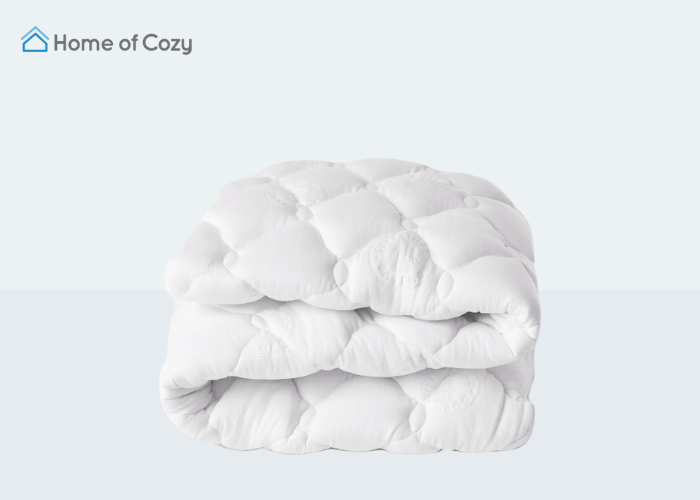 Price: $81.80–$104.30
Warranty: 1 year
Material: polyester and bamboo viscose
Thickness: 1.5"
Why I Picked This Helix Topper
Our pick for "best value" is the Helix Plush Mattress Topper. A queen-size is priced under $100 and a king-size costs just $104.30.
What I Loved
The machine-washable Helix Plush Mattress Topper is made from 60% polyester and 40% bamboo-derived viscose. The product is wrapped in a cover skirt with deep corners that can be tucked under a mattress like a fitted sheet. As such, this topper is similar to a pillow top mattress pad, but it includes a 1.5" layer of plush padding that can make a bed noticeably softer.
This topper is ideal if you want to add a cozy finishing touch to a mattress without completely changing its feel.
What I Didn't Love
The Helix Plush Mattress Topper is ideal for making a stiff mattress more comfortable. However, at just 1.5" thick, this topper shouldn't be expected to completely transform a bed's surface. Opt for a thicker topper if you're in need of a more significant adjustment.
Read More Sleep Product Reviews from Home of Cozy
If you're undecided on which topper best meets your needs, check out more reviews from Home of Cozy. We've prepared a few more guides on choosing a topper for specific purposes, like The Best Toppers for Side Sleepers, The Best Toppers for Hip Pain, and The Best Toppers for RVs.