A new desk. A better chair. Heck, even a nicer car.
When it comes to upgrades and improving the quality of our lives, we often think about the things we interact with during the day. But imagine those two big parts of your day— perhaps, some of the most important parts of all— that time when you're settling down to sleep, and that time after you've just opened your eyes in the morning.
That's when a truly comfortable mattress comes into play— a mattress isn't just a slab of foam or springs, but your ticket to a good night's sleep, and that one place you can rejuvenate your body to celebrate a job well done and to prep for the next beautiful day full of challenges and adventures.
But finding your most comfortable mattress isn't the luxury I might be painting it as— it's a necessity to thrive through your days and enjoy a good night's rest so you can be present with the work, family, and day ahead of you.
There are a few factors to consider when looking for your perfect mattress— so before getting into our top picks, let's talk a little bit more about how you can choose the best type of mattress for you.
How to Choose the Most Comfortable Mattress
Brand
Best For
1

Editor's Choice

Overall
Shop Now
2

Value
Shop Now
3

Combination Sleepers
Shop Now
4

Side Sleepers
Shop Now
5

Hot Sleepers
Shop Now
6

Organic
Shop Now
7

Plus Size
Shop Now
8

Extra Firm
Shop Now
9

Budget
Shop Now
1
Editor's Choice
2
3
Best For:
Combination Sleepers
4
5
6
7
8
9
Sleeping Position
We all have our favorite ways to snooze— what's yours?
Are you a side sleeper, comfy in the fetal position, a back sleeper, stretched in relaxed elegance, or a stomach sleeper facing down at night? No matter what your sleeping position is, it can help you determine the most comfortable mattress for you.
Firmness Level
Mattress too soft? You might feel like you're sinking into a marshmallow cloud—lovely initially but potentially painful in the morning.
Mattress too firm? You might as well feel like you're sleeping on a plank!
The key to finding the most comfortable mattress lies in the balance between having a soft mattress and a supportive one; whereas manufacturers offer mattresses in a range of firmness levels, from ultra-plush to extra-firm, your ideal level will depend on things like your weight, sleeping position, and personal preferences.
Comfort Materials
If mattresses were clothing, their materials would be the fabric.
From the plush comfort of memory foam layers that hug your body's contours to that resilient, buoyant feel of latex, the material of your mattress can seriously make or break its comfort level!
Pressure Relief
If you've ever woken up feeling like you've just completed an obstacle course in your sleep, then you know the importance of pressure relief in a mattress.
Sore hips, stiff shoulders, and aching backs — these are all often the result of sleeping on a mattress that doesn't adequately distribute pressure.
The most comfortable mattress for you should cradle these pressure points, not neglect them, offering relief and support during those many hours of relaxing rest— especially for side sleepers and those who suffer from chronic back pain and joint pain.
Trial Period
Buying a mattress is a long-term commitment, which is why it's crucial to find one that you're absolutely comfortable with. So, what better way to do that than to actually sleep on it for an extended period?
Many companies offer trial periods that let you test out a mattress in the comfort of your home, but some are simpler and more extended than others. Don't rush into a decision; take your time to sleep on it—literally!
Motion Isolation
Sharing your bed with a partner can give you unlimited cuddles, but it can also turn into a restless night if your mattress transfers every toss and turn right over to your side!
That's where motion isolation comes in, ensuring that movements on one side of the bed don't disturb the other, a particularly important feature if you or your partner are light sleepers or have different sleep schedules.
Cooling Features
Is there anything worse than waking up in the middle of the night drenched in sweat and clinging to the edge of the bed for some relief?
If you're someone who tends to sleep hot, then cooling features should be high on your priority list when searching for the most comfortable mattress.
Think gel-infused foams, breathable covers, and aerated constructions are some of the technologies designed to keep you cool throughout the night.
Edge Support
This feature might not sound as necessary as the others, but it's actually crucial for both the longevity and functionality of your mattress.
The thing about strong edge support is that it allows you to make the most of your mattress's surface area and provides extra stability when you sit or lie near the edge. This is particularly beneficial for couples who need as much room as possible… or for those who simply enjoy sprawling out!
Personal Preference
Even though we can talk your ear off about mattresses 'til the sun goes down, when it comes down to it, comfort is a deeply personal experience.
While scientific data, expert recommendations, and mattress reviews are valuable, your own comfort judgment is the ultimate litmus test. So while the most comfortable mattress for you might not win any awards in our book, if it makes you feel like you're finally able to sleep peacefully, then it's done the job.
Trust your instincts and listen to your body; after all, you're the one who'll be spending about a third of your life on it!
User Reviews
Having basic access to the internet means you're never alone in finding the best mattress brand and type for you. Many a-folk have journeyed before you and left behind their wisdom in the form of user reviews, so take their experiences as valuable pieces of insight, while also knowing their subjectivity.
Brand Reputation
A brand's reputation can often tell you a lot about the quality and comfort you can expect from their mattresses, and while it's not 100% foolproof, it's often pretty close.
Generally, more established brands are more likely to offer a consistent product that lives up to your comfort expectations with high-quality mattresses and fair warranties and return policies compared to less reputable ones. While it doesn't mean you shouldn't explore newer or lesser-known brands, doing so might require a bit more research to ensure you're getting a mattress that truly meets your comfort criteria.
Certifications
Certifications like CertiPUR-US can offer you peace of mind by assuring you that the mattress is made without harmful chemicals, heavy metals, or flame retardants.
Budget Consideration
While it's true that comfort often correlates with higher quality (and therefore a higher price), there are plenty of budget-friendly options that don't skimp on your comfort!
With a pre-determined budget in hand before you start your shopping journey, your investment will feel more well-prepared and predictable, so you can relax in your bed without freaking out about having a lighter wallet.
Visit Stores (if possible)
Online shopping is convenient, but when it comes to mattresses, there's no substitute for the real thing!
If you can, visit mattress stores to experience different levels of firmness, materials, and features firsthand. Lie down, roll around, and do all the things that you'd do in a regular bed to see how it conforms and adapts to your body.
Sleeping Partners
If you share your bed, then comfort is a two-player game!
Your dream mattress should align with your partner's comfort preferences as well, whether it's through a split firmness mattress, a lighter motion transfer, or low responsiveness.
Our Top Picks for Most Comfortable Mattress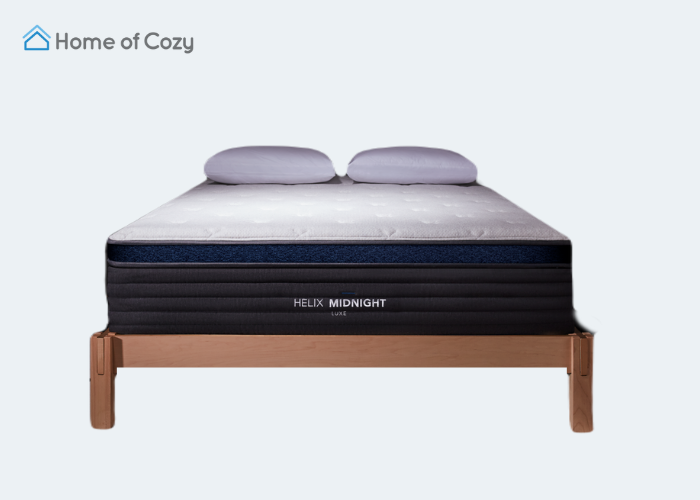 Price Range: $1,030.30 – $2,873.80
Mattress Type: Hybrid (Foam and Coils)
Firmness: Medium Feel
Trial Length: 100-Night Trial
Warranty: 15 Year Limited Warranty
Why I Picked This Mattress
The Helix Midnight Luxe strikes the perfect balance between comfort and support, making it one of the top contenders for the most comfortable mattresses (and one of the more luxurious mattress types, in my opinion)! For side sleepers, the allure of a mattress specifically designed for that sleep style means more support and more comfort, and for back and stomach sleepers, it just means more comfort and support.
What I Loved
Zoned lumbar support: This mattress features zoning technology that provides a softer feel under your shoulders and firmer support under your hips, which helps keep your spine aligned during the night.
Cooling cover options: You'll have a choice between an ultra-breathable TENCEL™ cover and a GlacioTex™ Cooling Cover which means you can decide how cool you want your sleep to be.
Premium quilted pillow top: Just another comfort layer that adds more protection and comfort to your mattress.
Eco-friendly: This mattress is GREENGUARD Gold Certified, CertiPUR-US® certified, and endorsed by medical professionals and the ACA!
What I Didn't Love
Price: This mattress definitely isn't the cheapest one out there, with the twin starting at over a grand, it might not be great if your budget stops at a few hundred dollars.
Large shipping size: The mattress ships in a 47 in x 16 in x 16 in box, so you'll have to make sure you have some extra hands to get it into your bedroom.
Additional costs: The GlacioTex™ Cooling Cover or the TENCEL™ isn't included with your mattress, which means an even higher price tag once you get to your shopping cart.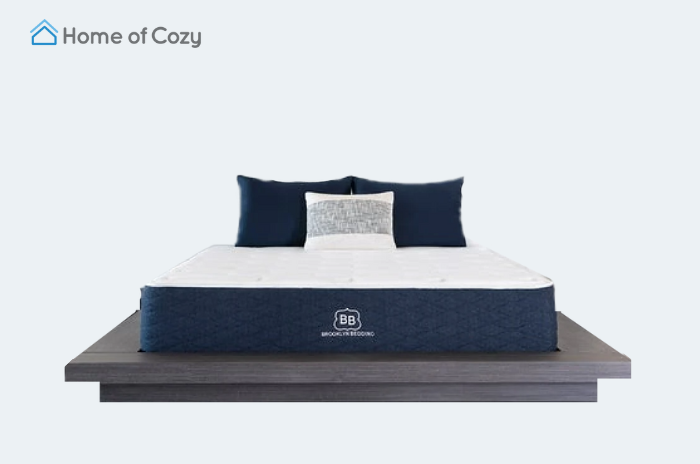 Price Range: $648.80 – $1,499.30
Mattress Type: Hybrid
Firmness: Soft, medium, and firm options available
Trial Length: 120-Night Trial
Warranty: 10-Year Warranty
Why I Picked This Mattress
I chose the Brooklyn Signature Hybrid from Brooklyn Bedding because it offers lots of customizability— like firmness— and features— like having foam and coils— with an affordable price tag for the purchase. Simply put, it's a mattress that I'd be used to seeing priced a lot higher, but at a more affordable price point than some of its higher-end competitors.
What I Loved
Customizable comfort: The mattress comes in three comfort levels: soft, medium, and firm (which isn't the case for a lot of mattresses!), letting you choose what comfort level you need.
Foams and coils: The mattress features high-quality foam for pressure relief and contouring comfort as well as individually encased coils that offer motion isolation support for sleepers who suffer from lower back pain.
Factory direct pricing: Since the mattress ships straight from the factory, the cost is significantly reduced— which is definitely why we've put it as the best value out of the bunch.
What I Didn't Love
Not flippable: While some sleepers are used to being able to flip their mattresses to extend their life, this one has a very particular design and not being designed to be flipped.
No mention of weight limit: The website doesn't explicitly state the weight limit the mattress can support, which might be a concern for heavier individuals or couples.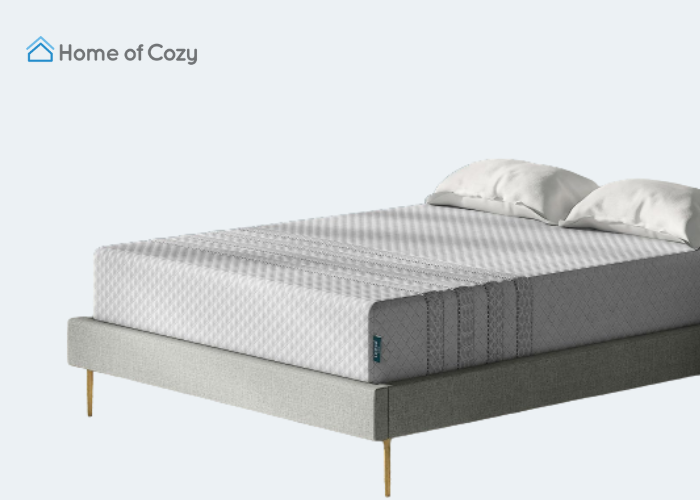 Price Range: $1,119 – $2,299
Mattress Type: Hybrid (memory foam and pocket springs)
Firmness: Medium to medium-firm
Trial Length: 100-Night Trial
Warranty: 10-Year Limited Warranty
Why I Picked This Mattress
With blended memory foam and pocket springs, this medium to medium-firm mattress offers the best of both worlds, support and comfort, so no matter what type of sleeper you are versus your partner, you can both be happy and well-slept. Plus, with over 2,000 reviews on the website, you can get a first-hand scoop into the true comfort of the mattress for all sorts of sleepers.
What I Loved
High-airflow foam and breathable cover: Hot sleepers, this one's for you! The top layers of this mattress are designed to support temperature regulation throughout the night.
2 foam layers: Along with the top layers being movement-responsive, the 2 layers of foam in between the mattress help with movement response.
1,000+ pocket springs: For even more airflow, freedom of movement, and excellent edge support, the many pocket springs help ensure your body weight doesn't get thrown off the bed in the middle of the night from moving around or from a sleeping partner.
2 free pillows with purchase: A great little added bonus and the icing on the cake.
Donation program: Leesa donates one new mattress for every 10 sold, making your purchase socially responsible. Plus, if you decide you want to return your mattress, they have a program where you can donate it to a local charity, instead.
What I Didn't Love
Size weight: The queen size alone weighs 115lbs, which might be a bit heavy to move or set up without help, as it doesn't specify that it ships in a bed-in-a-box state.
Price: This is "up there" on the pricing scale compared to some other mattresses, with its smallest mattress being over a grand.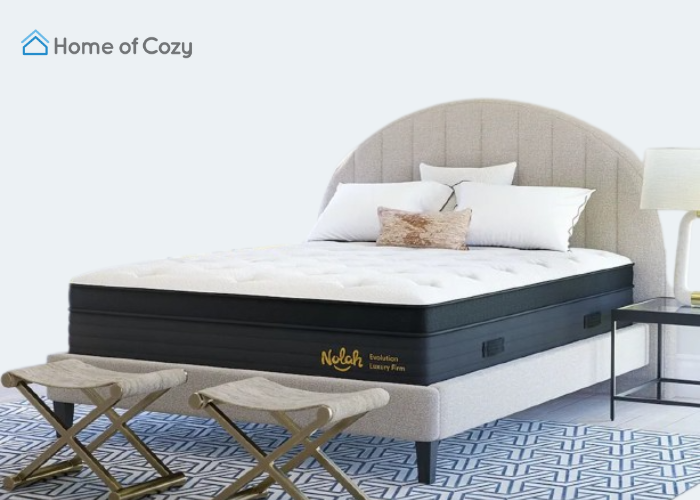 Price Range: $999 – $1,998
Mattress Type: Hybrid
Firmness: Plush, Luxury Firm, and Firm
Trial Length: 120-Night Trial
Warranty: Lifetime
Why I Picked This Mattress
The Nolah Evolution 15" has a really multifaceted design, which caters to pretty much any sleeper's needs out there, but particularly for side sleepers who need lots of extra support. Its firmness level customization options let you have a choice of firmness, and it has lots of "technologies" designed into it alongside its different firmness levels, like cooling technologies, targeted support, and a specialized mattress cover.
What I Loved
Advanced cooling technology: The mattress employs what they call a Graphite-infused AirFoamICE™ and a cooling Euro topper that helps dissipate body heat.
Multiple firmness options: Plush, Luxury Firm and Firm options give sleepers lots of flexibility with this mattress!
Targeted support: Since it's a hybrid, along with foam it also has coils— specifically, its HDMax™ Tri-Zone™ coils— which target back support.
Organic cotton cover: The cover pairs ultra-soft organic cotton with a layer of heat-dissipating ArcticTex™ fibers, adding another layer of comfort and protection to the mattress.
Two (2) free squishy pillows: Because who doesn't love extra bonuses?
What I Didn't Love
Varied cooling features: While the mattress claims to offer advanced cooling features, some users have noted that it doesn't actively cool but rather stays more at a neutral temperature than promised.
Slats spacing requirement: If you happen to have a slatted base or box spring, you must have one that's no more than 5 inches apart. Otherwise, the mattress's capabilities might be compromised.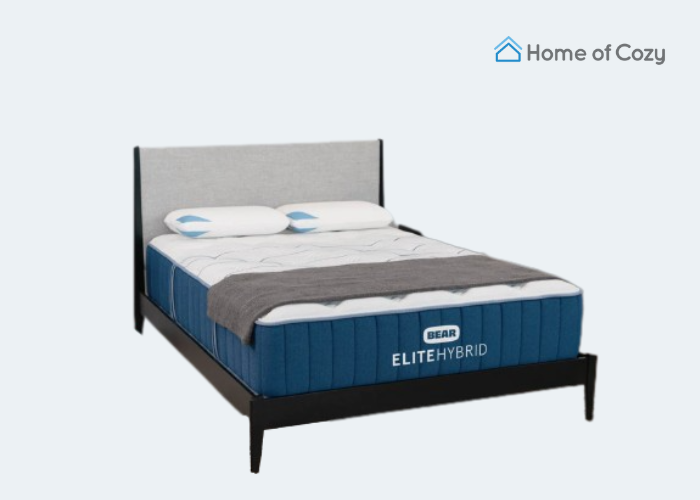 Price Range: $1,119 – $3,563
Mattress Type: Hybrid (innerspring and foam)
Firmness: Soft, Medium and Firm options
Trial Length: 120-Night Trial
Warranty: Lifetime Warranty
Why I Picked This Mattress
For those who sleep hot, the Bear Elite Hybrid has lots of advanced cooling technologies, like the PCM, or Phase Change Material, as well as Celliant technology, that helps cool sleepers down. Plus, it also has 3 different firmness options to boot!
What I Loved
Sophisticated cooling technology: The Bear Elite Hybrid utilizes Phase Change Material, or PCM, as well as Celliant fiber technology to regulate body heat more effectively.
Zoned support: The mattress has a five-zone support coil system, which provides targeted pressure point relief.
Antimicrobial copper foam: The copper-infused Memory Foam both helps with cooling and provides an antiviral and antibacterial sleep environment.
Different firmness options: With the choice between three levels of firmness, this mattress can accommodate lots of different body types and sleeping positions!
Environmentally-conscious materials: The mattress is made from CertiPUR-US Certified Foams and has a GREENGUARD Gold Certification.
Free accessories: The mattress comes with the Bear Sleep Bundle, which includes 2 pillows, 1 sheet set, and 1 mattress protector.
What I Didn't Love
Shipping time: Estimated shipping time is 3–10 business days. While not too long, if you need a mattress urgently, this may not be the quickest option!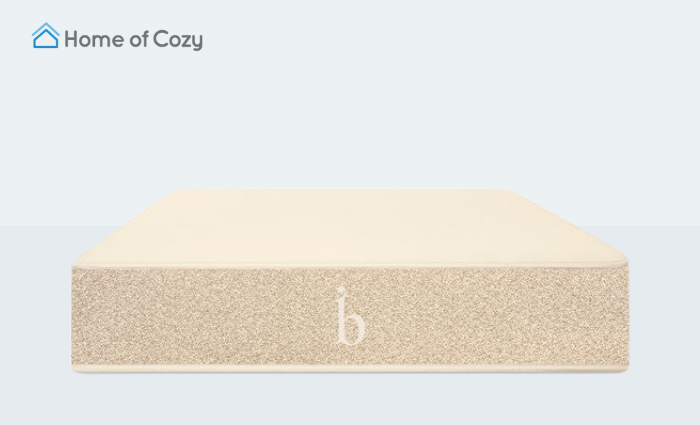 Price Range: $1,124.10 – $2,498.80
Mattress Type: Hybrid
Firmness: Medium-Firm
Trial Length: 100 Night Trial
Warranty: 25-Year Warranty
Why I Picked This Mattress
If sustainability, health, and the environment are your top priorities, then Birch Natural is 100% for you. It's eco-friendly, contains more organic materials than traditional mattresses (it's a Talalay latex mattress over a latex foam mattress), is GOTS and GREENGUARD Gold Certified, and has a nice medium-firm feel to support multiple sleeping positions, too.
What I Loved
Certifications and eco-friendliness: It's GOTS and GREENGUARD Gold Certified, meaning it has passed rigorous testing for safety and sustainability. Plus, it's made of things like Talalay latex, and organic cotton, and made with natural and certified organic materials.
Comfort in all sleeping positions: The medium-firm feel of the mattress is designed to provide more cradling comfort in all sleeping positions, which is great for those struggling to find a good sleeping position.
Airflow & breathability: With its natural and organic ingredients, this mattress also creates natural airflow, featuring an organic cotton cover, hygroscopic organic wool, and breathable natural Talalay latex.
What I Didn't Love
Price: While this mattress may be the healthiest out of all, it may not be accessible to all.
Weight: Some reviews mention the mattress being heavier than expected, which could be a challenge for setting it up without help.
Best for Plus-Size Sleepers: Titan Plus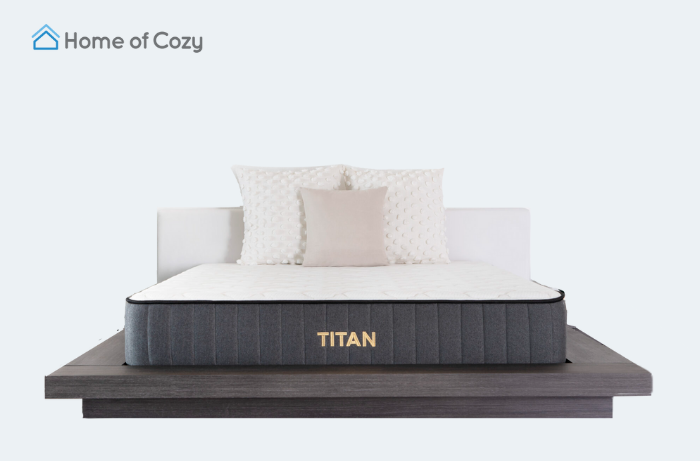 Price Range: $599.30 – $1,699
Mattress Type: Hybrid (foam and coils)
Firmness: Firm
Trial Length: 120-Night Trial
Warranty: 10-Year Warranty
Why I Picked This Mattress
The Titan Plus mattress is specifically designed for plus-size sleepers, creating a combination of firm support and pressure relief. Through its hybrid construction, which combines high-density foams with heavy-duty TitanCore coils, it's made specifically to offer that extra lift and durability for more weight.
What I Loved
Sturdy, strong, and sag-free: The Titan Plus mattress uses high-density foams and a core of up to 961 individually encased TitanCore coils made from 100% steel, which ensures long-lasting comfort and prevents the sagging that heavy people often encounter with less sturdy mattresses.
Pressure relieving: It may be firm, but this mattress also has high-density foam support layers that offer pressure relief, making it comfortable for various sleeping positions—whether you sleep on your back, side, or stomach.
Cooling features: The gel-infused top foam layer and optional GlacioTex™ Cooling Cover draw heat away from the body, making for a cool and comfortable sleep environment.
What I Didn't Love
Limited firmness options: The Titan Plus is tailored for firm support, which might not be ideal for those who prefer a softer mattress.
Cooling cover not included: While the mattress itself has cooling features, the optional GlacioTex™ Cooling Cover for enhanced cooling is an additional cost, compared to other mattresses with cooling tech built-in already.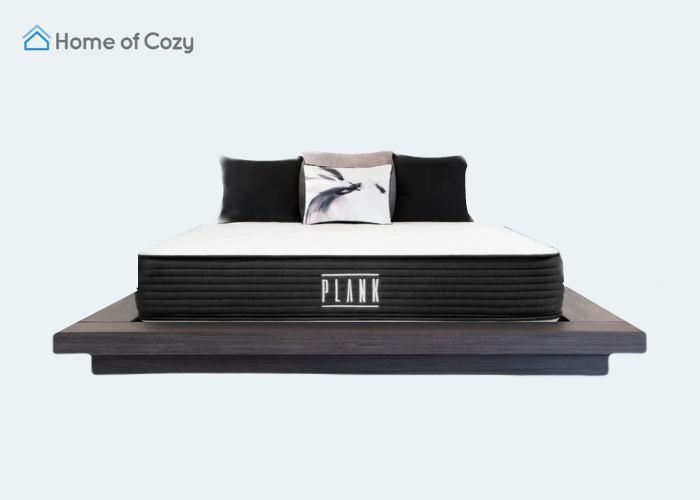 Price Range: $561.80 – $1,532
Mattress Type: Foam
Firmness: Extra Firm and Medium-Firm (flippable)
Trial Length: 120-Night Trial
Warranty: 10-Year Warranty
Why I Picked This Mattress
The Plank Firm mattress is a unique one: it's designed for sleepers who need firm support, but if that's a little too firm, they can instantly flip the mattress over and feel a little bit of pressure relief. This mattress was also endorsed by the American Chiropractic Association (ACA) and provides lumbar support to reduce spinal stress, both essential factors for a restful night of sleep. The adjustable design also caught my eye; it adds versatility and longevity to the mattress.
What I Loved
Unparalleled firmness!: This is not your average firm mattress: it's at a level 10 firmness (!) and designed specifically for stomach sleepers and anyone who requires a firmer mattress for spinal alignment.
Flippable design: Those days when you need a little more give, all you need to do is flip.
Endorsed by ACA: The endorsement from the American Chiropractic Association adds an extra layer of trust and reliability to this product. If it's good enough for chiropractors, it's good enough for me.
What I Didn't Love
Edge support: Some sleepers mention that the mattress feels like the edges are sinking a bit, which might pose a problem for those who like sleeping closer to the edge or who struggle with mobility.
Optional cooling cover costs extra: While the cooling cover is a great feature, it comes at an additional cost, which can add up on top of an already premium-priced mattress!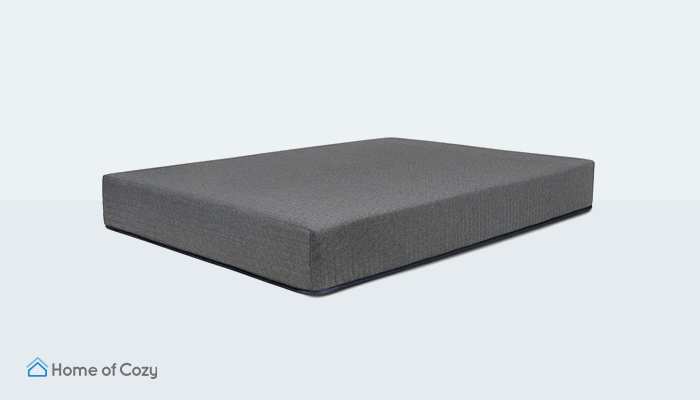 Price Range: $205.50 – $1,149
Mattress Type: Memory Foam
Firmness: Soft-medium, Medium, Medium-firm, Firm-medium, firm
Trial Length: 120-Night Trial
Warranty: 10-Year Warranty
Why I Picked This Mattress
This is truly a budget-friendly option, with the highest-priced mattress being just over $1,000 (some of the other mattresses start at this price!). This more original, classic mattress made up of all foam also comes with lots of customizability, being able to determine the firmness based on the thickness of the mattress.
What I Loved
Affordability: The Dreamfoam Essential mattress is truly budget-friendly— even offering holiday discounts every now and then like for Labor Day for even more of a steal.
Customizable comfort: This mattress provides 5 options on the firmness scale, all depending on the height of your mattress.
High-density cooling foam: The gel swirl memory foam helps keep you cool.
What I Didn't Love
Cushioning might not support all body types: Though the mattress comes in a range of firmness options, it's an all-foam mattress, and might not be everyone's favorite, particularly those who like the variations in hybrid mattresses.
I hope this little go-to guide for the most comfy cozy mattress gave you a little more headway in your journey to finding the right mattress for you! If you're interested in venturing off into even more mattress territory, you can explore some reader favorites, like The Best Mattresses for 2023 or The Best Mattresses for Kids in 2023 if your kiddo is due for another mattress soon.
A great mattress doesn't just improve your sleep— it enhances your energy for an even more vibrant life. So sweet dreams, and happy days!